Chicken Fried Breaded Pork Chops slowly cooked in a crock pot with a wonderful flavorful gravy. Crock Pot Chicken Fried Country Pork Chops a wonderful family favorite. Perfect any time, but especially during the colder months of Fall and Winter!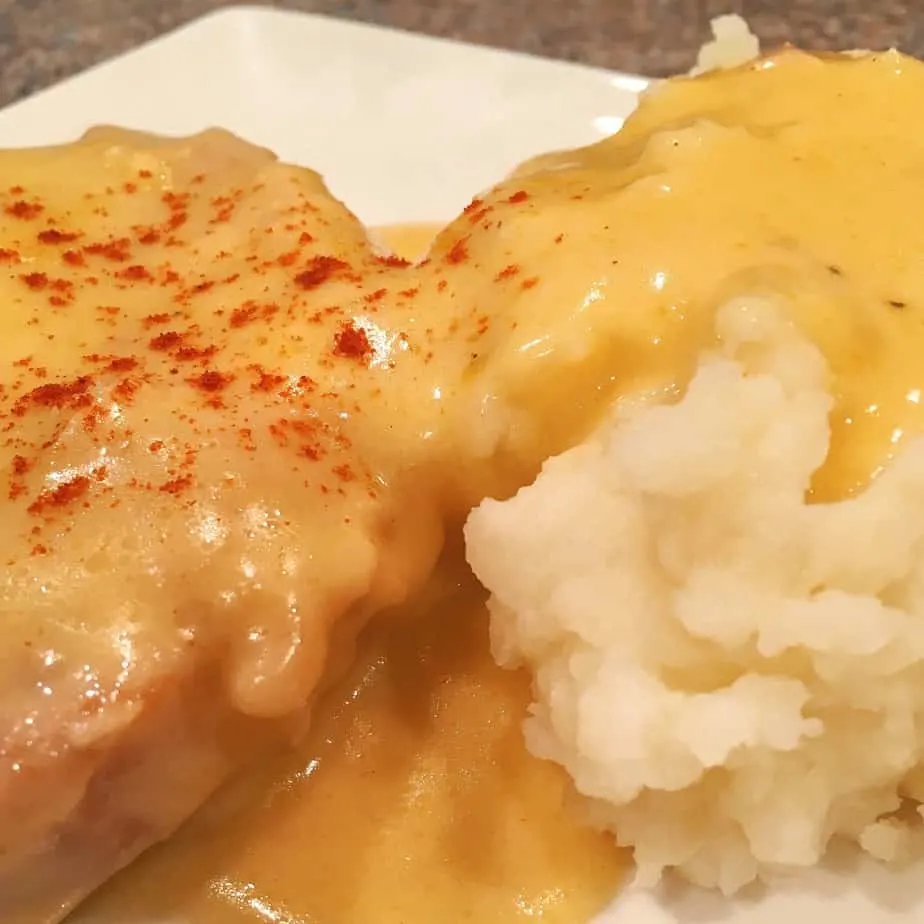 I'm kicking this week off right with the perfect weeknight dinner! It isn't the prettiest or fanciest dish to photograph (let's face it… I'm not world-class food photographer and this dish doesn't help any!).
However, it is one of the yummiest and most comforting dishes I have in my Fall and Winter rotation! Chicken Fried Country Pork Chops and Gravy is one of our all-time favorites here at Norine's Nest! You have to try this one! Your carnivores are going to L.O.V.E. it!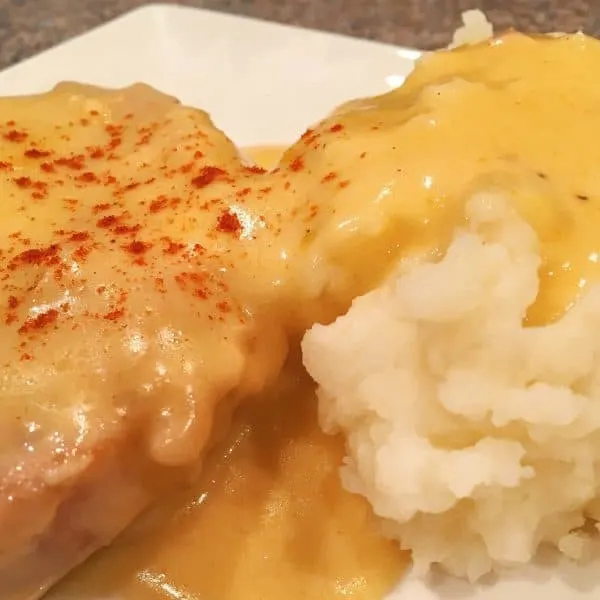 A little fun fact before we get started…ever wonder why someone started frying steaks like chicken? No one really knows for sure, but one rumor is that it was brought to Texas by Austrian Immigrants who used steak instead of veal for Wiener Schnitzel.
I also read in a book once that steak was so plentiful in Texas, but chicken wasn't, that cooks began breading steaks and cooking them like fried chicken. Another source states the recipe was found in a 1924 Los Angeles Times, however it was later found in Southern cook books dating back to the 1800s.
It doesn't really matter how it came about. What matters is that I reckon any recipe that has been around THAT long has been around that long for a reason! It's just plain GOOD!
This recipe calls for pork chops. We are still using the same basic principle and recipe that is used for Chicken Fried Steak. Breaded, fried meat, covered in gravy. Hellooooo?!! That can never be a bad thing! Can it?
How To Make The BEST Slow Cooked Chicken Fried Pork Chops and Gravy
Begin with 5-6 really nice pork chops. Bone in or boneless. (I happen to love the boneless chops from Costco so that is the cut I'm using here.)
Rinse off the pork chops, but don't dry them. I know there's a lot of speculation on whether or not to rinse meat. I do. I won't cast any stones if you don't!
In a separate dish or large zip lock bag, mix together 1 cup flour, 1 tsp. dry mustard, 1/2 tsp cracked black pepper, 1/4 tsp onion powder, 1/4 tsp garlic powder, 1/2 tsp salt. (I was out at the time I made mine, or I would have used a bag! It's so much easier for clean up to just toss the bag away.)
Dredge your pork chop in the flour mixture until well coated, or shake in a large zip lock bag until well coated.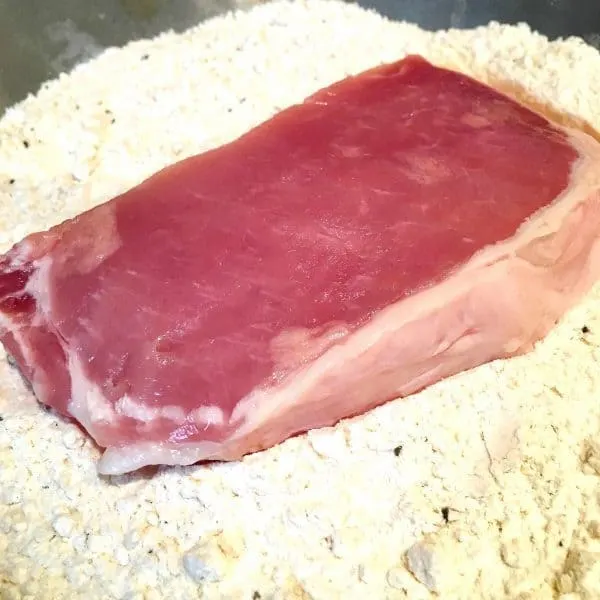 In a large deep skillet heat 2 Tablespoons of vegetable oil over medium high heat. Place pork chops into the hot oil and cook till golden brown. About 3–4 minutes per side.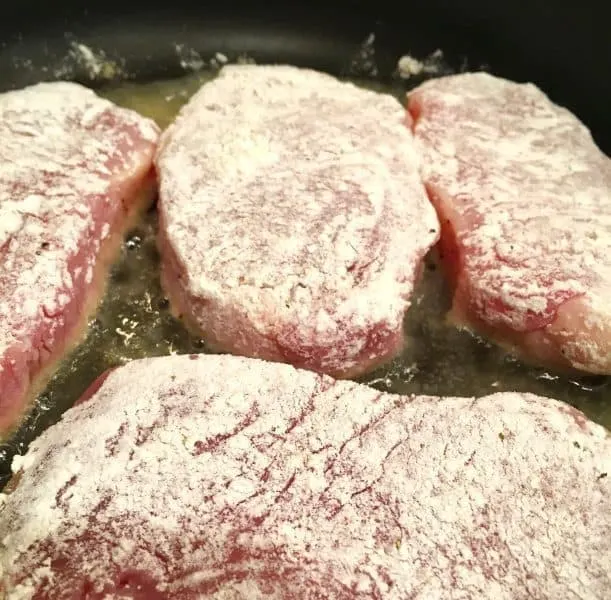 Remember this is a crock pot meal. Which means, you are not cooking the pork chops all the way through! The crock pot will do that. You just want that breading nice and crisp and golden.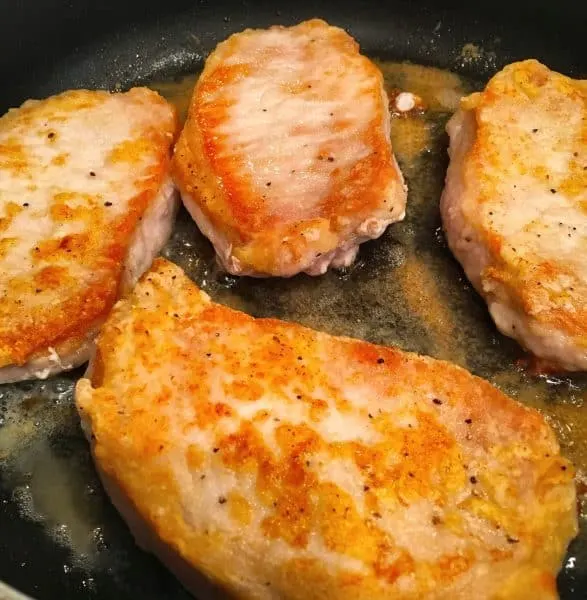 Once you have your pork chops golden brown on both sides, move them to your crock pot. Layer the pork chops in the bottom of the crock pot.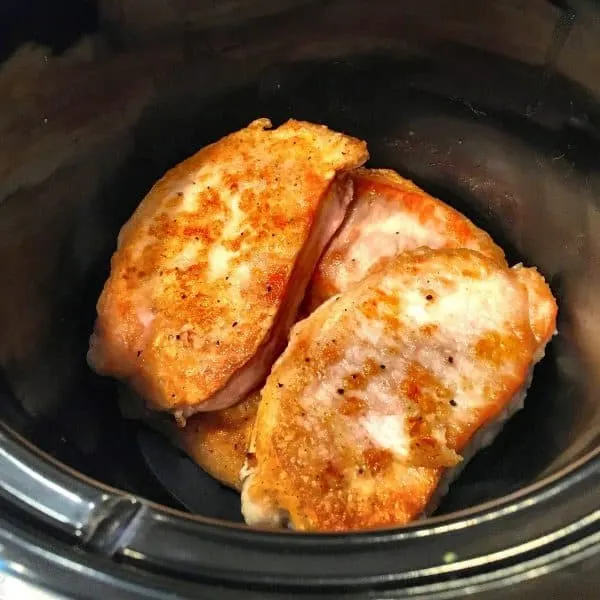 Gravy time! In a medium bowl mix together two cans of cream of chicken soup and one cup of milk. Mix until well blended. Then pour over the pork chops, covering them completely. (I promise they are under there!)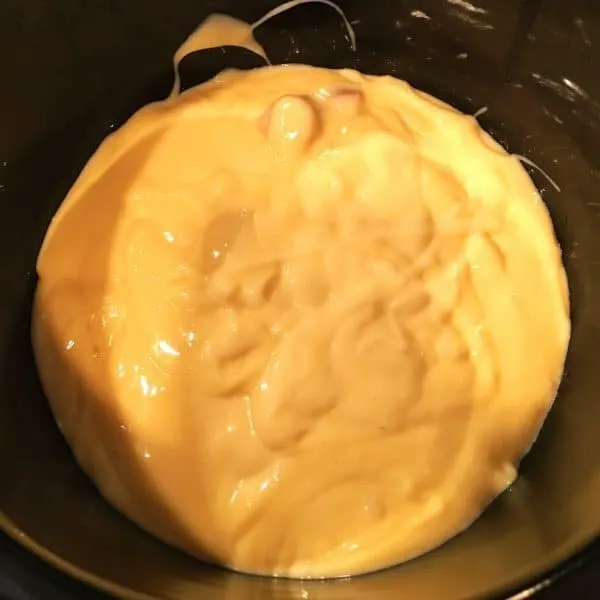 Cook on low heat for 4–6 hours. The house will smell delectably delicious! The longer they cook, the more they will fall apart. I wanted mine to hold together, so I only cooked mine for 4 hours.
The juices from the meat will combine with the soup mixture to create one of the best gravy's you have ever had! So creamy and sooooo flavorful! It just doesn't get any better! The crispy "floured" coating on the pork chops will help thicken the gravy as it cooks.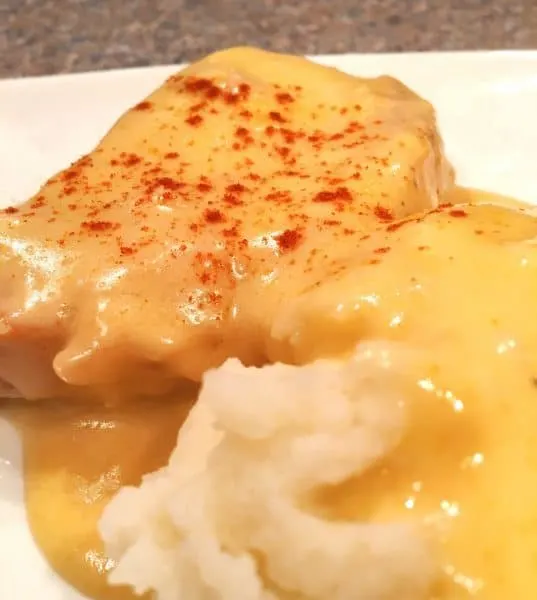 That's it! Don't you love a quick easy delicious meal like this? I know I do!
I like to serve this dish with chunky homemade mashed potatoes, but you can serve it over noodles or rice too. They are all "winner, winner chicken dinner"! I guess we should say "Winner, winner, chicken fried pork chop dinner!" lol
Moms, You will be the winner with this dish! Your kids and hub will think you're the best!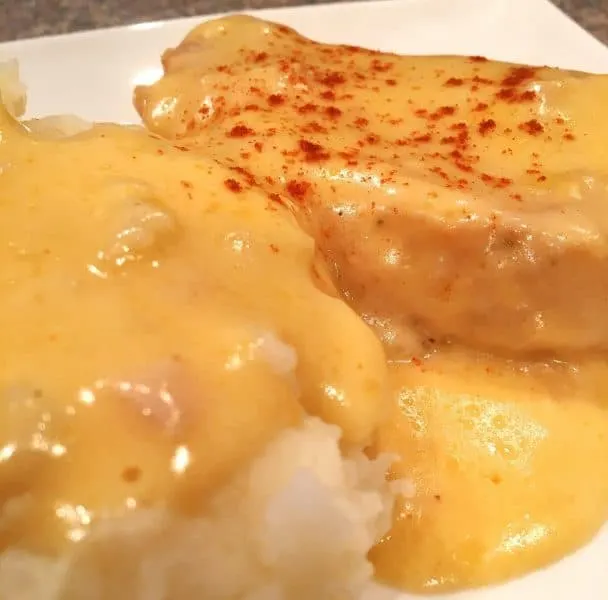 As I mentioned in the beginning…it isn't fancy or pretentious! It's just a wonderfully flavorful, delicious, country comfort weeknight meal! It warms you from the inside out.
If you have never served a dish with "chunky" mashed potatoes I highly recommend it. Find yourself an old potato masher and hand mash and mix your boiled potatoes! Put that mixer away! We aren't going for "creamy"! We want the lumps…the gravy loves them! Which in turn means you'll love them!
Serve this dish with a fresh green salad and maybe some green beans, and you have dinner ready to go! A healthy appetizing meal for all your hearty meat eaters!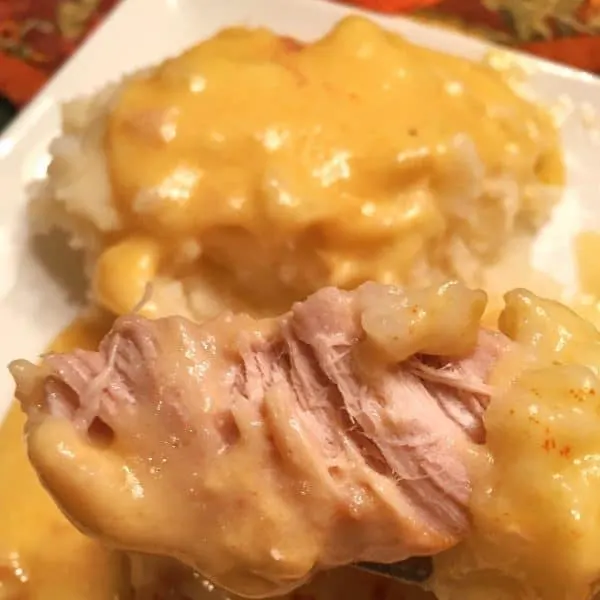 I'm sharing some of my other favorite "slow cooker" meals that are perfect on those busy days! Remember you can adjust them to work with your Instant Pot. This would be a GREAT Instant Pot recipe. Cook for 45 minutes and allow to natural release for about 20 minutes, then quick release.
Other Favorite Slow Cooker Recipes
Have a Great Day at your Nest! Thanks for popping by!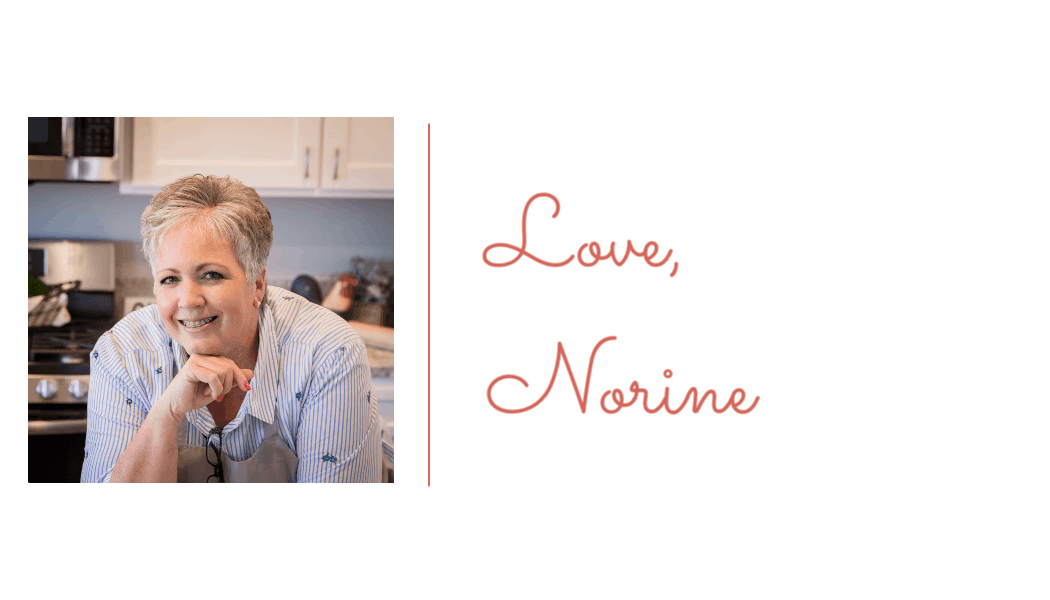 Yield: 5-6 servings
Crock Pot Chicken Fried Country Pork Chops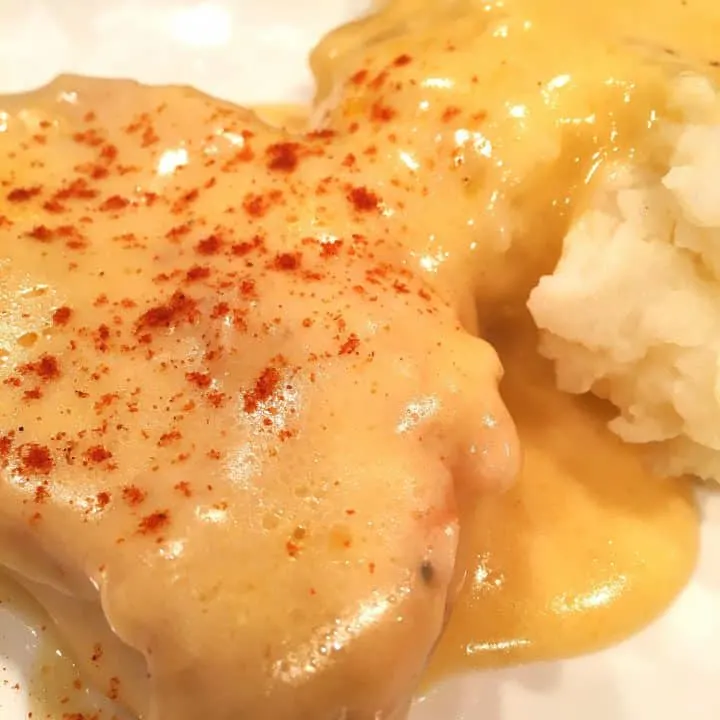 Chicken Fried Country Pork Chops are fried a crispy golden brown and then baked in your crock pot with a rich flavorful gravy. Served over mashed potatoes it's the perfect comfort food for the hearty meat and potato eaters in your family!
Total Time
4 hours
15 minutes
Ingredients
5-6 pork chops, boneless or bone in
1 cup all-purpose flour
1 tsp dry mustard
1/2 tsp cracked black pepper
1/4 tsp onion powder
1/4 tsp garlic powder
1/2 tsp salt
2 cans Campbell's cream of chicken soup
1 cup milk
2 Tablespoons Vegetable oil for cooking
Instructions
Rinse pork chops and set aside.
In a large zip lock bag or a shallow dish, mix together flour, dry mustard, black pepper, onion powder, garlic powder, and salt.
In a large skillet over medium high heat place 2 Tablespoons of vegetable oil.
Dredge the pork chops in the flour mixture making sure they are completely coated.
Fry pork chop in hot skillet, on each side, till golden brown, about 3-4 minutes.
Place pork chops in the bottom of your crock pot.
In a medium bowl mix together the soup and milk till creamy and well blended.
Pour over pork chops.
Cover and bake 4-6 hours on low.
Serve over mashed potatoes, rice, or noodles.
Recommended Products
As an Amazon Associate and member of other affiliate programs, I earn from qualifying purchases.
Nutrition Information:
Yield:
6
Serving Size:
1 Pork Chops
Amount Per Serving:
Calories:

559
Total Fat:

29g
Saturated Fat:

8g
Trans Fat:

0g
Unsaturated Fat:

16g
Cholesterol:

143mg
Sodium:

1016mg
Carbohydrates:

26g
Fiber:

1g
Sugar:

1g
Protein:

46g