Whoever said Diamonds are a girl's BEST friend…NEVER tasted this Dark Chocolate Raspberry Brownie Sundae! Decadent dark chocolate brownie mix with raspberry filling and white chocolate chips…all topped off with a Raspberry Gelato!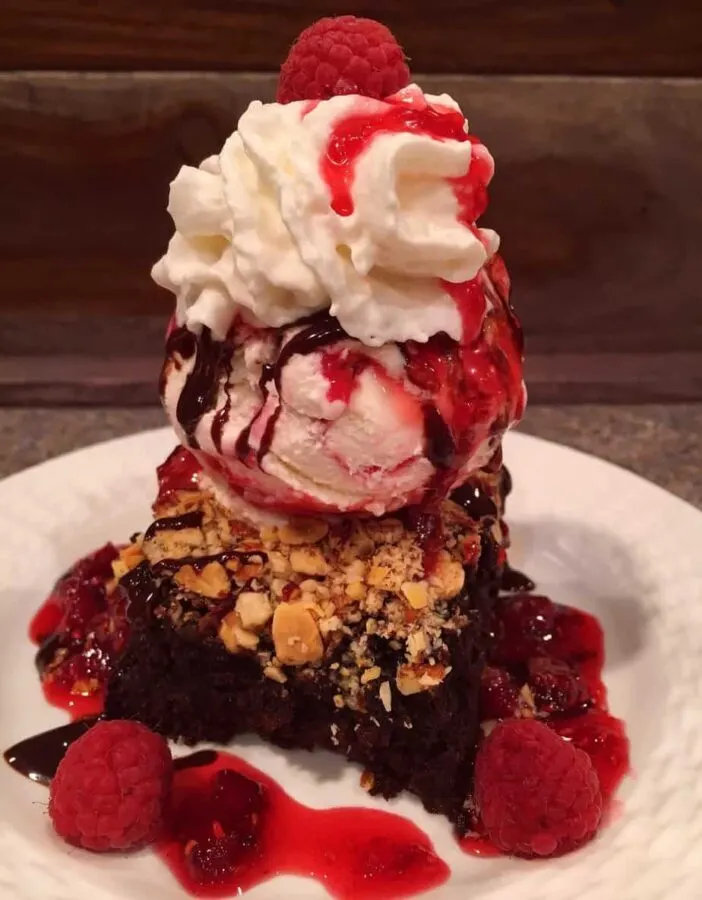 Oh, sure…the diamonds will keep you looking good when summer swimsuit season comes a knockin'….but I prefer Igloo's anyway! (WHAM! Slammed that door! Like a million years ago! Lol)
What could be more romantic than a decadent dessert? (I know about a million mommies who would take this, and 30 minutes in their locked bedroom closet, ANY DAY over diamonds!)
The beauty of this recipe is its simplicity! Yep, this is a total "cheater" recipe. (Maybe I should rename these "cheater brownies"? Cause if you're eatin' these…you're cheatin' on that resolution for sure!)
How To Make Raspberry Brownie Sundae
Start out with one Betty Crocker Brownie mix. Yep…good ol' Betty makes the best. I've tried them all!
Preheat the oven to 350°. Grease the bottom of an 8 x 8 or 9 x 9 square baking dish.
In a medium bowl add brownie mix, 3 whole eggs, 1/4 cup water and a 1/2 cup of water. Mix until blended. There may still be lumps and that's okay!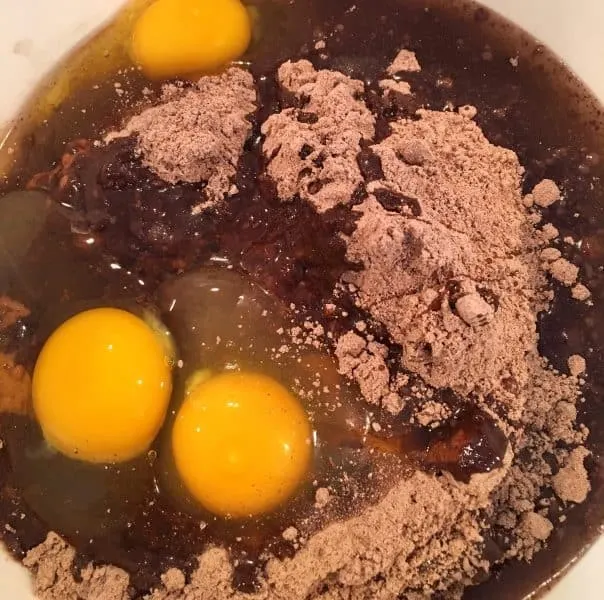 Pour batter into your prepared baking dish.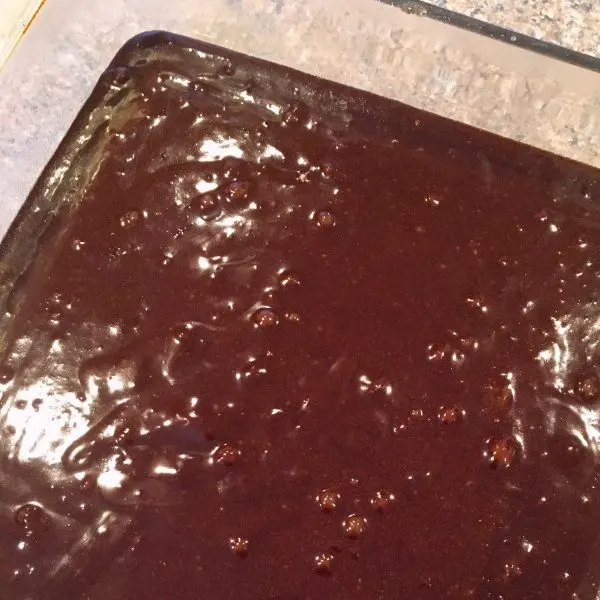 Drop 12 teaspoons full, of top quality raspberry jam, on top of the brownie batter.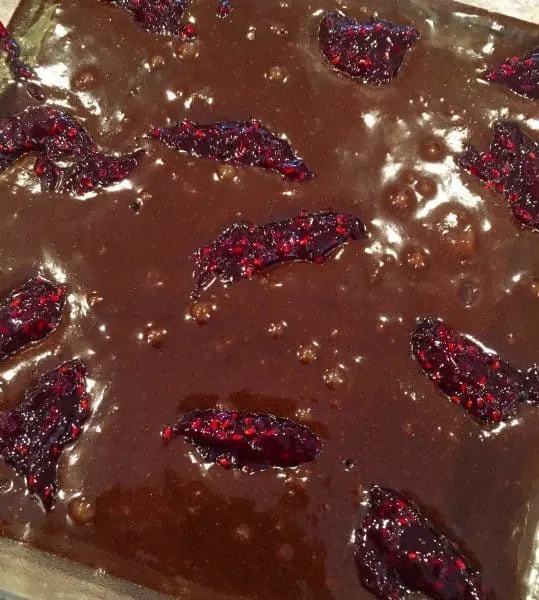 Using a butter knife, gently swirl raspberry jam through the brownie batter. Drag the knife one direction and then the other! (Ya know…like how you walk around the house first thing in the morning when you're still in a coma!)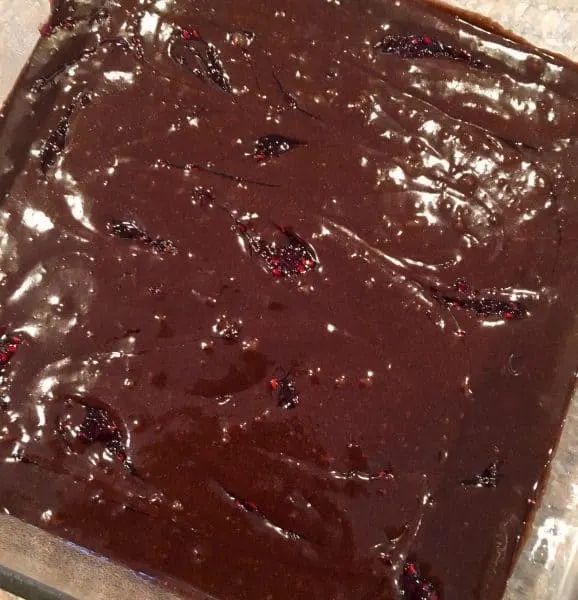 We could just stop right here and call it good. You can. Not sure why you would? I mean we are going for "over the top sinfulness" here! (This was a group effort dessert right? I mean I'm not alone in my journey to the dark side am I?)
Next, and please be impressed by my exact measurements…grab a handful of white chocolate chips and sprinkle them over the top of the raspberry ribbon laden brownie mix. Want a few more…go for it!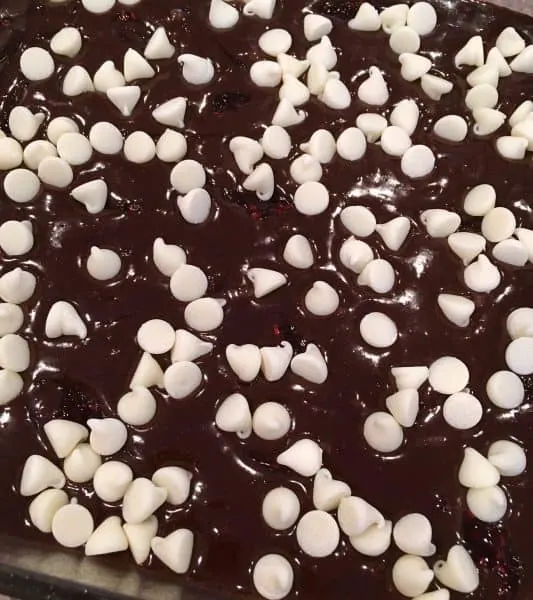 Sprinkle with 1/2 cup of chopped raw almonds. Try to cover any exposed brownie batter.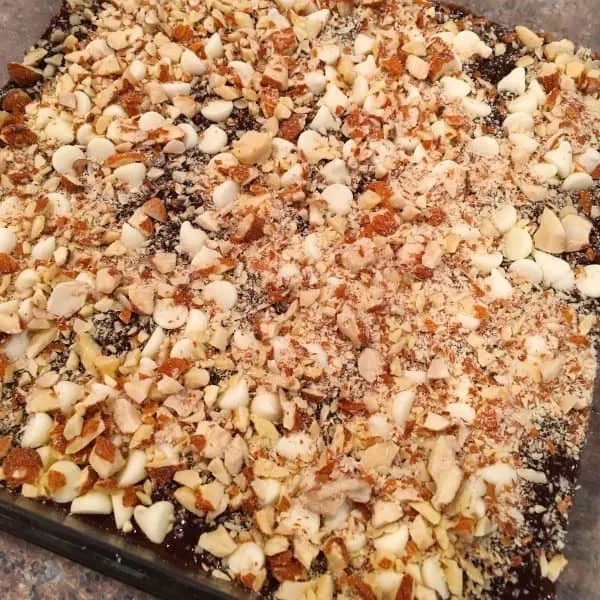 Place brownies into the preheated oven and bake for 45 minutes or until center is set.
TIP: If the center is jiggly… like underarm wing flaps…leave it in for a few more minutes. We want it non-jiggly!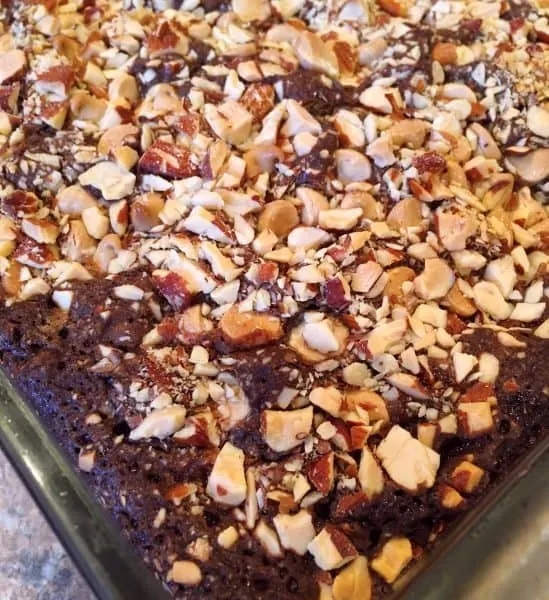 How To Make Fresh Raspberry Sauce
While the brownies are baking, make the Fresh Raspberry Sauce!
In a medium sauce pan, over medium heat, add one fresh pint of raspberries, 1/2 cup of sugar, and a 1/4 cup of water.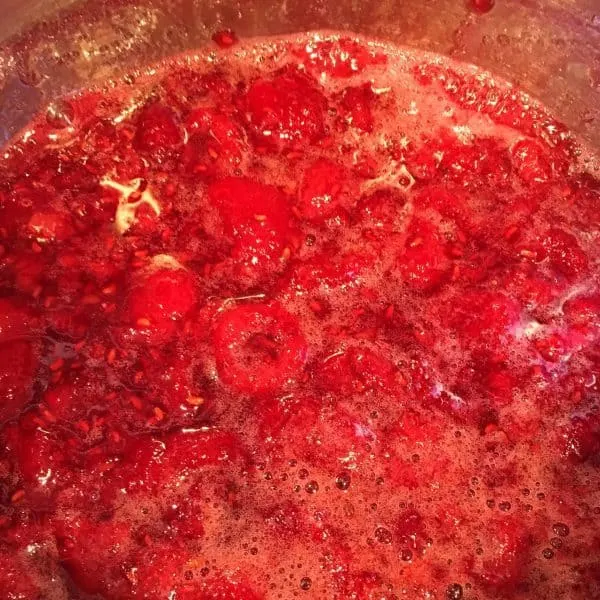 Bring mixture to a boil, while constantly stirring. Reduce heat to a low simmer. Simmer for 10–15 minutes stirring occasionally, until mixture reduces and thickens.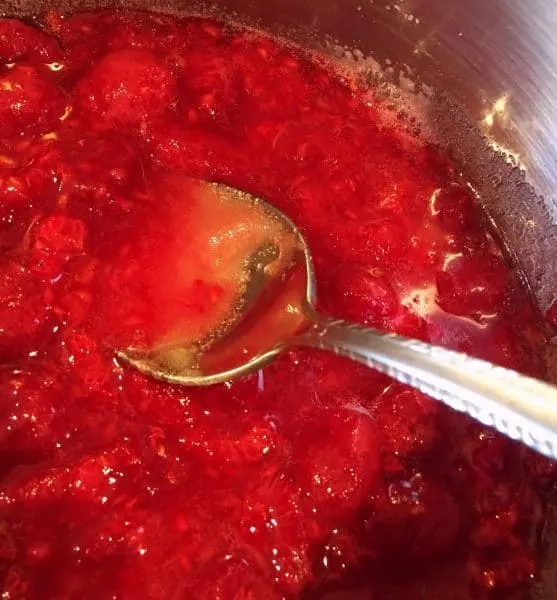 Berries will break down as they cook. Remove Sauce from stove top and allow to cool completely.
Cut brownies into 9 squares. Place on a dessert plate. Top with a scoop of Bryers Raspberry Cheesecake Gelato.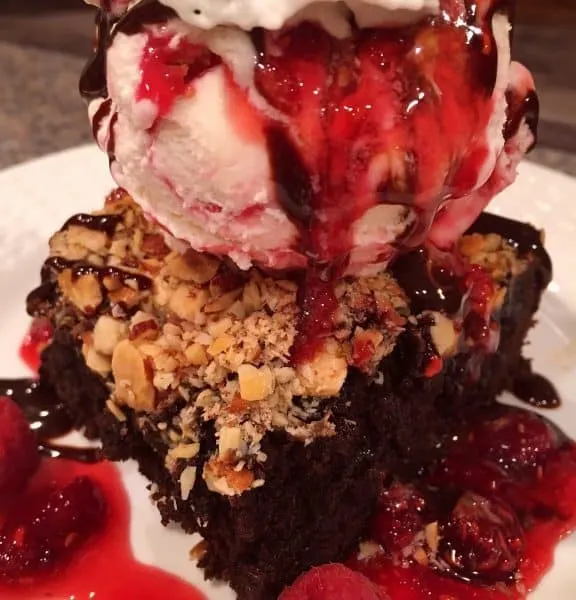 Drizzle with Hershey's Dark Chocolate Syrup, and the cooled fresh raspberry sauce. Squirt on a heaping swirl of Whipped Cream… and Drizzle with more of that luscious lip-smacking Raspberry Sauce!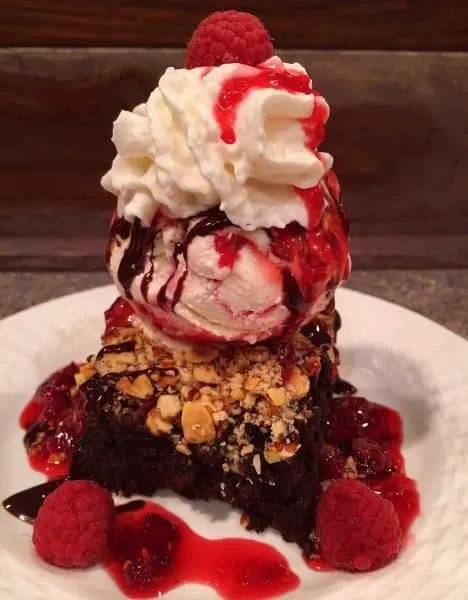 Are you drowning in drool yet? If not… I don't know how to get to ya! Seriously this dessert is OVER THE TOP Delicious!
I will warn ya…it's rich! So Rich! It starts with that deep rich flavorful brownie, works it way up to the creamy scrumptious gelato, and then goes straight to that delectable tangy raspberry sauce!
It's guaranteed to satisfy your sweet tooth and make you forget about those sparkly little gems!
I think this is the perfect Valentine's dinner dessert! I know I'd love my man if he served this to me! He never will…but I'd love him if he did! (He was too busy pouting that I put Raspberry Jam in the brownies to even try them. Fine! More for me!)
The rest of this Nest LOVED this dessert…as you can see from little "B's" face! Lip-smacking good! (Sorry/Not sorry… Grandma Blogger Perk! CUTE Grand kids pictures may be inserted at any time! Lol)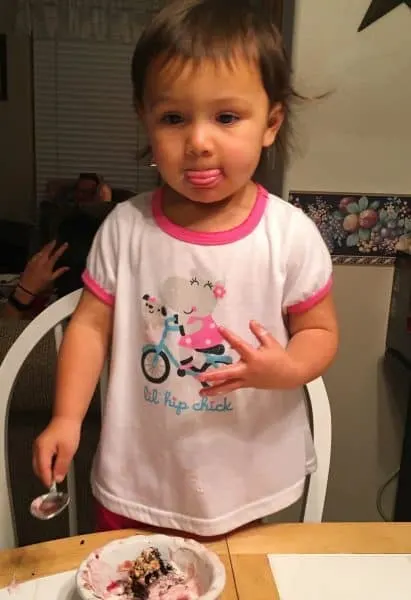 If you've enjoyed this dessert recipe, you might also enjoy these other delicious Dessert Recipes
Thanks for stopping by! If you give this dessert a try…drop me a line! I love hearing from my foodie friends! Remember you can always follow me on Instagram, Facebook, Pinterest, and Twitter!
Happy Nesting!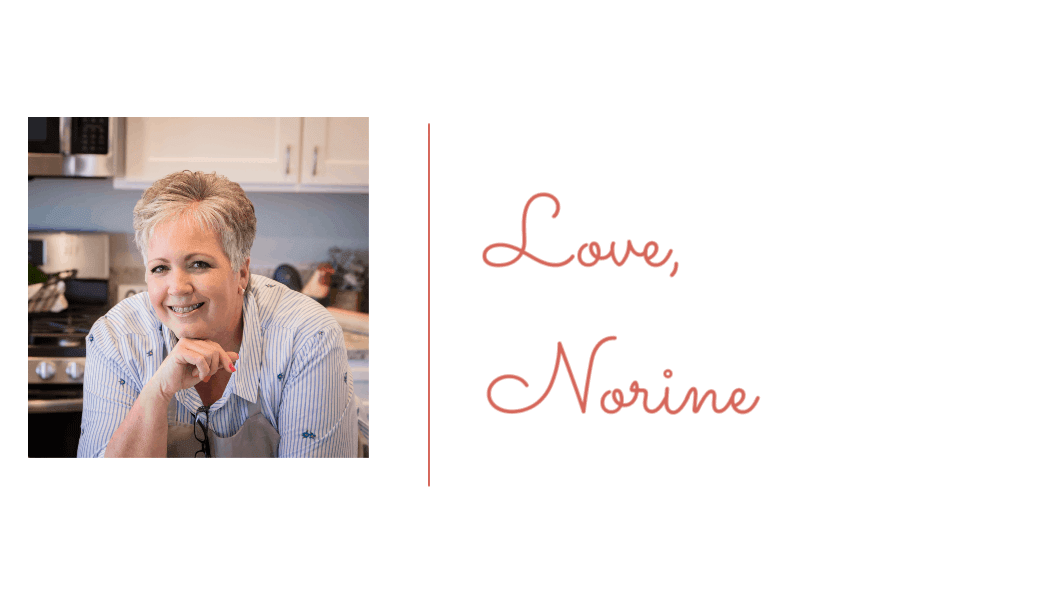 Yield: 9 servings
Raspberry Brownie Sundae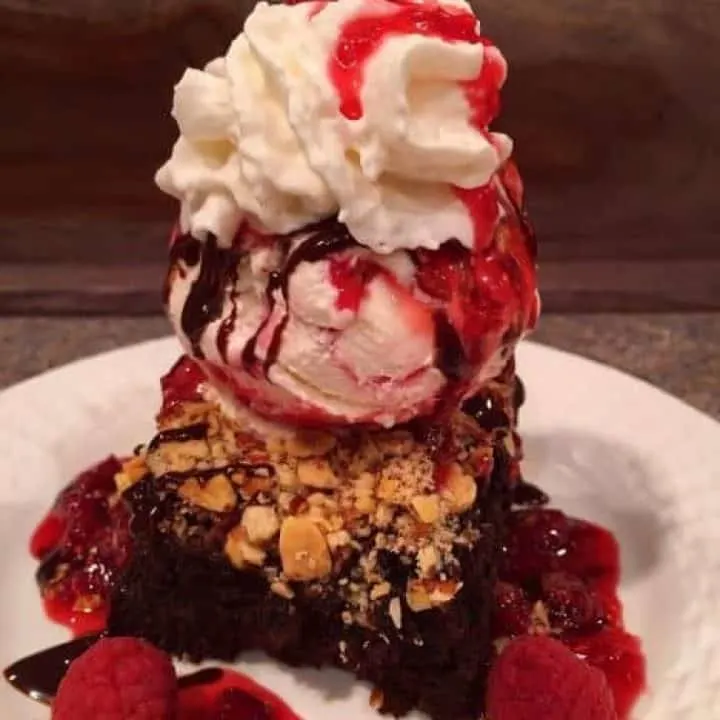 Rich Thick Dark Chocolate Brownies topped with white chocolate chips and toasted almonds served with a scoop of Raspberry Cheesecake Gelato and Fresh Raspberry Sauce is the perfect Valentines Day Dessert.
Ingredients
1 box Betty Crocker Dark Chocolate Brownie Mix
1/4 cup water
1/2 cup vegetable oil
3 eggs
12 Teaspoons of Raspberry Jam
1/2 cup chopped Almonds
1/2 cup white chocolate chips
Bryers Raspberry Cheesecake Gelato
Hershey's Dark Chocolate Syrup
Fresh Raspberry Sauce
1 pint fresh raspberries
1/2 cup sugar
1/4 cup of water
Whipped Cream and Fresh Raspberries for Garnish
Instructions
Preheat oven to 350°
Spray bottom of a 8 x 8 square or 9 x 9 square, baking dish.
In a medium bowl, mix together brownie mix, water, oil, and eggs. Mix until just blended. There may still be lumps and that's okay.
Pour into prepared 8 x 8 or 9 x 9 baking dish.
Sprinkle top with white chocolate chips.
Sprinkle with chopped almonds, trying to completely cover brownie batter.
Place in center rack in oven. Bake for 45 minutes.
Make sure center of brownie is set by gently moving pan back and forth.
Remove from oven and cool slightly.
Cut into 9 squares. Top with a scoop of Bryers Raspberry Cheesecake Gelato.
Drizzle with Hershey's Dark Chocolate Syrup and Fresh Raspberry Sauce.
Top off with a heaping squirt of whipped cream, more raspberry sauce, and a fresh raspberry.
Raspberry Sauce
In a medium sauce pan over medium sauce, add 1 pint of fresh raspberries, sugar, and water. Bring to a boil, constantly stirring. Reduce heat to a low simmer.
Allow to simmer for 10-15 minutes until sauce reduces and thickens. Stirring occasionally.
Remove from heat and allow to cool.
Recommended Products
As an Amazon Associate and member of other affiliate programs, I earn from qualifying purchases.
Nutrition Information:
Yield:
9 servings
Serving Size:
1 brownie
Amount Per Serving:
Calories:

458
Total Fat:

28g
Saturated Fat:

7g
Trans Fat:

0g
Unsaturated Fat:

19g
Cholesterol:

104mg
Sodium:

143mg
Carbohydrates:

48g
Fiber:

4g
Sugar:

35g
Protein:

6g