Easy Raspberry Filled Donuts are a delicious fun breakfast the whole family will love. Pillsbury biscuits are fried to a golden brown, tossed in cinnamon sugar and then filled with your favorite raspberry jam!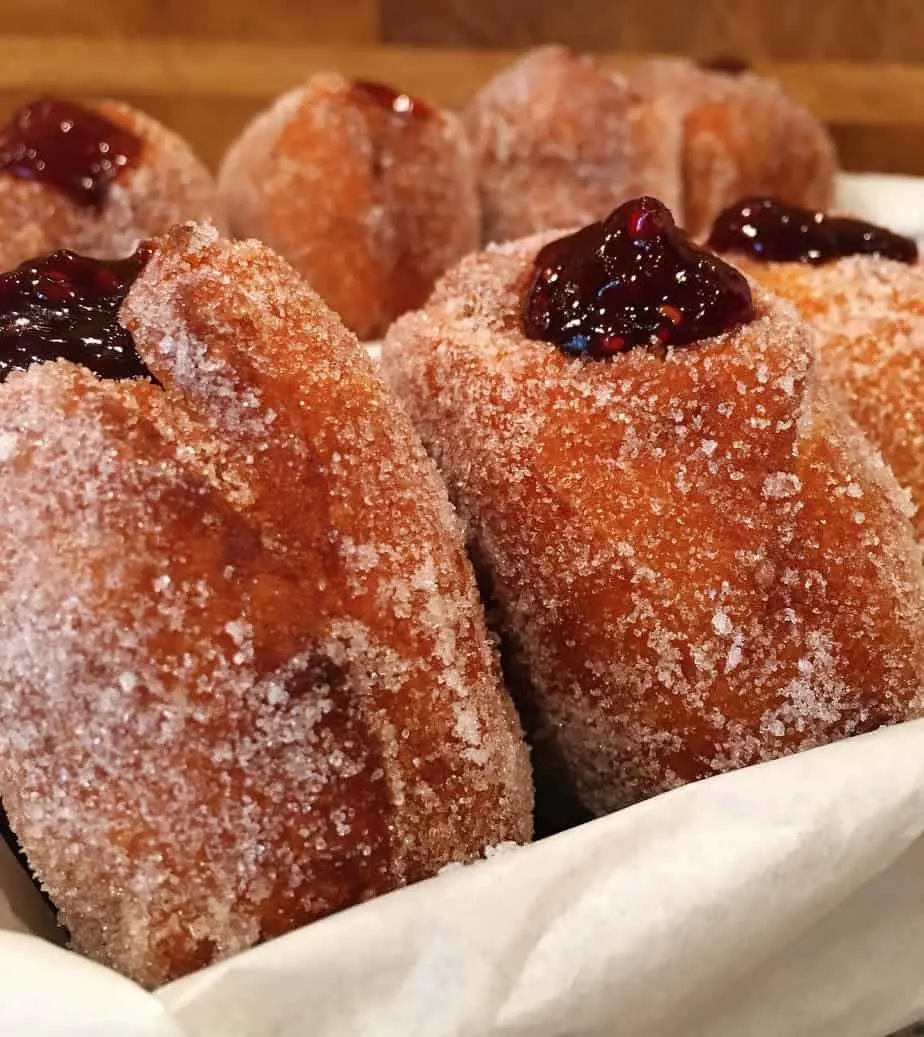 Hi My Name is Norine, and I'm a "Stress Eating" Carb Addict! It's been 30 seconds since my last carb! (No! I'm not looking for sobriety. I love my world of denial!)
I found an amazing doughnut recipe, strawberry jalapeño filled doughnuts, submitted by Gina at Kleinworth & Co. Her website link is right here! Be warned though…she has an amazing website, and you may get lost there for a while. It's a great place to escape to!
Now, as much as I love all things' strawberry… I have a confession… I'm not a huge strawberry jam fan! (I'm thinking it has something to do with the 20 million PB&J sandwiches I ate growing up!)
I still wanted to try it, so I grabbed a jar. However, sitting right below it, I spotted a jar of raspberry chipotle jam! It was sitting there whispering… "Pick me! Pick me!" Being that I'm sensitive to the needs of all jams I picked up that jar and brought her home! I was feeling pretty cosmopolitan in Wally World with my two exotic condiments!
TIP: Before you click off this recipe…keep in mind you can use any jam you love! I was just feeling "creative".
How To Make Easy Filled Donuts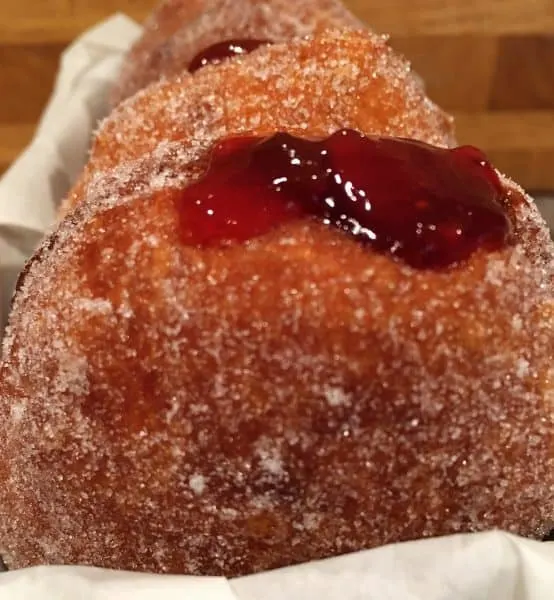 Here is what you are going to need…
One can 8 count regular biscuits, I used "grands" and you need to allow for more cook time or they'll be doughy, jam, granulated sugar and oil. Yep, five ingredients! My kind of happy!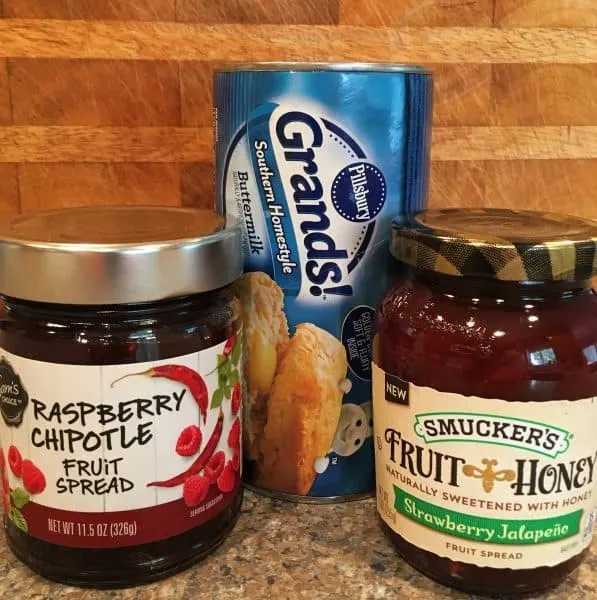 Pour vegetable oil in a medium sauce pan over medium heat. Once the oil is hot begin frying your dough. When golden on both sides, remove and place on a paper towel lined dish to drain off any excess. Allow to cool for a few seconds then place them in the sugar and roll them around till well coated.
TIP:They need to be hot still when you coat them or the sugar won't stick!
Continue cooking the dough until all 8 are cooked and sugar-coated.
Once they are done cooking and all coated, take a knife and make a small slit in the top. Using a pastry bag, or a plastic bag with the corner cut off, squeeze your jam into the donut.
That is it! No, seriously…THAT. IS. IT! How simple is that? Are you seeing Saturday mornings filled with yummy goodness? I know I am!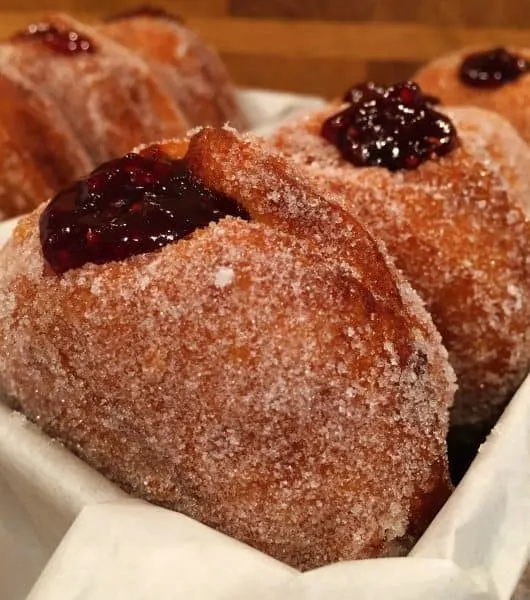 The biscuit dough and the jams make this a breeze!
Both jams are equally AMAZING! I gotta admit…that raspberry chipotle has won me over. The sweet of the raspberry with a hint of smoky chipotle! Wowza!!!
Keep in mind when making these…you can use any jam or canned pie filling. If you are not a fan of peppers, then by all means, just fill them with your favorite! But if you are adventurous, then dive in and be ready for a flavor explosion!
Other Favorite Donut and Scone Recipes your Family will Love!
I've put the handy dandy printable below for y'all. Thanks for stopping by and for being a part of my nest!
Happy Nesting!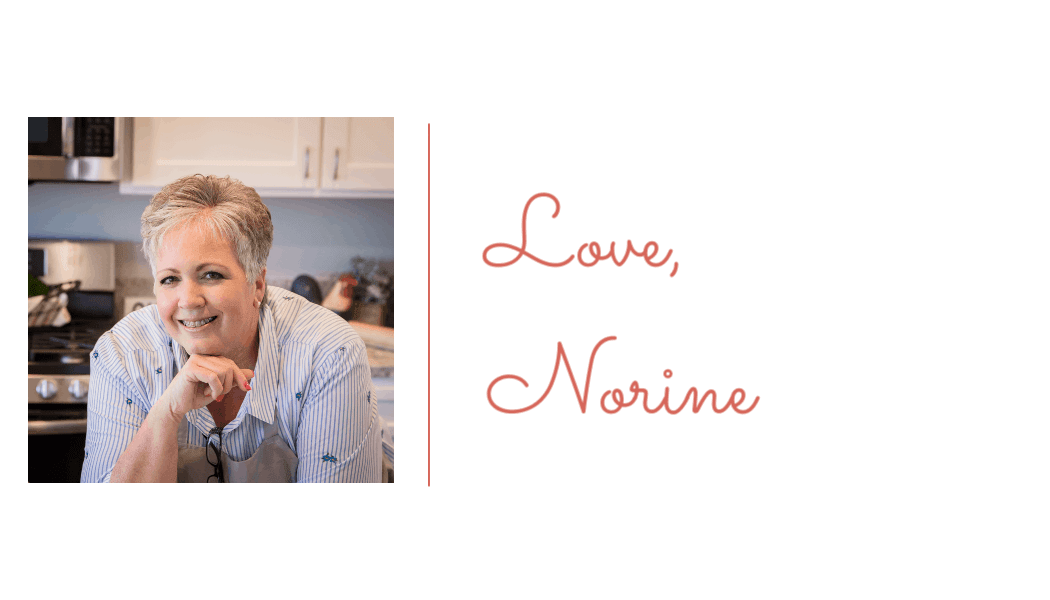 Yield: 8 servings
Raspberry Chipotle Doughnuts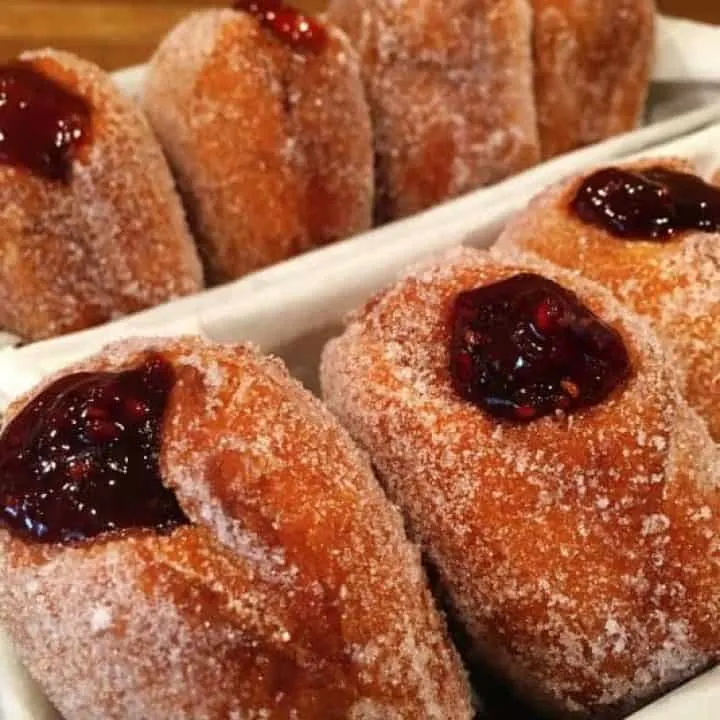 Jam filled donuts coated in sugar. An easy and delicious breakfast treat...or midnight snack!
Ingredients
1 can of Refrigerated Biscuits, 8 ct.
Oil, for frying
1-1/2 cups granulated sugar
1/2 cup jam (your choice)
Instructions
Heat the oil in a medium, shallow pot over medium heat.
Remove biscuit dough from can
Place the granulated sugar into a medium size bowl or a pie plate
Line a plate with paper towels.
Once oil is hot, place 1-2 biscuits in the oil & fry 1-2 minutes on each side-until golden brown.
Remove for oil and place on paper towel for just a second or two.
Place in the bowl of sugar and coat on all sides
Transfer to a cooling rack or plate
Fill pastry bag with large tip or zip-top bag with corner cut off with the jam
Using the tip of knife, make a small hole in the side of the donut.
Insert the tip of your bag and squeeze filling into the donut until it oozes out the top.
Serve Immediately.
Nutrition Information:
Yield:
8
Serving Size:
1 donut
Amount Per Serving:
Calories:

243
Total Fat:

3g
Saturated Fat:

0g
Trans Fat:

0g
Unsaturated Fat:

2g
Cholesterol:

0mg
Sodium:

50mg
Carbohydrates:

55g
Fiber:

0g
Sugar:

47g
Protein:

1g