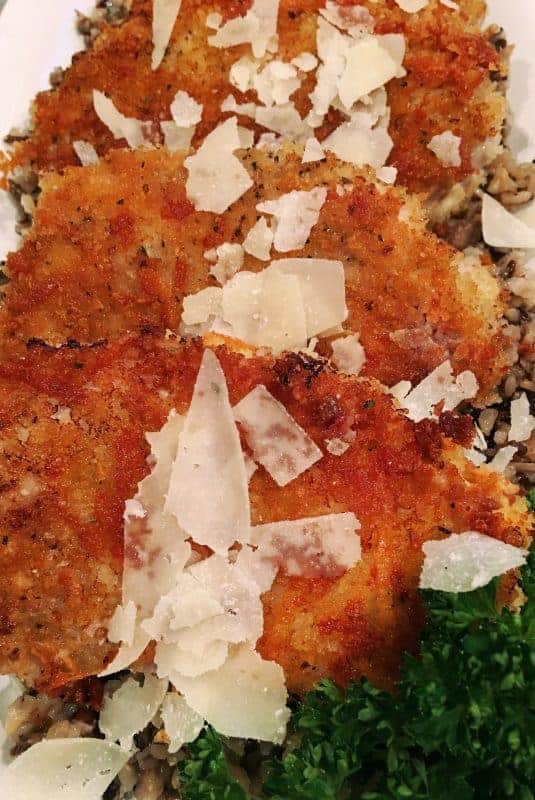 Tender juicy boneless pork chops in a crispy Parmesan breaded create these amazing Parmesan Crusted Pork Chop!
*As an Amazon Associate I earn from qualifying purchases. This post may contain affiliate links, which means that I may make a commission from any purchases at no additional cost to you. Thank you for your support!
My fellow meat lovers… today I'm sharing these amazing Parmesan crusted pork chops!
One of my all time favorite pork recipes. I love the crunchy coating on the outside and the juicy tender insides! (Please put that shake'n'bake away for today! We are making our own!)
They are really easy to make and so filling. This dish is versatile enough for midweek family dinners or for a dinner party. (You know when you invite your favorite celebrity or head of state over for dinner?)
How To Make Easy Parmesan Crusty Pork Chops
Here is what you need… One large Snickers Bar! (This has nothing to do with the recipe…it's just your "pre-dinner" snack!)
Four boneless pork chops. I like to buy the big packs at Costco. The ones that look like they've been cut for the entire NFL linebackers squad after practice snack? Nobody on this planet needs a pork chop that is one inch thick!
TIP: First thing I do when I get those chops home, is to cut them 1/2 inch thick. (Whew! Much better!)
In a shallow dish, like a pie plate, beat 2 eggs. This will be your egg wash. In the other pie plate, mix your bread crumbs, garlic salt and pepper, grated Parmesan cheese.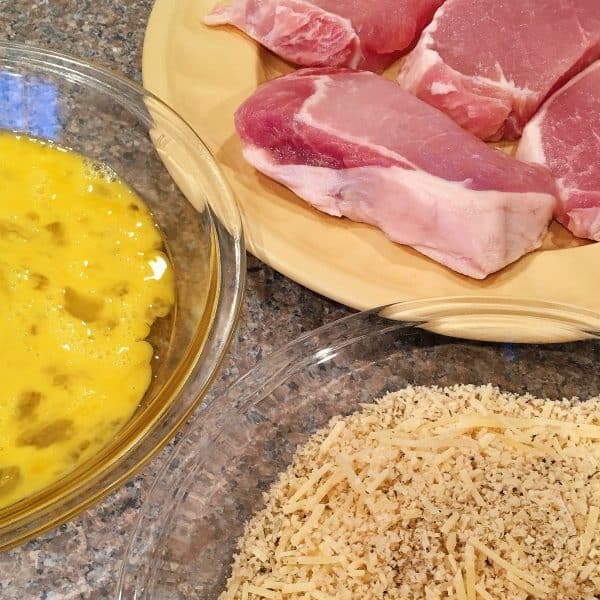 Place a skillet on the stove with 1/4 cup extra virgin olive oil. Heat the oil over medium heat.
Dip pork chops into the egg wash and then into the bread crumbs being sure both sides are well coated. (Nothing worse than a naked pork chop! Okay, well maybe there are worse things but, you're gonna want those crunchy bits! They're the best!)
Place the pork chop into the heated skillet with the hot oil. Cook until golden brown (I love saying that..goooolden brown!) Turn Pork Chops over and cook the other side. About 5-7 minutes per side. (Hmmm…wonder where that picture is of them cooking? Probably hanging out with the other ones I forgot to take! One of these days folks…ONE.OF.THESE.DAYS!)
Once they are beautifully golden crispy and the juices run clear, and the heavenly angels are singing, remove from the heat and plate to serve.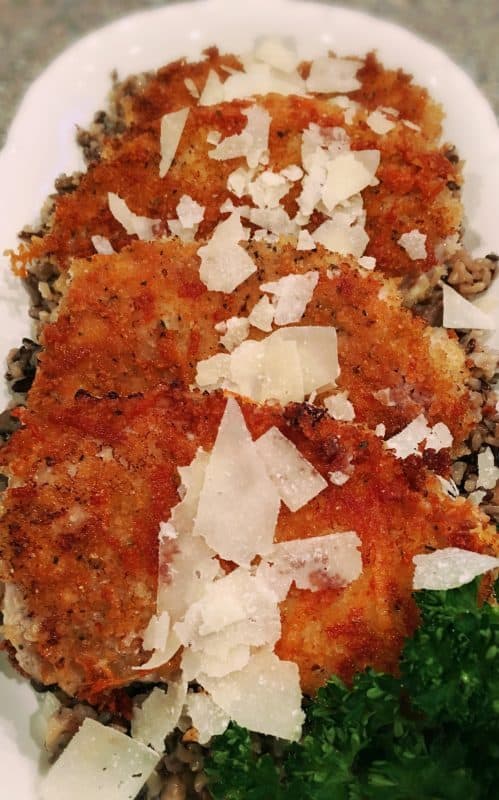 Golden Crispy Juicy Pork Chops!
I serve mine on a bed of wild rice and top with shaved Parmesan Cheese. Yum!
The wild rice and pork chop are a perfect combination! The full nutty flavor of the wild rice is a wonderful compliment to the garlic Parmesan crusted pork chop.
One of the perks of cooking these on the stove top is that they don't dry out like they do in the oven when baking. Plus in this summer heat you don't have to heat up the oven! That's win-win in my book!
Are you ready to make this for dinner? I hope so. I know the loves at your Nest will enjoy them as much as mine do.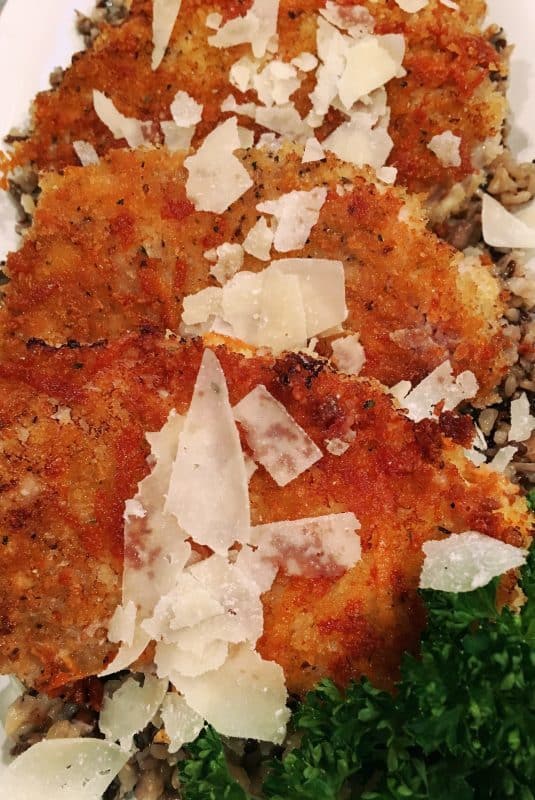 Here are some of my other favorite Pork Chop Recipes
We are going to have an absolutely FANTASTIC week here at the "Nest"! I hope you'll stop by again and see all the other amazing things I have planned.
Thanks for dropping by and allowing me to be a part of your day! Remember to follow me on Pinterest, Twitter (I'm a twit at twitter!), Instagram, and Facebook. Just look for Norine's Nest…I'll be there!
Happy Nesting!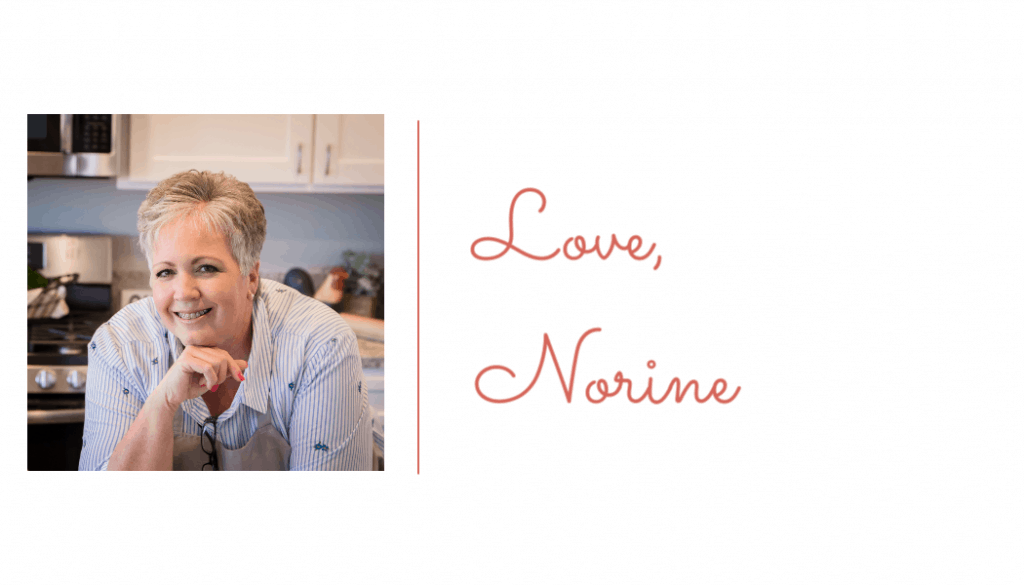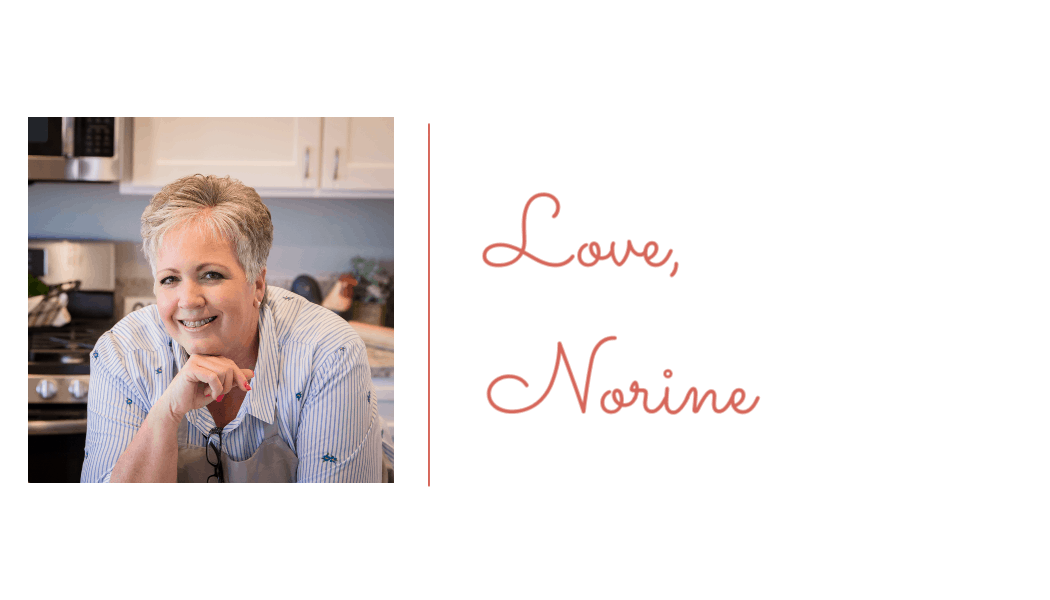 Yield: 4 servings
Parmesan Crusted Pork Chops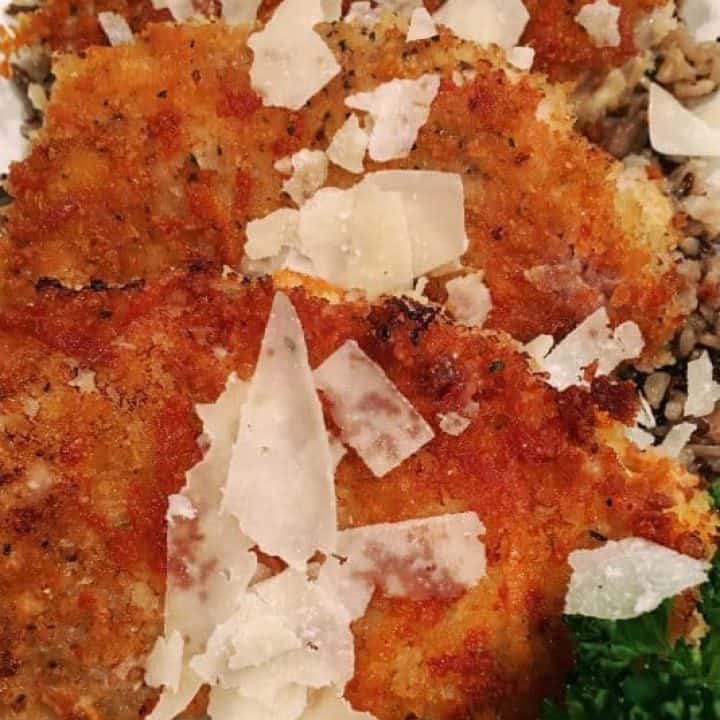 Tender Juicy boneless pork chops in a Parmesan breading fried to a golden crisp!
Ingredients
4 boneless pork chops cut 1/2 inch thick
2 eggs well beaten
1 cup Panko Bread Crumbs
1/2 cup seasoned regular bread crumb
1 cup shredded Parmesan Cheese
1/2 teaspoon garlic salt
Coarse black pepper to taste
1/4 cup olive oil
Instructions
Rinse and pat dry your pork chops.
In a small bowl beat your eggs, to create an egg wash, pour them into a shallow dish or pie plate.
In another pie dish or shallow pie plate add the Panko crumbs, regular seasoned bread crumbs, Parmesan Cheese, garlic salt, and pepper. Mix well.
In a large skillet heat the olive oil over medium heat.
Dip the pork chops one by one into the egg wash and then into the bread crumb mixture, being sure to coat both sides well.
Place the pork chop into the heated oil.
Cook until golden brown on one side then flip and cook till golden brown on the other side and juices run clear.
Place on serving plate and serve.
Recommended Products
As an Amazon Associate and member of other affiliate programs, I earn from qualifying purchases.
Nutrition Information:
Yield:
4
Serving Size:
1 pork chop
Amount Per Serving:
Calories:

714
Total Fat:

42g
Saturated Fat:

13g
Trans Fat:

0g
Unsaturated Fat:

27g
Cholesterol:

210mg
Sodium:

988mg
Carbohydrates:

31g
Fiber:

2g
Sugar:

3g
Protein:

53g