Easy Stuffed Pork Chops are breaded and stuffed with stove top stuffing and topped off with a delicious creamy gravy. It's the BEST Pork Chop recipe and one the whole family will love!
I'm not going to name any names, but I'm in a "Stuff it!" kind of mood! 🙂 It happens to the best of us.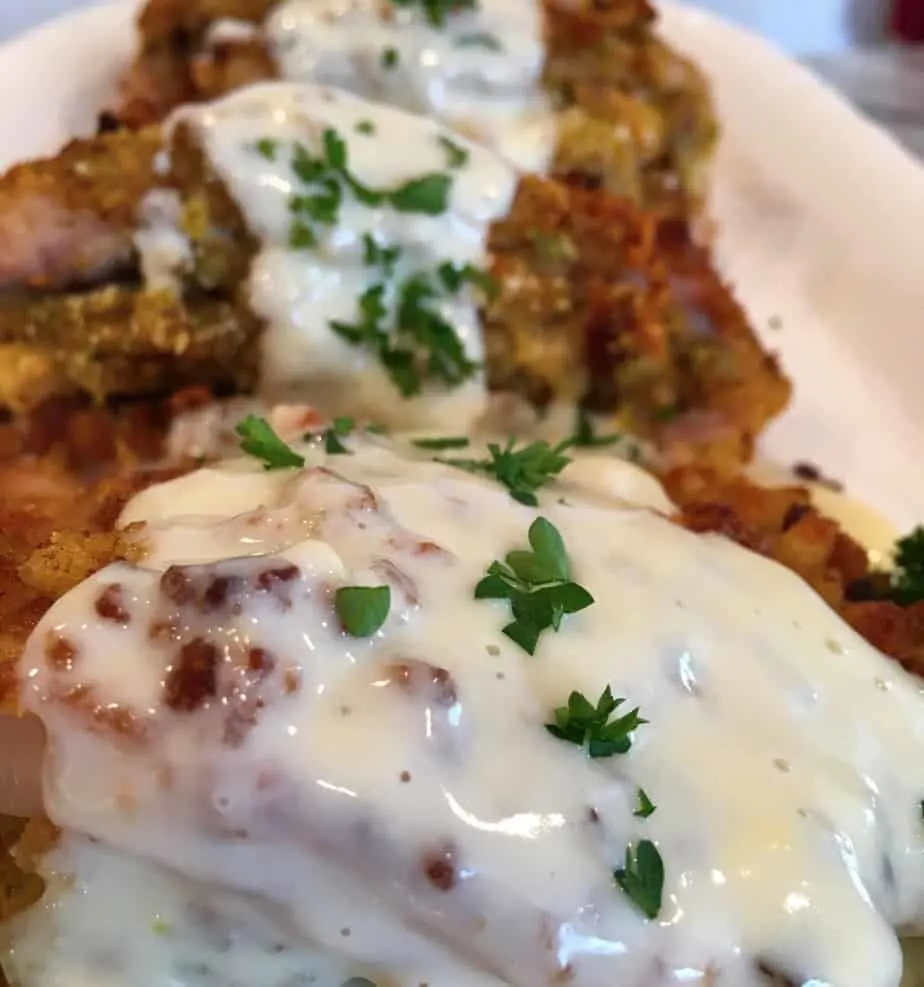 Since I really can't go around saying "Stuff it" to perfect strangers…lol…I decided to channel that feeling into a package of pork chops! (Poor unsuspecting things.)
One minute they were laying there, minding their own business. The next, I was slicing them open and shoving stuffing inside them! Poor things didn't stand a chance. However, I happen to think their make-over was superb! I think you will too.
I love to buy the BIG thick pork chops from Costco. (Ya know…the one's that look like Goliath was the butcher cutting 'em up for his family of giants.) I fillet them in half so that one pork chop becomes two. (It's like I'm a magician!) Four become eight. Which is exactly the number you need for this recipe.
You'll want a really good boneless pork chop about 3/4 an inch thick. Using a really sharp knife cut a "pocket" right down the center of your pork chop from one end to the other.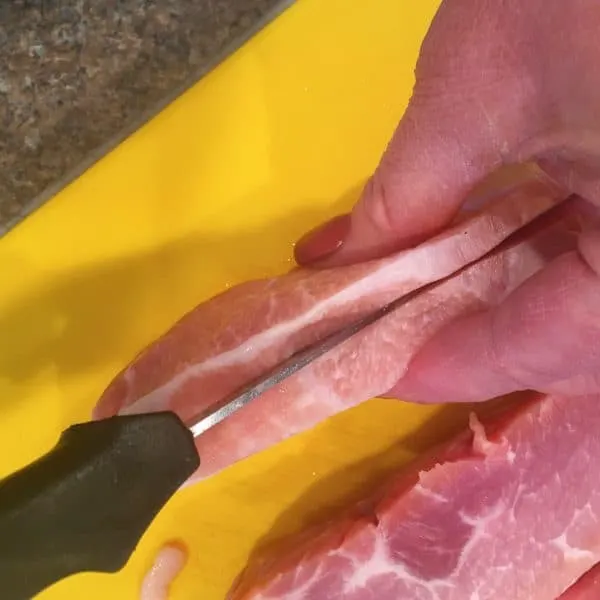 Be careful not to completely cut through the pork chop. Remember you are creating a "pocket" for your stuffing.
How to Stuff a Pork Chop
Now for the fun part of this recipe. The stuffing! Shhhhh….it's from a box! Shocking I know!
That's right you are going to use one box of Stove Top Stuffing, or your favorite brand of instant boxed stuffing mix. Follow the box directions for microwave instructions. It's basically water and butter. It will take about 4 minutes!
Once it comes out of the microwave, use a fork to "fluff" it up!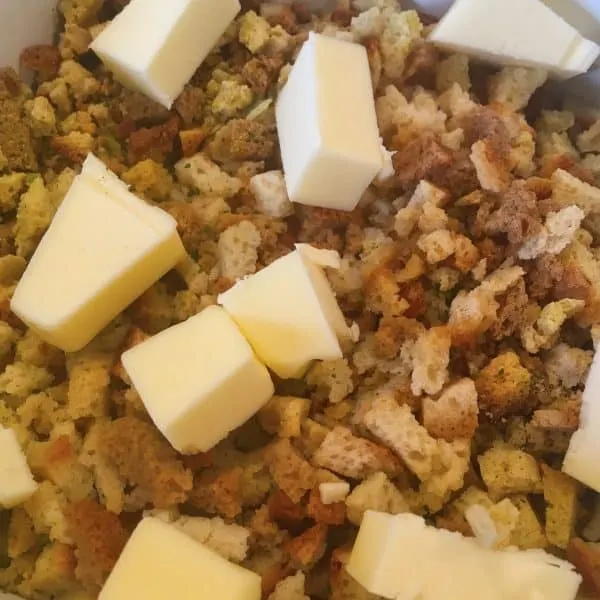 With your pork chops all ready to go… let's stuff them with your amazing gourmet cooked stuffing. (Why make something simple, hard? That's my motto! Don't ya agree?)
Grab a heaping tablespoon of stuffing and place it in the center of the slit you cut in your pork chop. You may have to use your hands to really stuff it down inside the pork chop pocket. (Come on…dig in! Get'er done!)
Press your pork chop edges together and place them on a cookie sheet until you have all your pork chops stuffed.
Remember when stuffing… this poor little pork chop did nothing to you… so be nice and gentle when working your magic!
*Please note…You will have left over stuffing. No worries you can just tuck it in and around your pork chops when you bake them later.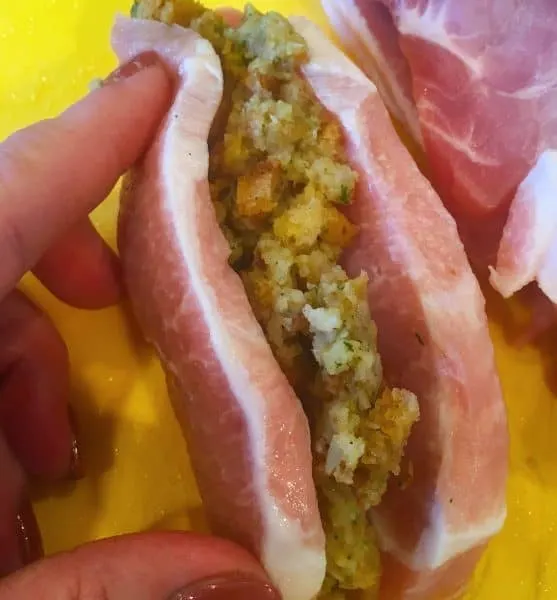 To prepare the coating mixture for the pork chops you need the other box of stuffing mix.
Place the stuffing mix into a large heavy-duty zip lock bag. With a rolling-pin crush the bread crumbs until they are fine crumbles. (You can also do them in your food processor if you have one. Whichever is easiest for you. I like to use the bag because less dishes!)
Place the crumbs into a shallow dish, like a pie plate.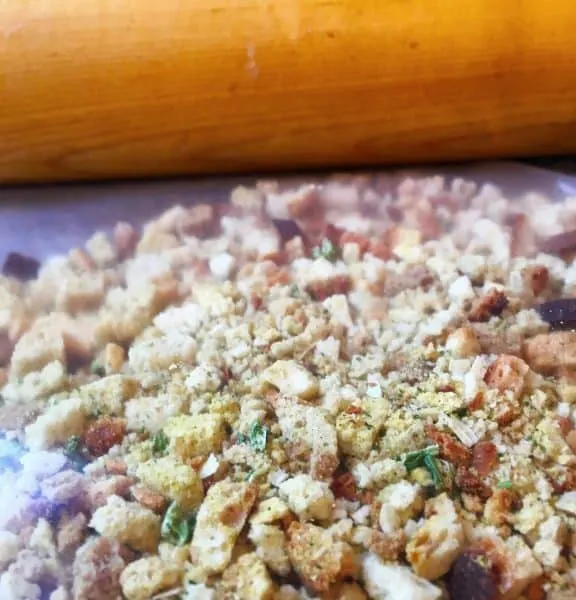 Cooking Stuffed Pork Chops
Heat a large skillet with 1 Tablespoon vegetable oil over medium high heat.
In another shallow dish beat two eggs to create an egg wash. Carefully grab a stuffed pork chop and dip it into the egg wash being sure to coat both sides.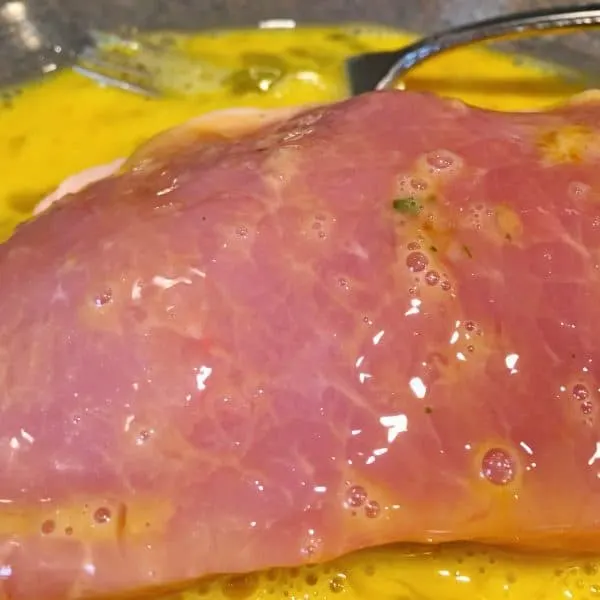 Remove the pork chop from the egg wash.
Gently lay the pork chop into the crushed stuffing mix. Using a fork, or spoon, cover the top of the pork chop with the stuffing crumbs, so that both sides are coated. Press down with your hand to be sure they adhere to the pork chop.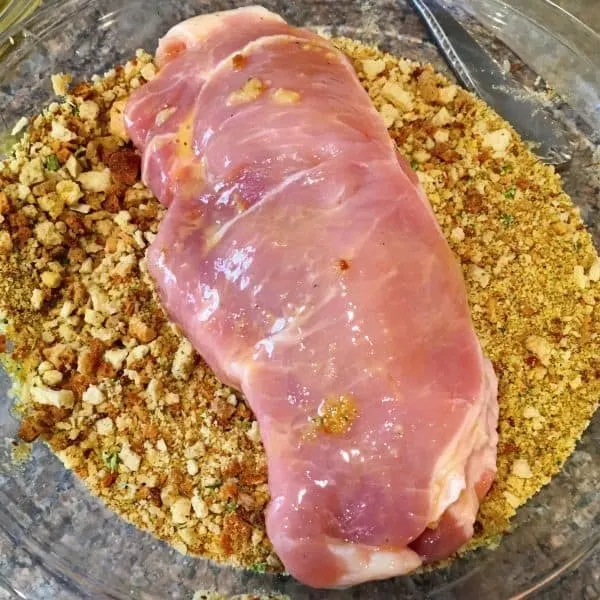 Place the stuffed breaded pork chop into your preheated skillet. Cook until golden brown. About 3-4 minutes per side.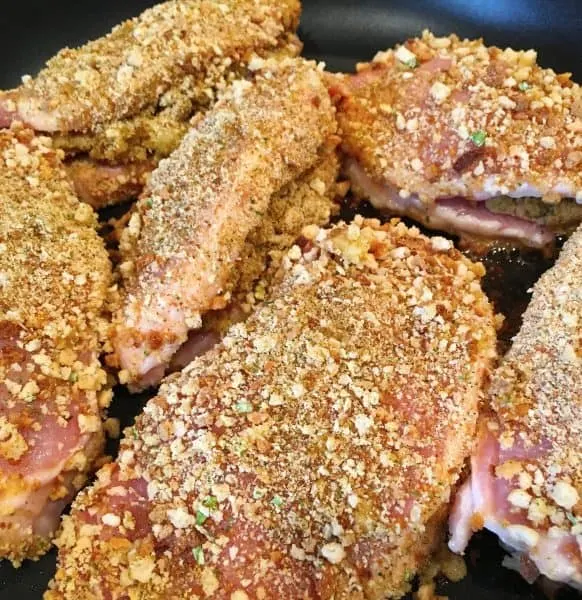 Using large tongs, or a spatula, carefully turn the pork chops to brown the other side. Be careful not to knock off all that yummy golden brown coating.
*Do not worry about the pork chops being cooked through. You are going to place them in the oven to finish cooking.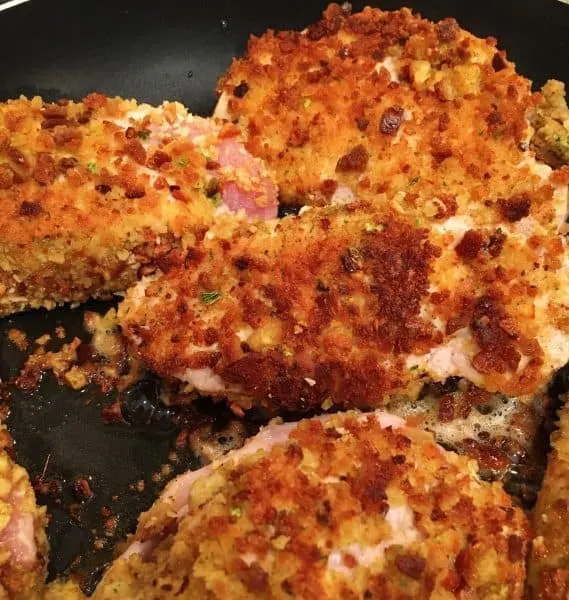 Place your crispy pork chops onto a large baking sheet. Preheat your oven to 300 degrees. Place browned pork chops into the oven for 20 minutes or until juices run clear.
TIP: Be very careful not to over cook your pork chops! Key to a juicy pork chop is not over cooking them. They take less time to cook than you think.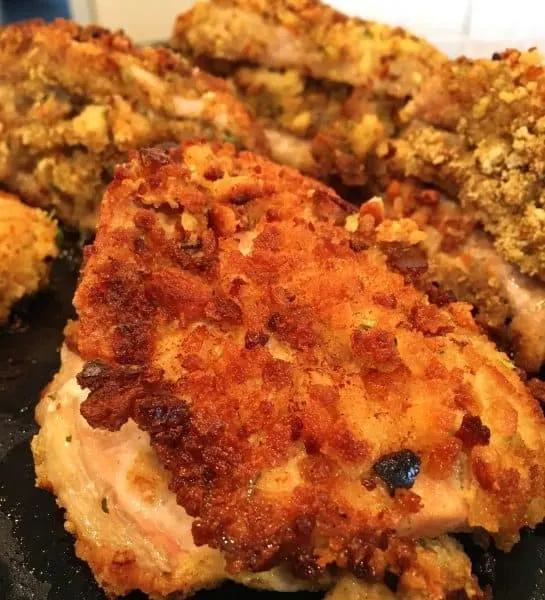 How To Make Simple Gravy
While your pork chops are in the oven you can make the simple gravy to pour over the top of your stuffed pork chops.
To make the gravy mix one can cream of chicken soup, 1/2 cup sour cream, and one cup of milk in a medium sauce pan.
Simmer over low heat until heated through. If you would like a thinner gravy, add more milk till you have the consistency you desire.
Place your fully baked pork chops onto a serving platter and pour creamy gravy over each pork chop. Garnish with fresh chopped parsley.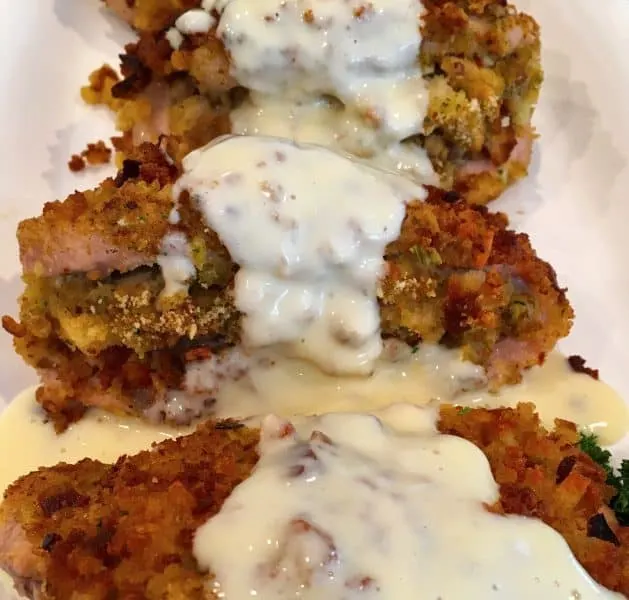 There you go! Beautiful, easy, stuffed pork chops. They are loaded with flavor from all the seasonings in the stuffing mix.
They wear a crispy golden coating on the outside! Are tender and juicy on the inside, and loaded with all that luscious stuffing.
The creamy gravy just brings everything together. This recipe takes ordinary plain pork chops to new heights! One the residents at your Nest, I'm certain, will absolutely L.O.V.E.!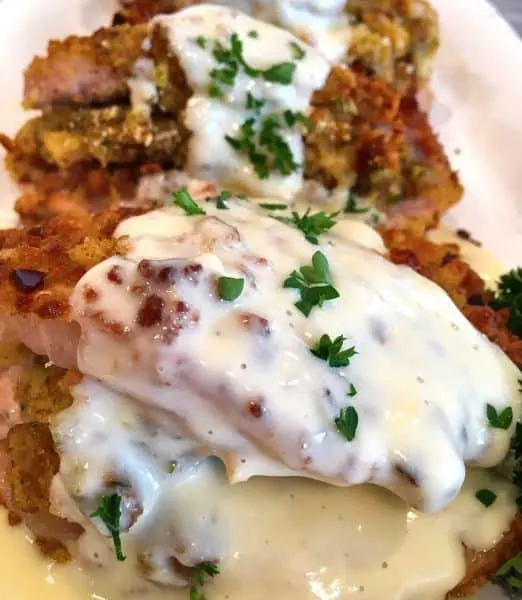 I served this for our weekly family Sunday dinner and paired it up with a few of our favorite side dishes!
What side dishes go with Stuffed Pork Chops?
If you like this recipe, you may be interested in these other pork chop recipes
If you love this recipe and would love to see more be sure to sign up for my Bi-Weekly Newsletter. You can also follow me on Facebook, Instagram, and Pinterest. I'd love to have you join my Nest!
Have a Great Week! Remember…stuff pork chops…don't tell strangers to stuff it! 😉 Life will be much tastier if you do!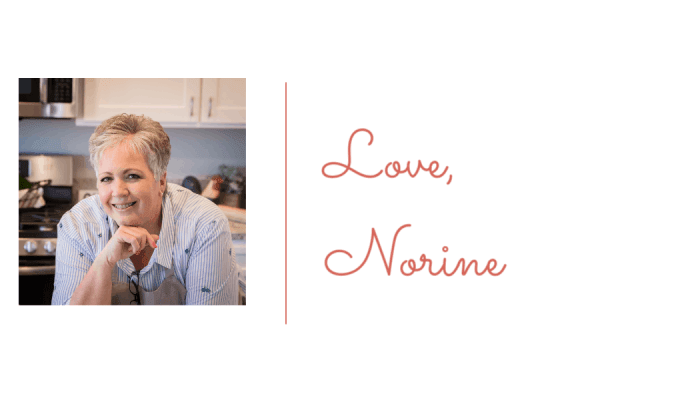 Yield: 8 servings
Easy Stuffed Pork Chops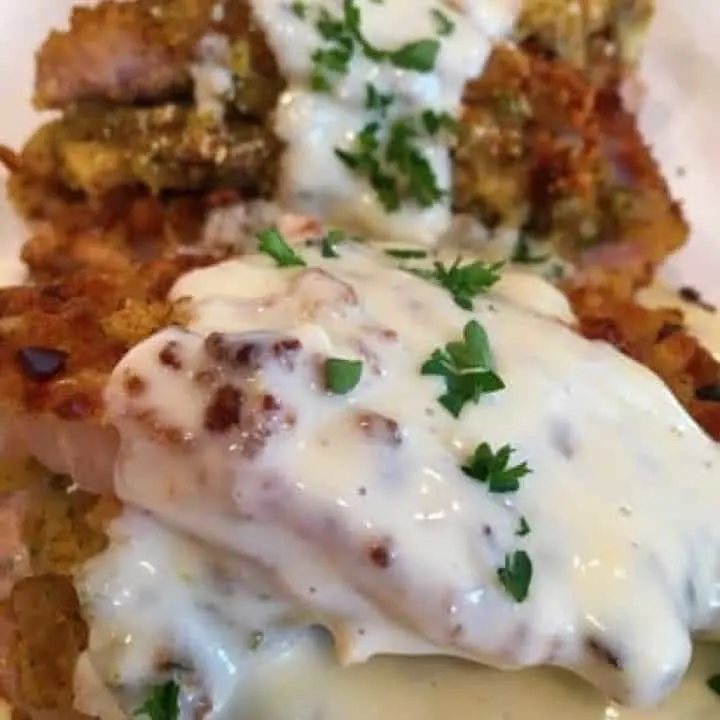 Golden crispy coated bread crumbs filled with tender stuffing come together with a creamy gravy for one amazing flavor combination.
Ingredients
8 boneless lean pork chops, about 3/4 to 1 inch thick
2 packages Stove Top Chicken Stuffing Mix
2 eggs
1 Tablespoon Veggie Oil
1 can cream of chicken soup
1/2 cup sour cream
1 cup milk
Fresh chopped parsley for garnish
Instructions
Cut a pocket in each pork chop by slicing down the center of each pork chop length wise, making sure not to completely cut through the pork chop.
For one box of the stuffing mix, follow box directions for the microwave, and prepare the stuffing per directions. Once done be sure to fluff stuffing with a fork.
Open each pork chop pocket and fill with a heaping tablespoon of stuffing. Press the edge of each pork chop closed as best as possible and place on a baking sheet. *There will be left over stuffing. You can place it in and around the pork chops later when baking.
In a shallow bowl beat both eggs to create an egg wash.
Place the ingredients from the other box of stuffing mix into a large zip lock bag and using a rolling pin, crush stuffing mix until fine and crumbly.
Place crushed stuffing mix into another shallow pan or pie plate.
Carefully dip each pork chop into the egg wash and then into the stuffing crumbs.
In a large skillet place 1 Tablespoon vegetable oil and heat over medium high heat.
Cook each pork chop till golden on each side. About 3 minutes per side.
Place on a baking sheet and bake at 300 degrees about 20 minutes or until juices run clear.
While pork chops are baking make the gravy by placing the canned soup, sour cream, and milk into a medium sauce pan and heat over medium heat till warm and bubbly.
Place pork chops on serving platter, pour gravy over the top of each pork chop. Garnish with fresh chopped parsley.
Nutrition Information:
Yield:
8
Serving Size:
1 pork chop
Amount Per Serving:
Calories:

495
Total Fat:

29g
Saturated Fat:

10g
Trans Fat:

1g
Unsaturated Fat:

15g
Cholesterol:

206mg
Sodium:

499mg
Carbohydrates:

10g
Fiber:

0g
Sugar:

2g
Protein:

46g