Tortellini With Sun Dried Tomato Meat Sauce is made with fresh or frozen three cheese tortellini, your favorite jarred spaghetti sauce, a pound of ground beef, and a few extra additions like sun-dried tomatoes! It's a fantastic quick dinner idea!
I love stuffed pasta! Looooove it! Have ever since I was a little girl and had my first bite of Ravioli! Course they're made by Chef Boyardee…(Don't judge!…It was before my taste buds were fully developed!)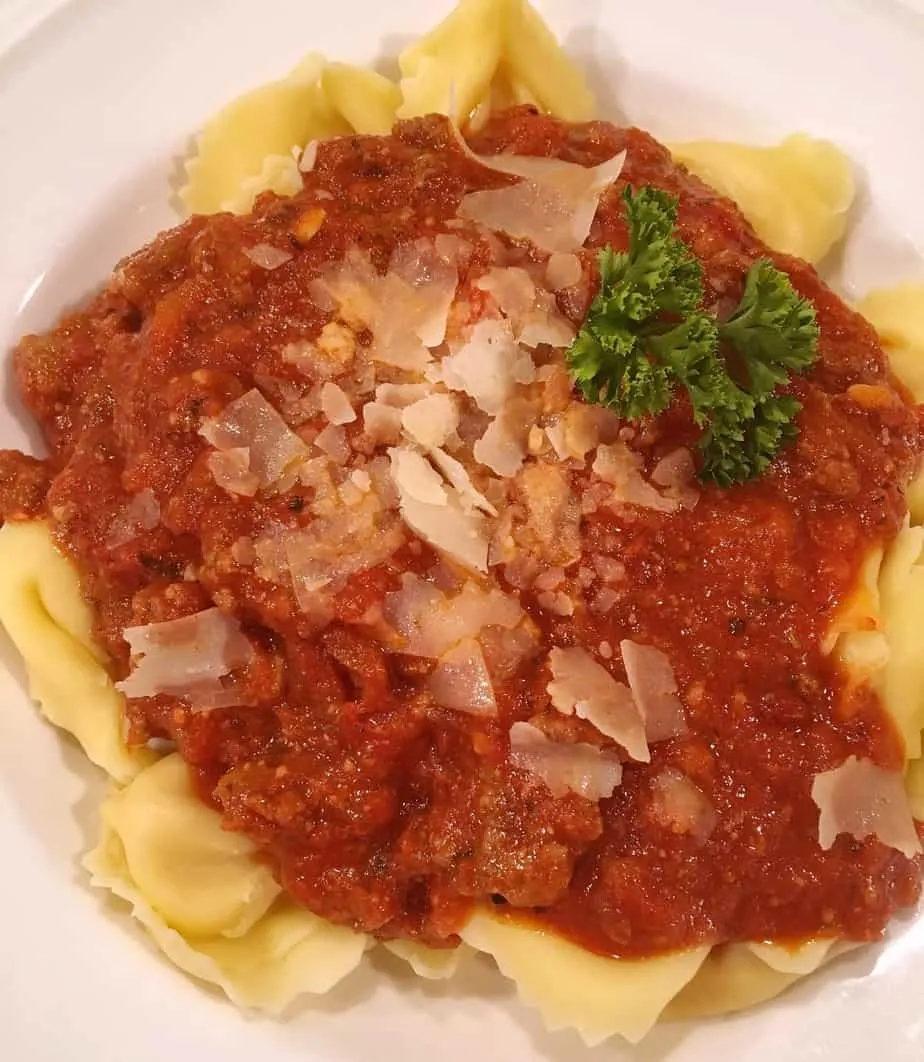 When I'm looking for a quick easy dinner…I go to the freezer and pull out a package of stuffed tortellini and get to cooking! Sometimes I make an Alfredo Sauce and other times, a meat sauce. Just depends on my mood! The night I made this…Red sauce was on my mind!
Sun Dried Tomato Meat Sauce
In a skillet over medium high heat add 1 Tablespoon olive oil. Add 1 pound of lean ground beef and 1 Tablespoon of dried onion flakes and 1 teaspoon minced garlic.
Brown ground beef.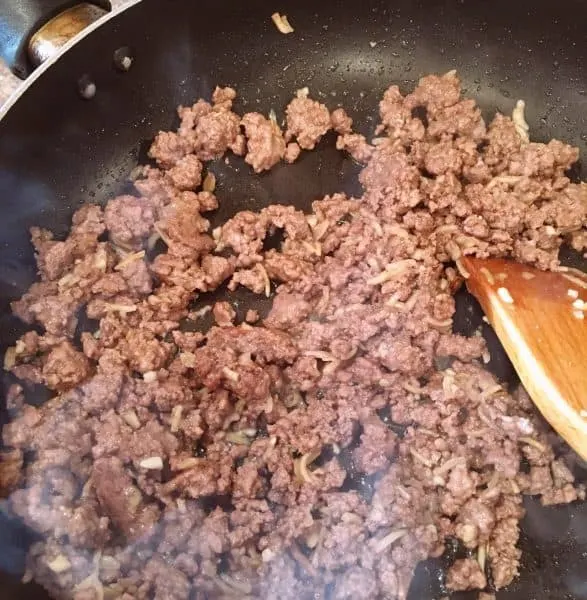 Turn heat down to medium. Add one jar of your favorite spaghetti sauce. I like Prego Traditional. However, any sauce will work though so feel free to use your favorite.
Using bottled spaghetti sauce is a great time-saving tip and if you stock up when they are on sale…it's a great money-saving tip too.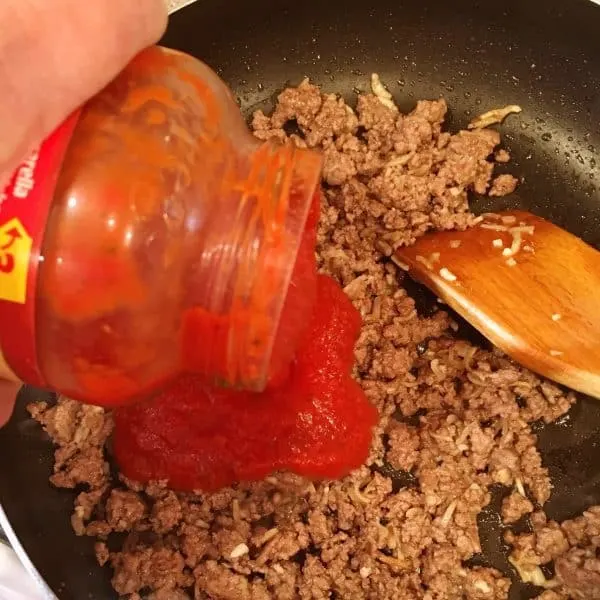 The bottled sauce already has seasonings. However, I love a really flavorful sauce. ..so I add extra seasoning to kick things up a bit.
Add 1 teaspoon oregano, crushed rosemary, and basil. Salt and Pepper to taste. Stir until well combined.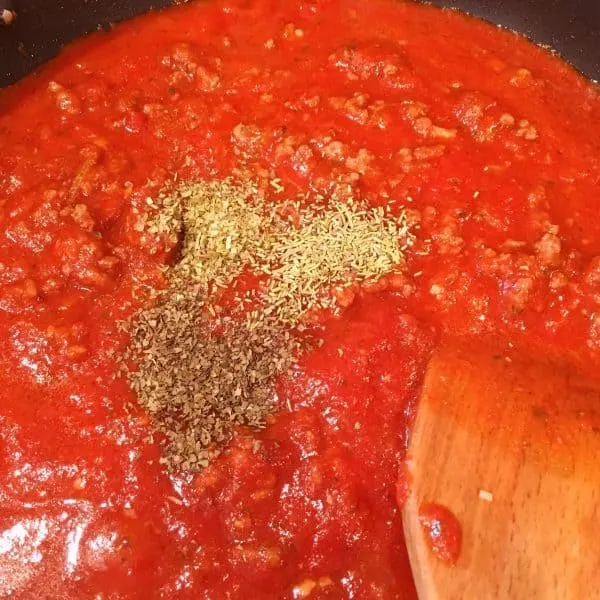 I've mentioned this in other posts…but one of my "top" secrets to a great thick red sauce is adding grated Parmesan Cheese! It's so good!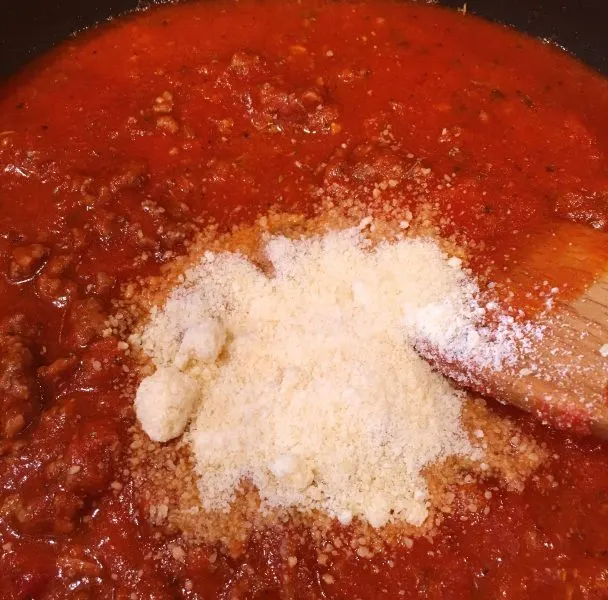 With that in mind…Add 1/4 cup of grated Parmesan Cheese and stir until combined.

Now for the real fun. One of the things I love about cooking is experimenting.
Thinking outside the box is how a lot of great recipes are created. From Cobb Salad, to Elvis Presley's favorite sandwich… The Fool's Gold Loaf! (I'm gonna make that some day too…just for fun and to gross out my husband!)
So I grabbed the jar of Sun Dried Tomatoes and had at it! It's a wonderful addition to!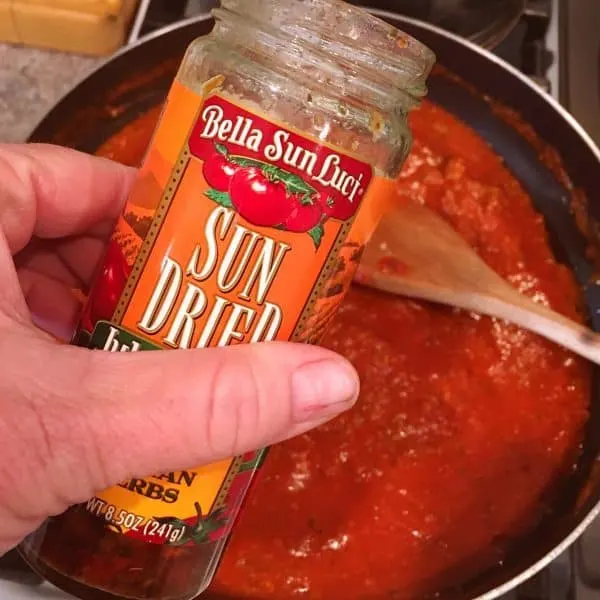 Add 1 heaping Tablespoons of Sun Dried Tomatoes! Oil and all! We want every ounce of flavor that is in that jar!
Stir into sauce.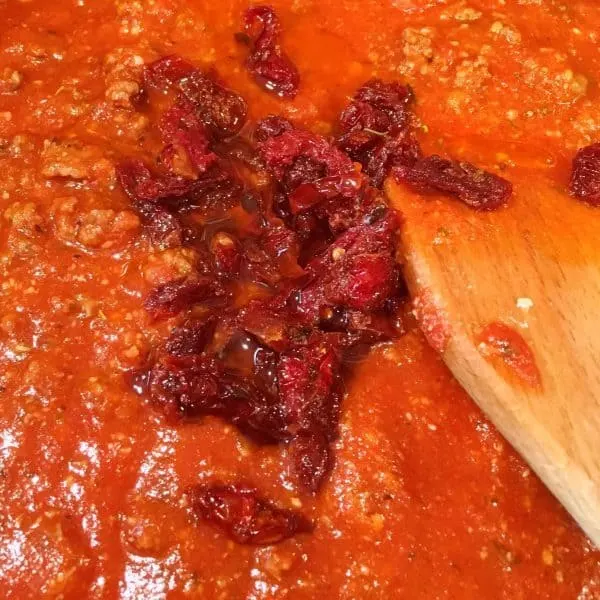 The last addition for this recipe is to add a splash of your favorite red cooking wine. I only had Sherry Cooking Wine on hand so I add that!
You can add a little beef broth if you don't like cooking with wine.
I don't drink, not at all…but I love cooking with alcohol because of the depth of flavor it brings to a dish. I have never found anything else that can replicate the flavor that wine brings to a recipe.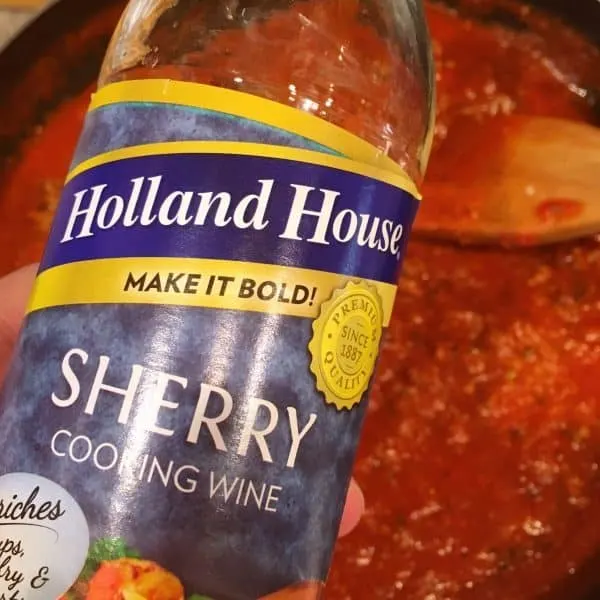 Reduce the heat and simmer for 20 minutes while the tortellini are cooking.
Tips For Cooking Cheese Filled Pasta
Bring a large pot, filled with water, to a boil over high heat. Add 1 package of frozen three cheese tortellini. Boil for 5 minutes.
TIP: Five minutes is the PERFECT time to cook frozen tortellini. You don't want to over cook the tortellini. The sauce will absorb into the pasta making them even more tender.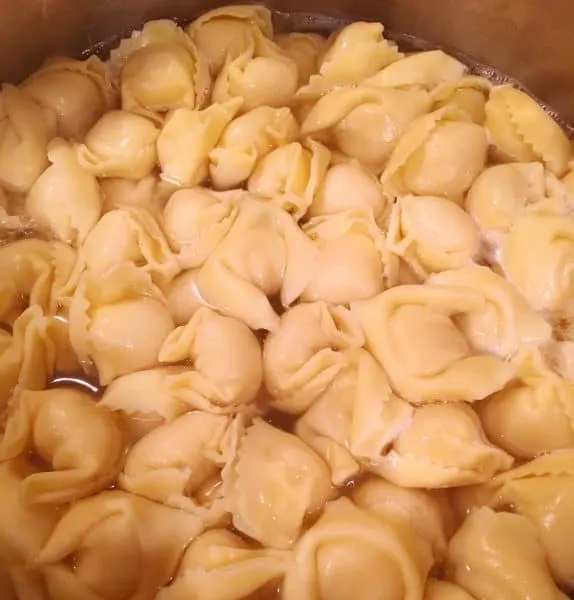 Drain and rinse pasta.
Place pasta on a serving plate and ladle the thick rich flavorful meat sauce over the top of the cooked tortellini. Top it off with fresh shaved Parmesan Cheese!
Stand back for half a second and admire that scrumptious dish. Take in all the amazing smells and the deep red velvet of that sauce! (Have a fork on stand-by so you can dig in after your admiration has ended and your taste buds have taken over!)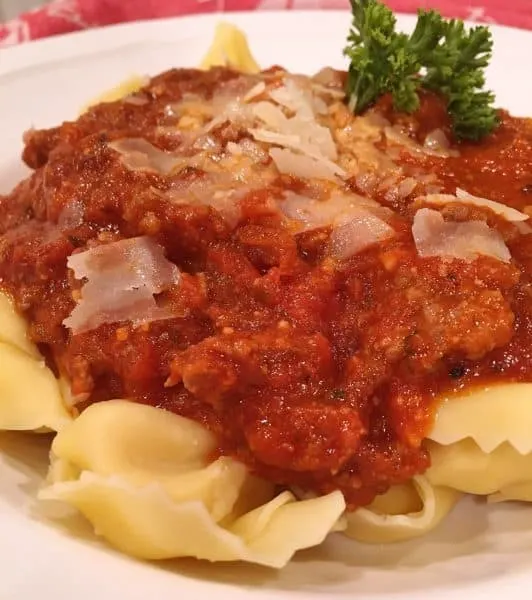 A few tips on making a great pasta dish!
Use a high quality fresh pasta. I love the packages of three cheese tortellini from Costco.
Use Prime or Choice ground beef and cook it in a really good extra virgin olive oil.
Make sure your spices are fresh. It's a good practice to go through your spice cabinet at least once a year and replenish with fresh dried spices.
Use a good quality Parmesan cheese.
Allow sauce to simmer over low heat for a minimum of 30 minutes. This allows all the flavors to infuse with each other.
Do not over cook your pasta!
What are the different grades of beef?
There are three primary grades of beef. Prime, Choice, and Select. The difference really is all about the fat content in the original cut of beef. Fat always equals flavor so, don't shun the fat! (This is going to be tattooed on my fanny!)
USDA Prime Beef – Produced from young, well-fed beef. It has slightly abundant to abundant marbling, and is generally sold in higher end specialty markets.
USDA Choice Beef – is high quality, but has less marbling than Prim or Choice. It's very tender, juicy, and flavorful.
USDA Select Beef – is normally leaner than Prim or Choice. It's if fairly tender, but because it has less marbling than Prime or Choice, it may not have as much juiciness or flavor. Remember fat equals flavor!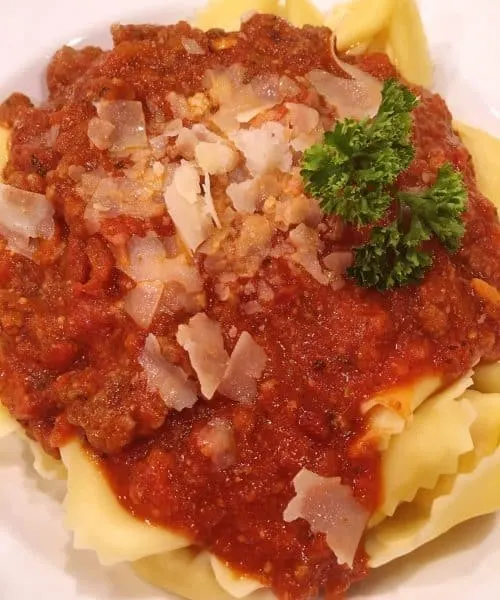 This dish is ready in about 30 minutes! It's great with a side salad and garlic bread!
A quick filling delicious dinner your whole family will enjoy! (Take that Chef Boyardee! Face it…he needed to shave that tacky mustache off years ago! lol)
If you love this pasta dish, you might also like this Meat Lovers Baked Spaghetti or this Brooklyn Penne Pasta. Both delicious!
The printable recipe is below. If you try this dish please give it five stars on the recipe card below. If you share it on Instagram be sure to hashtag #norinesnest for a chance to be featured on our page!
Have a Great Day!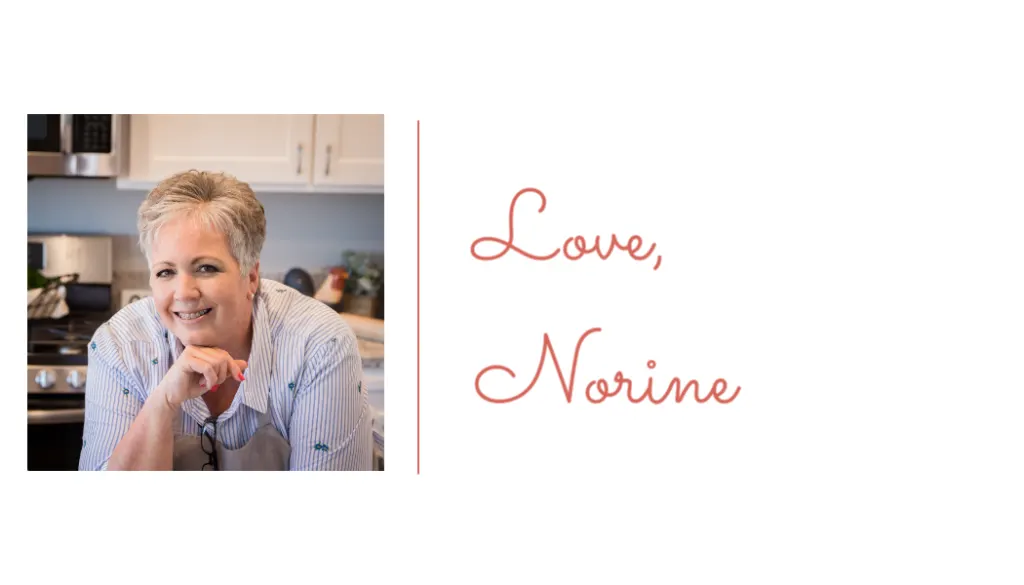 Yield: 6 servings
Tortellini With Sun Dried Tomato Meat Sauce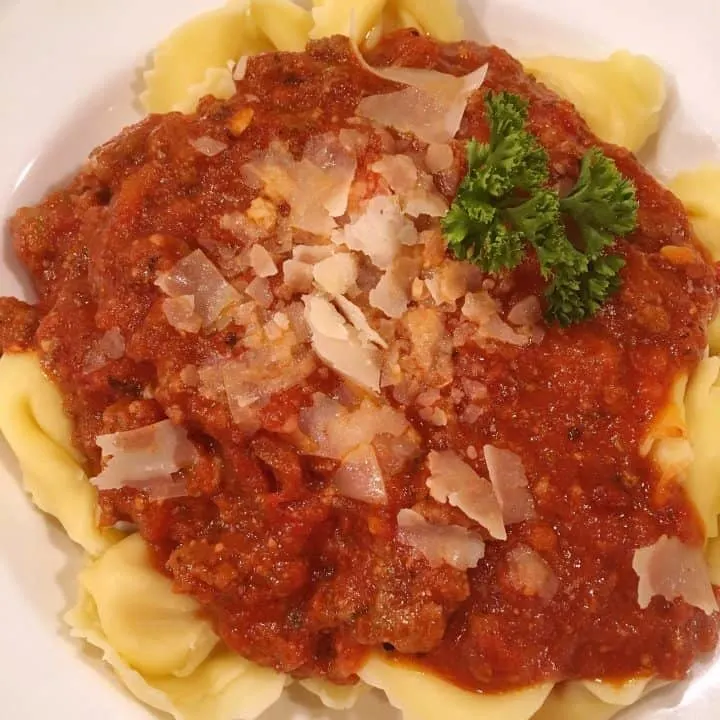 Three Cheese Tortellini topped with a rich flavorful sun dried tomato meat sauce made from Jarred sauce that is kicked up with extra seasonings, brown ground beef, Parmesan cheese, and sun dried tomatoes.
Ingredients
1 Tablespoon Extra Virgin Olive Oil
1 lb. lean ground beef
1 Tablespoon Dried Onion Flakes
1 teaspoon minced garlic
1 45 oz. jar Traditional Prego Spaghetti Sauce, or your favorite sauce.
1 teaspoon dried oregano, crushed rosemary, and basil. Salt and Pepper to taste
1/4 cup grated Parmesan cheese
1 Tablespoon Sun Dried Tomatoes
Splash Sherry
1 package 1 lb 3 oz. Three Cheese Tortellini
Shredded Parmesan Cheese for Garnish
Instructions
In a large skillet over medium-high heat add 1 Tablespoon Olive Oil. Heat. Add one pound lean ground beef, dried onion, and minced garlic. Brown Ground beef. Do not drain.
Turn heat down to medium.
Add 1 jar spaghetti sauce, spices, salt and pepper to taste. Stir until well combined. Add 1/4 cup grated Parmesan Cheese and 1 Tablespoon Sun Dried Tomatoes with oil. Stir. Add one large splash of cooking Sherry or beef broth.
Turn heat down to low. Simmer for 20 minutes, stirring occasionally.
Fill a large pot with water. Bring to a boil. Add tortellini and cook for 5 minutes. Drain and rinse.
Serve sauce over cooked tortellini and garnish with shaved Parmesan cheese.
Recommended Products
As an Amazon Associate and member of other affiliate programs, I earn from qualifying purchases.
Nutrition Information:
Yield:
6 servings
Serving Size:
1 1/2 cups
Amount Per Serving:
Calories:

470
Total Fat:

20g
Saturated Fat:

7g
Trans Fat:

0g
Unsaturated Fat:

10g
Cholesterol:

93mg
Sodium:

1467mg
Carbohydrates:

40g
Fiber:

6g
Sugar:

13g
Protein:

32g
Norine's Nest in no way provides any warranty, express or implied, towards the content of recipes in this website. It is the reader's responsibility to determine the value and quality of any recipe or instructions provided for food preparation and to determine the nutritional value, if any, and safety of the preparation instructions.