This Chicken Chili Verde is jam packed with deep rich flavors that will fill your home with the smells of your favorite Mexican Restaurant. Served over rice and garnished with sour cream this is one incredible dish.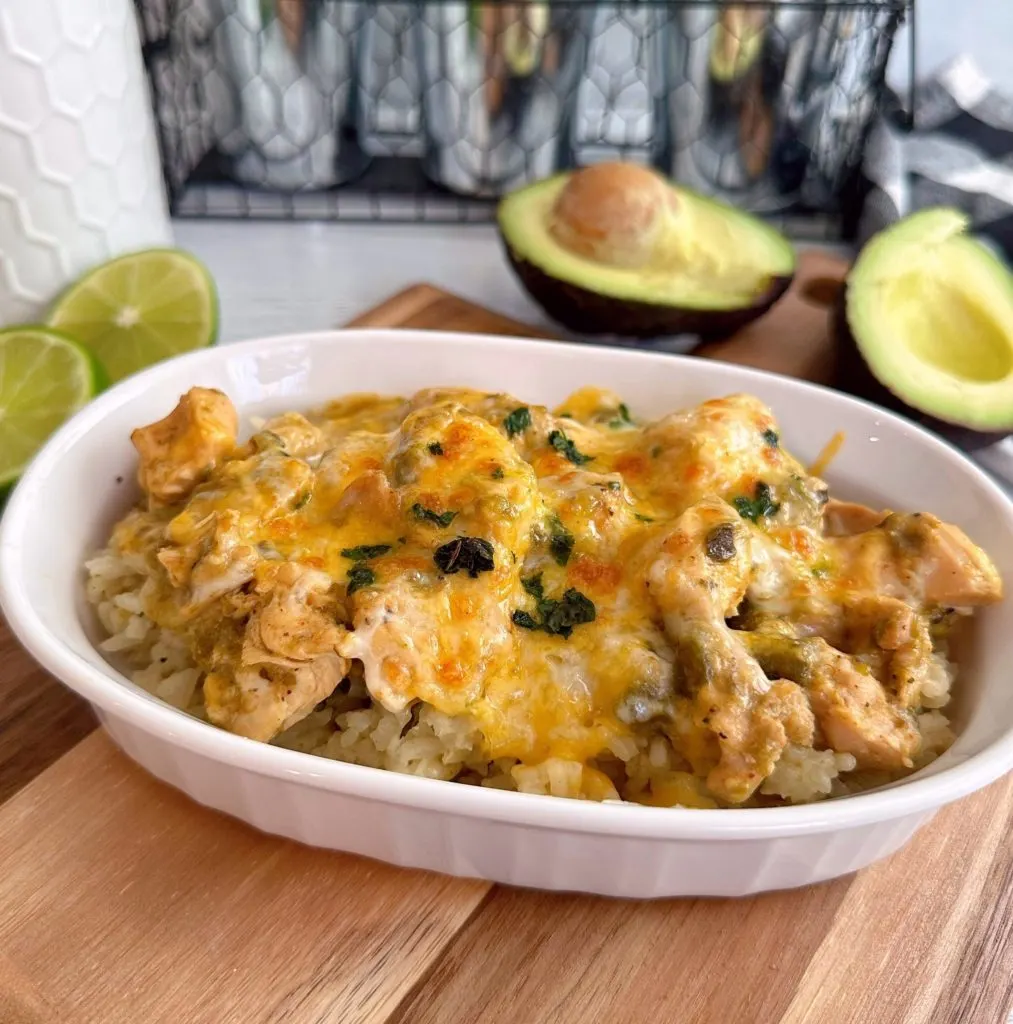 A month ago I spied this recipe from my friend Sarah at The Magical Slow Cooker! (Her Slow Cooker really is MAGICAL! The stuff that pops out of that thing…Wowza!)
She had this recipe for Slow Cooker Green Chile Cheesy Chicken, and it looked SO good! As I skimmed through the recipe, it called for "Poblano" peppers. Whooo-Hooo! That was all the convincing I needed. I was ALL in! I love Poblano Peppers! Yummmmm!
I did my usual "tweaking" (Let's not confuse that with "twerking"!?? Who comes up with this stuff? Any who… If my hips move in a "provocative" manner it's going to mean hip replacement! Lol) I think this recipe leans towards a Chili Verde recipe, so I renamed it Chicken Chili Verde. It has rightfully earned the name.
I used a fresh Poblano like Sarah, however I roasted mine. I love the flavors that roasted peppers bring to a dish. It's a little extra work…but totally worth it.
Ingredients needed for this recipe
1.5-2 lbs boneless skinless chicken thighs, or chicken tenders, thawed – I cube mine into bite size pieces for easier serving.
½ teaspoon salt
¼ teaspoon ground black pepper
1 teaspoon chili pepper
½ teaspoon cumin – you can add more if you're a cumin lover like myself.
1½ Cups Salsa Verde, or Green Salsa – do not substitute with red salsa.
1 whole Poblano Pepper, diced – Roasted or un-roasted, seeds removed.
1½ Cups shredded Colby-Jack Cheese
Sour Cream for Garnish
How To Make Chicken Chili Verde
This dish starts out with 1.5- 2 lbs of boneless skinless chicken thighs. I recommend that the chicken thighs are thawed. *Note you can use pork in place of the chicken.
I didn't thaw mine and I had a lot of extra broth. Next time I will be sure they are completely thawed first. (Nothing worse than frozen thighs…the clacking noise they make! GADS! Ohhhh…maybe that's just my frozen thighs. Oh, Lawdy! T.M.I.)
Sprinkle the chicken with salt, pepper, and chili powder. I added a little cumin. It just doesn't feel like Mexican food without a little cumin! Okay I added a lot of cumin! About 2 teaspoons.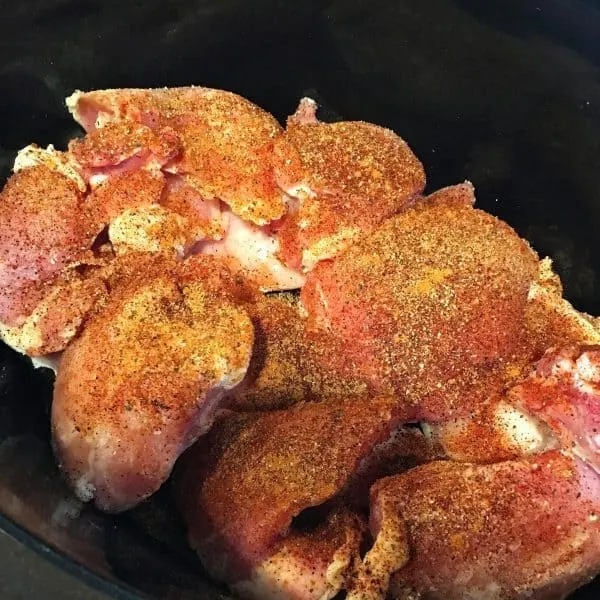 You can dice a fresh whole poblano pepper and throw it in, or you can roast your pepper like I did.
How To Oven Roast Poblano Peppers
To roast peppers simply place them on your broiler pan (That's the drawer under the oven that no one ever uses, blow the dust off the pan before you use it!) and set the oven temp to broil.
Keep a close eye on the pepper. It will begin to sound like the shootout at the O.K. Corral! No worries. That is just the skin popping as the steam builds up inside the pepper.
When one side is nice and toasty black… rotate the pepper so that all sides are darkened, and the skin is bursting. You may have to turn it several times to get the entire pepper roasted.
Easily Peeling Peppers
Quickly submerge the roasted pepper into ice-cold water and leave it for 1–2 minutes. If you have sensitive skin I highly recommend wearing latex gloves before handling the peppers.
Peel the outer layer of skin off the pepper.
Cut the top off by the stem. Pull the stem out trying to remove as much of the center out as possible. Rinse out the inside of the pepper to remove any excess seeds. Dice the pepper.
I know…it doesn't look pretty. You are just going to have to trust me that this roasted pepper is a game changer in this recipe!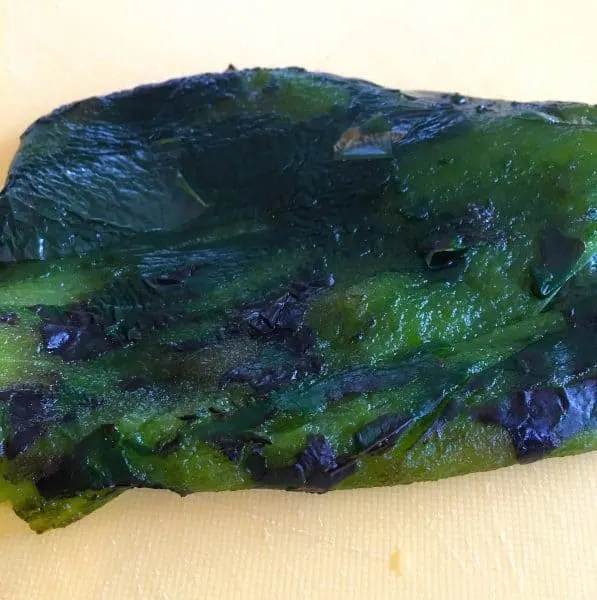 Preparing everything for the slow cooker
Add the diced roasted poblano and 1½ cups of green salsa to the chicken.
Cover and cook on HIGH for 4 hours or low for 6 hours.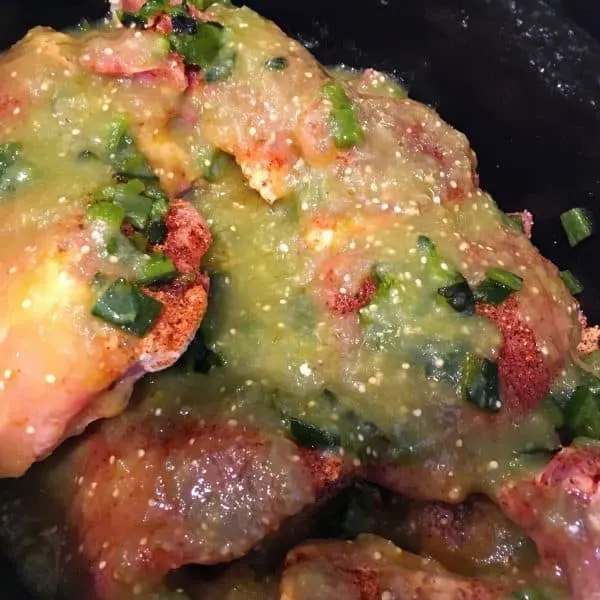 This dish makes a LOT of sauce! If you want you can cut the green salsa down to just one cup and it would be fine. You can see from my picture how much broth I have in my slow cooker.
TIP: I love to use the extra sauce in my rice as a substitute for water.
As this dish begins to cook you are going to go crazy with the smells going on inside your house. Honestly, it's like the BEST Mexican restaurant in the entire country.
My kids were dying over the smells coming out of my kitchen. I think we were all convinced our kitchen had converted to a 5 star Mexican restaurant.
Finishing and Serving Chicken Chili Verde
Sprinkle the chicken mixture with 1 and ½ cups of shredded Colby-Jack cheese. Cover and continue to cook for about 10 minutes or more, until the cheese is melted.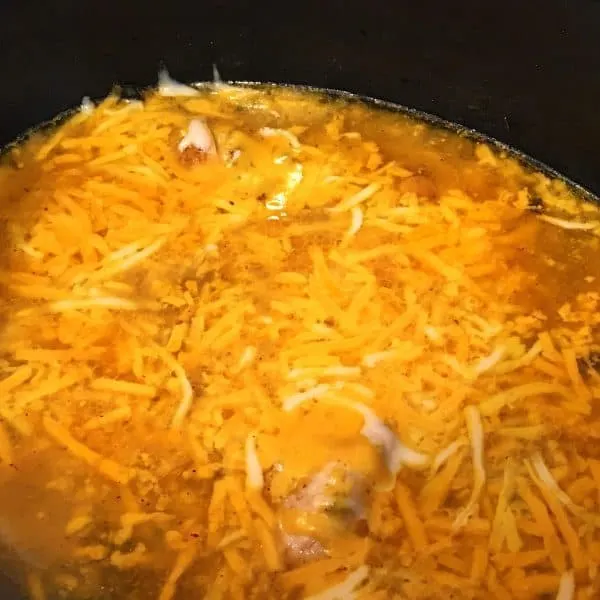 I make homemade Cilantro Lime Rice recipe to pair with this Chicken Verde. It really kicks up the flavors in this dish. You can use regular rice if you prefer.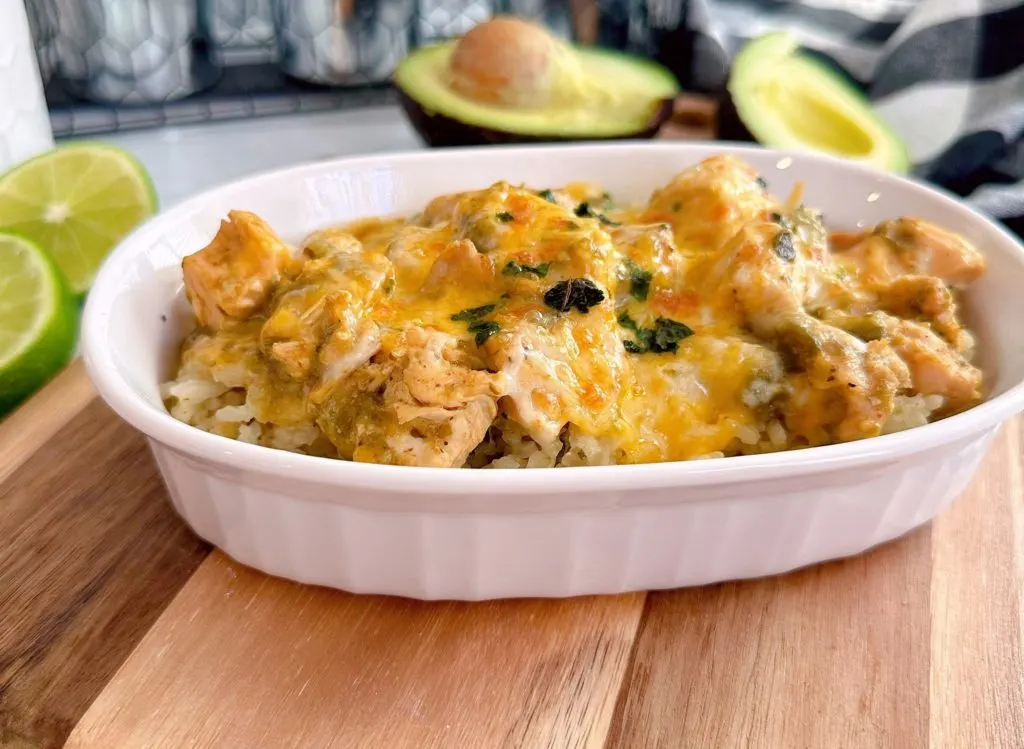 We add a "dollop" of sour cream on top of our Chili Verde! That little touch of sour cream makes it crazy good! What a game changer! One I highly recommend.
The bottom line friends…this recipe has made its debut, and will be returning for many, many encore performances at this Nest! It's fantastic as is…the leftovers…if there are any…would be spectacular in burritos or chimichanga's.
If you want an easy delicious dinner idea…this is it!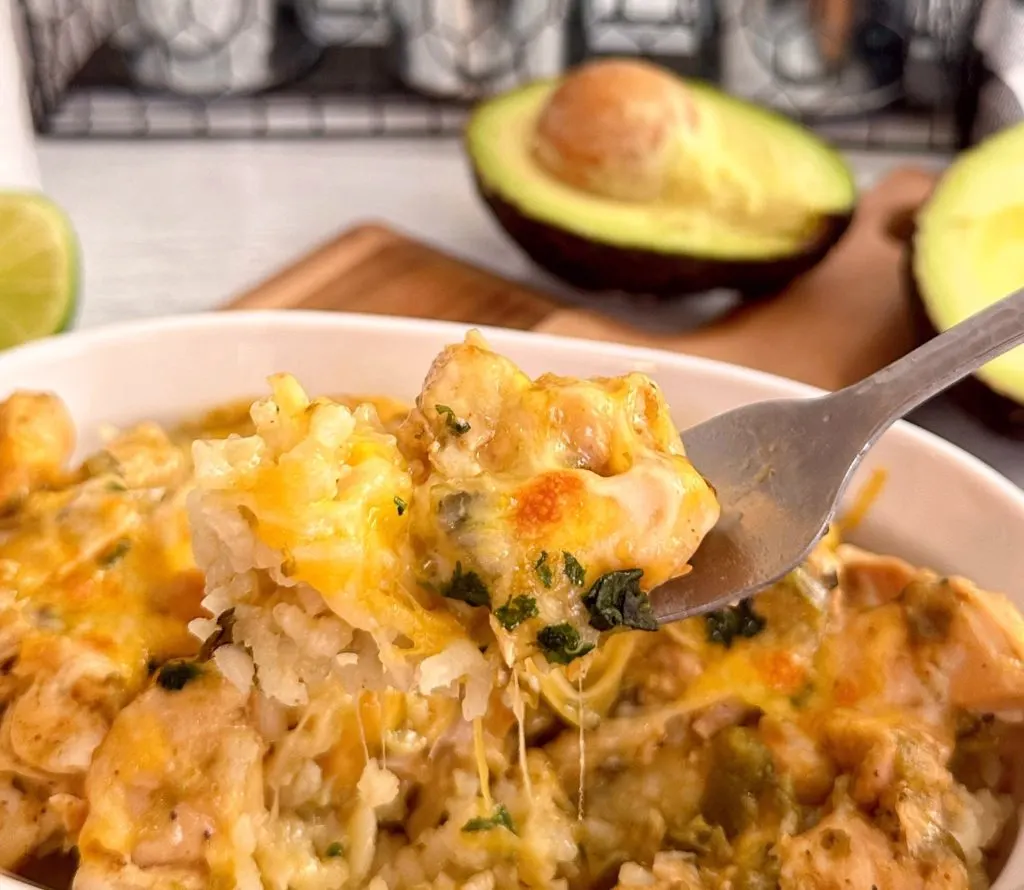 Questions and Answers for this recipe
Can this recipe be made ahead of time? It can be made ahead of time and stored in the refrigerator for up to 5 days, or you can freeze it in an airtight container for up to 3 months.
What are some other ways to use this recipe? This is a great "sauce" over tamales, enchiladas, and chimichanga's! It's also great on top of Nacho's or on eggs!
Can I use another pepper rather than a Poblano? Yes! This recipe works beautifully with Anaheim peppers or regular Hatch Chilies! I've even mixed peppers for this recipe.
How do I keep the heat at bay in this recipe? Make sure to remove ALL the seeds from your roasted peppers!
Do I have to use Chicken? No! Not at all. This recipe works well with diced pork, and steak!
If you enjoyed this recipe you may also enjoy these other fantastic Mexican Main Dish Recipes
Have a Great Day…remember to follow me on Instagram, Pinterest, Twitter, and Facebook.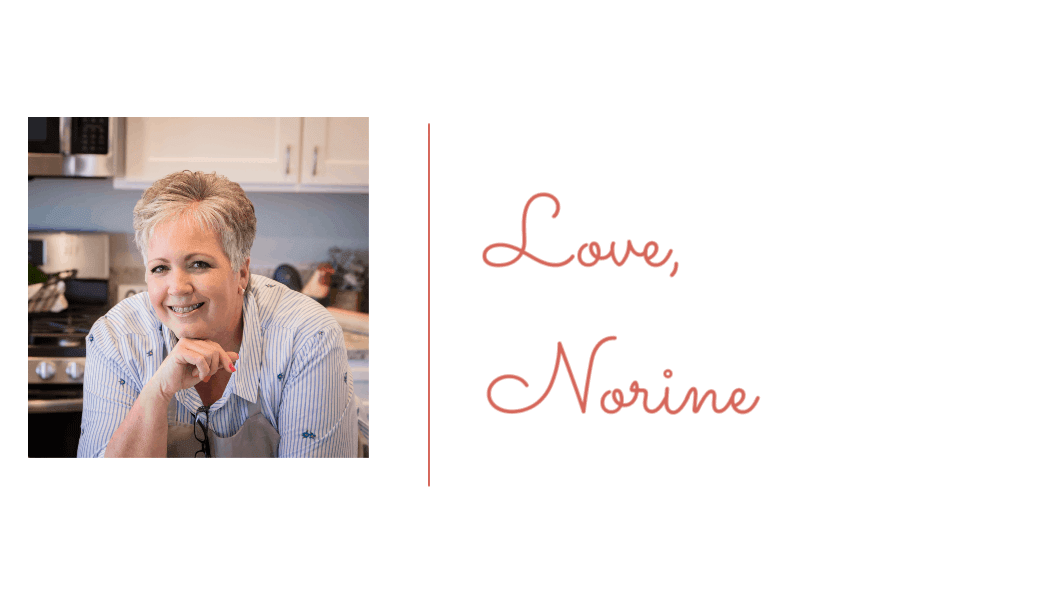 Yield: 6 servings
Slow Cooker Chicken Chili Verde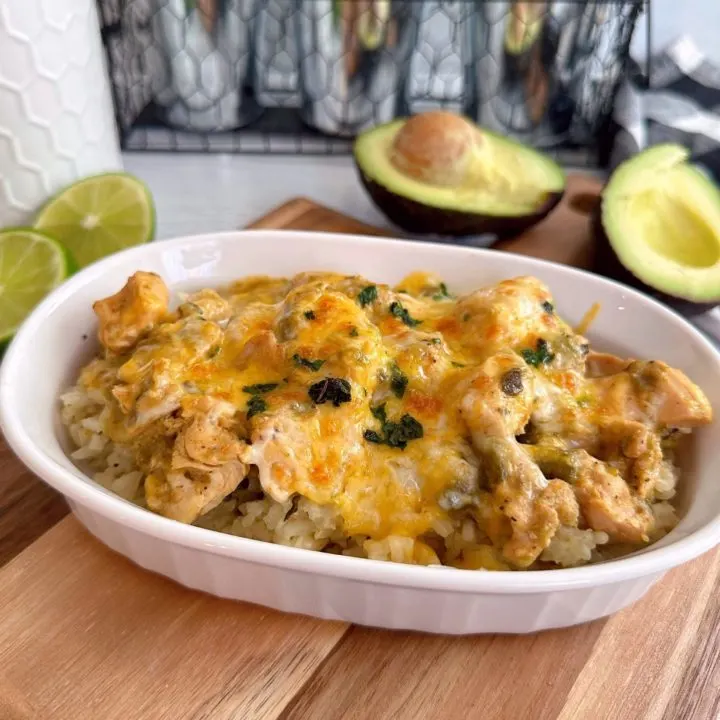 This Chicken Chili Verde is jam packed with deep rich flavors that will fill your home with the smells of your favorite Mexican Restaurant. Served over rice and garnished with sour cream this is one incredible dish.
Total Time
4 hours
10 minutes
Ingredients
1.5 - 2 lbs boneless skinless chicken thighs, thawed
1/2 tsp. salt
1/4 tsp. ground black pepper
1 tsp. chili pepper
1/2 tsp. cumin
1 1/2 cups of green salsa
1 poblano pepper, diced...you can roast it or use as is.
1 1/2 cups shredded Colby-Jack Cheese
Rice for Serving
Sour Cream for Garnish
Instructions
Add the chicken to the slower cooker.
Sprinkle the salt, pepper, chili pepper, and cumin over the top of the chicken.
Roast Pobalno Pepper and dice.
Pour Green Salsa over the top of the chicken.
Cover and cook on HIGH for 4 hours, or about 6 on low would work too.
When the cooking time is done, sprinkle top of chicken and sauce with shredded cheese.
Cover the slow cooker for about 10 minutes or until the cheese is melted.
Serve over rice. Enjoy.
Recommended Products
As an Amazon Associate and member of other affiliate programs, I earn from qualifying purchases.
Nutrition Information:
Yield:
6 servings
Serving Size:
1 1/2 cups
Amount Per Serving:
Calories:

545
Total Fat:

27g
Saturated Fat:

11g
Trans Fat:

0g
Unsaturated Fat:

15g
Cholesterol:

304mg
Sodium:

1127mg
Carbohydrates:

12g
Fiber:

1g
Sugar:

3g
Protein:

63g