These little bundles of creamy cherry joy will magically disappear as soon as they pop out of the oven! Light, flaky, and flavorful. Cherry Cream Cheese Knots…A fun breakfast treat!
As a food blogger I am constantly walking through the grocery store with one eye on my list and the other eye looking for new exciting products.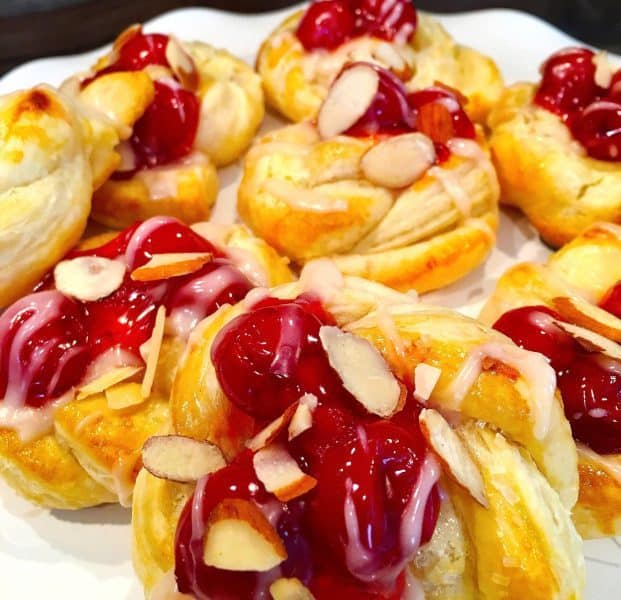 If you've spent any time in the grocery business…and I have…you know that the products on the shelves are constantly being moved around making space for new products.
Companies pay for shelf space, and "yes" there are "prime locations". Anything at eye level is a "prime location". In a nut shell $$$! It is usually where your higher priced items are too! (There's your helpful shopper tip of the day! lol)
Right now there's an onslaught of new products hitting the shelves. Some exciting, other have me raising an eyebrow? ("Was everyone in that brainstorm meeting smoking something!") You just know it's going to be a flop! I almost feel bad for them. Almost! 😉
A few weeks ago I stumbled upon one of the "exciting" ones. It was in the refrigerator case by the Pillsbury cinnamon rolls. Which, truthfully, I was reaching for… when my hand stopped in mid-air and zoomed past my nose.
Seems someone has decided to give that frozen Puff Pastry a run for their money by creating a "fresh" refrigerator puff pastry. I loved the idea of not having to wait for it to thaw plus it's about a dollar cheaper! Huge bonus in my book!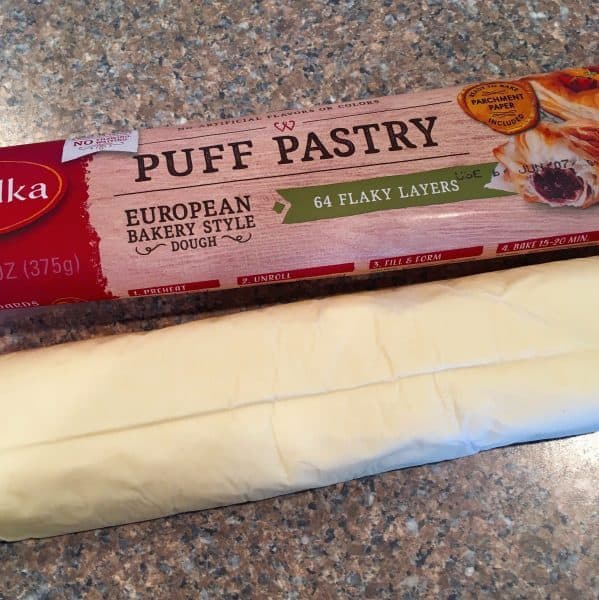 So I skipped the Pillsbury can of massive explosion, and went for the quiet refined European bag with its 64 flaky layers! (NO! I did not count all the layers. I went with trust on this one. Bag said 64 layers… that was good enough for me!)
Because I made mine into "knots" it did not "PUFF" like a puff pastry normally would. It still made an amazing, light and flaky breakfast pastry.
These are remarkably easy to make. You are going to love this product. I found it at Wal-mart. (Trust me…if mine has it…yours has it. Remember…country bumpkin!)
How to Make Cherry Cream Cheese Knots
Carefully unroll your dough. It has been rolled with parchment paper so that it won't stick together. Using a pizza cutter, cut the dough length wise into 8, 1 inch strips. Cut each strip in half width wise so you have two one-inch strips.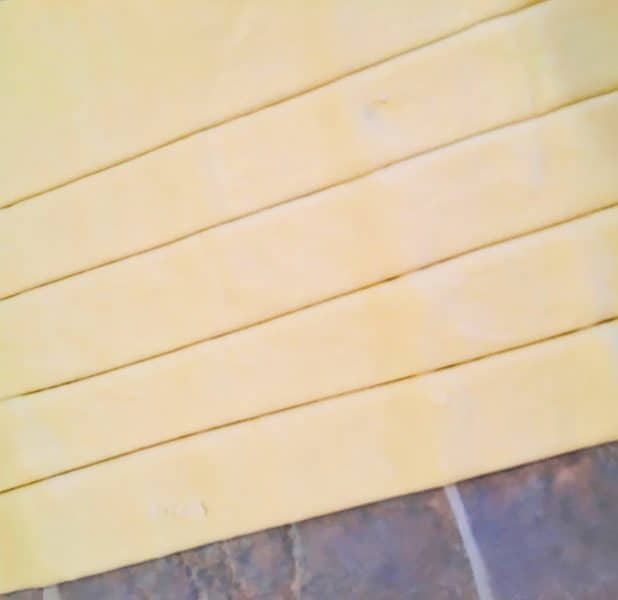 Fold each of the one inch strips in half. Gently pinching them as you fold.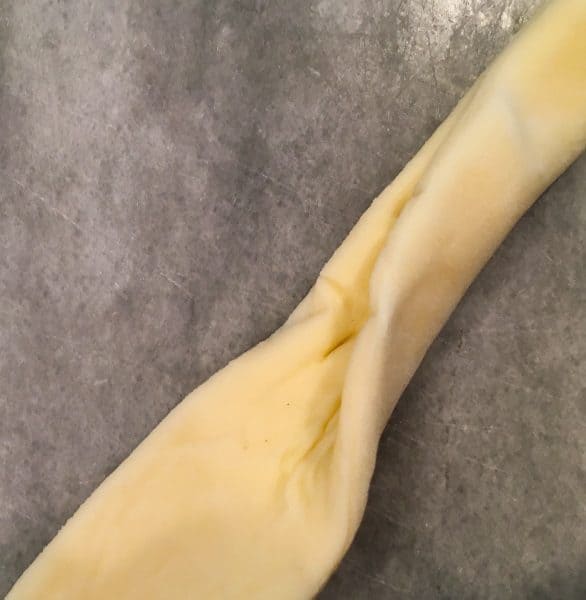 Lay the two folded strips side by side.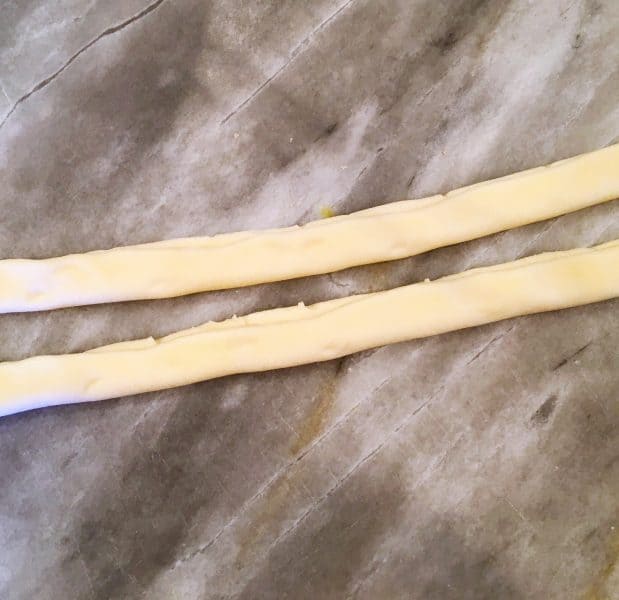 Twist the two strips together, pinching the ends together, and tie into a loose knot.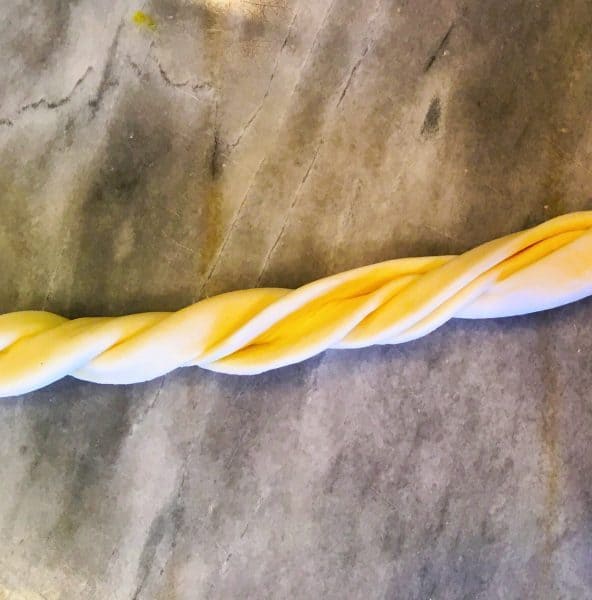 Place your knots on a baking sheet that has been lined with parchment paper, or a silicon baking mat. I love the baking mats. It's just a matter of personal preference.
In a small bowl mix together 4 oz. of soften cream cheese, 2 Tablespoon of whipped egg, 1 Tablespoon of sugar and 1/4 tsp. almond extract. Combine until smooth and creamy.
Brush knot with egg wash using the left over beaten egg from the cream cheese mixture. Sprinkle with coarse sugar, if desired. Place 1 Tablespoon of cream cheese mixture into the center of each knot. Don't worry if a little slides off.
Tip: Egg Wash is beaten egg with a little cream or water mixed in.
Pop into your preheated 400° oven and bake for 10 – 15 minutes or until edges are turning brown. These are not going to get huge because the layers of puff pastry really can't expand due to the way the dough has been twisted and knotted. It's okay. It will still create a wonderfully flaky breakfast Danish.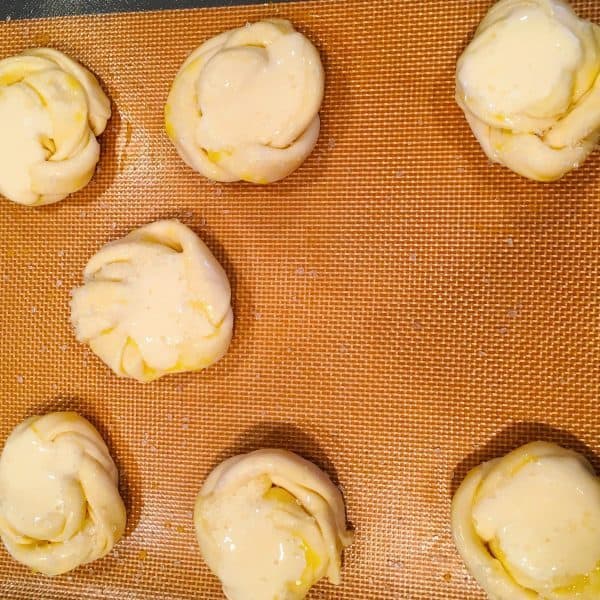 When they are just beginning to turn brown, open the oven and slide the baking sheet out on the shelf. Do NOT remove from the oven. Carefully add three cherries to the top of each knot. This will prevent the cherries from "drying" out during cooking and it allows the cream cheese mixture to bake first.
Slide the knots back into the oven for another 5 – 10 minutes. Once the pastry is golden brown and the centers are set remove the knots from the oven. Place on a cooling rack and allow them to cool.
Mix 1/2 cup of powder sugar with 1-2 tsp. milk. Mix well. Add more milk if necessary. Drizzle glaze over the top of each knot. Sprinkle with sliced almonds.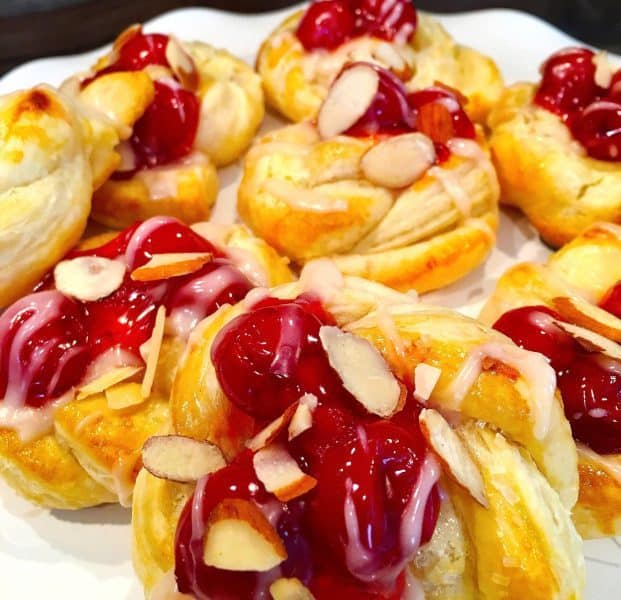 These little bundles of joy…just magically disappear? Maybe they should be called "Poof" Pastry! Cause "Poof" and they are gone! For good reason my friends.
The puff pastry is light, flaky, and scrumptious. The cream cheese filling with the cherries is sublime. Toss in that glaze and the sliced almonds and it's a breakfast pastry delight!
Don't let the various steps scare you. They come together super quick thanks to the refrigerated puff pastry. I have a new favorite product. Which just goes to show that it pays off to walk googled eyed through the super market! Just ignore the stares and whispers.
If you liked this recipe you might enjoy these other delicious Breakfast Pastry Recipes
Remember you can always join the fun every day by following me on Facebook, Instagram, Pinterest, and Twitter! I'd love to have you come along for the ride.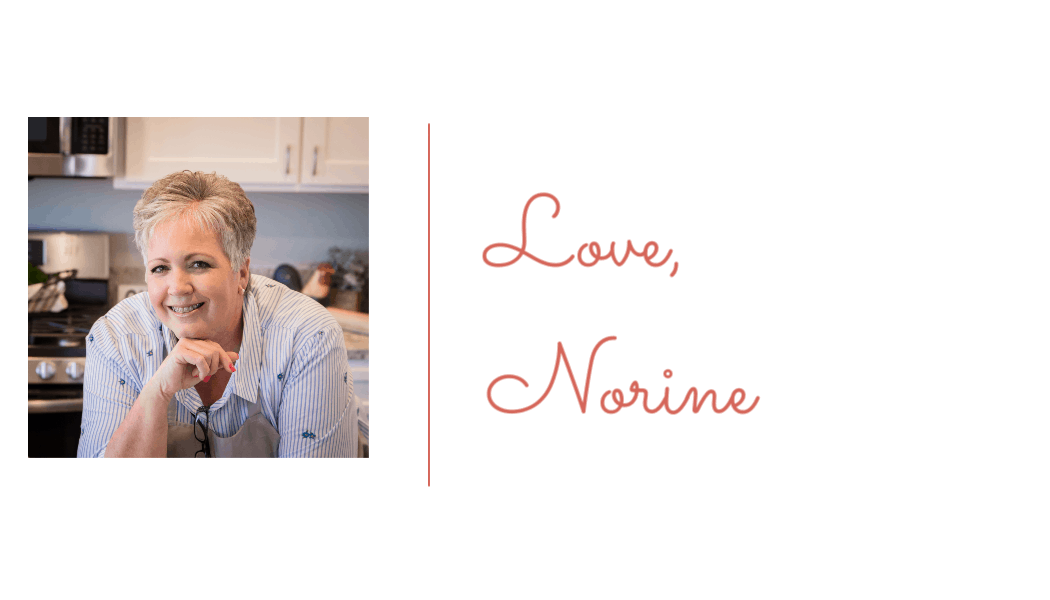 Yield: 8 knots
Cherry Cream Cheese Knots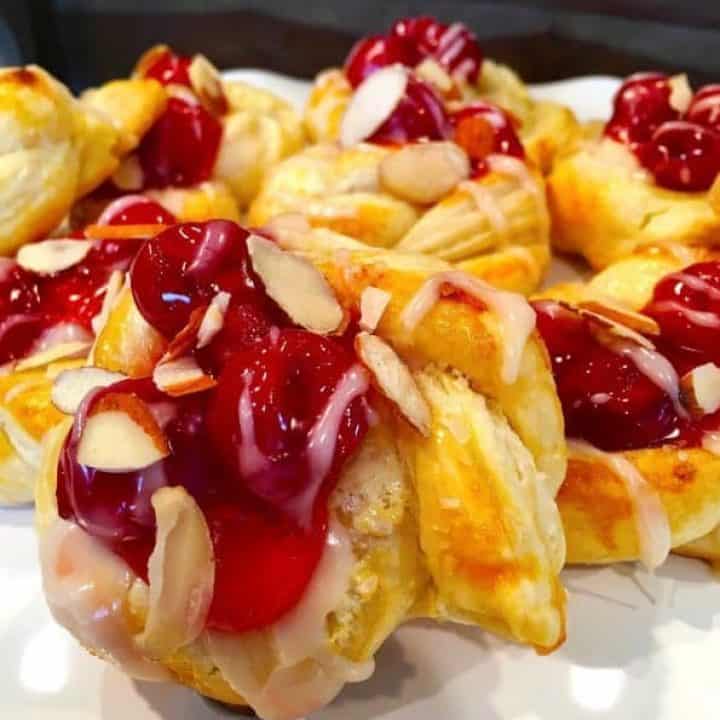 These little bundles of creamy cherry joy will magically disappear as soon as they pop out of the oven! Light, flaky, and flavorful. A fun breakfast treat!
Ingredients
I- 13.2 oz. package of Wewalka Refrigerated Puff Pastry
1/2 cup canned cherry pie filling
4 oz. softened cream cheese
2 Tablespoons beaten egg; use remaining egg for egg wash
1 Tablespoon granulated sugar
1/4 tsp almond extract
sliced almonds for garnish
coarse sugar crystals for garnish (optional)
Glaze
1/4 cup powder sugar
2 tsp milk
Instructions
Preheat oven to 400°
Unroll Puff pastry. Using a pizza cutter, cut pastry lengthwise into 8 - 1 inch wide strips.
Cut strips in half width wise, creating two equal 1 inch wide strips .
Fold strips in half, pressing edges lightly together as you fold.
Lay the two folded strips next to each other and twist them together. Pinch ends together. Roll into a lose knot.
Place knot on a parchment or silicon lined baking sheet.
In a small bowl combine softened cream cheese, sugar, almond extract and 2 Tablespoons of beaten egg. Mix together until smooth.
Brush each knot with egg wash. Sprinkle with coarse sugar crystals if desired.
Place 1 Tablespoon of cream cheese mixture in the center of each knot.
Bake at 400° for 10-15 minutes until the edges of the pastry are beginning to turn golden brown.
Carefully slide baking sheet out on oven shelf. Place 3 cherries with pie filling on top of the cream cheese mixture in the center.
Slide baking sheet bake into the oven and continue baking for another 5-10 minutes until puff pastry is golden brown.
Remove from baking sheet and place on cooking rack until cool.
Once knots are cool drizzle with glaze and sprinkle with sliced almonds.
Recommended Products
As an Amazon Associate and member of other affiliate programs, I earn from qualifying purchases.
Nutrition Information:
Yield:
10 servings
Serving Size:
1 knot
Amount Per Serving:
Calories:

167
Total Fat:

11g
Saturated Fat:

3g
Trans Fat:

0g
Unsaturated Fat:

7g
Cholesterol:

60mg
Sodium:

64mg
Carbohydrates:

14g
Fiber:

1g
Sugar:

8g
Protein:

5g