When you're looking for a quick easy Mexican dinner…these scrumptious Instant Pot Beef Fajitas made with tender cube steak, fresh bell peppers, sliced onions and a pre-made Fajita mix are just what your tummy ordered!
I know, I know…who makes Beef Fajitas with cube steak? I do! Well, my handy-dandy trusted new cooking buddy… Mrs. Pot's, and I do! (I know you thought she was a tea-pot on Beauty and the Beast…NOPE! She's my Instant Pot pal!)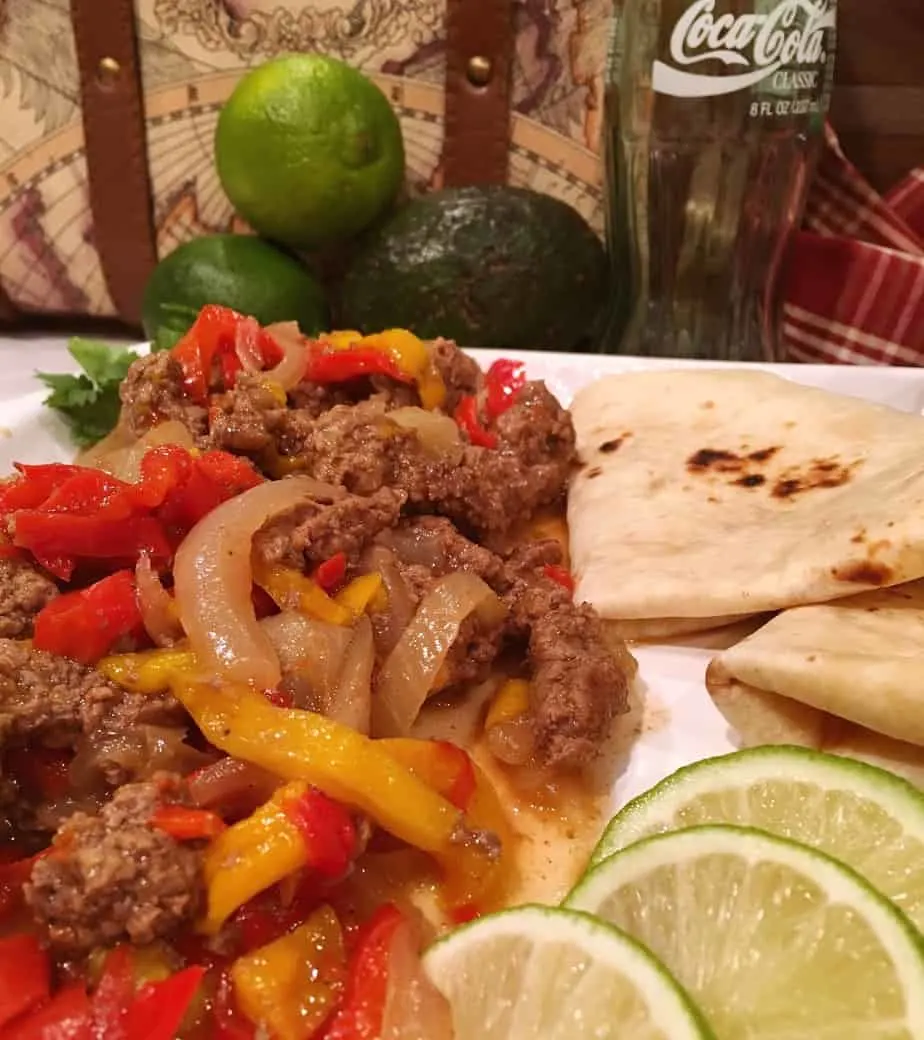 I love my new toy! I am so impressed with all it can do. I'm still learning, and I have a long way to go…but it's a wonder! I have the Pioneer Woman 6 qt Instant Pot made by Instant Pot, just in case ya'll were wondering. (I know you lay awake at night with these burning questions on your mind! Lol)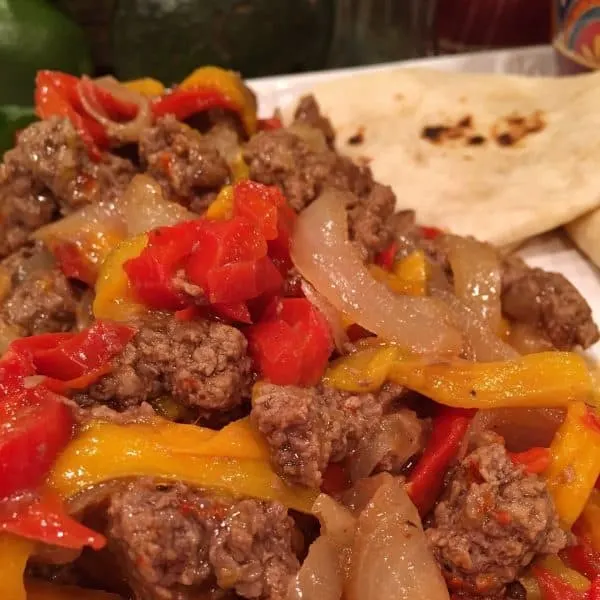 I grew up with a pressure cooker in the house. That thing scared the every living tar out of me. The rocker going back and forth a million miles an hour and steam spewing forth from it. Like an explosive device ready to blow at any moment!
Today's Instant Pots are so much safer. With lots of safety measures built into them. I still stand back a bit…but I'm getting more familiar and comfortable with it all the time.
I broke her out of her special made place in the cupboard and went to work creating a really simple Easy Beef Fajita recipe. The flavor is out of this world! Mr. Nest pounded down three tortillas loaded with this tender beef and pepper mix. (He's my meter on tastiness! Thank goodness he's around!)
How to Make Easy Pressure-Cooker Beef Fajitas
Slice two pounds of cube steak, across the grain, into 1/4 inch thick slices. Slice 1/2 a large onion, 1 large red bell pepper, and 1 large yellow pepper, into narrow strips. Note… You can use sweet Italian peppers.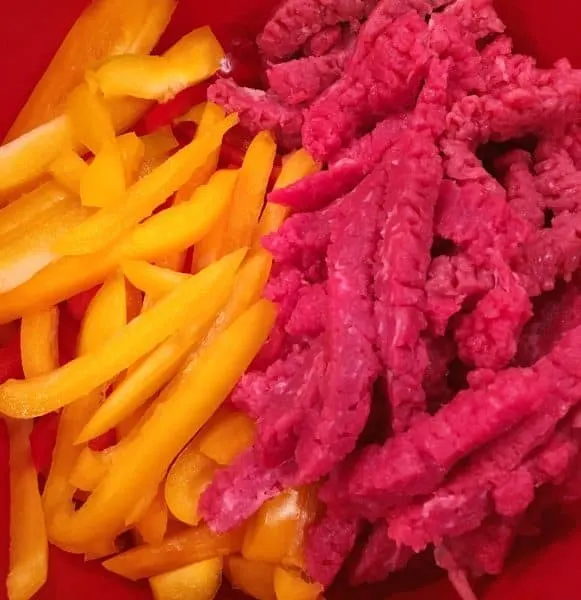 Turn Instant Pot on Sauté and add 1 Tablespoon Olive Oil with 1 teaspoon minced garlic.
When pot is hot, add steak and pepper mixture. Sauté for 3 – 4 minutes until meat begins to brown and onions are sweating. (Like me in the summer or winter…take your pick! Menopause has no seasons…it's grand!)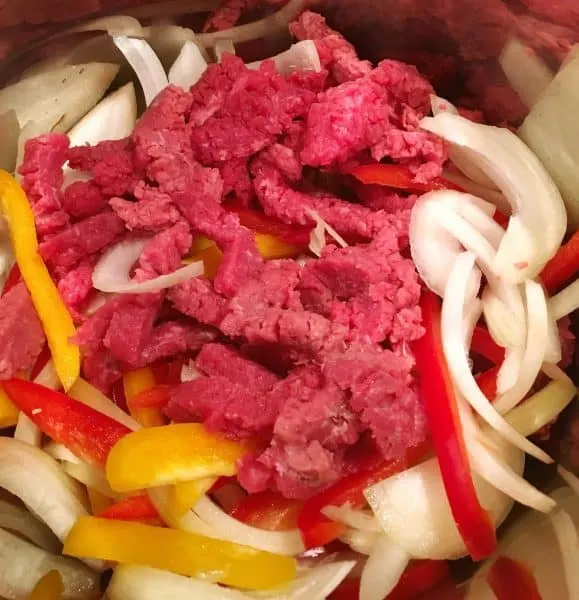 Now let's cheat! Yep, I'm promoting cheating today! (Don't tell my children! The DMV is already fully aware that I cheat/lie…which is totally acceptable when someone has the audacity to ask for your weight and hair color!)
What's our cheat toady? It's this amazing Fajita Sauce! Have you seen them at the market? Frontera has created an entire line of Gourmet Mexican sauces. They are Non GMO verified. The Classic Fajita Skillet Sauce has chipotle and lime. Two of my favorite ingredients in Fajita sauces. I went with the Medium. It wasn't hot at all.
Add two tablespoons of Frontera Classic Fajita Mix…reserve the remainder for later.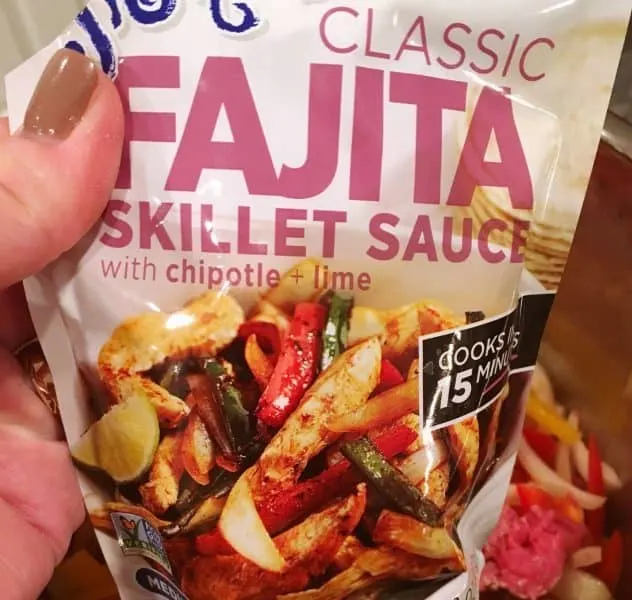 Stir the sauce in with the sauteed beef, peppers, and onions.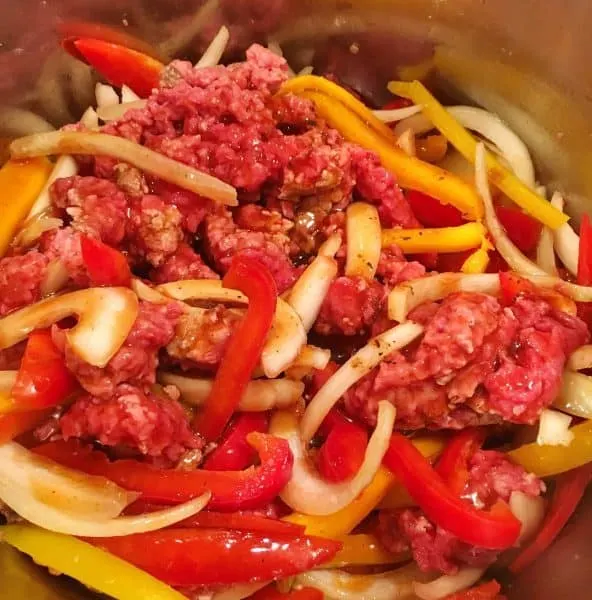 Place the lid on top of the instant pot. Make sure the valve is set to "sealed". Set it to Meat/Stew and set the timer for 8 minutes.
After the cook time allow it to naturally release for 10 minutes! DO NOT DO A QUICK RELEASE until it has naturally released for 10 minutes!
After the natural cook time, place a towel over the valve and quick release any remaining pressure. I highly recommend the towel over the valve unless you want sauce spewing…and I do mean SPEWING… everywhere! I'm really not into cleaning my ceiling and getting third degree burns from splattering liquid! So I put a towel over the valve!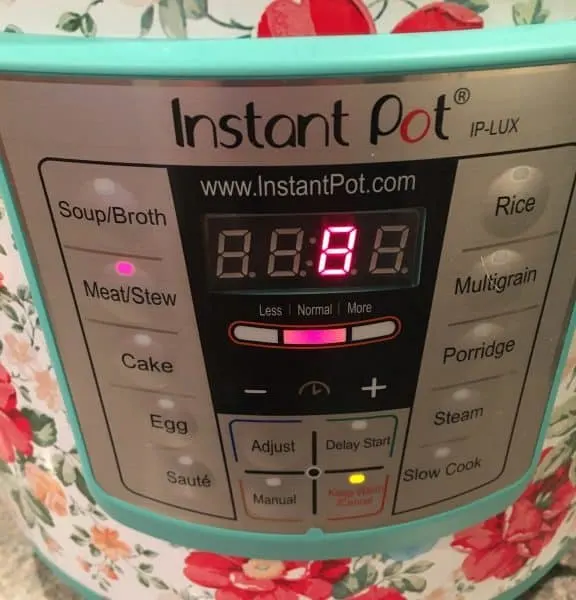 Carefully remove the lid and add remaining sauce from packet. Mix well.
There's a lot of wonderful juice in the bottom of the pot. Hooray!!! The meat is bathing in there and thanking you for the upgrade in flavoring!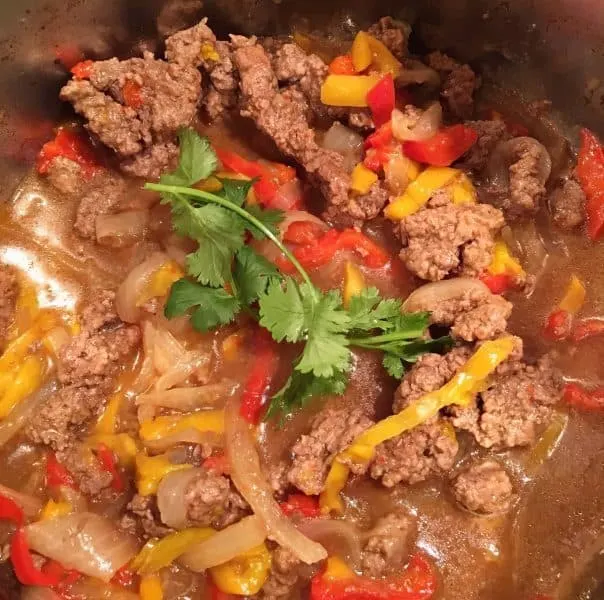 Remove beef from the pot with tongs and place on serving platter with toasted flour tortilla's, lime wedges, grated cheese, and Homemade Guacamole.
How to Toast Flour Tortillas for Pressure-cooker fajitas
To toast flour tortillas, if you have a gas range, place tortillas over open flame and turn to toast other side. Tortillas should bubble as cooking and get slightly golden brown.
If you do not have a gas range, place a large skillet over medium heat. When skillet is hot place tortilla in the pan and toast, turning to be sure both sides are toasted.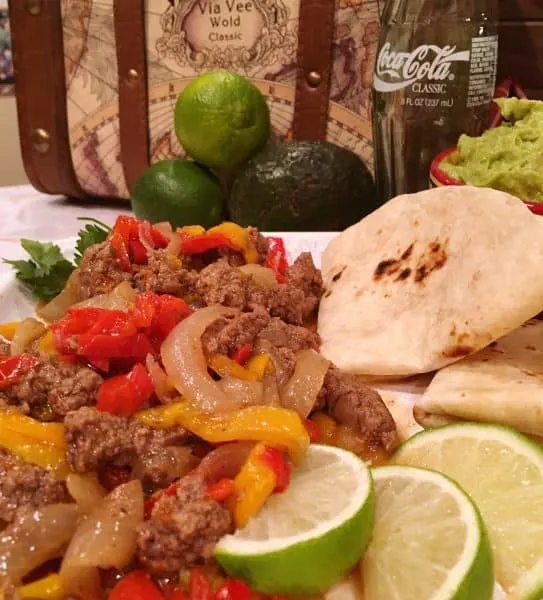 Place a heaping scoop of Instant Pot beef fajitas down the center of a toasted flour tortilla. Squeeze lime wedge over the beef Fajita mixture. Sprinkle with cheese and add guacamole.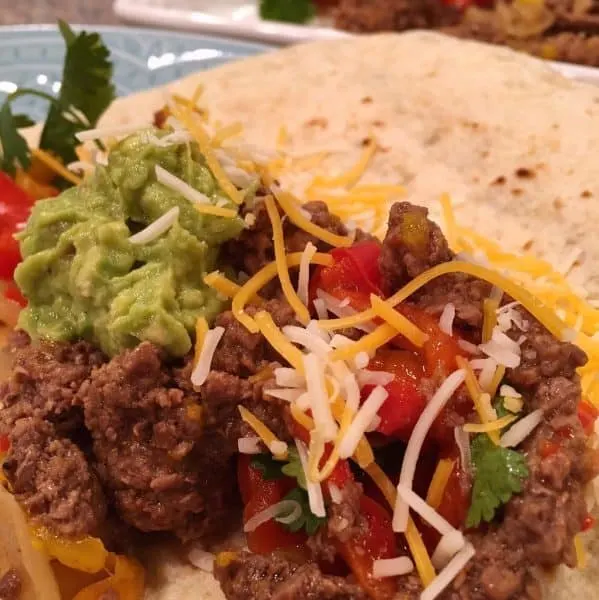 Time to dig in! My favorite part of any meal time…the eatin' part!
The cube steak is so tender! Since it has been tenderized before it is cooked, it soaks up all the glorious flavor from the Classic Fajitas skillet sauce. Each and every bite is loaded with savory warm spices. Combined with your favorite toppings it's a mouth-watering taste delight!
I don't think Beef Fajitas have every been easier!
How to prepare on the Beef Fajitas on the Stove Top!
These beef fajitas can be made on the stove top too! In a heavy skillet over medium-high heat add 1 Tablespoon of olive oil and 1 teaspoon minced garlic. Add meat and vegetables. Sauté until meat is brown, juices run clear, and vegetables are tender crisp. Add Fajita Skillet Sauce mix and stir until heated through.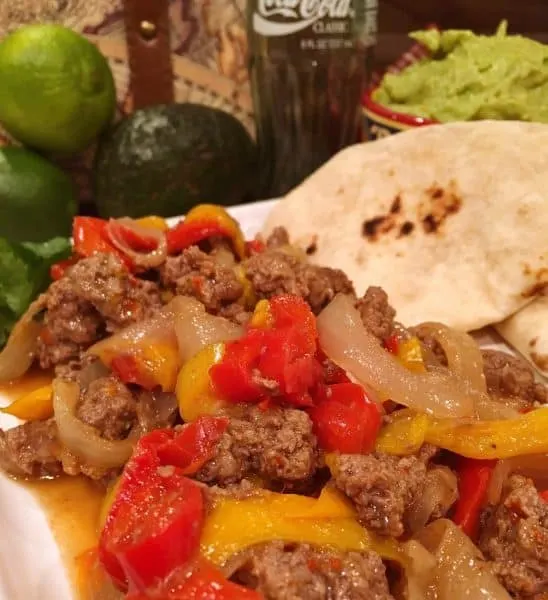 I hear your thoughts! You're asking yourself…why make them in the Instant Pot if you can make them on the stove pot?
Steam cooking does two things. First because of the pressurized steam it tenderizes any meat cooked in the sealed pot. Second…because the steam is laden with all the flavors within the pot, it embeds those flavors into everything that is cooking inside. The beef is loaded with all those delectable flavors!
The other BIG bonus…one pot cooking! ONE POT to wash! Another, the stove top doesn't get dirty. It's all contained in one pot. That my friends is a beautiful thing!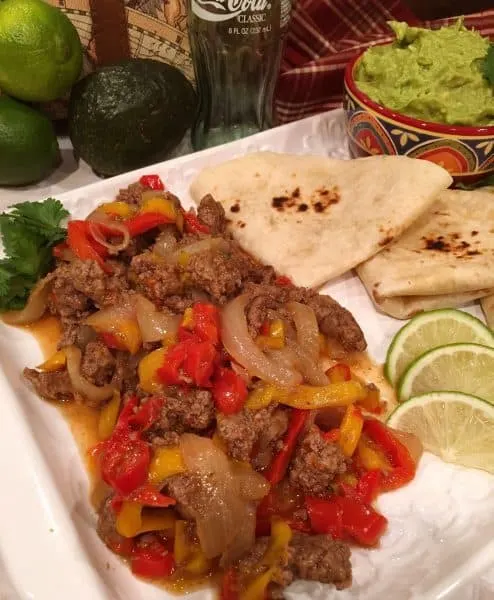 There ya have it! Instant Pot Beef Fajitas. The Best Instant Pot Beef Fajitas I've ever had…even if they are the ONLY Instant Pot Fajitas I've ever had! (I'm so objective in my opinions…lol)
If you have leftovers…make beef quesadillas the next day for lunch, or a wonderful beef Fajita burrito. Throw some scrambled eggs in the mix and you've got amazing breakfast burritos. The possibilities are endless!
Easy Favorite Instant Pot Recipes
Thanks so much for stopping by. Be sure to sign-up for my bi-weekly Newsletter where I share all the latest and greatest from my Nest to Yours!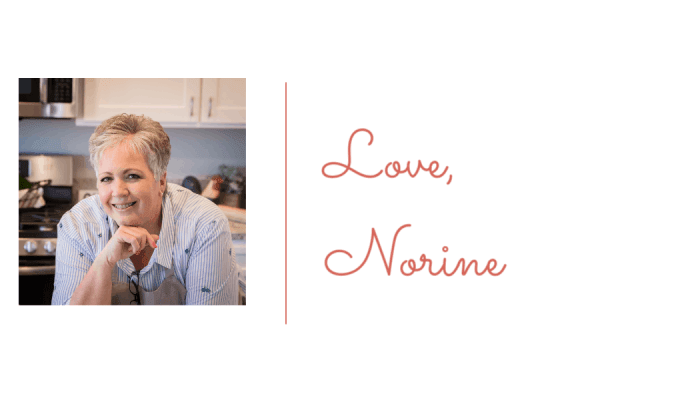 Yield: 6 servings
Instant Pot Beef Fajitas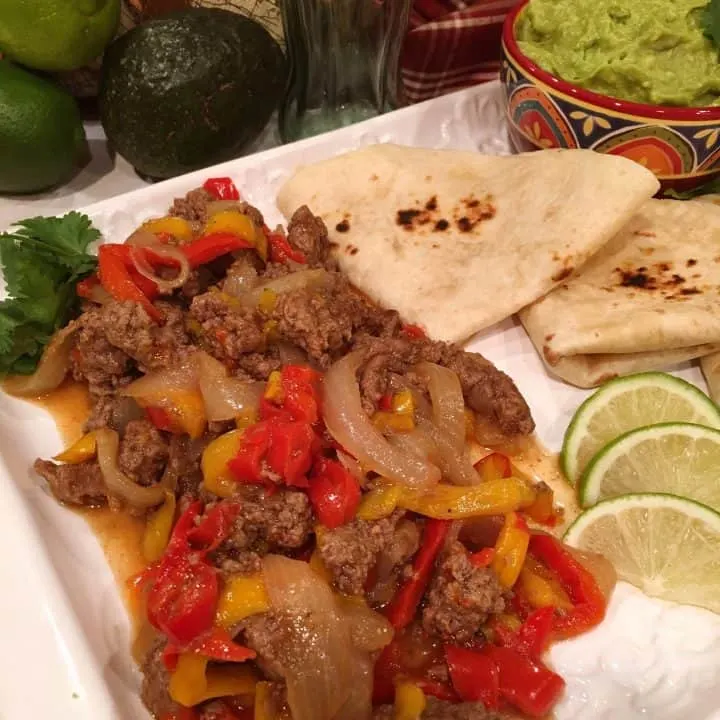 Tender cube steak, sweet bell peppers, sliced onions, and a savory pre-made Fajita Skillet Sauce combine to create an amazing Instant Pot Beef Fajita dish.
Additional Time
10 minutes
Ingredients
2 lbs cube steak, sliced into strips
1 Tablespoon Olive Oil
1 yellow bell pepper, sliced into thin strips
1 red bell pepper, sliced into thin strips
1 teaspoon minced garlic
1/2 large onion sliced thinly
2 Tablespoons and 1/2 cup Frontera Classic Fajita Skillet Sauce
Flour Tortillas
Lime Wedges
Grated cheese
Homemade Guacamole
Instructions
Set Instant pot to saute medium heat. Add 1 Tablespoon olive oil and minced garlic. Stir for 30 seconds to release garlic juices.
Add sliced meat, peppers, and onions. Saute for 3 minutes until meat beings to brown and peppers and onions begin to sweat.
Add 2 Tablespoons Fajita sauce. Turn saute off and and select meat setting, 8 minutes, place lid on pot, make sure valve is sealed.
Allow to naturally release 10 minutes. Cover valve and quick release after 10 minutes of natural release. Press cancel. Carefully remove lid.
Add additional 1/2 cup Fajita Skillet Sauce. Stir to combine and heated through. Using tongs remove cooked meat and vegetables. Place on serving platter. Serve with toasted flour tortillas, lime wedges, grated cheese, and guacamole.
Recommended Products
As an Amazon Associate and member of other affiliate programs, I earn from qualifying purchases.
Nutrition Information:
Yield:
6
Serving Size:
3/4 cup
Amount Per Serving:
Calories:

549
Total Fat:

30g
Saturated Fat:

11g
Trans Fat:

0g
Unsaturated Fat:

15g
Cholesterol:

158mg
Sodium:

373mg
Carbohydrates:

19g
Fiber:

3g
Sugar:

4g
Protein:

49g