Pre-cooked Yakisoba noodles are tossed with teriyaki chicken and stir veggies for a quick, delicious, and nutritious dinner! Teriyaki Chicken and Stir Fry Noodles.
*This is a sponsored product review post. As always the opinions expressed are all my own. Ya can't make this stuff up people! No, seriously, you can't! It's against the law and orange is SO not my color! 😉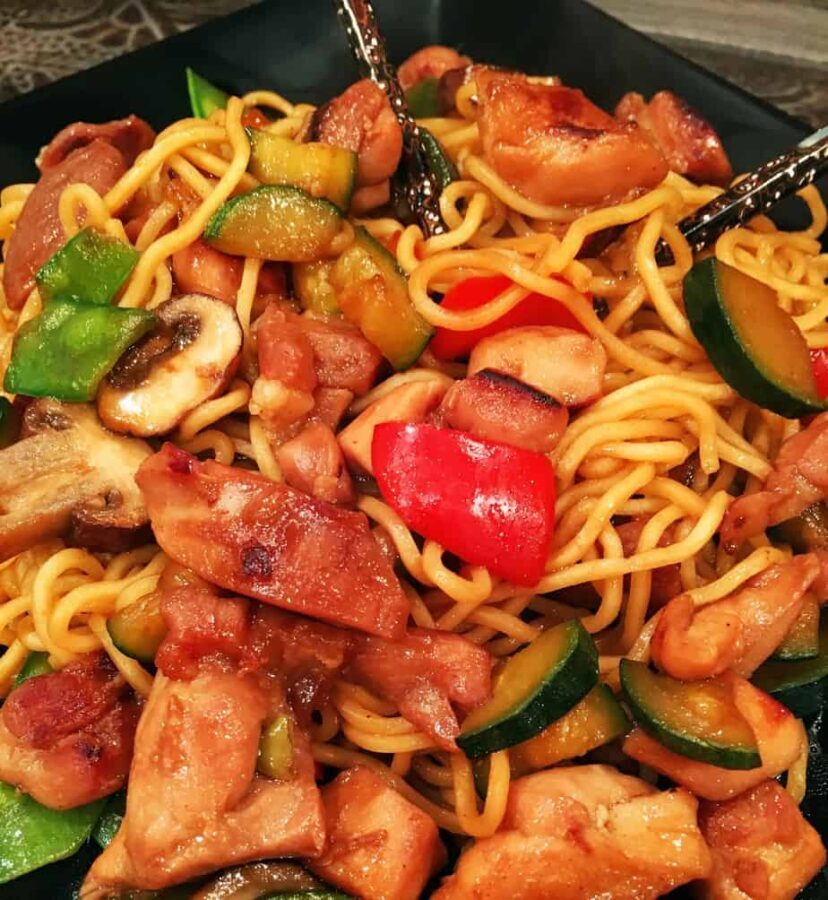 Friday I mentioned I had another yummy Yakisoba noodle recipe to share with you and a "surprise"! If you're signed up for my Newsletter you'll know the surprise and be able to participate. If you don't receive my Newsletter..hurry go sign up and then you'll know what to do!
Let's jump into this second recipe. So "Yakisoba" is a type of noodle. It is not the brand. These noodles are just like the noodles you get at Panda Express, only BETTER! (Yes! I said it!)
They are Pre-cooked, steamed to perfection, No MSG, No Trans Fat and No Cholesterol. 100% Natural Ingredients. The best part is they taste GREAT and are ready in 3 minutes and the meal possibilities are endless!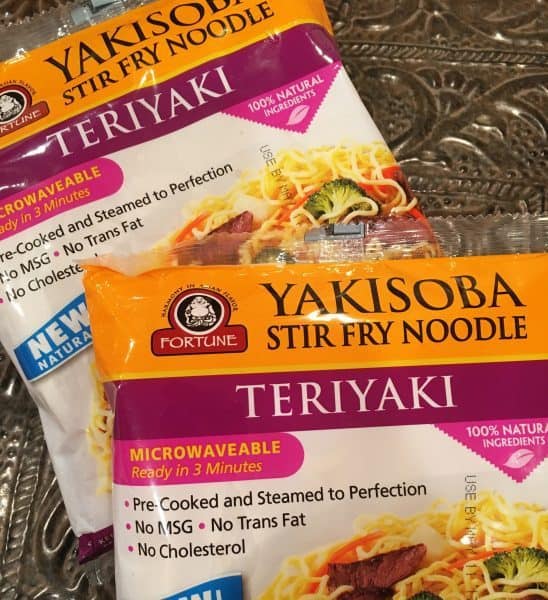 For this second recipe I used 2 packages of the Teriyaki Yakisoba Stir Fry Noodles. According to the package that is enough for 4 servings.
If there are four of you who are not human piggy's this will work perfectly for you. At our Nest, evidently, there are 2 human piggy's! Between the two of us we finished off the entire 4 servings! (Can you say "Second Helping"?)
How To Make Teriyaki Chicken and Stir Fry Noodles
Start off by marinating 4 boneless, skinless chicken thighs, cut into bite size pieces, in a prepared teriyaki sauce.
I use Yoshida marinade. You can find it at Costco. To put it mildly…it's the AH-MAZING!!! Allow it to marinade for at least 1 hour. You can marinade it over night but minimum of one hour.
In a large skillet place 2 Tablespoons vegetable oil and heat pan over high heat. Add diced chicken stirring until all the chicken thigh pieces are cooked.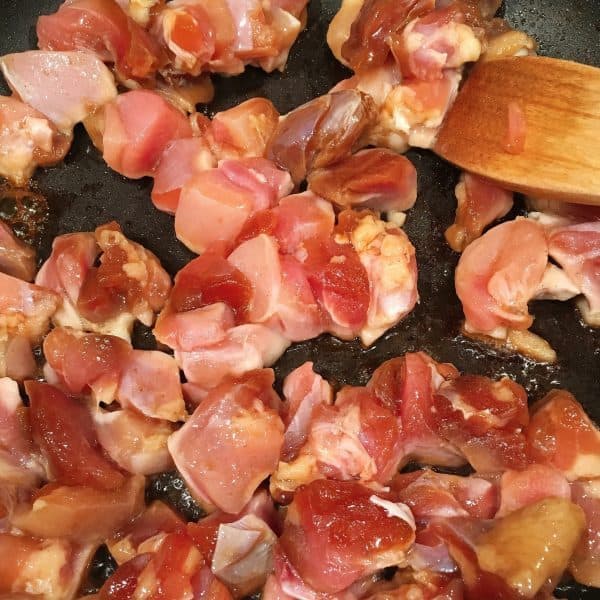 The chicken is done when it has a nice light golden brown color and the juices are running clear. It should take about 5-7 minutes depending on the heat of your pan.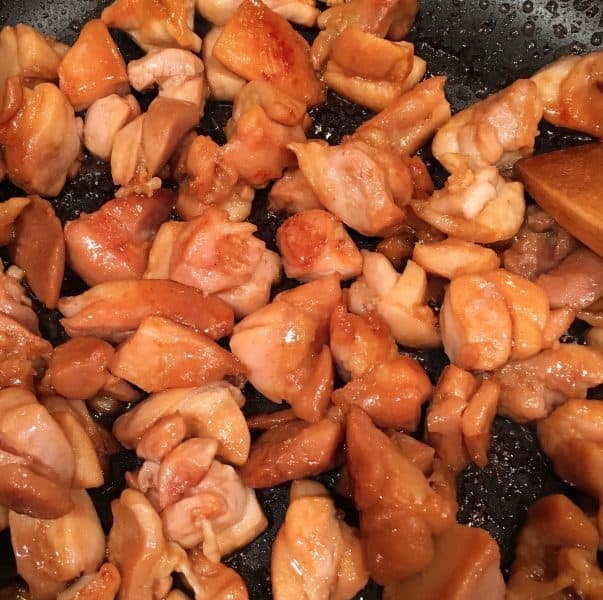 Remove chicken and set aside. In the same skillet add two more Tablespoons of vegetable oil and your diced veggies.
I used 1 cup of sliced and quartered squash. 1 cup large diced red bell pepper. 1 cup snow peas, ends trimmed and cut in half. 1 cup sliced shiitake mushrooms.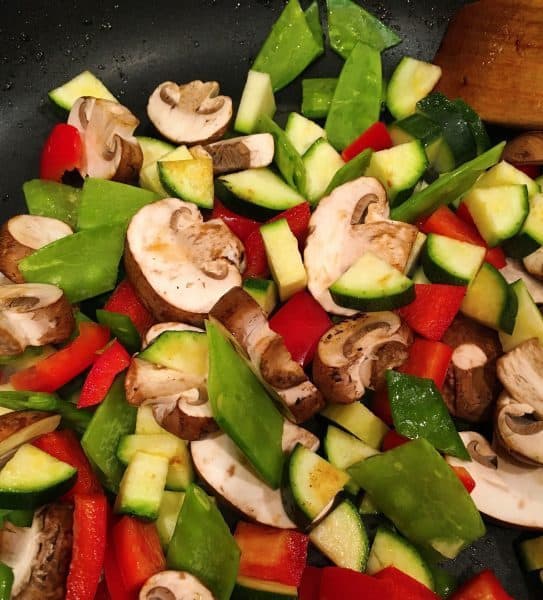 Get creative and use what you know the "chicks" at your Nest love best! This is one of those recipes you can feel great about as a mom because you can "sneak" veggies in with all those yummy "worms" (aka: noodles) the kids love!
Stir fry over high heat till tender crisp. Add cooked teriyaki chicken back into the pan.
Open the two packages of Yakisoba noodles. Set seasoning packets aside. Puncture noodle packets. Place both packets into the Microwave. Microwave cook the Yakisoba noodles for 2 minutes on high heat. Remove from the package and add directly into the vegetable and chicken mixture.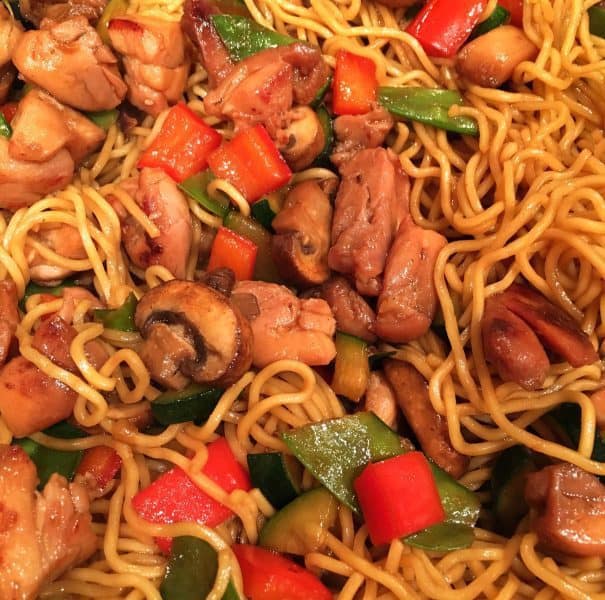 Using two forks gently separate the precooked noodles. Mixing them in with the chicken and veggies.
Use one packet of the seasoning and mix with 1/2 cup of water. Pour directly into the Stir Fry and mix. Add in 2 Tablespoons of your Teriyaki marinade. Toss until well coated.
Serve immediately.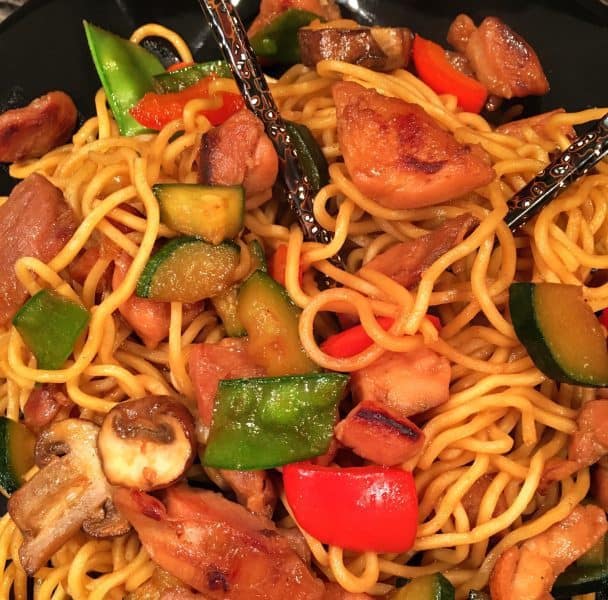 The flavors of this dish are so amazing! The chicken thighs are tender, juicy and have a wonderful rich teriyaki flavor. The fresh veggies add another burst of flavor and light crunch, that sets your mouth to watering… begging for another fork full. The noodles are tender and flavorful and so perfectly cooked! Never mushy! Just right every single time. It's one of the things I love about them.
I'm absolutely head over heels in love with these noodles! I've always struggled making delicious flavorful Chinese food. It just was not my Forte. These Yakisoba noodles from JSL foods under the Fortune label have changed all that!
If you are a lover of delicious Chinese Stir Fry Noodles you have got to try this product! If you are a Mom looking for a super quick, super nutritious healthy meal for your family…you HAVE got to try these noodles.
If you aren't loving my recipes…no worries. Each package comes with a recipe on the back. Although, if I may humbly say so…the two recipes I have created are pretty dang delicious! So good I can't wait to make them again.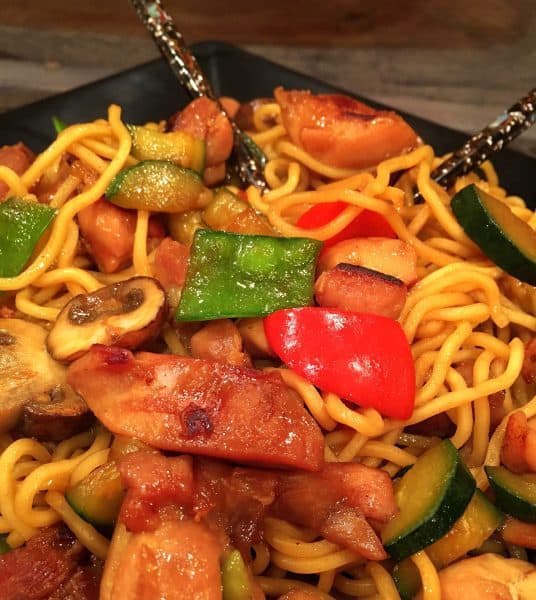 What do you think? Is this a dinner you'd like to have tonight? Wouldn't your kiddo's love these noodles?
I'm happy to say that you can locate the Fortune Yakisoba Stir Fry Noodles at your grocers in the Produce section…Refrigerated area, by the Tofu and Turkey Tofu products!
I'm SO excited to find out that two of our local grocery stores carry these amazing noodles!
If you live in Utah you can find these Fortune Yakisoba noodles at Dans, Dicks, Lins, Macey's, Winco, Smith's, and any Associated Food Store! Be sure to stock up on your next shopping trip!
We will be having many more Stir Fry Noodles at this Nest! If you'd love to try them for yourself for "free" be sure to sign-up for my News Letter and follow the steps included in today's edition.
Favorite Chinese Recipes
I have a fantastic week planned here at Norine's Nest! I'm busy working on all kinds of wonderful Easter Recipes! So get ready for a whole lot of yumminess coming your way!
Hugs from my Nest to Yours…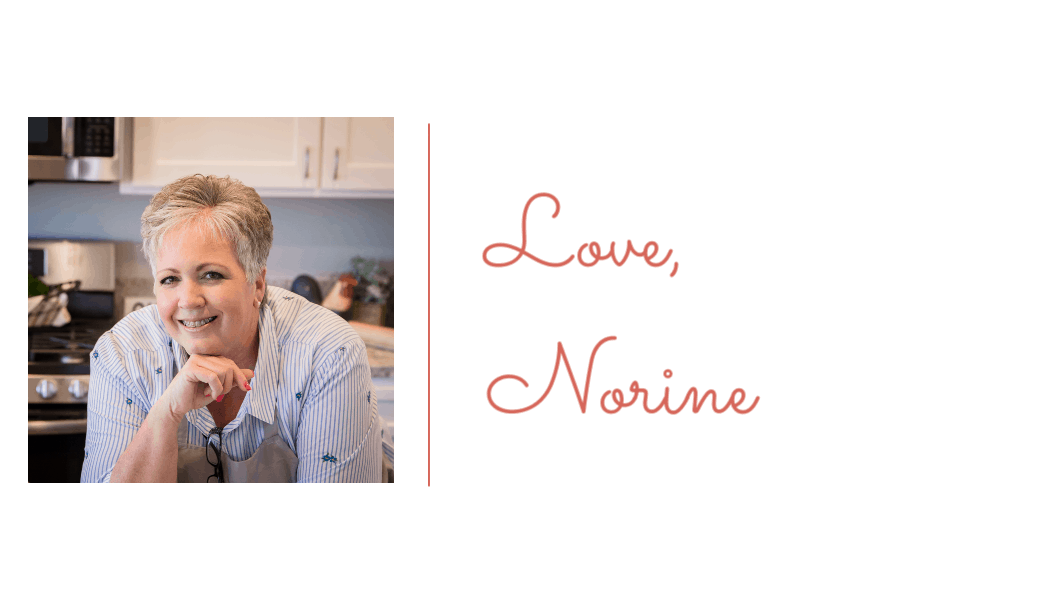 Yield: 4 servings
Teriyaki Chicken & Noodle Stir Fry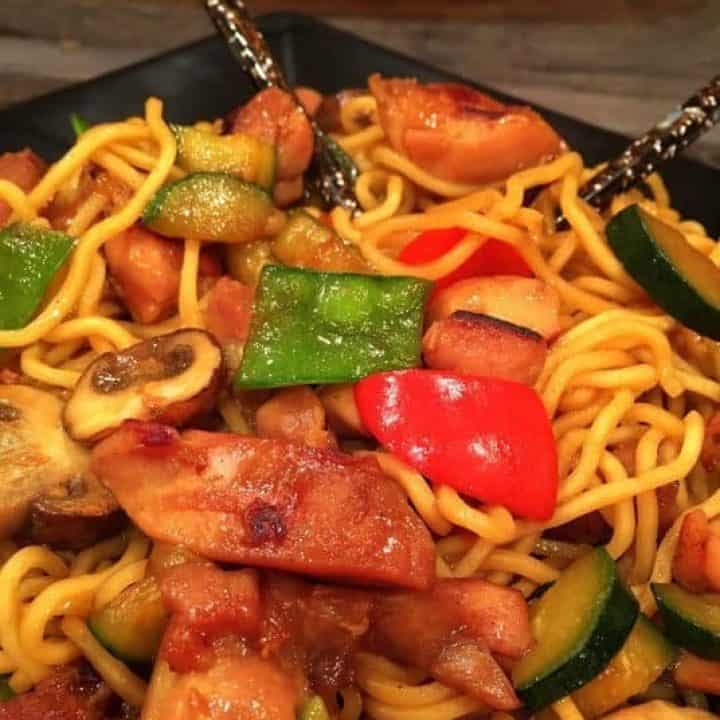 Pre-cooked Yakisoba noodles are tossed with teriyaki chicken and stir veggies for a quick, delicious, and nutritious dinner!
Ingredients
2 packages of Teriyaki flavored Fortune Yakisoba Stir Fry Noodles -Found In the Produce Section by the Tofu
1 cup Teriyaki Marinade
1 package of the seasoning packet from the noodles
1/2 cup of water
4 boneless skinless chicken thighs cut into bite size pieces
1 cup slices and quartered squash
1 cup sliced shiitake mushrooms
1 cup largely chopped red bell pepper
1 cup snow peas, ends trimmed, cut in half
4 Tablespoons of vegetable oil
Instructions
In a large bowl place bite size pieces of chicken thighs with 1 cup of marinade. Refrigerate for 1 hour.
In a large skillet over high heat, add 2 Tablespoons of vegetable oil. Once hot, add bite size chicken pieces. Stir continually until chicken is lightly golden brown and juices run clear. Remove chicken from pan and set aside.
Add 2 more Tablespoons of vegetable oil and add all your chopped veggies. Cook until tender crisp.
Puncture the two bags of pre-cooked noodles. Cook in microwave for two minutes.
Add chicken back into the vegetables. Add the heated noodles into the stir fry mixture.
Using two forks gently separate the noodles.
In a small bowl mix one seasoning packet with 1/2 cup of water.
Add to the stir fry mixture being sure everything is coated evenly.
Add 2 Tablespoons of Teriyaki sauce/marinade
Serve immediately.
Garnish with sesame seeds or chopped peanuts
Recommended Products
As an Amazon Associate and member of other affiliate programs, I earn from qualifying purchases.
Nutrition Information:
Yield:
4 servings
Serving Size:
1 cup
Amount Per Serving:
Calories:

420
Total Fat:

19g
Saturated Fat:

2g
Trans Fat:

0g
Unsaturated Fat:

16g
Cholesterol:

15mg
Sodium:

3574mg
Carbohydrates:

46g
Fiber:

5g
Sugar:

18g
Protein:

18g