Egg Foo Yung, or Egg Foo Young, is a popular Chinese American dish. A fluffy Chinese Omelet made with eggs, bean sprouts, meat, fresh veggies and topped with a delicious gravy.
Egg Foo Yung is an easy and unique dish. A fantastic combination of cultures.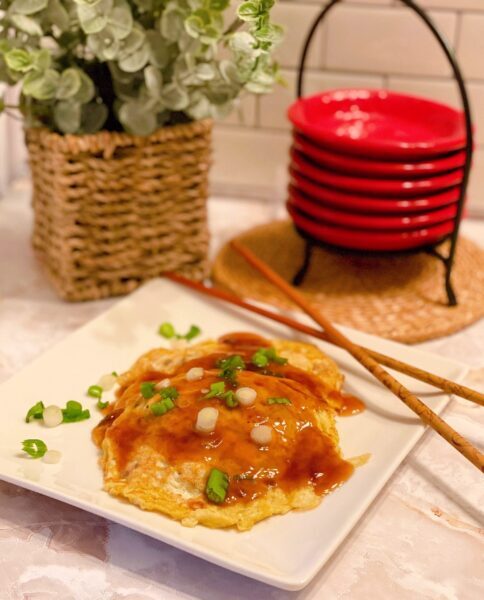 I grew up having this delicious dish at my Aunt's house. She loved Egg Foo Yung. (Truthfully she love eggs and Chinese food…so this was dream dish for her!) If I'm being truthful…I wasn't overly in love with it the first time I had it. It wasn't like any Chinese food I had ever had.
Fast forward years later, several years after she had passed away. Maybe I was just looking for a way to connect to her, I'm not sure, but suddenly I had a massive craving for Egg Foo Yung!
She never taught me how to make this dish so I had to go in search of a recipe! I found this great recipe at AllRecipes.com.
Ingredients for this dish are simple, and basic. It's a great way to use up leftover chicken, beef or pork and any vegetables you have hanging out in your refrigerator.
What makes this dish so delicious is the gravy! It's hard to believe that such simple ingredients can create such a flavorful topping to this basic egg dish.
How To Make Egg Foo Yung
The secret to success with this dish, as is the case with most Chinese dishes, is the prep work! If you have everything prepared before you begin cooking you'll have great results!
Let's channel our inner Ninja! (Mine looks more like a Sumo Wrestler…but we can only work with what we've got!) Begin by chopping the vegetables you'd like to use in this Chinese Omelet. I use 1 cup thinly slice and chop celery, 1/2 cup chopped mushrooms, and 1/2 cup of onion. Place in a large bowl.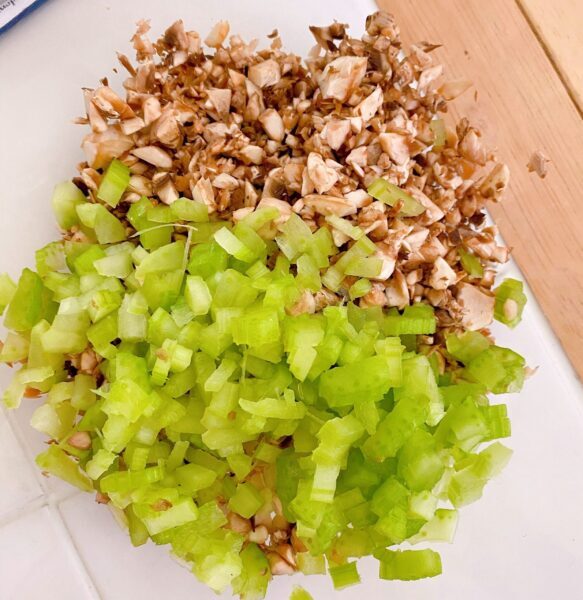 Add 1 cup bean sprouts.
NOTE: I prefer to use canned, drained, bean sprouts. You can use fresh, but note they may remain crunchy during cook time.
Add 1 cup chopped cooked chicken, pork, or beef. I like to use chicken. Shrimp is also delicious in this dish! The shrimp needs to be pre-cooked and chopped.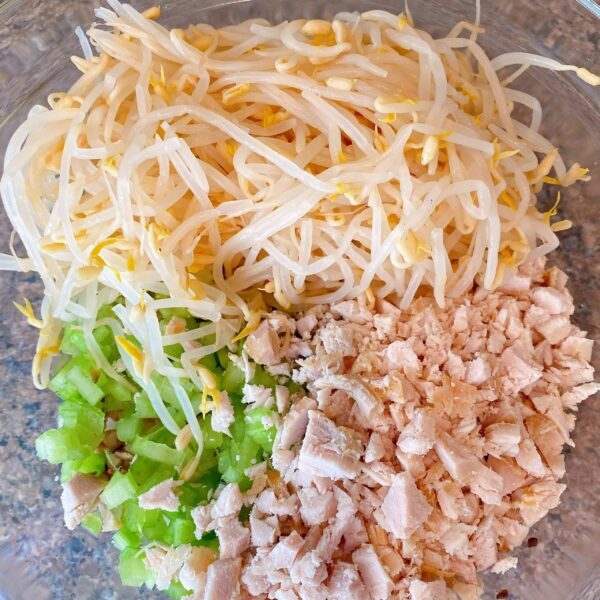 Cover and set ingredients aside while you prepare the gravy!
In a measuring cup combine 6 Tablespoons cold water and 3 Tablespoons cornstarch. Mix until well blended. Please note you'll need to stir again right before using as the cornstarch tends to settle to the bottom of the dish.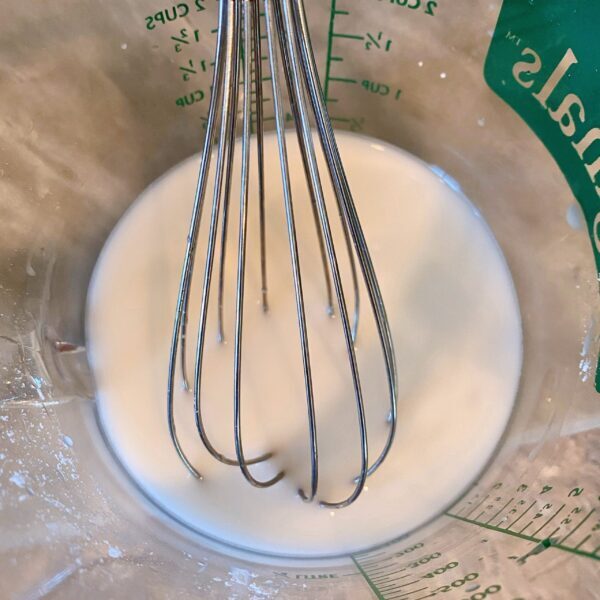 How to Make the Gravy
In a small sauce pan add 1 1/2 cups of hot water, 2 cubes of chicken bouillon. Dissolve bouillon in the hot water over medium heat.
Add 1 1/2 teaspoons granulated sugar, and 2 tablespoons soy sauce. Add 1/4 teaspoon ginger powder to the mixture. This is optional but adds great flavor.
Continue stirring over medium heat with wire whisk.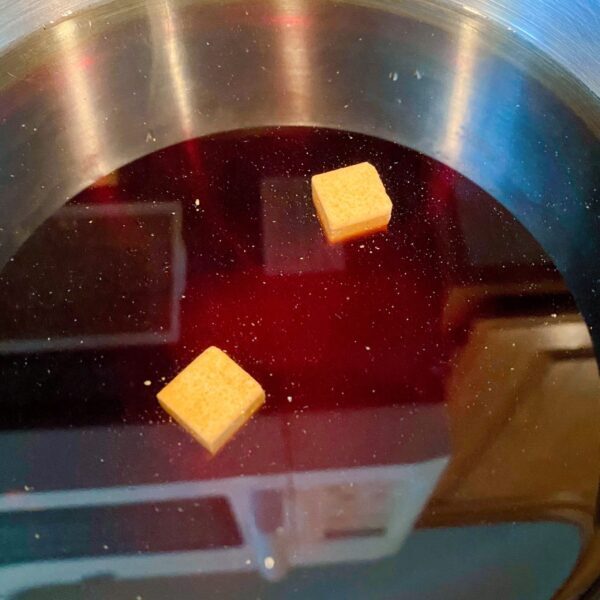 Slowly add cold water and cornstarch mixture. Stir until thick and smooth. Reduce heat to simmer. Keep warm, stirring occasionally, until ready to serve.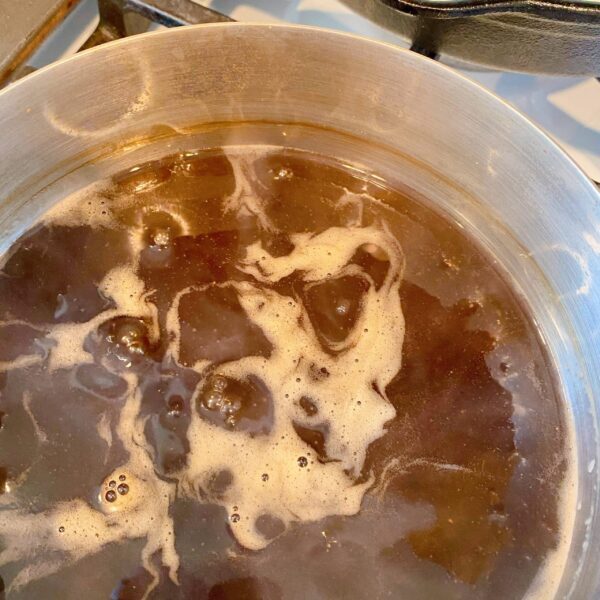 How To Finish Egg Foo Yung
To the vegetable mixture add 1 teaspoon salt and 1/4 teaspoon pepper.
In a large bowl beat eight eggs. Add to celery, onion, bean sprouts, mushrooms, and chicken. Mix to combine.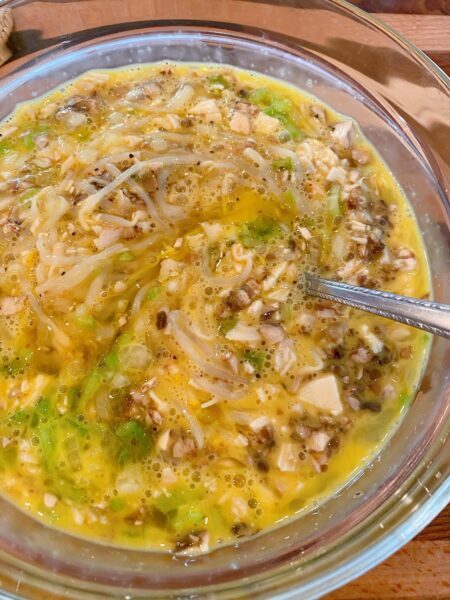 Spray an electric griddle or skillet with non-stick cooking spray. Carefully place 1/2 cup of egg mixture onto hot griddle using a large spoon or ladle.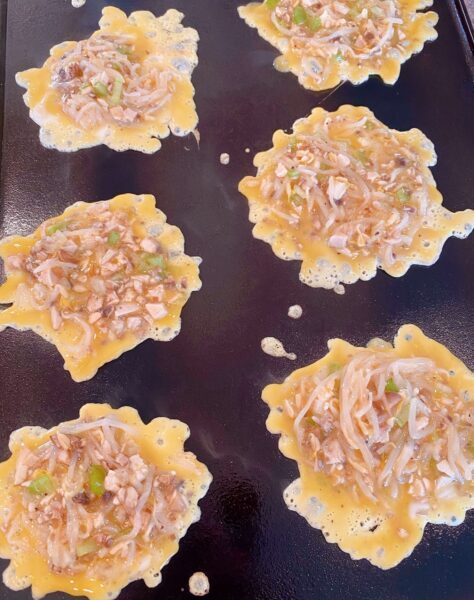 When the mixture has "set" around the edges and begins to turn light brown, use a spatula to flip the individual omelets over.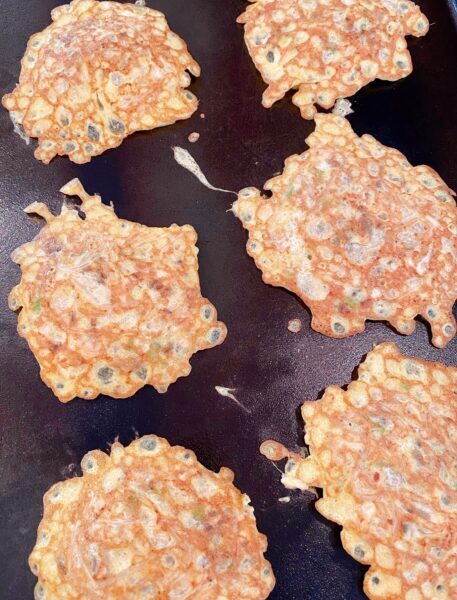 Each individual omelet should look like the surface of the moon! They're actually so pretty when baked. I love the golden color and patterns.
Remove the omelets and continue cooking until all the egg batter is gone.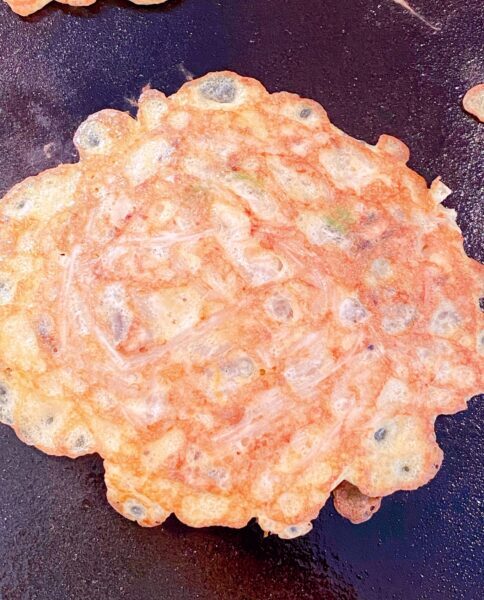 To serve, stack a few of Egg Foo Yung patties on a plate, top with warm gravy, and sprinkle with chopped green onion. Simple and beautiful!
Time to dig in!
The flavors of the Light and Fluffy Egg Foo Yung combined with the delicious mouth-watering gravy are out of this world! This dish can be served over rice or without. Either way you won't be disappointed.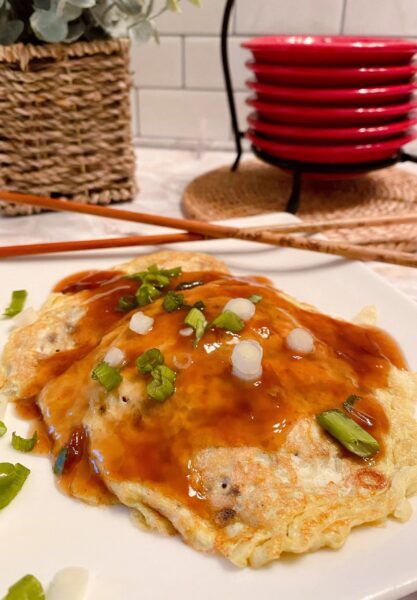 Keep in mind this the versatility of this dish. If you don't have chicken on hand, use pork, shrimp, or beef. You can use peas, carrots, celery, mushrooms, celery, onions, garlic, or any vegetable you like.
The ingredients I have listed are a great combo… but that doesn't mean you can't get creative! I'm always about exploring your inner "Julia"!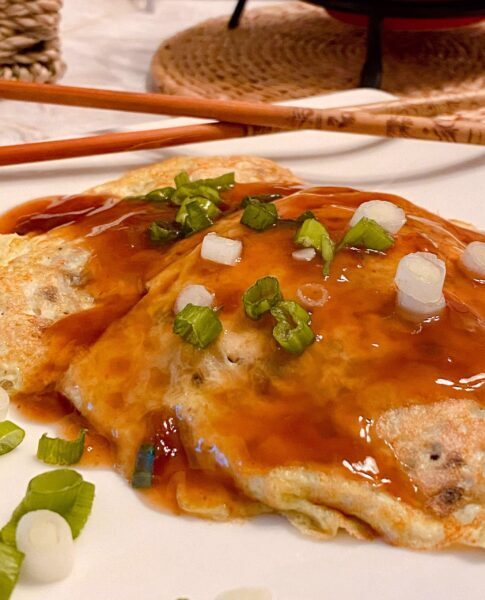 If you like this dish you may also enjoy these other recipes.
Easy Favorite Chinese Recipes
Thanks so much for stopping by today! I hope you and the folks at your Nest enjoy this recipe as much as we do!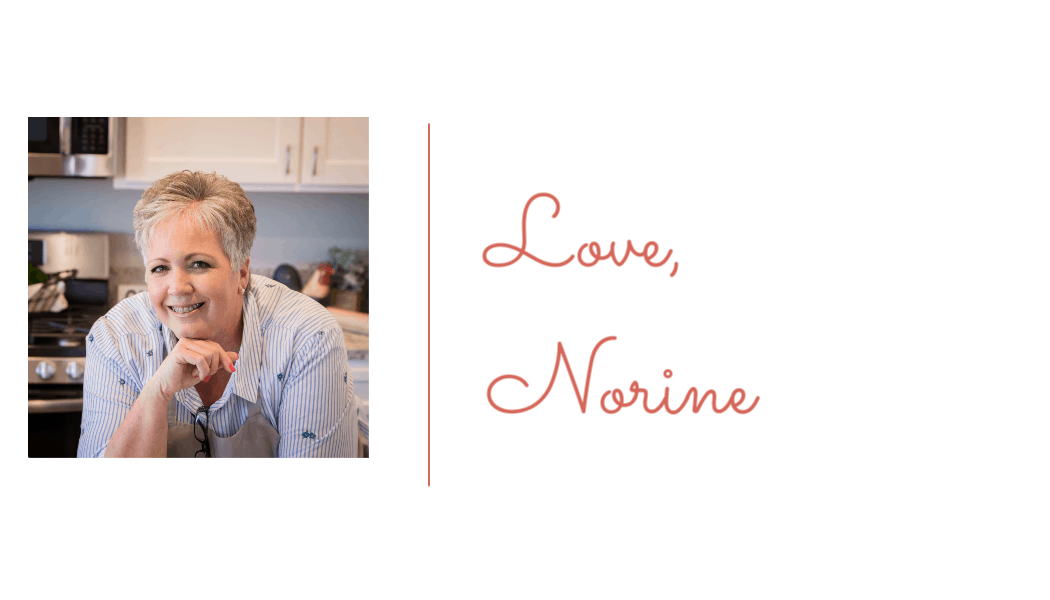 Yield: 5 servings
Easy Egg Foo Yung with Gravy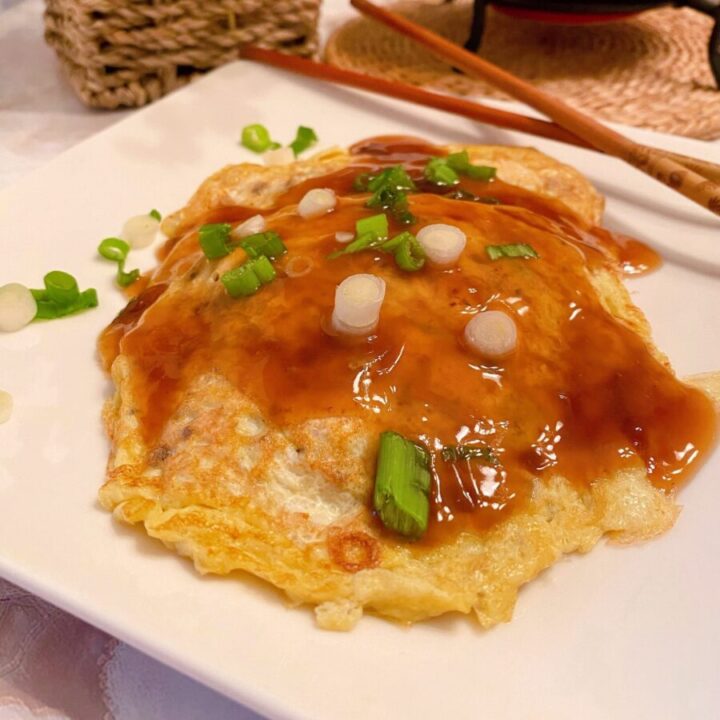 Egg Foo Yung, or Egg Foo Young, is a popular Chinese American dish. A fluffy Chinese Omelet made with eggs, bean sprouts, meat, fresh veggies and topped with a delicious gravy.
Ingredients
8 eggs, beaten
1 cup thinly sliced, and chopped celery
1/2 cup finely chopped onion
1/2 cup diced fresh mushrooms
1 1/2 cups drained, canned, bean sprouts
1 cup chopped cooked chicken, pork, or shrimp
1 teaspoon salt
1/4 teaspoon pepper
Sliced green onions for garnish
Foo Yung Sauce
2 cubes chicken bouillon
1 1/2 cups hot water
1 1/2 teaspoons granulated sugar
2 Tablespoons soy sauce
1/4 teaspoon ginger powder (optional)
6 Tablespoons cold water
3 Tablespoons cornstarch
Instructions
Beat eggs in large bowl. Add celery, onion, bean sprouts, mushrooms, chicken, salt and pepper. Mix together.
Spray electric griddle (350°) with non-stick cooking spray, or a large skillet with oil over medium heat. Place 1/2 cup of egg mixture on hot griddle and cook until edges are set and are lightly golden brown. Using a spatula flip omelets over and cook other side until done. When all the omelets are browned, set aside.
To Make Sauce: Dissolve the bouillon in hot water in a small sauce pan over medium heat. Add sugar, soy sauce, and ginger powder. Mix cold water and cornstarch together. Slowly add to bouillon mixture with wire whisk. Stir until thick and smooth.
Serve gravy over warm egg foo Yung and garnish with chopped green onions.
Recommended Products
As an Amazon Associate and member of other affiliate programs, I earn from qualifying purchases.
Nutrition Information:
Yield:
5 servings
Serving Size:
1
Amount Per Serving:
Calories:

273
Total Fat:

14g
Saturated Fat:

4g
Trans Fat:

0g
Unsaturated Fat:

8g
Cholesterol:

340mg
Sodium:

1153mg
Carbohydrates:

13g
Fiber:

2g
Sugar:

5g
Protein:

24g