Soft and tender, these Classic Chewy Snickerdoodles, made without cream of tartar, will quickly become your favorite "go-to" Snickerdoodle recipe!
When I think of snickerdoodles I think of childhood! They were the "it" cookie of my generation!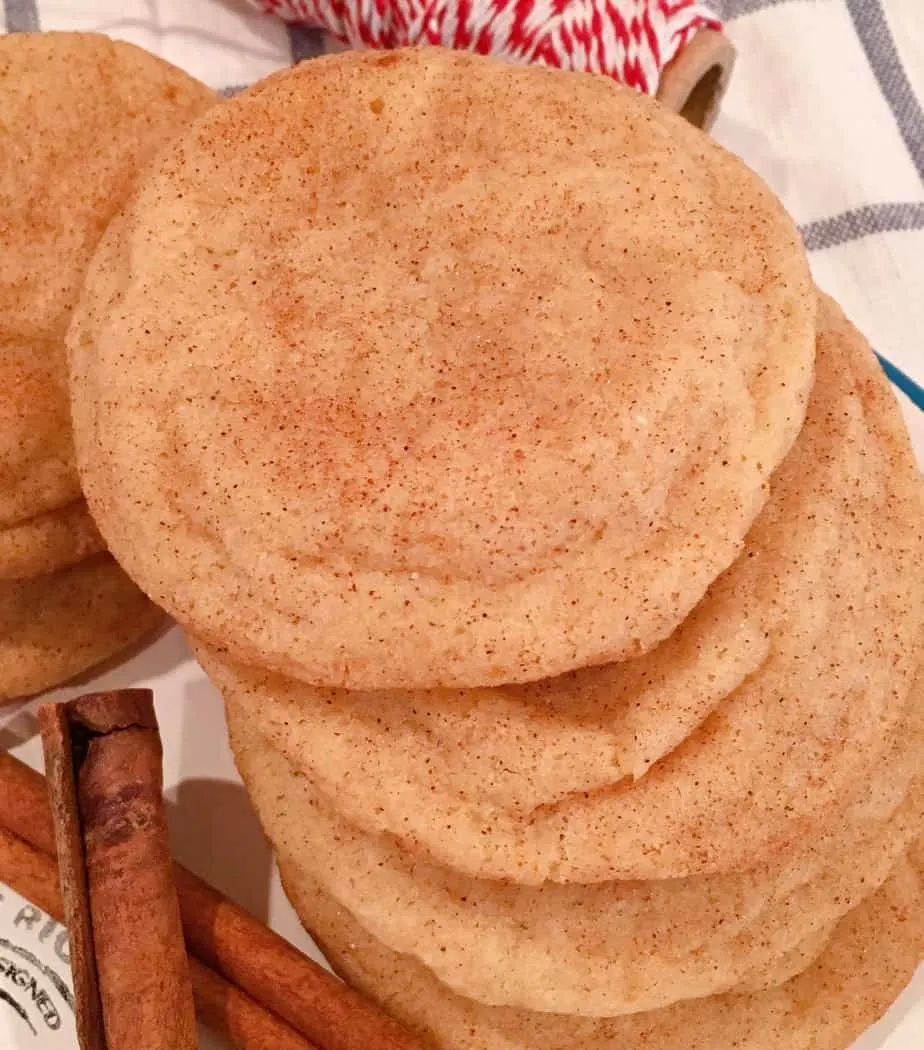 I didn't know too many kids who didn't love a fist full of the scrumptious goodness of a traditional sugar cookie! What's not to love?
Crispy around the edges, chewy in the center, all coated in cinnamon sugar! They were, and are, the BEST! Still one of my all-time favorite cookies!
For years, I've been searching for the "perfect" Snickerdoodle recipe! I wanted a cookie that didn't require "Cream of Tartar"! It's not that I have anything against cream of tartar… I just never seem to have enough of it on hand!
When a girl wants snickerdoodles the last thing she wants to do is run to the store for something like that! (Who was the first person who thought… I'd like to try this white acidic powder that's hanging around in the bottom of the wine barrel? Who was that!!)
That's right my friends… Cream of Tartar is a byproduct of wine fermentation! Bet ya didn't know that did you! (I am better than Big Bird on Sesame Street!)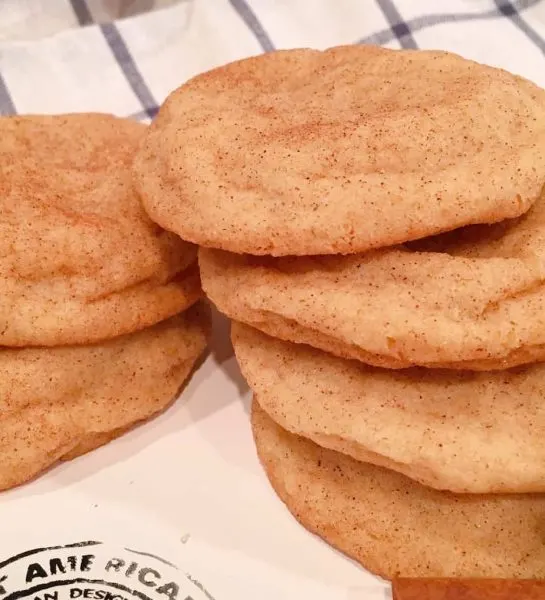 This recipe is perfect in every way a snickerdoodle should be perfect! The cookie monster would agree! I can't take credit for this recipe. I found it over on Saving Cent by Cent. It's a great recipe, one I have to give credit to where credit is due, and one I know you'll love.
They hold a beautiful shape with a slight little puff in the center! When they cool down they get the perfect crinkle on top! They have a crispy edge and a chewy soft center! Yep! Everything you want in a cookie! Let's get baking!
How To Make Classic Chewy Snickerdoodles
In the bowl of your mixer cream together 1 cup of softened butter, 1 1/4 cups of sugar, and 1/4 cup brown sugar.
This was the first time I had added brown sugar to a snickerdoodle cookie recipe and I have to say…I love the little added spark of flavor!
Brown sugar contains molasses the greatest overlooked flavor king in baking! It also contains more liquid which may be why these cookies have that extra little "chew" factor others are missing!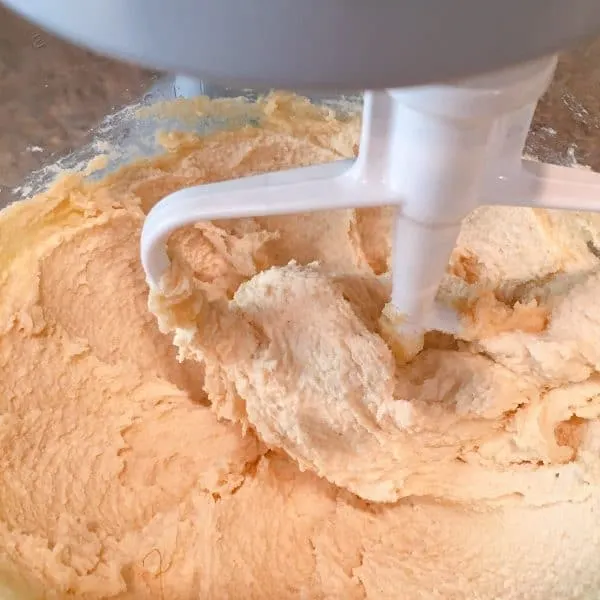 Add 2 room temperature eggs, one at a time…I recommend cracking them first (there is no end to my cooking tips and tricks my friends)…and mixing after each egg is added. Time to toss in a 1/2 teaspoon vanilla extract!
This is the perfect creamed base for an outstanding cookie! "It starts with your creamed batter". The outcome for the rest of the cookie is dependent on the consistency of your "wet batter base". You want a balanced creamed batter.
TIP: Make sure that the butter is not separating from the sugars! This is called curdling and can happen for several reasons. One, the eggs are too cold and breaks the emulsion of the butter and sugar. Two, it can also happen when the eggs are added too quickly. So always make sure your eggs are at room temp when baking, unless otherwise stipulated and that you add them one at a time, mixing well after each addition.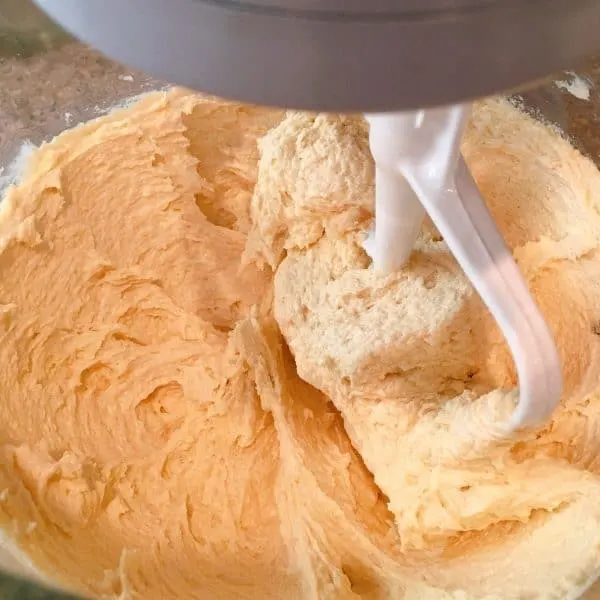 In a separate bowl, mix 2 3/4 cups all-purpose flour (I wonder… Is there a "no-purpose" flour? One that just sits around all day bored to death? Yes! I know it frightening the things I think about!)
2 teaspoons baking powder, 1/2 teaspoon salt, and 1 teaspoon cinnamon. Whisk all dry ingredients together until well blended.
Gradually add the dry ingredients to the "wet" mixture and mix until well combined.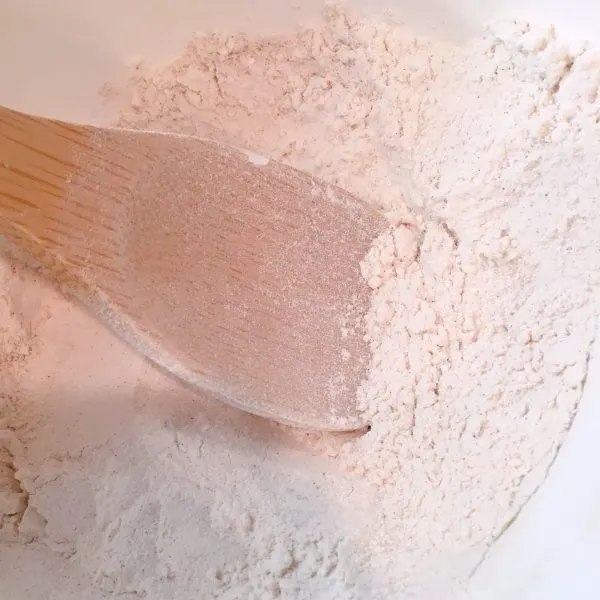 Be sure to scrape down the sides of the mixer bowl as you are blending the dry and wet ingredients.
After you have combined all the ingredients and have a nice firm dough it's time to get baking!
TIP: To make it easier to roll the cookie dough into balls, cover the mixing bowl with plastic wrap and allow to chill in your refrigerator for 15 minutes. This is optional and not necessary.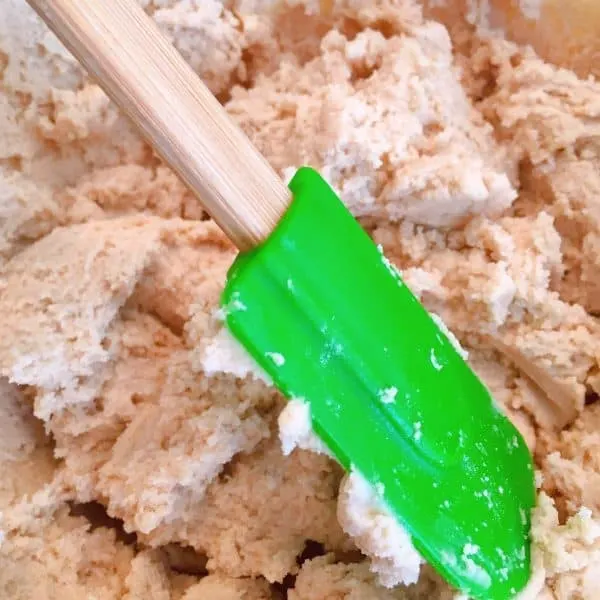 In a smaller bowl combine 4 Tablespoons sugar and 1 1/2 teaspoons cinnamon to make the sugarcoating for the cookies.
Preheat the oven to 350. Line your baking sheets with parchment paper or silicone baking mats. I prefer to use my baking mats. They are truly one of my favorite kitchen helpers!
Roll cookie dough into 1-inch balls. Then roll the balls in the cinnamon sugar mixture until well coated.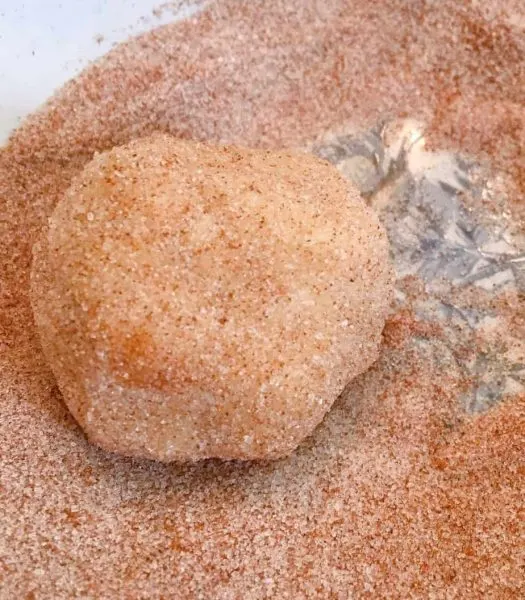 Place the coated snickerdoodle cookie balls on prepared cookie sheet about 3–4 inches apart.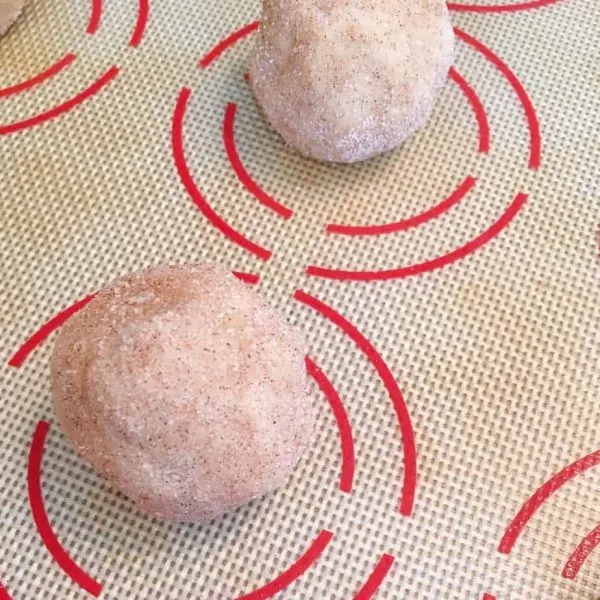 Bake the cookies in preheated 350° oven for 8–10 minutes.
TIP: Halfway through bake time, rotate the cookie sheets on the racks. Move the bottom to the top and the top to the bottom. This will give you perfectly baked cookies every time!
The cookies are done when the edges are slightly golden and the centers have puffed up. As the cool they will fall slightly giving you the perfect "crinkled" chewy cookie! Those delicate folds are the sign of a GREAT snickerdoodle cookie!
Place the baked cookies on a cooling rack and allow to cool completely…provided you can keep little fingers, and big ones, from sneaking them right out from under your nose!
I can't blame them…they are SO good! There may have been a few hand waving moments in front of mouths at this nest as the birds took a few before they were cooled!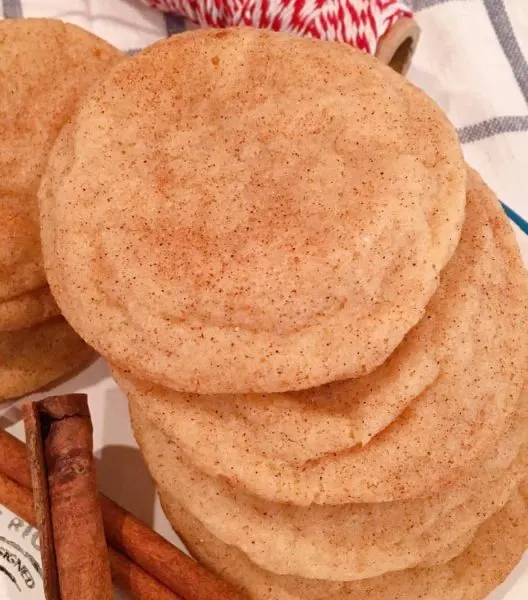 Don't you love the soft wrinkles and dusting of cinnamon on these cookies? The edges are delicately crisp, the centers are impeccably chewy, and it's got the perfect "crumb" factor! It's the best snickerdoodle ever!
I know the chicks at your Nest are gonna love this classic snickerdoodle cookie recipe as much as we do! Add a nice big tall glass of ice-cold milk…you got yourself a little piece of heaven on earth!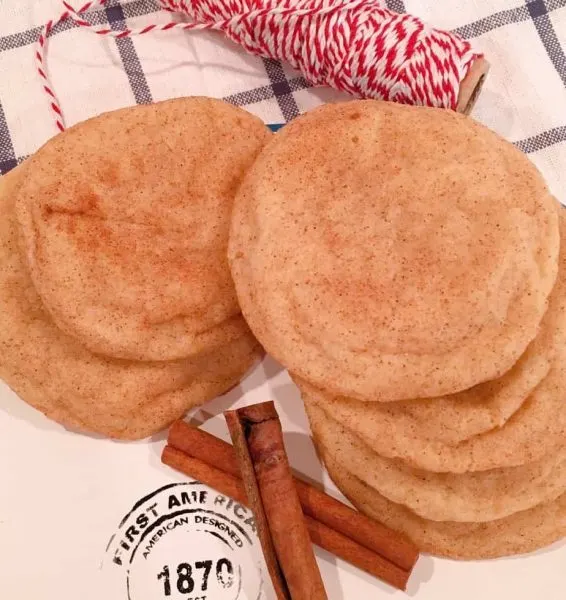 Remember you can always follow my boards on Pinterest where I post the latest and greatest of my recipes with links back to my website where you can find the free printable recipe card for every recipe here at Norine's Nest!
Here are some of my other favorite Cookie Recipes
Thanks so much for stopping by my Nest today! I hope y'all have a great week and that the cookie monsters at your Nest will enjoy this fantastic recipe! Come back soon!
Happy Nesting!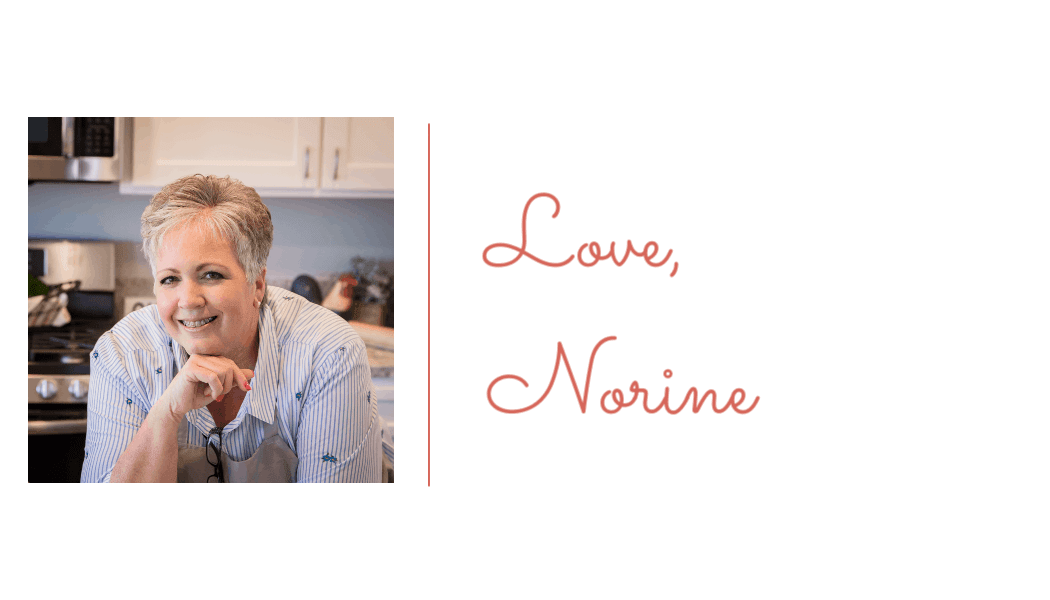 Yield: 36
Classic Chewy Snickerdoodles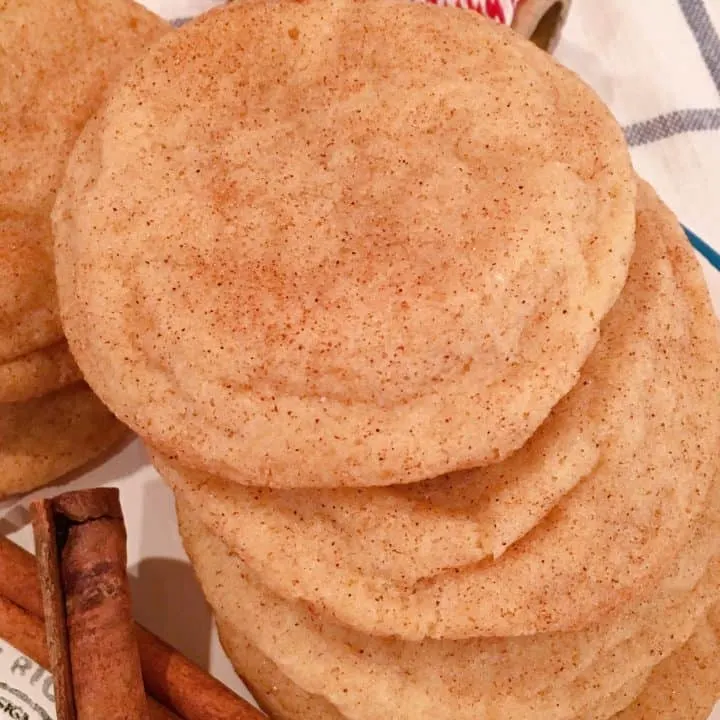 The Best Soft, Easy, and Chewy Snickerdoodle cookie made without Cream of Tartar!
Ingredients
1 Cup butter, softened
1 1/4 Cups sugar
1/4 Cup brown sugar
2 eggs, room temperature
1/2 teaspoon vanilla extract
2 3/4 Cups All-Purpose Flour
2 teaspoons baking powder
1/2 teaspoon salt
1 teaspoon cinnamon
CINNAMON TOPPING
4 Tablespoons sugar
1 1/2 teaspoon cinnamon.
Instructions
Using a mixer, and the paddle attachment, cream together the butter, 1 1/4 cups sugar, and brown sugar.
Add the eggs one at a time, mixing well after each egg is added. Add vanilla extract and mix until combined.
In a different medium size bowl, add flour, baking powder, salt and 1 teaspoon cinnamon. Whisk together until well combined. Gradually add the dry ingredients to the wet mixture and mix until combined.
Cover the bowl with plastic wrap and chill for 15 minutes in the refrigerator. Note this step is optional and not necessary, it does make it easier to roll the dough into balls.
In a small bowl mix together 4 Tablespoons sugar and 1 1/2 teaspoons of cinnamon to create the cinnamon sugar topping.
Preheat oven to 350° and prepare two large baking sheets with parchment paper, or silicone baking mats.
Roll the dough into 1-inch balls. Roll the balls in the cinnamon sugar topping. Place on the prepared baking mat 3-4 inches apart. Bake cookies in preheated 350° for 8-10 minutes, rotating the baking sheets half way through the cook time on the oven racks.
Cookies are done when edges are set and slightly golden brown and tops have puffed up in the center. Place baked cookies on cooling rack to cool completely. The centers will fall slightly as they cool creating delicious delicate wrinkles.
Recommended Products
As an Amazon Associate and member of other affiliate programs, I earn from qualifying purchases.
Nutrition Information:
Yield:
36
Serving Size:
1 cookie
Amount Per Serving:
Calories:

122
Total Fat:

5g
Saturated Fat:

3g
Trans Fat:

0g
Unsaturated Fat:

2g
Cholesterol:

24mg
Sodium:

102mg
Carbohydrates:

17g
Fiber:

0g
Sugar:

10g
Protein:

1g