Tender juicy chicken nuggets dipped in a light batter and fried to a golden crisp served with a homemade sweet and sour sauce and sprinkled with fresh vegetables and served over Fried Rice all come together in this outstanding Sweet and Sour Chicken!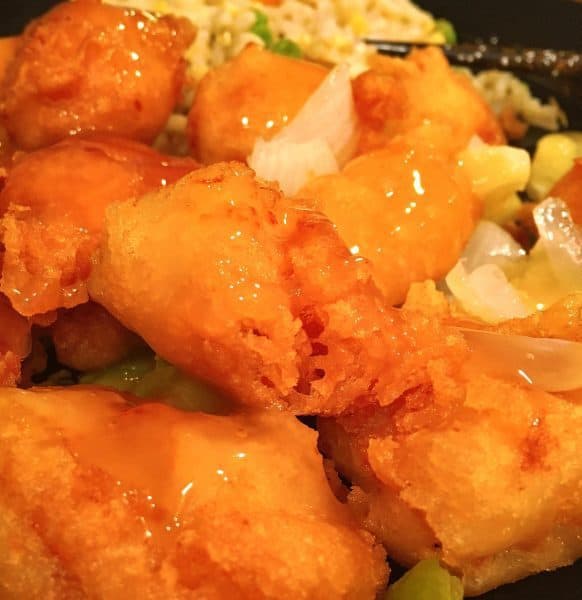 Yesterday I decided to treat myself and drove through the only Chinese food place we have here in Country Town U.S.A. Boy was I disappointed! Don't get me wrong I love my small town life. Living life in a small country town is full of so many perks, but one major draw back is finding good…really good…Chinese food!
We have two choices when it comes to fulfilling Chinese cravings…One, a major national chain which is hit or miss some days, like yesterday when my fortune cookie had no fortune! (Say What?!!! I mean seriously I deserve my future happiness told to me by a piece of paper in a cookie if I'm buying!) The other…we won't talk about.
This sad tale of woe, sniff-sniff, led to the "great sweet and sour chicken" hunt of 2012! Eureka! I struck "gold"…well…more or less! (In case you are wondering…It was followed by the marvelous walnut shrimp hunt of 2013! That's a story for another day!)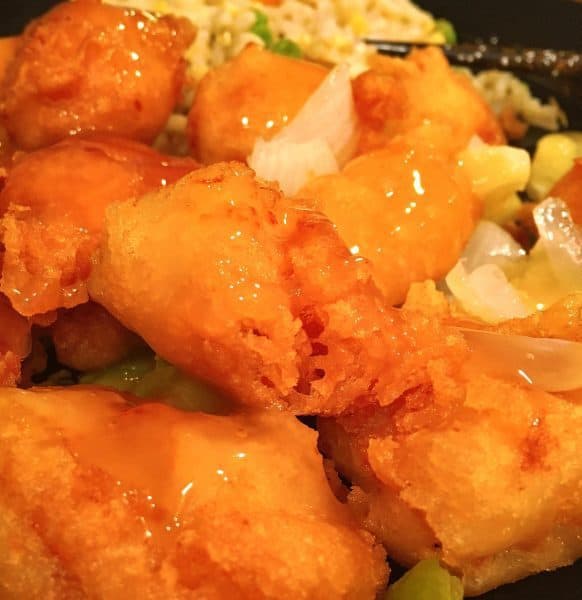 How To Make Homemade Sweet and Sour Chicken
I stumbled upon this amazing recipe in 2012 and I've been making it ever since. It is a family favorite! In fact my Chinese food has become one of our middle child's favorites. The key to making really great Chinese food is all about the "prep" work. In fact it is crucial to your overall success.
How to Make Homemade Sweet and Sour Sauce
First up is the sweet and sour sauce and saute the veggie's to go with the chicken.
To make the sweet and sour sauce, drain the pineapple reserving the juice.
TIP: I pour mine into a strainer over a bowl and let it sit while I get the rice going.
After the pineapple is well-drained in a sauce pan, combine the water, sugar, vinegar, and the reserved pineapple juice, plus orange food coloring (If you don't have orange…red + yellow makes orange. One drop of each should do ya!). Heat to boiling. Turn off the heat.
Combine the cornstarch and another 1/4 cup water, slowly stir into the sauce pan with the other ingredients. Continue stirring until mixture thickens.
Tip: I only add about half the vinegar called for in the recipe and taste test it. If it isn't sour enough I add a little more. You can always add more, but you can't "un-sour" it once you've dumped the vinegar in.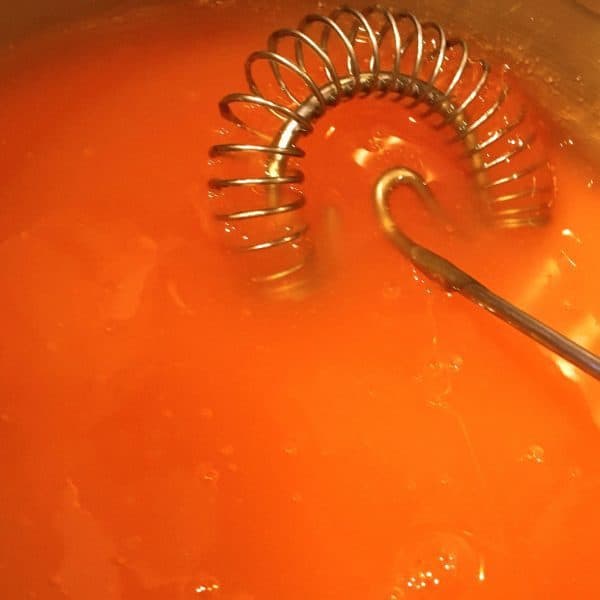 Next in a small skillet saute the veggies until slightly tender crispy. Cool and set off to the side.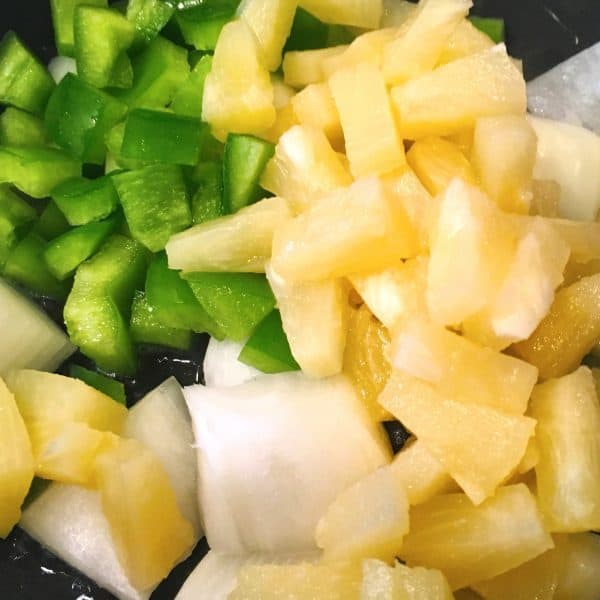 Tempura Batter For Chicken
Cut your chicken breast into nice bite sized chunks.
It's tempura time. In my opinion this is one of the BEST homemade tempura batters ever in the history of homemade tempura.
In a large bowl combine the self-rising flour, oil, cornstarch, salt, white pepper (I use black, little flecks don't bother me. It's a personal choice.), and egg. Blend. Add 1 1/2 cups icy cold water gradually to make a batter that is about the same consistency of pancake batter. I use all the water in my batter.
Just a FYI. You don't want it super thick and you don't want it really runny. Some where in the middle is perfect. Add chicken pieces to the batter, a few at a time, till well coated. Lift out with a fork and place into a sauce pan filled with about 4-5 inches of cooking oil. (I use vegetable oil). Fry chicken in hot oil until golden, flipping and turning half way through cooking process, then remove and place on paper towels to drain.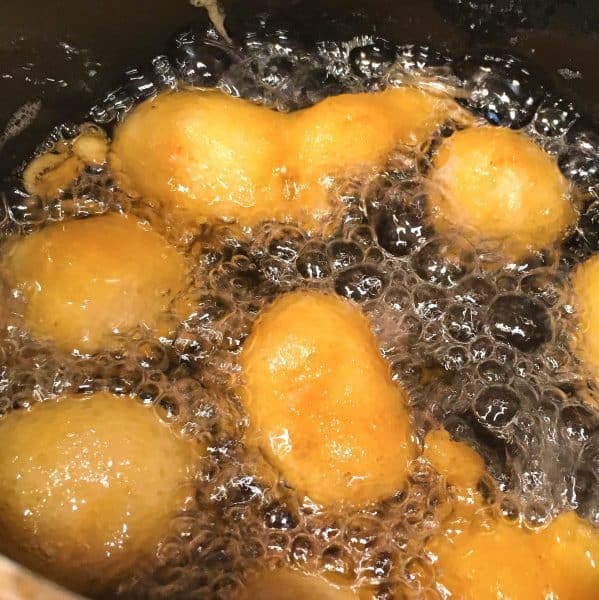 Tip: Always use the self-rising flour! The elements of self-rising flour, corn starch, and icy cold water combine and is what makes this a light, fluffy, crispy tempura batter.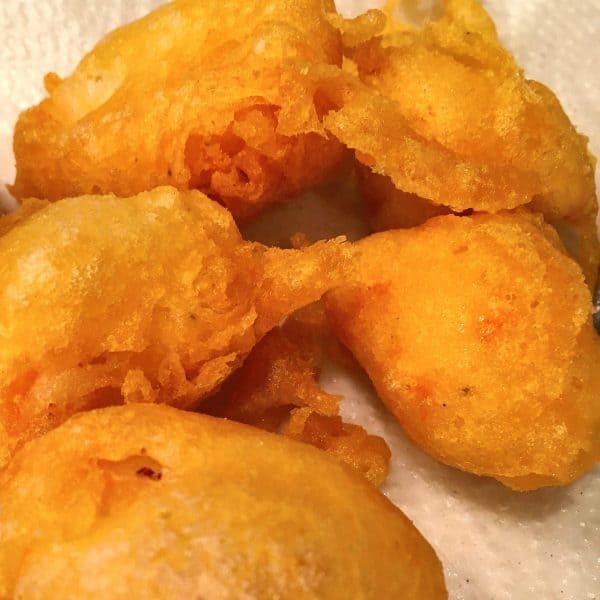 I place an oblong cake rack on my cookie sheet and transfer the cooked drained pieces onto the rack and keep them in the oven set on a low temperature of about 200 or less. Just enough to keep it all hot. Nothing worse than cold tempura batter chicken.
It does take several different batches to get all that chicken cooked, but it stays perfect in the warm oven on top of the cake rack.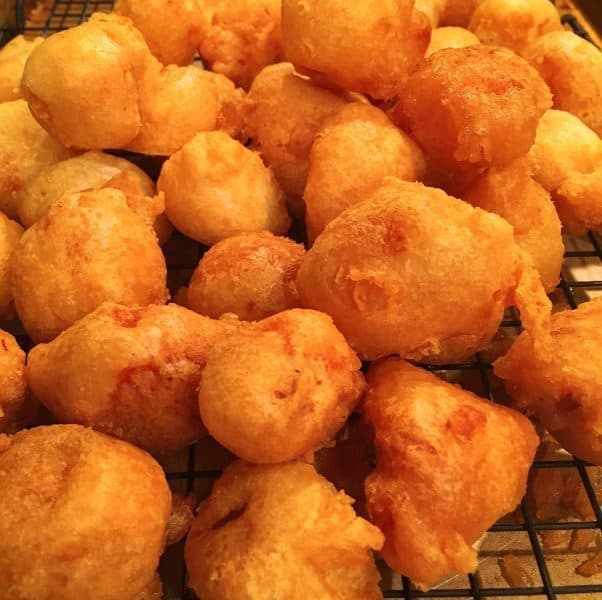 Once you have fried all the chicken pieces to golden perfection, place them on a large platter and top with the reserved veggies and sweet and sour sauce.
This is better than any sweet and sour chicken you can order in a restaurant! You will love this recipe and be surprised how simple it is to make your own Chinese food.
On the other hand you may be grateful you live in the city and can order in. (A dream I've always had…to order Chinese for delivery! It's on the bucket list!)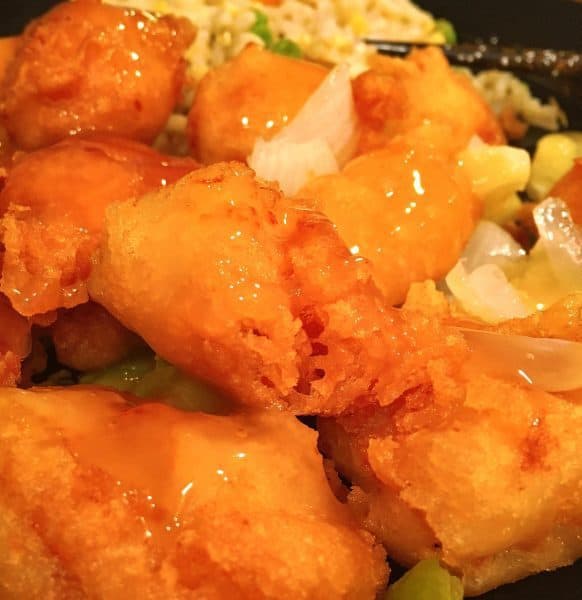 I wish I had had this yesterday instead of my "fortune less" drive-thru lunch! In fact I wish I had it now! lol
This recipe doesn't come with a "fortune" per se, but you will be so "fortunate" to have this for dinner at your Nest! (Come on…cut a girl some slack…how do I pass up a word play like that?!)
I served mine with fried rice and I'll share that recipe with you real soon. I have a really great one and it so super easy to whip up!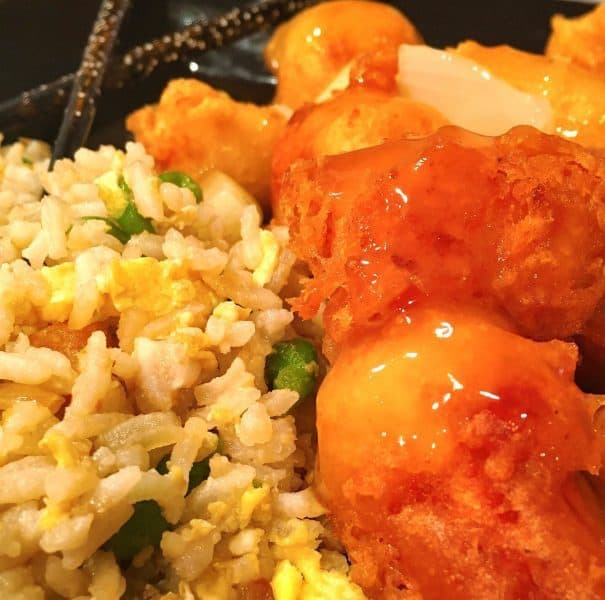 Favorite Family Chicken Recipes
Thanks for stopping by and I hope if you are craving sweet and sour you'll take the time to make this homemade version.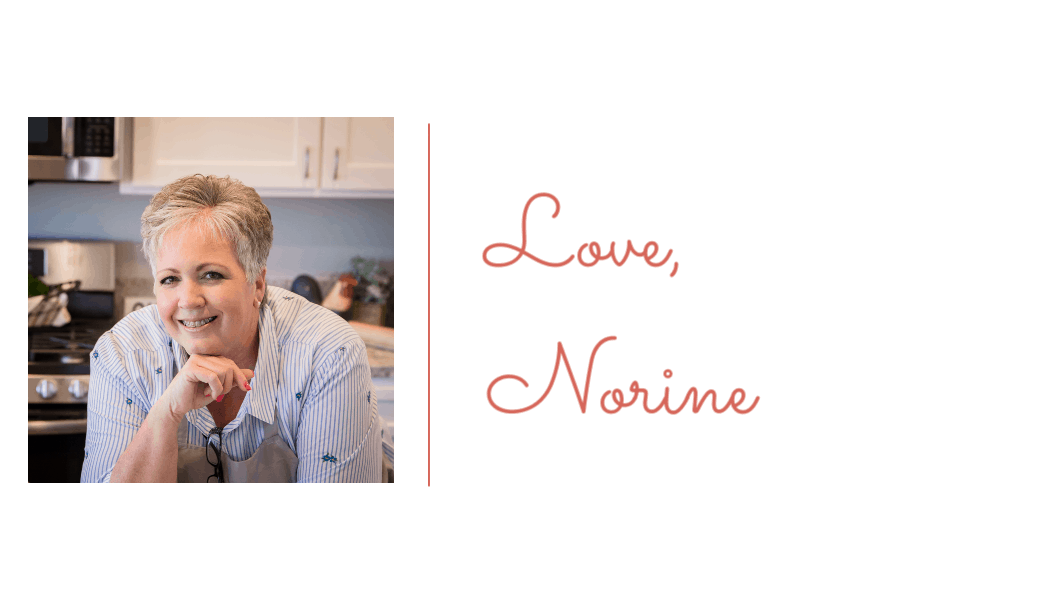 Yield: 8-10 servings
Sweet and Sour Chicken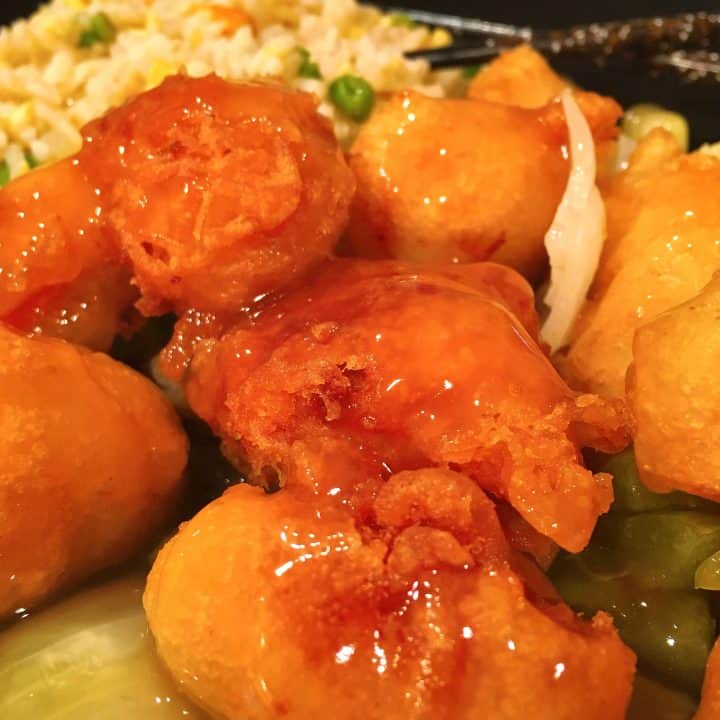 Sweet and sour chicken are made using pineapple and vinegar for the sweet and sour sauce in this amazingly delicious Asian-style chicken dish. Served with Fried Rice and it's better than any Chinese restaurant around! Try it tonight!
Total Time
1 hour
30 minutes
Ingredients
1 (8 ounce) can pineapple chunks, drained (juice reserved)
1 green bell pepper, cut into 1 inch pieces
1 medium onion diced into 1 inch pieces
1/4 cup cornstarch
1 1/4 cups icy cold water
3/4 cup white sugar
1/2 cup distilled white vinegar
2 drops orange food coloring
6-8 skinless, boneless chicken breast halves-cut into 1 inch cubes
2 1/4 cups self-rising flour
2 Tablespoons vegetable oil
2 Tablespoons cornstarch
1/2 teaspoon salt
1/4 teaspoon ground white pepper, you can use black.
1 egg
2 cups water
1 quart vegetable oil for frying.
Instructions
In a sauce pan, combine 1 1/2 cups water, sugar, vinegar, reserved pineapple juice, and orange food coloring. Heat to boiling. Turn off heat. Combine 1/4 cup cornstarch and 1/4 cup water; slowly stir into sauce pan. Continue stirring until mixture thickens.
In a small skillet with a tiny bit of cooking oil sautee the bell pepper, onions and pineapple till tender crispy over high heat for about 2-3 minutes. Stirring frequently. Set aside.
Combine flour, 2 tablespoons oil, 2 tablespoons cornstarch, salt, white pepper, and egg. Add 1 1/2 cups water gradually to make a thick batter. Stir to blend thoroughly. Add chicken pieces,and stir until coated.
Heat oil in a sauce pan to 360 degrees. Fry chicken pieces in hot oil until golden. Remove chicken, and drain on paper towel. Once drained place them on a baking sheet or on a cake rack over a baking sheet in a cooler 200 degree oven till ready to serve. (Placing on the cake rack prevents them from cooking more on the side laying on the cooking sheet)
Once all the pieces are cooked and you are ready to serve, layer green peppers, onion, and pineapple chunks, and cooked chicken pieces on a platter. Pour hot sweet and sour sauce over top.
Recommended Products
As an Amazon Associate and member of other affiliate programs, I earn from qualifying purchases.
Nutrition Information:
Yield:
10
Serving Size:
1 cup
Amount Per Serving:
Calories:

1172
Total Fat:

94g
Saturated Fat:

8g
Trans Fat:

2g
Unsaturated Fat:

81g
Cholesterol:

100mg
Sodium:

524mg
Carbohydrates:

49g
Fiber:

2g
Sugar:

22g
Protein:

34g