Very Berry Amaretto French Toast with thick slices of heart shaped French toast in a flavorful batter, topped with fresh berries, and an Amaretto fresh cream combine for a special Valentines breakfast treat.
Tomorrow is Valentines! It's kind of a big deal at this Nest! I actually let my husband talk me into getting married on Valentines Day! (I know…SO sappy!) Up till that point… I secretly hated Valentine's Day…or as I liked to call it back before marriage…"Happy Single Awareness Day!" (Am I right? Or…am I right?)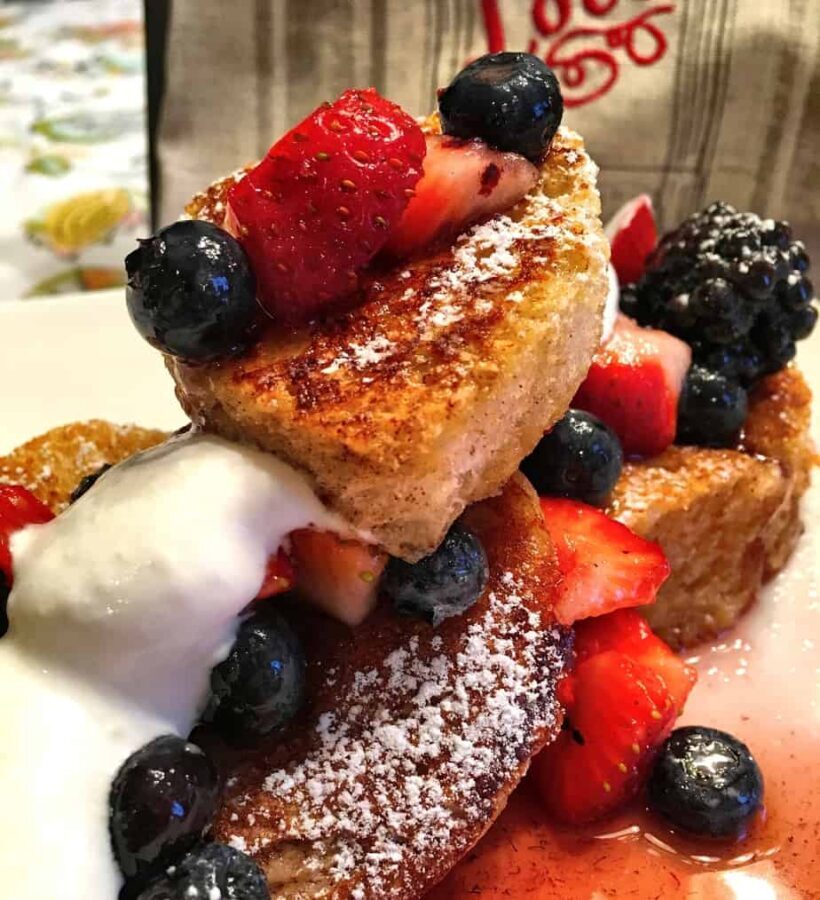 This will be our 31st anniversary! It only took 5 years for me to realize that my hopeless "sappy" romantic picked this day so he would never forget our Anniversary. (Smart man! Stupid wife…I get hosed out of a holiday!) lol
I'm just kidding! I honestly can't think of a better way to turn a negative holiday into a positive, than to marry the love of your life on a day that celebrates…LOVE! Even the stores decorate for us! 😉 He is my forever Valentine! Love that man of mine!
So let's kick off this "day of love" with a special breakfast! Heart shaped vanilla French toast, topped with fresh berries infused with amaretto, and an amaretto cream. It's easy, quick, and sooooo delicious!
How To Make Berry Amaretto French Toast
Start with two cups of your favorite fresh berries. I used blueberries, strawberries, and blackberries. Be sure to have at least one red berry. (I would have added raspberries but Wally World was out! Welcome to the REAL Farmville! lol I love my country town.)
Wash your berries, cut any strawberries into smaller bite size pieces, and place in a small bowl.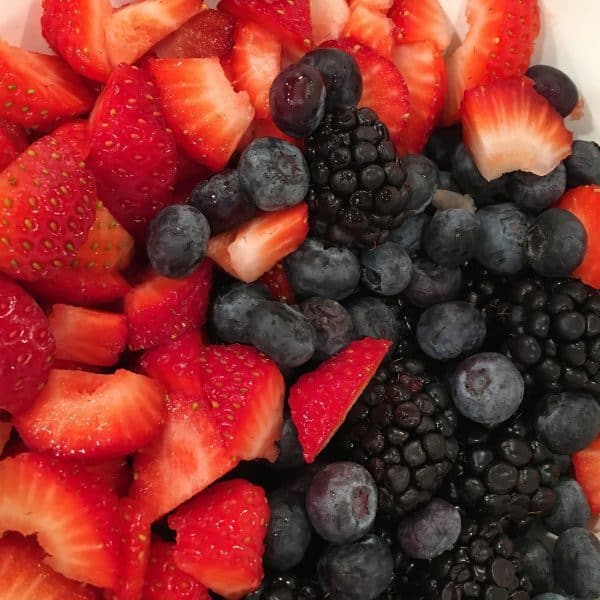 Add 1/2 cup of sugar and 2 Tablespoons of reduced Amaretto syrup.
Okay, let's STOP to talk about this Amaretto "syrup"…
I L.O.V.E. the flavor of Amaretto! It adds a special rich almond flavor to baked goods. It's different from almond extract. The flavor is divinely rich!
I've already stated before that we don't drink alcohol at this Nest. (Personal choice…) But, I do love cooking with it. So, what I do is make a batch of Amaretto syrup that I store in my spice cupboard.
That way I can have all that yummy Amaretto taste without the "buzz"! 😉 Please know you can use regular almond extract if you want, or regular amaretto and "buzz" away.
To make Amaretto flavoring … bring 1 cup of Amaretto to a boil. Reduce it to a simmer and continue simmering until it is reduced by half. (It creates a lovely syrup because of all the sugars in the Amaretto).
Allow it to cool to room temperature. Then store it in small plastic containers and use it just like you would almond or vanilla extract. It's so wonderful to have on hand. I really think you'll love this flavoring.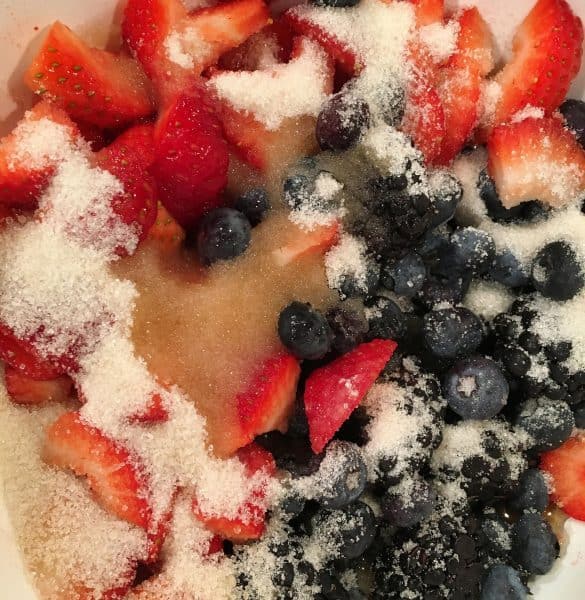 Back to our "love toast"…lol.
Next gently mix the fruit, sugar, and Amaretto flavoring together to allow it to macerate. As the fruit sits it will gently pull out the juices (thus the word "macerate") from the fruit creating a wonderful rich flavorful sauce for your French toast.
Allow it to sit while you prep everything else.
Time to create the fresh cream that will go on top of the fruit. Use 1/2 cup of heavy whipping cream, 2 Tablespoons of powder sugar, and 1 Tablespoon for the Amaretto flavoring.
Whip till just thick, but not stiff peaked. Just create a nice thick cream to spoon over the top of your fruit.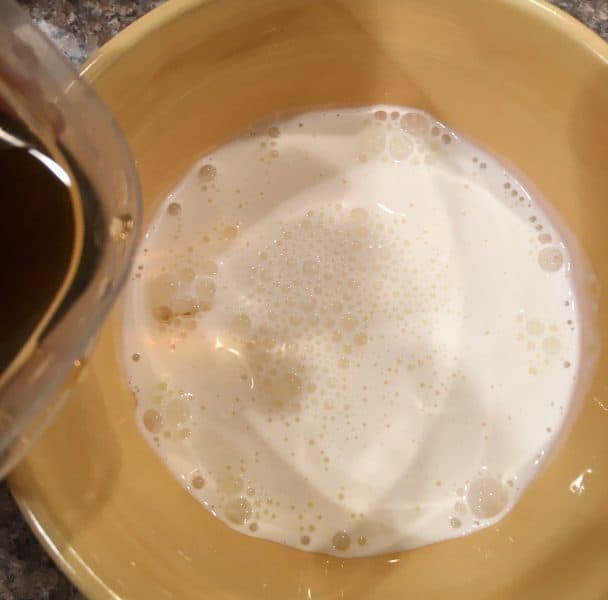 In a shallow dish, like a pie plate, add four eggs with 1/2 cup of sugar, 1 tsp vanilla, and 1 tsp of cinnamon.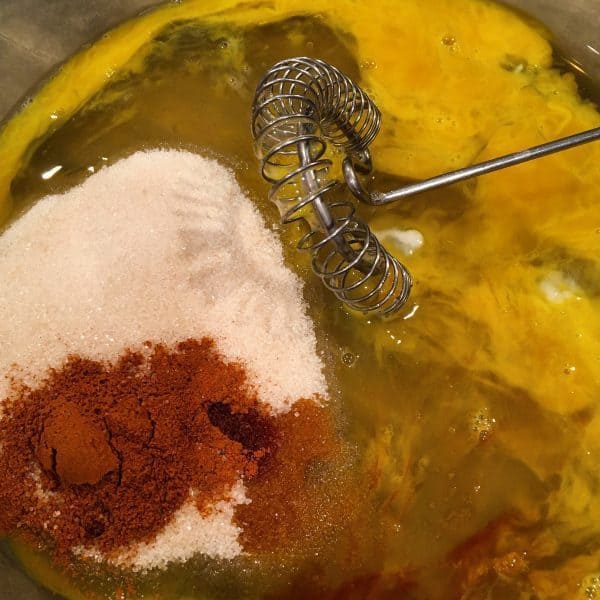 Beat well. Do NOT add milk yet.
Tip: By whipping your eggs, sugar, vanilla, and cinnamon first it prevents your cinnamon from "clumping" when you add the milk.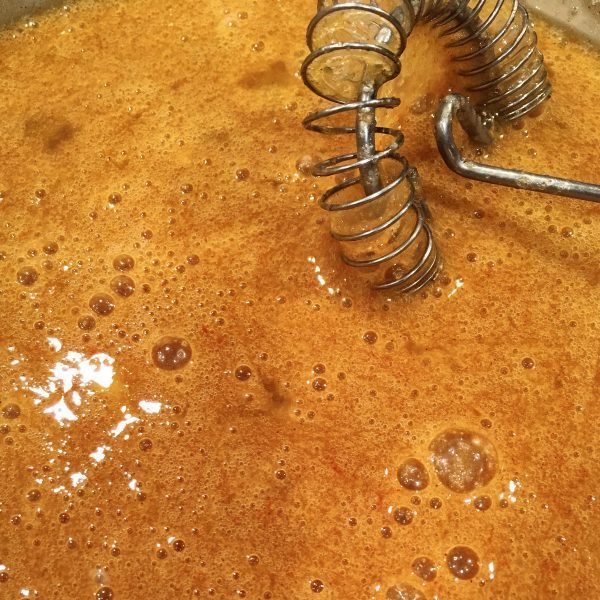 Add 3/4 cup of milk. The secret to great French toast…more egg mixture than milk. Trust me.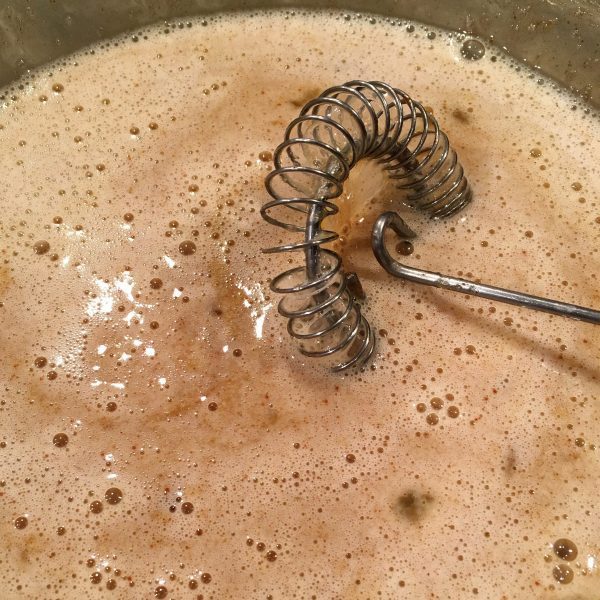 Heat your grill and spray it with cooking spray.
Slice a loaf of French bread. I love thick French toast. I cut mine about 1 inch thick. You'll want 8 slices for four servings.
Using a heart shaped cookie cutter, cut out heart shaped pieces of bread. I had two different sizes and I used both sizes.
I had a larger heart and a smaller heart. If you only have one cutter that is fine. You don't need two for this recipe. It's just kind of fun if you do.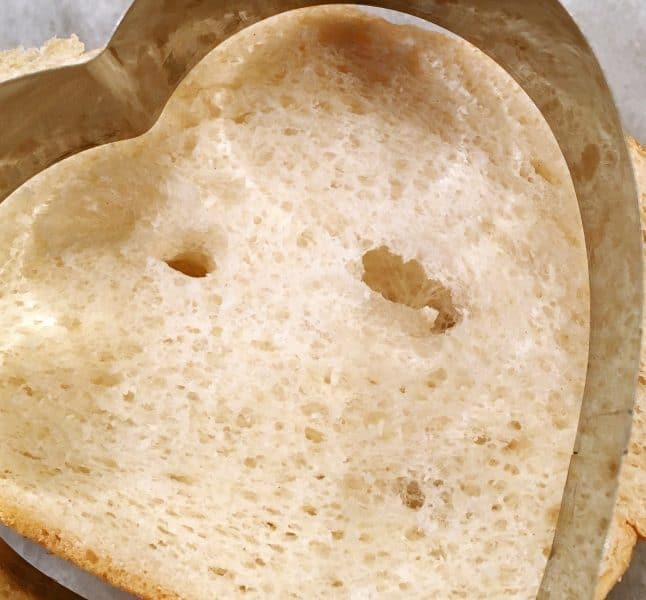 Carefully lay bread hearts into your French Toast batter and let it "soak" for a minute or two. Turn and allow other side to soak in an equal amount of egg batter.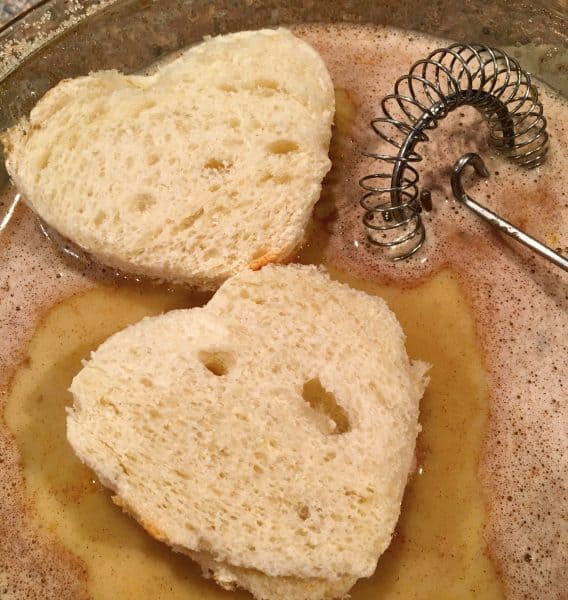 Place your dipped heart bread slices onto your hot griddle and cook until golden brown. Flip and cook other side until nice and golden brown.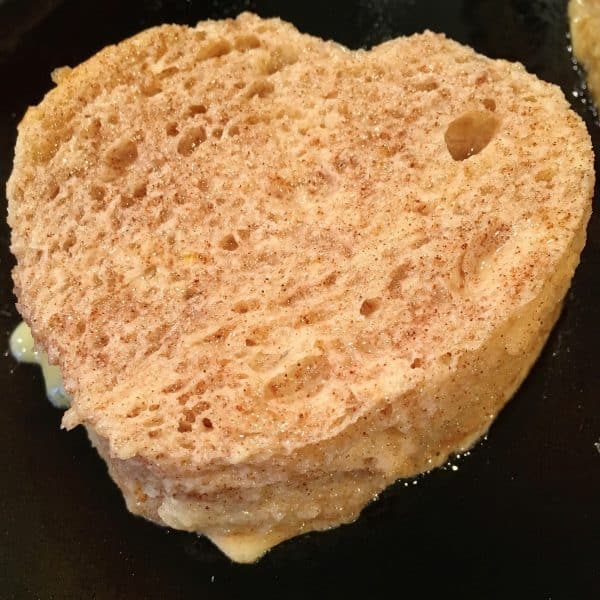 Place two slices of heart vanilla French toast per plate. Aren't they beautiful? I love the golden brown crispy outside and the tender moist inside. Perfection!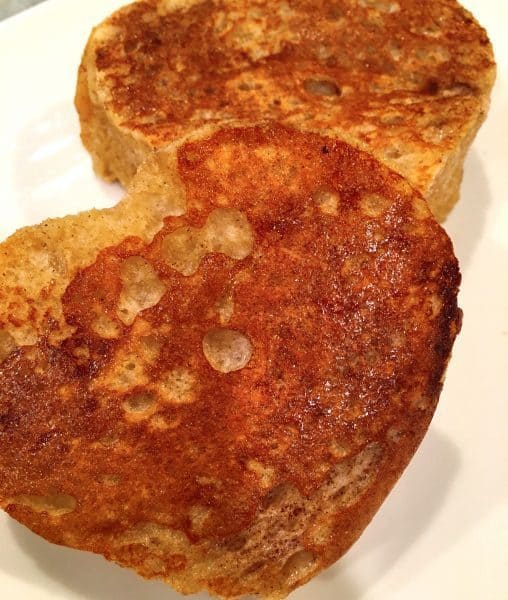 Spoon macerated berries over the top of your French toast. Be sure to spoon a little extra juice over each slice! That's the yummy syrup for this breakfast delight.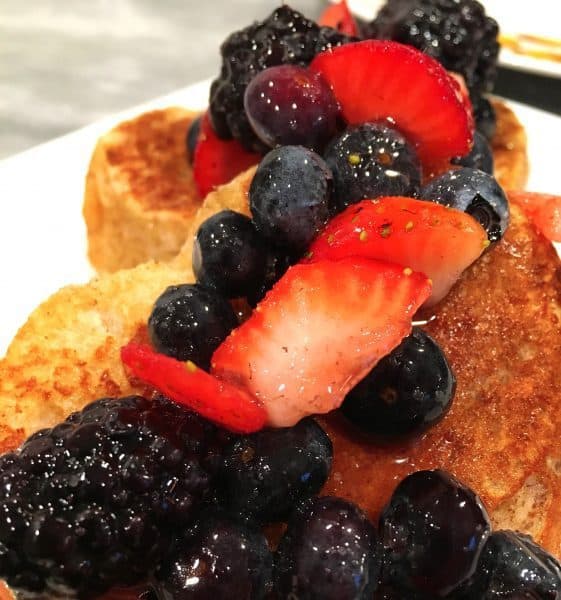 Using a large spoon gently spoon the Amaretto cream over the top of your fruit.
If you made smaller heart French toast, place a smaller heart on top, add a little more fruit, and sprinkled with powder sugar.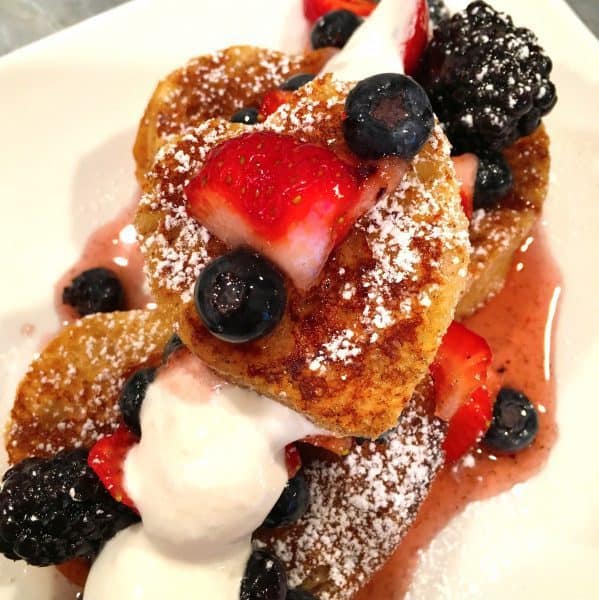 How about that for your Valentine Day breakfast? Would this make you feel loved? Isn't it spectacular! (Note that wasn't really a question…lol)
It truly is a lovely luscious breakfast and SO easy! It took me less than 30 minutes from start to fork! Which just made me fall in love with this dish even more!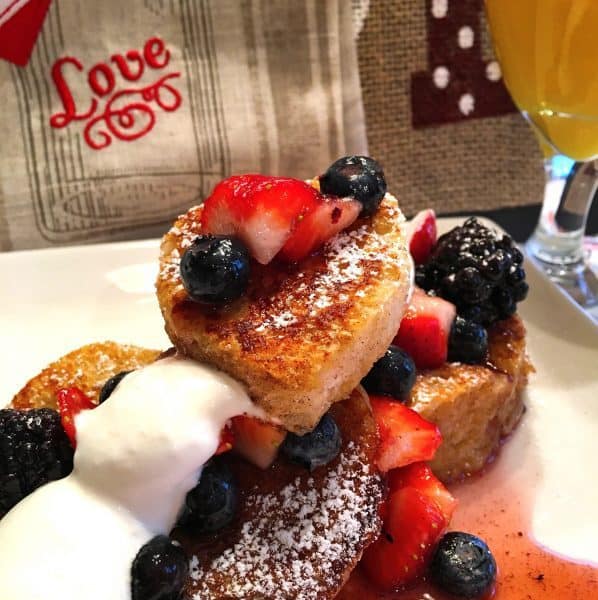 The French toast is coated perfectly with vanilla, cinnamon, and egg. Cooked to a golden crisp on the outside, tender and moist on the inside.
The fresh fruit, infused with the Amaretto flavoring, is divine! Keeping Cupid company…THAT Amaretto fresh cream… which is pure heaven! You don't need butter. You don't need syrup! It's perfect exactly as it is!
I promise it's as good, if not better, than anything you'd get at a 5 star restaurant!
Happy Valentines Day Friends! I hope your day is filled with love, happiness, and this yummy Very Berry Amaretto French toast!
Hugs from my Nest to Yours!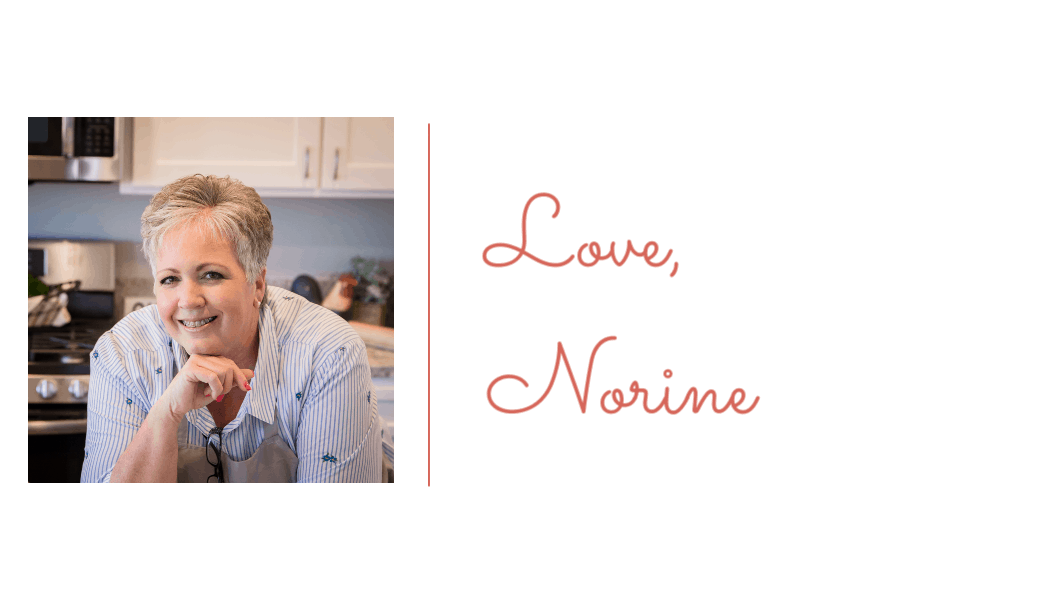 Yield: 4 servings
Very Berry Amaretto French Toast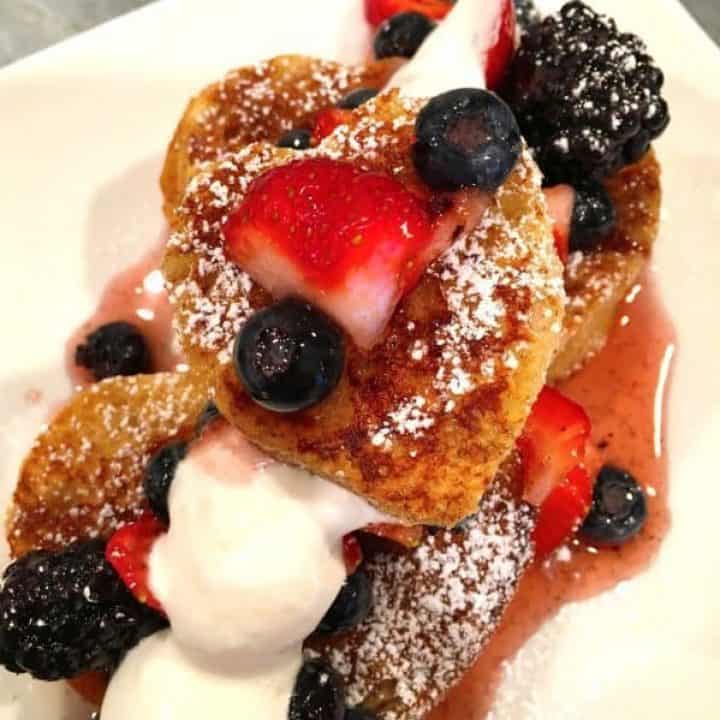 Looking for that perfect Romantic Valentines Breakfast? This golden crispy vanilla french toast topped with fresh berries, infused with Amaretto syrup, and drizzled with Amaretto cream is the dish dreams are made of! Happy Valentines!
Ingredients
French Toast:
4 Eggs, beaten
1 tsp. vanilla
1 tsp Cinnamon
1/2 cup sugar
3/4 cup milk
1 Loaf of French Bread cut into 1 inch thick slices. 8 slices for 4 servings
Fresh Berries:
2 Cups Fresh Berries...Blackberries, Raspberries, Strawberries or Raspberries
1/2 Cup sugar
2 Tablespoons Amaretto Syrup
Fresh Amaretto Cream:
1/2 cup heavy whipping cream
2 Tablespoons powder sugar
1 Tablespoons Amaretto Syrup
Instructions
Amaretto Syrup
Place 1 cup Amaretto into a medium sauce pan. Bring to a boil. Allow to simmer till reduced in half. Cool to room temperature. Store in air tight containers
Fresh Berries
In a small bowl add fresh berries, sugar, and Amaretto Syrup. Gently stir and allow to macerate while preparing french toast.
Fresh Amaretto Cream
In a small bowl beat whipping cream, powder sugar, and Amaretto Syrup until thickened. DO NOT mix till stiff peaks form. This is just a thick cream to spoon over the berries.
French Toast
Spray griddle with cooking spray and pre-heat griddle to 350 degrees.
In a shallow dish beat eggs. Add in sugar, cinnamon, and vanilla. Whip till well incorporated. Add in 3/4 cup of milk. Mix until well blended.
Cut each slice of bread with a heart shaped cookie cutter.
Dip each heart sliced piece of bread into the french toast batter. Allow to soak for 1-2 minutes. Flip and allow other side to soak equally.
Place each dipped heart on the hot griddle. Cook until golden brown. Flip and cook other side.
Place two heart shaped slices of french toast on a plate. Spoon macerated Amaretto berries over the top of the heart shaped french toast. Drizzle with Amaretto cream. Sprinkle with Powder Sugar. Serve warm.
Recommended Products
As an Amazon Associate and member of other affiliate programs, I earn from qualifying purchases.
Nutrition Information:
Yield:
4 servings
Serving Size:
2 slices of french toast
Amount Per Serving:
Calories:

956
Total Fat:

20g
Saturated Fat:

10g
Trans Fat:

0g
Unsaturated Fat:

8g
Cholesterol:

223mg
Sodium:

839mg
Carbohydrates:

167g
Fiber:

6g
Sugar:

93g
Protein:

22g