Summer Time and the Grillin' is Easy! Well…it's easy if you make these simple Teriyaki Chicken Kabobs! Tender chunks of marinated white meat chicken are threaded on a hefty bamboo skewer along with fresh summer squash, sweet onions, grape tomatoes and plump mushrooms.
They're grilled to perfection and basted with more Yoshida's Teriyaki glaze and laid on a bed of good ol' Rice-a-Roni Rice Pilaf! (Cause ain't nobody got time to make the real thing…it's summer and Momma's a big ol' hot mess! Count your blessings she's using the skewers on the kabobs and not the kids! lol)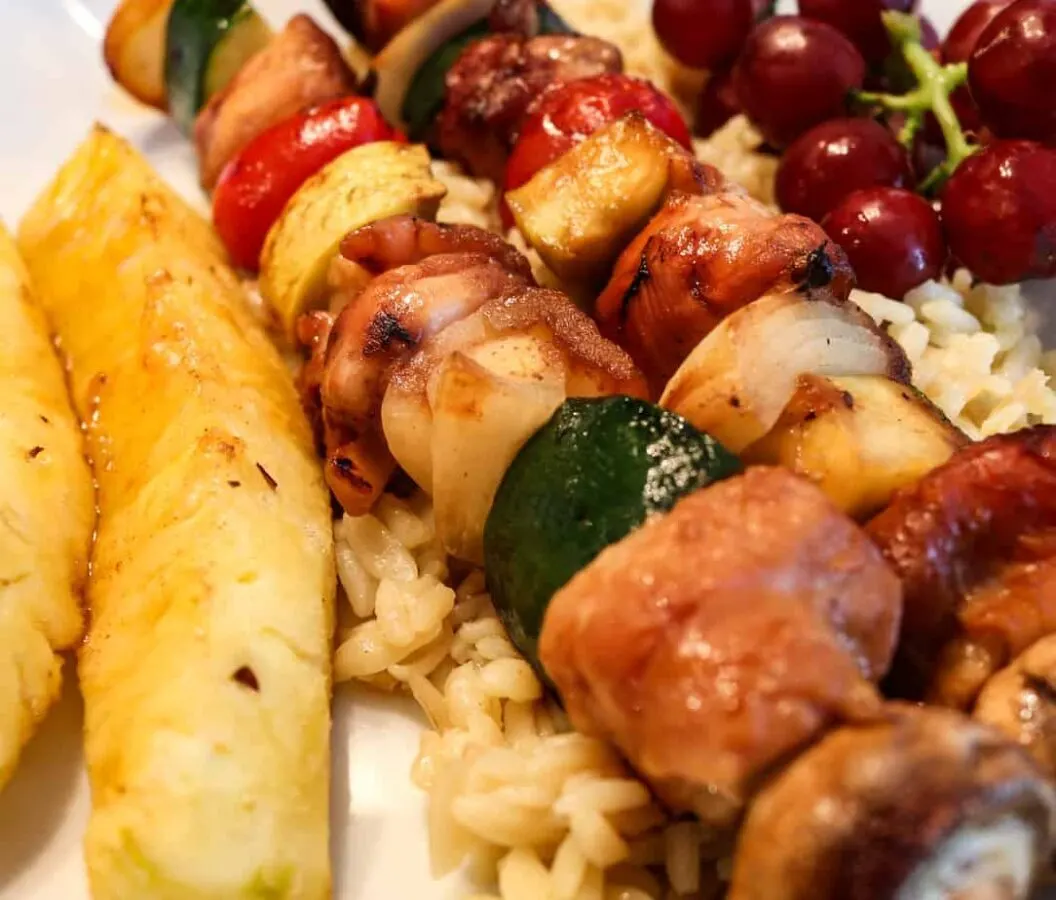 You will love the simplicity of this recipe! I know I do. Especially during the hot summer months when we're all walking around like a big ol' wet dish rag praying for a break from the heat! This is a GREAT recipe and dinner favorite!
How To Make Teriyaki Chicken Kabobs
Chunk up one 1 lb. package of chicken tenders or you can use two whole boneless skinless chicken breast cut into chunks! Place in a large bowl with 1 cup of Yoshida's Teriyaki Marinade. Cover and place in the refrigerator for 30 minutes! (Ya may want to climb in there with 'em! I'm full of helpful hints like this! Truly a one stop blog!)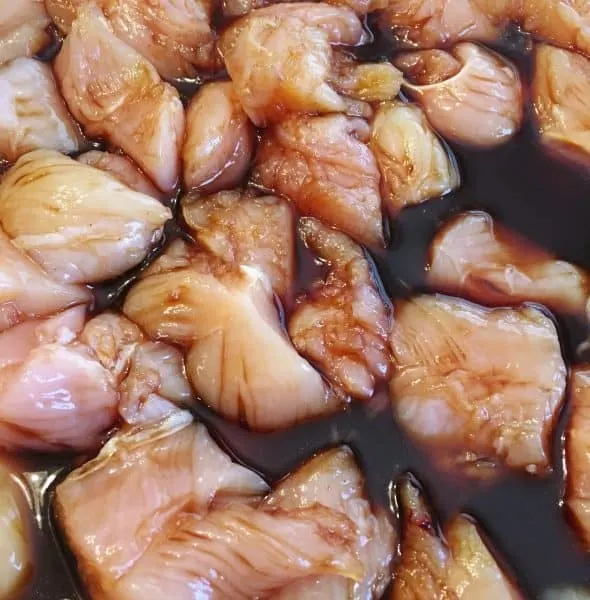 While the chicken doing it's "thang"…wash and slice two medium zucchini squash into one inch chunks and cut in half. Do the same with one medium yellow crook neck squash.
Cut one sweet white onion into large chunks and separate.
TIP: Cut the squash into "hefty" chunks so they will take longer to cook and not fall off the skewers. It will take about 10 – 15 minutes for the chicken to completely cook. Chunkier squash will be tender crisp rather than mushy and falling off the skewers.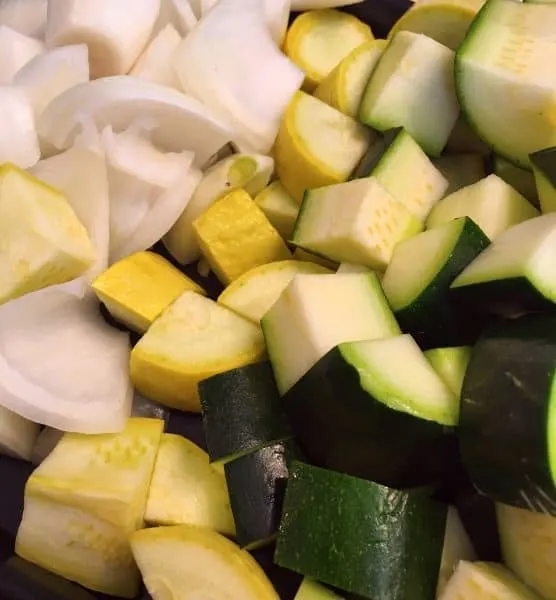 Next wash and rinse a package of whole mushrooms. (Nobody wants mushroom poop on their kabobs! It is NOT a grilling seasoning!)
Trim the bottoms of the stems up to the cap of the mushrooms.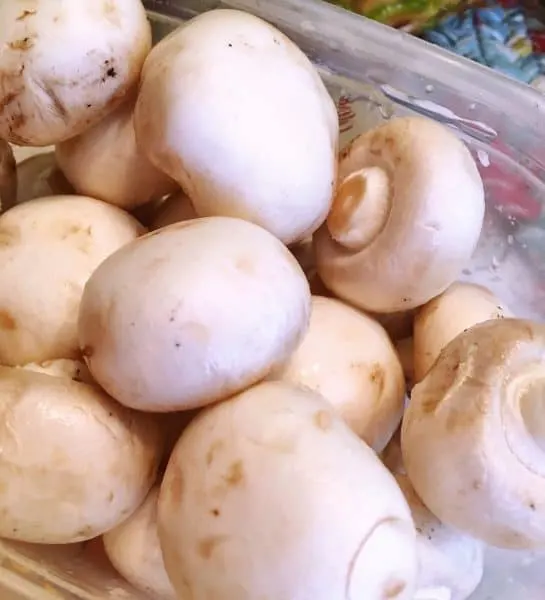 Lastly rinse one package of grape tomatoes.
I know, I know! I can hear y'all now! "Norine my kids HATE mushrooms!" …and by kids I mean your husband! Then by all means don't use them. I happen to like the additional flavor they give to this meal…but that's me. Substitute Pineapple, or add another meat like steak or shrimp. Use the same marinade.
That's the beauty of this recipe. There are no hard fast rules. (It's summer…there are NO rules! Okay…maybe a couple…like no naked swimming in the community pool!)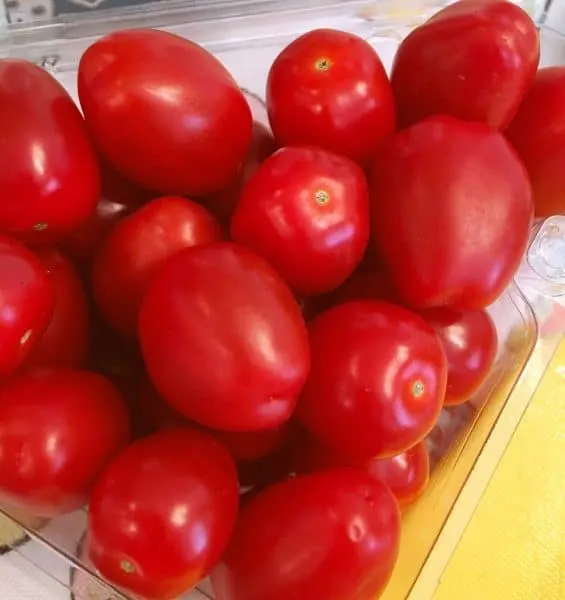 Now for the fun part. If you're still hanging onto your sanity at this point of summer vacay with the kids…have'em help. If not…lock yourself in a room and go to town threading the ingredients onto the bamboo Skewers!
TIP: If you're not looking to create "flame throwers" you may want to soak your bamboo skewers in water for 20 minutes before adding the ingredients. This will help prevent them from bursting into flames during the cooking process. On the other hand…if you secretly enjoy watching your "Grill Master" juggle flaming kabobs with large tongs…leave'em dry and have fun! (It's only fair…you've been home playing "Cruise Director" for the last 3 weeks of summer break! I get it!)
I recommend starting and ending with a mushroom cap. This will help secure the ingredients onto each skewer. (Plus the kids can start whining right off the bat when they have to touch a mushroom!)
Then create any pattern you want. I do suggest each kabob have a minimum of 4 pieces of meat. Also be sure to fold each piece of chicken in half. This will create a more secure kabob.
We ALL want secure Kabobs!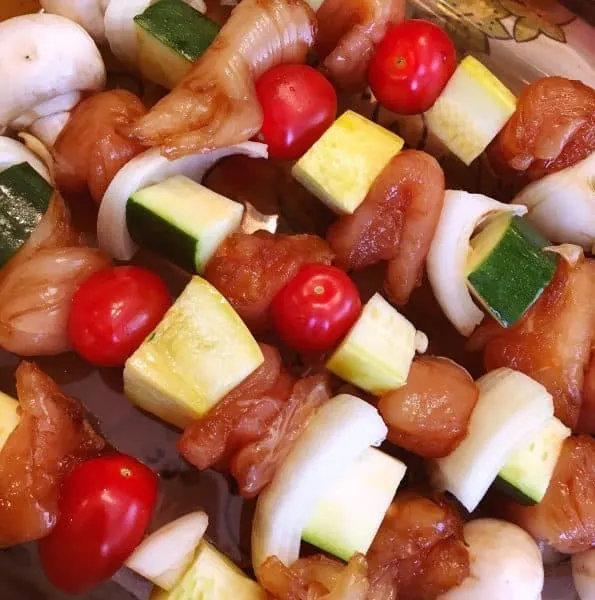 When they are all done…drizzle with left over marinade, cover, and refrigerate until ready to grill. (Pretend this photo has the marinade drizzled over it…I was tired…it was hot…questions? I didn't think so!)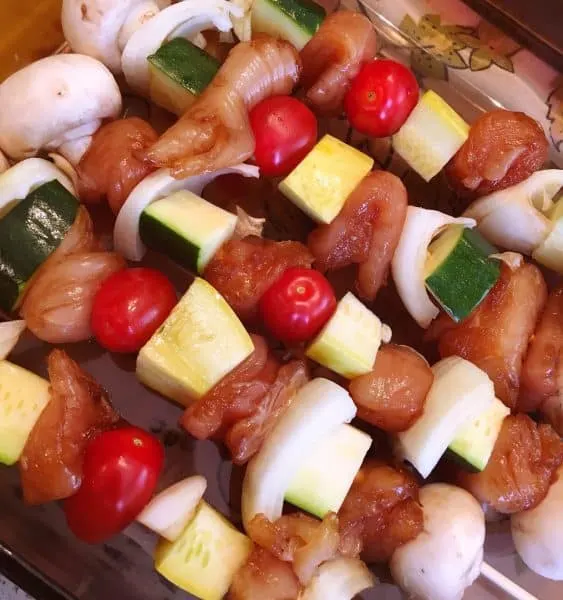 Preheat your grill to 350 degrees. Be sure to prepare the grill by seasoning the grate BEFORE turning on the heat! (Seasoning does not mean to sprinkle the grate with salt and pepper! It means to oil the grates before heating up the grill.)
I've been watching "Nailed it" on Netflix. Y'all…it's like a horror show for me! I'm practicing a whole new level of cooking instructions. Please know…No offense meant! I'm just very insecure right now about my teaching abilities and my level of concern for the hair on your body!
Grill each kaboob….I totally knew that would happen at least once in this post! So it's staying in! Any who…Grill each Kabob about 5-7 minutes per side. Brush with additional marinade while cooking. Remove from heat and place on a platter.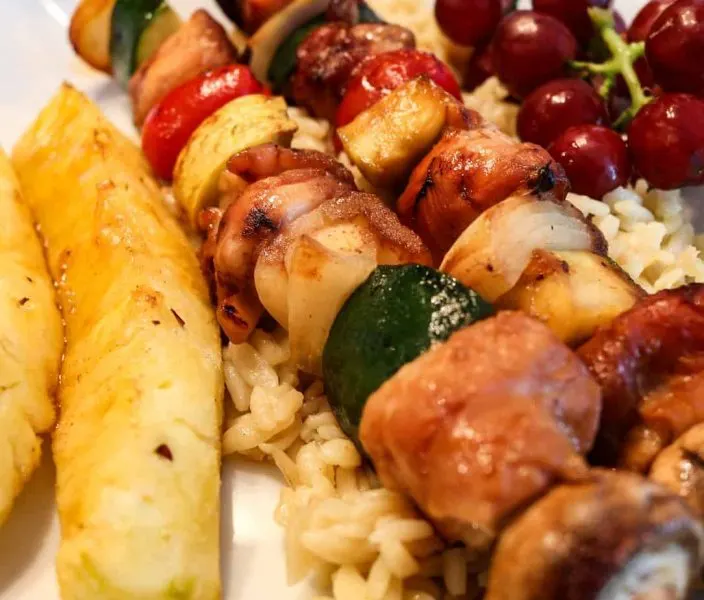 I served ours with my favorite "Rice-A-Roni" Rice Pilaf (I actually had my Dad call me for the recipe once! lol It's GOOD! No Rice Snobs at this Nest! lol) Grilled Amaretto marinated Pineapple Spears and Fresh Red Grapes!
It was the PERFECT summer dinner. Honestly it was heavenly! Maybe because I made it the day after our 10 day road trip and all the fast food we'd had…but regardless…it was fresh, healthy, and scrumptious!
Yoshida's is the perfect Teriyaki Marinade. You can make your own, but I wanted simplicity for this dish. This is the kind of quick, healthy, fresh meal we want on a long hot summer day! No one wants to spend more time in a hot kitchen when there's so much beauty to be enjoyed out doors!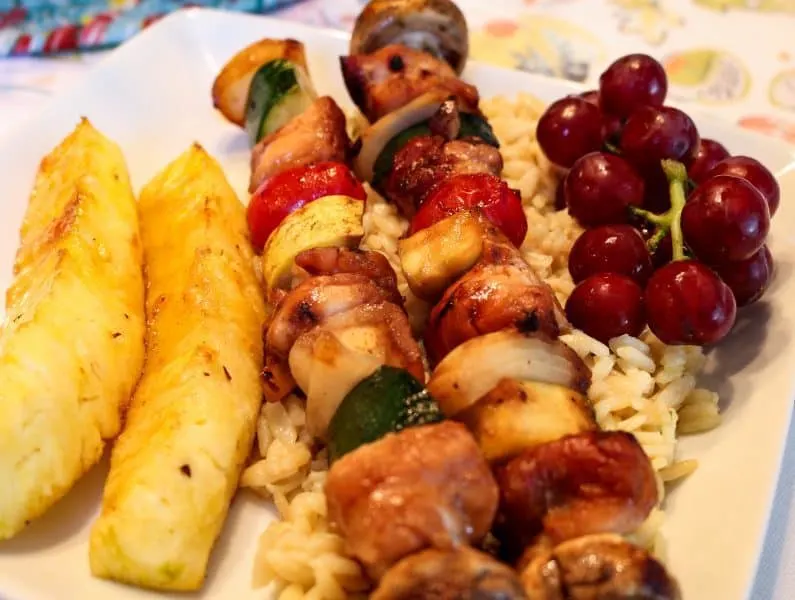 I hope your family will enjoy this recipe as much as mine does. It's one of the "Grill Masters" favorites! Which makes it a win in my book!
Here are some of my other Favorite Bar-b-que Recipes
The free printable recipe is below. Be sure to follow me on Pinterest, Facebook, Instagram, and Twitter. You can also sign up for my free bi-monthly Newsletter where I share all the latest and greatest coming out of my kitchen!
Happy Nesting!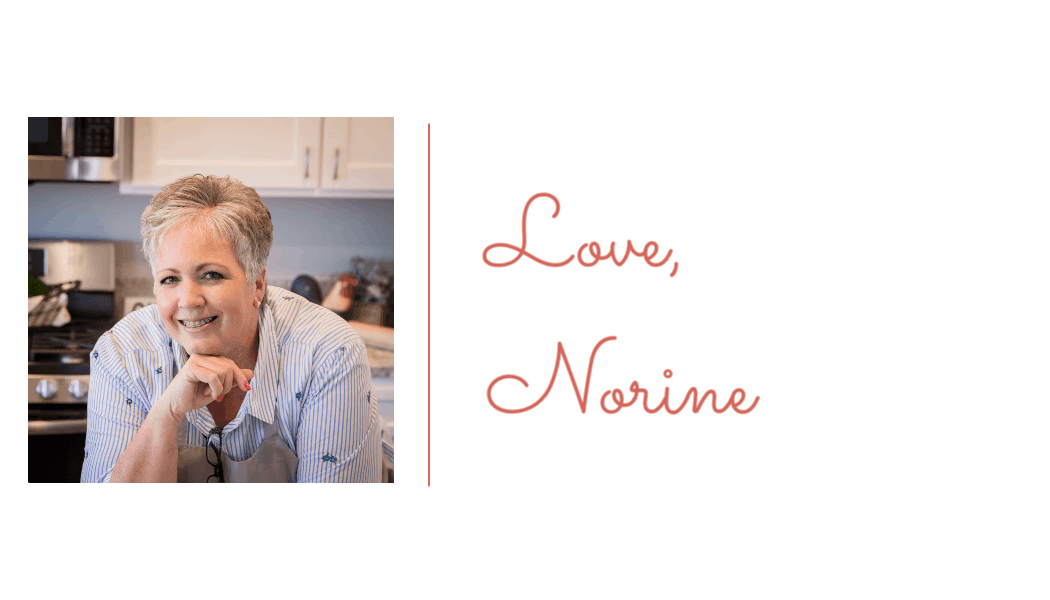 Yield: 6 servings
Teriyaki Chicken Kabobs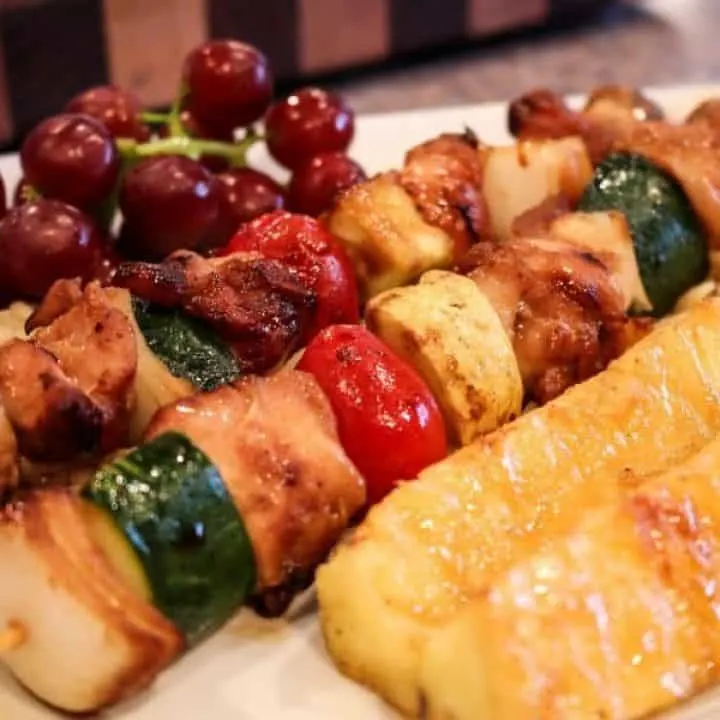 Teriyaki Chicken Kabobs are loaded with tender chunks of white chicken meat marinaded in a delicious teriyaki marinade and laced onto skewers with fresh vegetables and grilled to perfect. A quick easy and delicious summer time meal.
Ingredients
1 lb. Chicken Tenders, cut into 2 inch chunks
1 cup Yosida's Teriyaki Marinade or Marinade of your choice
2 medium zucchini cut into one inch chunks and cut in half.
1 medium yellow crookneck cut into one inch chunks and cut in half.
One large white sweet onion cut into chunks and seperated
1 package grape tomatoes
1 package whole mushrooms, cleaned and stems trimmed up to caps
Extra marinade for grilling
Bamboo Skewers or Kabob skewers
Instructions
Place chunked up chicken into a large bowl and add 1 cup of Yoshida's marinade. Cover and refrigerate for 30 minutes.
Prepare vegetables while meat is marinating.
Soak Bamboo Skewers in water for 20 mintues
Preheat grill to 350 degrees. Oil grates before cooking or preheating to prevent kabobs from sticking.
Start and end with a mushroom cap on each end of the skewer. Then create a pattern by threading the meat and vegetables on the skewers. Be sure to fold each piece of chicken in half so that it is pierced twice, top and bottom to prevent the meat from falling off the skewer. Pour left over marinade over the kabobs before grilling.
Cook Kabobs over preheat grill for 5-7 minutes per side. Brush with extra marinade if necessary. Watch Kabobs carefully as they cook quickly.
Serve alone or over a bed of Rice Pilaf.
Recommended Products
As an Amazon Associate and member of other affiliate programs, I earn from qualifying purchases.
Nutrition Information:
Yield:
6 servings
Serving Size:
2 kabobs
Amount Per Serving:
Calories:

523
Total Fat:

31g
Saturated Fat:

5g
Trans Fat:

0g
Unsaturated Fat:

24g
Cholesterol:

42mg
Sodium:

4127mg
Carbohydrates:

38g
Fiber:

2g
Sugar:

16g
Protein:

23g