Creamy Country Style Savory Herbed Mashed Potatoes made in your Instant Pot! They're full of flavor, with small bits of potatoes, and ready in minutes!
This year we planted a huge garden! My daughter and I decided we would share the "fruits" and "vegetables" of our labors. We misjudged how many potatoes we planted (They multiply! Like bunnies!) ….and we have HUNDREDS!!!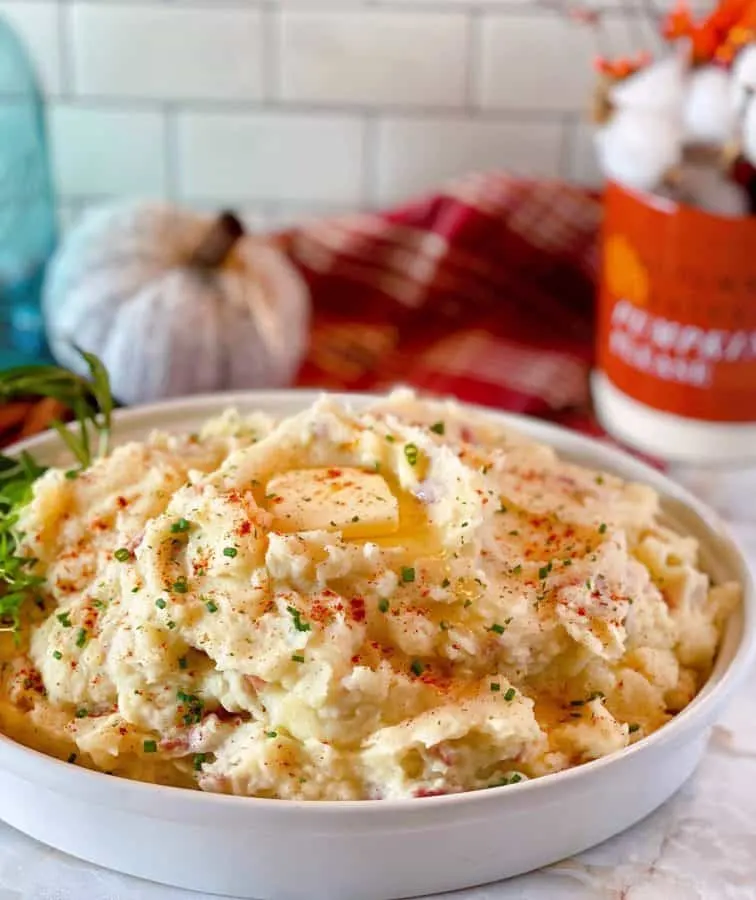 So, it's looking like Fall and Winter will be full of tater dishes! Fried potatoes, hash browns, cheesy potatoes, au gratin potatoes, and of course…our very favorite type of potato… Mashed!
The men at this Nest L.O.V.E. country style mashed potatoes! What do I mean by "country"? Well there are two types of mashed potatoes lovers. The silky mashed potato lovers…those who like their potatoes super creamy, peeled, and smooth.
Then there are Homestyle Country Mashed Potato lovers. They like their potatoes unpeeled, hand-mashed, and with little chunks of potato!
They're both great! We just prefer our mashed potatoes a little more on the rugged side.
I was laying in bed recently thinking of a way I could "up" my mashed potato game for Thanksgiving this year. I love all the side dishes that go along with that big glutenous meal! Especially the potatoes and gravy! To free up stove top space I decided I wanted to make an "Instant Pot" version and I wanted them to have lots of savory flavor.
What if I cooked them with lots of fresh herbs? Infusing the flavors into the potatoes!
The way an instant pot works with steam being redirected right back into the items being cooked…this seemed like a fantastic idea. Thus, my own personal recipe for Quick Savory Herb filled country mashed potatoes was born.
You'll love this recipe…so let's get cooking!
How To Make Savory Herbed Instant Pot Mashed Potatoes
Because this recipe calls for the skin to be left on the potatoes, I recommend using Red Potatoes or Yukon Gold Potatoes, both of which have a thinner skin than a Russet Potato! They are also creamier than a Russet.
Wash and dice 8-10 Large Red Potatoes. Dice them into bite size pieces. This will help keep the "skins" small so that they blend well when mashing.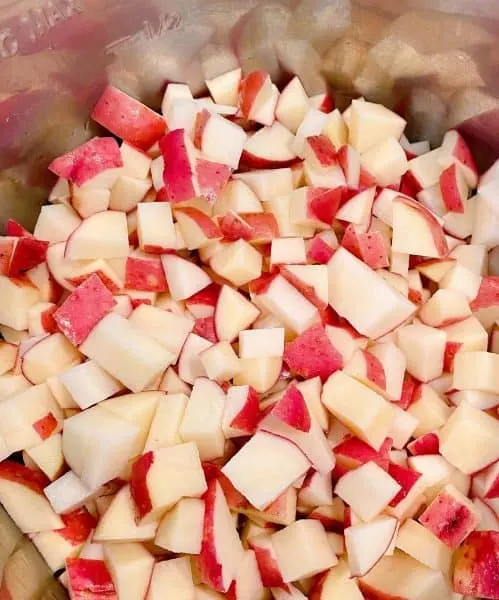 Add 4 Cups of chicken broth. You could also use Turkey broth if you have extra.
Top with fresh sprigs of Sage, Rosemary, Chives, and Thyme. Add 1 teaspoon black pepper. Place Instant Pot lid on top of the pot and "lock" into position. Set the valve to sealed and cook on manual for 15 minutes. Keep in mind it will take 8–10 minutes for the pressure to build before cook time begins.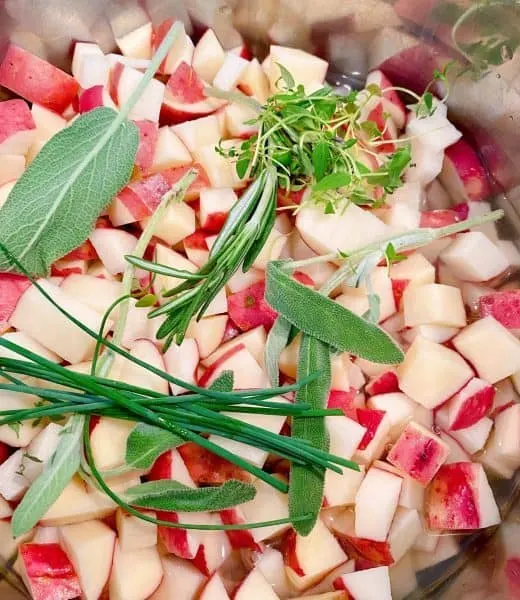 Once the timer goes off you can "quick release" the pressure from your pot. I recommend using a long handled wooden spoon to push the valve over, so you don't burn yourself. Make sure you stand back when releasing the pressure.
You have two choices at this point. You can remove the herbs and toss them. Leaving a subtle flavor in the mashed potatoes. Option two, you can remove the steamed herbs and blend them in a small food processor and mix them back into the potatoes.
Drain off any excess liquid.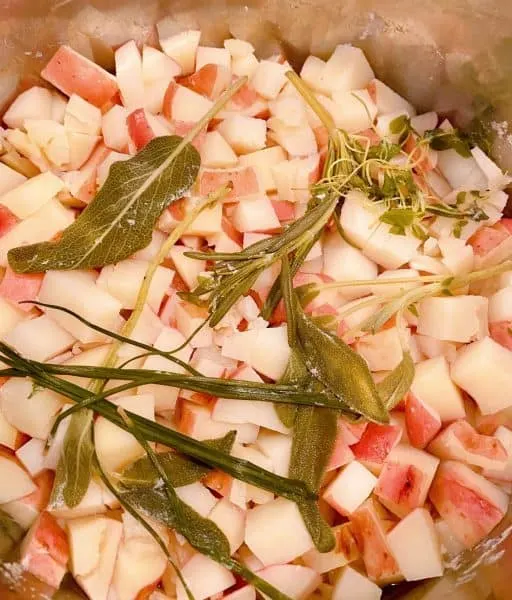 Using a hand potato masher, mash the potatoes until semi-smooth.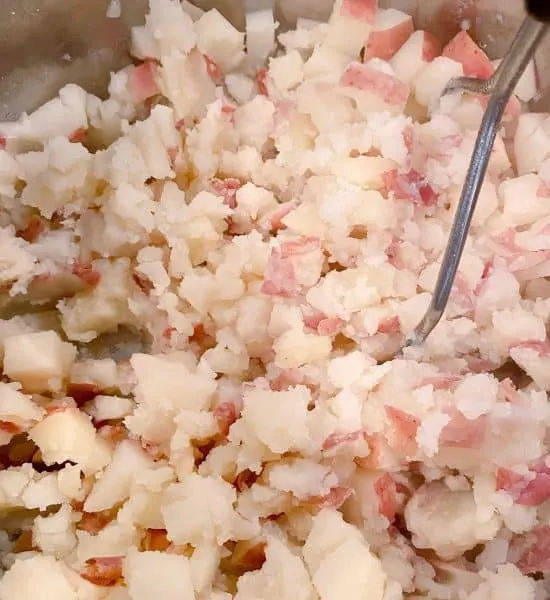 Add 1/4 cup softened butter and gradually add 1/2 cup milk. I recommend adding a little at a time to get the right consistency. Salt and Pepper to taste. Add 1/4 teaspoon dried onion powder and 1/4 teaspoon dried garlic powder. Mix until well blended.
NOTE: If the potatoes are too dry add a little more milk, about 2–3 Tablespoons.
This is where the "finger test" comes into play! This is a highly impressive cooking technique. You'll take your forefinger and take a little scoop…you'll know instantly if you have the right texture. If it sticks to your finger and doesn't fall off…you're there! Potatoes that are too dry will fall off, and potatoes that are too wet…will drip off like wallpaper paste. (Nobody wants the paste!! That's why I suggest adding the milk a little at a time! You can always add more…you can't take it out!)
Place potatoes in a serving bowl. Place a large pat of butter on top of those hot homemade mashed potatoes. Sprinkle with Paprika for a little pop of color and minced fresh chives.
Can we have a moment of silence for that butter cascading down that mountain of potatoes like lava down a volcano?!!! Shhhh….just take it all in!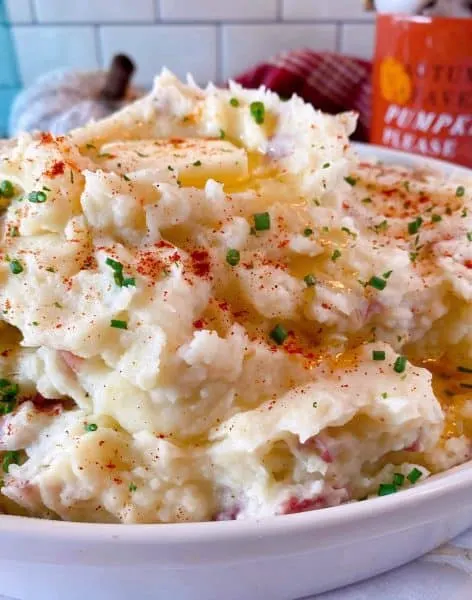 Now you can start dreaming of how good those potatoes are going to taste with gravy settled in the spoon bowl you made in the middle…but honestly…they don't even need gravy! Thanks to those beautiful fresh herbs every bite is infused with flavor.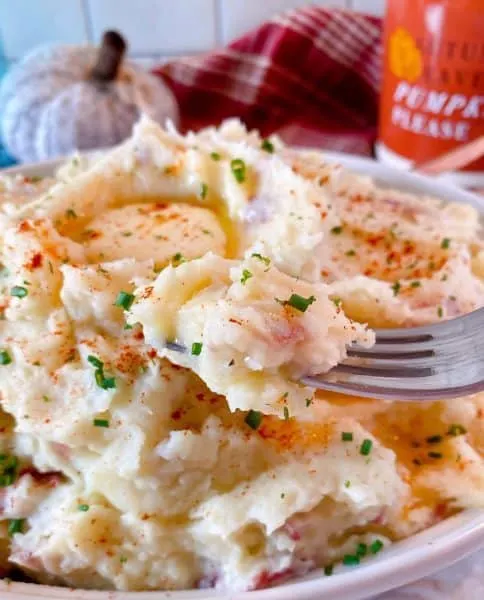 This is my new "go to" mashed potato recipe. Whether It's for the Holidays or Every day! They take very little effort and turn out perfectly.
I was a hold out for a long time on the "Instant Pot Train"… but I've come to love my Instant Pot and all that it can do! This mashed potato recipe is a GREAT first time recipe to try in your Instant Pot. I know…there are some of you who got one last year for Christmas, and you're still avoiding it like a bad root canal.
I'm cheering ya on…so bust out that Instant Pot and make this delicious recipe for your next Holiday Meal.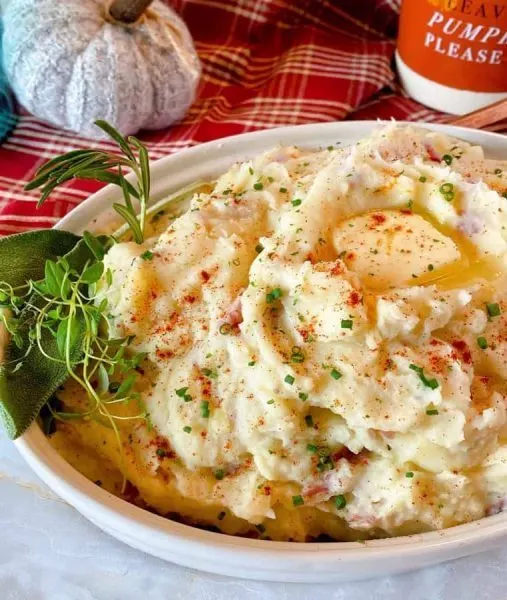 Garnish with a few sprigs of the herbs you used and some chopped fresh chives and a sprinkle of paprika. You have a beautiful presentation for your Savory Herbed Mashed Potatoes.
Here are some of my Favorite Thanksgiving Side Dish Recipes
Thanks so much for stopping by today! I hope you enjoy this easy time saving dish at your Holiday or Daily Dinner Table.
Happy Nesting!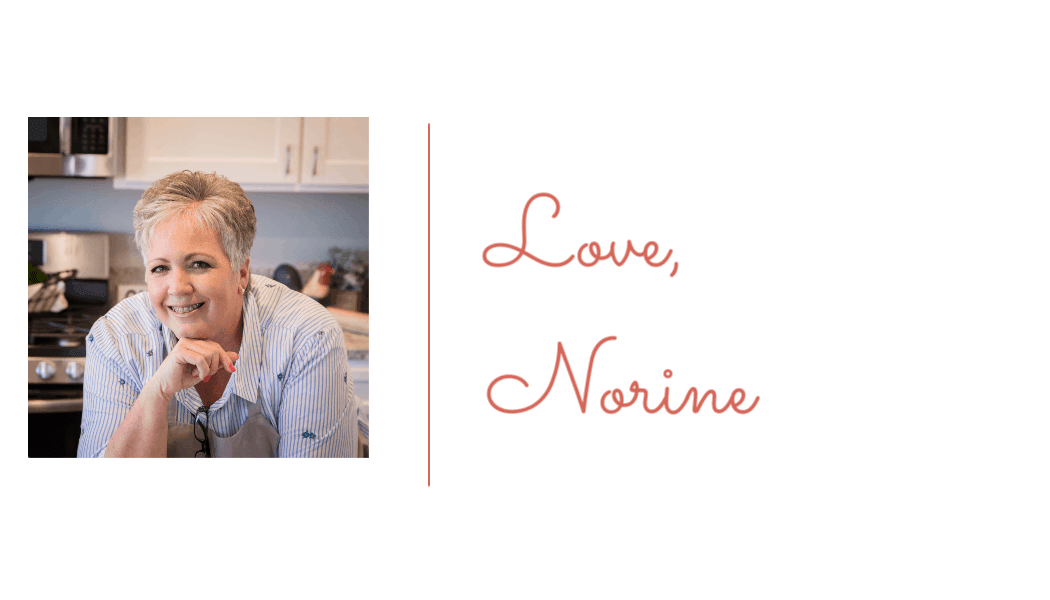 Yield: 6-8 servings
Savory Herbed Instant Pot Mashed Potatoes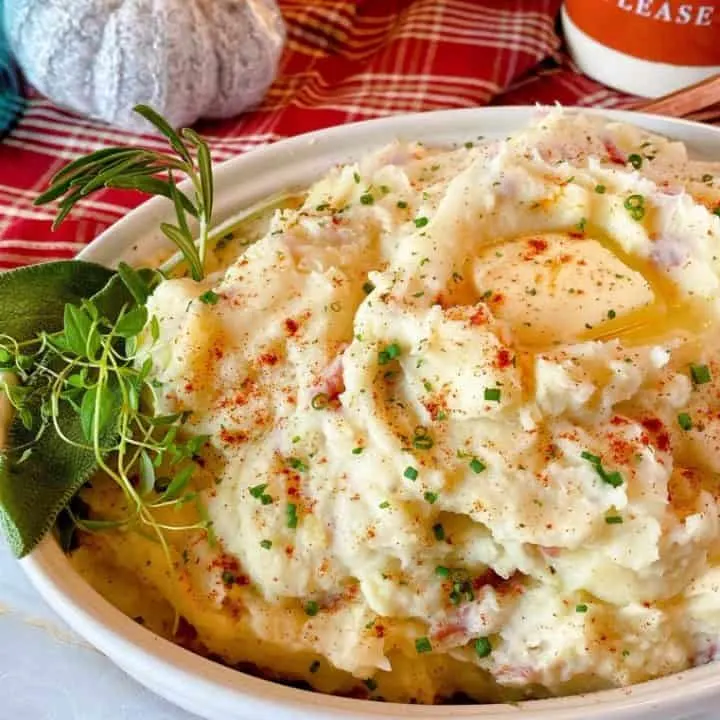 Creamy Country Style Savory Herbed Mashed Potatoes made in your Instant Pot! They are full of flavor, with small chunks of potatoes, and ready in minutes!
Ingredients
8-10 large red or yukon potatoes, washed & diced
4 cups chicken broth
2 sprigs each of fresh sage and rosemary
1 small bunch of fresh chives (about 6-8 stems)
1 small handful of fresh thyme
1/4 cup butter, softened
1/2 cup milk
1/4 teaspoon dried onion powder
1/4 teaspoon garlic powder
Salt and Pepper to taste
1 Tablespoon chopped fresh chives
Paprika for garnish
Instructions
Place diced potatoes into the bottom of Instant Pot. Add Chicken Broth, and salt and pepper. Lay fresh sprigs of rosemary, sage, chives, and thyme on top of potatoes.
Place lid on top of Instant Pot and lock into position. Make sure valve is set into the seal position. Cook on manual pressure for 15 minutes.
When the timer goes off, turn the instant pot off. CAREFULLY Quick release the pressure from the pot.
Remove steamed herbs. Two Options. Option 1) Throw steamed herbs away. Option 2) Place steamed herbs in a food processor and cream.
Drain the potatoes and return to the instant pot. Add processed herbs back into the potatoes. Mash potatoes with potato masher. Add remaining spices, butter, and milk. Mix together until smooth and creamy.
Place in serving bowl, top with Paprika, a dollop of butter, and fresh herbs.
Recommended Products
As an Amazon Associate and member of other affiliate programs, I earn from qualifying purchases.
Nutrition Information:
Yield:
6 servings
Serving Size:
1 cup
Amount Per Serving:
Calories:

137
Total Fat:

9g
Saturated Fat:

5g
Trans Fat:

0g
Unsaturated Fat:

3g
Cholesterol:

25mg
Sodium:

742mg
Carbohydrates:

13g
Fiber:

1g
Sugar:

1g
Protein:

3g