Tender, juicy, flavorful easy skillet Honey Garlic Chicken Thighs is delicious served over rice and a quick weeknight meal!
My Facebook feed is full of food posts from some of the most amazing food bloggers in the world! (Literally the WORLD!)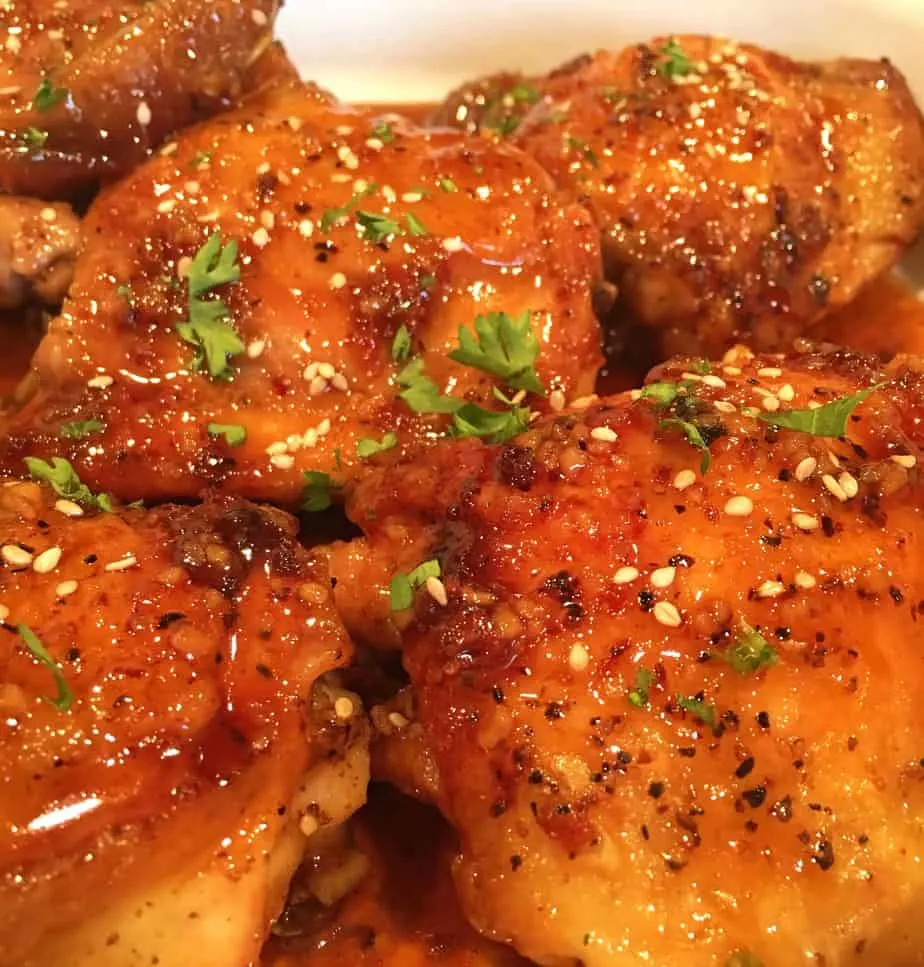 Sometimes feel like I should pull up a big bowl of popcorn, sit back, and watch one food video after the other. (Someone should just take the best of the best and splice them all together. It would be my kind of Oscar worthy movie!)
Anywho…last week this amazing video, from Cafe Delites, for Easy Honey Garlic Chicken was shared by a blogger friend on Facebook. The minute I saw it, I knew it was a recipe I was going to try… and share. Especially if it held up to all the "hype". (Oh boy did it!)
If you want to see the original you can find it by clicking right HERE! Karina is the blogger and creator of this dish at Cafe Delites. Her recipes and photography are truly amazing works of art! You'll love her site. I know I do!
Karina doesn't use the word "Easy" lightly in this recipe. It is SO easy! I promise if you make this recipe it will turn out as good as mine did. This is a simple easy recipe. It's a great recipe for a busy week night meal. It cooks up quickly and has ingredients everyone has in their pantry.
Let's do this! (Be prepared to impress yourself with your mad skills!)
How To Make Honey Garlic Chicken Thighs
Rinse your chicken and pat dry. Season with salt, pepper, and garlic powder.
Heat a large skillet over medium high heat. Sear chicken thighs on both sides. (You can use boneless, skinless breasts that have been fillet or boneless skinless thighs) I used 1 Tablespoon of olive oil to get a nice crispy sear on my chicken thighs, since I was using bone in thighs.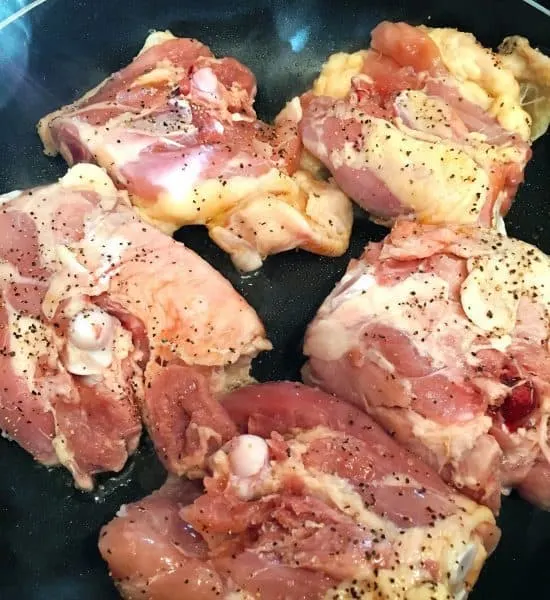 Tip: If using boneless thighs or breasts, be sure to cook until golden and cooked through.
Tip: If using bone-in thighs, after searing on both sides, reduce heat, cover chicken with lid and continue cooking until the chicken thighs are cooked through. Turn every 5-10 minutes until done. Drain the pan after cooking leaving a couple of tablespoons of pan juices for flavor.
While those chicken thighs are doing their "thang"… mix together all the honey sauce ingredients. Set aside.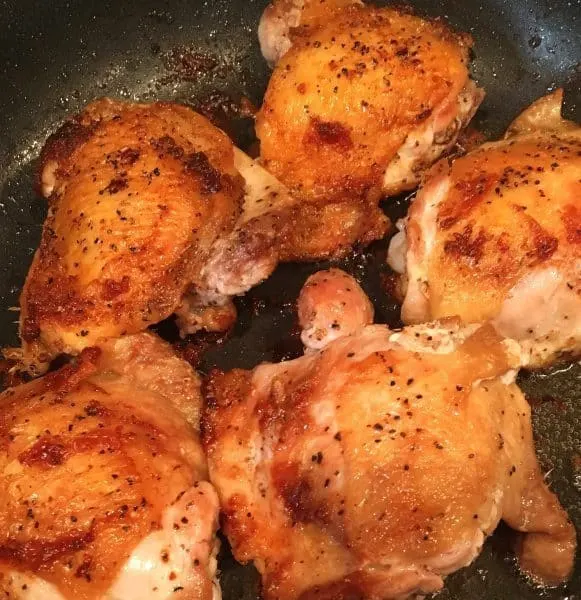 Once the chicken is completely cooked, arrange chicken skin-side up, if cooking with the skin. Next, nudge…that's right I said NUDGE! (You know…like you do to your husband when he falls asleep in church!)
Yep, nudge those chicken thighs to the side. Add your garlic and saute for 30 seconds to release the flavors.
Tip: Watch that garlic…it burns quickly. We don't want ugly black garlic!
Add the honey sauce. Increase your heat back to medium-high and continue cooking until the sauce reduces down and thickens. It should take about 3-5 minutes.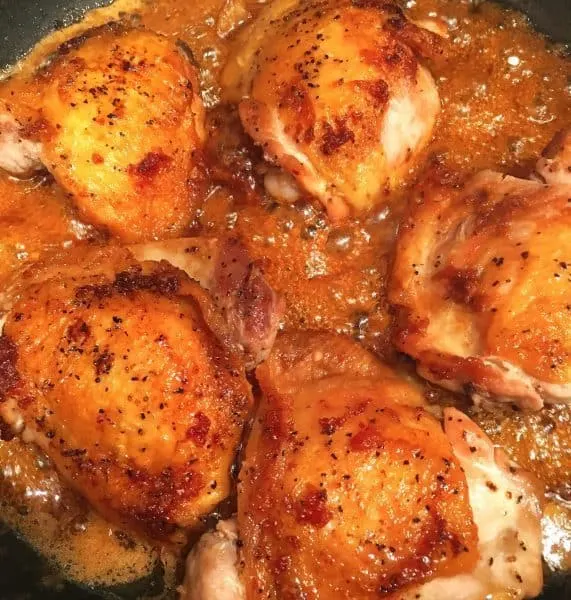 Garnish chicken with chopped fresh parsley and a sprinkling of sesame seeds.
Do you see what I see? Do you see all that yummy honey garlic sauce down there in the bottom of the serving dish?
THAT sauce is AMAZING! We don't want it to go to waste! (They'll arrest you for "wasteful sauce abuse"! You've been warned!) So to prevent your imprisonment…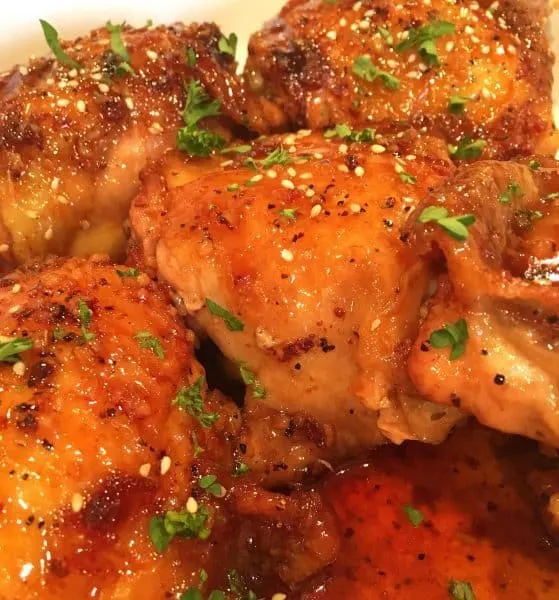 …serve those crispy, flavorful, yummy, chicken thighs over a bed of fresh steamed rice or vegetable, and drizzle spoonfuls of that sauce over it. Let the rice or veggies soak up all that sweet lip smacking spectacular sauce!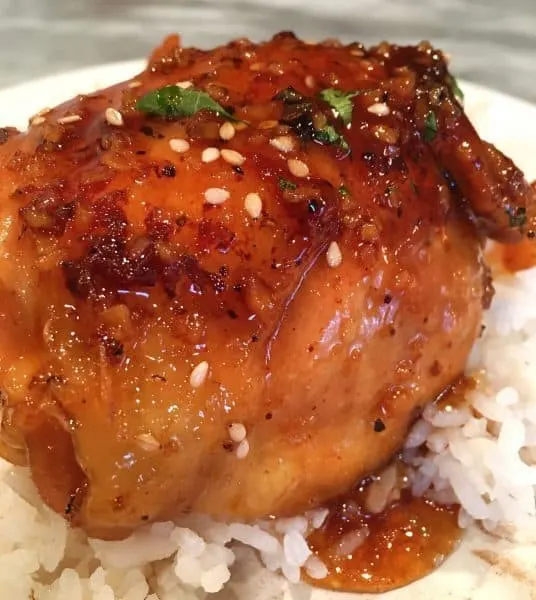 If you're wondering if this dish is REALLY as good as it looks? The answer is a resounding…YES!
Not only is this dish amazingly delicious…your house smells heavenly while it's cooking! Honestly if you were trying to sell your home…skip the old "cookies in the oven" baking trick and just make this dish about an hour before hand.
You'll have a million offers to purchase your home on the smell alone! Heaven!
I chose to serve this dish with white long grain rice and fresh steamed broccoli. That was it. Just a wonderful simple filling meal.
You don't want to complicate a dish like this. Let the scrumptious flavor combinations speak for themselves.
Other Amazing Chicken Main Dish Recipes
Remember to subscribe to Norine's Nest Newsletter for FREE and receive the most recent recipe notifications delivered into your inbox!
You can follow Norine's Nest on Facebook, Instagram, Pinterest, and Twitter for all of the latest content, recipes and updates. Have a GREAT day and… THANKS for visiting!
Happy Cooking from My Nest to Yours!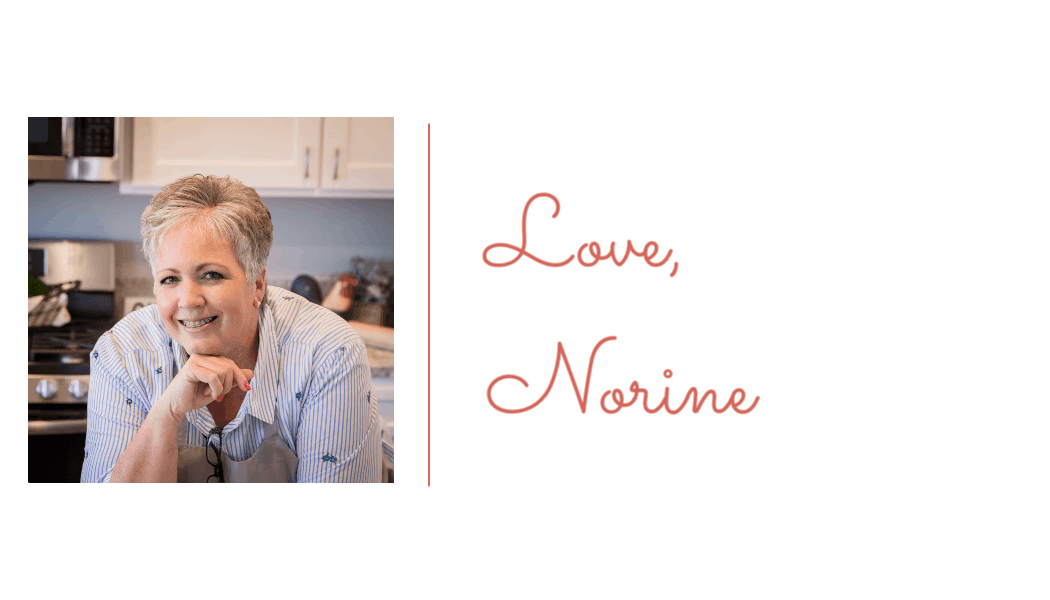 Yield: 6 servings
Honey Garlic Chicken Thighs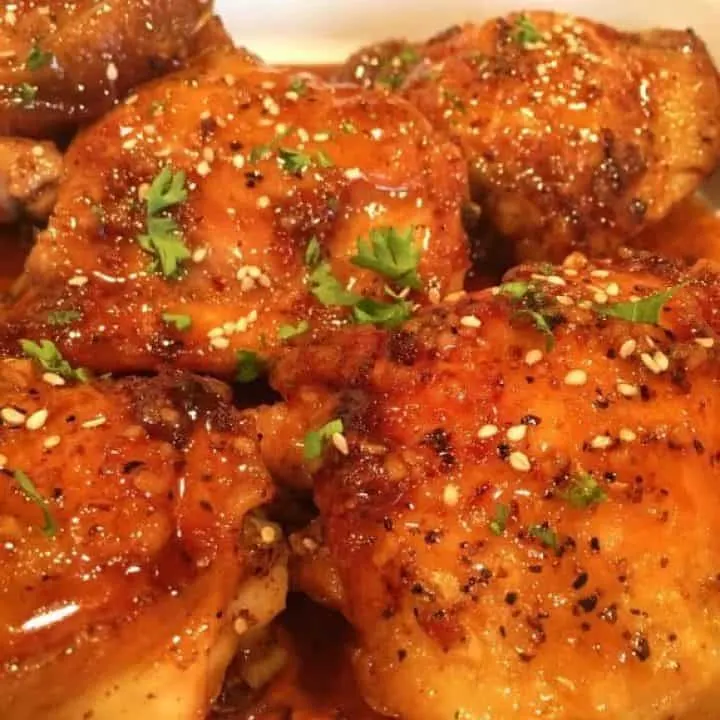 Tender juicy chicken thighs are seared to a golden brown and then simmered in a sweet honey garlic sauce served over rice or steamed vegetables. A quick healthy easy week night meal.
Ingredients
6 chicken thighs, bone in or out, with or without skin
Salt and pepper, to season
2 teaspoons garlic powder, to season
6 cloves garlic, crushed
1/3 cup honey
1/2 cup water (or chicken broth)
2 Tablespoons rice wine vinegar
1 Tablespoon soy sauce
Instructions
Season chicken with salt, pepper, and garlic powder; set aside.
Heat pan or skillet over medium high heat; sear chicken thigh fillets or breast fillets on both side until golden and cooked through.
FOR BONE IN THIGHS:
Reduce heat after searing on both sides, cover skillet with a lid and continue cooking until the chicken is cooked through, while turning every 5 minutes until done.
Drain most of the excess oil from the pan, leaving about 2 Tablespoons of pan juice for added flavor.
FOR SAUCE:
When chicken is done and cooked through, arrange chicken skin-side up in the pan (if cooking with skin); add the garlic between the chicken and fry until fragrant (about 30 seconds). Add the honey, water, vinegar and soy sauce. Increase heat to medium-high and continue to cook until the sauce reduces down and thickens slightly. (about 3-5 minutes)
Garnish with parsley and sesame seeds and serve over rice, vegetables, pasta or with a salad.
Notes
For chicken breasts: use 3 breasts, sliced horizontally in half. Sear breast fillets on each side until golden and cooked through (about 6 minutes per side, depending on thickness of your fillets). Continue directions from the sauce, onwards.
Nutrition Information:
Yield:
6 servings
Serving Size:
1 chicken thigh
Amount Per Serving:
Calories:

345
Total Fat:

18g
Saturated Fat:

5g
Trans Fat:

0g
Unsaturated Fat:

13g
Cholesterol:

166mg
Sodium:

424mg
Carbohydrates:

17g
Fiber:

0g
Sugar:

15g
Protein:

31g