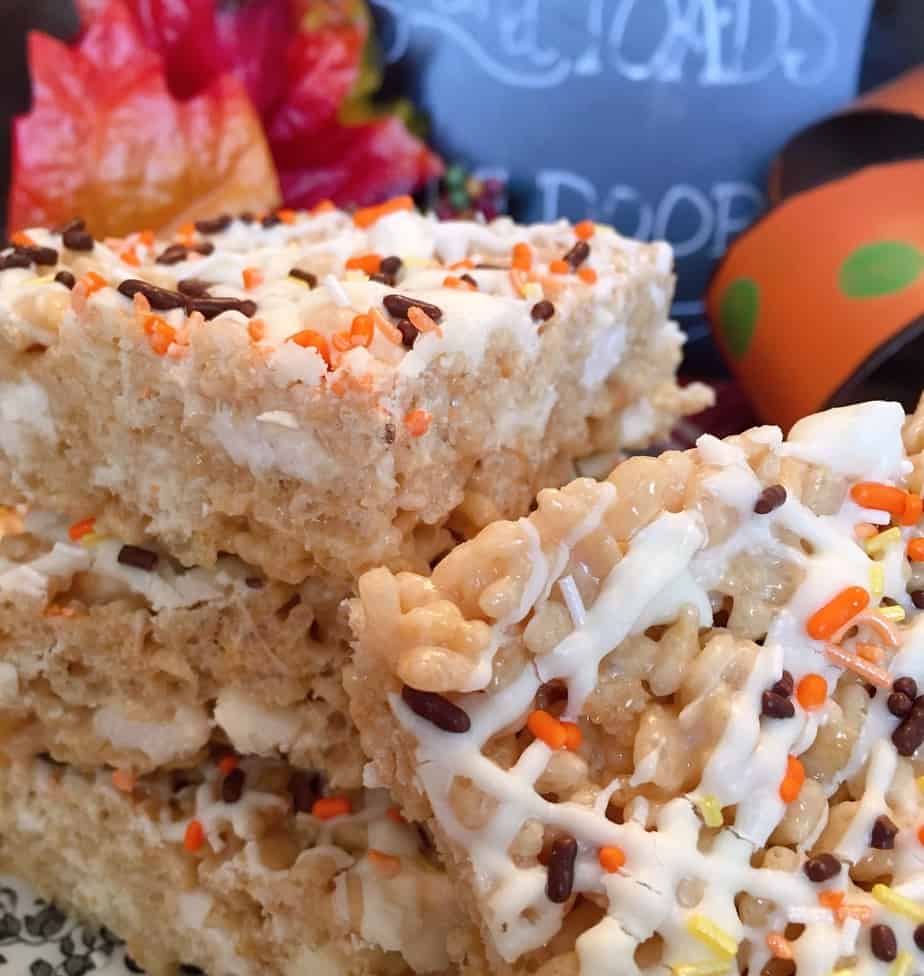 Maple White Chocolate Rice Krispie Treats are made with Maple flavored mini marshmallows, white chocolate chips, rice krispies cereal with a hearty drizzle of white chocolate, sprinkled with the colors of Fall. A fun Autumn treat the whole family will love!
*As an Amazon Associate I earn from qualifying purchases. This post may contain affiliate links, which means that I may make a commission from any purchases at no additional cost to you. Thank you for your support!
A few weeks ago I was sitting in my recliner (Okay fine! It used to be my husbands recliner, but I believe in squatter rules… so now it's mine!) …doing my Walmart shopping on-line! (The only way one should shop Walmart in my opinion! lol)
I was "finger swiping deep" in the seasonal section, when up popped a package of Maple Mini-Marshmallows! I was so excited! A flavored marshmallow could only mean one thing….A Fall Flavored Rice Krispie Treat!
Not just any Rice Krispie treat…I wanted to pair all that delicious maple flavor with White Chocolate chips and a fun fall sprinkle! A treat that kids and adults alike could enjoy! (Well…the kids can enjoy it if Mom doesn't hid in the closet and eat them all! Just sayin'…)
So, before the kids get home from school…Let's get baking!
How To Make Maple White Chocolate Rice Krispie Treats
In a large sauce pan melt 4 Tablespoons butter over medium heat.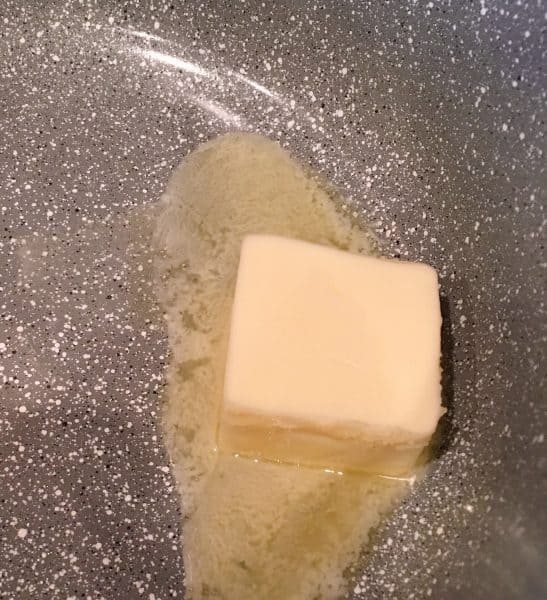 Once butter is melted turn heat down to low.
Measure out 6 cups Maple mini marshmallows. I used Great Value brand. (Some may have fallen out of the package and into my mouth! I don't know how this happens! It's a mystery.)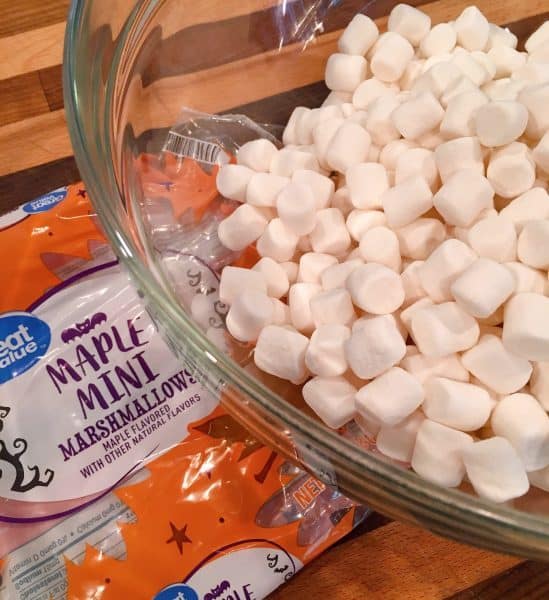 Add the mini marshmallows and stir until melted. 1 Tablespoon milk, and vanilla extract, and stir constantly until all the ingredients are combined.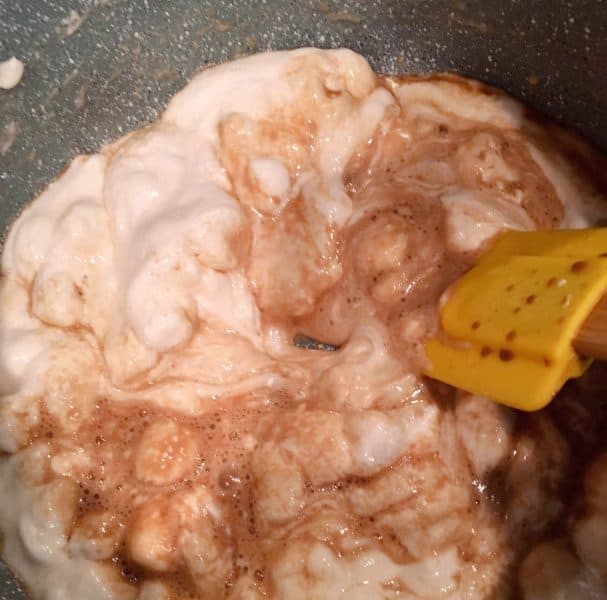 Mixture should be smooth and creamy. The melted Maple marshmallows smell divine! Honestly pure genius whoever thought of flavoring marshmallows!! (So obviously I'm not the inventor…I'm pretty sure a genius knows where they put their glasses!)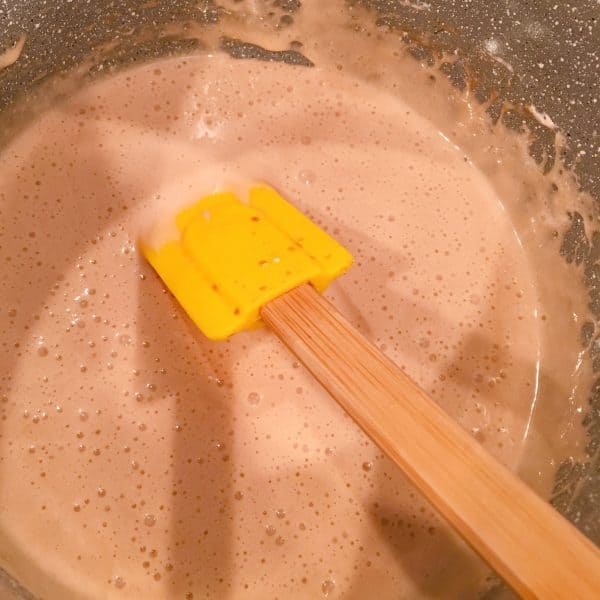 Add 6 cups Rice Krispies and remaining two cups of marshmallows.
TIP: The secret to the BEST Rice Krispie treats is this one little gem…adding extra marshmallows! I spent years making rice krispie treats that were hard and not chewy gooey. Since I started adding extra marshmallows and the 1 Tablespoon of milk to the melted mixture…the gooey chewy factor is a solid 10!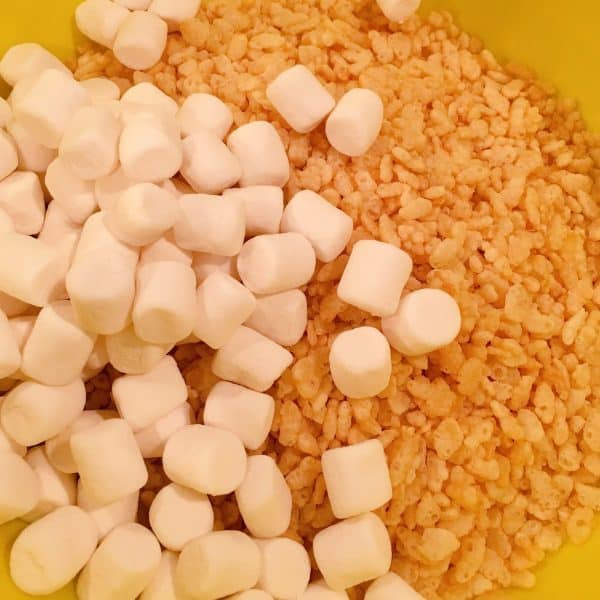 Stir the melted marshmallows into the cereal until well combined.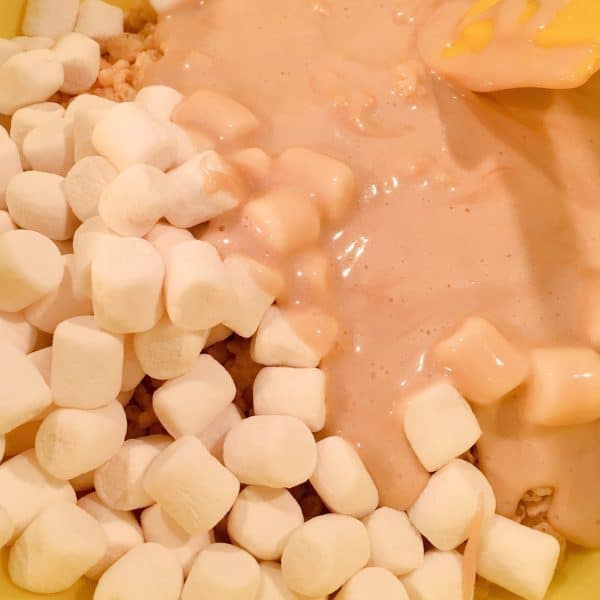 I like to use a rubber spatula when making rice krispie treats. The sticky marshmallow mixture is less likely to stick to it.
Doesn't that look good?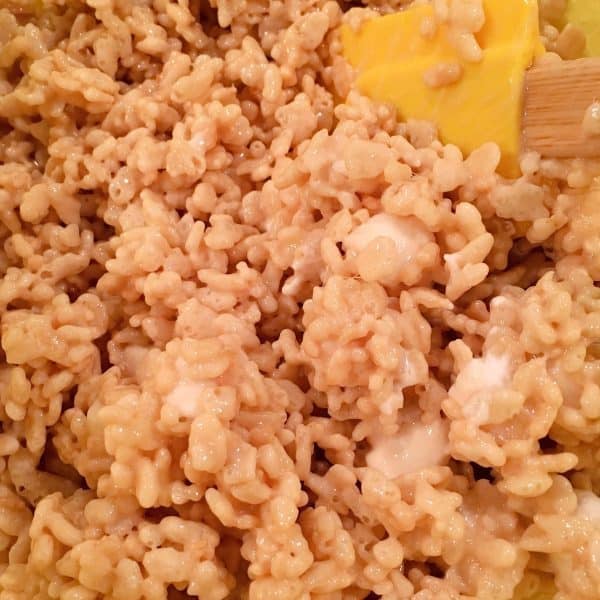 Add 1/2 cup white chocolate chips! The mixture should be cool enough by now that the chocolate chips won't melt and they'll still retain the shape and texture.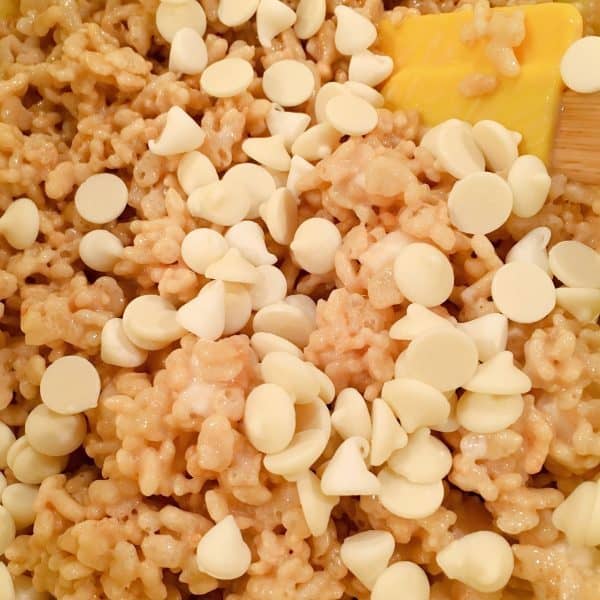 Pour rice krispie mixture into a prepare 8 x 8 glass baking dish that has been sprayed with non-stick cooking spray.
Gently press down the rice krispie treat mixture with a rubber spatula or your fingers.
TIP: Spray your hands with non-stick cooking spray and the sticky rice krispie mixture won't stick to your hands.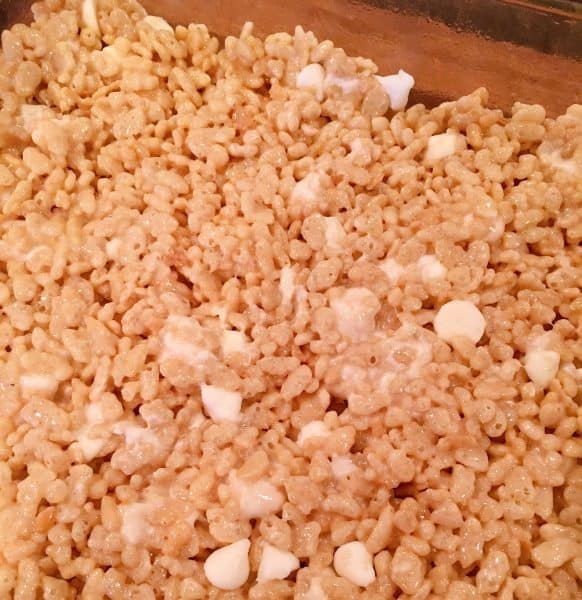 In a microwave safe bowl add 1/2 cup chocolate chips and 1/2 Tablespoon vegetable oil. Place in microwave at 50% power for 2.5 minutes. Stir until chocolate chips have melted. If additional time is needed just remember to always melt chocolate in the microwave at 50% power.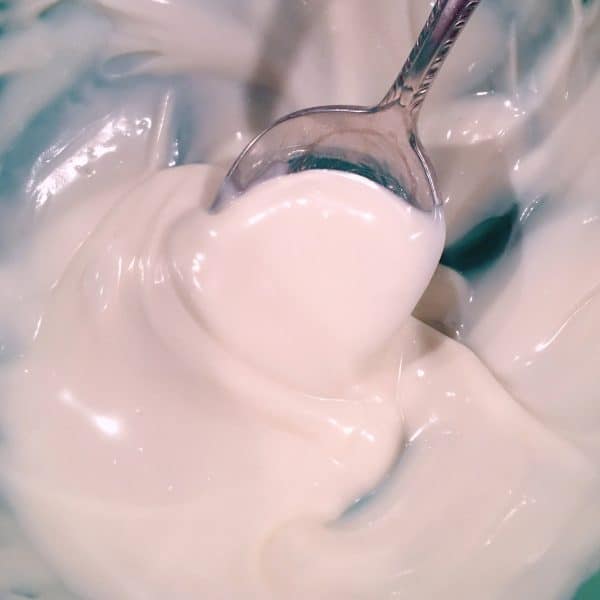 Drizzle melted chocolate over the top of the Rice Krispies. There's nothing like a little chocolate to sweeten up a sweet treat!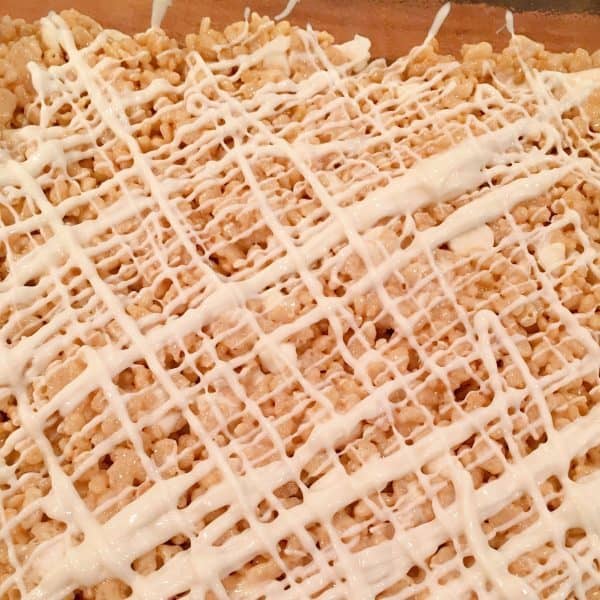 Sprinkle with your favorite Fall jimmies. I love the orange and brown sprinkles…they are so festive this time of year!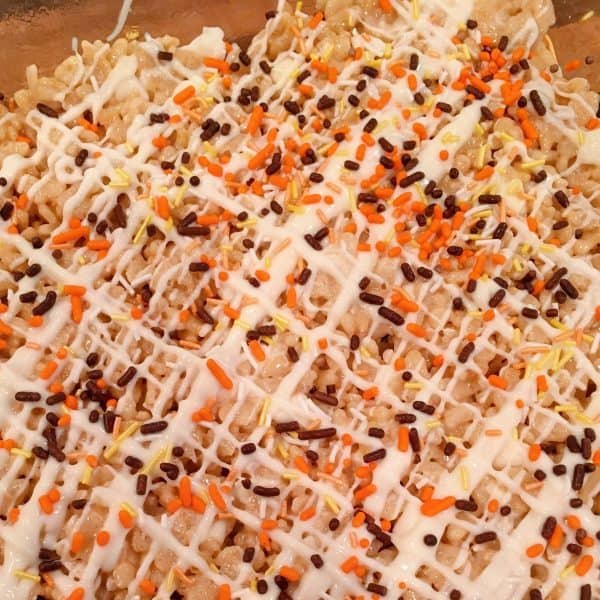 Allow chocolate and rice krispies to cool and set up for about an hour. Cut into 9 equal squares and serve.
Aren't these pretty Maple White Chocolate Rice Krispie Bars? So fun too boot!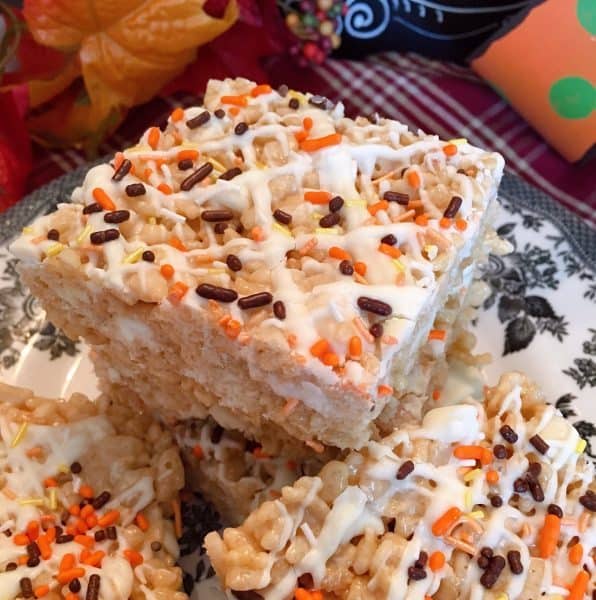 And chewy….Oh we've got that covered with this recipe! The addition of the extra marshmallows adds to the chewy soft texture of these rice krispie bars.
The combination of maple and white chocolate is fabulous! They go together splendidly!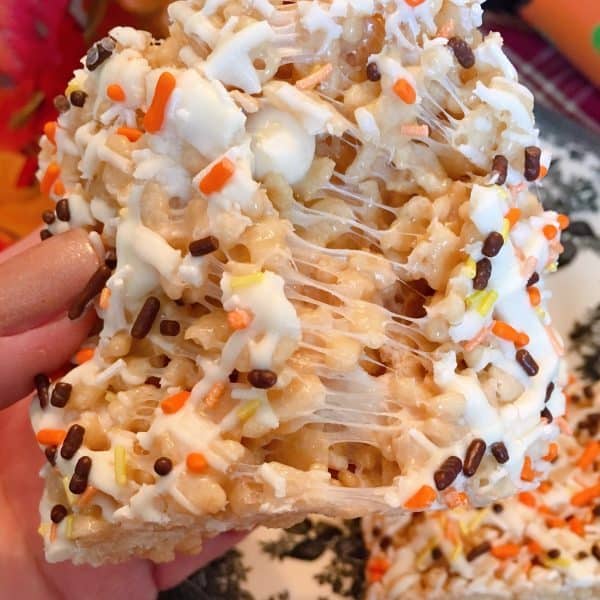 I love the subtle hint of Maple and the creaminess of the white chocolate chips! The addition of the drizzle and sprinkles adds a splash fun to this Fall treat!
They're perfect for a Halloween party or to pass out to family and friends as a "Welcome To Fall" goodie!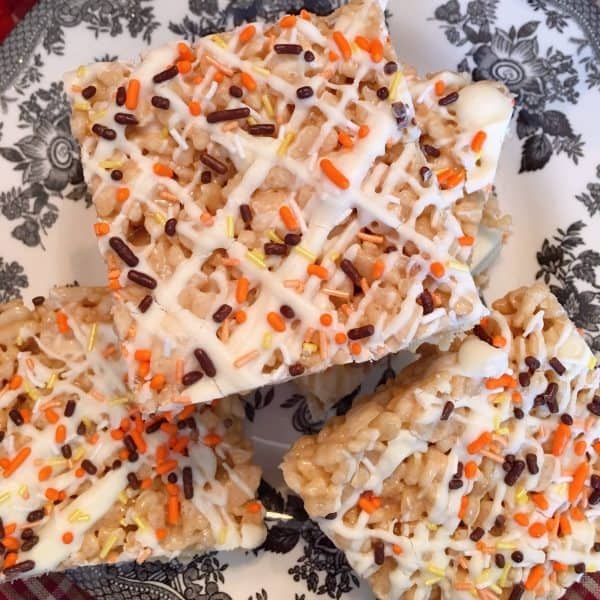 If you enjoyed this delightful Fall Treat you might also enjoy these other Fall Dessert Goodies
Thanks so much for stopping by today. I hope the birds, both big and little, at your nest enjoy this treat as much as mine do! You just can't help but smile when you have a Rice Krispie Treat in your hand!
Happy Nesting!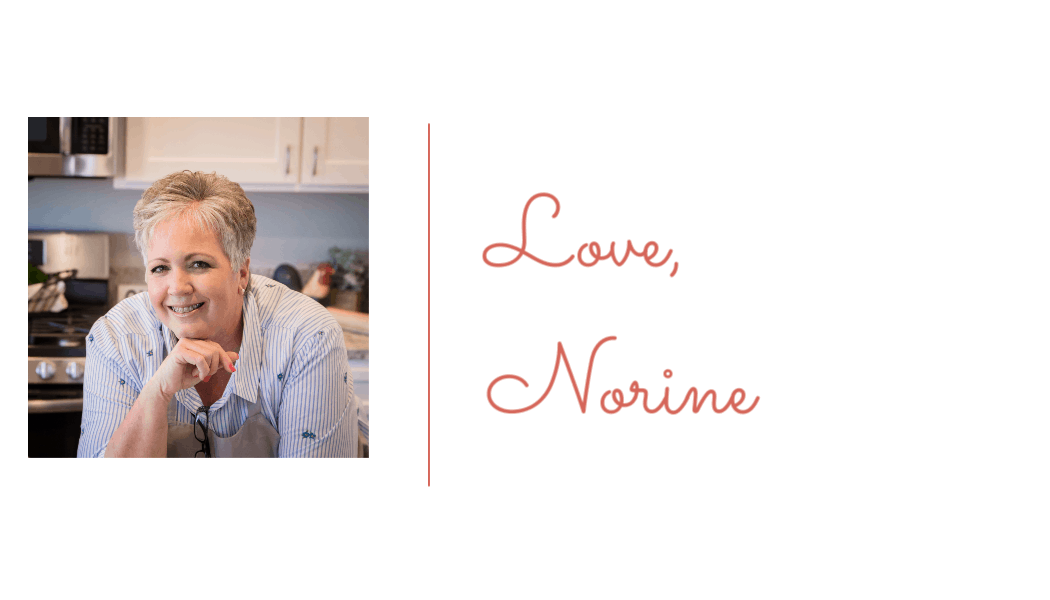 Yield: 9 servings
Maple White Chocolate Rice Krispie Treats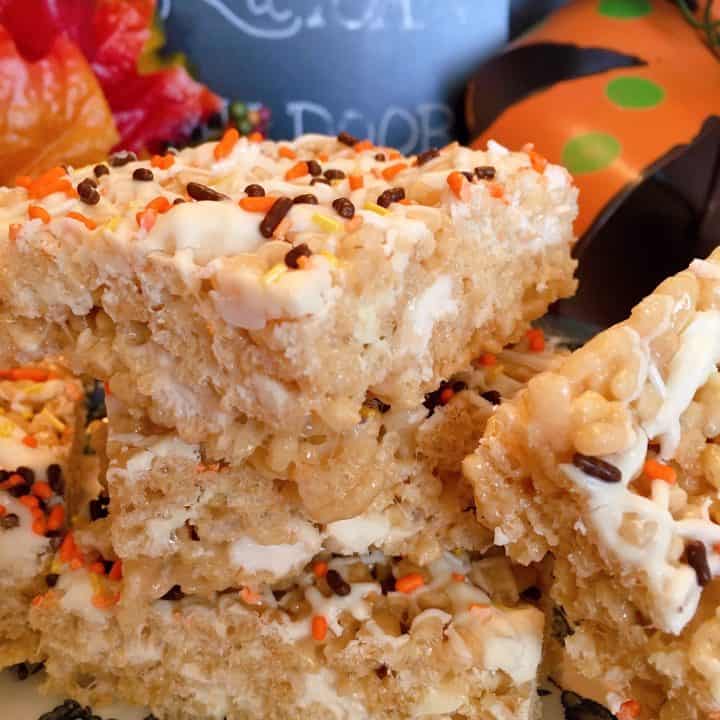 Chewy traditional rice krispie treats with maple flavored mini marshmallows and white chocolate chips drizzled with white chocolate and seasonal sprinkles. A delicious Fall treat.
Ingredients
4 Tablespoons butter
8 cups maple flavored Mini Marshmallows
1 Tablespoon Milk
1 teaspoon vanilla or maple extract
6 cups Rice Krispie Cereal
1/2 cup White Chocolate Chips
White Chocolate Topping
1/2 cup white chocolate chips
1/2 Tablespoon vegetable oil
Holiday Sprinkles
Instructions
Spray an 8 or 9 - inch square baking pan with non-stick cooking spray or line with parchment paper.
In a large sauce pan, over medium heat, melt butter. Once the butter is melted turn heat to low. Add 6 cups of mini maple flavored miniature marshmallows. Stir continually until marshmallows are melted and smooth.
Remove pan from heat and add milk and vanilla extract. Stir until well combined.
Add 6 cups Rice Krispie treats and remaining 2 cups mini maple marshmallows.
Stir until cereal and marshmallows mixture are well combined.
Add chocolate chips and stir again.
Place rice krispie mixture into prepared baking dish. Press gently with fingertips until spread.
In a microwave safe bowl add 1/2 cup white chocolate chips and 1 Tablespoon vegetable oil. Cook at 50% power for 2 minutes. Remove from microwave and stir. If needed place in microwave again at 50% power for 1 minute until chocolate is smooth and creamy.
Drizzle over top of rice krispies and sprinkle with holiday sprinkles and allow to set up for 1 hour, cut into bars, and serve.
Nutrition Information:
Yield:
9 servings
Serving Size:
1 square
Amount Per Serving:
Calories:

369
Total Fat:

13g
Saturated Fat:

7g
Trans Fat:

0g
Unsaturated Fat:

4g
Cholesterol:

18mg
Sodium:

191mg
Carbohydrates:

63g
Fiber:

0g
Sugar:

39g
Protein:

3g