Thanks to the convenience of the modern Instant Pot you can make the perfect Hard Boiled Eggs. The yolk is a beautiful tender yellow. Best part… peeling them is easy peasy! Great for Easter, Deviled eggs, Potato Salad and more!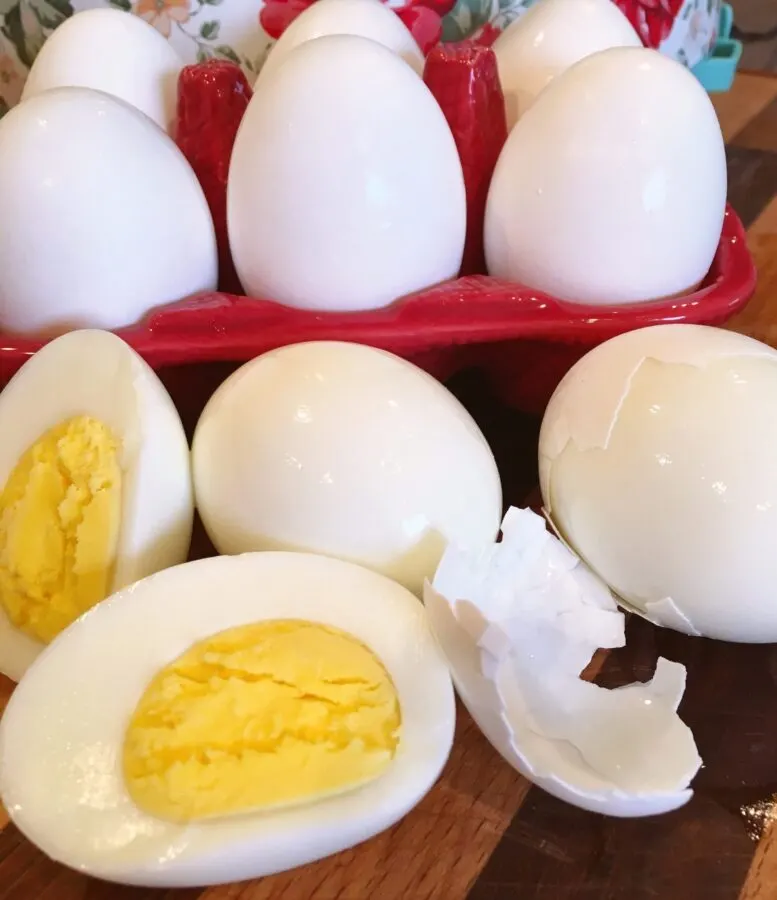 For years, I've struggled to make the perfect hard-boiled egg! I've tried everything suggested in just about every cookbook and blog post out there. From adding salt to the boiling water to using something as simple as an egg timer! They were either undercooked or overcooked with the green ring of death surrounding the yolk! (Nothing worse than that avocado green ring of death! Gag!)
I started hearing rumors that the Instant pot cooked the perfect hard-boiled egg. I was skeptical! Who wouldn't be after 30+ years of trying to cook the perfect hard-boiled egg? Oh, sure I had a few minor successes along the way…but nothing that I knew would work time after time.
Then people started touting how easy they were to peel! I thought "Really? REALLY?!!" I mean what is the joy of having hard-boiled eggs if you aren't refraining from swearing while trying to peel the superglued shell off the little bugger! (Admit it…y'all have wanted to throw those freaking eggs across the room when the teeny tiny microscopic bit of shell finally peels off taking half the egg white with it!)
Let me say this…if I had known all the rumors were true… I would have run to the store to buy an Instant Pot sooner. If I didn't own an Instant Pot for any other reason than to hard-boil eggs…that would be enough! Seriously! It's worth every penny for its ability to produce the perfect hard-boiled egg!
It's so simple and easy you'll be pressure-cooking eggs for days! Let's do this!
The What, Why, and How to Instant Pot Cooking?
To start off with you'll need an Instant Pot or power pressure cooker. Kind of obvious I know…but never underestimate stating the obvious.
Pressure Cookers, or Instant Pots, are energy efficient electric programmable appliances. A little different from the standard Pressure cooker, which grandma owned, that can be used on a gas or electric stove. The modern Instant Pots are electric and are pressure cookers, rice cookers, slow cookers, and they also allow you to sauté. Think of them as an all-in-one cooker!
My instant pot is made by Instant Pot for Pioneer Woman. I loved the colors. I don't mind the silver edition, I just love color. I have the 6 quart size, but there are other sizes available. Find the size that will suit your needs.
I know a lot of people are intimidated and afraid to use their Instant Pot. I get that! Knowledge is everything! Understanding how an Instant Pot works is key!
An Instant pot is mainly a pressure cooker. What is pressure-cooking? Pressure-cooking traps a great volume of steam under a locked lid. It maintains a constant temperature. From the moment you put the lid on the pressure cooker to the final release of pressure, the cook time is about 1/3 of what it takes to cook food the conventional way at boiling temperatures. In order for that steam to build there has to be a small amount of liquid within the pot.
To summarize, you are cooking items under pressure. In order to have a sufficient amount of steam to pressure-cook you have to have a small amount of liquid, and because steam also produces liquid through condensation, it keeps your food ultra moist and tender, as the steam circulates around the food it is cooking.
How To Make Hard Boiled Eggs in the Instant Pot
For Hard Boiled Eggs in the Instant Pot you just need to remember one thing 5-5-5! Five minute cook time, Five minute natural release (followed by a quick release), and 5 minute ice bath.
To begin, place the steam rack that came with your pot into the bottom of the inner pot. Add 1/2 cup of water. (Remember we need something to create steam). Carefully lay the amount of eggs you'd like to cook on top of the steam rack. I can squeeze in about 10–12 eggs. They do make special inserts for cooking eggs…however I just use the rack provided.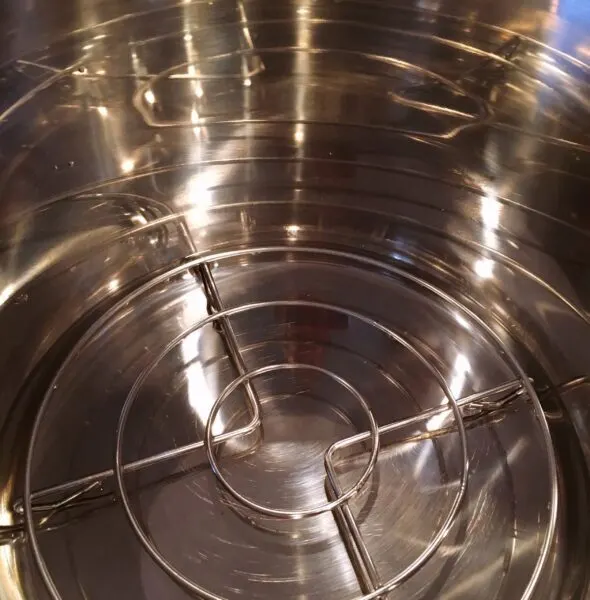 TIP: If stacking the eggs please know they may break during the cooking time. It's best to do a single layer or be prepared to have one or two eggs crack.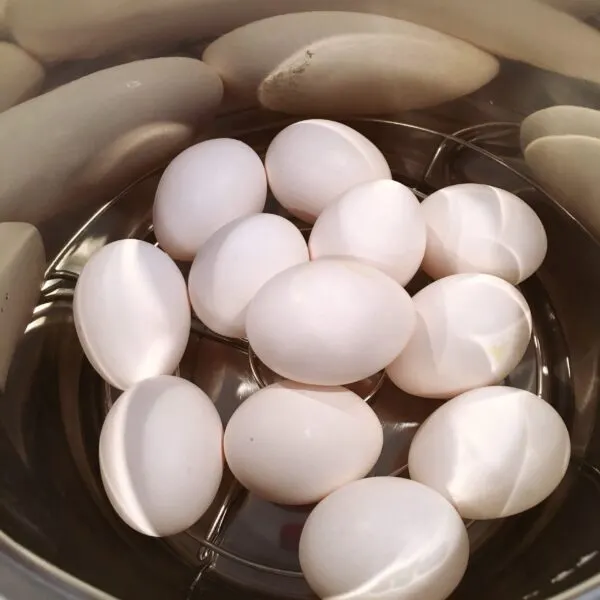 Place the lid on top of your instant pot. Make sure the lid is locked in place. Place the float valve in the middle position or the locked position. (The float valve is the big valve on top)
TIP: Always check your steam release valve, the tiny silver valve that pops up and down, make sure it's clear and moves up and down with ease.
Push the "Egg" button setting. It will automatically set to cook for 5 minutes AFTER the steam builds inside the pot.
NOTE: It's important to note that your Instant Pot won't begin to count down the cook time until AFTER the steam valve has popped up indicating the sufficient amount of steam has built up inside your instant pot.
After the timer goes off, to indicate the eggs have cooked for 5 minutes, allow to slow release for 5 minutes. I set my timer, so they don't cook longer. Technically the instant pot is still warm and cooking during natural release times, so it's important not to go longer than five minutes. (Green ring of death…always remember that ugly green ring! Lol)
After the five-minute release time do a quick release! This is done by pushing the float valve from the middle position to either side. I highly recommend using the handle of a wooden spoon to keep your hand and wrist away from the steam release valve! NEVER EVER LOOK DIRECTLY OVER THE STEAM VALVE!!!
Remove the lid, opening it AWAY from you, and carefully remove the eggs using tongs.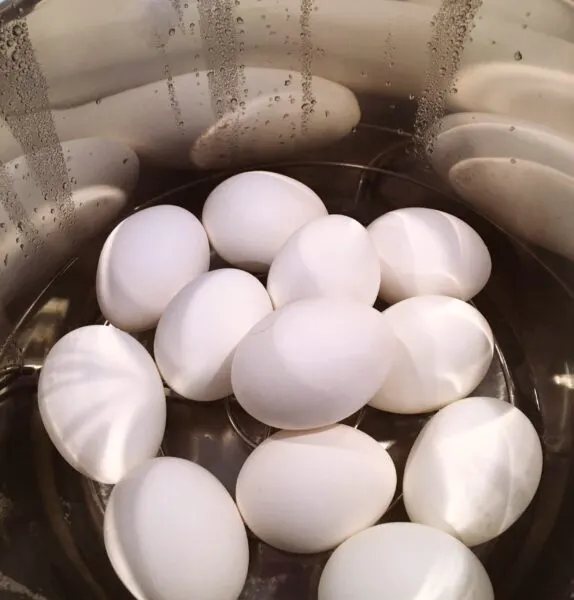 Place the eggs carefully into an ice bath.
Create an ice bath by placing water and ice in a large bowl enough to cover the cooked eggs.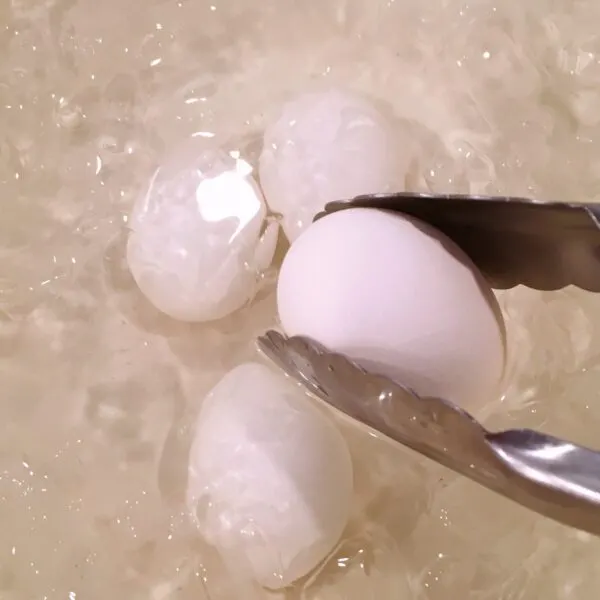 This is another really important key step. It stops eggs from cooking by instantly bringing the temperature down, and also help with how easily the eggs will peel.
Let 'em soak for 5 minutes! The last part of our 5-5-5 equation! Ladies out there pay for this kind of treatment!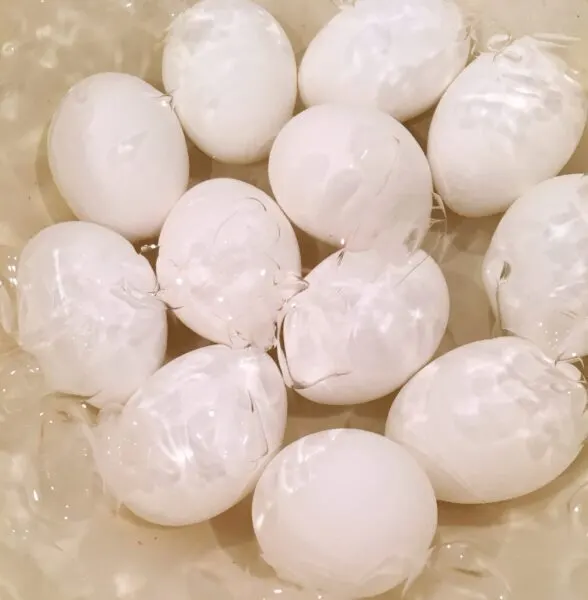 Remove the eggs from the ice bath and peel! Honestly the shells just slip off the eggs! It's amazing! I marvel every time I cook eggs in my Instant Pot! Every. Single. Time. They're perfect!
That golden yolk is a thing of beauty! The eggs are silky smooth and don't look like they've survived a horrible case of smallpox!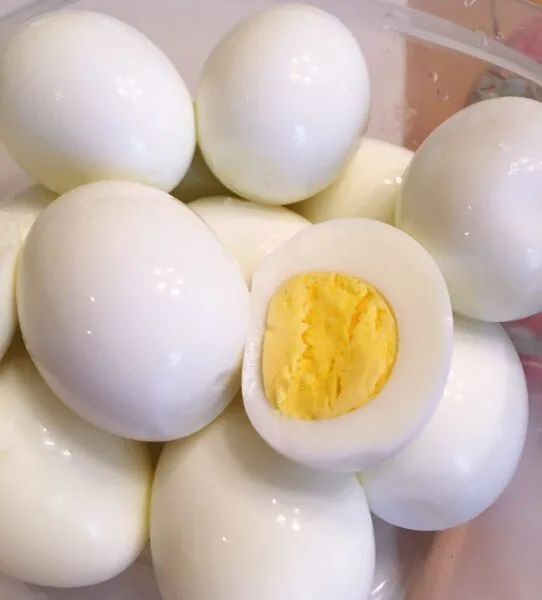 It's just that simple! Beautifully steamed, hard-boiled eggs in your Instant Pot! Quick, Easy, and Perfect!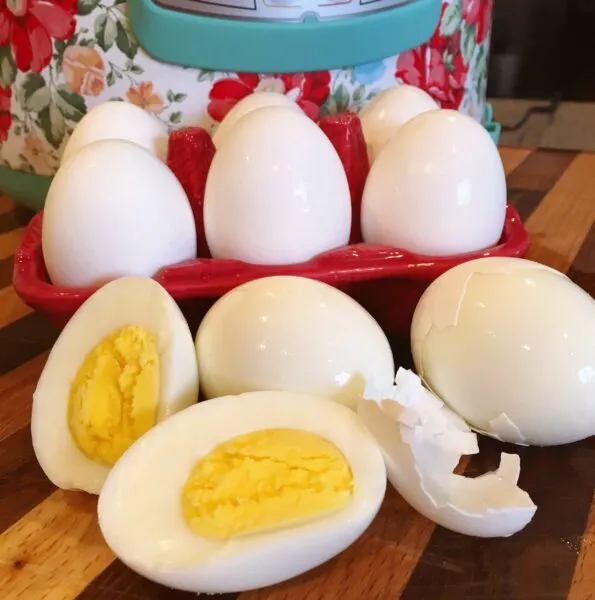 Now you're ready for any and all recipes that call for Hard Boiled Eggs. I love to make a whole batch and keep them in the refrigerator for salads, deviled eggs, or a quick protein snack!
If you enjoyed this instant pot recipe you may also enjoy these other favorite Instant Pot Recipes.
Favorite Instant Pot Recipes
As always, thanks so much for stopping by and visiting with me today! I hope this recipe will inspire you to dig out that Instant Pot you have been hiding in the cupboard and get you hooked on the joys of pressure-cooking!
Happy Nesting My Friends!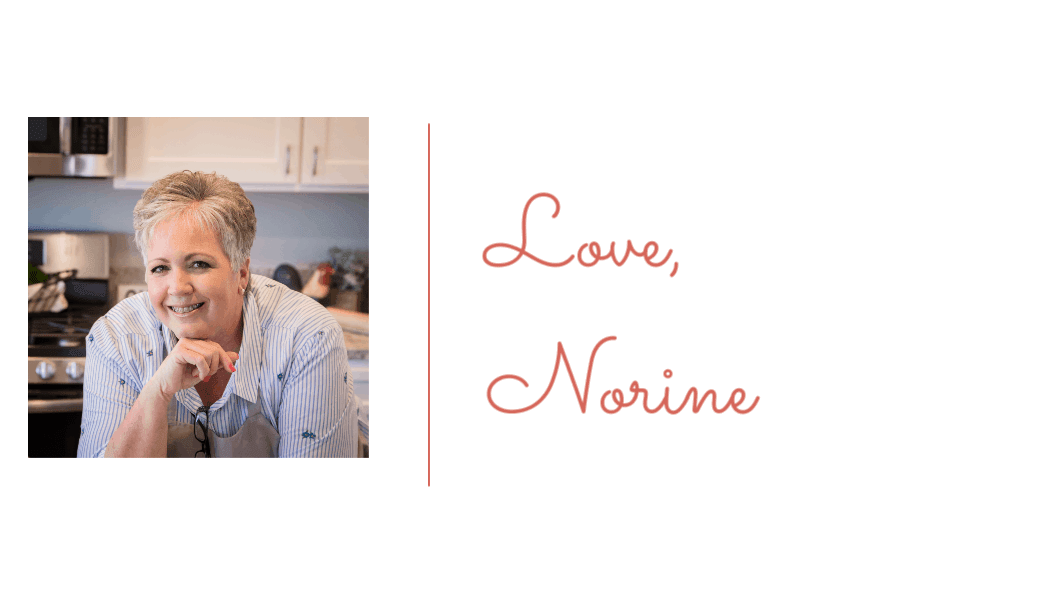 Yield: 12 eggs
Instant Pot Hard Boiled Eggs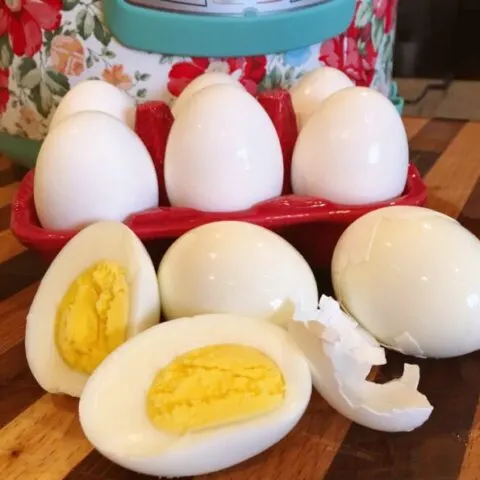 Thanks to the convenience of the modern Instant Pot you can make the perfect Hard Boiled Eggs. They yolk is a beautiful tender yellow and peeling them is easy peasy! Great for Easter, Deviled eggs, and Potato Salad!
Additional Time
5 minutes
Ingredients
12 large eggs
1/2 cup water
Instructions
Place trivet and 1/2 cup of water in the bottom of instant pot.
Carefully place eggs on top of steam rack. Place lid on top of instant pot and lock into position. Set float valve in the middle, lock position.
Push "egg" button on Instant Pot. Pot will automatically set for 5 minute cook time.
Allow to slow release for 5 minutes after cook time. After 5 minute slow release quick release. Quick release by pushing float valve to the right or left, once the steam is released the pressure valve will pop down and the lid will release.
Remove eggs from instant pot with tongs and place eggs in a large ice water bath for 5 minutes. Peel and use.
Notes
Extra five minutes is for ice bath
Nutrition Information:
Yield:
12 servings
Serving Size:
1
Amount Per Serving:
Calories:

72
Total Fat:

5g
Saturated Fat:

2g
Trans Fat:

0g
Unsaturated Fat:

3g
Cholesterol:

186mg
Sodium:

71mg
Carbohydrates:

0g
Fiber:

0g
Sugar:

0g
Protein:

6g