Lip-smacking, finger licking AMAZING Cherry Dr. Pepper BBQ Chicken. A summer treat that will have them coming back for more!
If you're new to my Nest you may not know of my slight addiction to Dr. Pepper! (Fine! I've single-handedly kept the company in business!)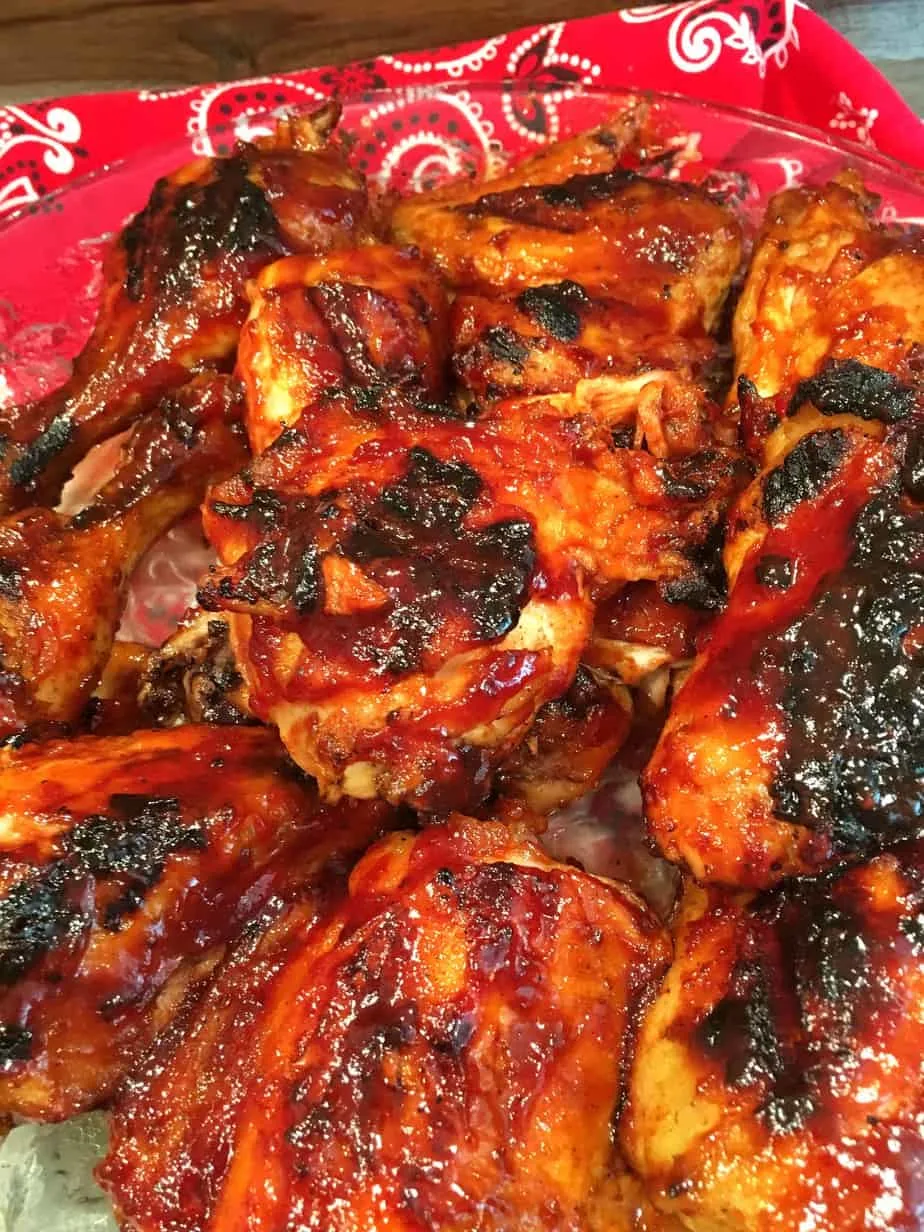 I tried to give them up a few weeks ago and drink only water! GASP!!! I decided after the first 4 hours that I'm no quitter! 😉 So to celebrate, my horrifically long 4 hour sobriety, … I decided to make this AMAZING Cherry Dr. Pepper Bar-B-Que Chicken!
I always knew Dr. Pepper was my go-to guy for quenching my thirst…but his sister Cherry Dr. Pepper…well, she's mighty fine in a BBQ sauce! MMMMMmmmmm!
My guys fell in LOVE, hard, with this chicken! I wasn't too sure they were coming up for air? I was getting a tad concerned. It's O.K. though…cause there's ALWAYS a Doctor in the house! (wink, wink)
How To Make Cherry Dr Pepper Grilled Chicken
Let's start off with the chicken. I used a package of pre-cut, skin on, dark meat chicken. There were 4 wings, 4 legs, and 4 thighs.
I always pre-cook my chicken. I have this aversion to catching my house on fire because of fat drippings! By pre-cooking the chicken this will allow you to have that wonderful crispy charred skin on the outside without the inside being raw!
Whole chicken is a little tricky on the grill… so it's just a good rule of thumb to pre-cook it. Then you'll never be worried that it isn't cooked through. (You can worry about other things…like…is there enough Dr. Pepper in the house?)
I used my casserole crock pot because all my 9 x 13 pans are full of ice cream cakes right now! (Time to go shopping for more baking dishes.) You can just use a 9 x 13 pan and bake it in the oven for 2–3 hours. I'll admit that the slow cooker helped keep the house cool. Just a thought!
Rinse the chicken and dry on paper towels. Line your baking dish with foil. (This will help with clean up. Nobody wants to be doing dishes when you can be watching sunsets!)
Sprinkle your washed and dried chicken with seasoning salt and paprika. Cover with foil, or place the lid to your crock pot on top of the chicken. Bake for 2–3 hours on low heat. Turn heat off and allow to completely cool. This allows the meat to firm up again before placing it on the grill.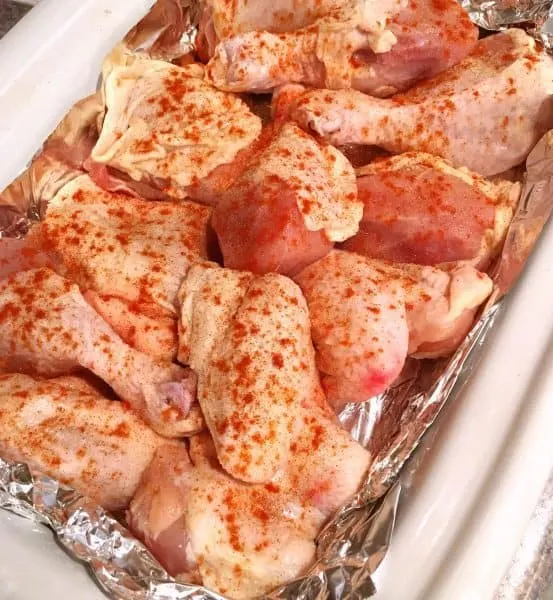 When your chicken is done, and completely cool, remove from pan and place on a platter for grilling.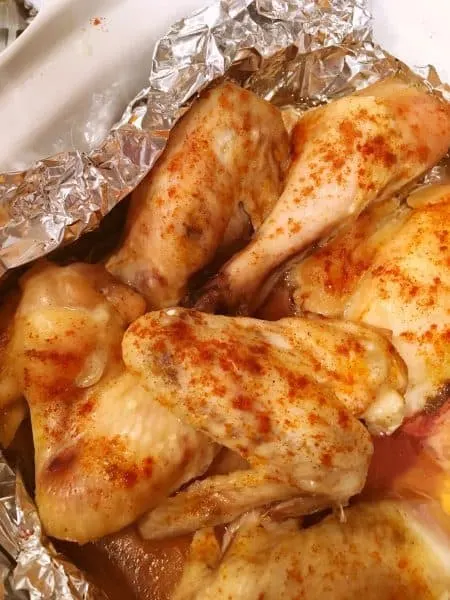 How To make Cherry Dr Pepper BBQ Sauce
While your chicken is cooking on low it's the perfect time to make that Cherry Dr. Pepper Chicken.
In a large sauce pan place 1 – 12 oz. can of Cherry Dr. Pepper. 1 cup of ketchup, 1 – 6 oz. can of tomato paste, 1 cup brown sugar, 1 Tablespoon Worcestershire sauce, 1/2 tsp. onion powder, 1/2 tsp. black pepper, 1/2 tsp liquid smoke, 1/2 tsp. Chili powder and 1 tsp. of minced garlic.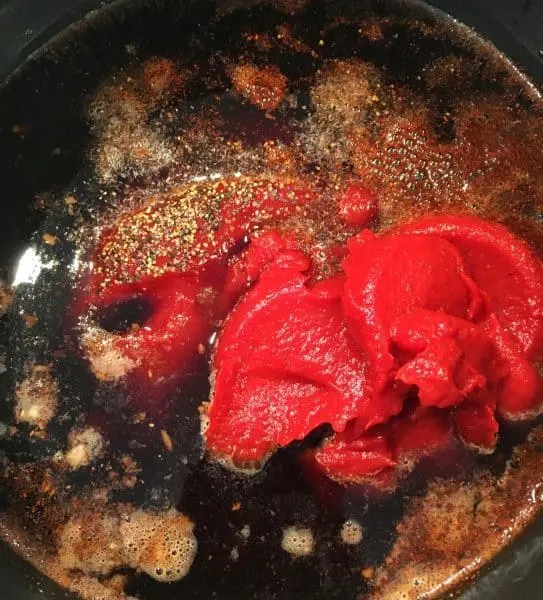 Mix well with a wire whisk and simmer over low heat for 2–3 hours until reduced in half, stirring occasionally. The sauce will thicken considerably as it simmers. The smell of this sauce! The soda angels sing in praise!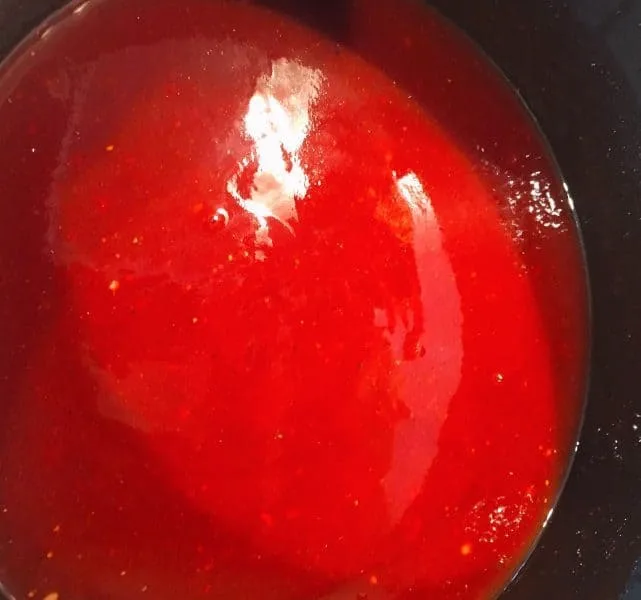 Allow the sauce to cool… then place in a container to use later on the chicken.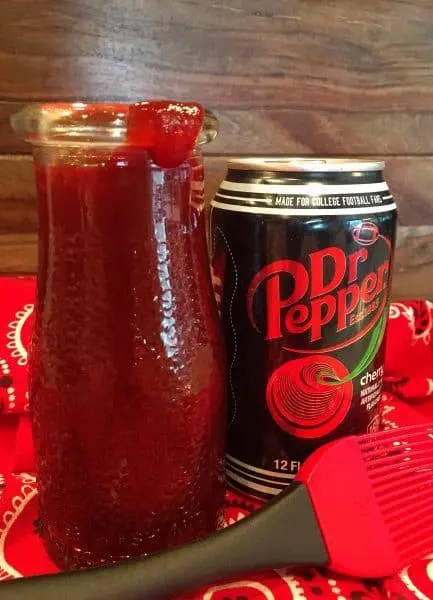 Grilling Chicken
It's time to combine the two elements and make one fantastically luscious BBQ Chicken! Completely Drool worthy.
Scrape and Oil your grill before turning on the heat. Heat the grill to 300 degrees. Place the chicken bottom side down and brush the top with BBQ sauce.
Gently flip the chicken over. Brush the back side with more BBQ sauce. Allow chicken to cook until you have a slight "char" on the skin.
TIP: Be sure to have a spray water bottle handy for the flames that will arise during grilling. Even though we have pre-cooked the chicken, and cooked a lot of the fat out of the skin…there will still be some that will drop causing large flames. When that happens be sure to spray them with the water bottle to keep them under control, this will allow your chicken to cook at a normal non-burn 911 fire alarm rate.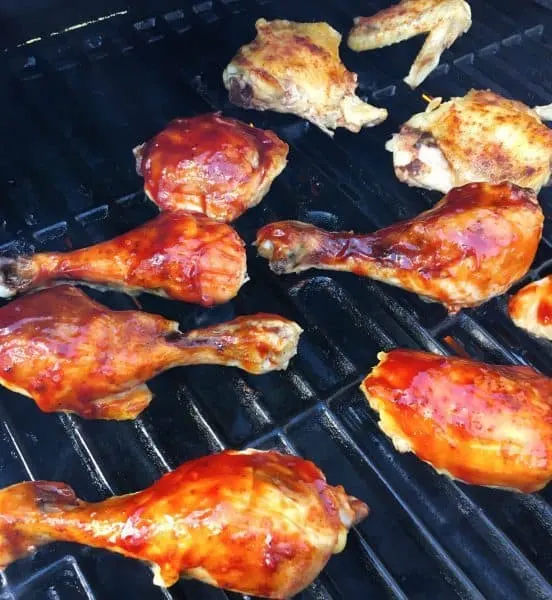 Flip the chicken over, and brush with more sauce. My Grill Master put the perfect "char" on this chicken. It couldn't have been any better.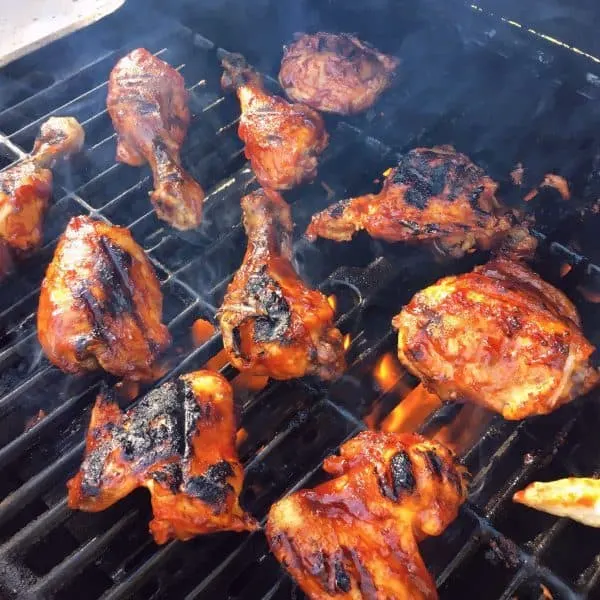 I always have him hit it one last time with sauce. It's just no fun eatin' BBQ chicken if you aren't licking fingers and smacking your lips!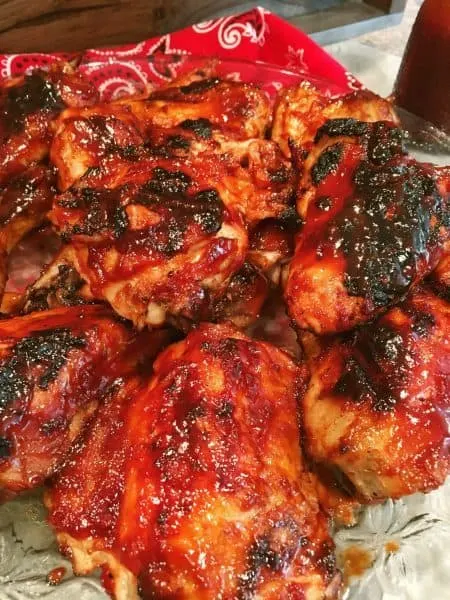 This chicken is so tender and flavorful. It fell off the bone! I served it with baked beans and those delicious garlic butter Parmesan red potatoes!
This is the perfect 4th of July main course. Actually I think it's perfect any time! Don't expect leftovers. You'll be sadly disappointed.
Favorite Summer Grilling Recipes
Everyone at your Nest is going to love this mouth-watering BBQ as much as we did!
If I were you…I'd double that batch of sauce and keep the extra on hand for another day of grilling! It would be spectacular on just about anything your throwing down on the grill this summer.
Happy Nesting My Friends!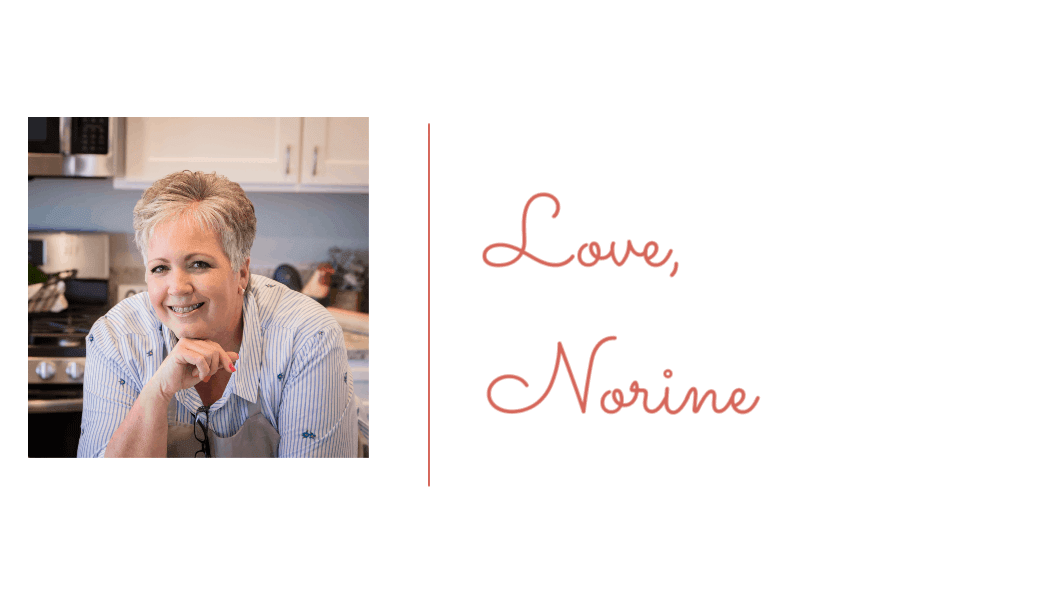 Yield: 6 servings
Cherry Dr. Pepper Grilled Chicken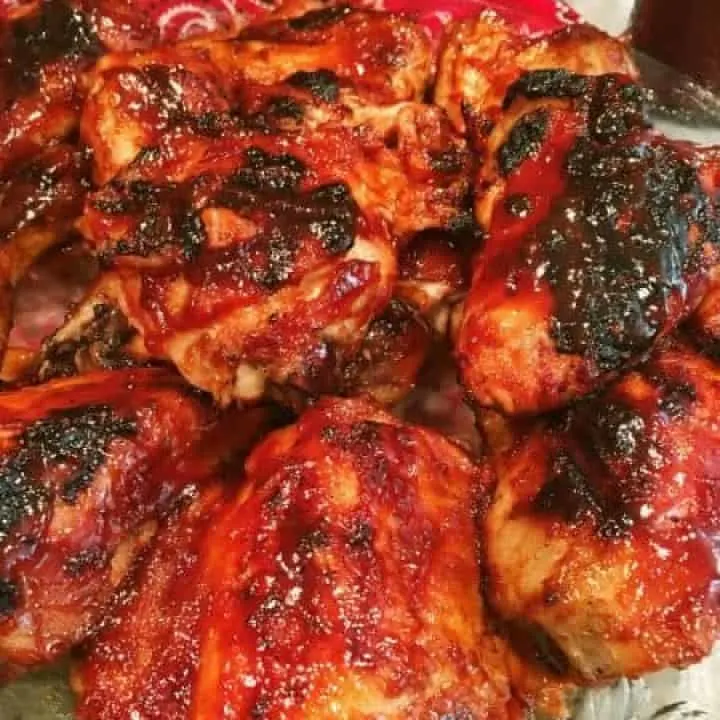 Lip smacking, finger licking AMAZING Cherry Dr. Pepper BBQ Chicken. A summer treat that will have them coming back for more!
Cook Time
3 hours
15 minutes
Total Time
3 hours
25 minutes
Ingredients
Cherry Dr. Pepper BBQ Sauce
1- 12oz can Cherry Dr. Pepper
1 Cup Ketchup
1 - 6oz. can tomato paste
1 Cup Brown Sugar
1 Tablespoon Worcestershire sauce
1/2 tsp. Onion Powder
1/2 tsp. black pepper
1/2 tsp. liquid smoke
1/2 tsp. Chili Powder
1 tsp. minced garlic
Chicken
1 whole chicken cut up OR 1 package of dark meat chicken cut up about 12 pieces of chicken
Seasoning Salt to taste
1 tsp Paprika
Instructions
In a large sauce pan add the Cherry Dr. Pepper, Ketchup, tomato paste, brown sugar, worcestershire sauce, onion powder, black pepper, liquid smoke, chili powder and minced garlic.
Whisk together until well blended.
Simmer over very low heat for 2-3 hours, stirring occasionally, until sauce thickens and reduces by almost half.
Cool.
Keep in an air tight container in the refrigerator until ready to use.
Chicken
Wash and dry chicken pieces. Place in a foil lined 9 x 13 pan. Sprinkle with Seasoning salt and Paprika. Cover with foil. Bake in a 250° oven for 2-3 hours. Allow to cool completely before grilling. This will allow the meat to firm back up before placing it on the grill.
Coat grill with oil.
Heat grill to 300° or medium heat.
Place chicken bottom side down. Brush chicken with BBQ sauce. Gently flip the chicken over and allow to lightly char. While the chicken is charring on the one side brush the bottoms with BBQ sauce. Flip and char that side and brush top with more BBQ sauce.
Remove for Grill and place on platter.
Serve immediately.
Recommended Products
As an Amazon Associate and member of other affiliate programs, I earn from qualifying purchases.
Nutrition Information:
Yield:
6 servings
Serving Size:
2 pieces of chicken
Amount Per Serving:
Calories:

904
Total Fat:

39g
Saturated Fat:

11g
Trans Fat:

0g
Unsaturated Fat:

24g
Cholesterol:

275mg
Sodium:

736mg
Carbohydrates:

63g
Fiber:

3g
Sugar:

56g
Protein:

75g