Pastrami Dogs are the cousin to the Pastrami Burger! Big All Beef Hot Dogs are grilled to perfection, topped with grilled onions and hot grilled pastrami on a toasted bun with melted cheese and your favorite toppings. I recommend mustard!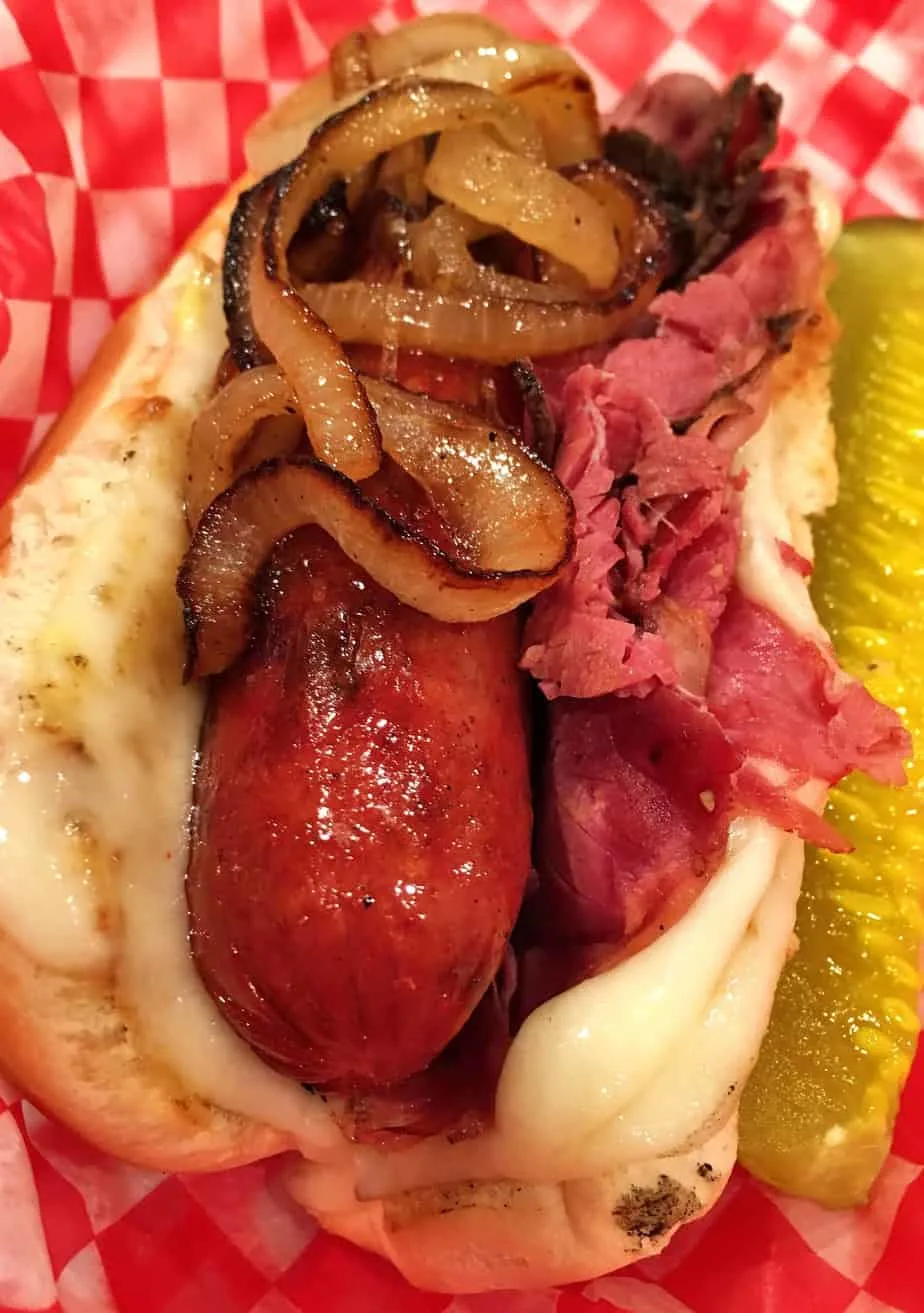 I promised you a hot dog recipe that would make you swoon!
I know what you're thinking! "Oh, that poor thing has lost her mind! She's posting how to cook a hot dog!" (I think we've already established you wouldn't be too far off on the "mind loosing" concept.)
However, by now you should also know it's just not in my DNA to do the "Norm"! Not even when it comes to a hot dog!
Earlier this week I shared my love of Pastrami Burgers with you. Well, I got to thinking…if you can kick up a burger with pastrami what would happen if you added it to a hot dog! (I know!… Julia Child eat your heart out!) So, I went to work creating this mouthwatering Hot Dog! I call them "Pastrami Dogs!"
How To Make Pastrami Dogs
I used a quality all beef jumbo hot dog! If you are creating the ultimate hot dog…make sure it's a top-notch quality dog. There is a difference. (This is a meal not a snack at the ball field!)
Next, beef pastrami. You could use turkey pastrami but…why? No…. seriously… why? Does this look like a "healthy meal"? No, it doesn't, and I'm totally okay with that! This is a hot dog on steroids…let's give it the respect it deserves. It also houses baby Swiss cheese, caramelized onions, and a mustard mayo sauce! (That's what I'm talking about!)
Caramelizing Onions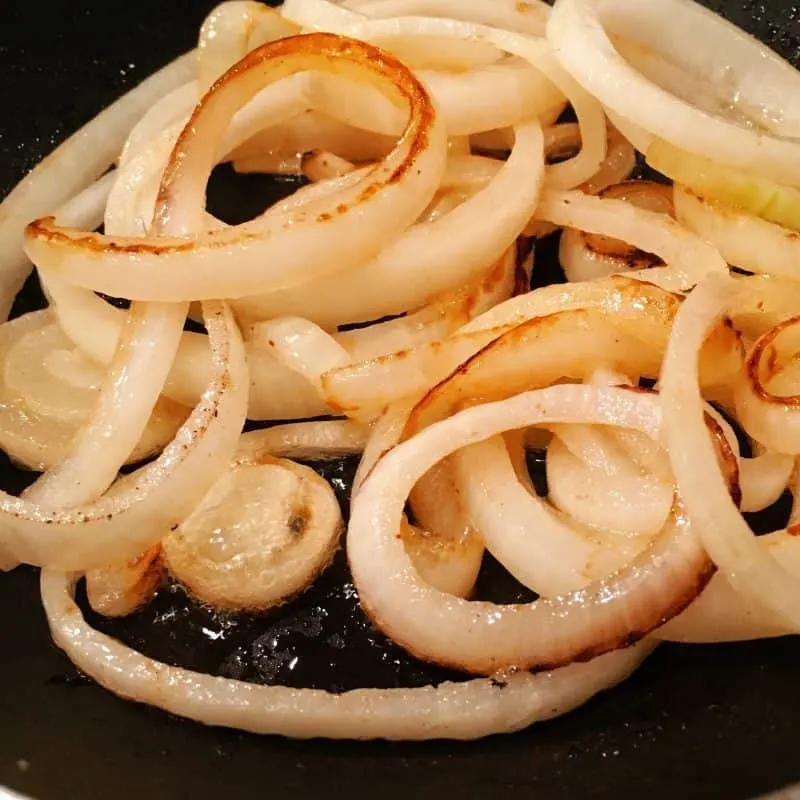 To caramelize the onions slice a whole white onion thinly. (I like the sweetness of a white onion.) In a skillet add a pat of butter and over medium high heat add the onions. Keep stirring and turning until you have beautiful golden caramelized onions.
While your grill master is grilling those hot dogs and toasting the buns, you are going to cook your pastrami. You just want to heat it through. When the buns are toasted add a slice of baby Swiss cheese and place it under the broiler and melt the cheese.
In a small separate bowl mix mayonnaise and yellow mustard together. Set aside as this will be the sauce for your hot dogs.
Pastrami Dogs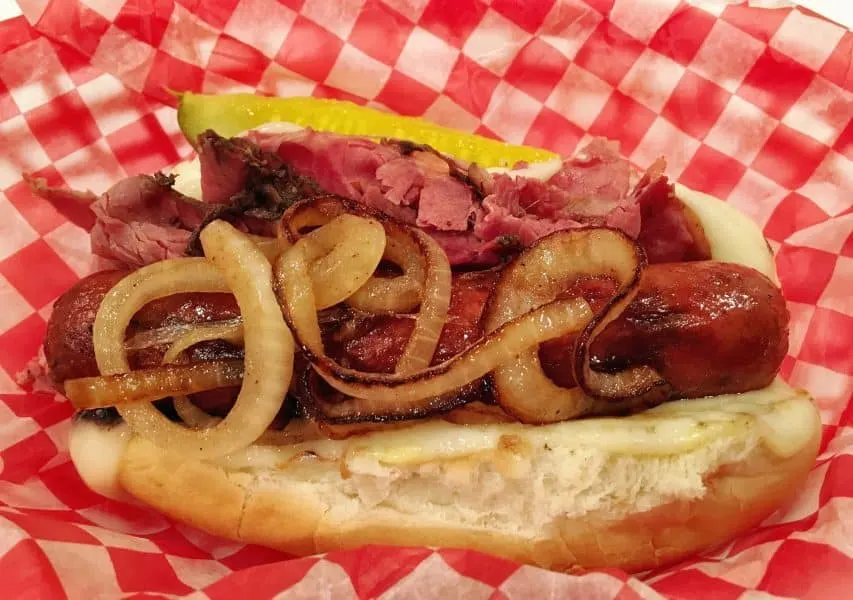 As soon as the cheese is melted and bubbly, remove from the broiler.
Place a generous serving of the pastrami on top of the cheese, followed by the hot dog and then topped off with the caramelized onions and mustard sauce. Wait…do you hear it? The hot dog angels are singing. Okay, maybe not but, your guests will be!
This is one amazingly savory hot dog! It's beyond a hot dog. It's like Ms. Pastrami Sandwich and Mr. Costco Hot Dog got together and THIS is their precious baby!
Mars really enjoyed it. (One perk is he is my taste tester! It's not always a rewarding job but, it was last night!)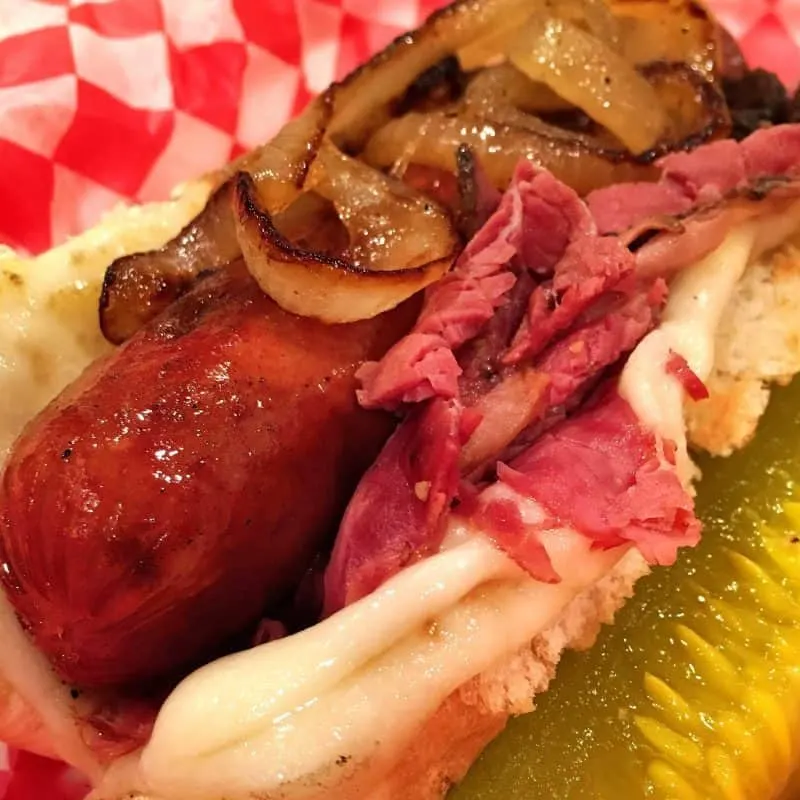 I hope you have a wonderful 4th of July weekend! Enjoy the Dogs!
If you love these grilled Pastrami dogs you'll love these other grilled recipes!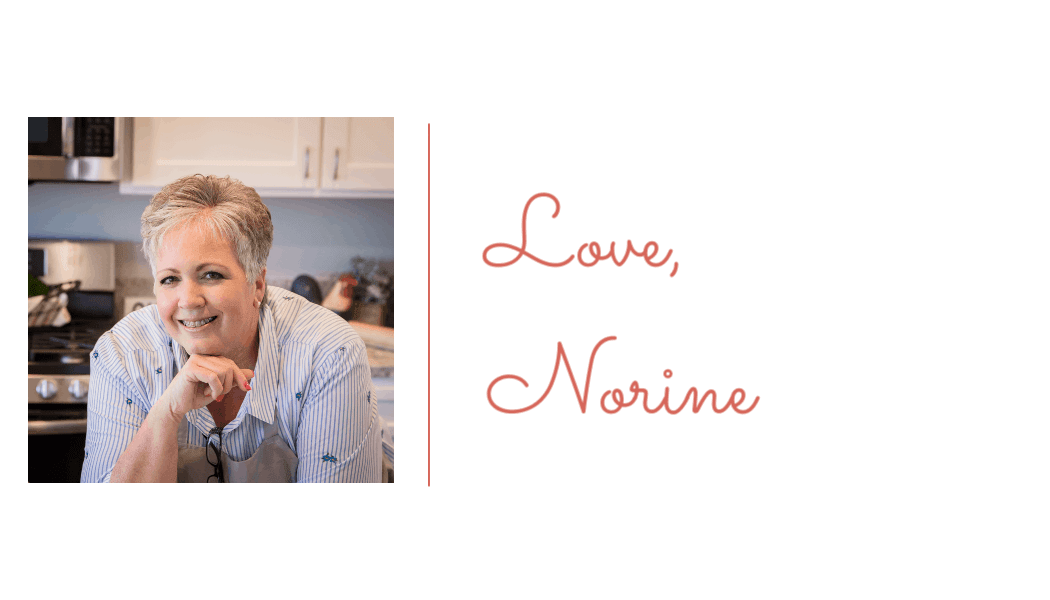 Yield: 4 servings
Pastrami Dogs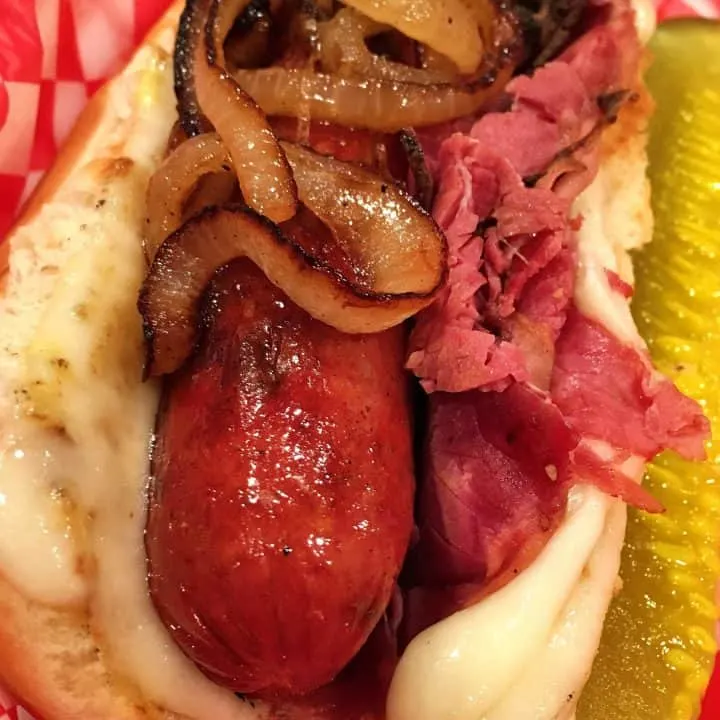 This is a savory and full flavored meal on a bun! Pastrami, All Beef Hot Dog, Caramelized Onions and Mustard sauce make this one amazing dog!
Ingredients
4 All beef Jumbo Hot Dogs
4 Hot Dog buns
1/2 pound sandwich sliced beef pastrami
1 medium size white onion sliced thinly
1 Tablespoon butter
4 slices baby Swiss Cheese
1/2 cup Mayonnaise
3 Tablespoons prepared yellow mustard
Instructions
In a medium size skillet, over medium heat, place the pat of butter. Once melted add the thinly sliced onions. Stir and turn until onions are caramelized a nice golden brown. Set aside till ready to assemble.
In a small bowl mix the Mayo and Mustard together to form the mustard sauce.
Pre-heat the oven to broil.
In another medium size skillet warm the pastrami while the hot dogs are cooking on the grill and the buns are toasting.
When the buns are done, place one slice of cheese in the middle of the bun. Place the buns on a cookie sheet in the broiler and watch them carefully until the cheese is melted and bubbly.
Once done remove from oven and add a generous serving of pastrami. Then add the grilled hot dog, followed by the caramelized onions and mustard sauce. Serve with a dill pickle and Enjoy!
Nutrition Information:
Yield:
4
Serving Size:
1 hot dog
Amount Per Serving:
Calories:

962
Total Fat:

67g
Saturated Fat:

23g
Trans Fat:

0g
Unsaturated Fat:

37g
Cholesterol:

188mg
Sodium:

1017mg
Carbohydrates:

30g
Fiber:

2g
Sugar:

5g
Protein:

56g
Norine's Nest in no way provides any warranty, express or implied, towards the content of recipes in this website. It is the reader's responsibility to determine the value and quality of any recipe or instructions provided for food preparation and to determine the nutritional value, if any, and safety of the preparation instructions.