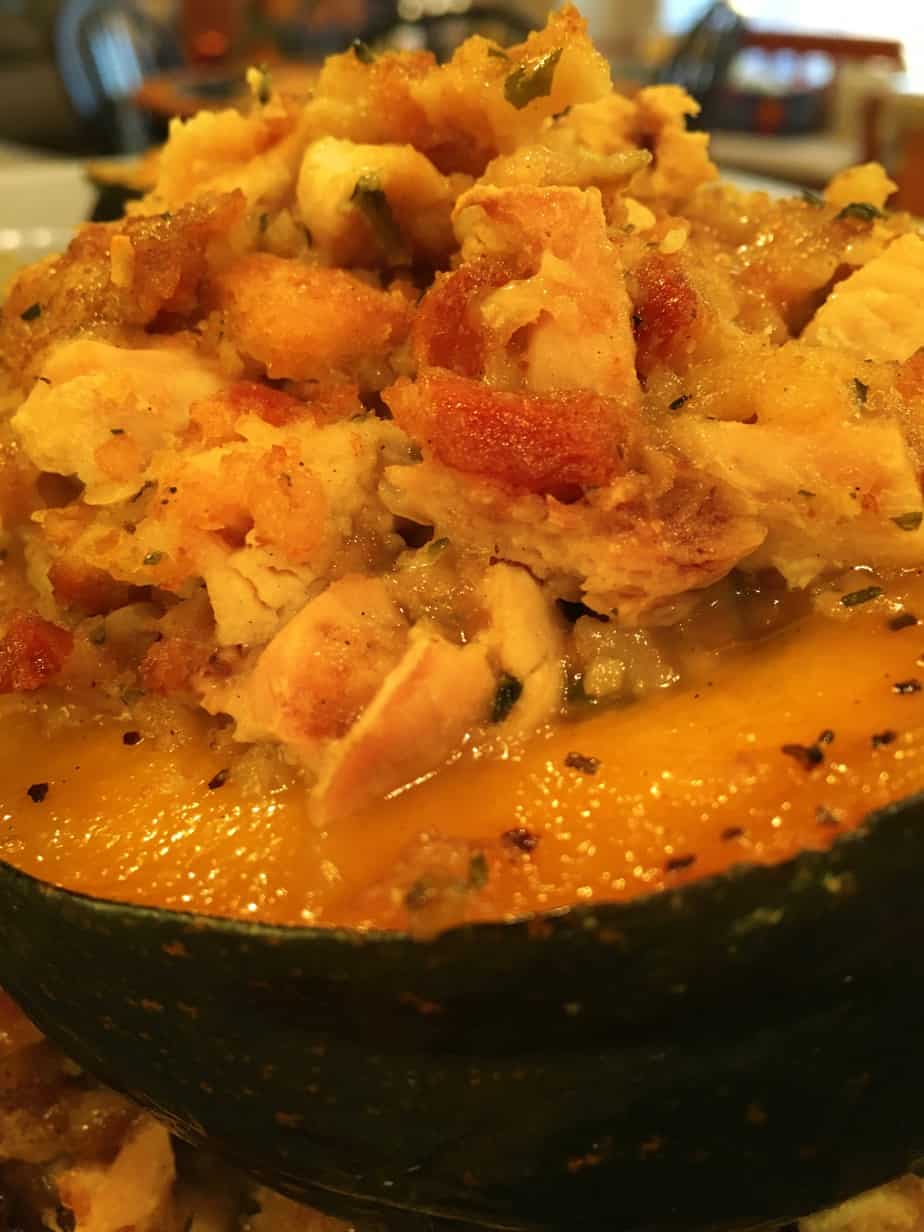 I'm ready to focus on Fall and on this amazing Stuffed Acorn Squash! It's like a mini Thanksgiving dinner in its own edible bowl!
*As an Amazon Associate I earn from qualifying purchases. This post may contain affiliate links, which means that I may make a commission from any purchases at no additional cost to you. Thank you for your support!
Doesn't this meal just scream… "Fall" Fantastic Fabulous"? (Say that three times really fast! Go ahead…I'll wait! lol)
This was a little brain storm I had a few weeks ago. (That should encourage all you younger mothers that there are still active brain cells after child rearing! Not many…but some!)
I had this acorn squash rolling around in the pantry, and I love Acorn squash! It's so creamy and buttery flavored, and so simple to prepare! I didn't want it to go to waste! I had to come up with something.
If you're a first time cook, newly married, or out on your own away from home for the first time, and you want to make a really simple, easy, nutritious meal…this is it! If you're a Mom looking for a new week night dinner…this is it! So simple and so comforting! You're gonna feel good about feeding this dish to your "Nester's".
This recipe is for two servings. However, you can double or triple it. (That does not require Algebra! I'm of the firm belief that any math word that includes the word "bra" is evil and must be destroyed!)
Sorry…digression…once again! (Maybe we need to revisit the "brain cell" testimonial? Hmmm?)
How To Make Easy Stuffed Acorn Squash
For two servings you'll need one acorn squash. Cut the squash in half, clean out the seeds from the center. Place in a casserole dish, sprayed with cooking spray, salt and pepper the squash to your taste.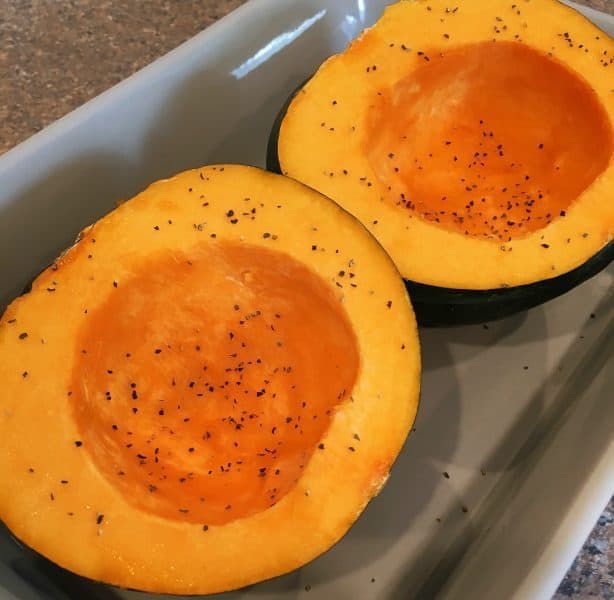 In a microwave safe bowl, make one box of stove top traditional chicken stuffing mix. (You can use the store brand if it is less expensive.)
Follow the directions on the box…hot water and butter and…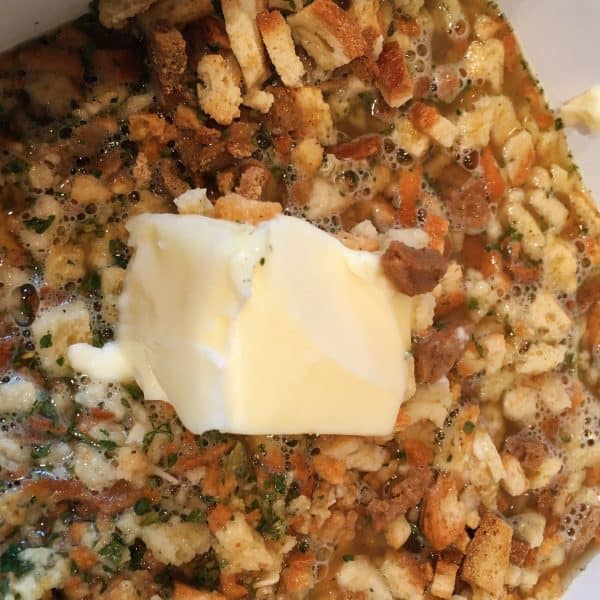 Pop in the microwave for the cook time listed on the box.
Once done fluff with a fork (it's important to have fluffy stuffing…it's my personal motto! I work on it every day! lol) to make sure everything is done and well blended.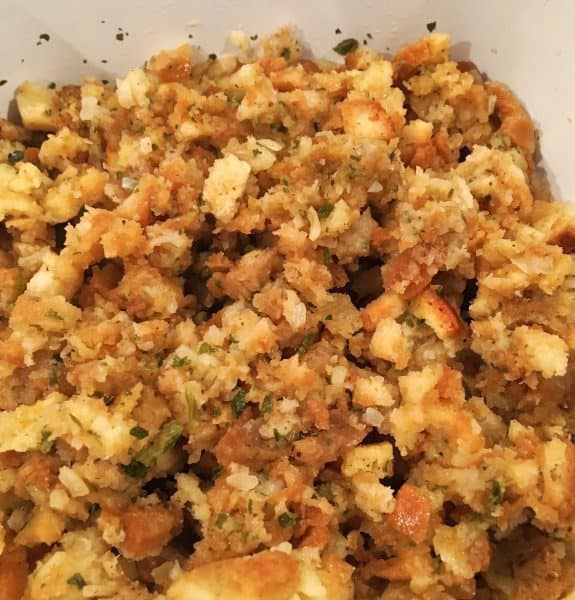 Add in 1 1/2 cups cooked chopped chicken. I used chicken breast, but you can use dark meat if you prefer or a mixture. Mix that together with the stuffing.
TIP: You can use Turkey too if you'd rather instead of the chicken.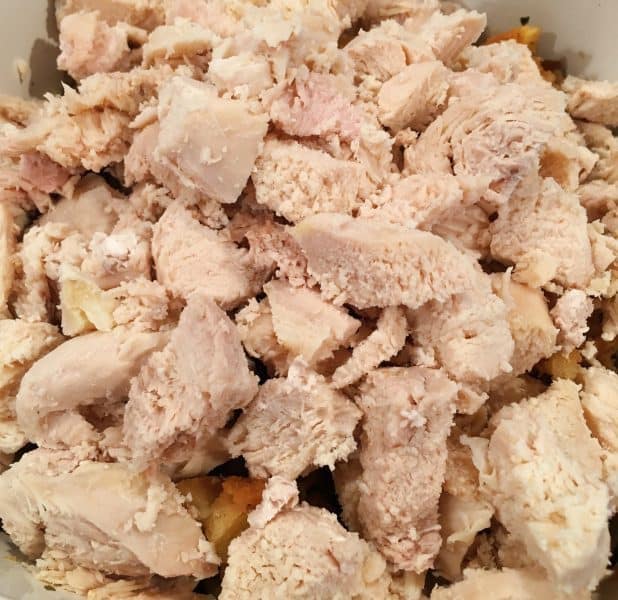 Stuff the stuffing and chicken mixture into the center of each of the acorn squash.
TIP: If you have leftover, like I did, you can place it around the squash.
Pour one jar of Heinz Turkey Gravy over the top of your stuffed squash. Ah-ha! You thought you were going to have to make gravy didn't you? I know, I know… I love "traditional", but this is an "easy" dish and it tastes wonderful with this!
Cover with foil and bake in a preheated 350 degree oven for 40-45 minutes.
Poke squash with a fork to check if it is done. The fork should easily go into the squash. If it doesn't, cover and bake for an additional 10 minutes, and check again. When done remove from oven.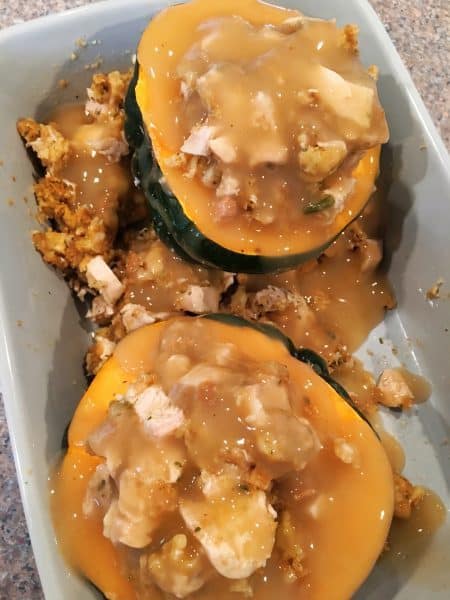 Doesn't this look amazing! The squash is done to perfection. It is rich, flavorful, and buttery. Just like Acorn squash should be. Better yet…It's filled with that gravy soaked stuffing and chicken! Ba-Zinga!
Tip: If you want your stuffing to be a little crispy on top, remove the foil the last 10 minutes of baking. You'll get a deep golden color stuffing with crispy tops! The center will still be nice and moist.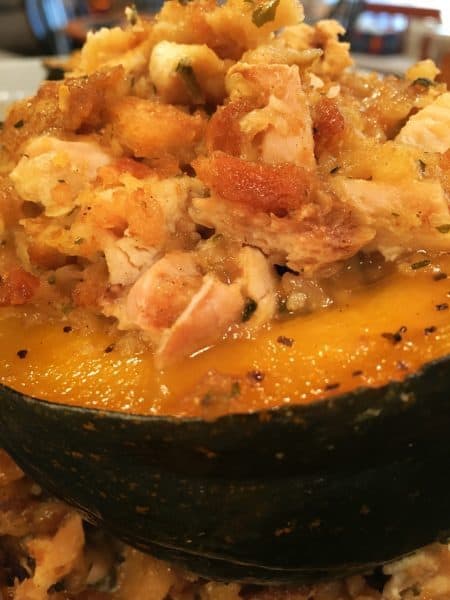 Even though you can eat the bowl this is served in, I highly recommend placing it on a plate.
I suggest serving this wonderful mouth-watering dish with a Harvest type salad. One filled with dried cranberries and pecans with a balsamic dressing! (shameless plug for an upcoming post)
Maybe throw in some of those amazing "Lion House Rolls" that are on this site! This meal is like a "sneak peek" to Thanksgiving dinner without all the guilt or work! Double bonus!!!
Hope you love this dish as much as we did! You may want to have an extra jar of gravy on hand…just in case you want to go wild! 😉
Fantastic Fall Recipes Your Family will Enjoy
Happy Monday! Looking forward to an amazing week here at Norine's Nest! Thanks for visiting and please feel free to share any tips, comments, or suggestions! I absolutely LOVE hearing from you! It makes me feel like I'm not talking to myself…heaven knows 20 years of raising kids I felt like that every day! 😉 lol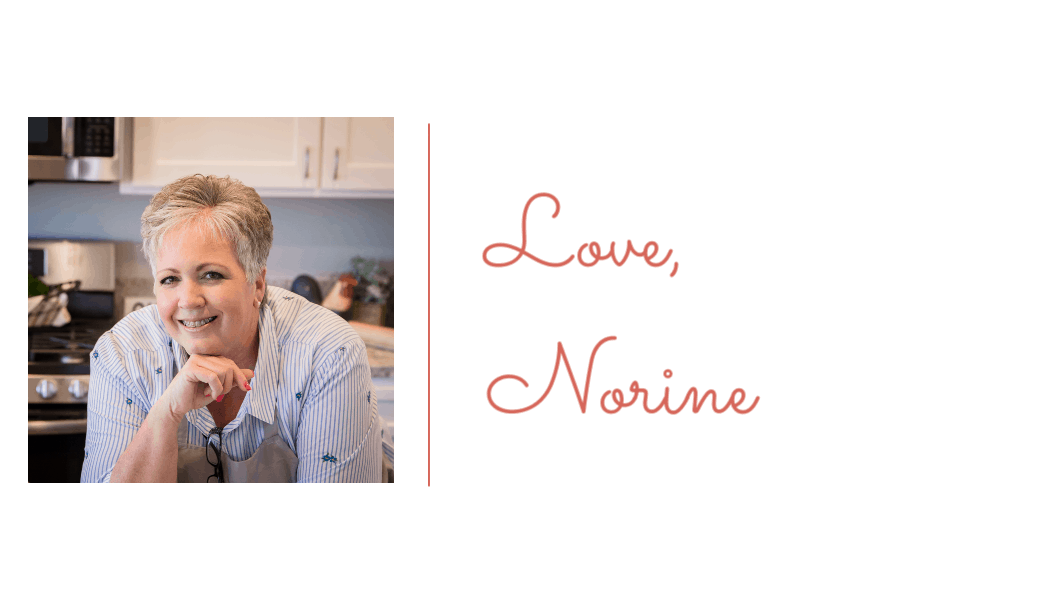 Yield: 2 servings
Stuffed Acorn Squash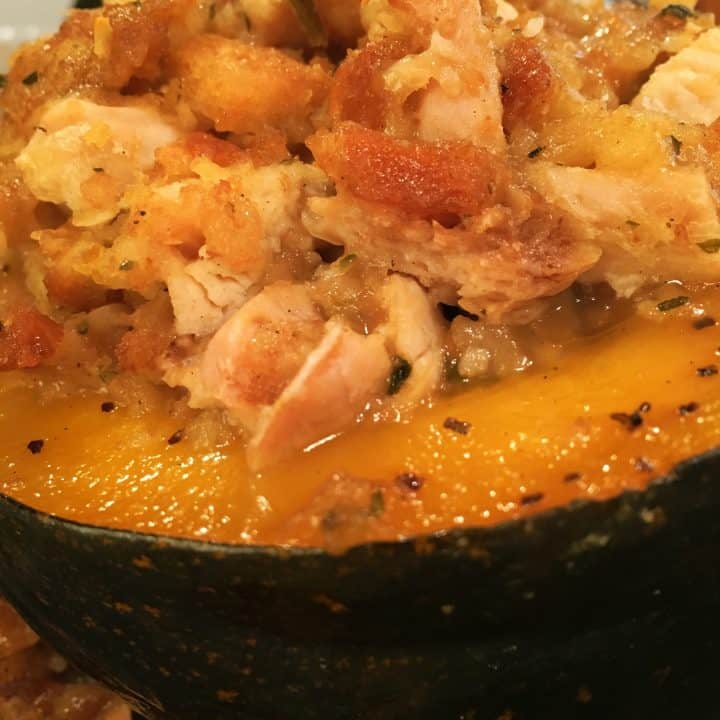 This Stuffed Acorn Squash is like a mini Thanksgiving meal in and edible bowl! Stuffed with stuffing and chicken and topped with gravy it's the perfect Fall meal!
Ingredients
1 acorn squash
1 box stove top stuffing, or other store brand
butter (for stuffing mix)
1 jar Heinz turkey or chicken gravy
1 1/2 cups cooked chicken
Instructions
Spray a 9x13 baking dish with cooking spray. Preheat oven to 350 degrees.Cut your acorn squash in half and clean out seeds and pulp. Place squash cut side up in baking dish.
Salt and Pepper to taste.
In a microwave safe dish make stuffing mix per instructions on box.
Fluff with a fork and add in cooked chicken.
Stuff into center of acorn squash.
Place any left over stuffing mix around the base of the squash.
Top with jar of gravy.
Cover with foil. Bake for 40-45 minutes or until done, squash is soft when poked with a fork.
Recommended Products
As an Amazon Associate and member of other affiliate programs, I earn from qualifying purchases.
Nutrition Information:
Yield:
2
Serving Size:
1
Amount Per Serving:
Calories:

399
Total Fat:

23g
Saturated Fat:

8g
Trans Fat:

1g
Unsaturated Fat:

12g
Cholesterol:

127mg
Sodium:

315mg
Carbohydrates:

19g
Fiber:

5g
Sugar:

0g
Protein:

30g