Homemade Hand Dipped Corn Dogs in a slightly sweet corn bread coating deep-fried to a golden crisp!
I started a tradition several years ago when I had no grandkids. I adopted our Bishop's kids from church. (They had plenty to spare!)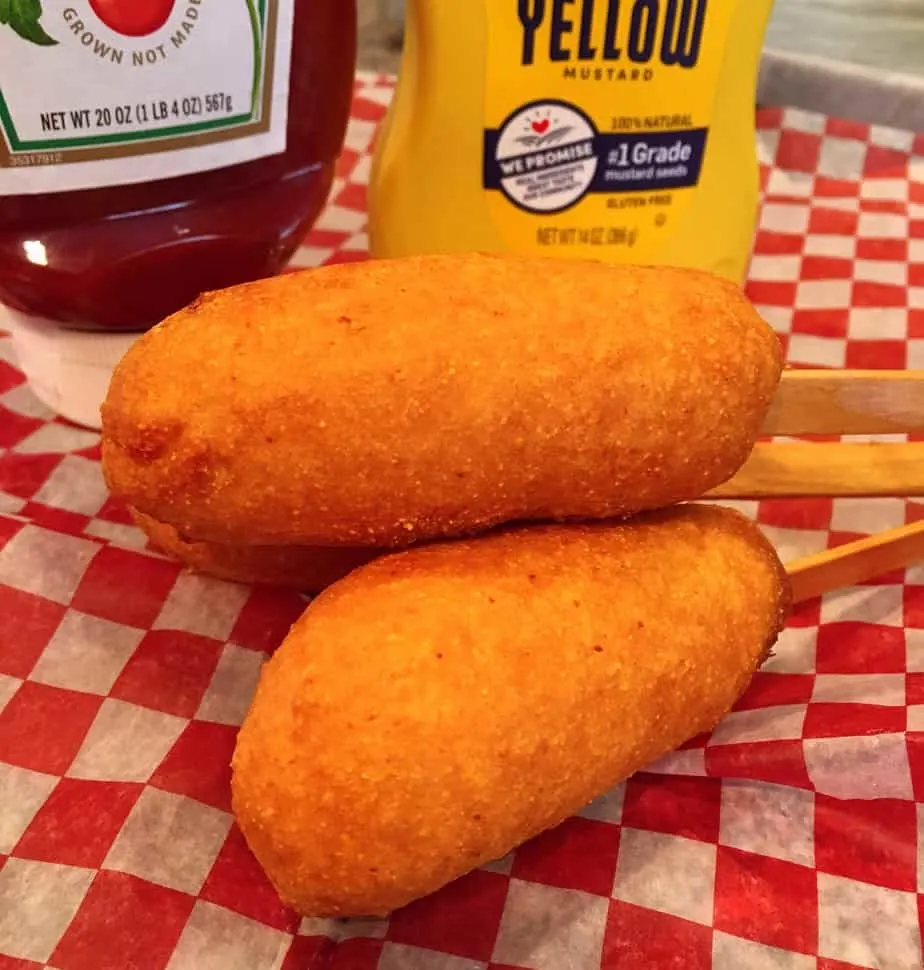 The tradition? They each got to do something with me on their birthday. I left it wide open. Thankfully, all they wanted to do was come over, eat in the family room (Not at the table! This was NOT Mom's house!), watch a movie, and basically hang out with me. (Pretty awesome! Made me feel kinda special. Still does!)
So when their son had his birthday a few weeks ago, I asked what he wanted to do for his birthday? She told me… play Lego's, watch Netflix cartoons, and eat corn dogs. (Really? Okay!)
Only one problem my friends…. I'm a hot dog snob! (Whew! I said it! Are there support groups for this sort of thing?)
Well….this here Hot Dog snob would have nothing to do with those frozen meat innards on a stick! (Lawdy NO! Making my skin crawl just thinkin' bout it. I ain't doing it! )
So I went diggin' for my homemade corn dog recipe. I hadn't made them in years. These are seriously the best dang corny doggies out there!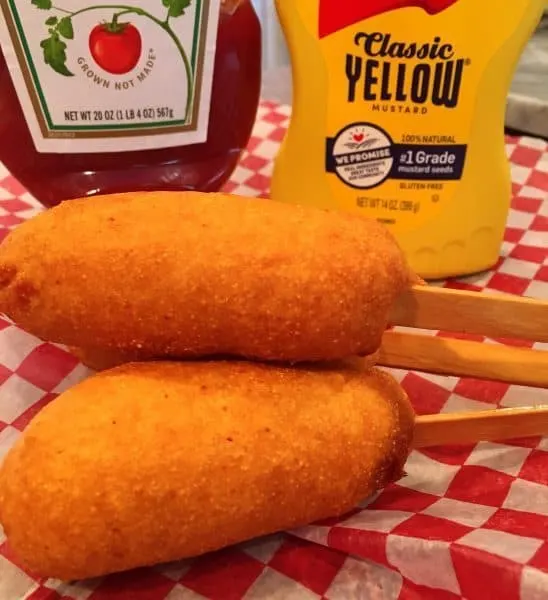 How To Make Homemade Corn Dogs
In a medium bowl mix together 3/4 cup of yellow cornmeal, 1 Tablespoon sugar, 3/4 cup self-rising flour, and 1 egg.
TIP: If you do not have self-rising flour you can use 1 teaspoon baking powder and 1/4 tsp of salt in a measuring cup. Add enough all-purpose flour to equal 3/4 cup.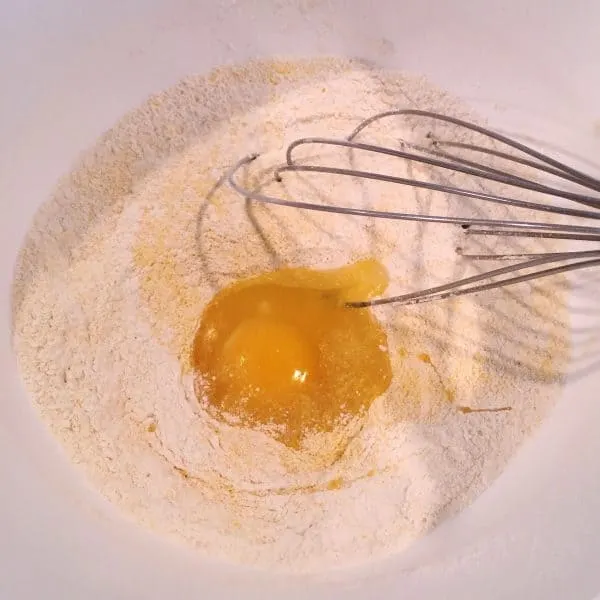 Stir in 2/3 cup of milk to make a thick batter. Let stand for 4 minutes. (This is to allow the self-rising flour to do its thang!)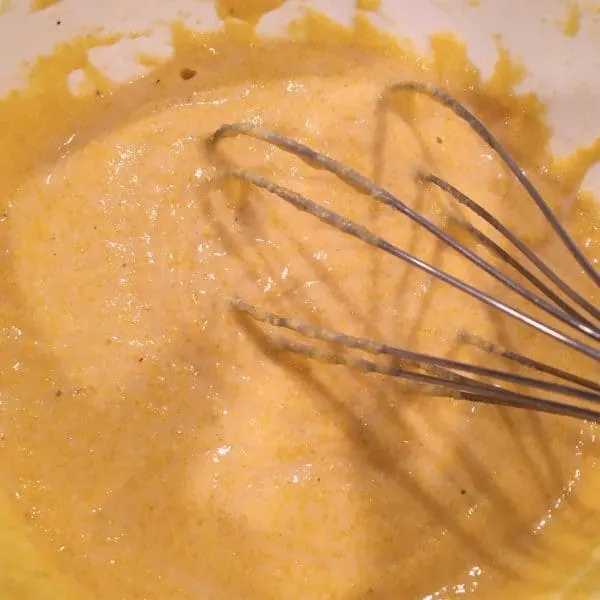 Insert sticks into your TOP QUALITY hot dogs. I used an all Beef Angus hot dog. (Just sayin'…)
TIP: Cut the Hot dogs in half to make it easier to deep-fry them.
In a medium size sauce pan place enough oil to cover the hot dogs. Heat oil to 375°.
Dip hot dogs into batter. (Sorry I got excited and forgot the picture…you know me!)
Carefully place hot dog into hot oil. Just let them go all the way in…stick and all! (Nothing beats a good piece of fried wood! Lol)
Fry corn dogs until golden brown. About 5–6 minutes. (Please, please, please be careful with the hot oil! Always turn the handle away from you when frying!)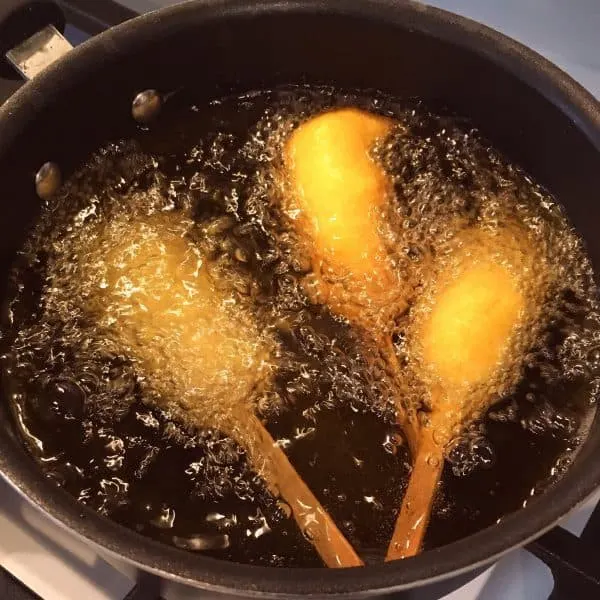 Remove from hot oil with a pair of tongs, being careful not to burn yourself, and drain on paper towel.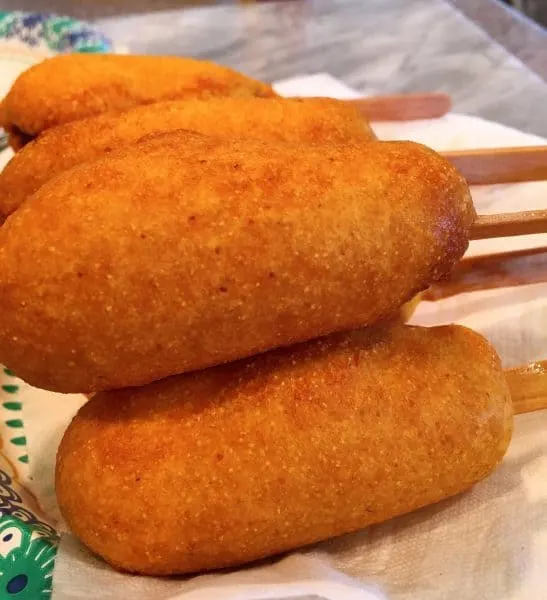 Keep a dippin' and a fryin' until all those "puppies" (no pun intended…okay maybe it was a little bit intended), ready to eat.
Are you a ketchup or a mustard corn dog lover? Or both?
Do ya call them corn dogs or corny dogs?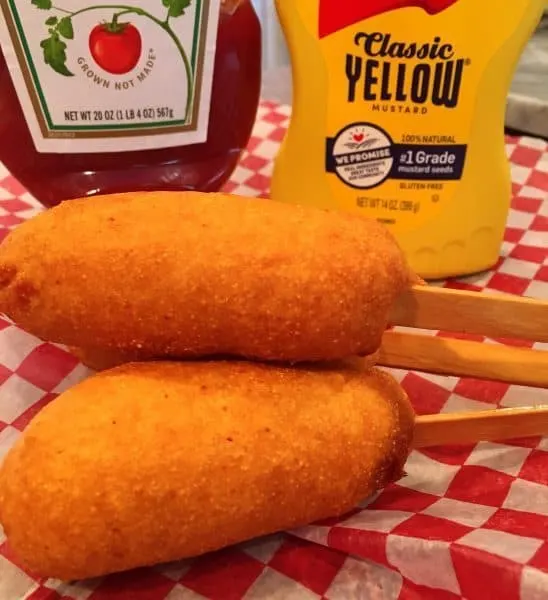 Whatever you call them…my little buddy called them "good"!
I'd have to agree with him. They are good! Dang good! Plus, they aren't full of a ton of the bad stuff, because you pick the hot dog and you made the batter.
I know they're not health food, but I do think they are better than the frozen hot dogs you find at the markets.
Speaking of that…one last tip…you can freeze these corn dogs. They actually freeze really well! I place them on a paper plate and then slide the plate into a large zip lock freezer bag and place them in the freezer. To heat them up just remove one and either microwave it or place it in the oven if you like it crispy.
That's my family friendly food recipe this week! Perfect for Halloween! Who doesn't love a good corn dog and a bag full of treats!
Other Great Halloween Dinner Recipes
Enjoy my friends! Remember to follow me on Pinterest, Facebook, Twitter, and Instagram to get all my latest recipes! Just look for Norine's Nest. I'll be there waitin' for ya!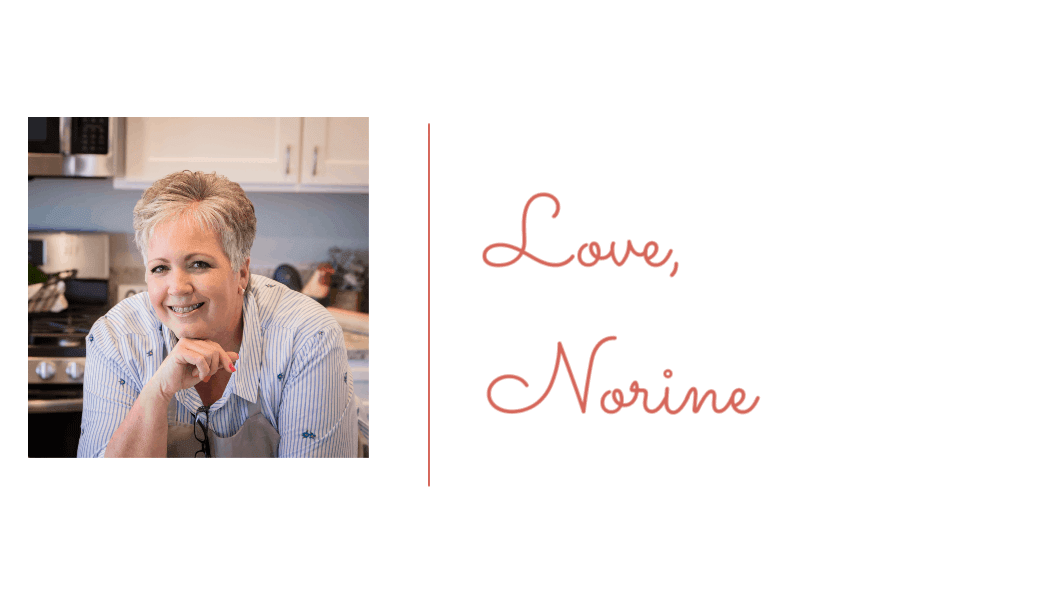 Yield: 10 servings
Corn Dogs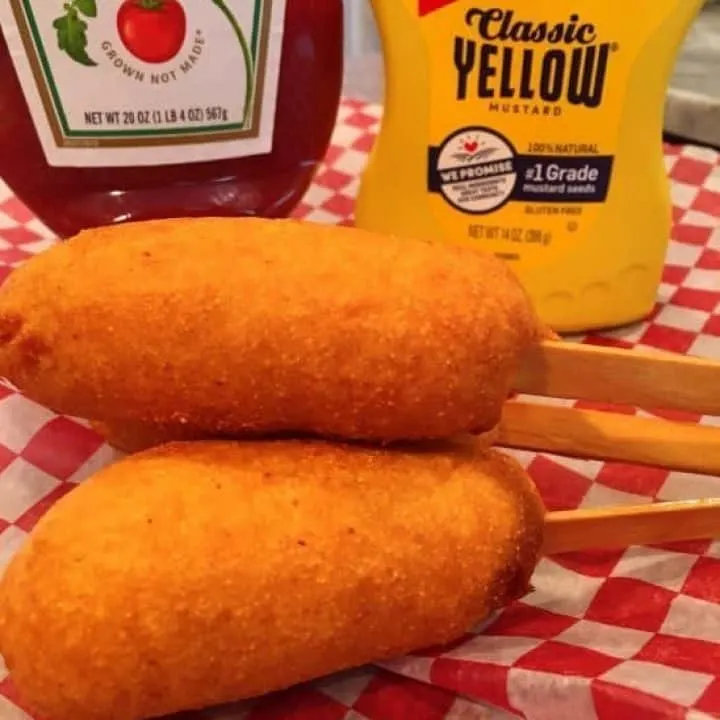 This recipe makes it easy to prepare corn dogs at home just like those at the fair. Both kids and grown-ups will love these delicious corny dogs!
Ingredients
3/4 cup yellow cornmeal
3/4 cup self-rising flour
1 Tablespoon Sugar
1 egg beaten
2/3 cup milk
10-20 small wooden sticks
5-10 good quality, hot dogs, cut in half
Oil for deep-fat frying
Instructions
In a medium size bowl, combine cornmeal, flour, egg and 1 Tablespoon of sugar; mix well.
Stir in milk to make a thick batter; let stand 4 minutes.
Insert sticks into hot dogs; dip into batter.
Place oil in a medium size sauce pan.
Heat oil to 375°. Carefully place dipped hot dogs into the batter. It's okay if they slide all the way under the hot oil. It won't hurt the stick.
Fry corn dogs until golden brown. About 5-6 minutes each.
Remove from oil with tongs. Place on a paper towel to drain.
Yield 10 servings.
*Note this recipe will make 10 regular size hot dogs or 20 hot dogs cut in half.
Notes
As a substitute for self-rising flour, place 1 teaspoon baking powder and 1/4 teaspoon salt in a measuring cup. Add enough all-purpose flour to equal 3/4 cup.
Recommended Products
As an Amazon Associate and member of other affiliate programs, I earn from qualifying purchases.
Nutrition Information:
Yield:
10 servings
Serving Size:
2
Amount Per Serving:
Calories:

254
Total Fat:

17g
Saturated Fat:

6g
Trans Fat:

0g
Unsaturated Fat:

8g
Cholesterol:

48mg
Sodium:

540mg
Carbohydrates:

17g
Fiber:

1g
Sugar:

2g
Protein:

8g