When you're craving Turkey, but don't want to mess with a whole bird…this fork tender ultra moist Brined Turkey Breast is just right!
Can we talk Turkey?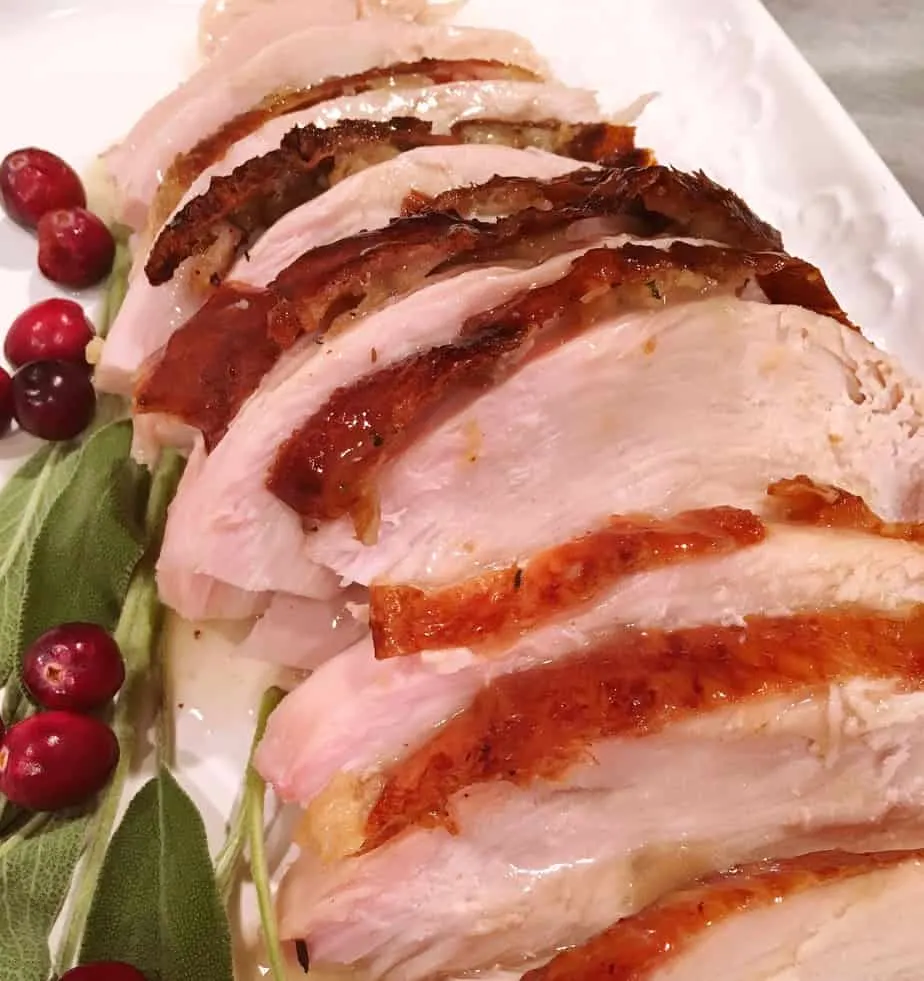 It's a serious subject this time of year! For a lot of you it's a scary subject! I found out the other day that one of my best friends has NEVER made a Turkey! WHAT??? How do you do that? (No! Seriously…HOW DO YOU DO THAT?)
When it comes to Turkey… I happen to have mad skills! (Is my humility overwhelming or what?)
It's taken years, and a few dry birds, to perfect my Turkey baking skills…but, I kept at it until I had the most beautiful Turkey on the planet! (Take that Julia!)
Today is your lucky day! I'm going to share all my secrets with you, and you are going to AMAZE all the dysfunctional family members at your holiday table! Lol (I've decided we all have dysfunctional families that function perfectly for us!)
I took all my "Big Bird" skills, and packed them into this beautiful savory Turkey Breast! (Yep…thanks to y'all "Mars" got to have a mini Thanksgiving feast early, and he sincerely Thanks you!) I know not everyone has a large extended family. So, I came up with a Thanksgiving dinner that fits your family.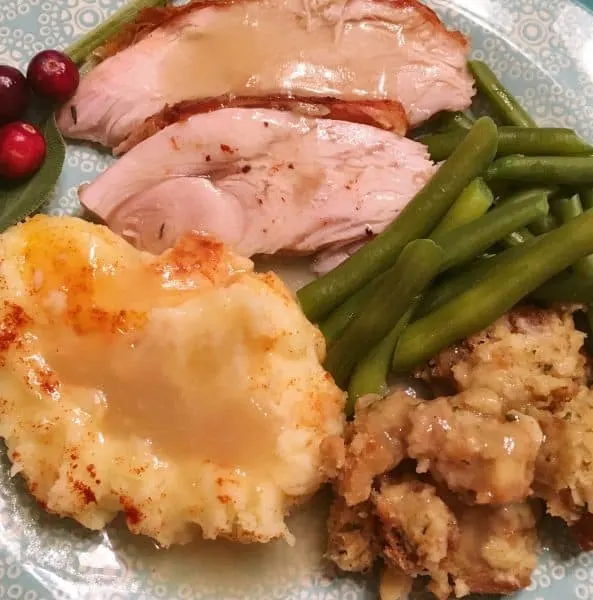 How Make Brined Turkey Breast
The steps I'm going to show you for this beautiful savory Turkey Breast are the EXACT same steps I use on our traditional 22 pound Turkey. (Except for the baking time and amounts. Better make that disclaimer upfront!)
I started brining a few years ago. After I did, I had one of those… "Why have I waited SO long to do this?" For me, the main reason was "space". I only have one refrigerator. (Did you hear that KitchenAid? I ONLY HAVE ONE REFRIGERATOR! lol) With all the other side dishes and desserts that tag along on this yearly feast…there isn't room for a 22 pound Turkey to kick back in a "bath" for 24–48 hours!
TIP: I found a way around that…it's called… a very large bag (Okay… Fine! It's a trash bag!) and the ice chest… filled with ice! However, for this Turkey Breast you'll just need Extra Large Hefty Zip Lock Bags and a large bowl.
For the Brine you will need 4 quarts of water and 1 cup of Kosher Coarse Salt. Place in large pot and bring to a boil. Boil until salt has dissolved. 15–20 minutes. Add 1 cup Apple Cider, 1 cup Orange Juice, 1 tsp. rosemary, 1 tsp. thyme, and 1 Tablespoon Allspice.
Allow to cool completely! You do NOT want to cook the Turkey with the hot brine! It will take a couple of hours for it to cool.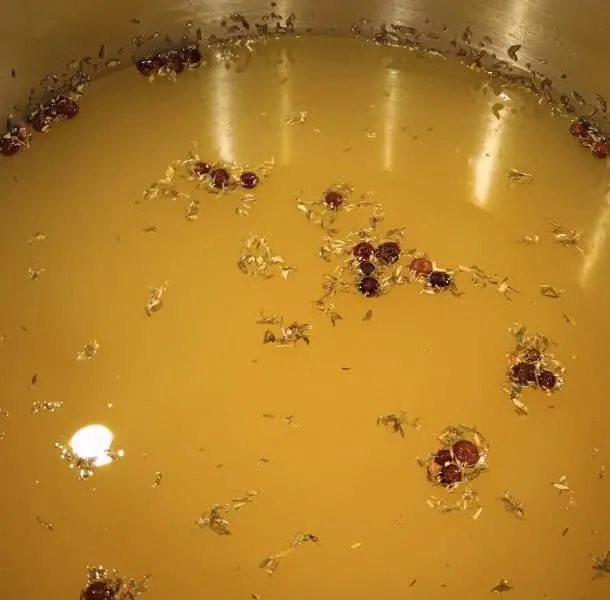 You'll need one thawed Turkey Breast.
I'm going to be super proper here and tell you that it is recommended that you thaw your Turkey out in the refrigerator for 3–4 days…or a MONTH! (Insert Eye Rolls!!! Multiple Eye Rolls!) Yep, that's how your "supposed" to do it. I'll leave it at that so that all the "Turkey Thawing Police" out there don't come after me!
Remove the "icky" innards and gravy packet. Rinse that pretty Turkey breast off. Pat it dry with a large kitchen towel. (I talk to my Turkey…I think it's guilt? Who knows? I just let my family think I've finally had my Holiday breakdown!)
Place the Turkey Breast in the large zip lock bag inside a large a bowl. This will help hold the bag and the breast as you pour the brine mixture over the breast. Add 2–3 sprigs of fresh sage.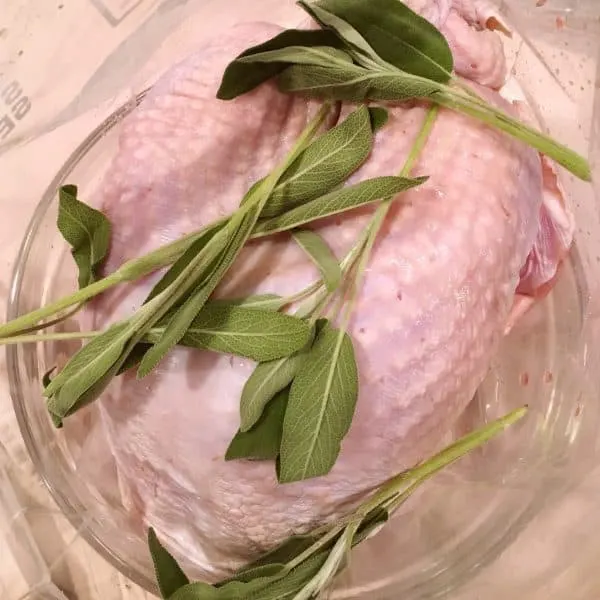 Pour the brine over the Turkey breast. (It helps to have an extra set of hands for this step. If they can hold the bag open while you pour…life will be bliss!)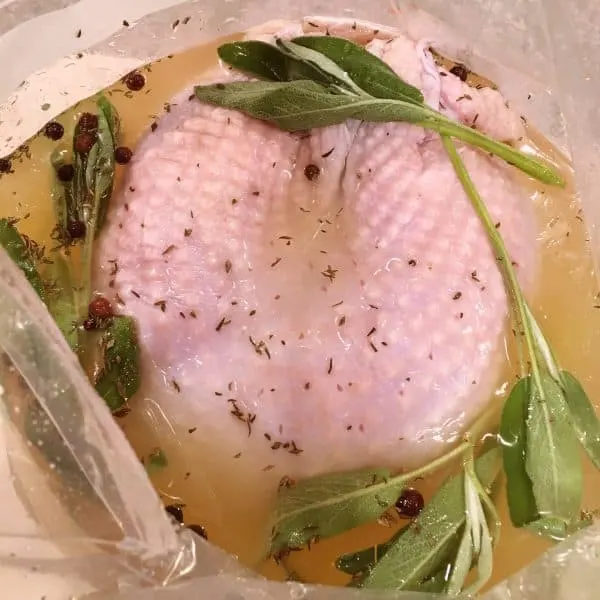 Zip that bag shut and place in the refrigerator for 24 hours. I brined this breast for 48 hours. Only because I had something come up the next day and couldn't get to it. 24 hours is plenty of brine time for a Turkey Breast or a Full Turkey.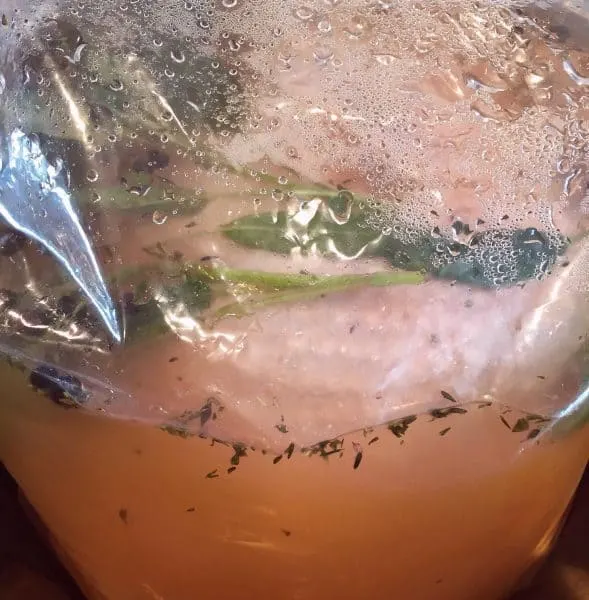 Why Brine? Brining helps to break down the proteins in the muscle tissue and the meat absorbs the moisture and flavors of the brine. It's MAGICAL! (I'm thinking about brining myself! LOL)
You'll feel the weight difference after you have brined your Turkey.
After the Turkey has soaked for 24 hours, remove the Turkey Breast from the brine and rinse. Pat dry.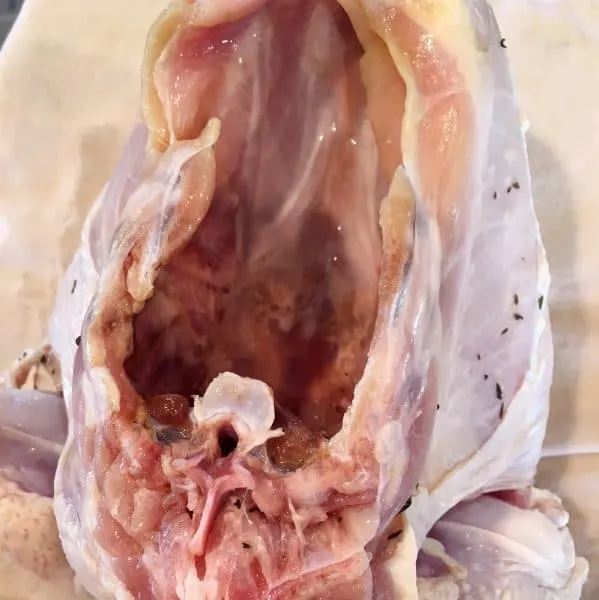 I like to stuff my turkeys. For this Turkey Breast I cheated and used Stove Top stuffing. It worked great for an easier option. Flip Turkey over and stuff the cavity on the underneath side.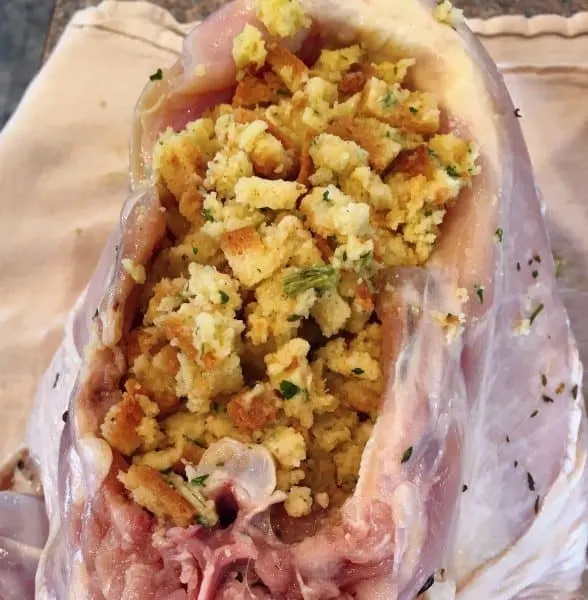 Cover with foil to keep stuffing from falling out. (Nobody wants their stuffing to fall out! Yikes!)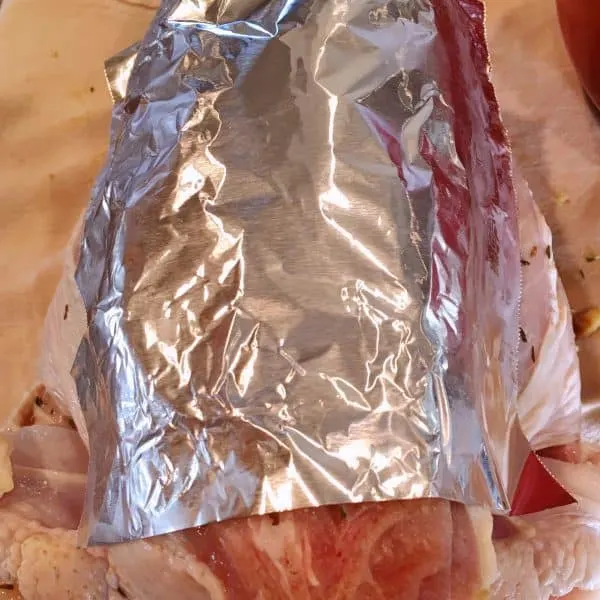 Hold the foil in place and flip that big ol' breast over and place in a roasting pan on top of a roasting rack.
TIP: Scrunch up a big ball of foil and place it underneath where the tail was to hold the back-up even with the top. This will create even golden roasting!
Now it's time for Part 2 of my Excellent Turkey Recipe! What I like to call "My secret sauce"! What it does for the Turkey and the "drippings" is phenomenal!
For this Turkey breast you will melt 1 stick of butter in 1 1/2 cups of white wine in a medium sauce pan.
NOTE: If I am doing a whole turkey I would use a POUND of butter and ONE bottle of wine (the wine is for the Turkey! Not YOU! Lol). Use about half the sauce pan for the cheesecloth and then baste with the remainder during the first hour.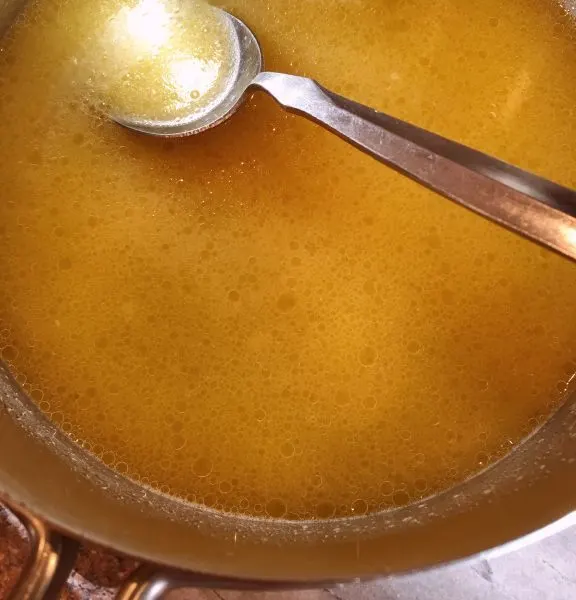 Cover the Turkey Breast with Cheesecloth that has been folded and doubled. And begin to drizzle that wine butter sauce over the cheesecloth.
Originally I would dunk the cheesecloth in the melted butter…but after burning off my fingerprints I decided drizzling was SO much better!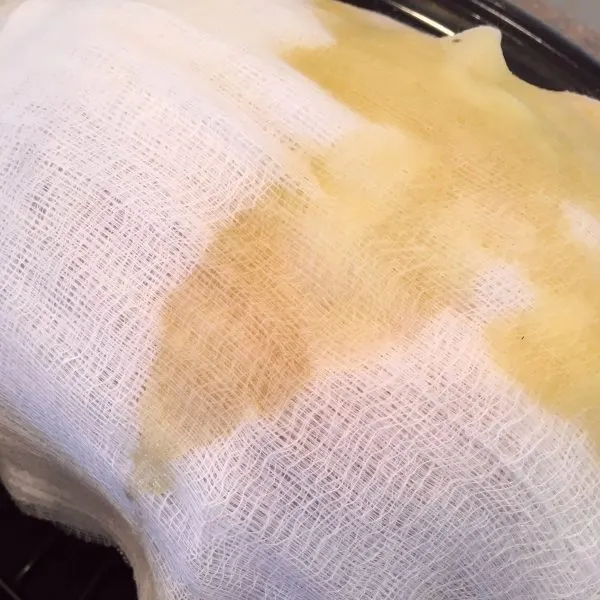 Be sure to completely coat the cheesecloth. Add 2 cups of water to the bottom of the roasting pan. This will prevent the butter from burning off before the meat releases some of its juices. I also add the sage sprigs from the brine mixture to the bottom of the pan.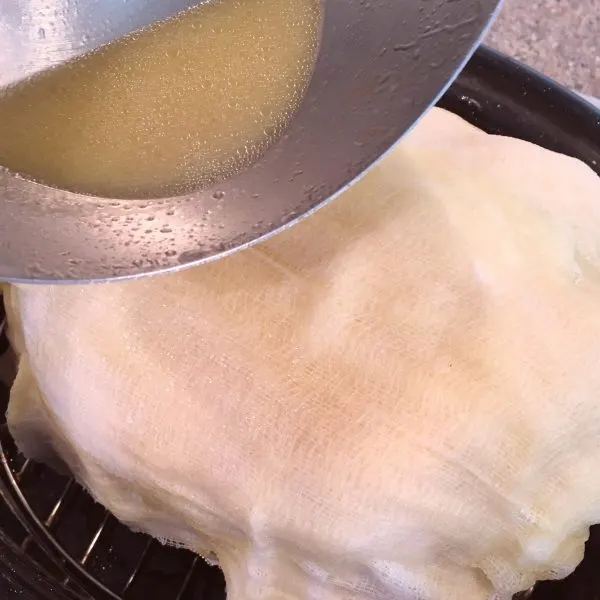 Once covered place in a preheated 350-degree oven. Baste the Turkey every 15 minutes for the first hour of baking.
Baste every 30 minutes for the next 2 and half to 3 hours. Pour the drippings over the top of that cheesecloth.
Why the cheesecloth? Good question! It helps the skin brown evenly and slowly without burning before the Turkey is done. It also holds the flavors of the wine and butter against the skin as the Turkey bakes.
I baked this Turkey Breast for 3 and 1/2 hours. The last 30 minutes carefully remove the cheesecloth after basting. (This will prevent it from sticking as you pull it off.)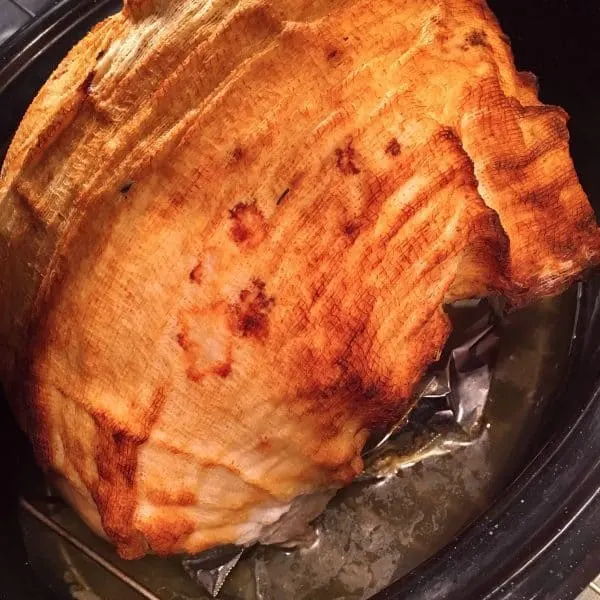 Baste and allow skin to crisp up to the desired color.
The problem with a Turkey Breast is it doesn't want to pose properly for photo's! It just wanted to lay on its side for the photo shoot! Lol Oh well…let the breast "rest" for 10–20 minutes.
Flip him over and remove the stuffing.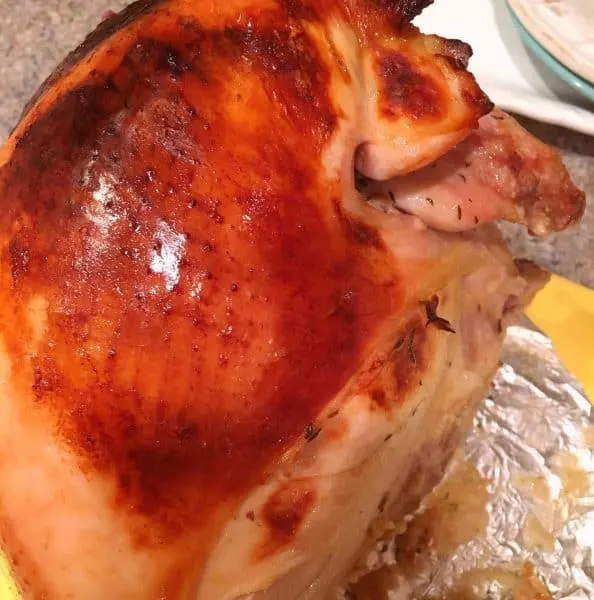 Using a sharp knife, starting down the center, about 1/4 inch off-center and slice down the entire length of the top of the breast. Then slice down and across the bottom of the breast. This should allow you to remove one entire side of the breast and slice it into nice 1/4 inch slices for serving.
I leave carving at the table to Norman Rockwell! Nobody wants to wait for that to take place! Plus it's messy. That's for Hollywood!
NOTE: Be sure the juices are running clear! If you have baked this Turkey breast for 3–4 hours you will be fine. For a Turkey you obviously will need longer cooking times and I recommend meat thermometer for safety.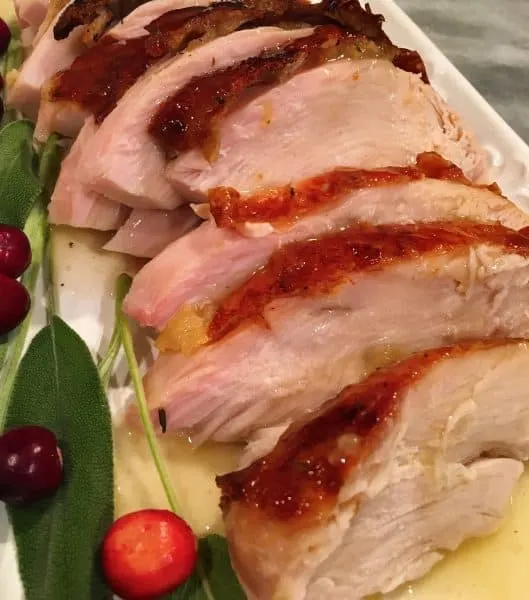 I've been asked if this Turkey is as juicy as it looks in the photo? The answer is a resounding "YES"!
It is so tender and moist you can literally cut it with a fork! The flavor from the brining and the wine butter is ASTOUNDING! Truly the BEST Turkey you will ever have! I don't make that promise lightly friends!
Be sure to use those drippings to make the most incredible gravy you will ever have! There's something about all that butter and wine mixed with the brined turkey juices that creates this luscious savory gravy.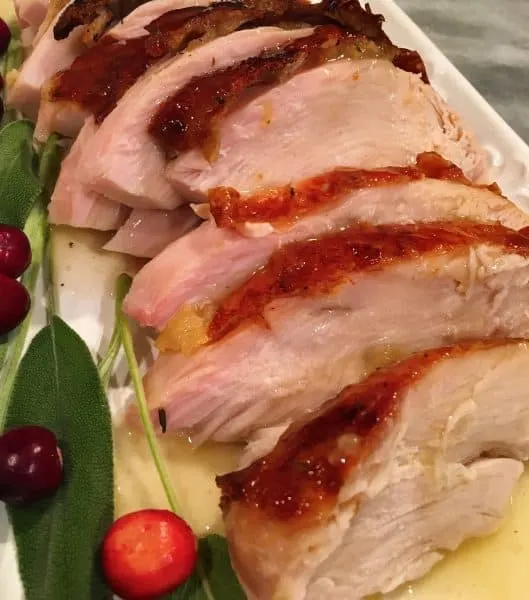 I like to drizzle with a little gravy and garnish with fresh sage and cranberries!
This breast may seem complicated. However, it comes together so quickly. I was amazed. It was a piece of cake…or slice of Turkey?
The perfect dinner! You already have your stuffing. All you need is a small side of mashed potatoes… maybe some fresh steamed green beans, or my Amaretto Glazed Carrots! A Thanksgiving feast worthy of any family dinner table this Holiday Season regardless of the size!
Favorite Turkey Side Dish Recipes
Remember to sign up for my newsletter and to follow me on Instagram, Facebook, Twitter, and Pinterest for more Holiday Yum!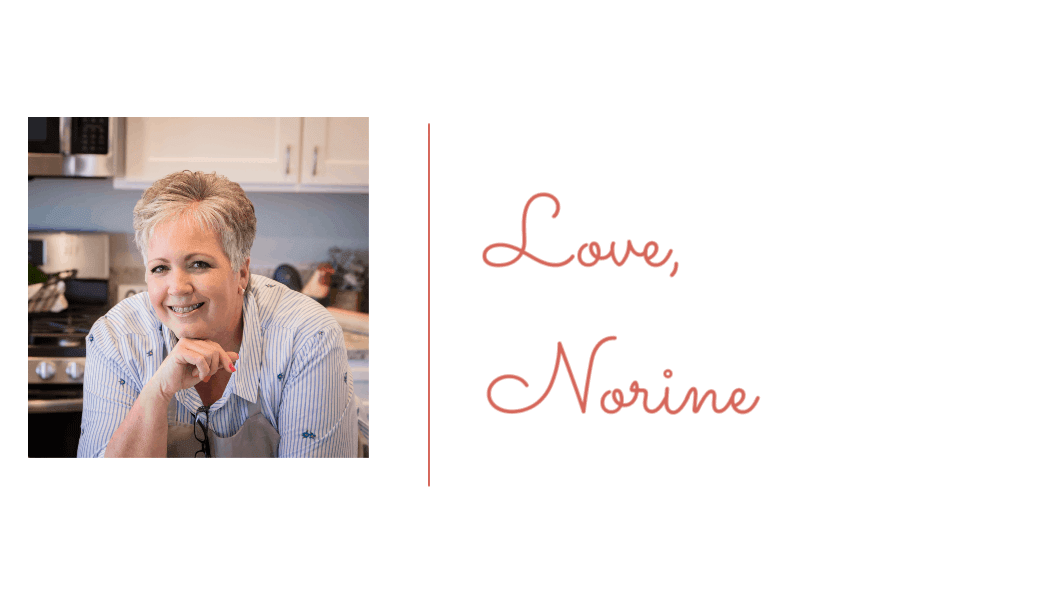 Yield: 10 servings
Brined Turkey Breast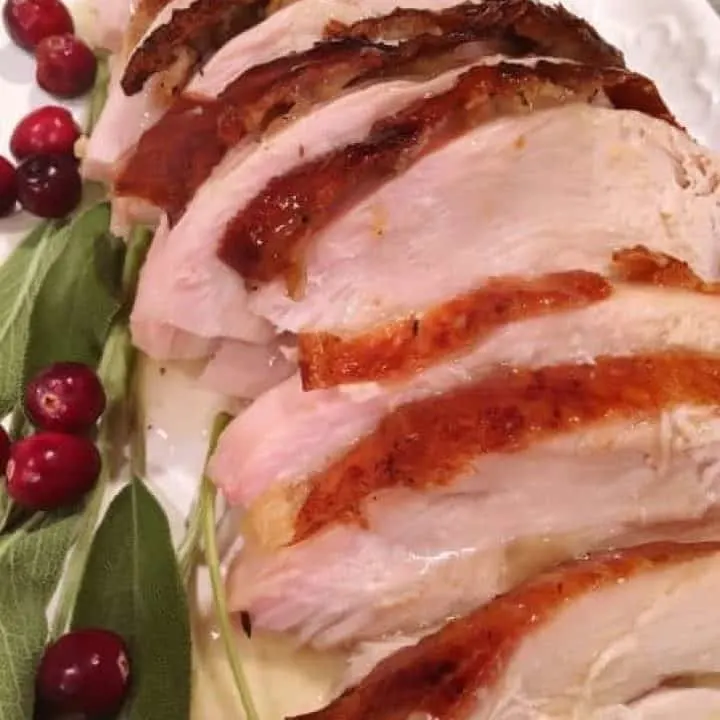 A moist, savory, tender Turkey Breast that can be perfectly adapted for a full size Turkey. This will be the BEST Turkey you have ever had. It may be the brine or it may be that buttery wine basting!
Ingredients
1 Turkey Breast (10-12 pounds) Thawed
1 stick of butter
1 1/2 cups of wine
4 quarts of water
1 cup Kosher Coarse Salt
1 Cup Apple Cider
1 Cup Orange Juice
1 tsp. crushed rosemary
1 tsp. thyme
2-3 sprigs of sage
1 Tablespoons All Spice
2 cups of water
Cheesecloth
Additional sage and cranberries for garnish if desired
Stuffing if desired
Instructions
Brine
In a large pot place 4 quarts of water and 1 cup of Kosher Rock Salt. Place over high heat. Bring to a boil and boil for 15- 20 minutes until salt is dissolved.
Add 1 Cup Apple Cider, 1 Cup Orange Juice, 1 tsp. crushed rosemary, 1 tsp. thyme, 1 Tablespoon All Spice.
Stir.
Cool Completely.
Turkey
Remove innards and gravy packet from Turkey Breast. Rinse and pat dry. Place an Extra Large Zip Lock bag inside a large bowl. Place Turkey Breast inside Zip Lock bag. Add 2-3 sprigs of Sage on top of breast. Carefully pour cooled brine over Turkey. Zip up bag.
Place in refrigerator to "brine" for 24-48 hours.
Remove Turkey Breast from Brine. Rinse and Pat Dry. Stuff empty breast cavity with stuffing if desired. Cover opening with a small piece of foil if stuffing.
Preheat Oven to 350°
Holding foil in place, flip breast over and place on roasting rack in the roasting pan.
Scrunch up a piece of foil into a ball and place under the "rear" of the Turkey breast to make level with "neck" or top of Turkey breast.
Cover Turkey Breast with doubled cheesecloth, making sure entire breast is covered.
Butter Wine Baste
In a medium sauce pan over medium heat place 1 stick of butter. Add 1 1/2 cups of white wine. Stir until butter is melted.
Drizzle over cheesecloth making sure the entire cloth is coated in butter wine mixture.
Add 2 cups of water and the sage from the brine in the bottom of the roasting pan.
Place Turkey in preheated oven.
Baste every 15 minutes for the 1st hour. Then baste every 30 minutes for the next 2 and a 1/2 to 3 hours.
Last 30 minutes remove cheesecloth. Baste again. Leave in oven until skin is golden and crispy.
Remove Turkey Breast from oven. Allow to rest 10-20 minutes.
Slice Turkey Breast and serve on serving platter. Garnish with fresh sage and cranberries and drizzle with gravy.