Creamy Sweet Potatoes sprinkled with crunchy caramelized brown sugar and chopped pecan topping… combine to create this amazing fluffy sweet potato soufflè! It's the perfect Holiday Side Dish!
Last year my cousin shared her family recipe for Sweet Potato Soufflè! I've always made "Candied Yams" for our Thanksgiving dinner and they're a favorite at this Nest.
*As an Amazon Associate I earn from qualifying purchases. This post may contain affiliate links, which means that I may make a commission from any purchases at no additional cost to you. Thank you for your support!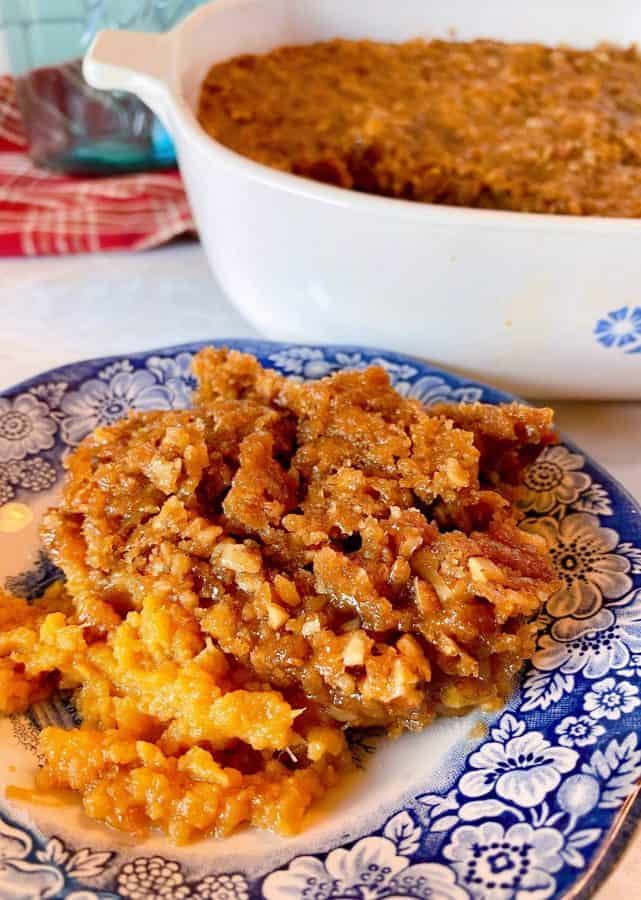 Lots of butter, brown sugar, marshmallows and low cooking with intermittent stirring create the perfect candied yam, so I saw no need to try something new.
Boy was I wrong! When it comes to food…always keep an open mind! If not, you never know what you might be missing out on. I decided to dust off that recipe I received last year and give it a go. I wanted to know if it should make "The List" for this year's Holiday Menu.
I love how easy this recipe is to prepare. It reminds me of a crust-less Sweet Potato Pie! I know you'll love it as much as I do. Let's stop gabbing and get to cooking!
How To Make Easy Sweet Potato Pecan Casserole
You can use either fresh baked sweet potatoes or yams. You can also use canned! I'm all about keeping things simple when it comes to the Holiday side dishes, so I use canned sweet potatoes in this recipe.
Start off by draining 2 large cans of sweet potatoes. In a large bowl mash them with potato masher or a hand mixer. You'll need 3 cups of prepared sweet potatoes or yams.
TIP: Use caution when using a hand mixer! You don't want to shoot sweet potatoes all over yourself and the kitchen! (Every mother, worth her salt, knows the joy of wearing sweet potatoes! Sometimes it's an impromptu facial… others a new design look for her white blouse! Ya never know what you're gonna get!)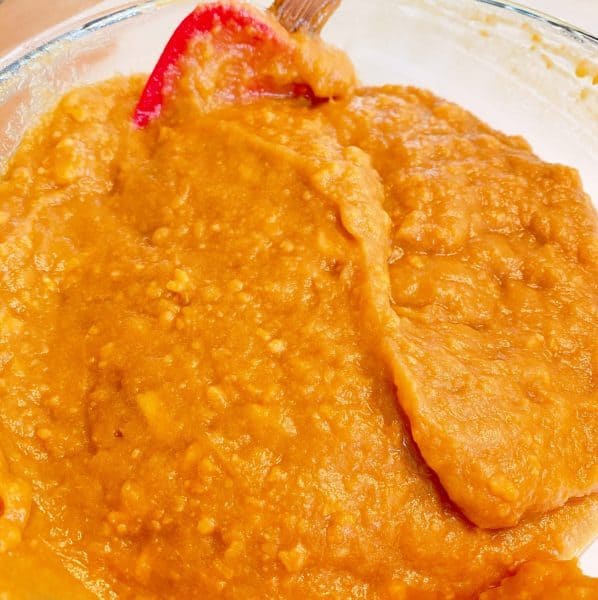 Add 1/2 cup melted butter, 1 cup packed brown sugar, 1 teaspoon vanilla, and 2 eggs.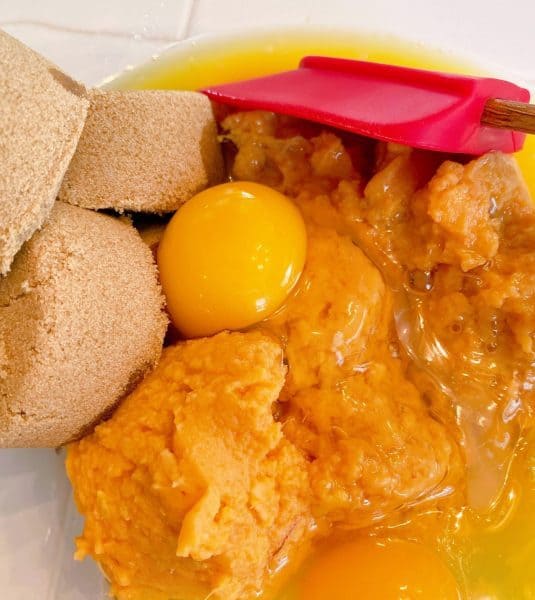 Mix until well combined. The mixture will be slightly lumpy. That's okay. Just try to get it as smooth as you can. Pour Sweet Potato mixture into a greased 9 x 13 casserole dish or equivalent. Spread evenly around the prepared baking dish.
Pre-baking Sweet Potato Casserole
Preheat oven to 350°. Place casserole into oven and bake for 15 minutes, or longer, while mixing topping.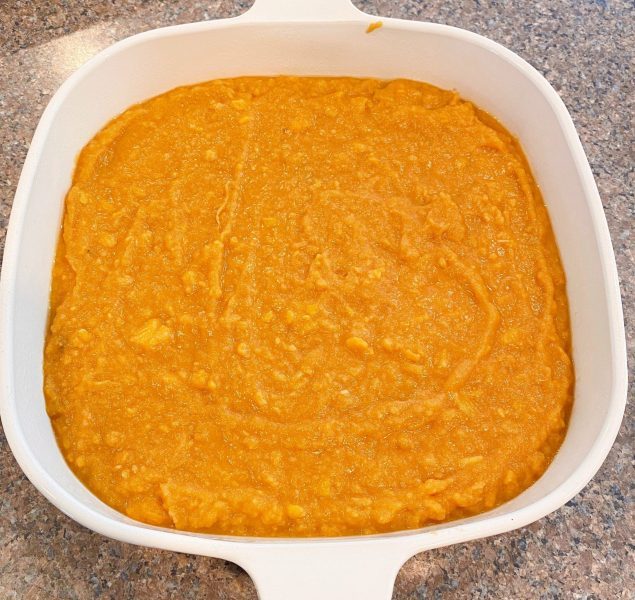 Pecan Brown Sugar Crunch Topping
In a small bowl combine 1/3 cup chilled butter, cut into small pieces. (You just have to love a dish with multiple butter components! It's like the food fairies are blessing the dish!) I think every Sweet Potato Recipe owes its popularity to brown sugar and butter. Add 1 cup packed brown sugar, 1/3 cup flour, and 1 cup chopped pecans.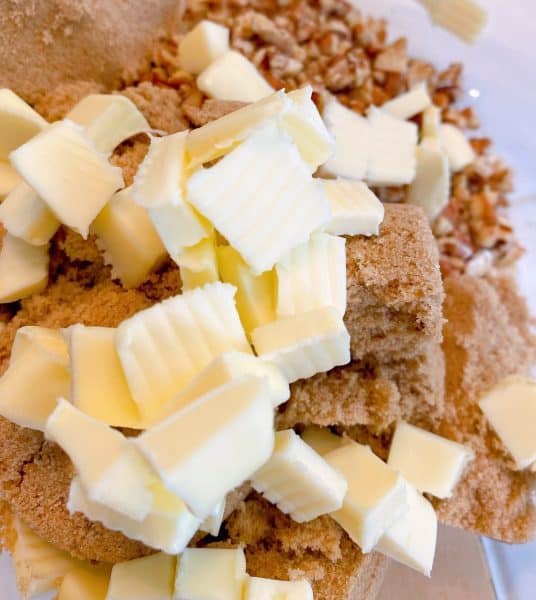 Using a fork, or your hands, combine the crumb topping ingredients. What can I say…I'm kind of a "dig in there" and "get'er done" gal. I love to mix the crumb topping with my fingers. I think it produces the perfect pea size crumb. Please know that you can use a fork and achieve the same results.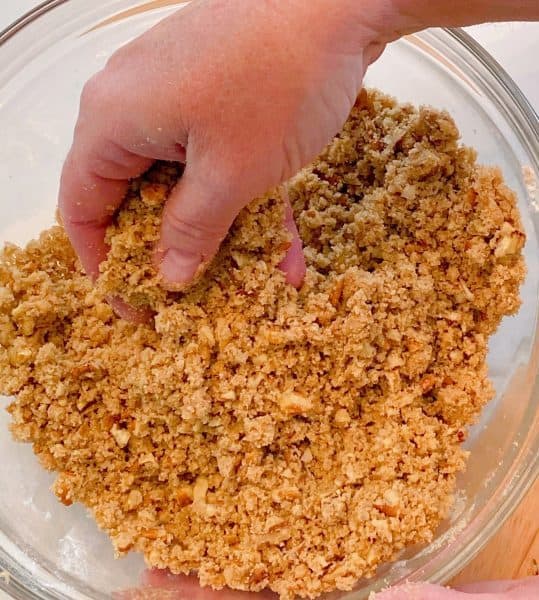 Time to add that topping! Carefully, using hot pads, slide the sweet potato casserole out of the oven. Sprinkle the pecan crumb topping all over the top of the sweet potatoes going right to the edges of the baking dish. Make sure not to touch the sides of the dish! It's HOT! So again…be careful.
Finishing Bake for Sweet Potato Casserole
Slide the casserole back into the oven and bake for an additional 35-40 minutes. When it's done, it won't jiggle…can't say the same for me after I've eaten it…but when it pops out of the oven it should be slightly firm.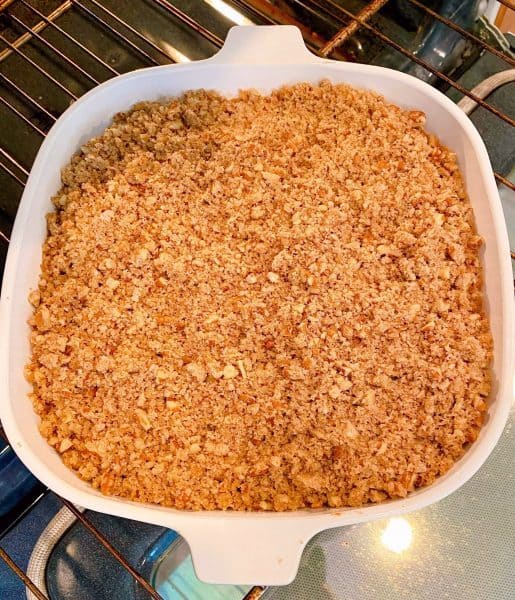 Remove casserole from the oven. Now it's time for the most important part of this recipe…You must stand there and ogle that crispy crunchy topping! It's pure perfection! Be impressed with yourself. You made THAT!
Honestly this casserole smells SO good! It's like Fall in a dish! It smells like caramel, and pie, and toasted nuts, and spices. It's heavenly! The air will radiate all the smells of Fall.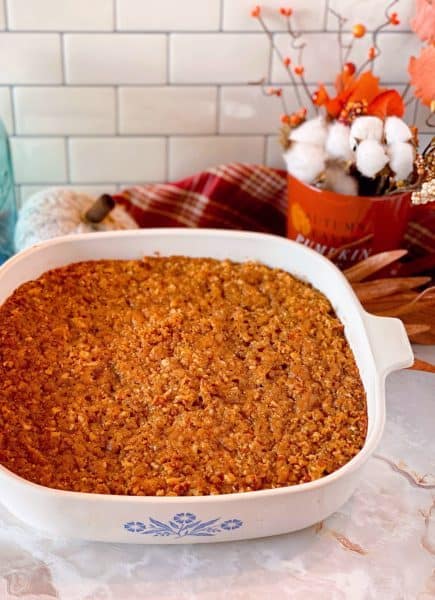 My cousin, who shared this recipe with me, insisted that I rename this dish. It was originally called "Sweet Potato Soufflè". She told me that it was a dumb name for a decidedly not soufflè dish.
So with her wishes in mind, I renamed it Sweet Potato Pecan Casserole. Honestly I don't care what we call it…as long as we call it "YUMMY"!!
What I love about this dish, besides the incredible flavors, are the different textures and how they blend so beautifully in this dish. The creamy flavor filled sweet potatoes and the crunchy pecan brown sugar topping create the perfect dish for your Holiday table!
You could certainly kick this dish up by adding a touch of spice to it. Allspice or nutmeg would be wonderful in this dish, as well as my Fall favorite Cardamon!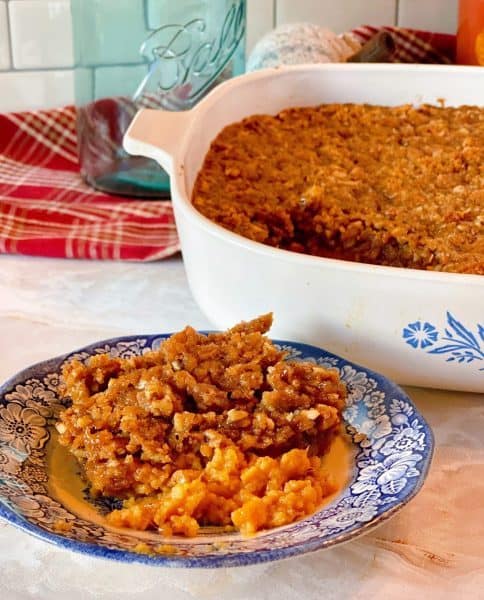 I'm so glad my cousin shared this family favorite with me. I can't wait to make this recipe for our Thanksgiving meal. It is a scrumptious side dish that your family will love as well.
Tips for making Sweet Potato Casserole
You can make this recipe with Sweet Potatoes, Yams, or Pumpkin.
It can be prepared ahead of time. The base of this casserole, the sweet potatoes, can be made and placed in a a prepared casserole dish. Stored 2-3 days before hand in the refrigerator, or you can freeze it up to a month before hand. Then you can make the crumb topping the day you want to bake it.
If freezing this casserole make sure you adjust the bake time…or thaw it before baking. I recommend thawing it first so that you don't have to adjust the bake times.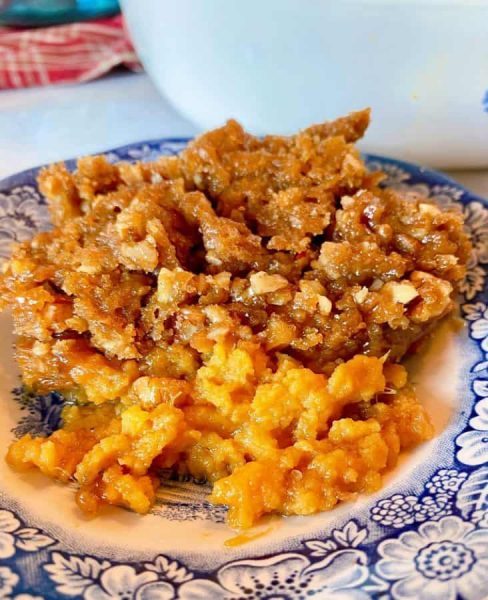 Here are a few of my other favorite Holiday Side Dish Recipes
I hope you'll serve this delicious, easy to prepare, side dish with your Thanksgiving and Holiday meals! I think even your non-sweet potato guests will love this recipe! What's not to love about a pecan candied topped dish!
As always, thanks so much for stopping by! I hope you'll come back again soon! You can always find me on Pinterest, Facebook, and Instagram where I share my favorite recipes every day.
Happy Nesting!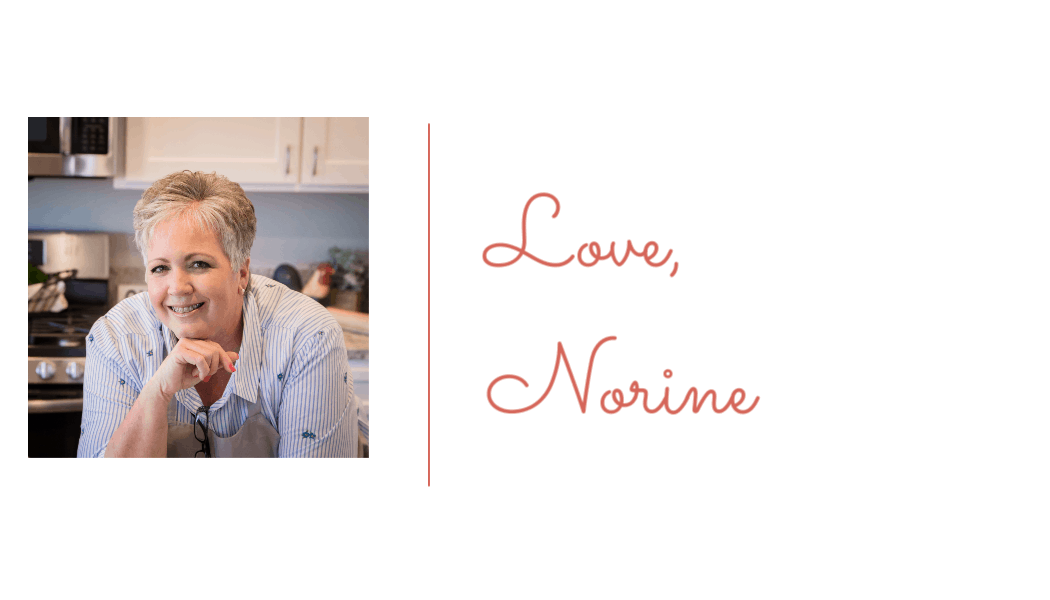 Yield: 12 servings
Sweet Potato Pecan Casserole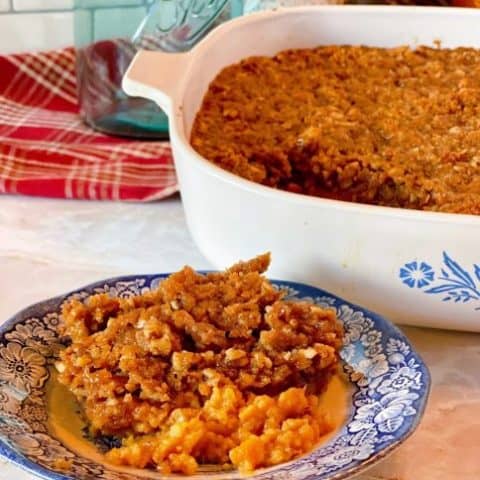 Creamy Sweet Potatoes are sprinkled with crunchy caramelized brown sugar and chopped pecan topping combine to create this amazing fluffy sweet potato soufflè! It's the perfect Holiday Side Dish!
Total Time
1 hour
15 minutes
Ingredients
3 cups mashed sweet potatoes or yams
1/2 cup melted butter
1 cup packed brown sugar
1 teaspoon vanilla
2 eggs
Crumb Topping
1/3 cup chilled butter, cut in small pieces
1/3 cup flour
1 Cup brown sugar
1 Cup chopped pecans
Instructions
1. Preheat oven to 350°
2. Prepare a 9 x 13 pan by spraying it with non-stick cooking spray.
3. Mix first five ingredients together in a large bowl until well combined and smooth.
4. Bake at 350° degrees for 15 minutes or a little longer while you mix the crumb topping.
5. In a small bowl combine chilled butter, flour, brown sugar, and chopped pecans until a small pea size crumb forms.
6. Carefully remove casserole from the oven and sprinkle crumb topping over the top. Bake for an additional 35-40 minutes until casserole is firm and no longer jiggles. Remove and serve.
Nutrition Information:
Yield:
12 servings
Serving Size:
1 Cup
Amount Per Serving:
Calories:

422
Total Fat:

24g
Saturated Fat:

11g
Trans Fat:

1g
Unsaturated Fat:

11g
Cholesterol:

76mg
Sodium:

168mg
Carbohydrates:

51g
Fiber:

2g
Sugar:

38g
Protein:

3g