Big fluffy moist Carrot Cake Mix Cinnamon Rolls with a luscious coconut pineapple pecan filling and topped with a rich smooth cream cheese frosting and toasted pecans! A quick, delicious, and easy recipe thanks to a boxed carrot cake mix.
What happens when I'm walking through the baking aisle at the grocery store and spy a carrot cake mix? Well I think cinnamon rolls of course!
*As an Amazon Associate I earn from qualifying purchases. This post may contain affiliate links, which means that I may make a commission from any purchases at no additional cost to you. Thank you for your support!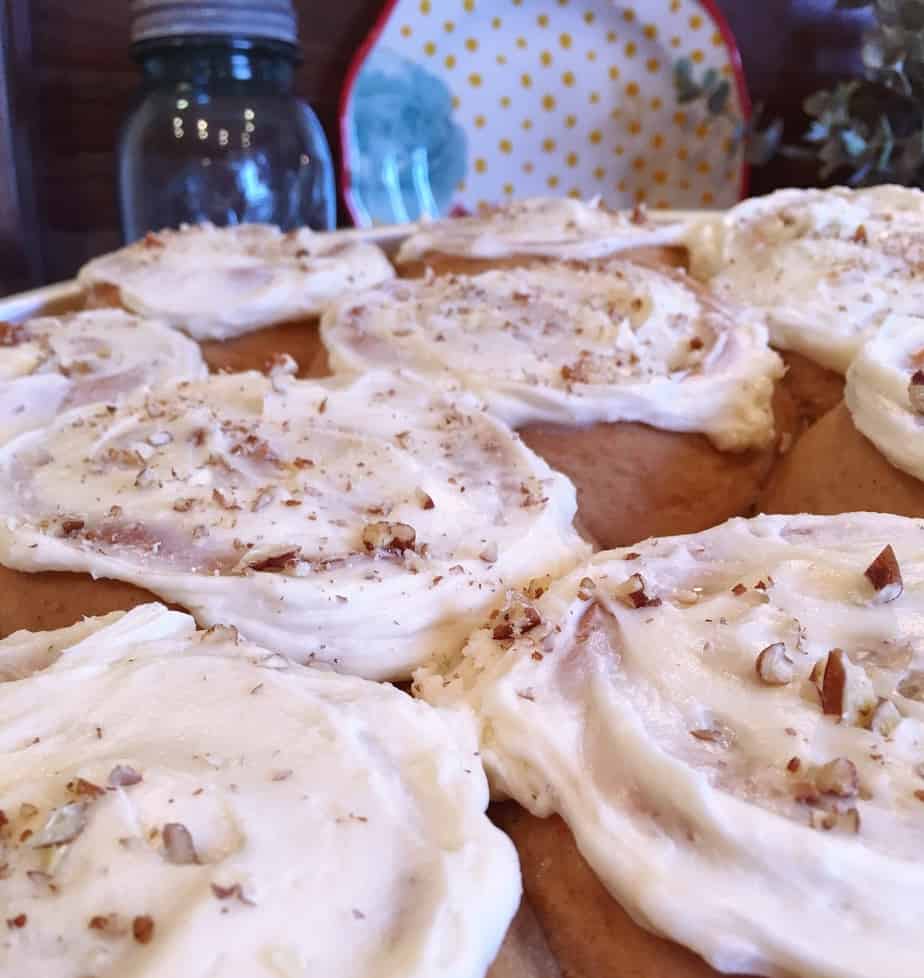 Don't you? Oh sure, you might think "Carrot cake sounds yummy!" Can't imagine why you'd think that though…I mean cake mix is for cinnamon rolls! (wink, wink)
I know! It sounds crazy, but cake mix cinnamon rolls is a favorite recipe at this nest! They are quick, easy, and SO big and fluffy! Pure heaven! You must give them a try!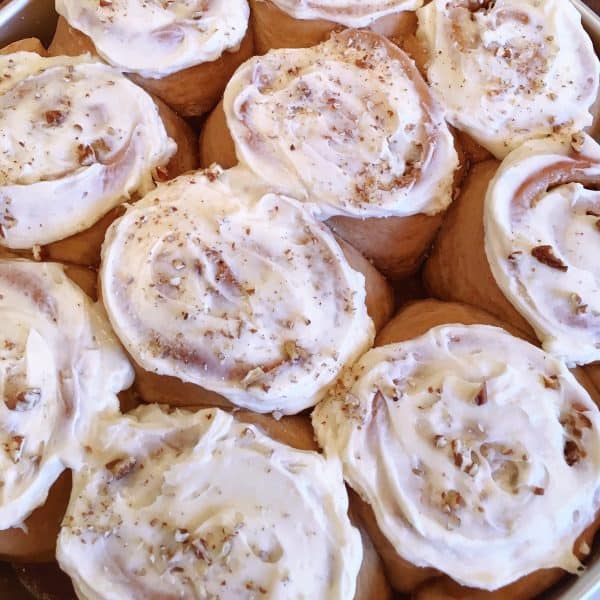 Once I discovered the joy of cake mix cinnamon rolls I knew I had to try other flavors of cake mix! Spring seemed the perfect time to try my hand at Carrot Cake Cinnamon Rolls! (Okay I'll admit it! I wanted cinnamon rolls and this seemed like a really good excuse! Y'all can't blame a girl for having cravings!)
This recipe combines the delicious flavors of carrot cake and cinnamon rolls in one delightful taste treat!
How To Make Carrot Cake Cinnamon Rolls
In the bowl of your mixer, using the dough hook, combine 1 Super Moist Carrot Mix with 2 packages of yeast, 1 teaspoon salt, 1/2 teaspoon cinnamon, and 2 cups of flour. Mix well.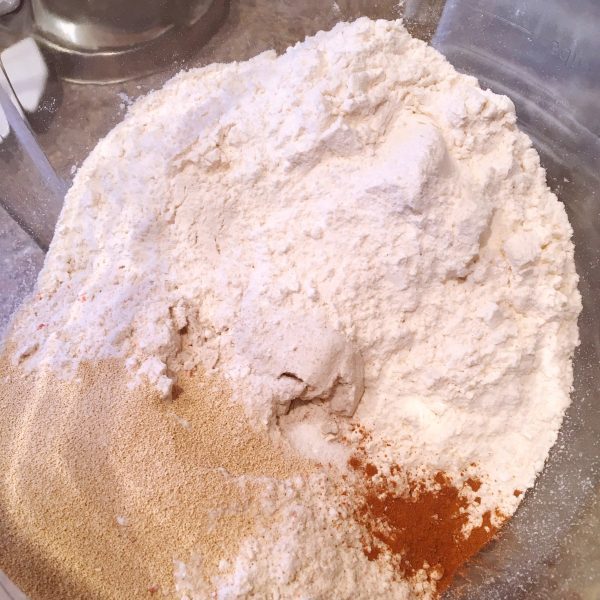 Slowly add 2 1/4 cups hot water while mixing on low-speed. (There's my beautiful Kitchen Aid 100th Anniversary Edition Mixer…Bluebell. I love her!)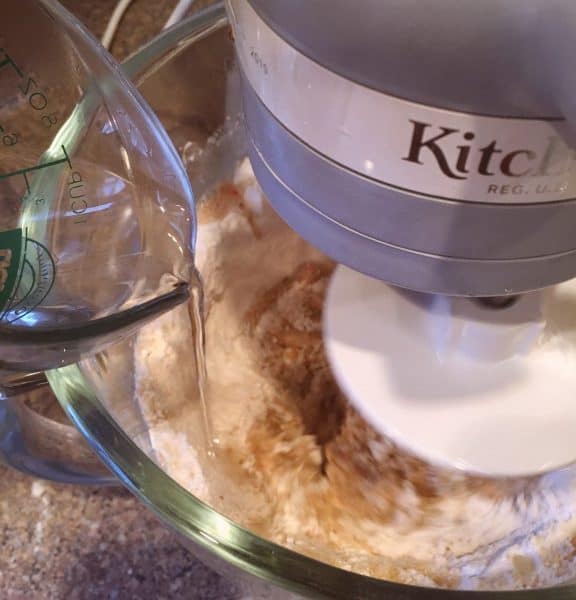 The dough will be sticky. That's perfect! Now add three additional cups of flour.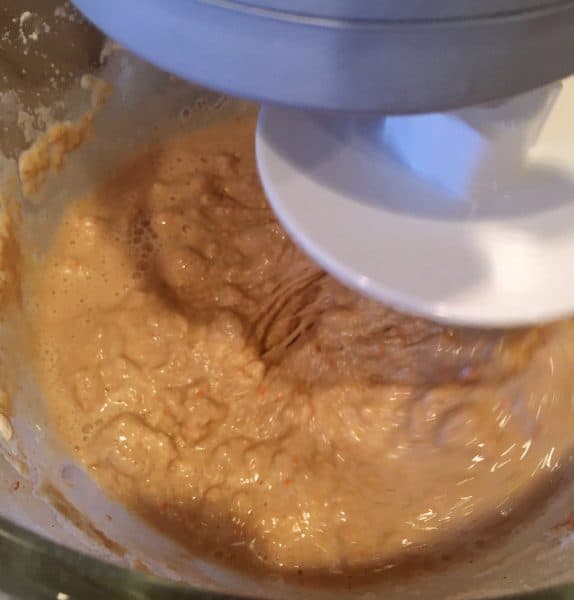 Allow mixer to continue to knead the dough until it pulls away from the sides and forms a ball around the dough hook. (That dough should cling to the hook like a toddler to your leg when you've got a million things to do! Its like leeches!)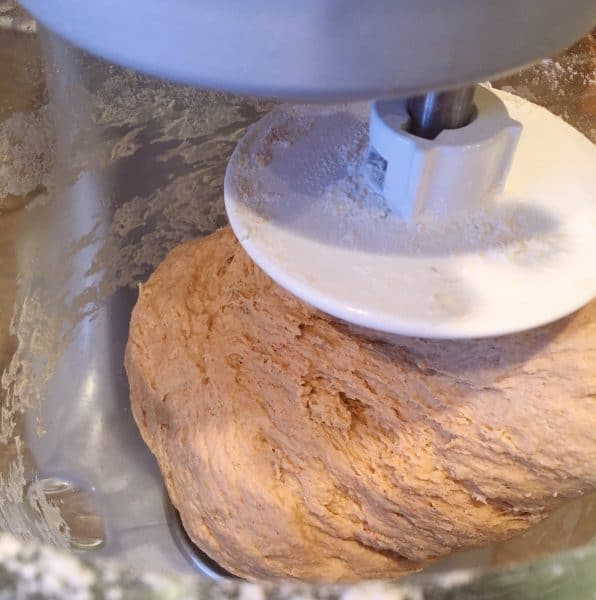 Remove dough from hook and place on a well floured surface. (I like to use my cutting board or dough disc). Gently knead the dough, 4-5 times, to form a ball.
Note: You can find a link to my favorite dough disc in the recipe card below. It's one of my very favorite kitchen tools and I use it weekly!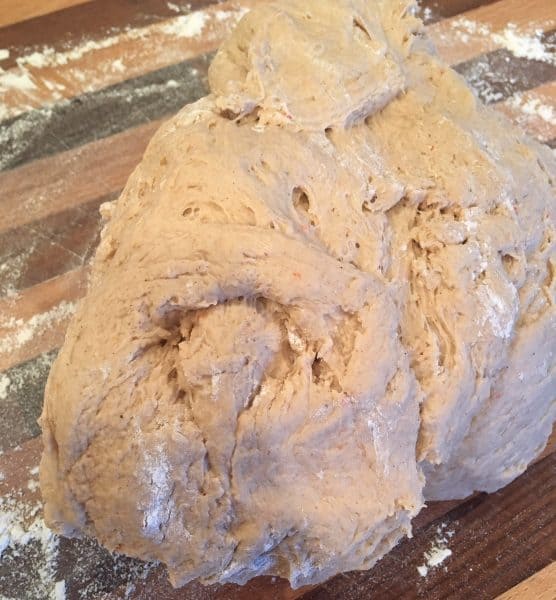 Place in a greased bowl, turning once to grease the top.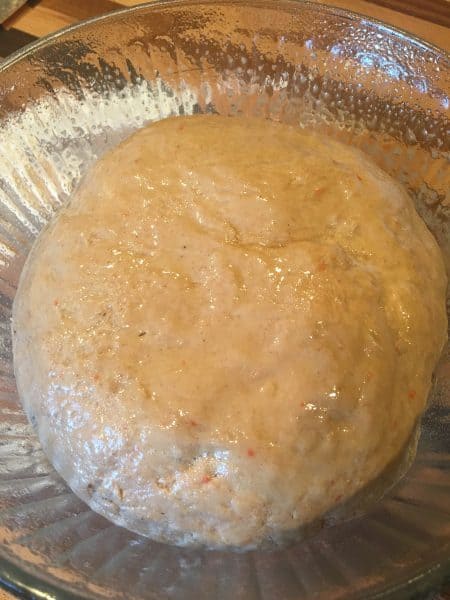 Cover and let rise until double in size, in a warm, draft free place. I like to set mine on top of my stove top. The heat from the pilot light creates the perfect temperatures for the dough to rise and double in size.
Evidently I've been sitting in greased bowls on stove tops for a while now…cause I certainly have doubled in size! I need to watch this! The really strange thing is it happens while I'm sleeping!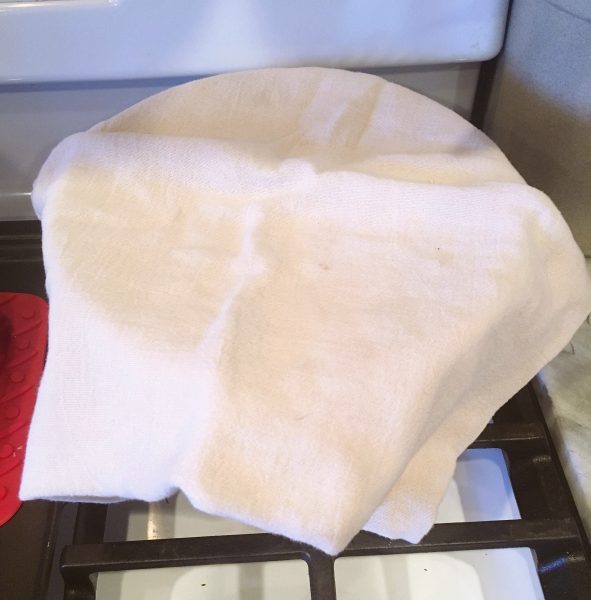 How To Make Coconut Pineapple Pecan Carrot Cake Mix Cinnamon Roll Filling
This filling is made with a brown sugar and melted butter base with coconut, pineapple, and pecans.
TIP: If you'd prefer an easier alternative you can use purchased coconut pecan frosting and add 1/2 cup crushed pineapple.
In a medium sauce pan, over medium heat, melt 1/2 cup of butter. Add 1/2 cup packed brown sugar. Mix well and bring to a low simmer.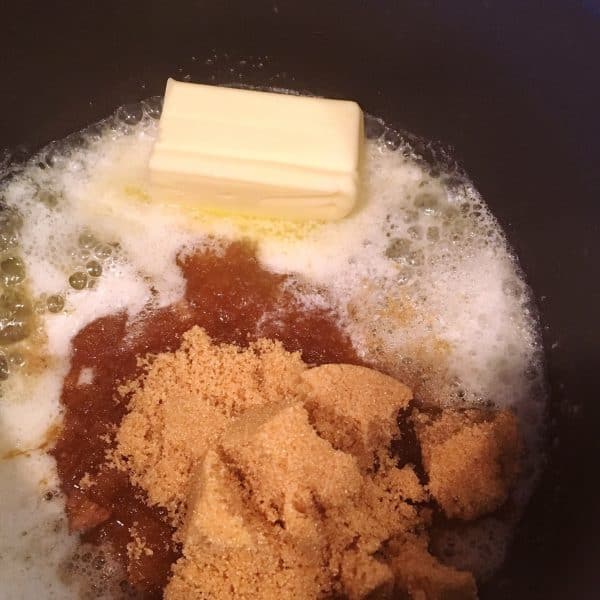 Add 1/2 cup drained crushed pineapple and 1/2 cup flaked coconut. Stir until well combined. Continue cooking until sugar has dissolved and mixture has thickened.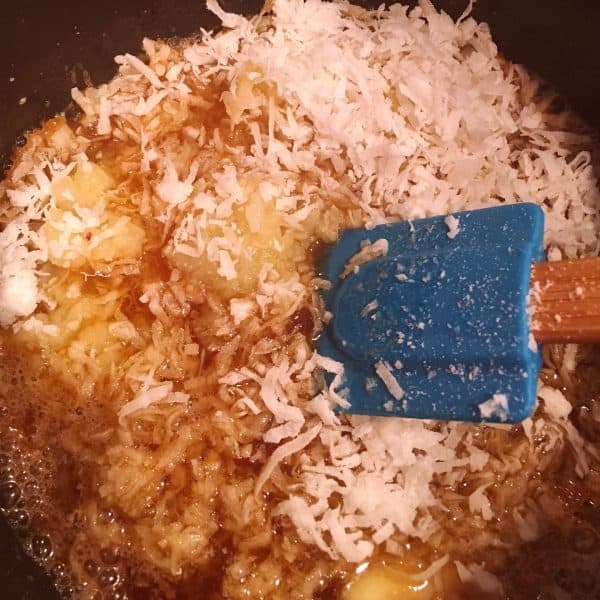 Add 1/2 cup chopped pecans. Stirring constantly while mixture simmer's.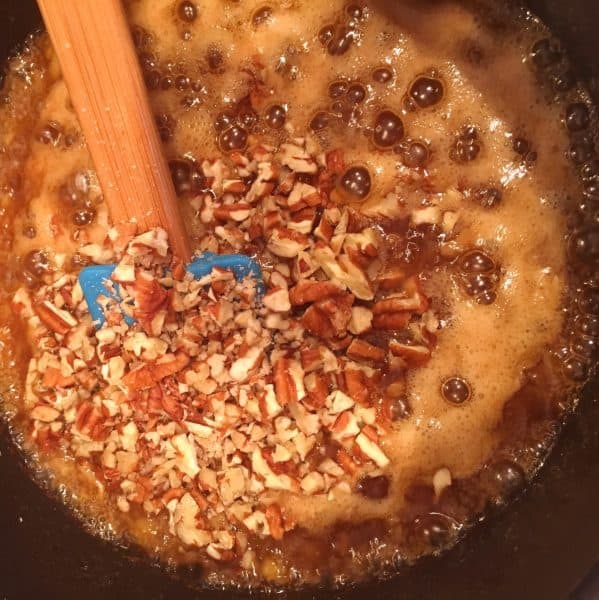 Turn off heat and allow mixture to sit until ready to use.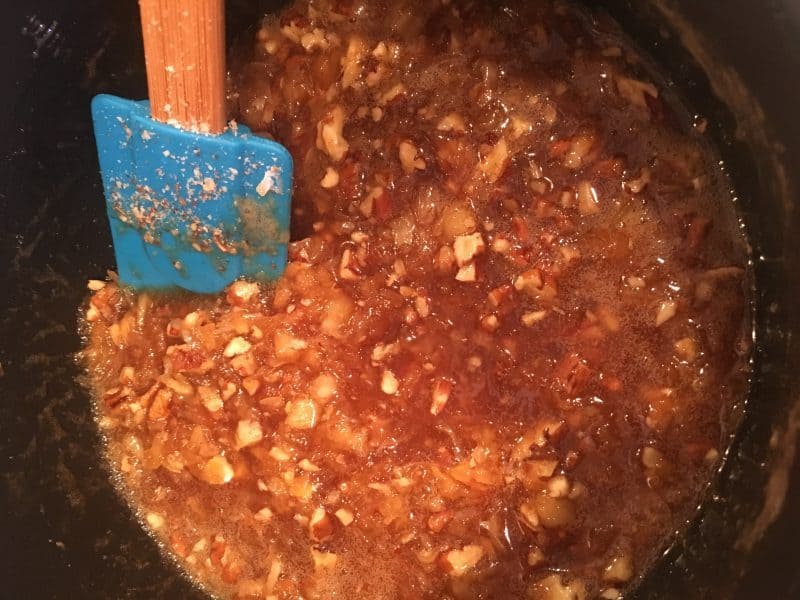 Preparing Carrot Cake Mix Cinnamon Rolls
Remove cloth from raised carrot cake cinnamon roll dough
. Make a fist, pull back that arm, think of that person that drives you nuts and…Punch the dough in the face I mean, punch the dough down. (Therapy and cinnamon roll making all rolled into one! You're Welcome!)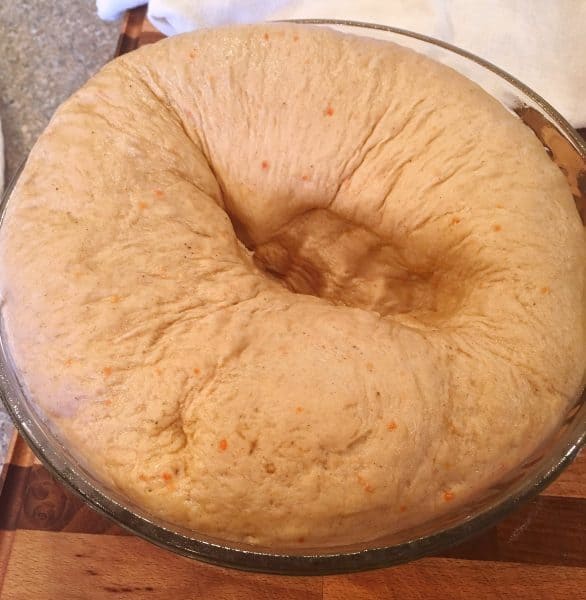 On a flour surface roll carrot cake mix dough into a large rectangle.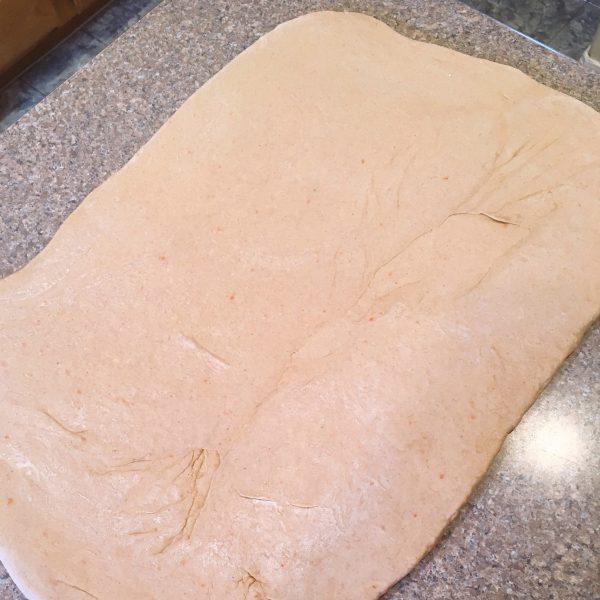 Spread the golden fruity nut filling from edge to edge making sure to cover as much of the dough as possible.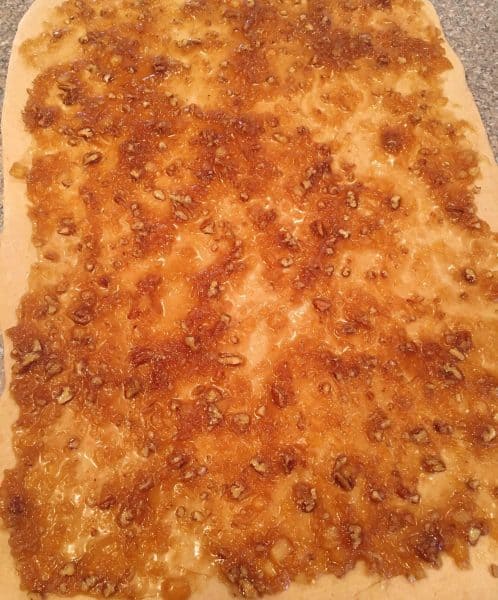 Beginning at the long edge of one side begin rolling dough into a long log.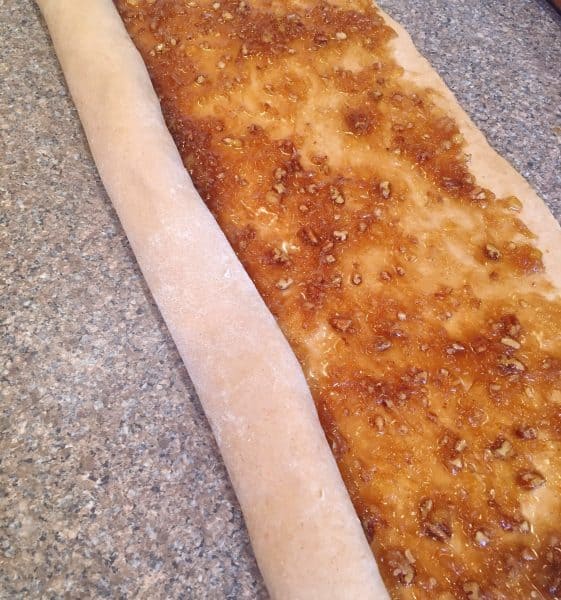 Cut dough into 1 1/2 inch slices. Place rolls in a baking pan sprayed with non-stick cooking spray. Leave space between the rolls so they can rise again.
This is all about the fluff my friends…in order to fluff…ya gotta rise and shine!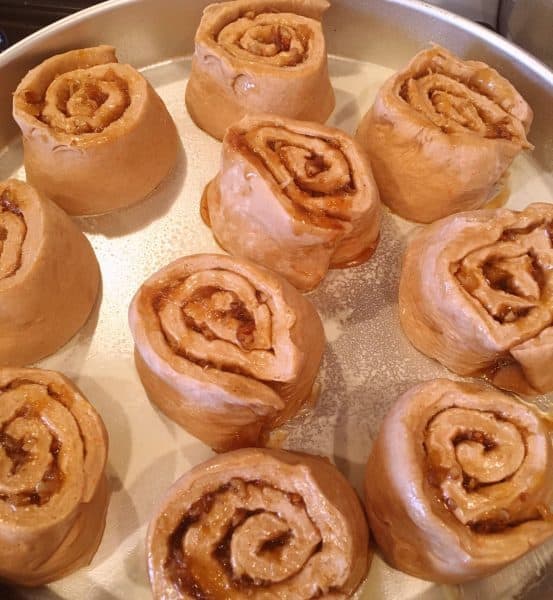 Allow rolls to double in size. They're looking perfect!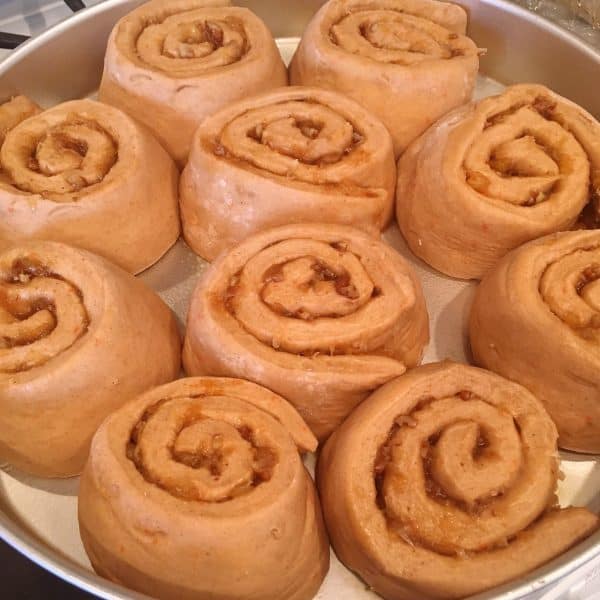 Preheat oven to 350°. Bake rolls for 20-22 minutes. Rolls should be golden brown around the edges with the filling slightly bubbling from the center of each roll.
More importantly… your entire house should smell just like heaven. (I'm convinced heaven is going to smell like cinnamon rolls and chocolate…with fountains of Dr Pepper running through it's valley's!)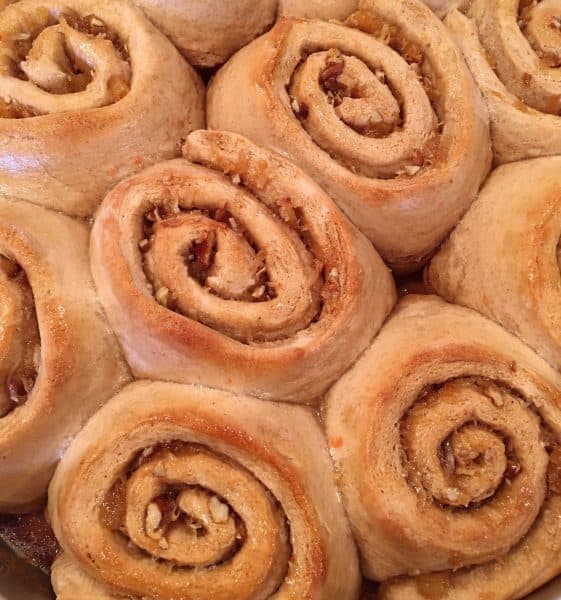 Allow rolls to slightly cool. As rolls are cooling make Cream Cheese Frosting.
Cream Cheese Frosting is the perfect topping. Again if you want to take a short cut you can use canned cream cheese frosting.
If you'd like to make it from scratch you'll need 2 ounces of cream cheese, softened, 7 tablespoons of butter, softened, 1/2 teaspoon vanilla extract, 1 1/2 cups powder sugar, 2 tablespoons milk and 1/4 teaspoon salt.
Beat together cream cheese and butter with an electric mixer in a large bowl, until creamy. Add vanilla, milk, powder sugar, and salt. Continue mixing until well combined, smooth and creamy.
Spread Cream Cheese frosting on top of Carrot Cake Mix Cinnamon Rolls and top with toasted chopped pecans. Aren't they pretty! Ya gotta have pretty rolls if you're going to make cinnamon rolls!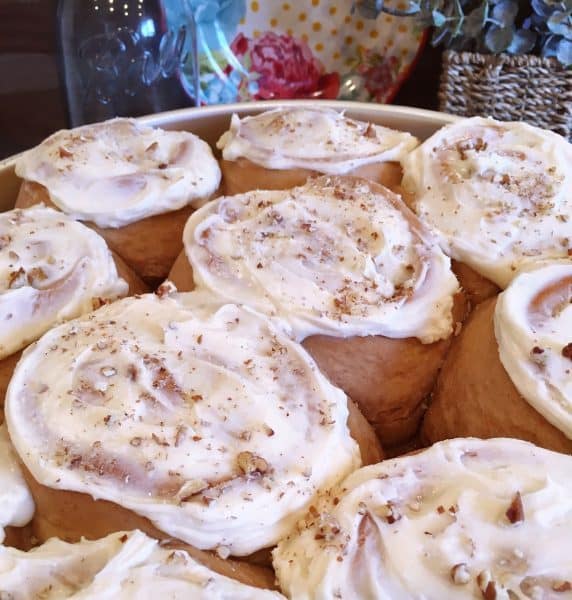 Big and fluffy with the subtle hint of carrot cake. Each moist layer pulls back to reveal that gooey nutty luscious filling!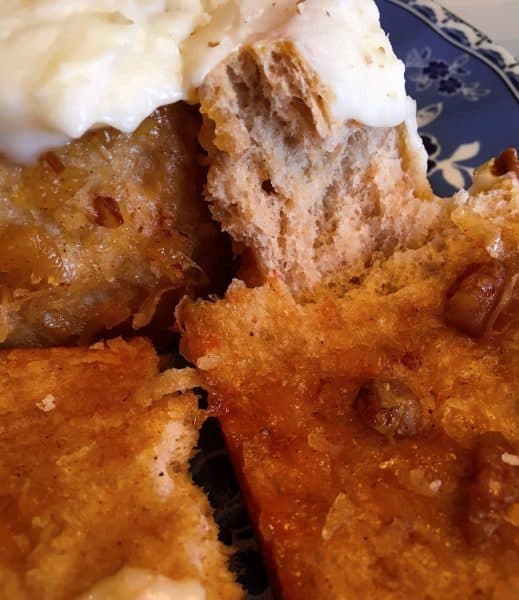 This recipe makes the biggest and best cinnamon rolls I've ever seen! They're as big as the palm of your hand!
What makes them even better? How tender each roll is with warm spices and caramel fruit filling in each flavor filled bite! The smooth cream cheese frosting is just…well…the icing on top!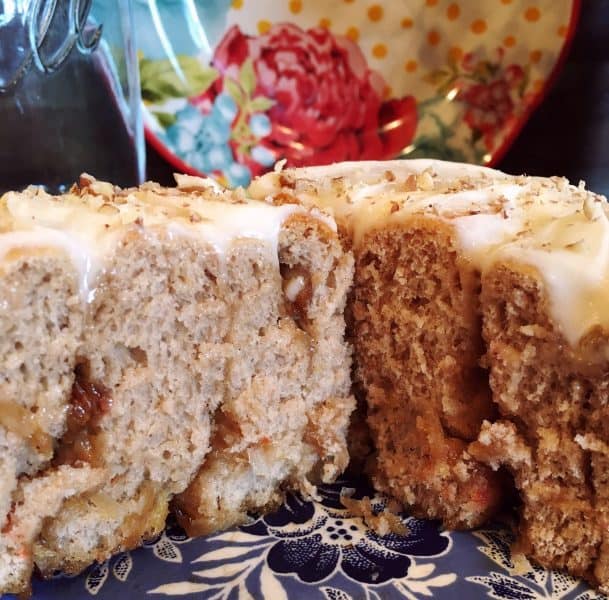 A wonderful spring time breakfast treat all the birds at your Nest will enjoy!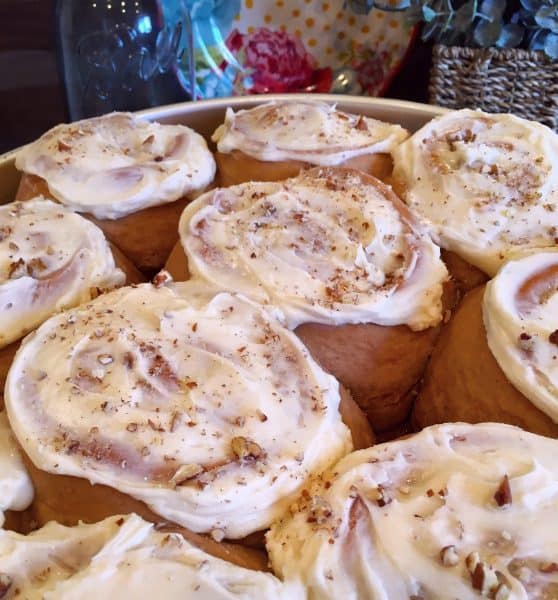 If you enjoyed this recipe here are a few other Family Breakfast Favorite Recipes
Thanks for stopping by! I'd love to have you follow me on Pinterest, Facebook, and Instagram where I share all of my favorite recipes every day!
Happy Nesting!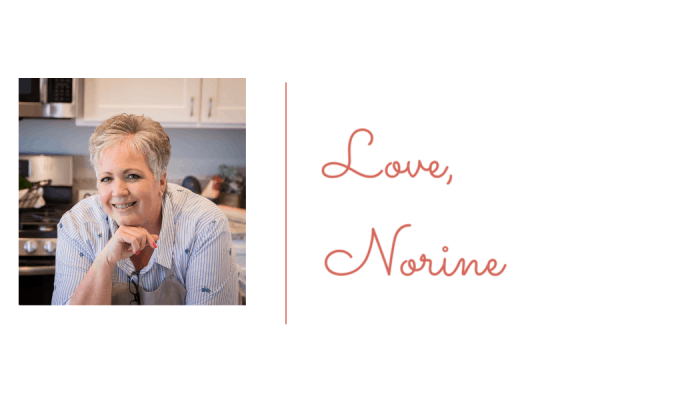 Yield: 18 rolls
Carrot Cake Mix Cinnamon Rolls With Cream Cheese Frosting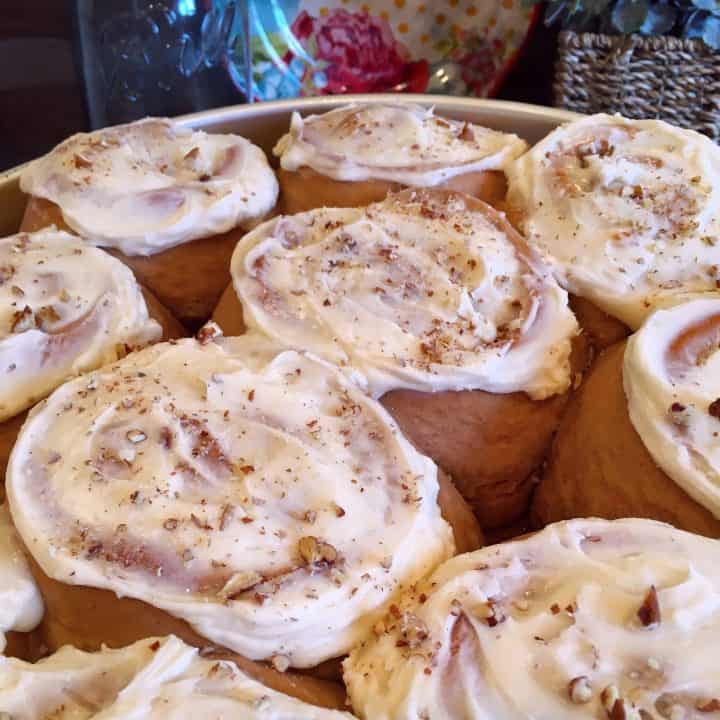 Carrot Cake Mix Cinnamon Rolls made with boxed cake mix and filled with a brown sugar and butter coconut pineapple pecan filling and topped off with a rich sweet cream cheese frosting.
Total Time
1 hour
45 minutes
Ingredients
1 - 15.25 oz super moist carrot cake mix
2 packages yeast
1 teaspoon salt
1/2 teaspoon cinnamon
2 Cups Flour
2 1/4 cup hot water
3 Cups Flour
Brown Sugar Coconut Pineapple Filling
1/2 cup butter
1/2 cup packed brown sugar
1/2 cup drained crushed pineapple
1/2 cup shredded coconut
1/4 cup chopped pecans
Cream Cheese Frosting
2 oz. cream cheese, softened
7 Tablespoons butter, softened
1/2 teaspoon vanilla
2 Tablespoons Milk
1 1/2 cup powder sugar
1/2 teaspoon salt
Instructions
In the bowl of electric mixer, add cake mix, yeast, salt, cinnamon, and 2 cups of flour. Using dough hook attachment, on low speed, mix dry ingredients together until well combined.
Continue mixing and slowly add hot water until wet and dry ingredients combine. Add 3 more cups of flour and continue mixing until dough pulls away from the sides of the bowl and clings to the dough hook.
Remove dough from dough hook and place on well floured surface. Knead dough until smooth and elastic. 4-5 times. Place dough in well greased bowl. Turn once. Cover dough and place in warm, draft free area and let rise until doubled.
As dough is rising make brown sugar coconut pineapple filling. In a medium sauce pan over low heat melt butter. Add brown sugar. Stir until combined and mixture comes to a low boil. Add pineapple and coconut. Stir until ingredients are well blended. Add chopped nuts. Stir. Allow mixture to set until dough is ready to roll out.
Once dough has doubled in size, punch down. Roll dough out on a well floured surface, into a large rectangle. Spread Coconut Pineapple filling on top of dough.
Roll dough into a large log and cut into 1 1/2 inch slices. Place in baking pan prepared with non-stick cooking spray. Let rise until doubled.
Bake in preheated 350° for 20-22 minutes until edges are lightly golden.
Remove from oven and allow to cool slightly.
As rolls are cooling mix together in large bowl with electric mixer soften cream cheese and butter until smooth. Add powder sugar, vanilla, milk, and salt continue mixing until creamy.
Frost rolls with cream cheese frosting and top with toasted pecan bits.
Notes
Additional prep time is rising time.
*You can use store bought coconut pecan frosting with 1/2 cup of drained crushed pineapple as a substitute for the homemade filling
**You can substitute store bought canned cream cheese frosting for the homemade cream cheese frosting.
Recommended Products
As an Amazon Associate and member of other affiliate programs, I earn from qualifying purchases.
Nutrition Information:
Yield:
18
Serving Size:
1 roll
Amount Per Serving:
Calories:

414
Total Fat:

17g
Saturated Fat:

9g
Trans Fat:

0g
Unsaturated Fat:

7g
Cholesterol:

41mg
Sodium:

331mg
Carbohydrates:

61g
Fiber:

2g
Sugar:

31g
Protein:

5g