Large, puffy, melt-in-your-mouth Lion House Cinnamon Rolls are so delicious! The easy to assemble dough is made right in your bread machine!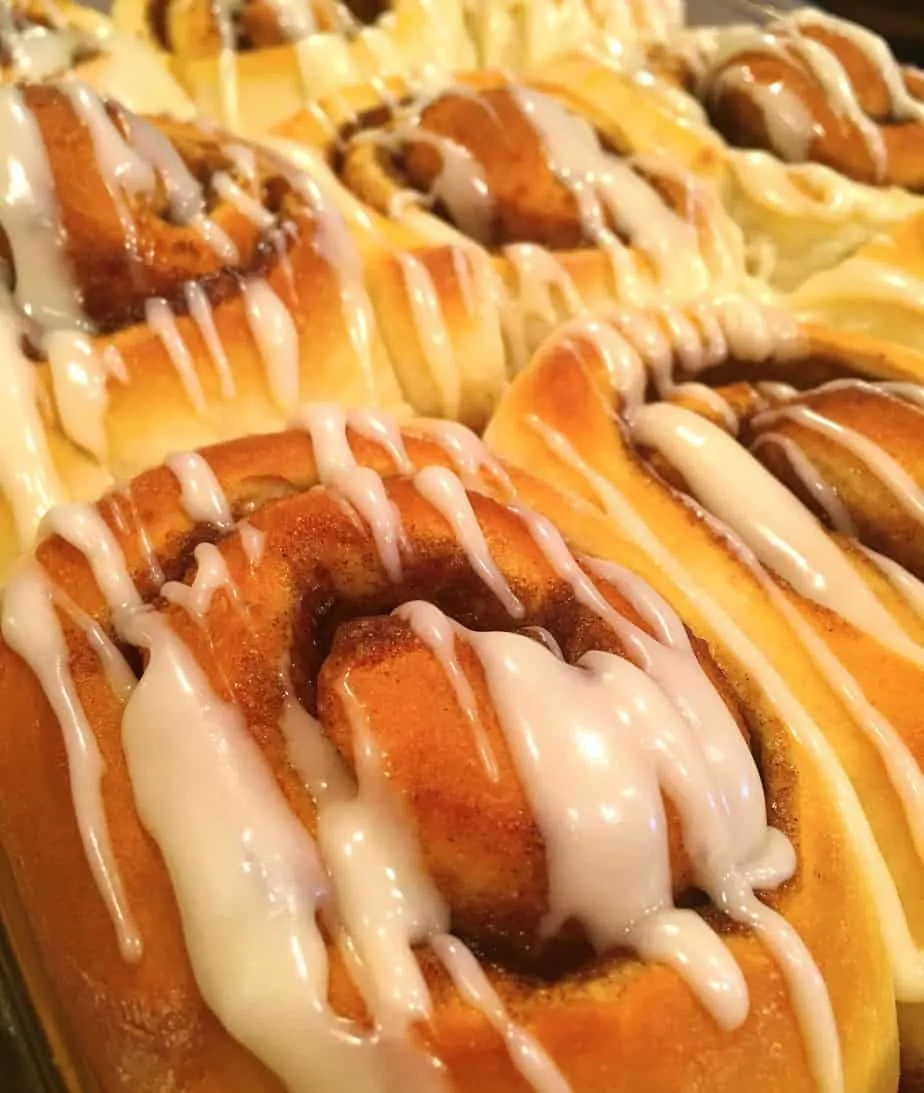 On a Carbalicious scale of 1-10, 10 being the ultimate in carbalicious, (perk of blogging…making up your own words!) these easy peasy Lion House Cinnamon Rolls are a TWENTY!
Seriously Nester buddies these easy Homemade Cinnamon rolls are soft, squishy, and filled with cinnamon goodness! They are packed with warm gooey cinnamon flavor from the first bite to the last! Top them off with the perfect drizzle of cream cheese frosting and you are in Cinn-a-bun heaven!
Remember the Lion House Roll recipe I shared a few months ago? (If not…click here for the link). The one you make the dough in your all but forgotten bread machine? Yep…THAT one! Same dough recipe.
If your dusty ol' bread machine is still sitting in the closet…go drag it out! We are going to make it useful again! If it has a timer on it, even better! You can set it the night before, and wake up with your dough ready to go! Perfect right?! (I'm thinking cinnamon rolls Christmas morning! Hands up…Wooo-Hooo!)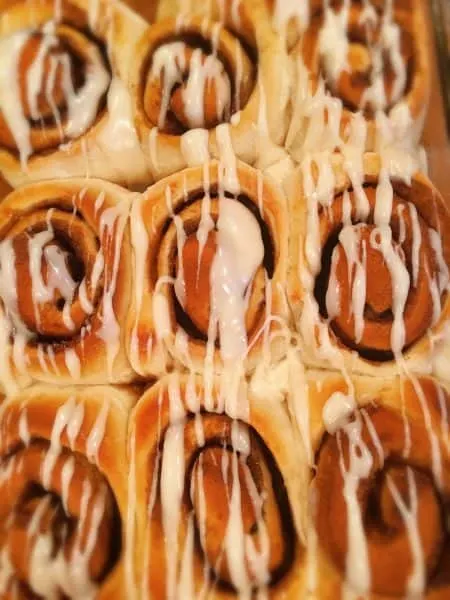 If you haven't made the Lion House Rolls…what is wrong with you?…No…seriously…what is wrong with ya? lol Hop on board the Carb loves train! In all seriousness… if you haven't and you need the step-by-step to make the dough, click on the link above.
In this post we are going to pick this recipe up after the dough is made. (I will include the dough recipe in the printable below so no worries!)
How To Turn Lion House Dinner Rolls into Delicious Lion House Cinnamon Rolls
Begin by rolling your dough out on a nice large flat surface. Flour the surface really well! Roll your dough into a large rectangle. It doesn't have to be absolutely perfect but try to have your sides the same length. You'll roll your dough about 1/4 inch thick.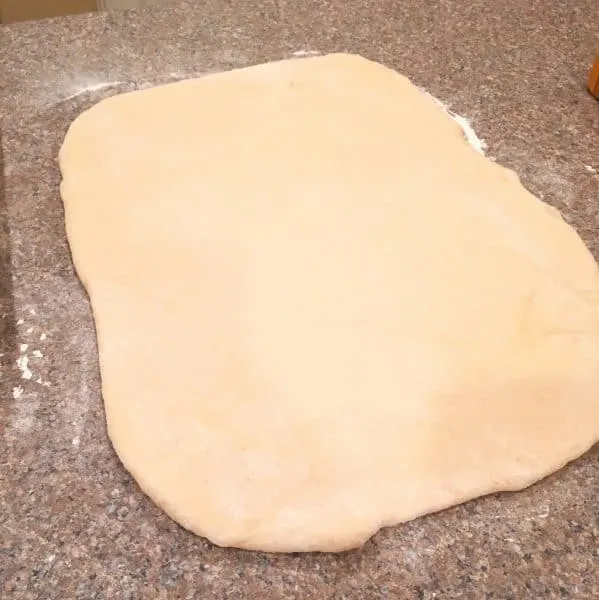 Next melt 1/3 cup butter and pour it over the top of your rolled dough.
Using a pastry brush, brush the butter to the edges of the dough. Make sure the entire surface is covered in butter.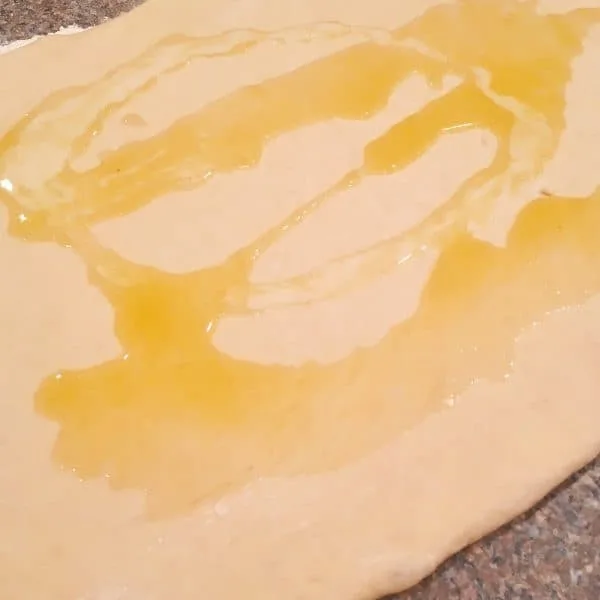 In a bowl, combine 1 cup packed brown sugar with 1 Tablespoon cinnamon. Mix together until evenly blended. Sprinkle on top of the melted butter, going as far to the edges as possible. Just like in the photo below. The butter will start soaking up the cinnamon sugar which is perfection! Way to go!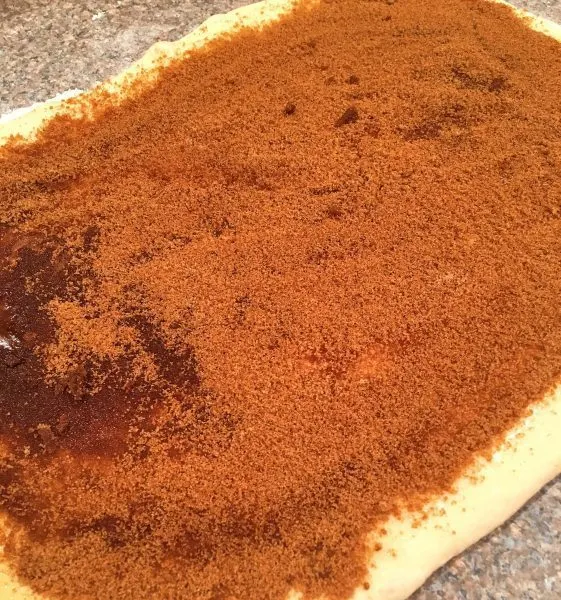 Starting from the long edge of one side, begin rolling the dough towards the opposite edge. (It's like play-dough time for big kids! Only better cause you can eat it later…after it bakes, without gagging! lol)
Once you have reached the edge, gently square off your ends by patting them inwards. You want a nice even tube of dough. Just like the photo below.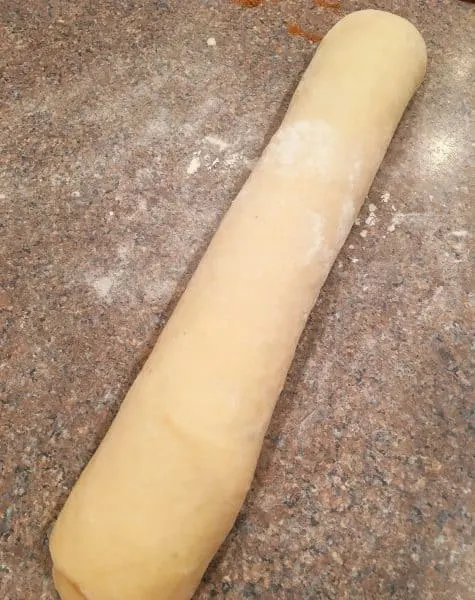 With a sharp knife cut into 10 – 1 1/2 inch thick rounds.
TIP: You can also use waxed dental floss or fish line to cut your cinnamon rolls. Just wrap the line or floss around the roll, the width you want each rolls, and cross the ends over and pull.
Place in a lightly greased baking dish. Cover with a baking cloth and allow to rise for 20 minutes in a nice warm place.
TIP: I usually place mine on the stove top while the oven is pre-heating. Gives just the right amount of warmth so they will rise.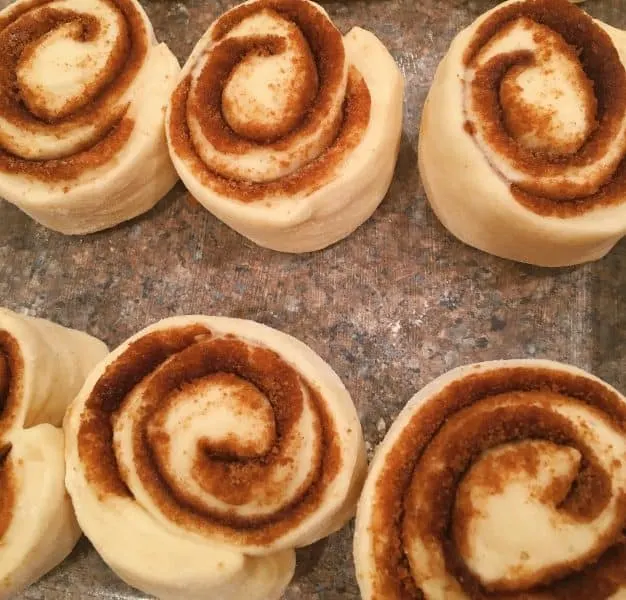 Place the cinnamon rolls into a preheated 325 degree oven.
Bake for 15-25 minutes until big, soft, and golden brown. Your cinnamon sugar will have oozed out on the bottom of the pan a little, creating a caramelized coating. It's superb! Don't knock that caramelized goodness on the bottom! Can you see all that caramelized brown cinnamon sugar? Your house is going to smell like Christmas! It's the best!
Remove cinnamon rolls from the oven and allow to cool for 5-10 minutes. This is the time to make the cream cheese frosting.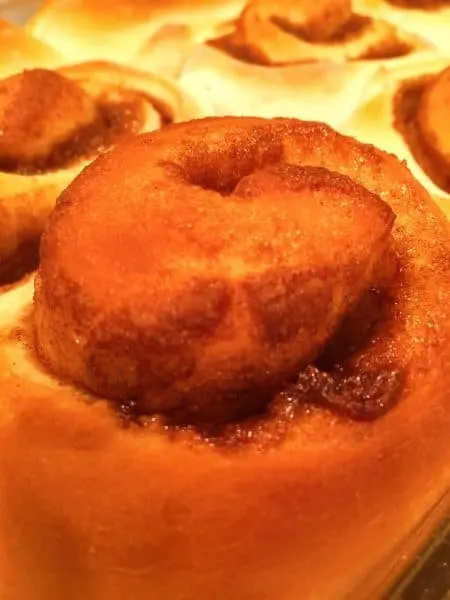 Drizzle the cream cheese frosting over the top of each cinnamon roll.
Tip: If your frosting is too thick, which mine always is, heat for 10 seconds at a time in the microwave until you have the consistency you want. Using a teaspoon quickly drizzle back and forth over the pan of cinnamon rolls.
Serve immediately while soft, warm and gooey! These scrumptious cinnamon rolls are so good they're almost….Shhhhhhh…. Sinful! Yep! THAT GOOD!!!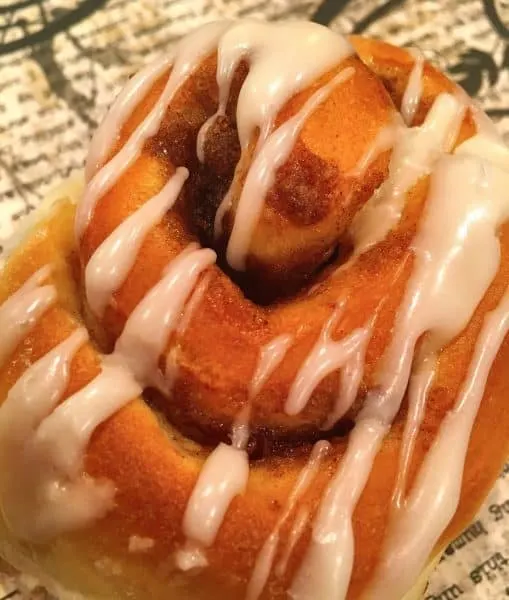 Time to pour yourself your favorite hot beverage or a big tall glass of milk, crab your favorite cozy blanket, cuddle up on the sofa, and enjoy every lip smacking, finger licking bite of that luscious Lion House Cinnamon Roll! You can thank me later! (wink-wink)
TIP: If you don't have a bread machine don't let that stop you from making these amazing rolls! You can mix the dough up in your mixer (see notes on recipe) and allow it to rise for one hour and 20 minutes. Then punch it down and carry on!
Additional Favorite Breakfast Pastry Recipes
As always…thanks for hanging out with me at my Nest! I love our visits! Let me know if you make these by leaving a comment below! I love hearing from you!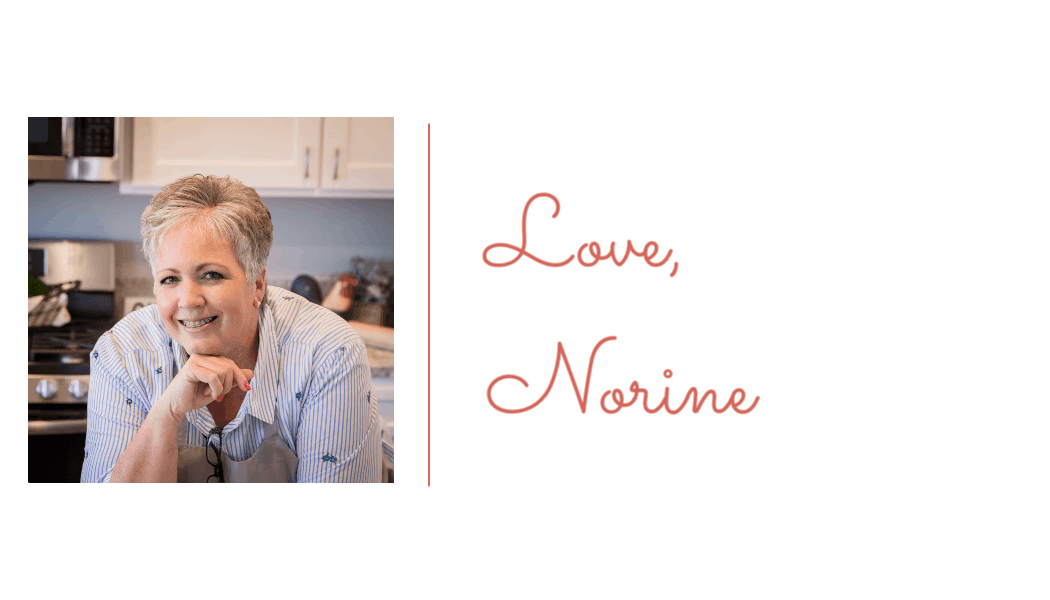 Yield: 9-10 servings
Lion House Cinnamon Rolls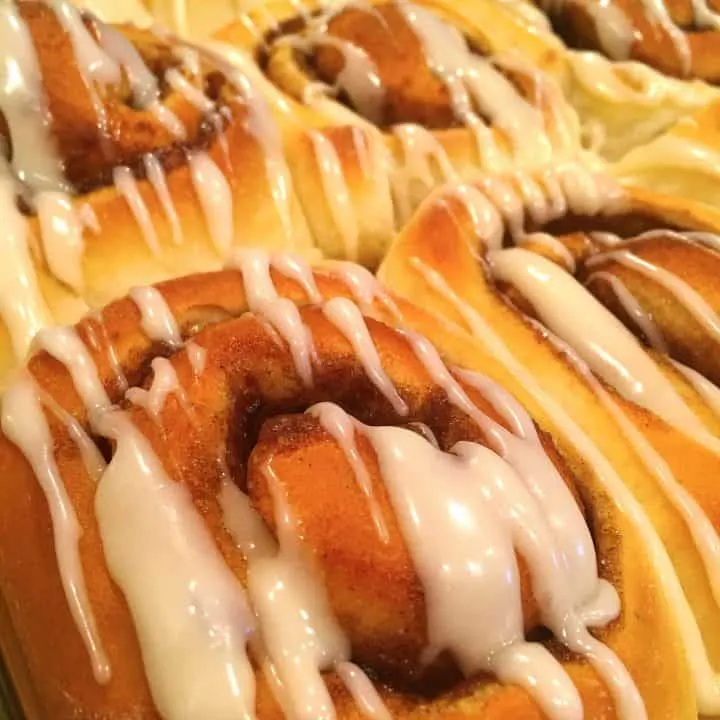 Big, soft, warm, scrumptious cinnamon rolls that are easy peasy thanks to your bread machine!
Prep Time
1 hour
40 minutes
Ingredients
Lion House Roll Dough
1 cup warm water
2 1/2 Tbsp. butter
1/3 cup instant dry milk
3 1/4 cups all-purpose flour
1 Tbsp. yeast
1 tsp. salt
1 egg, beaten
1/4 cup sugar
Cinnamon Roll Filling
1/3 cup melted butter
1 Cup packed light brown sugar
1 Tablespoon cinnamon
Cream Cheese Frosting
4 oz. cream cheese, softened
2 Tablespoons butter, softened
1/2 cup powder sugar
1/4 tsp. vanilla
Instructions
Roll Dough!
Layer ingredients in order listed, in your bread machine. Mix on bread dough cycle (1 1/2 hours). After finished, roll into a large rectangle about 1/4 inch thick, on well floured surface.
Using a pastry brush spread melted butter over top of the roll dough. Mix cinnamon and brown sugar together. Sprinkle over the melted butter going all the way to the edges. Roll from one long edge to the other. Using a sharp knife cut into 9-10 rolls 1 1/2 inch thick. Place in a lightly oil
9 x13 glass baking dish. Cover and let rise for 20 minutes in warm place.
Heat oven to 325 degrees. Bake for 15-20 minutes until golden brown and cinnamon sugar is bubbly. Set aside and allow to slightly cool while making your cream cheese drizzle.
In a medium bowl, cream together the cream cheese and butter. Add in the powder sugar and vanilla. If too thick place in microwave for 10 second intervals until frosting is the desired consistency. Using a small spoon drizzle back and forth over the slightly cooled rolls.
Serve immediately.
Notes
You can make the dough if you don't have a bread machine. Mix all the ingredients in your mixer starting with the warm water and yeast. Once yeast is disolved, mix in other ingredients. Allow to rise in a warm place for 1 hour and 20 minutes. Punch down and continue with the filling.
Recommended Products
As an Amazon Associate and member of other affiliate programs, I earn from qualifying purchases.
Nutrition Information:
Yield:
10
Serving Size:
1 Roll
Amount Per Serving:
Calories:

436
Total Fat:

16g
Saturated Fat:

10g
Trans Fat:

0g
Unsaturated Fat:

5g
Cholesterol:

60mg
Sodium:

385mg
Carbohydrates:

67g
Fiber:

2g
Sugar:

34g
Protein:

7g