This salad is a harmonious blend of sweet and tangy flavors, crisp apples, juicy cranberries, crunchy walnuts, and a cloud-like whipped cream dressing.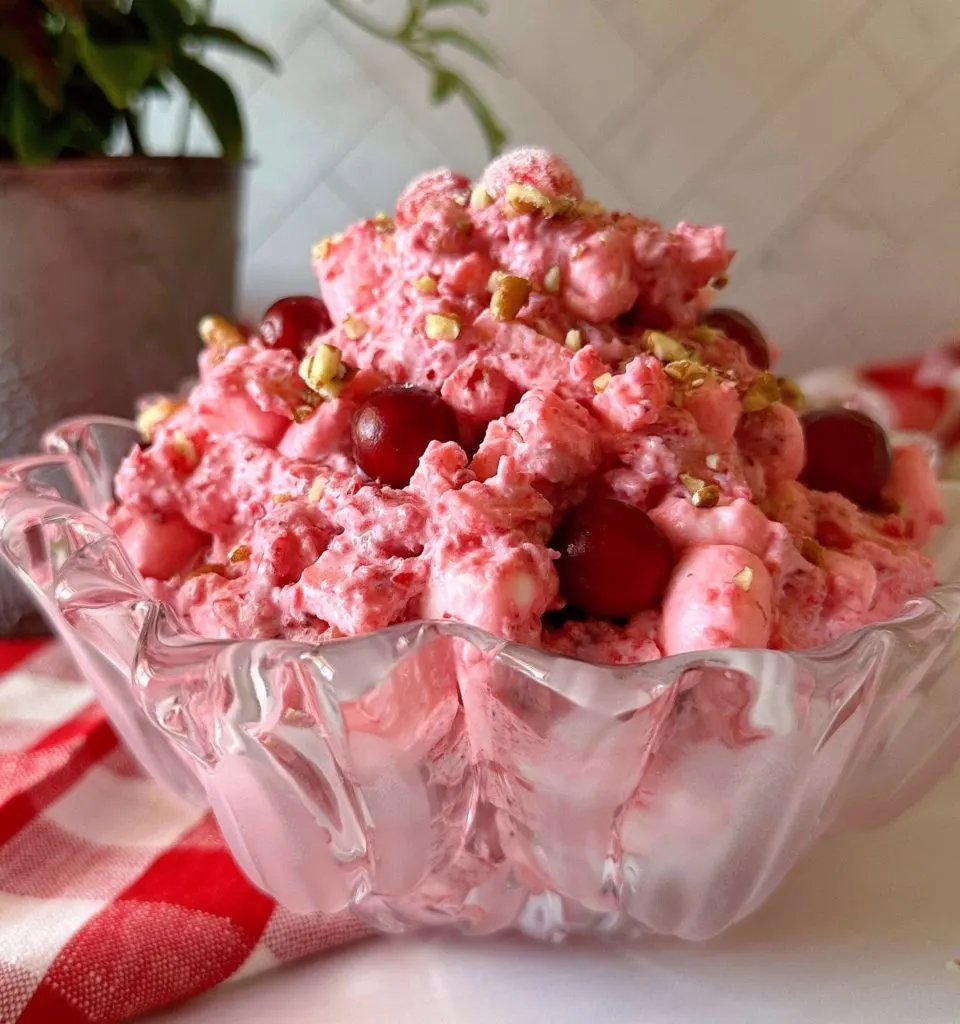 Welcome to my Nest today! I'm getting ready for the Holidays by whipping up this delightful Cranberry Apple Walnut Fluff Salad! It's perfect for any occasion, but is truly wonderful for a festive holiday spread!
Salad?!! Believe me I'm aware of the ongoing debate about whether "Fluffs" are truly a salad…or a dessert?! I say "salad"! This way I can justify having dessert later. (Hey! A girl's gotta do what a girl's gotta do! That's my story, and I'm sticking to it…at least until I step on the scale! Lol)
This cranberry fluff recipe is made with tart cranberries, mini marshmallows, crisp apples, walnuts, and heavy whipping cream. All my favorite flavors of Fall!
One thing I love about this particular version of this classic festive salad is the use of real cream rather than cool whip. You can substitute frozen whipped topping for the real whipped cream, but I am a huge fan of real whipped cream.
Cranberry Fluff Salad is the perfect Thanksgiving side dish. So…let's dive right into this simple and scrumptious recipe.
Ingredients for Creamy Cranberry Salad
2 cups cranberries – Fresh or frozen, thawed, finely chopped or ground.
½ cup sugar – regular granulated sugar
3 apples – pared or un-pared (that means peeled my friends), as desired. I recommend a good crisp tart apple like a granny smith, pink lady, or ambrosia.
½ cup chopped walnuts
3 cups miniature marshmallows
¼ teaspoon salt
1½ cups heavy cream – whipped till nice and fluffy.
Extra cranberries and walnuts for garnish.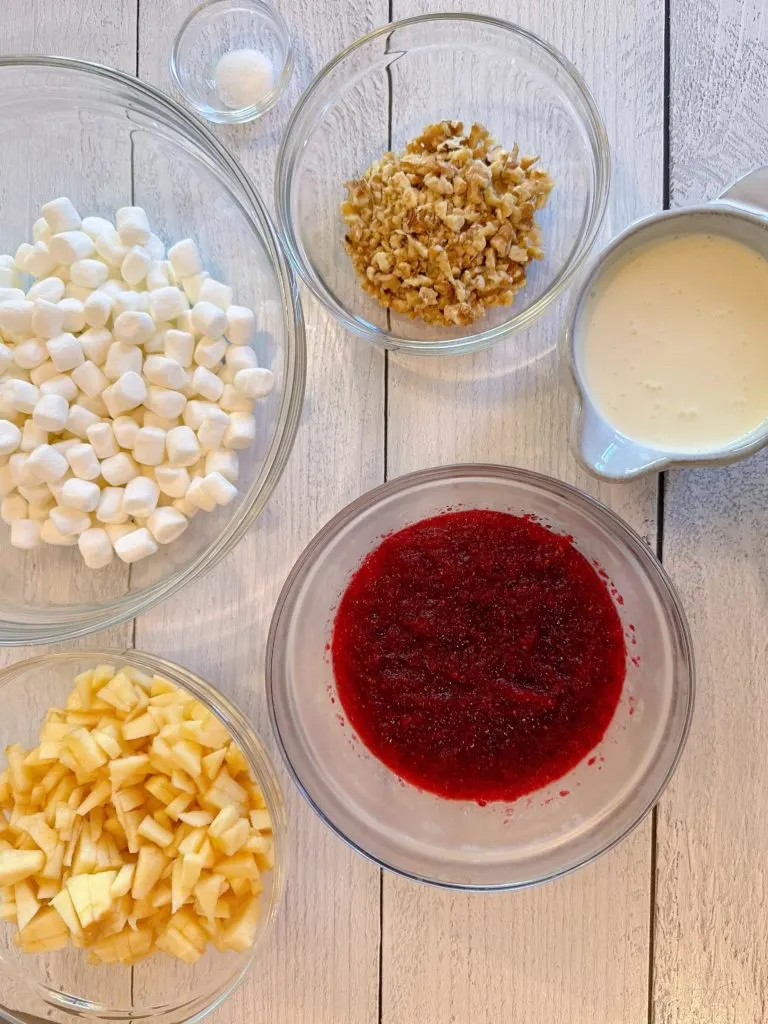 How To Make Easy Cranberry Apple Salad
In a food processor, grind 2 cups raw cranberries. Note you can use fresh, or frozen thawed cranberries. Either work great. Just be sure the cranberries are not frozen!
You can use a food/meat grinder to grind the cranberries, but I prefer using my little food processor to grind the berries into fine pieces. It makes clean-up easy and gets the job done!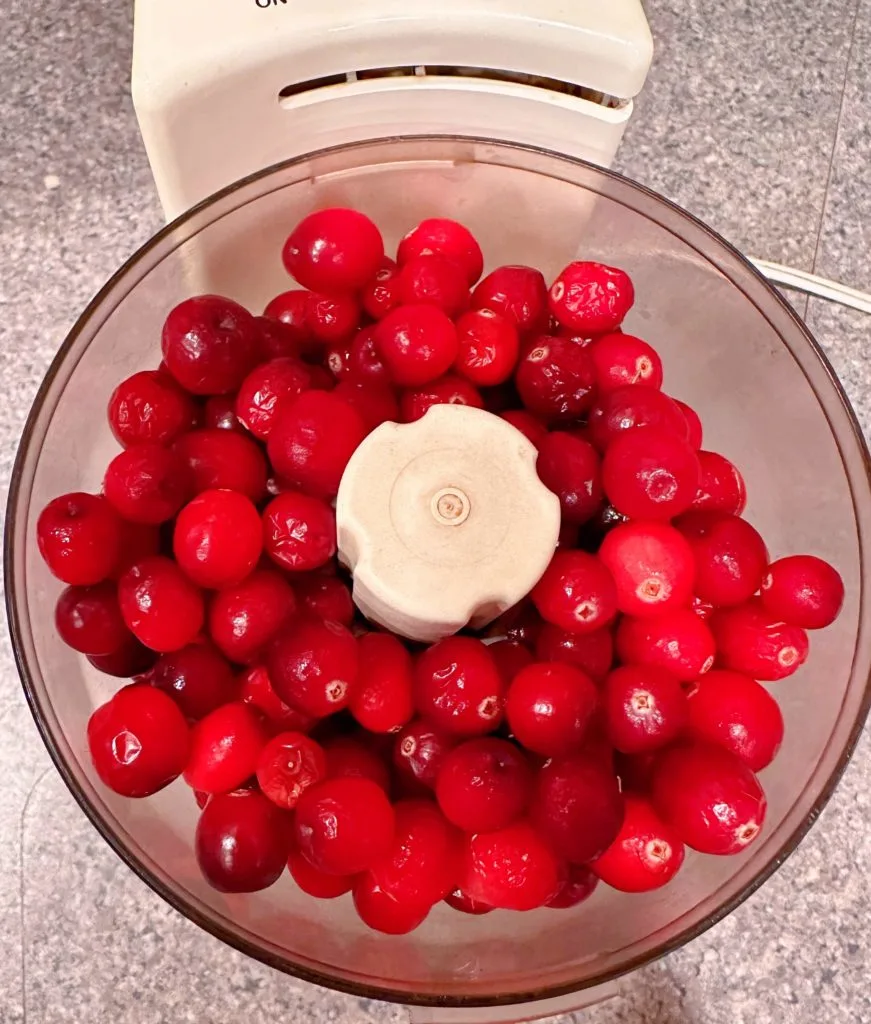 Place chopped cranberries into a large bowl and add ½ cup of sugar. Mix until combined.
Cover and chill overnight. The mixture will thicken as it chills. You are basically making "cranberry sauce" without having to cook it beforehand. This is a really great recipe to make several days in advance of when you need it.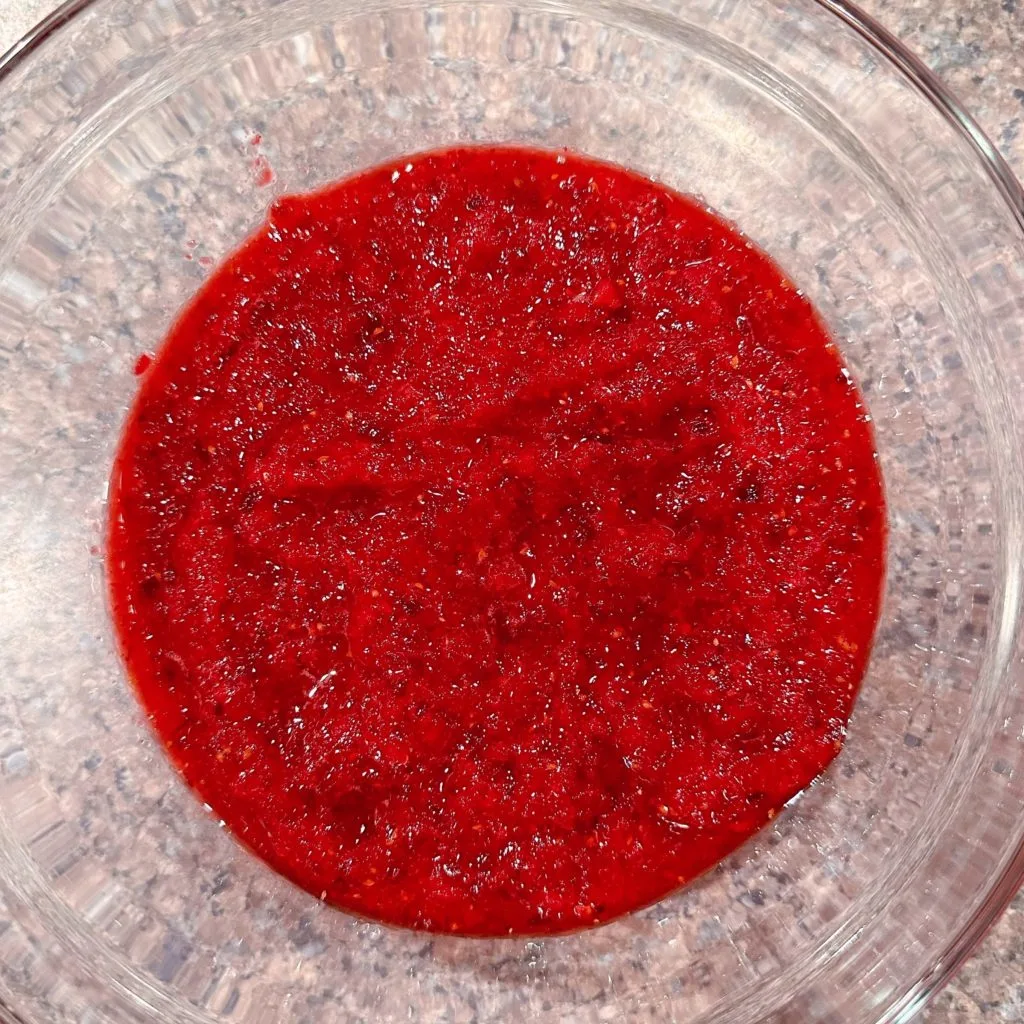 Finishing Cranberry Fluff Salad
Remove chilled cranberry sauce from the refrigerator. Add peeled, diced, crunchy apples. Add chopped walnuts, marshmallows, and salt. Gently stir to combine.
TIP: To keep the apples from turning brown place them in a bowl filled with water and 1-2 teaspoons of lemon juice before adding to salad.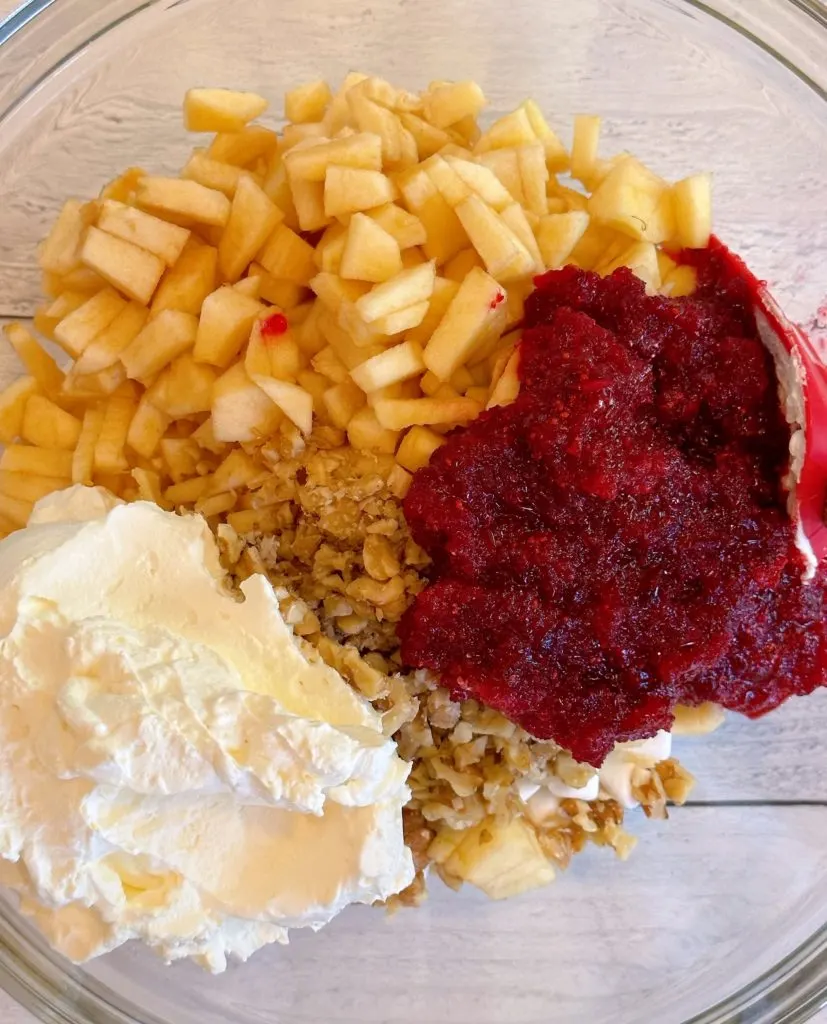 In the bowl of your mixer, using the whisk attachment, add 1½ cups cold whipping cream. Beat on high until stiff peaks form.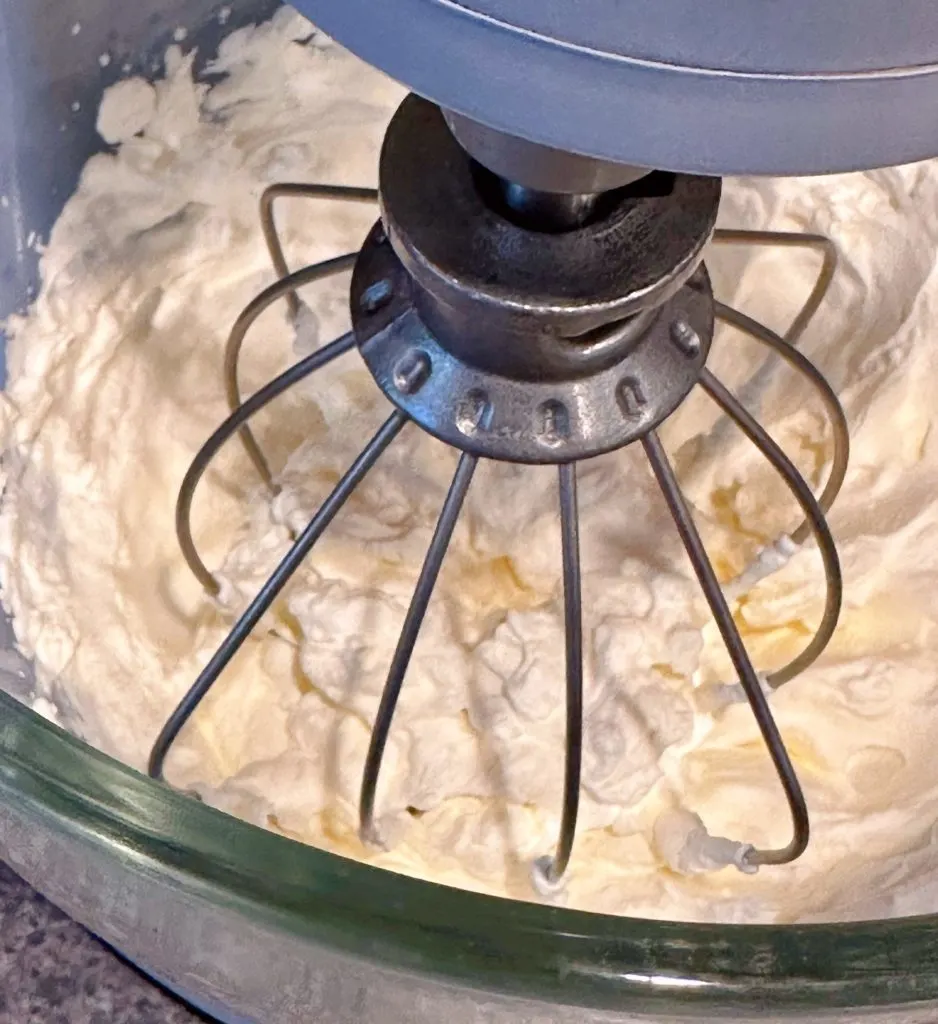 Gently fold in whipped cream. Chill 4–6 hours, or for best results chill overnight.
I know what you're thinking! Because I had the same thought…" Should there be jell-o in this salad, or cranberry dessert? How will it set up?" The whipped cream sets as it chills, making it unnecessary to add jell-o to this fluff salad.
The natural flavors from the whole cranberries, and fresh apples give this fruit salad all the flavor it needs without being overly sweet!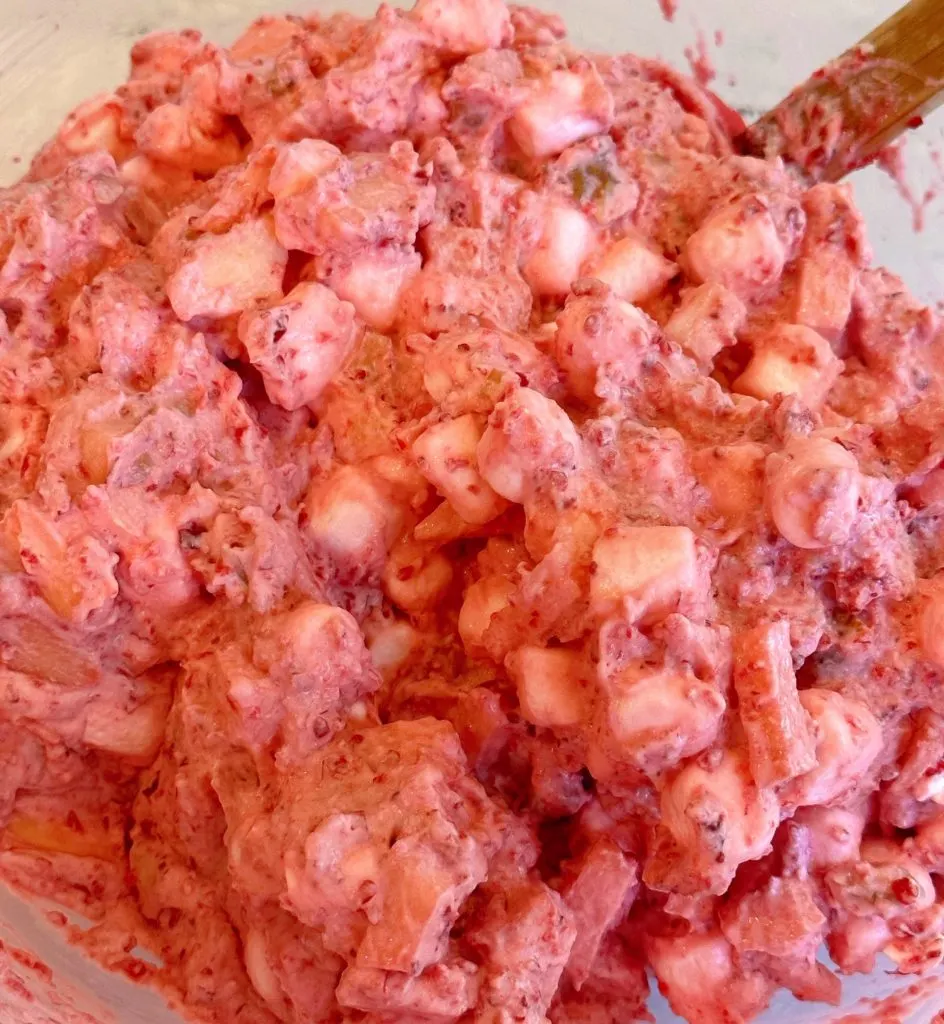 Place the chilled Easy Cranberry Apple Salad in your favorite Holiday serving dish. Top with fresh whole cranberries, or sugared whole cranberries, and fresh walnuts.
TIP: To create "frosted cranberries" brush cranberries with corn syrup and roll in sugar. Set on parchment paper until ready to use.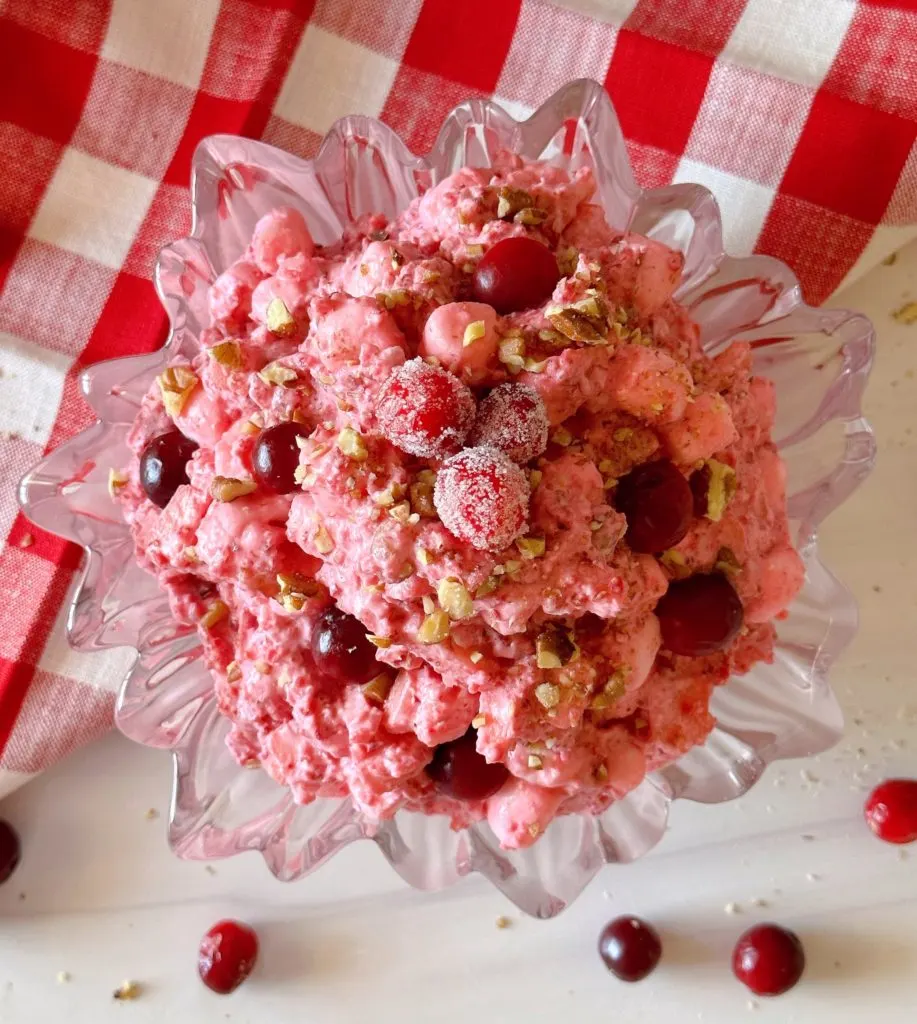 This stunning Cranberry Fluff salad, or dessert (I'm trying to concede a tiny bit…), is a wonderful family favorite that is sure to brighten your Thanksgiving table, or Christmas dinner this upcoming Holiday Season.
TIP: You can also serve this simple salad on individual salad plates on a bed of romaine lettuce or salad greens. It creates a beautiful presentation for your Holiday table.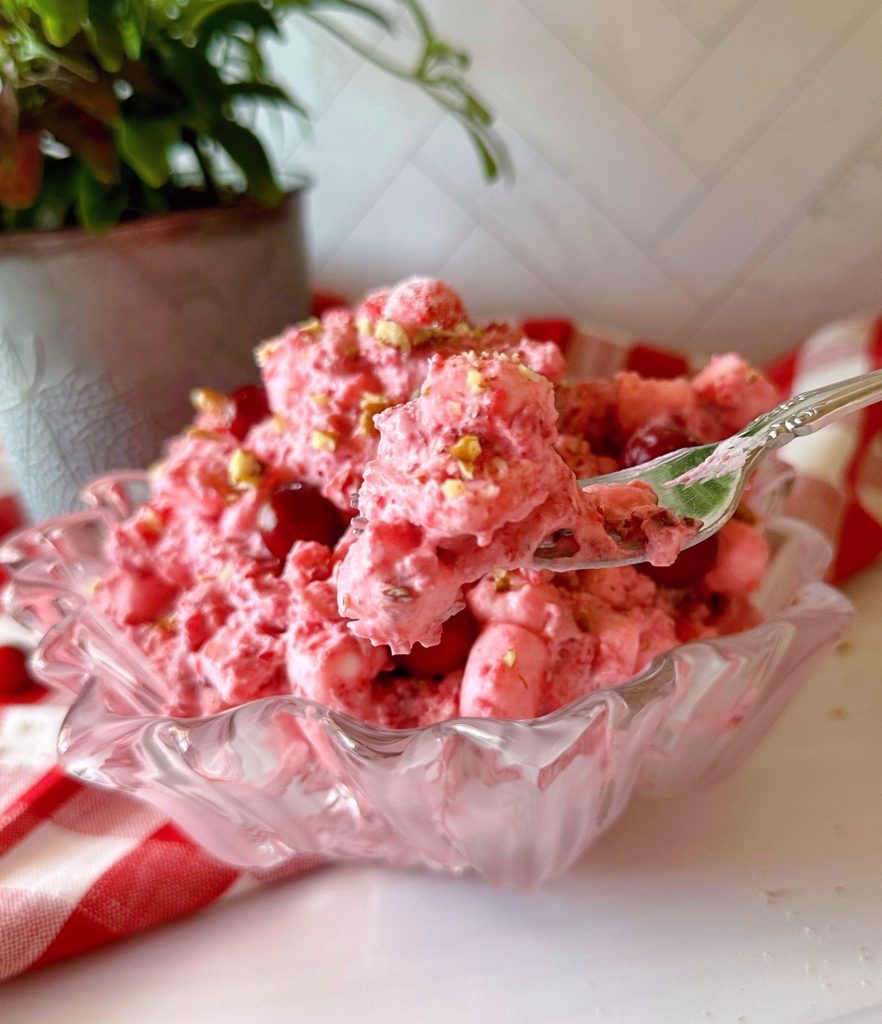 Its refreshing and sweet-tangy flavors make it a crowd-pleaser, whether you're serving it for a family dinner or bringing it to a potluck.
Other Favorite Holiday Salads and Side Dish Recipes
This Cranberry Apple Walnut Fluff Salad is a delightful addition to any meal. With a balance of fruit, nuts, and a fluffy whipped cream dressing, it's the perfect blend of textures and tastes. Give this recipe a try and watch it become a favorite in your home too!
Happy Nesting Friends!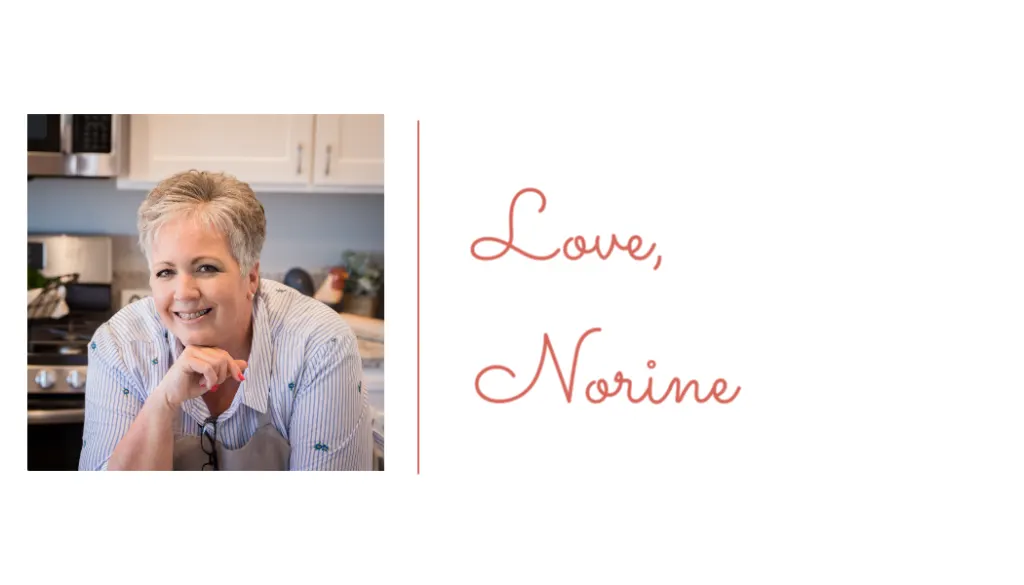 Yield: 12 servings
Cranberry Apple Fluff Salad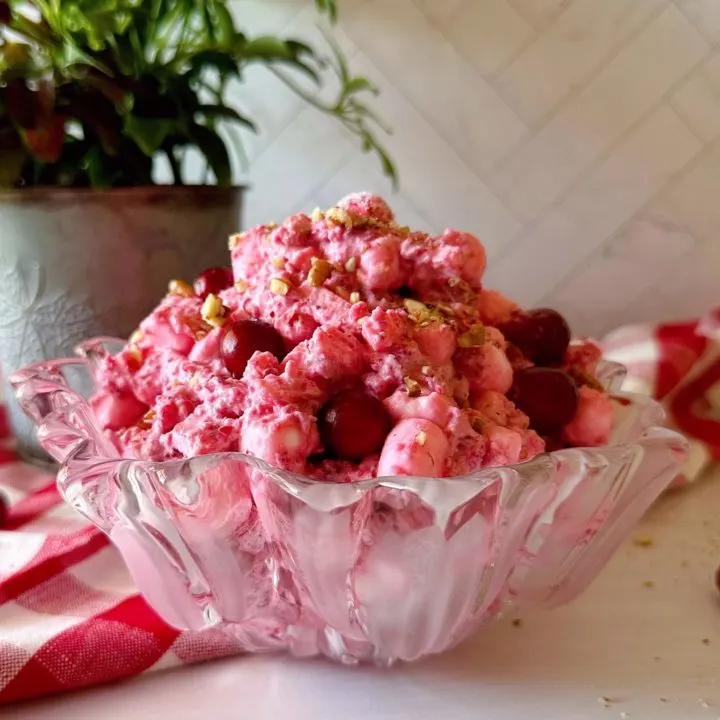 This salad is a harmonious blend of sweet and tangy flavors, crisp apples, juicy cranberries, crunchy walnuts, and a cloud-like whipped cream dressing.
Total Time
12 hours
15 minutes
Ingredients
2 cups fresh, or thawed, cranberries, ground
½ cup sugar
3 apples, pared or un-pared, as desired
½ cup chopped walnuts
3 cups miniature marshmallows
¼ teaspoon salt
1½ cup heavy cream, whipped
Extra whole cranberries for garnish
Instructions
In a food processor, grind cranberries. Place chopped cranberries in a large bowl. Add sugar. Mix to combine. Cover with plastic wrap and chill overnight.
Add apples, walnuts, marshmallows, and salt. Mix. Fold in whipped cream. Cover and Chill 4-6 hours until mixture firms up. Move to serving bowl and top with additional whole cranberries and chopped walnuts. Makes about 12 servings.
Nutrition Information:
Yield:
12
Serving Size:
1
Amount Per Serving:
Calories:

242
Total Fat:

14g
Saturated Fat:

7g
Trans Fat:

0g
Unsaturated Fat:

6g
Cholesterol:

34mg
Sodium:

63mg
Carbohydrates:

29g
Fiber:

2g
Sugar:

22g
Protein:

2g