Creamy Chocolate Cheesecake Dip topped with Cherry Pie Filling and drizzled with melted chocolate is a fantastic Holiday Dip.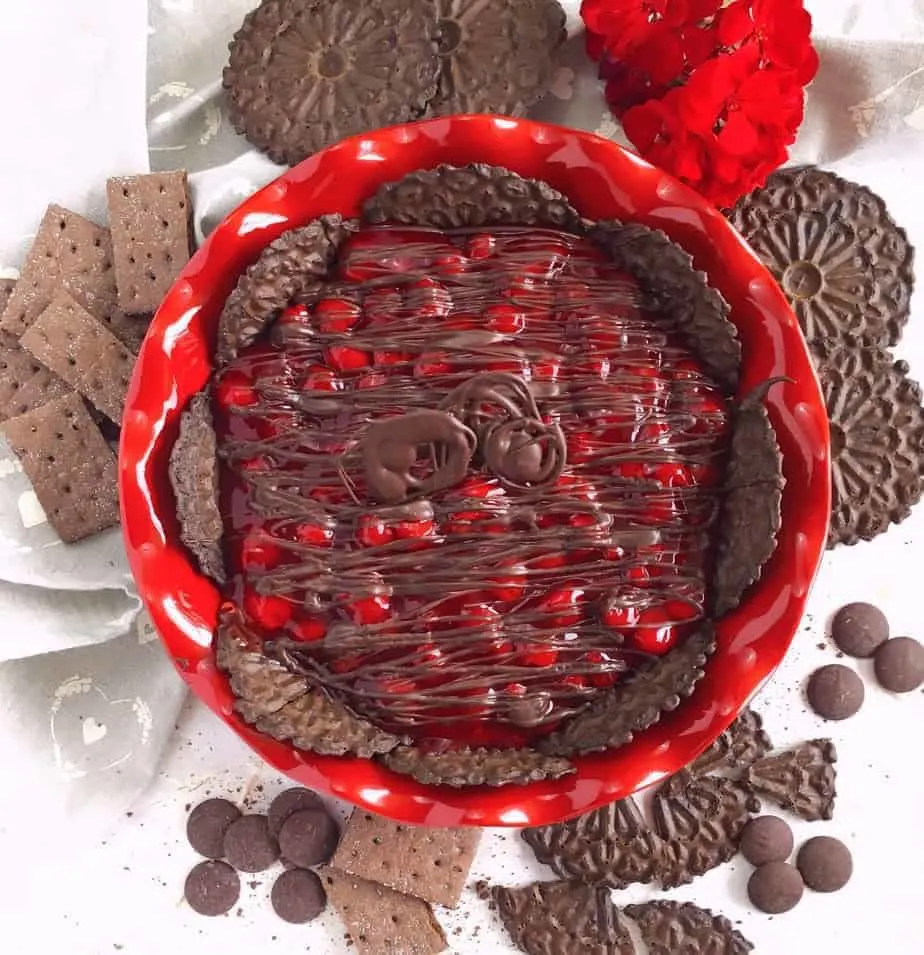 I'm a lover of dips! I love all the savory dips, hot dips, and chip dips that pop up this time of year. Appetizers and Dips are perfect Holiday Party and Football Foodie Fare!
My newest obsession? Dessert dips! I'm not talking about fountains that ooze streams of melted chocolate…although they're nice. No, it's about a thick rich dessert dip.
Let me introduce you to Chocolate Cherry Cheesecake Dip! A rich creamy chocolate cheesecake layer is topped off with Cherry pie filling and dark chocolate drizzle! Each bite is heavenly cheesecake bliss! (I know…that dish is AMAZING! I share the link for it below!)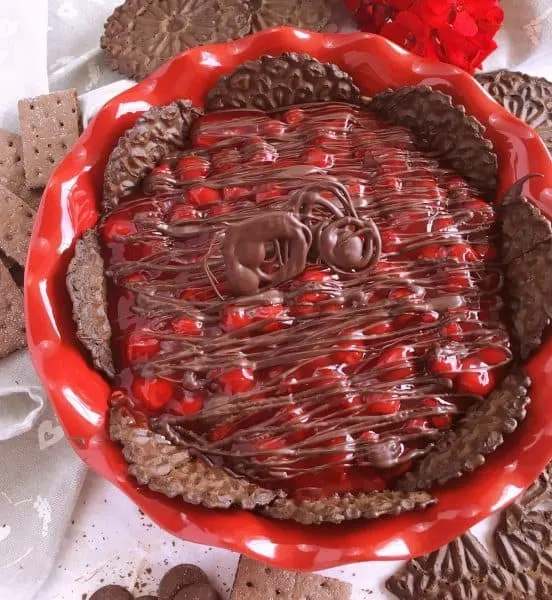 I made a cherry cheesecake dip for a baby shower a couple of years ago…needless to say…the ladies gathered around this dish like ravens to road kill!
With just a few ingredients you can be on your way to digging into this luscious dessert dip! (Yep! You, too, can look like a raven going after road kill! Lol)
How to Make Chocolate Cherry Cheesecake Dip
In a large mixing bowl, beat softened cream cheese and 1 (7 oz.) jar of marshmallow cream together on medium until well combined.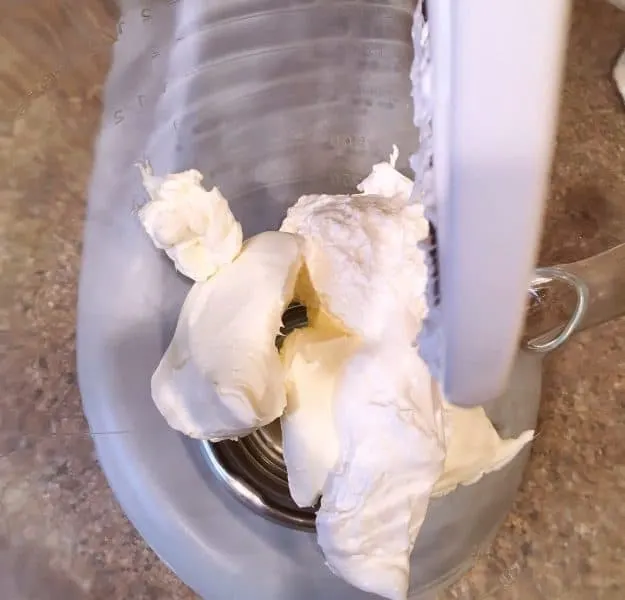 Add 1/4 cup of quality Cocoa Powder.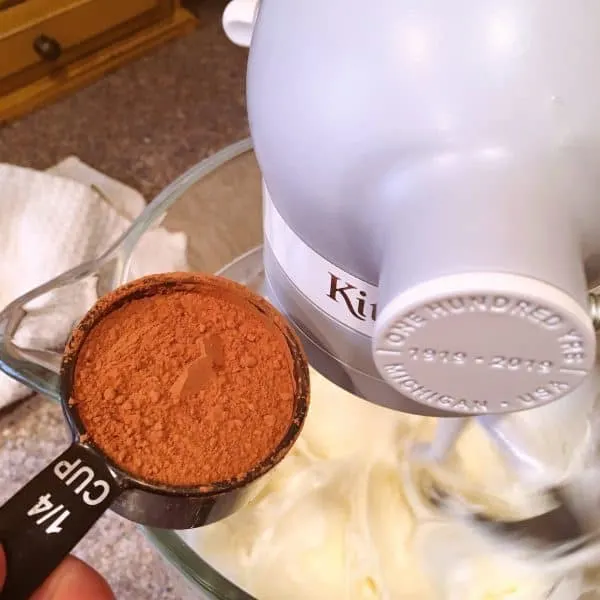 Beat on medium until ingredients are well mixed. Scrape down the sides and bottom of the bowl frequently.
NOTE: It will not completely mix together in the mixer…that fluff is sticky stuff!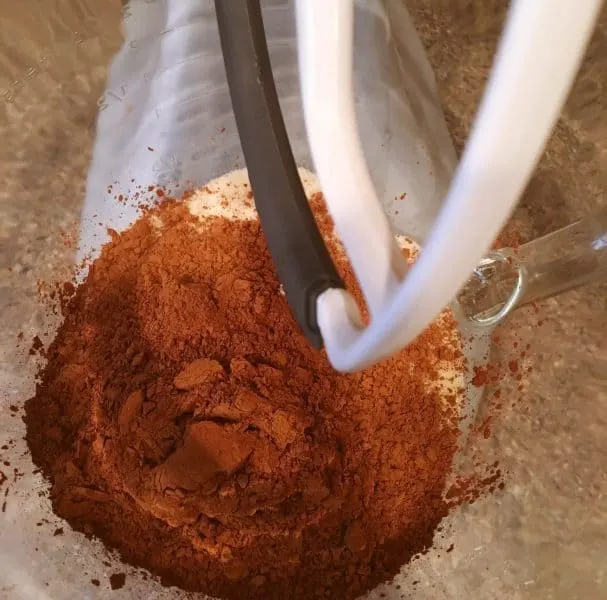 Scrape off the beater and continue to mix until chocolate is totally incorporated into cream cheese mixture.
TIP: Use a spatula to scrape the bottom of the bowl while mixing. The "marshmallow fluff tends to stick to the bowl…like a child to a parents leg when you're introducing them to a long-lost friend.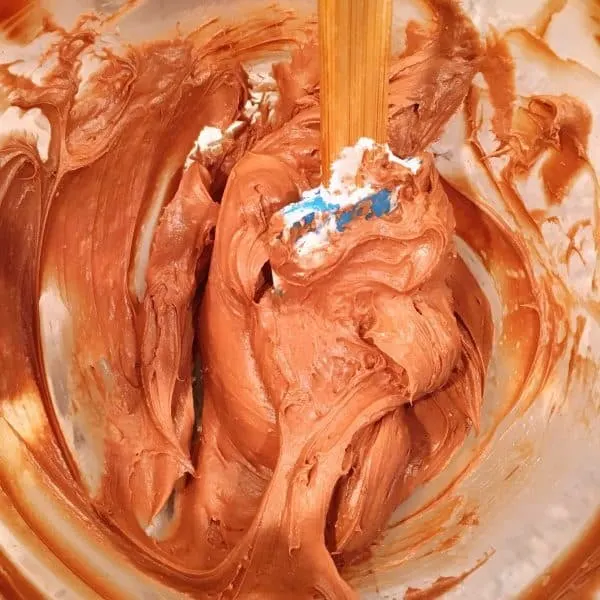 Once chocolate is well incorporated…add 1 (8 oz.) container of thawed Cool Whip.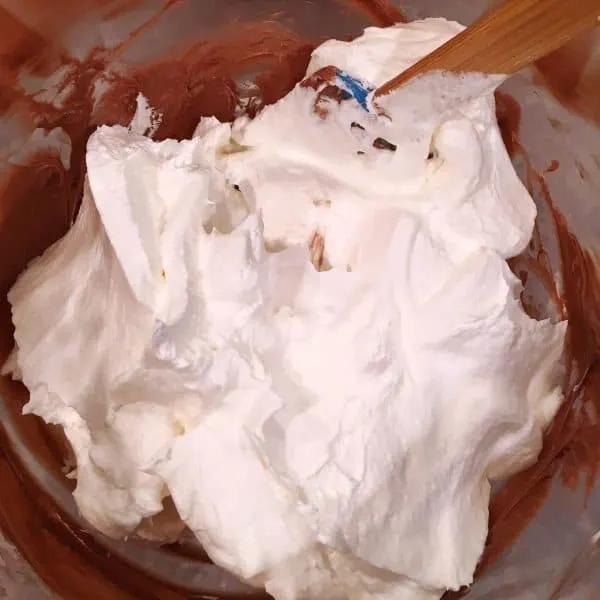 Fold in cool whip, until all ingredients combine, and mixture is smooth as possible! (Throw those arm muscles into mixing this together! You're burning calories…that means MORE dip!!!)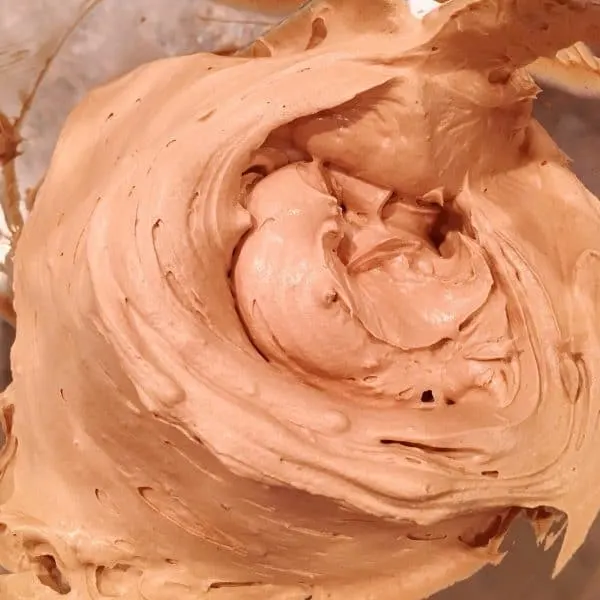 Assembling Chocolate Cheesecake Dip
Pour cheesecake mixture into a pie dish. Spread evenly.
A pretty cherry red ceramic pie plate works great. It's perfect for the upcoming Holidays for your pies, and it's great for dips!
I found a package of delicious and pretty Pizzelle Chocolate Italian Waffle Cookies at T.J. Maxx. I carefully broke them in half and wedged them down around the outer edge for decoration. They are so yummy and great for dipping!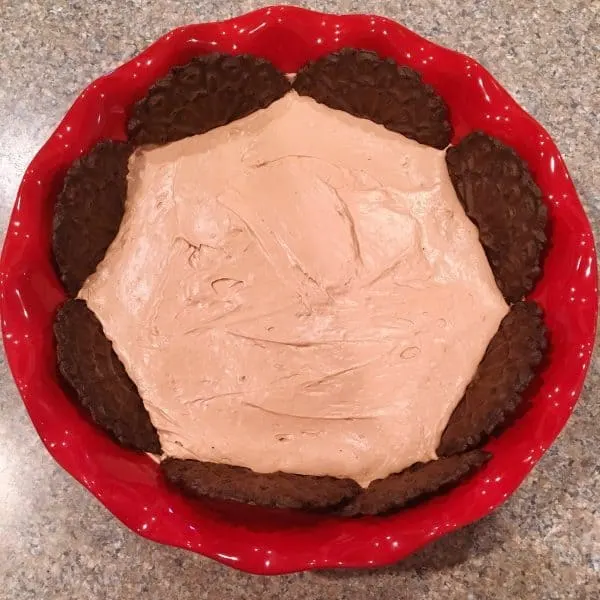 Now for my favorite part… Cherry Pie Filling!
I have a secret addiction to cherry pie filling! Shhhhh! Yep… I deliberately leave some in the bottom of the can just so I can eat it! It's one of my many guilty pleasures. (There are just too many to list and a girls gotta have some secrets! Lol)
Spread the Cherry Pie Filling, making sure to leave a spoonful at the bottom of the can, over the top of that creamy dreamy chocolate cheesecake filling! (Hello Lover!)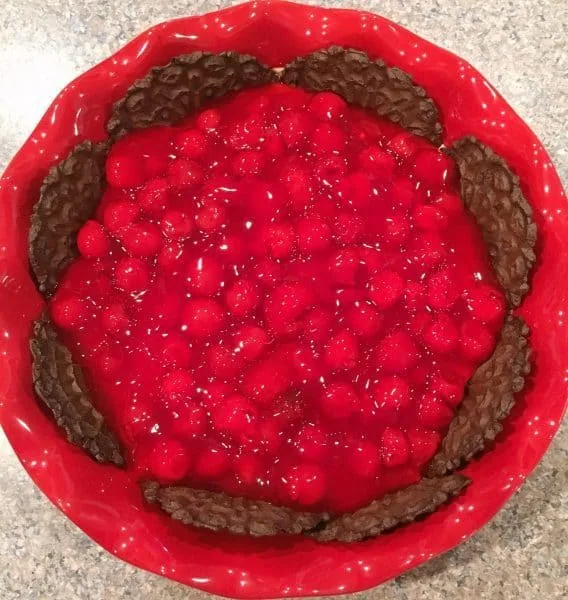 How to make a Chocolate Drizzle!
You can stop here if you want…but WHY? I'm thinking we need a little more chocolate! Just a wee bit
I'm a huge fan of Ghirardelli's melting wafers! They make melting high quality chocolate drizzles a breeze!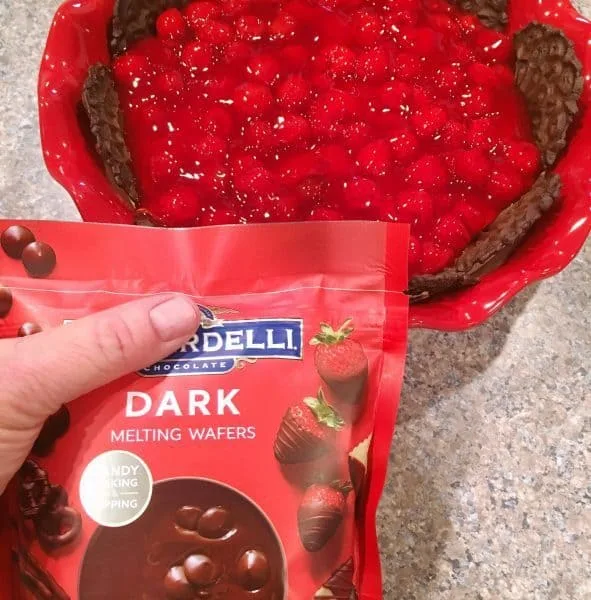 Place 1/4 cup of melting wafers into a microwave safe bowl. Set your microwave at 50% cooking power. Place the bowl in the microwave and set your cook time for 2 minutes.
Check to see if chocolates are melted around the edges…if not repeat until chocolates are melting. Stir until smooth.
Drizzle melted chocolate, with a spoon, back and forth over the top of the Cherry Pie Filling.
TIP: If you want to make chocolate circles like pictured for your dip…drizzle melted chocolate on parchment paper, place in the refrigerator until set…about 2 minutes. Peel off parchment and place in center of dip.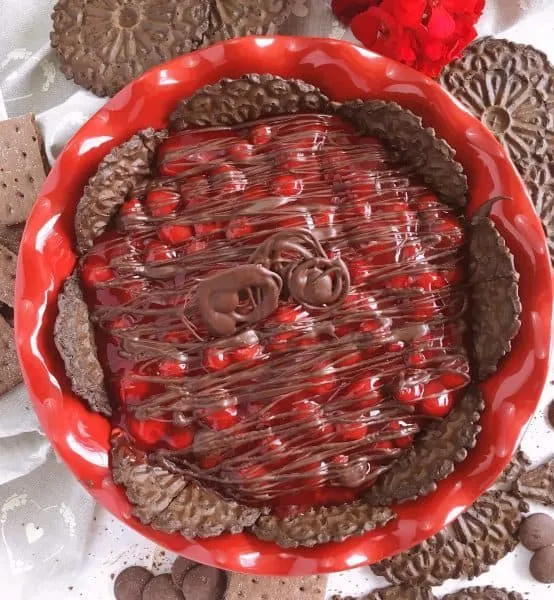 Serving Dessert Dips
Serve with chocolate graham crackers, or if you can find Chocolate Italian Waffle Cookies at your local market you can break them into smaller pieces like I did.
I'll be honest… it's good with the graham crackers…but those Italian Waffle Cookies…WOWZA! Elevates this dip to another hemisphere!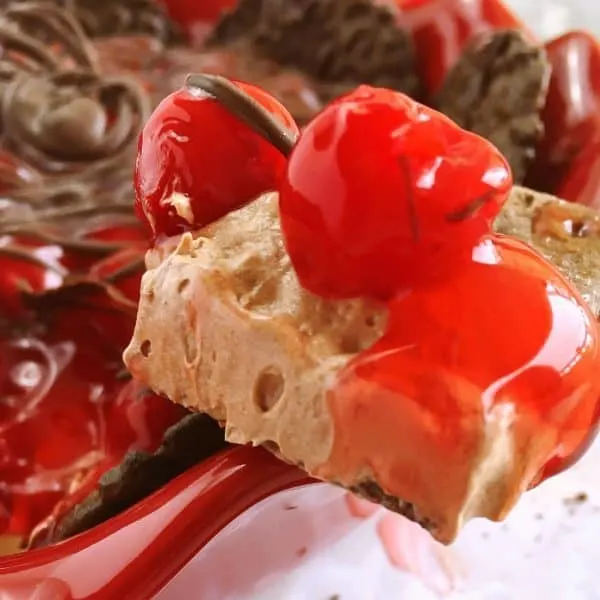 You can cover the dip and chill until ready to serve, or serve immediately. It's just one of the many reasons I love this dip.
This dessert dip is made with ingredients you'll generally have on hand…(I mean… I'm hiding Cherry Pie Filling in my cupboard! Please tell me I'm not alone?!)...it's easy to make, and it's DELICIOUS!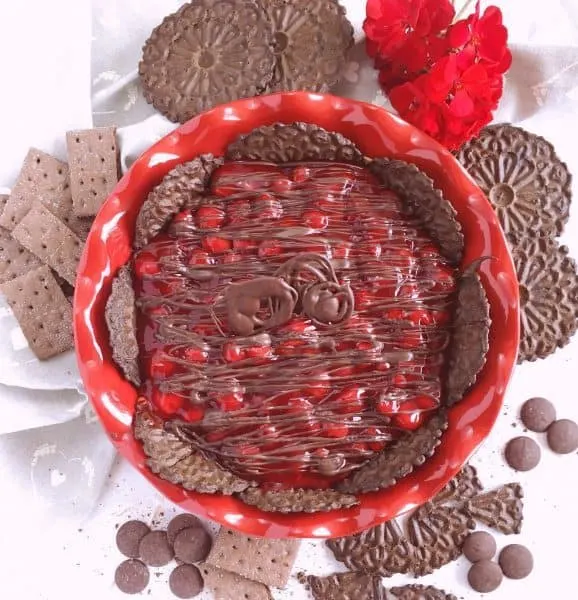 Other Favorite Valentine Dessert Recipes
I hope you're friends and family will enjoy this scrumptious dessert dip as much as my party guests did! It got rave reviews and requests for the recipe. That is always a sign of a truly great dish!
Enjoy My Friends! The free printable recipe is below and remember you can always follow me on Facebook, Instagram, and Twitter. I'd love to have you join me!
Happy Nesting!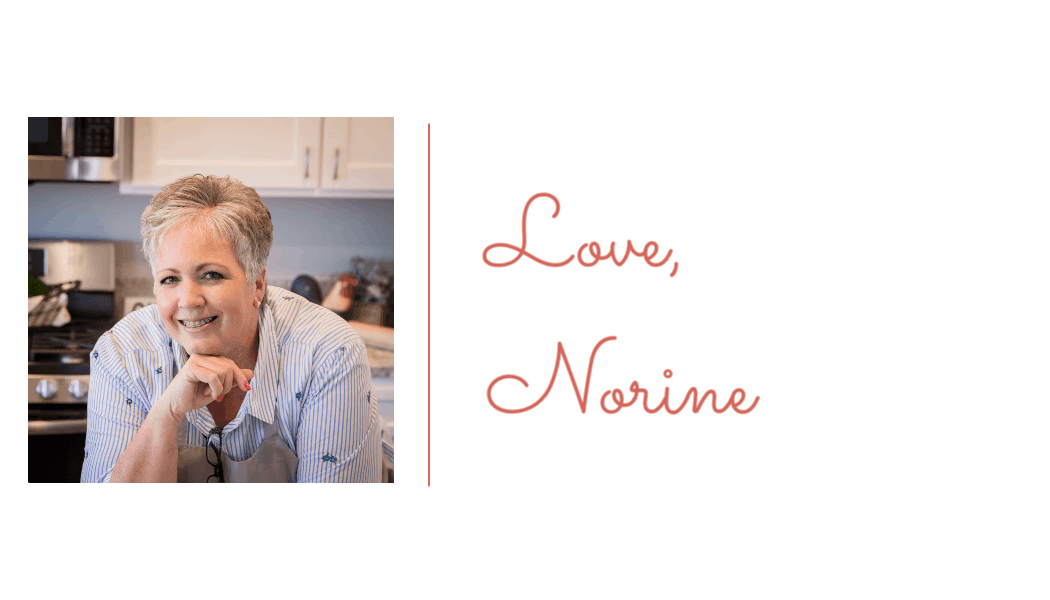 Yield: 10 servings
Chocolate Cherry Cheesecake Dip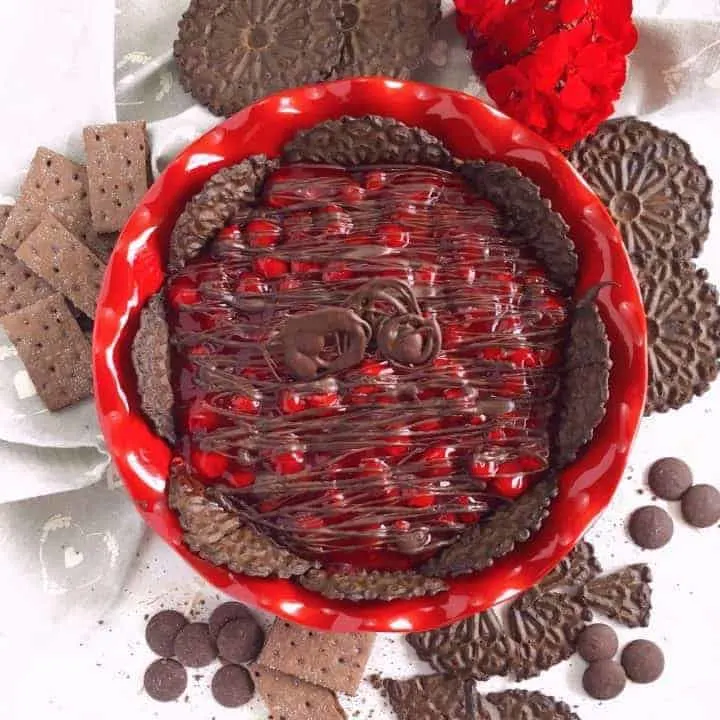 Creamy Chocolate Cheesecake Dip topped with Cherry Pie Filling and drizzled with melted chocolate.
Ingredients
1 (8 oz.) package cream cheese, softened
1 (7 oz.) jar marshmallow cream
1/4 cup cocoa baking powder
1 (8 oz.) container Cool Whip, thawed
1 (21 oz.) can Cherry Pie Filling
1/4 cup Ghirardelli Dark Chocolate Melting Wafers
Chocolate Graham Crackers, Chocolate cookies, or Italian Wafer Cookies for dipping
Instructions
In a large mixing bowl, beat cream cheese and marshmallow cream until well combined.
Add 1/4 cup Cocoa Baking Powder mix until well combined, scraping bowl frequently.
Add Cool Whip and stir until well combined.
Pour cheesecake mixture into pie dish and spread evenly. Top with Cherry Pie filling.
Place 1/4 cup dark chocolate melting wafers in microwave safe bowl. Set power for 50% and cook time for 2 minutes. Check to see if chocolate is melting, if not repeat process. Stir until chocolate is smooth and creamy.
Drizzle chocolate over top of Cherry Pie Filling. Chill until chocolate is set. Serve immediately or cover and refrigerate.
Recommended Products
As an Amazon Associate and member of other affiliate programs, I earn from qualifying purchases.
Nutrition Information:
Yield:
10
Serving Size:
1/4 cup
Amount Per Serving:
Calories:

209
Total Fat:

8g
Saturated Fat:

4g
Trans Fat:

0g
Unsaturated Fat:

3g
Cholesterol:

12mg
Sodium:

133mg
Carbohydrates:

32g
Fiber:

2g
Sugar:

9g
Protein:

2g