Cream of Broccoli Soup is made with just a few simple ingredients. Chicken stock, heavy cream, chopped fresh broccoli florets, butter…there's always got to be butter…and seasonings. It creates the most delicious Cream of Broccoli Soup you will ever taste.
Years ago, if my memory serves me right…which at my age is always a bit like Russian Roulette…my parents went to a dinner at the home of some church friends.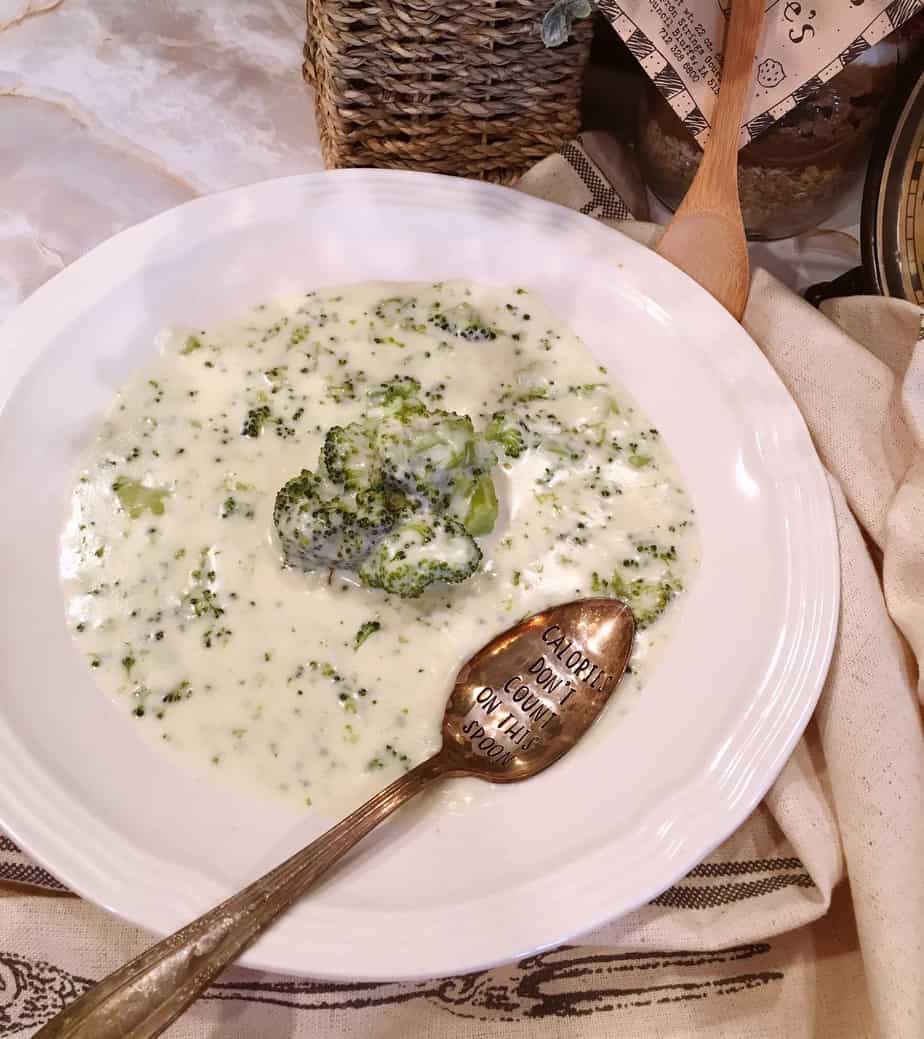 When they came home my mom was raving about an absolutely amazing Cream of Broccoli Soup that Betty William served. She asked Betty for the recipe, and the rest as they say…is history.
I love this recipe. L.O.V.E. this recipe. it's created with just a few ingredients. I think that is what makes it even more impressive.
It goes along with my theory of cooking. You only need a few truly great ingredients to create amazing dishes. Too many ingredients, in my humble opinion, creates conflict within a dish. Usually the saying "Sometimes more is not better, it's just more" is true.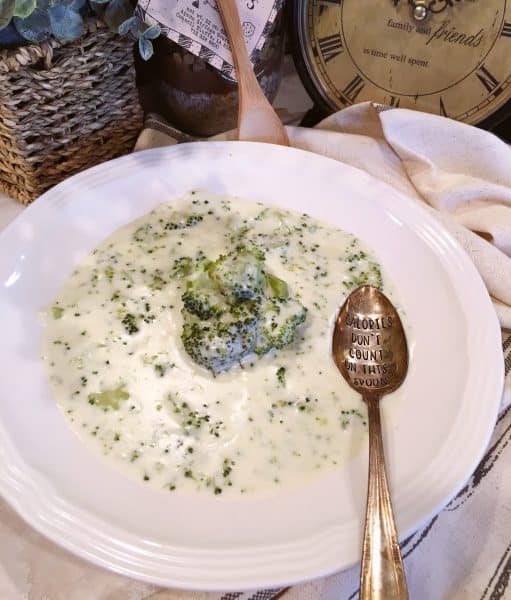 I usually make this recipe on Christmas Eve. It was my substitution for Grandpa's Oyster Stew (Gag..choke…yuck! Do you love how I'm holding back my true feelings..lol) We are the branch of the family tree that doesn't enjoy that particular family tradition. Sorry Grandpa.
My kids all love this Cream Soup as does Mr. Nest. In fact, I don't know too many people who have had this luscious Homemade Cream of Broccoli Soup that don't love it. Even if they aren't huge broccoli fans. (I know there are groups of "anti-tree" vegetable loving peeps out there!)
A few weeks ago I was craving this soup! Craving it!! It dawned on me it is also the perfect "Springtime" soup and would be a great "starter" for your Easter meal.
We had ours for dinner with grilled cheese sandwiches and it was heavenly! Whether you use it as the beginning course to a big family dinner…or it is dinner…you'll love this rich creamy soup.
How to Make Cream of Broccoli Soup
As I stated above, the ingredients for this dish are simple. Broccoli, butter, flour, chicken broth or stock, half-and half, whipping cream, salt and pepper to taste. Six main ingredients create this splendid soup. Let's get cooking!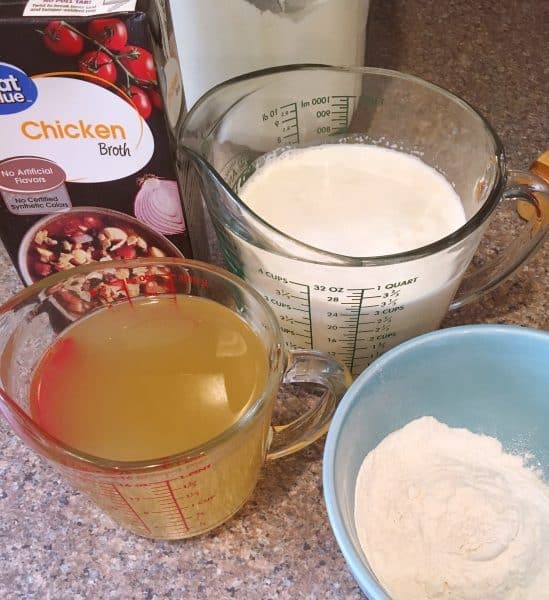 It seems a little redundant to say… but this dish begins with fresh broccoli. (You'd be really disappointed if I had said it starts with green beans) The original recipe doesn't state how much broccoli to use…so I use about 3-4 stocks of broccoli.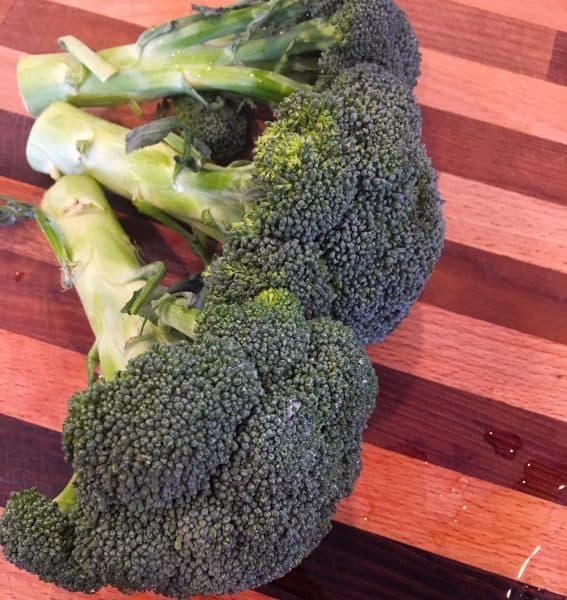 Using a sharp knife cut flowers off of stems. Use the flowers only. I just start chopping the tops off. I try to avoid using the stocks, because they are a bit tough. Set aside.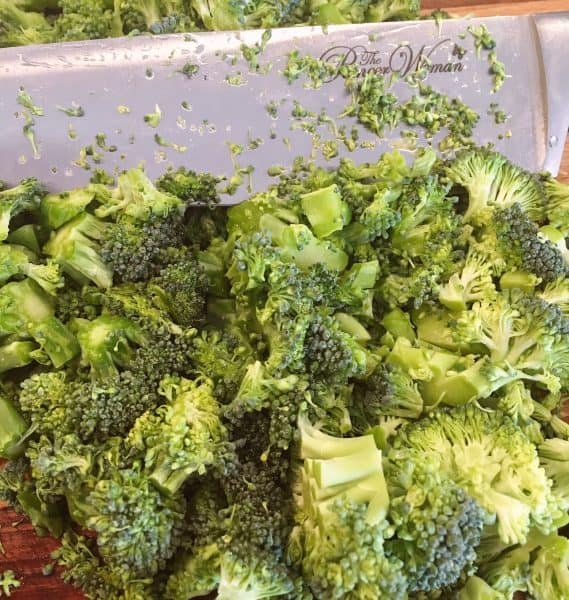 In a large pot,over medium heat, melt 1/2 cup, or one stick, of butter. Remember a good recipe has splendid "fat" elements. Don't shun the butter. Embrace the butter. (It's a little slippery…but embrace it anyway.)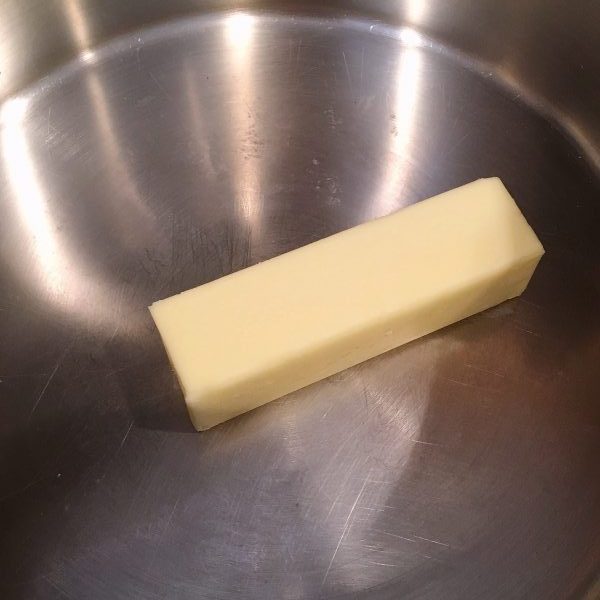 Sauté broccoli florets in melted butter until semi-tender.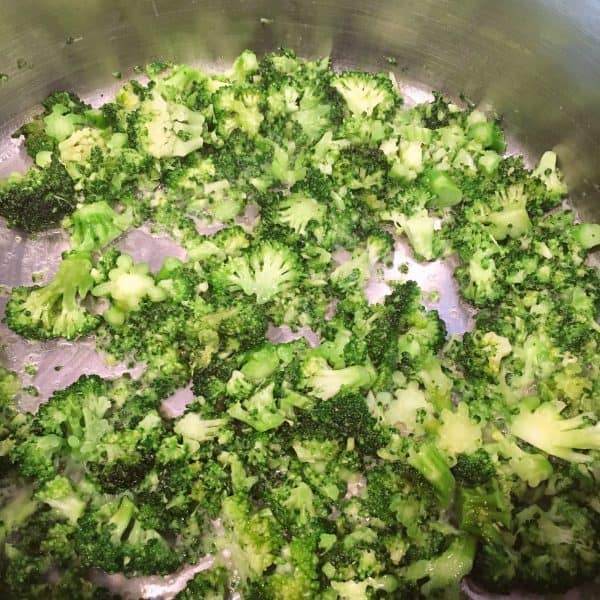 Add 1/2 cup of flour on top of the broccoli…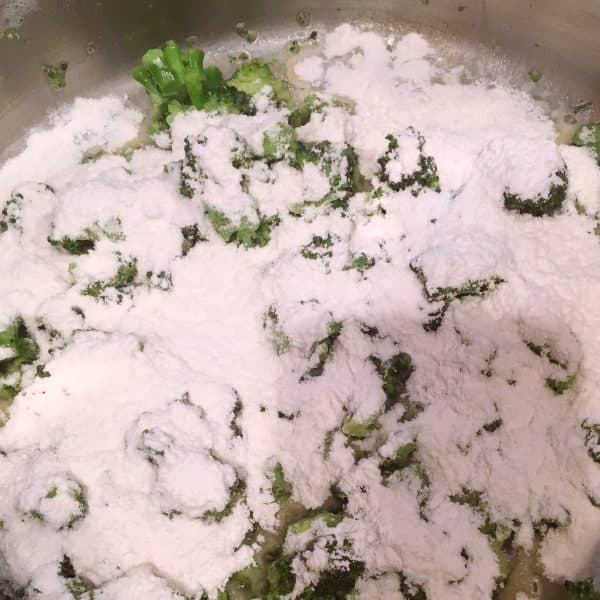 Stir the flour and broccoli around to create a thick roux. It will look like a big ol' clump of a mess…that's okay. Just keep following along..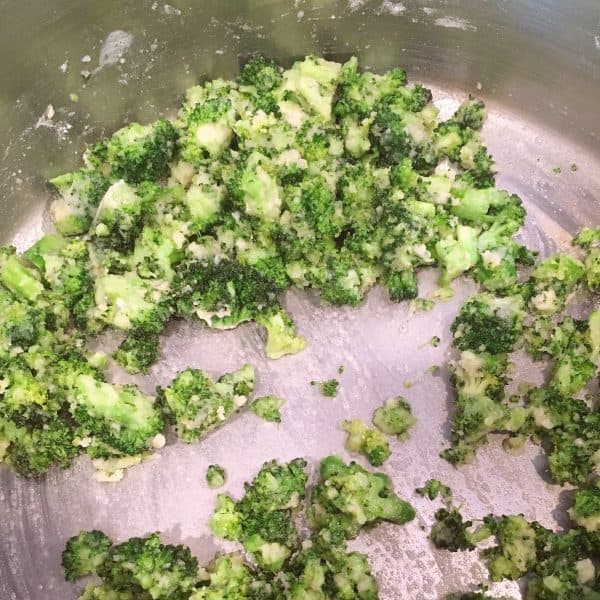 Slowly add two cups of chicken broth while stirring.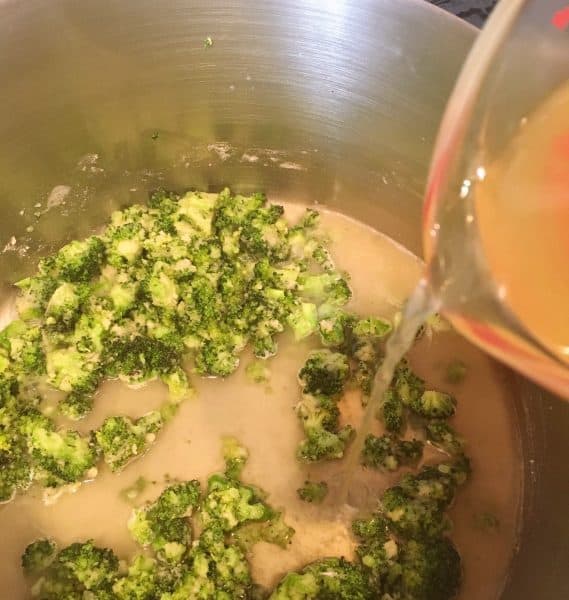 Continue to stir over medium-low heat until thick. (Yep, still a bit of a clumpy mess…just hang in there with me. I promise we are not making broccoli paste.)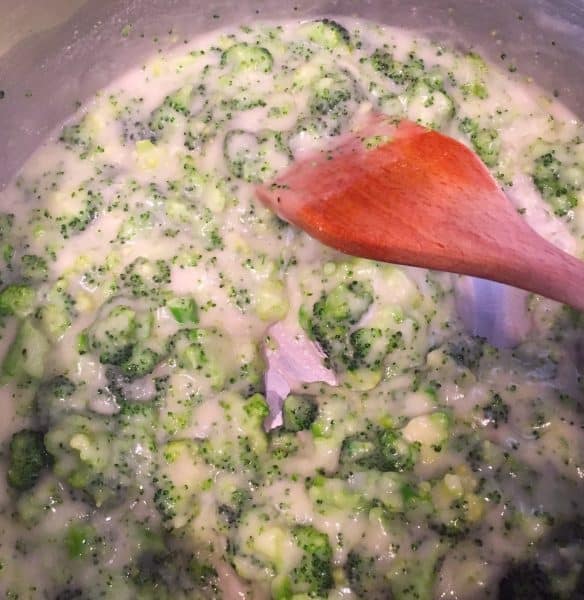 Reduce heat to low. Add 2 cups half-and-half and 1 cup of heavy whipping cream. Salt and Pepper to taste. Give it another stir.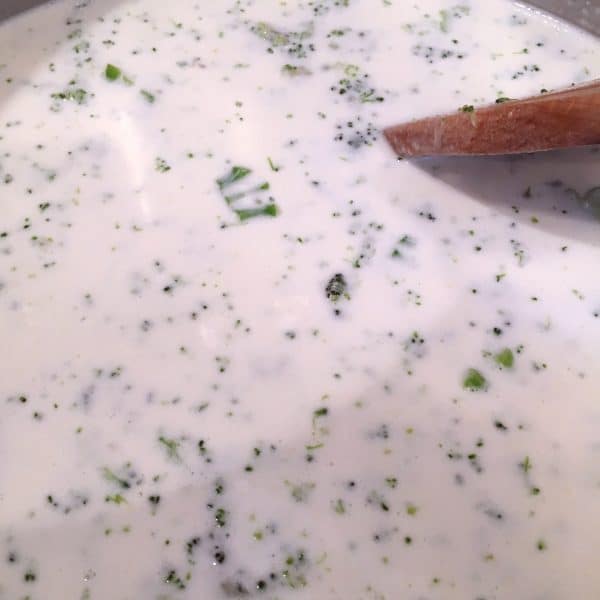 Simmer for about 1/2 hour stirring occasionally. The soup will thicken as it simmer's. Be sure to stir it as the cream can tend to brown on the bottom of the pan.
TIP: If you want the soup really thick, turn the heat off after the 1/2 hour and allow to cool then reheat. The soup thickens even more as it cools.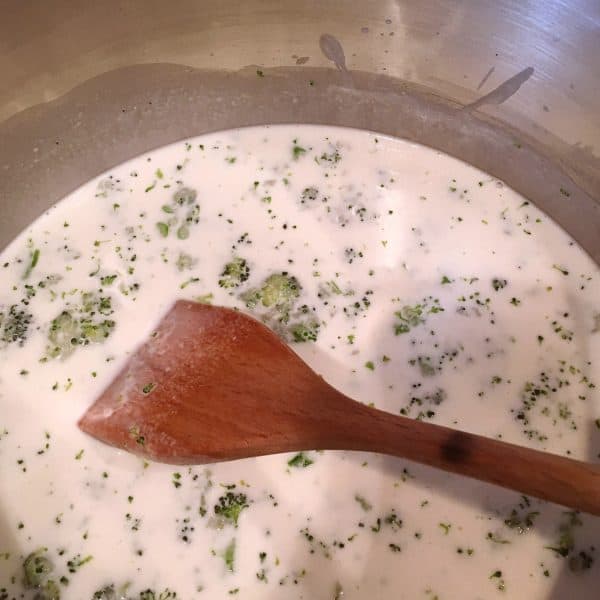 Ladle into bowls and serve immediately.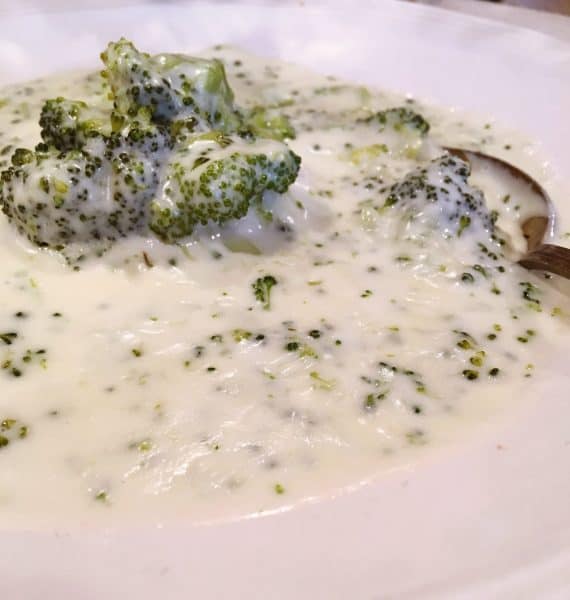 You can top it with grated cheese….I would plead with you that you don't. This is a true "cream" soup and not a cheesy cream soup. Broccoli is the star of this show. The delicate richness of the cream allows that broccoli to shine.
The first spoonful will have you swooning! It's hard to describe how just a few ingredients can combine to create such a wonderfully wickedly delicious soup.
This soup practically melts in your mouth. The broccoli is tender, the soup extra creamy,and the chicken broth lends its rich flavors. Simple and uncomplicated. Just how I like it.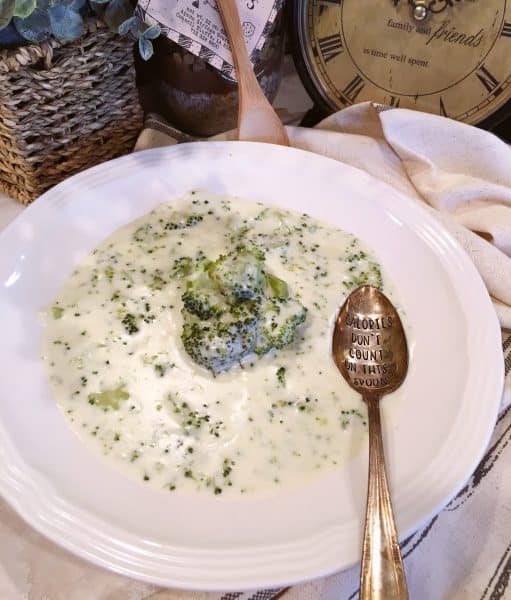 This beautiful Cream of Broccoli Soup would be a stunning beginning to your Easter meal or any family gathering you're having. It's also fantastic for a soup bar or a great side with your favorite sandwich.
One taste and you'll be an instant fan…just like we are at this Nest. Betty has since passed away. Her son recently told me that this is one of his favorite recipes that his Mother made.
I will always think of her when I make this soup. Hope that it brings her joy knowing that her delicious recipe is bringing happiness to another generation…and for more to come.
That's what I love about cooking. LOVE! The meals we make, the recipes we share, the tastes, flavors, joy, traditions, and memories made around the dinner table come down to one thing, an expression of our love for those we care about. It's really what cooking is all about and I why I love sharing it with all of you.
Fantastic Soup Recipes
Thanks for stopping by and visiting with me. The printable recipe is below. You can follow me on Pinterest, Facebook, and Instagram. I'd love to have you join me.
Have a Great Day and Happy Nesting!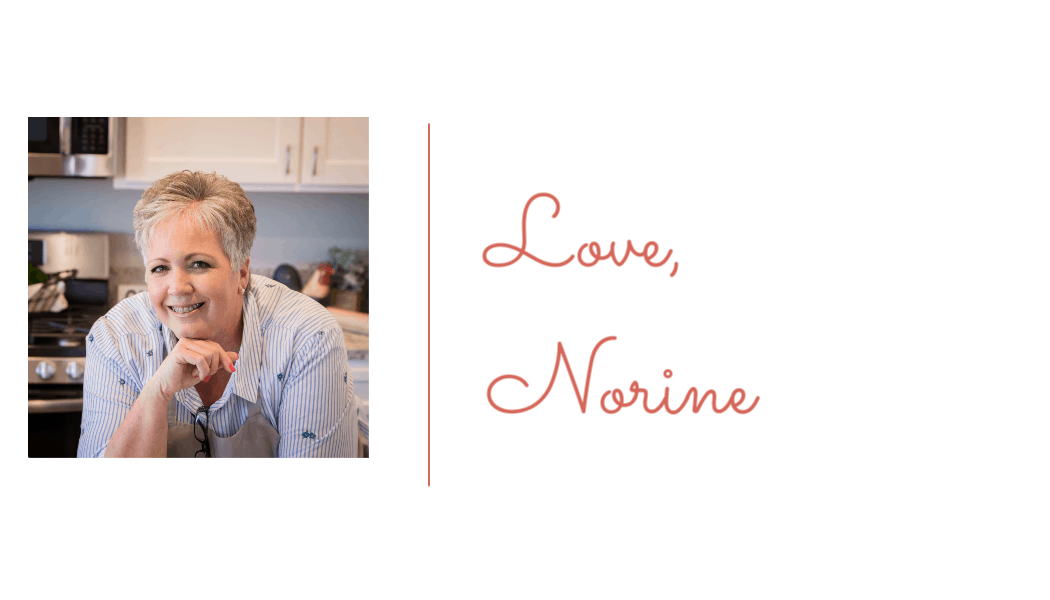 Yield: 4 servings
Cream of Broccoli Soup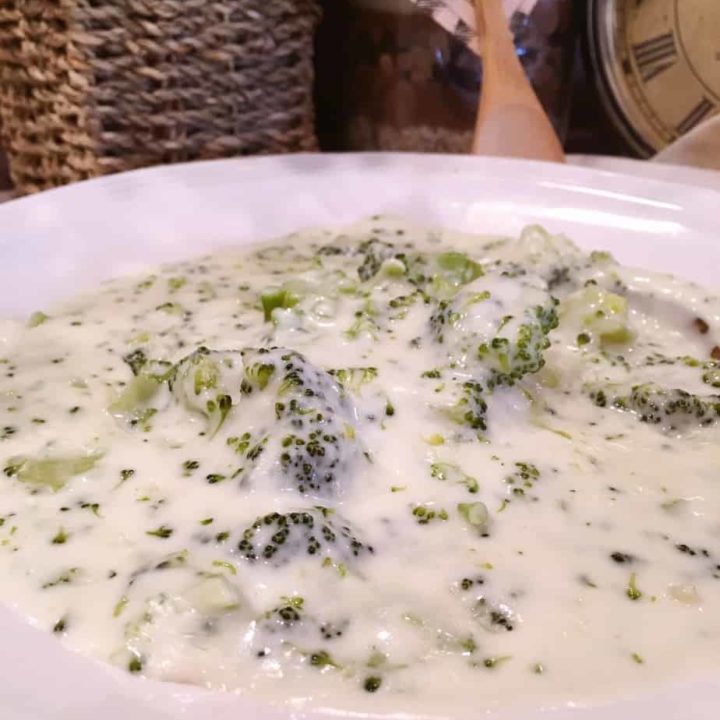 Six simple ingredients combine to create a rich creamy base with fresh broccoli florets. It's splendidly delicious.
Ingredients
3 - 4 hearty bunches of broccoli stalks
1/2 cup butter
1/2 cup flour
2 cups chicken broth
2 cups half-and-half
1 cup heavy whipping cream
salt and pepper to taste
Instructions
Wash and trim flowers off broccoli. Set aside.
In a large pot, over medium-low heat melt 1/2 cup of butter. Add broccoli florets. Saute until tender.
Sprinkle top of sauteed broccoli with flour. Stir until thick.
Slowly Add chicken broth, stirring continually until mixture thickens. Reduce heat to low. Slowly add half-and-half and heavy whipping cream. Add salt and pepper to taste.
Simmer for 30 minutes, stirring occasionally, until base reduces slightly and soup thickens.
Recommended Products
As an Amazon Associate and member of other affiliate programs, I earn from qualifying purchases.
Nutrition Information:
Yield:
4
Serving Size:
1 1/2 cups
Amount Per Serving:
Calories:

622
Total Fat:

58g
Saturated Fat:

37g
Trans Fat:

2g
Unsaturated Fat:

18g
Cholesterol:

173mg
Sodium:

812mg
Carbohydrates:

21g
Fiber:

1g
Sugar:

7g
Protein:

8g