Pasta Shrimp Salad is a quick easy tasty simple seafood salad that's great as a side or as a main course for those hot summer nights!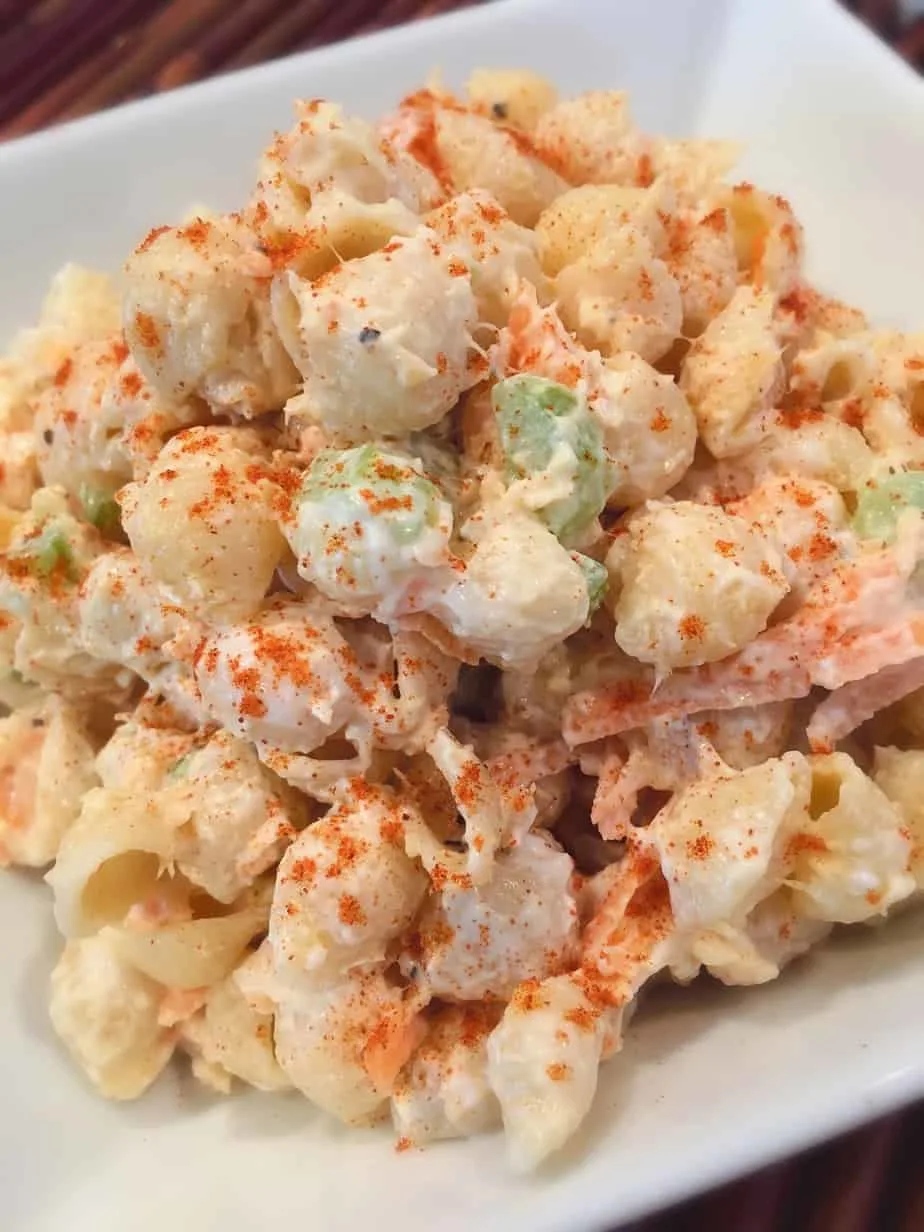 I have to admit it… not going to lie… I'm pooped! Between babysitting Baby "B" this week so that her parents could take a weekend trip to celebrate their anniversary, the heat, gardening and a hundred little things going on… I'm just plum worn out!
There's No "Yee" in my "Haw"! I also feel like a dog chasing his tail and getting nowhere fast! Ever have one of those weeks? Whew! Bring on the weekend!
One thing I did manage to do this week was prepare this Yummy Shrimp Salad.
I usually try to prepare a few salads that I know I can use throughout the week for lunches. Mr. Nest goes to work early, and I love him SO much that I get up and pack his lunches for him. (I know right?) So, it is really nice to have a big bowl of this salad in the fridge.
How To Make Pasta Shrimp Salad
When I created this recipe I used simple ingredients I had on hand…grated carrots, chopped celery and red onion.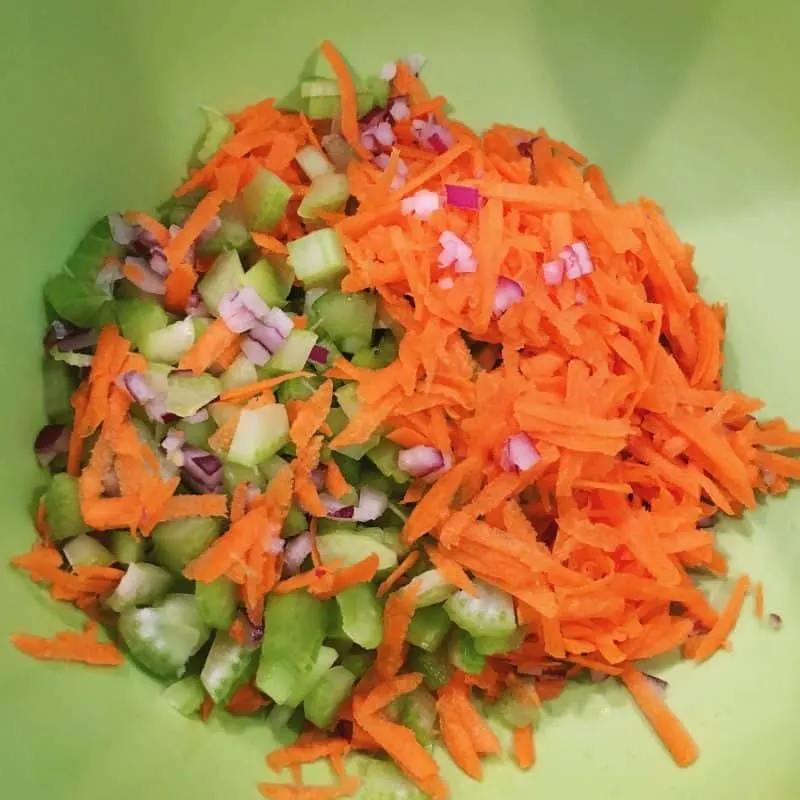 I love color when cooking! So pretty and so appetizing.
Since I was making a shrimp salad it only seemed fitting to use the small pasta shells. I love them. They always remind me when I was little girl gathering the small seashells on the beaches in San Diego.
I use one can of tiny shrimp for this salad. If you want it really "shrimpy" (is that even a word?) You could use two cans. I have to be honest…most of my recipes are pretty flexible. (I may not be but…my recipes are! Lol)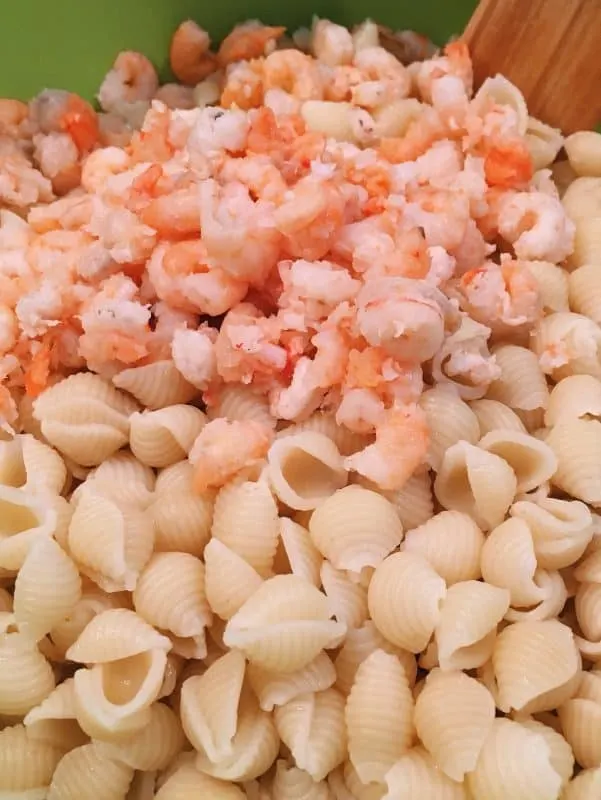 Add cracked black pepper and salt to taste! Can you tell I'm a HUGE fan of cracked coarse black pepper? I believe if you are going to have pepper…let's taste it! Let's not be a pansy about it!
Add a touch of lemon juice and a big heaping spoonful of mayo! MAYONNAISE. Miracle Whip is evil and from the devil! (I guess we all know where my flexibility ends!) If my grandmother had one flaw…it was her love of…gag… Miracle Whip! (I'm sitting here convulsing!)
Mix it all together and chill for about 2 hours.
Before serving sprinkle with some paprika. Ta-da! You're finished!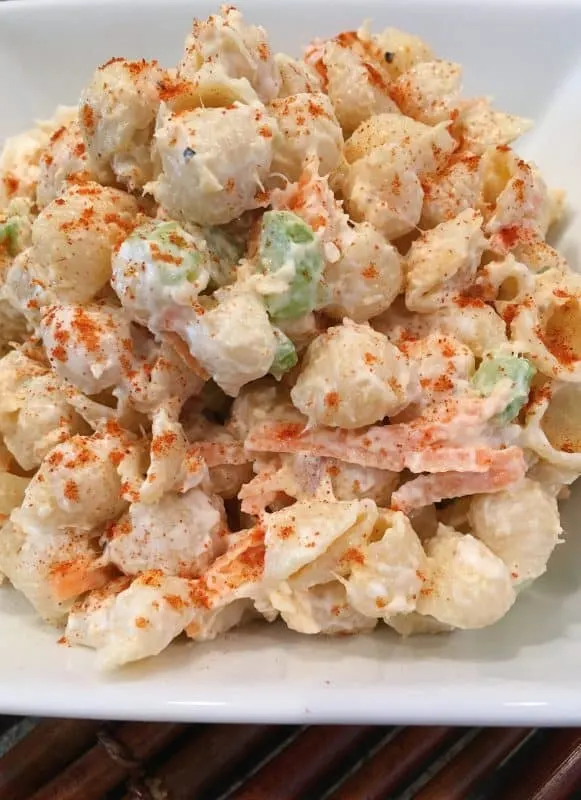 This salad is so good! It doesn't have a huge complexity of flavors. Just pure simple ingredients. Which allows the shrimp shine through.
It's creamy and comforting. The tiny shrimp tend to fall apart as you fold all the ingredients together and that's Okie Dokie! You want shrimp to be the star of this salad! It is…after all… Shrimp Salad! Hooray for the little guys!
Favorite Pasta Salad Recipes
You know what would go great with this? A nice tall glass of my Triple Berry Lemonade! Yuuuummmm! Now I'm hungry for lunch!
Enjoy!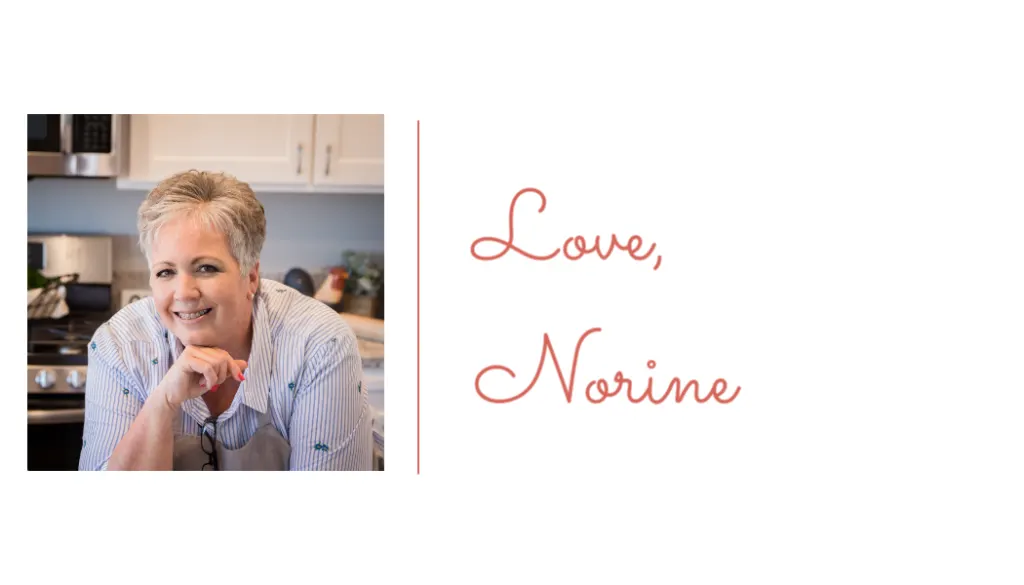 Yield: 12 servings
Pasta Shrimp Salad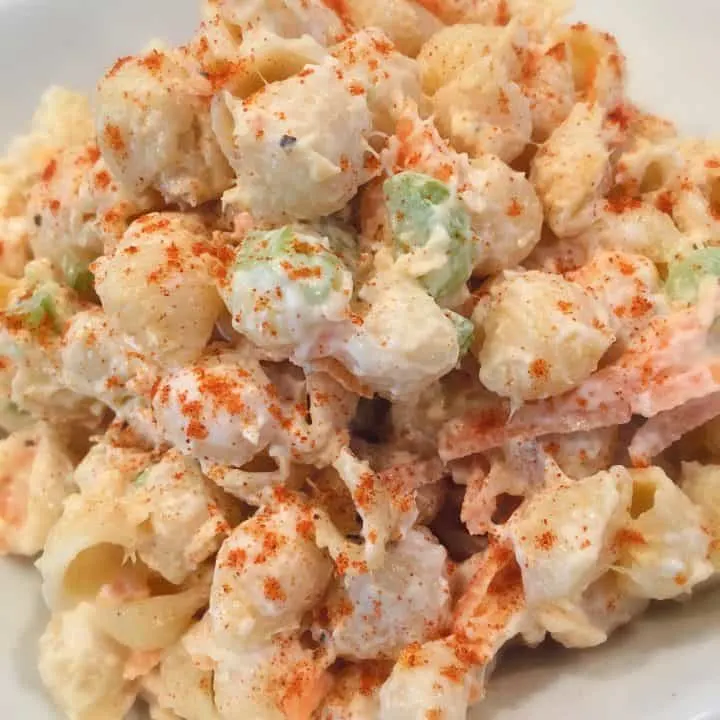 A simple yet delicious Pasta Shrimp Salad. Perfect for summertime lunches or as a side dish. Enjoy!
Ingredients
1 cup Shredded Carrots
3/4 cup Chopped Celery
1/4 cup finely chopped Red Onion
1 can Tiny Shrimp
5 cups cooked small Pasta Shells (or one package of shells cooked)
1 1/2 cup Mayonnaise
Coarse Black Pepper and Salt to taste
1 tsp Lemon Juice
Sprinkle of Paprika
Instructions
Place the shredded carrots, chopped celery and red onion in a large bowl. Cook your pasta shells till Al dente and rinse. Add to the vegetables. Drain the can tiny shrimp. Add the shrimp to the pasta and vegetables. Add in the Mayonnaise, salt, pepper and lemon juice. Gently stir till all ingredients are mixed well. Place in covered bowl and chill for 2 hours. When ready to serve sprinkle with paprika.
Nutrition Information:
Yield:
12
Serving Size:
1/2 cup
Amount Per Serving:
Calories:

290
Total Fat:

21g
Saturated Fat:

3g
Trans Fat:

0g
Unsaturated Fat:

17g
Cholesterol:

12mg
Sodium:

243mg
Carbohydrates:

21g
Fiber:

2g
Sugar:

1g
Protein:

4g
Norine's Nest in no way provides any warranty, express or implied, towards the content of recipes in this website. It is the reader's responsibility to determine the value and quality of any recipe or instructions provided for food preparation and to determine the nutritional value, if any, and safety of the preparation instructions.