Cheesy Chicken Broccoli Rice Casserole is what happens when you take two family favorites and combine them!
Yep… I married our timeless classic Chicken Rice Casserole and Chicken Broccoli Casserole. (It's looking like a great relationship so far! As long as neither one hogs the cheesy covering! lol) Long grain white rice is combined with creamy chicken soup, broccoli, cheese, and of course tender juicy chicken.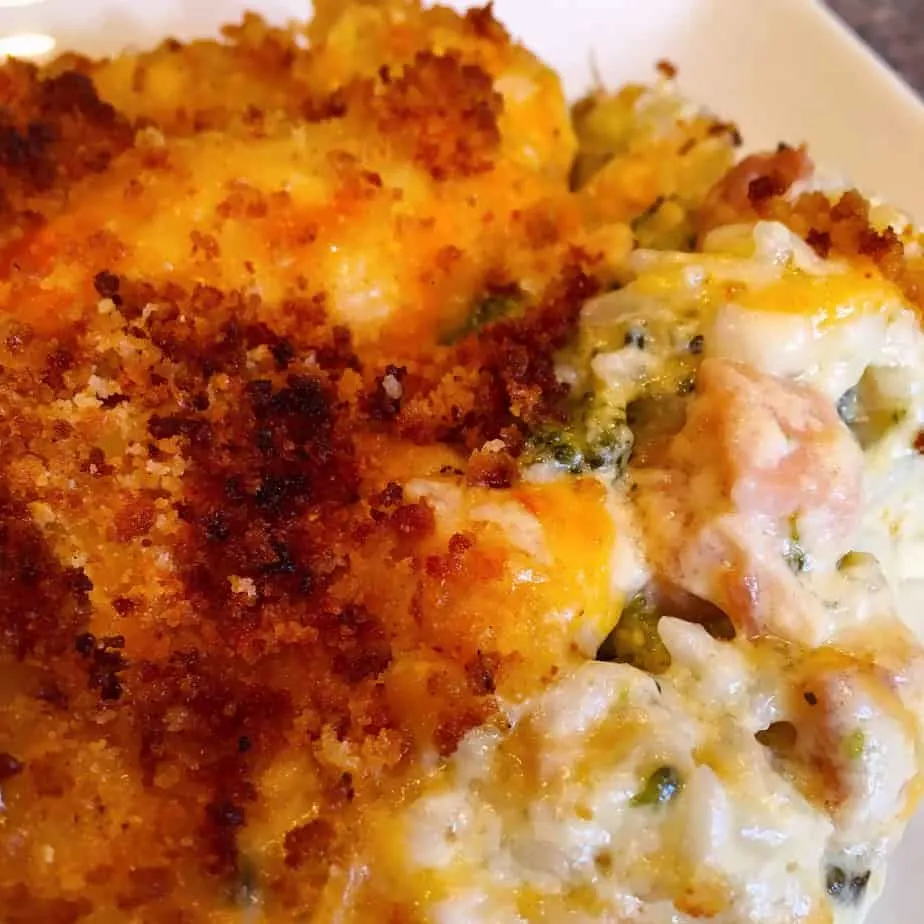 The combination creates the perfect dinner dish. One that is both classically delicious, and also easy to make.
For years I've been making steamed rice to serve with Chicken Broccoli Casserole and mixing them together on my plate. (For 30 years…I catch on quick friends!)
The other day I was trying to decide which casserole I wanted to make for dinner. Chicken Rice or Chicken Broccoli? The fog lifted and I thought… "Why not both?!!"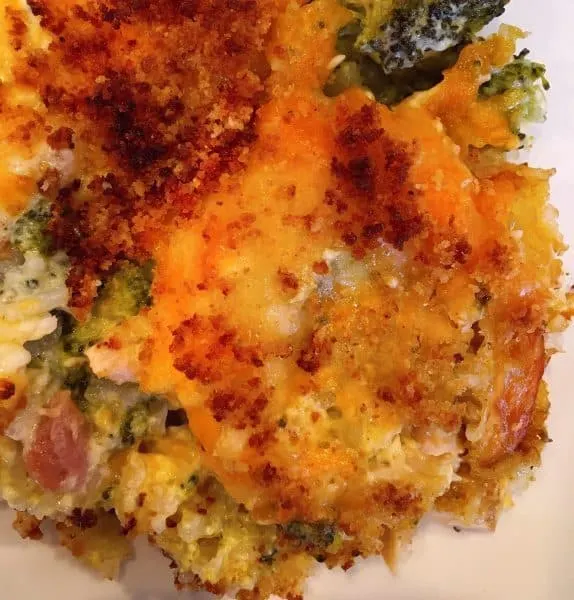 Why not indeed! So I got out my mixing bowl and started combing the best of both worlds.
What I love about this casserole is that I was able to change it up enough to hold its own in our casserole rotation at this Nest!
For this recipe you'll need: Long Grain White Rice, Cooked Chicken, Broccoli (fresh or frozen pre-cooked), Cream of Chicken Soup, Chicken Broth, Mayonnaise, grated cheese, Dry Italian Dressing Mix, Bread Crumbs, and Melted Butter.
How To Make Chicken Broccoli Rice Casserole
In a medium bowl mix together Cream of Chicken Soup, Long Grain White Rice, Chicken Broth, Mayonnaise, and 1 Tablespoon of Dry Italian Salad Dressing Mix.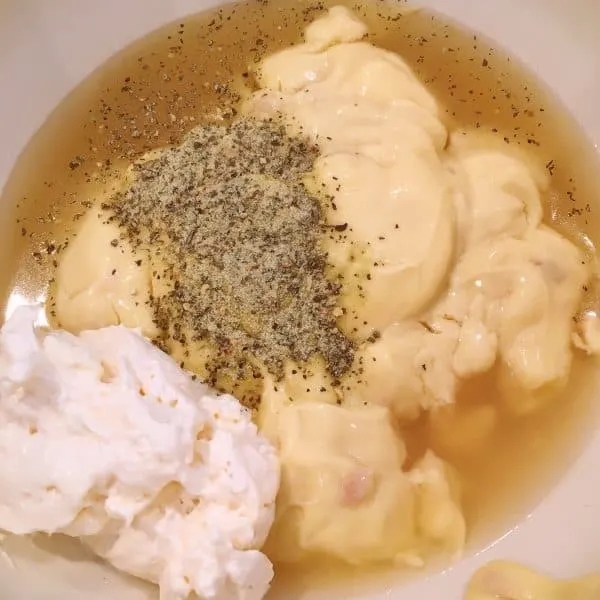 Mix together well. Add in one bag steamed broccoli or 2 cups of fresh cooked broccoli.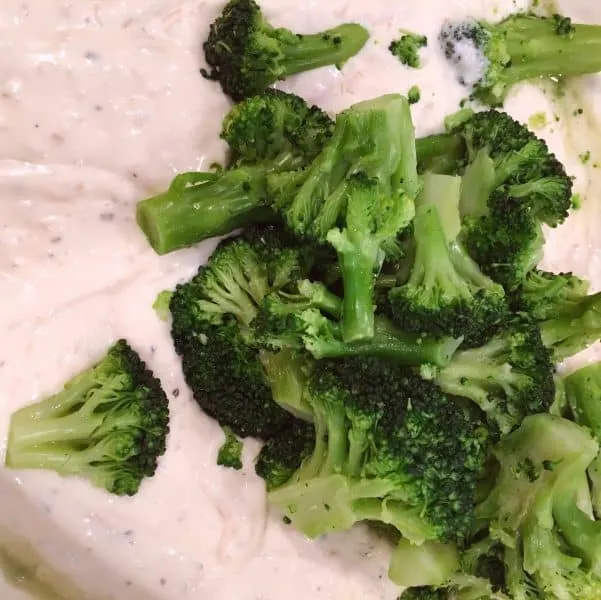 Stir in 3 cups diced cooked chicken. Continue stirring until all ingredients are well combined.
Add 1 cup grated cheese to mixture and stir again to combine ingredients.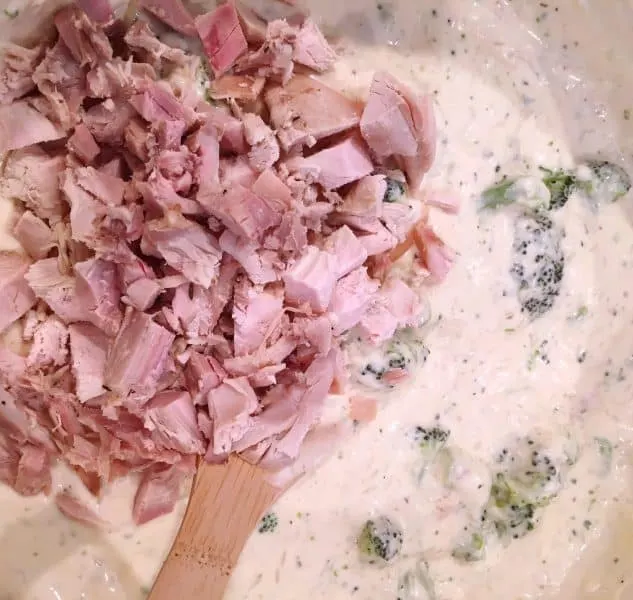 Place in a sprayed 9 x 13 baking dish or a casserole crock pot. I'm going to give you cooking instructions for both. (I'm just awesome like that! lol)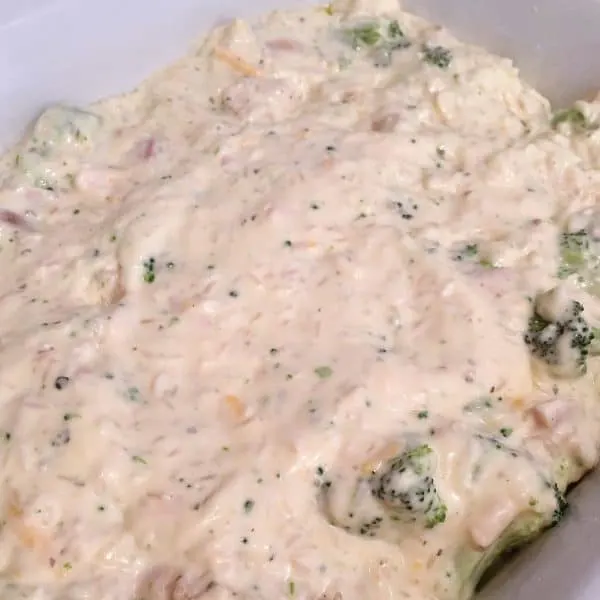 Top with more grated cheese.
I said "TOP with more grated cheese!" This is, after all, "Cheesy Chicken Broccoli Casserole…otherwise it would just be Chicken with Broccoli Casserole… or Chicken and Rice. Blah! We can't have that friends.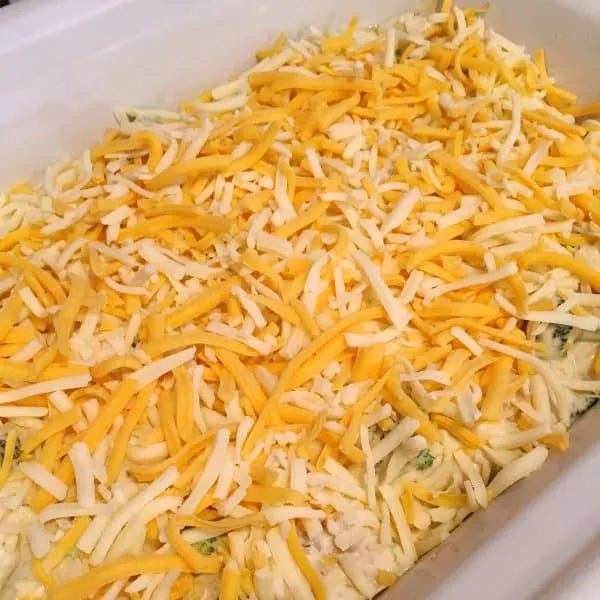 Mix bread crumbs with melted butter and sprinkle over the top of the cheese. (Raise your right hand and repeat after me…"We believe in more calories at this Nest!" lol)
If baking in the oven, cover with foil and pop the casserole into a preheated 350° oven. (Preferably your oven…but if you want to walk on into the neighbor's house and use theirs…be my guest!)
Bake for 1 hour. Remove foil and bake for another 10-15 minutes to toast bread crumbs.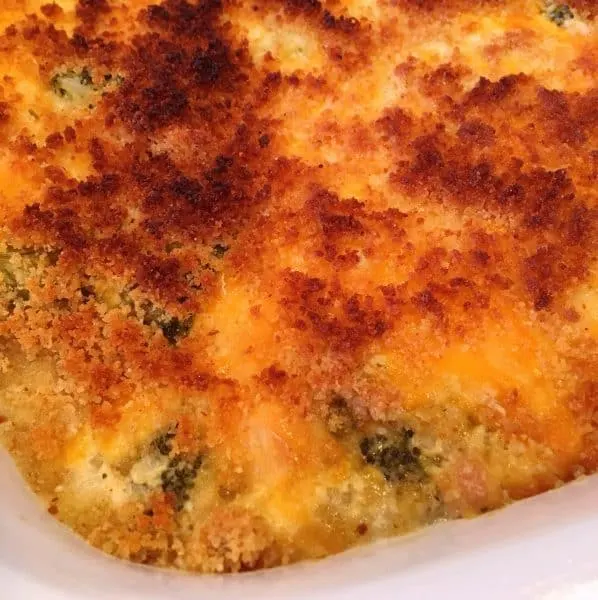 Isn't that just the yummiest?!!!
I say…"Forget the serving plates…find me a fork!" (Not really…Grandma would be appalled! I can hear her…"Just not sanitary Nori!" Now y'all know my nickname!)
If you decided to bake this in your casserole slow cooker, bake for 3.5 hours on low, check the rice to be sure it is tender. If not bake for another 30 minutes. Remove dish and place under broiler for 4-5 minutes to toast bread crumbs.
Time Saving Tips for Making My Cheesy Chicken Broccoli Casserole
Mix this casserole right in the pan you're baking it in, for a one pan dump meal.
Fresh or Frozen Broccoli will work with this casserole. Just be sure to cook it first.
Store bought Rotisserie Chicken works wonderfully in this casserole if you're in a hurry.
Make this a day ahead of time and place in the refrigerator before baking.
Bake this in your oven, or a casserole slow cooker. (I'm including baking instructions for both)
Bread Crumb topping is optional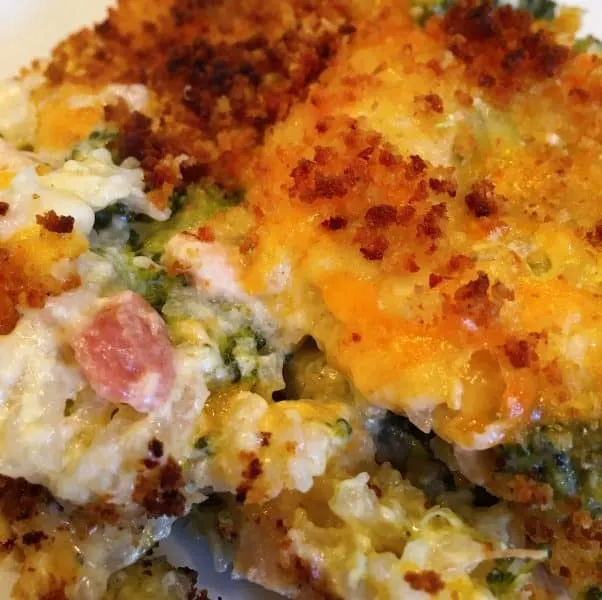 This casserole did not disappoint the birds at this Nest. How could it? Look at all that scrumptious YUM!
It's packed with creamy rice, tender juicy chicken chunks, and delicious broccoli. I love eating comfort food. This is THAT kind of dish! True Comfort food!
Serve with a side salad and your favorite muffins and you have the perfect dinner. (The kids will shout "Mom is Great!"….okay maybe not…but they should!)
If you like this recipe…PLEASE feel free to share it with your friends on Facebook, Instagram, and Pinterest.
Thanks for stopping by my Nest! Hope y'all love this new family favorite!
If you like this casserole you might enjoy these Family Favorite Budget Friendly Casseroles
Happy Nesting!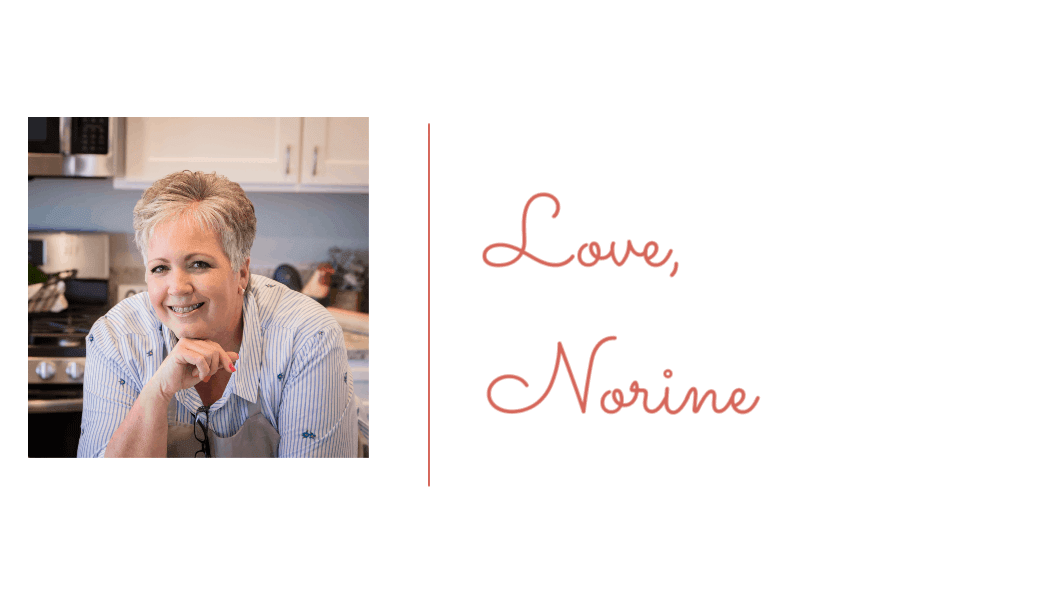 Yield: 8 servings
Cheesy Chicken Broccoli Rice Casserole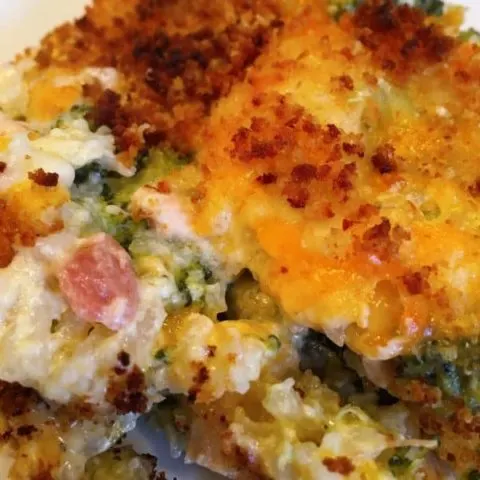 A Delicious Creamy Cheesy Chicken Broccoli and Rice Casserole That Is Sure to Become A Family Favorite. It's true comfort food!
Cook Time
1 hour
10 minutes
Total Time
1 hour
20 minutes
Ingredients
2 cans cream of chicken soup
1 cup long grain white rice
1 package thawed chopped broccoli, or 2 cups fresh chopped broccoli, cooked
1 Cup Chicken Broth
1 Cup Mayonnaise
3 Cups Grated Cheddar Cheese, divided 1 Cup for Casserole, 2 cups for Topping
1 Tablespoon Dry Italian Salad Dressing Mix
3 cups cut up chicken
1 Tablespoon Melted Butter
1/4 cup dry bread crumbs
Instructions
Preheat oven to 350°
In a large bowl mix together Soup, Rice, Chicken Broth, Mayonnaise, 1 cup of grated cheddar cheese, Italian Dressing Mix. Mix until well combined.
Fold in thawed broccoli, or fresh fork tender cooked broccoli.
Add 3 cups of diced chicken. Mix carefully until well incorporated.
Place casserole mixture in a greased 9 x 13 baking dish.
Top with reserved 2 cups of grated cheddar cheese.
Mix melted butter with bread crumbs.
Sprinkle on top of cheese. Cover casserole dish with foil. Bake for 1 hour at 350° remove foil and bake for an additional 10-15 minutes until bread crumbs are golden brown and lightly toasted.
Nutrition Information:
Yield:
8 servings
Serving Size:
1 1/2 cups
Amount Per Serving:
Calories:

655
Total Fat:

50g
Saturated Fat:

16g
Trans Fat:

1g
Unsaturated Fat:

30g
Cholesterol:

120mg
Sodium:

1291mg
Carbohydrates:

21g
Fiber:

2g
Sugar:

2g
Protein:

29g