Toddler friendly these Baby Fruit Popsicles are made with fresh fruit, juice, and lots of love!
Yesterday, on my way home from town, I stopped by my daughter's house to say "Hi" and get a squeeze from my favorite Grandbaby!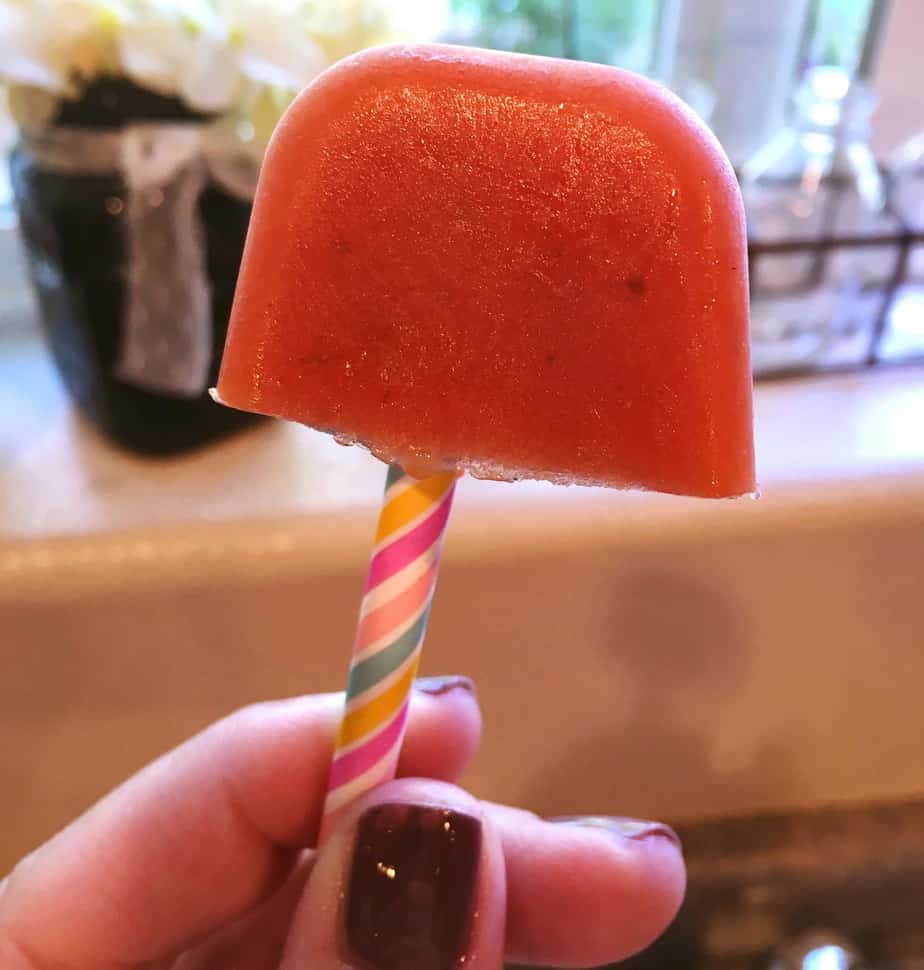 When the door opened there stood a frazzled Mommy, hair sticking out all over, clothes askew, tired eyes, and a crying baby looking equally as miserable! Oh boy…did the memories come flooding back! Some days being a Mom is HARD!
That's why God made "Grandma's"! (Que the superman theme music!) We don't come with capes but, I'm thinking our saggy arm wings are a "shoe-in" for a close second! Right? RIGHT!!! (lol)
Our little Baby "B" is cutting teeth! Ouch! I was wracking my gray matter… (What's left of it)… for something that would help. Then it dawned on me! Baby popsicle!
Pinterest is on overload with homemade popsicle right now. They look amazing but… they are also BIG! Hand one of those to a 9 month old you are going to have a melted pool of sugary slop before they can eat it! Nope…we don't want to clean up that mess!
I decided a "baby" popsicle was called for! One that baby could hold and eat on their own. (Our Baby "B" is VERY independent! )
Today I tried them out…I'm thinking they were a huge success! What do you think?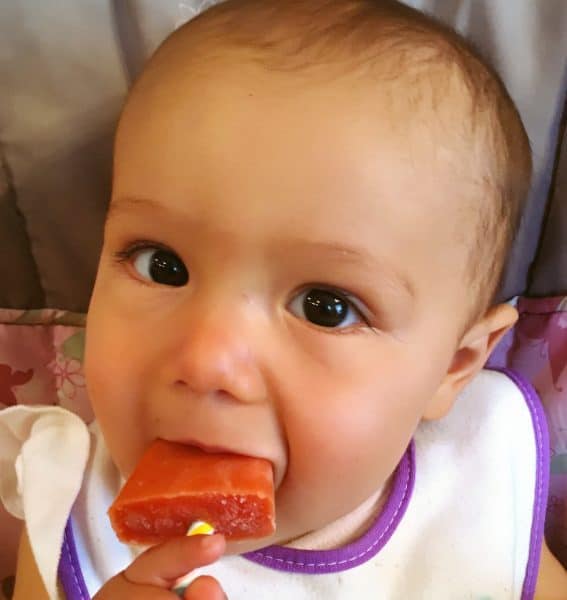 She had this finished in no time and with very little mess! She ate it all by herself too!
The minute I handed it to her she put it right up again her gums! The wonderful thing about this popsicle is that they are made out of pure 100% baby juice and fresh fruit! These are packed with vitamin "C"!
How To Make Frozen Fruit Baby Popscicles
I used cut up Mango, Strawberry's, Banana, a squeeze of lime juice, and 100% Baby Juice, that I purchased on the baby food aisle. Plopped it all in my handy-dandy blender and went to town!
TIP: This is a great recipe for using up fruit that is getting a little past it's prime!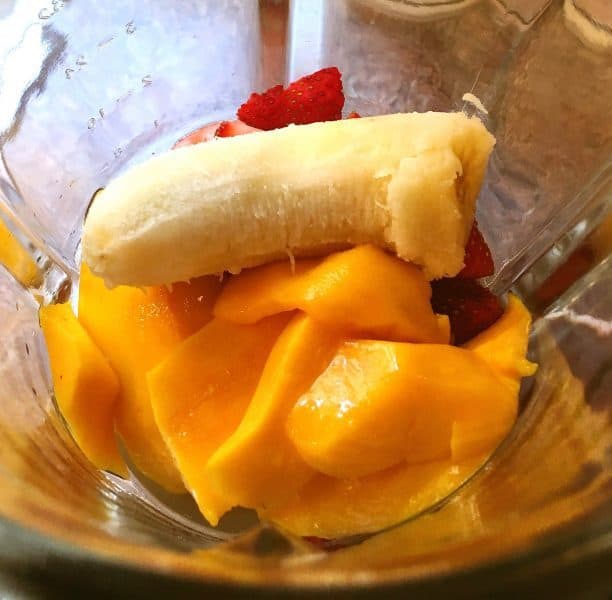 Time to blend! Blend it all together for about 60 seconds. It will depend on your blender. You want it really smooth with no chunks!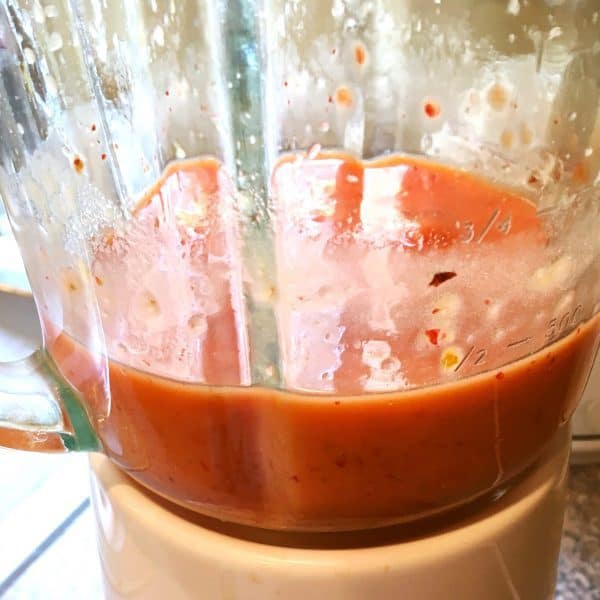 Next, you need an Ice Cube Tray. If you don't have one, they carry them at the dollar store, or you can often find them at the Thrift stores too. Fill the slots all the way to the top!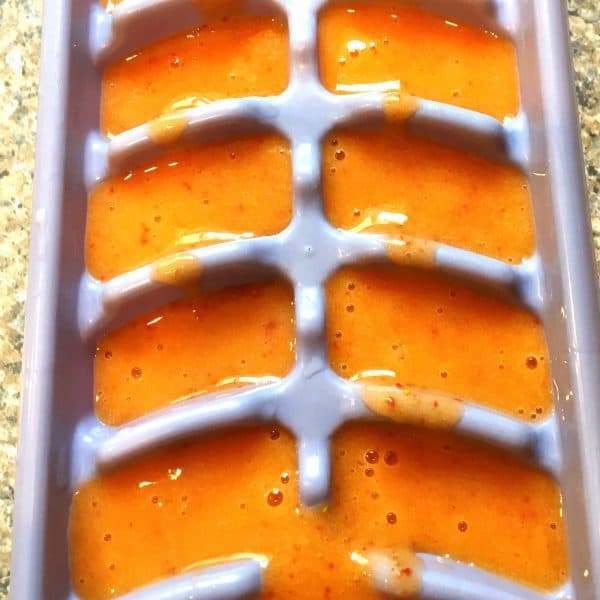 Cover the ice cub tray with foil and run your fingers over the edges and ridges of the ice cube tray. This will set the marks in your foil for where to place your sticks! Why the foil? The foil is going to hold your sticks in place until the liquid freezes!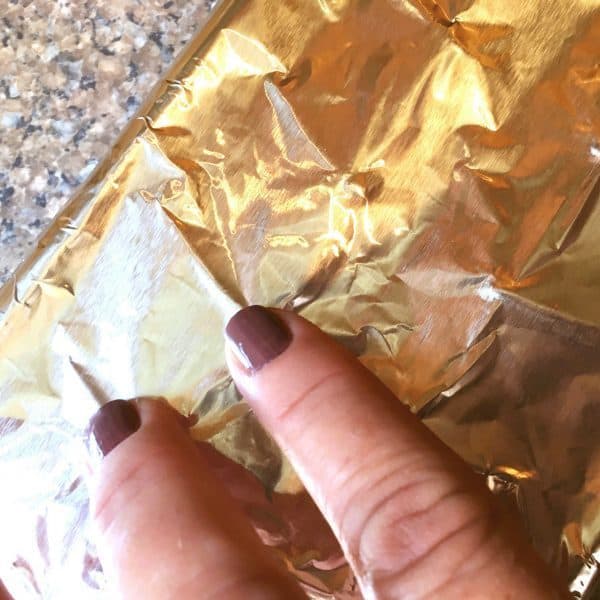 Okay, time for confessions of a grandma blogger! I bought a whole bag of popsicle sticks…put them in a safe place…can't find them! (Insert "The eye roll of disgust" followed by the "head shake of you're a dope!")
So, I resorted to my cute paper straws! I'm really glad I did. It makes these frozen treats even more fun! Plus Baby "B" had no trouble hanging on to that straw!
TIP: I cut my straws in half at an angle so they were easier to poke through the foil. Note: Be sure to use paper straws, they are like little cardboard cylinders.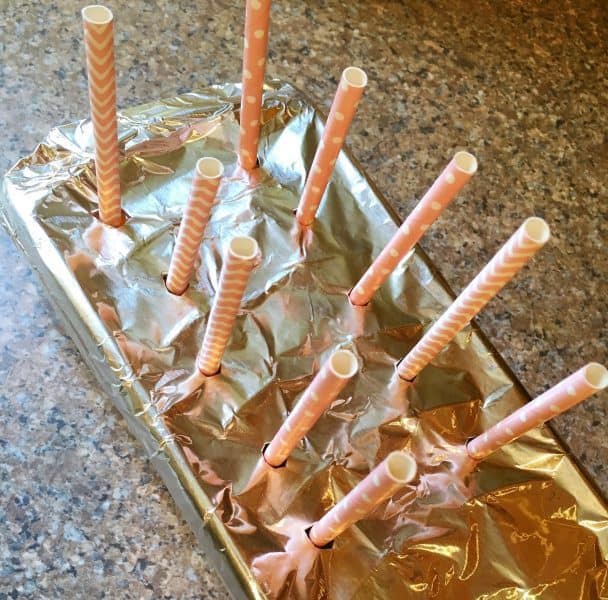 Once you have all your sticks in all the Ice cube tray slots it's time to slide them into the freezer. You'll want a nice level shelf for this. (Hmmm, wonder where all that ice cream came from! )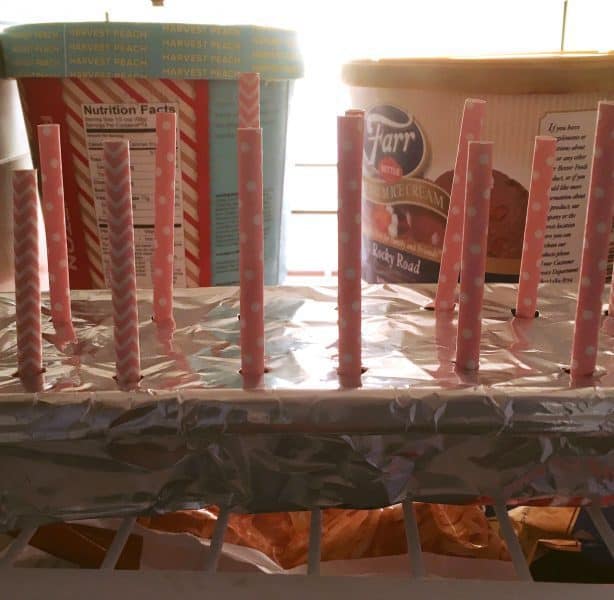 Let them set up till frozen. Usually over night. In the morning you can twist your tray and the baby Popsicle will pop out and you can place them in a zip lock freezer bag till ready to eat.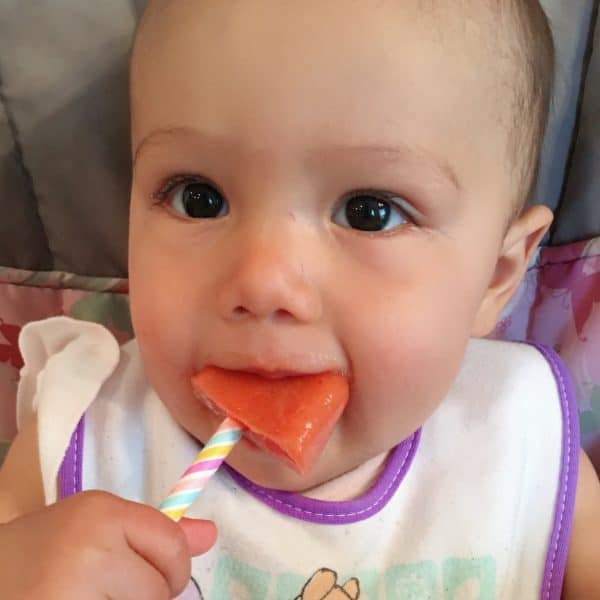 This is a healthy frozen treat for babies and toddlers alike! It's a snack you'll feel good about giving them. I didn't add any sugar just pure fruit and 100% baby fruit juices.
Frozen Dessert Recipes
I love that she had her very own treat! One she didn't have to share and that she had control over! The possibilities of blends is endless! Have fun with it!
Enjoy!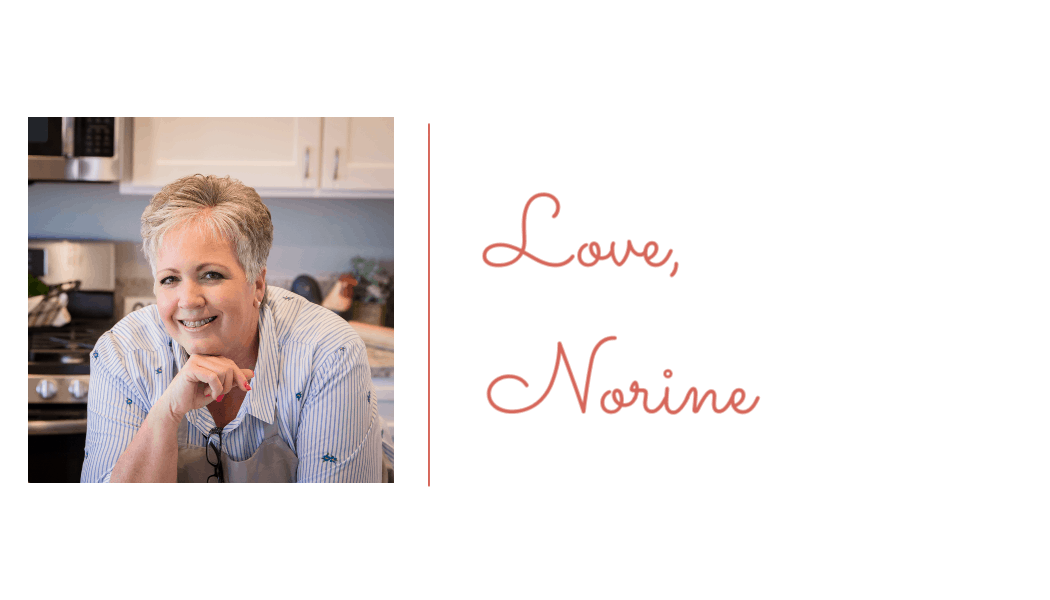 Yield: 12 servings
Baby Fruit Popsicles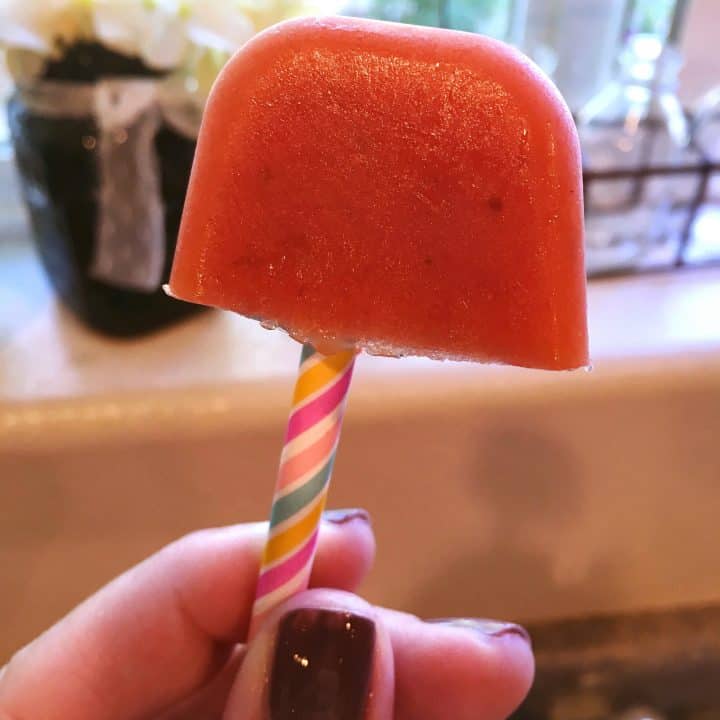 Toddler size and toddler friendly fruit popsicles perfect for the baby that's teething!
Additional Time
4 minutes
Ingredients
1/2 cup chopped fresh strawberries
1 small mango chopped and seeded
1/2 a banana
1/4 cup 100% pure baby fruit juice, any flavor
1/2 a lime, juiced
Instructions
Add all your ingredients into a blender. Puree for one minute, or longer, till all the fruit is pureed and there are no lumps.
Pour into an ice cub tray. Fill each slot to the top.
Cover tray with foil. Gently press down along the edges and inside slots to make outline marks.
Using paper straws, cut in half, at a angle, place one cut straw per ice cube tray slot.
Carefully place tray in freezer and let set till frozen. Usually over night.
Remove popsicles by twisting tray. Store in a zip lock freezer bag. Serve when ready.
Recommended Products
As an Amazon Associate and member of other affiliate programs, I earn from qualifying purchases.
Nutrition Information:
Yield:
12
Serving Size:
1
Amount Per Serving:
Calories:

34
Total Fat:

0g
Saturated Fat:

0g
Trans Fat:

0g
Unsaturated Fat:

0g
Cholesterol:

0mg
Sodium:

12mg
Carbohydrates:

9g
Fiber:

1g
Sugar:

7g
Protein:

0g