Ground beef, beans, corn, taco seasonings and great toppings like cheese, corn chips, and avocado all come together in this easy and delicious Taco Soup!
Let's face it! It may be the most wonderful time of the year…but it's also the busiest time of the year! We're all racing around putting up tree's, decorating cookies, shopping, coming up with "Elf on the shelf" ideas, and wrapping gifts!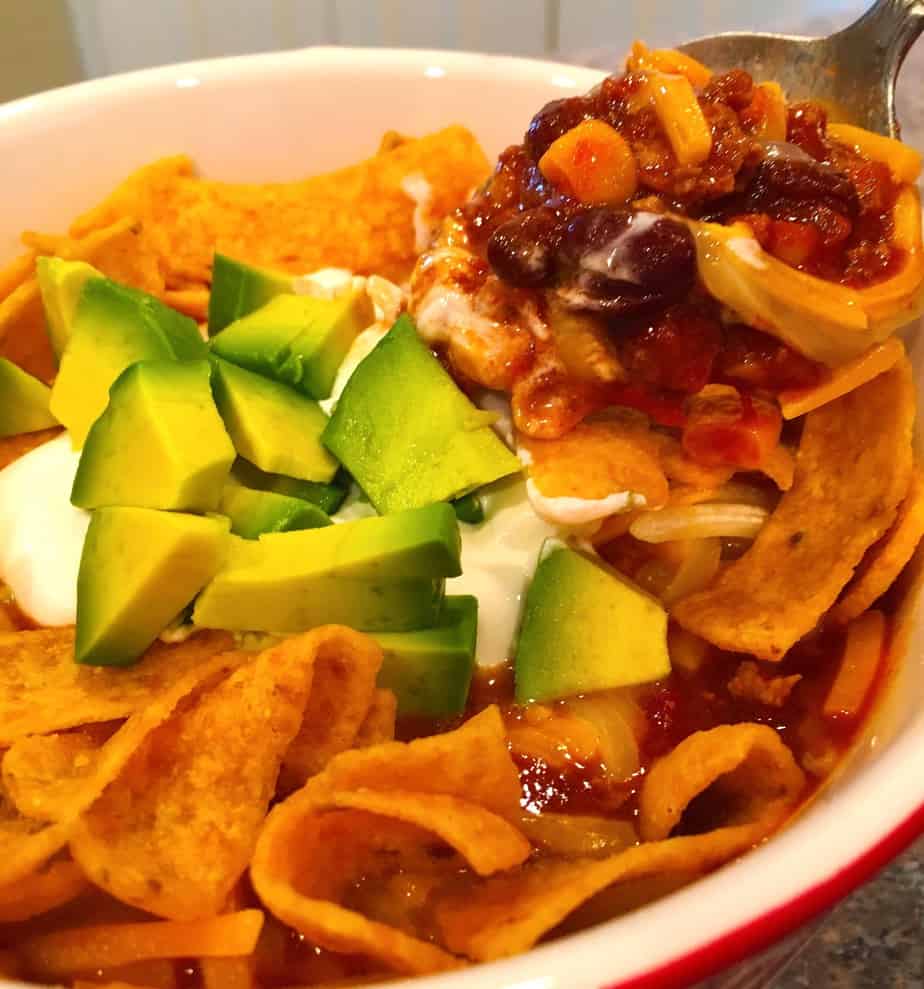 Then there are the Christmas cards, school parties, teacher gifts, family photos, office parties, etc! Whew! "Ho-ho-ho!" The list is never-ending. Yet somewhere between our 2nd hot chocolate, 8th candy cane, and our 5th sugar cookie we yearn for a warm, cozy, semi-nutritious meal for the family! If we could just find the time to squeeze that in!
What can we do?
Taco Soup to the rescue! I've been making this recipe since the day my husband brought it home from work. It was scribbled down on a piece of paper a sweet elderly customer handed to him back when he worked for Smith's Food and Drug in California. That was over 25 years ago! It's still a family favorite and one of my all time "go to" quickie recipes! This is pure comfort food!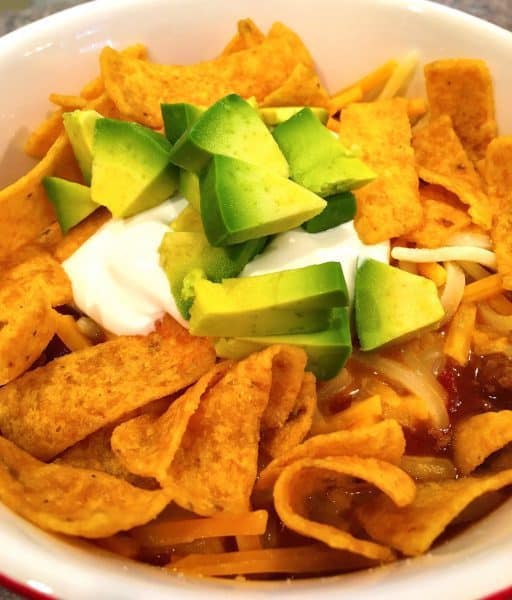 So if you're trying to figure out what to make for dinner tonight…between the tinsel and the cookies…let me help you out!
How To Make Easy Taco Soup
In a large pot, brown one pound of ground beef!
Throw a little dried onion flake in there while you're browning it off.
TIP: You can use fresh if you want and you have the time to chop onion! I never do when I'm making this so in goes dried onion flakes.
Add one teaspoon minced garlic. Drain off any excess fat you don't want. (Why can't we just do that with our bodies? " Hey Honey…I'd like to drain off about 15 25 pounds! Could you just tip me over a bit! Thanks!" lol)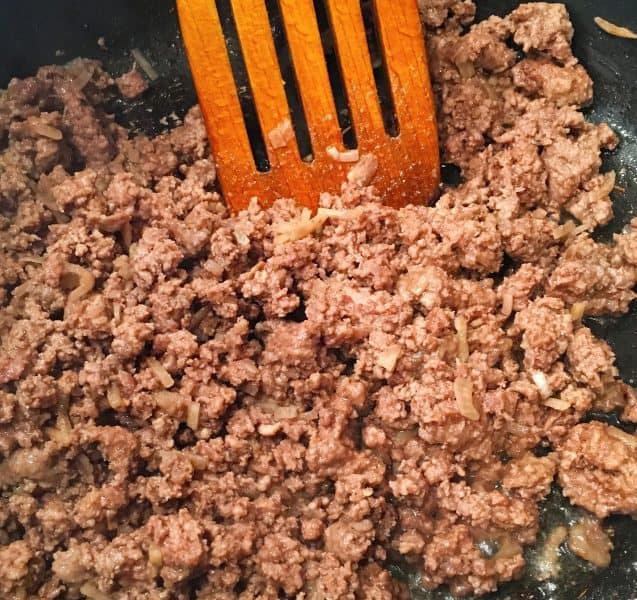 Once you've drained the ground beef, you're going to get out your handy dandy can opener and start opening and dumping! That's why I love this recipe. You just dump it all in. Don't drain anything!!! That's right…don't drain it. Open…dump! Super easy! This is a GREAT first recipe for your kids who are just beginning to cook!
Into the pot goes one can of whole corn, one can of crushed or diced tomatoes (your choice…I like little chunks of tomatoes, but that is me), one can black beans, three small cans tomato sauce, one small can chopped mild green peppers, one package taco seasoning mix or two tablespoons of taco seasoning mix, if you make your own.
Stir it all together and allow it to simmer for about 35 minutes to an hour. You can even put it in your crock pot on low or warm and leave it for a few hours. It's up to you and your time schedule.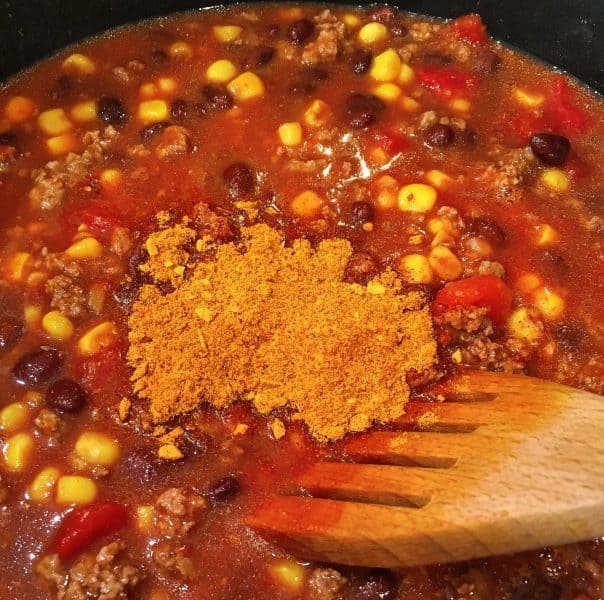 How To Serve Taco Soup
Serve with corn chips or "Frito's", grated cheddar cheese, sour cream and diced avocado! Ta-Da! See how easy that was! In just a few minutes and with one can opener you have a delicious and semi-nutritious meal the whole family will enjoy!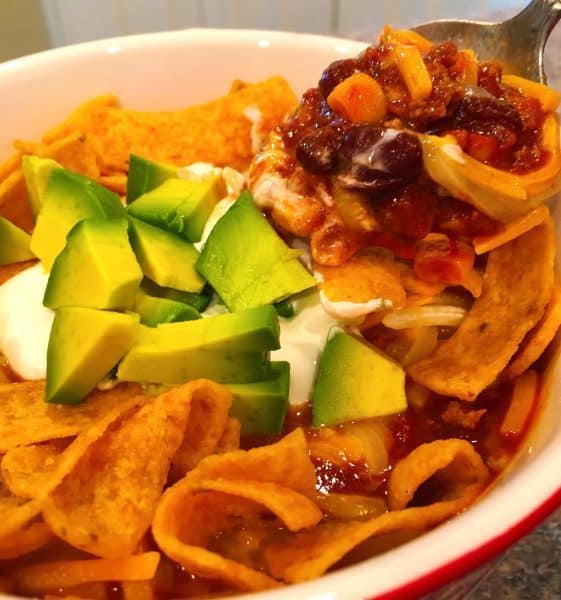 That's all there is to it! Easy as 1-2-3! Brown, dump, mix, simmer, and serve! So…maybe it's as easy as 1-2-3-4-5! But, it's still easy and perfect for this chilly busy time of the year!
I love the rich warm flavors of this soup! It's a hearty soup so your "Man Bear" will love it as much as your "man cubs and cubettes"! My kids don't like the avocado so they skip that part…however, they love the cheese and sour cream!
I just set the toppings out on the counter and let them have at it! I even buy grated cheese for this recipe! Gasp! Shocking I know! Hey, it's all about a quick easy dinner!
If you have more time you can serve it with a big green salad and some yummy fresh corn bread. However, if you're like me and just aiming to get something on the table that is warm, yummy, and filling…you can serve it as is!
Other Delicious Quick Dinner Recipes
Hope this will help you out a little bit this busy Holiday Season! Have a Fantastic Weekend! Thanks so much for visiting with me! Now it's back to tree trimming for me!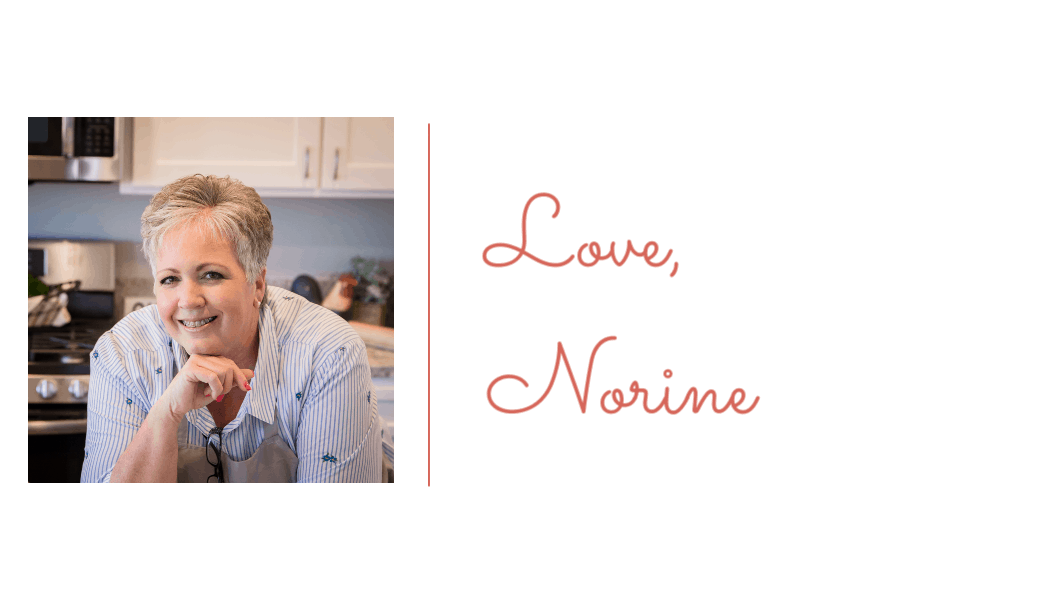 Yield: 8 servings
Taco Soup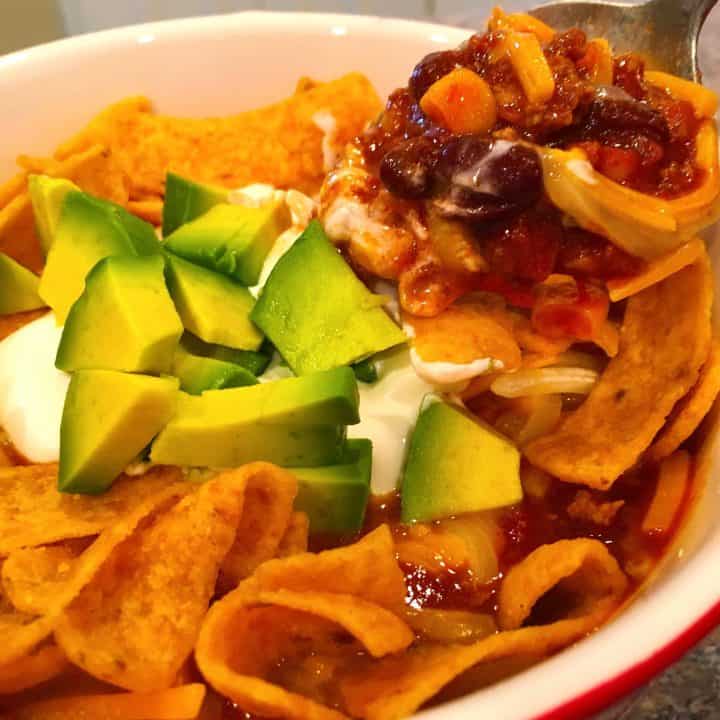 An easy taco soup that is bursting with all the flavor and yummy ingredients of tacos! It's the perfect meal when your schedule is busy and you need to whip up something fast!
Ingredients
1 pound ground beef
1 Tablespoon dried onion flakes or one small onion chopped
1 teaspoon minced garlic
1 can whole corn
1 can black beans
1 small can diced green peppers
1 can (15 oz) crushed or diced tomatoes
3 small cans tomato sauce
1 package taco seasoning mix or 2 Tablespoons homemade taco seasoning mix
1 bag corn chips or Frito's
2 cups grated cheddar cheese
1 diced avocado
sour cream
Instructions
In a large pot brown ground beef with onion flakes and minced garlic. Drain off excess fat.
Add to the pot all canned products. Do NOT drain them. Add in canned corn, canned black beans, canned diced chiles, diced tomatoes, tomato sauce. Add in one package of taco seasoning mix.
Mix well. Simmer over low heat for 35- minutes to an hour stirring occasionally.
Serve topped with cheese, sour cream, corn chips, and avocado.
Recommended Products
As an Amazon Associate and member of other affiliate programs, I earn from qualifying purchases.
Nutrition Information:
Yield:
8 servings
Serving Size:
1 1/2 cups
Amount Per Serving:
Calories:

444
Total Fat:

26g
Saturated Fat:

10g
Trans Fat:

1g
Unsaturated Fat:

13g
Cholesterol:

79mg
Sodium:

930mg
Carbohydrates:

26g
Fiber:

8g
Sugar:

5g
Protein:

28g