Surf meets Turf in this scrumptious and easy pan seared Denver Steak and Shrimp Recipe with a delicious garlic wine reduction! This spectacular dish is not only budget friendly…it's ready in 30 minutes!
Is there anything better than when two of your favorites come together in one mouth-watering dish? I can't think of too many things that top that in the foodie world.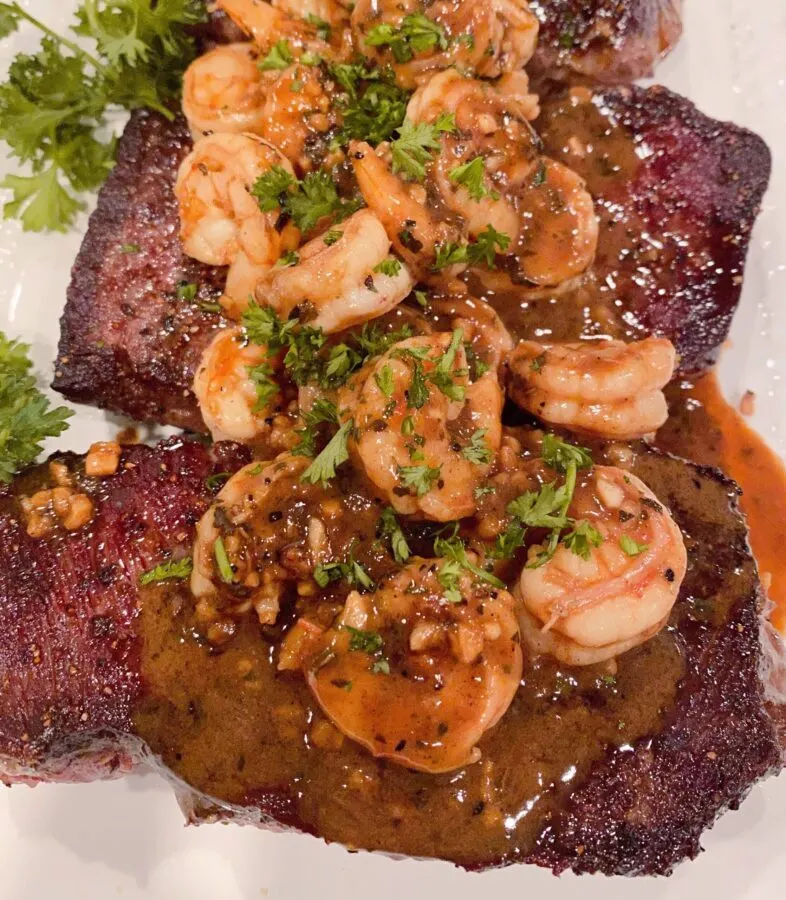 Especially when those two things happen to be a big juicy steak and plump shrimp all smothered in a tasty Garlic Herb Red Wine Sauce made in one pan!
I'll openly admit…it has taken me years to learn how to pan sear a steak! I'm not sure why everything in me would scream "NO00000!" when it came to plopping a beautiful piece of red meat into a hot skillet on the stove top, but it did!
However, when it's 10 below zero, for some strange reason, the "Mister" at this Nest will not go outside and grill for me, I had to master pan searing a steak! It's a little tricky, but really easy once you get the hang of it, and follow a few tips! So here are my handy dandy tips for Searing a Steak properly! Follow these tips, and you'll have a perfect pan seared steak every. Single. Time!
How To Properly Pan Sear A Steak
Remove your steak from the refrigerator and let it rest 10 minutes. Remember meat is muscle and will contract when it hits a hot skillet or grill. For tender steaks allow the "protein" to rest and relax. (Every mother's dream! Someone saying "Hey just sit there and rest and relax!" Makes ya wanna be a steak, huh?)
Pat the meat dry and season heavily. The minute that steak hits a hot pan or grill it will lose 35% of it's seasoning! I highly recommend seasoning your steak well, with salt and pepper, before cooking. Hit those steaks again right as they begin to cook.
When adding the steak to a hot skillet, ALWAYS, lay the steak away from you to prevent splatters and burns.
Make sure your skillet is HOT and ready to cook the minute that steak hits the pan! This will create the perfect sear! DO NOT TURN the steaks over until you have the perfect golden brown color! Remember…color is flavor!! A one inch, to one and a half inch, thick steak should cook on medium heat, 8 minutes on one side and 7 on the other for medium rare.
Don't forget your Aromatics! Add Whole Garlic cloves, rosemary, or thyme, etc. during cooking to infuse flavor into your meat!
Add a few pats of butter to your skillet before removing the steak from the pan and baste the steak with the melted caramelized butter. This will add a delicious "nutty" flavor to the steak.
Once your steak is cooked to your preference, allow the steak to rest. (See!! Mom's you want to be a steak!)
If you are not serving the steak "whole", but sliced, don't slice the steak too thin, steak should be sliced about 1/2 cm thick.
How do you know that steak is medium rare? Push on the inside of wrist, the part closest to your body, that bounce is "medium rare", if your steak feels the same when you push on it, you've achieved medium rare…remember the steak will continue to cook during the "rest" period! If you prefer your steak a little more well done then cook it a little longer, but medium/ medium rare is really the best way to eat a steak.
The most important part…as Gordon Ramsay would say…is to share that steak with someone you love!
How To Make Denver Steak and Shrimp
Now that you have all the tips you need for pan searing a steak, let's get busy working on this Steak and Shrimp Recipe!
I know some of you are asking "What's a Denver Steak?". Great question, because until recently I didn't even know what a Denver Steak was! However, I was drawn to them because of their beautiful marbling, color, and PRICE!
I did my research and found out that Denver Steaks are cut from the center of the Under Blade, near the "chuck roast". Some say Denver steaks are tough because they come from the portion of the cow that is overly worked creating tougher muscle mass.
However, I found these steaks to be extremely tender with a good amount of marbling and beef flavor. They are also known as "Poor Man's Ribeye".
How To Prepare the Steaks for Cooking
Let's get cooking! Remove the steaks from the refrigerator and allow them to rest at least 10 minutes. Season liberally with salt and pepper!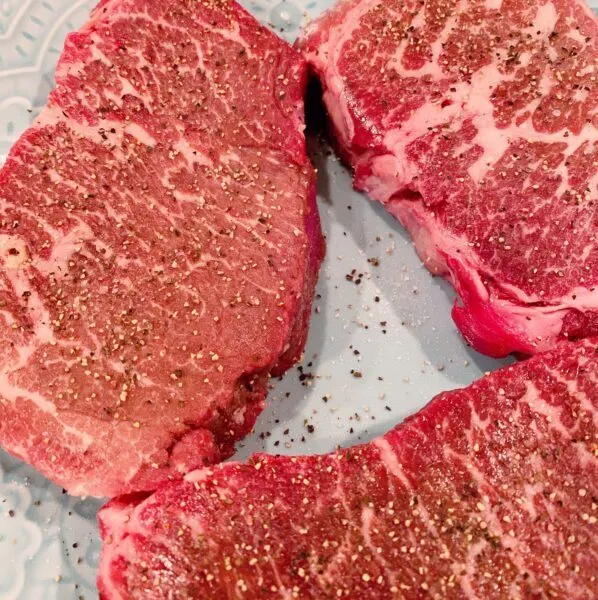 Heat a skillet over medium high heat. I used a cast iron skillet, but any skillet will work, including a grilling skillet. Cooking in a skillet allows the steak to sear evenly thanks to the flat surface it is cooked on.
TIP: Chefs recommend using Canola Oil or Peanut Oil because they are High Temp Oils. Meaning they don't burn or "brown" under high temperatures.
However, in this dish, I used Olive Oil and Butter. The combo of the two prevents the butter from browning and I prefer the flavor they add to a seared steak.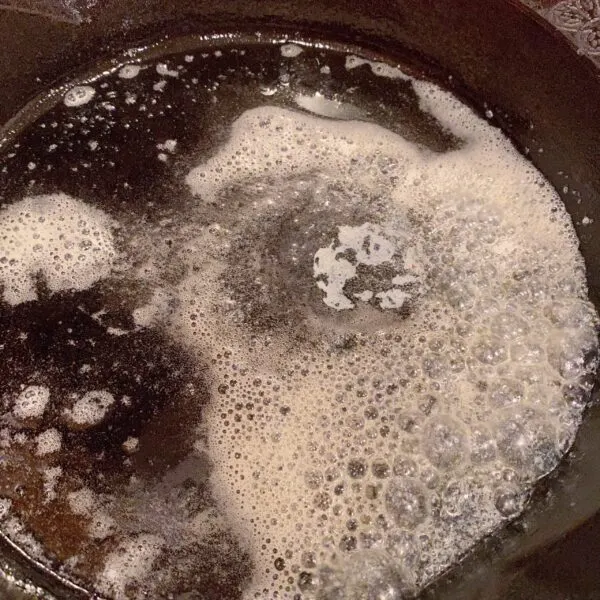 Add the seasoned steaks to the hot skillet by placing them carefully in the pan. Always lay a Steak AWAY from you to prevent splatter and to prevent you from burning yourself.
Add additional seasoning. Remember the minute that steak hits that sizzling hot pan it will lose 35% of it's seasoning. So add a little more pepper and salt.
TIP: If you're watching your salt intake…skip the extra salt. You've got more flavor coming!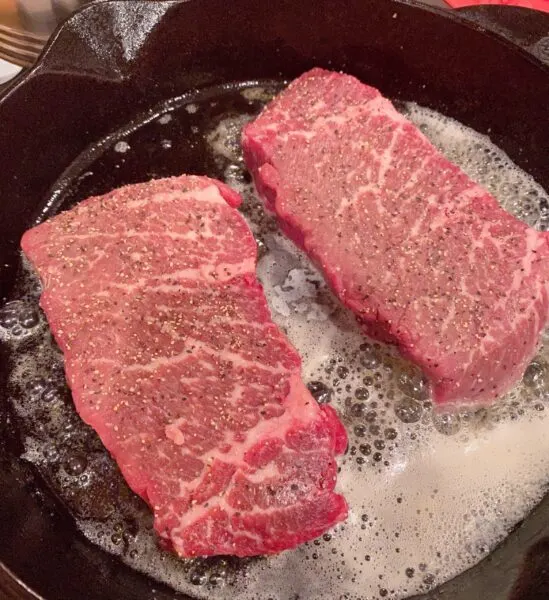 Once the steaks have that beautiful golden crusty sear on them, flip them over. It should take about 8 minutes on one side, and 7 minutes on the other side! Don't forget the tip for inside your wrist! Course if you're a little extra fluffy like I am…that bounce test may be a little tricky! (No judgement here… I firmly believe grandmas should have a little extra fluff for the snuggle factor! The fact that I could snuggle an army is a whole other topic of conversation!)
Before removing the steaks from the pan baste them for a minute with by placing a little extra butter in the pan and splashing that melted butter over the tops of the steaks.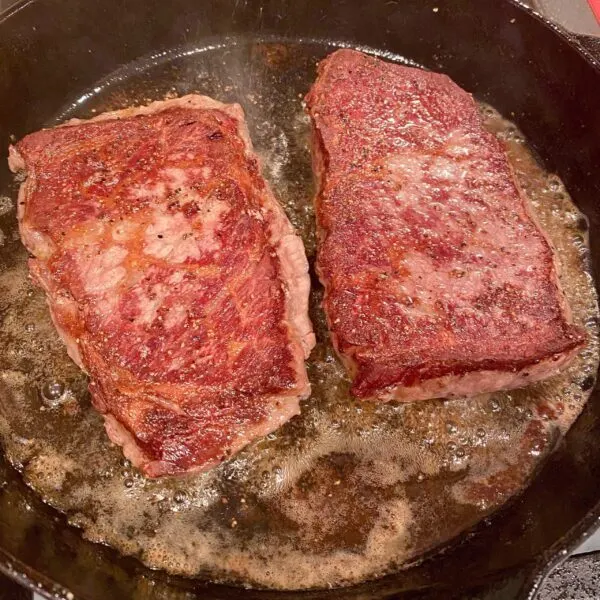 After the steaks are done to your preference, remove from skillet and allow them to rest for 5 minutes. As the steaks are resting it's time to hit the "turf" portion of this dish!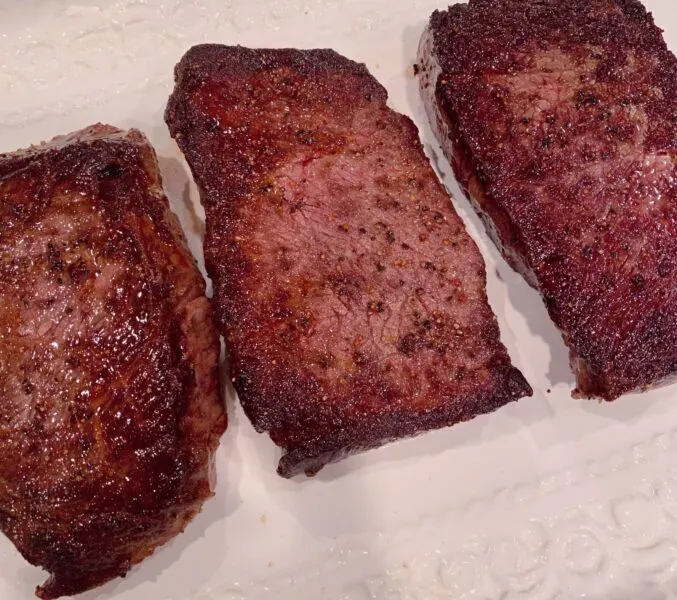 Cooking the Shrimp
With the skillet still hot, and over medium heat, add 2 Tablespoons butter, 2 cloves of minced garlic, a spring of rosemary, and 1 teaspoon Italian seasonings.
Add 12 raw medium shrimp. Quickly cook, stirring constantly, till light pink and the shrimp are firm, but tender. DO NOT OVERCOOK the Shrimp! We don't want little rubber balls that could bounce off the ceiling!
Remove the shrimp and place over the top of the rested Denver Steaks.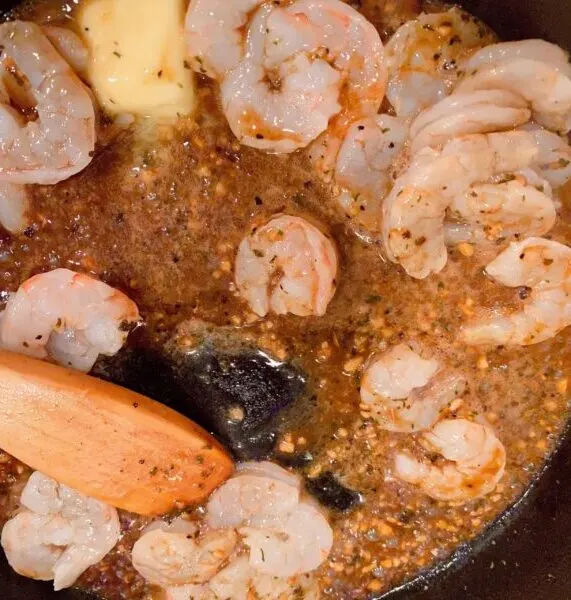 Add 1/4 cup Cabernet Sauvignon or your favorite red cooking wine. Now I know… I hear screaming from the "pros" saying "WHAT? Red wine goes with red meat and white wine with fish and chicken, lighter meats." That's right, and we are making a sauce to go over STEAK that happens to have a little seafood on top! I prefer the red with this dish.
TIP: If you don't cook with alcohol you can skip it and just drizzle the pan juices over the top of the steak and shrimp.
Turn the heat down to medium low, bring to a low boil, stirring to loosen any bits, allow the juices to reduce slightly.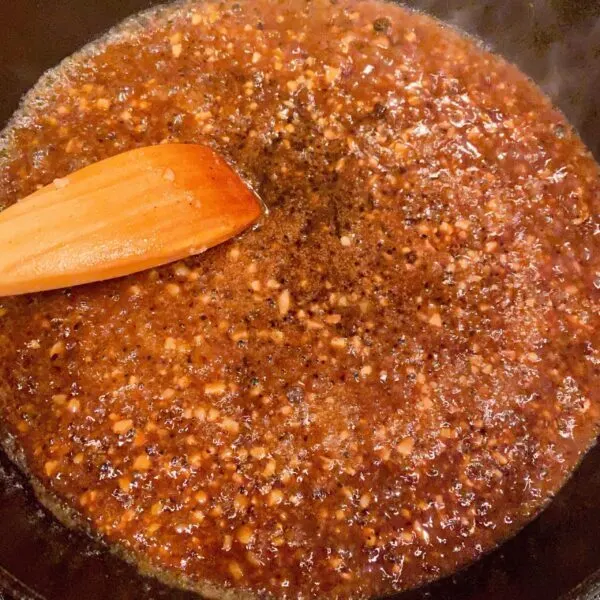 Drizzle the reduced Red Wine and Garlic herb sauce over the top of the steaks and shrimps. Top with a little chopped parsley for a sprinkle of color!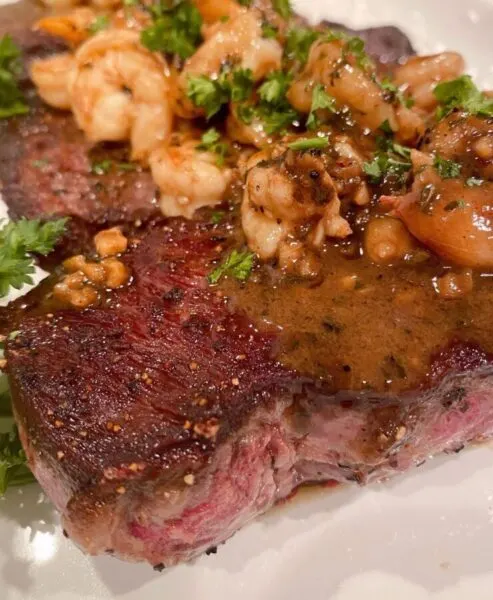 Doesn't that look amazing! The perfect medium steaks with a delicious seasoned crust and topped with that luscious garlic herb red wine sauce and plump juicy shrimp! That is happiness on a plate my friends!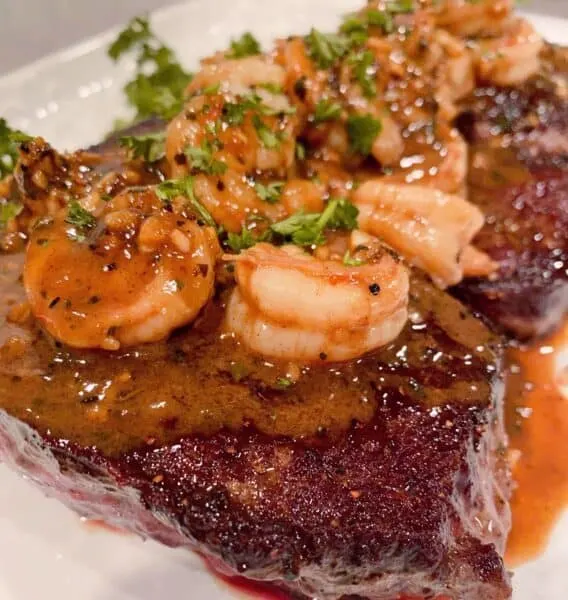 That is how to make the perfect seared steak! It works with any steak you choose, but I highly recommend Denver Steak or "Poor Man's Ribeye"! It's a really great cut of meat and very budget friendly!
Every bite is perfection! The bonus is that delicious sauce that you can just swirl and twirl each bite around in before it hits your mouth. The best bite is a piece of steak with a shrimp on top! YUM!
Surfing and Turfing my friends…the perfect way to spend a summer night or a cold winters meal! My Asparagus with Feta and Toasted Walnuts goes beautifully with this meal. Bon Appètit!
If you enjoyed this steak recipe you may also enjoy these other Great Beef Recipes!
Thanks so much for stopping by and visiting with me today! I hope you'll join me on my Facebook page, Instagram, and Pinterest where I share my favorite recipes and newest posts each and every day!
Come back soon and Happy Nesting!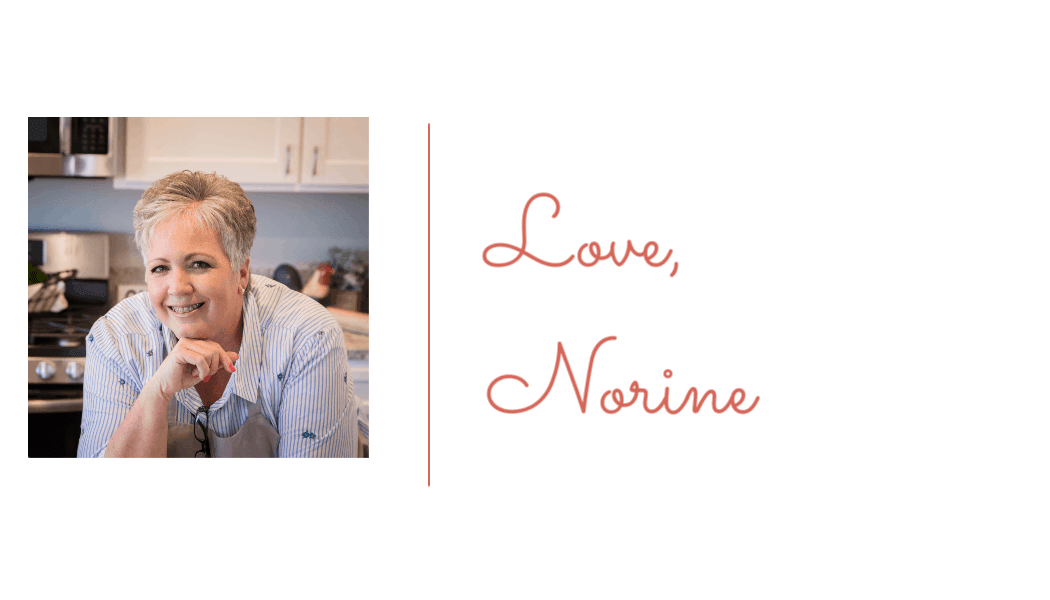 Yield: 4 servings
Denver Steak and Shrimp Recipe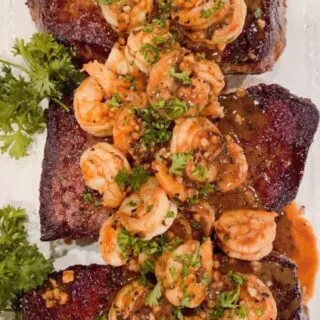 Surf meets Turf in this scrumptious and easy pan seared Denver Steak and Shrimp Recipe with a delicious garlic wine reduction! This spectacular dish is not only budget friendly...it's ready in 30 minutes!
Additional Time
5 minutes
Ingredients
4 Denver Steaks, 1 inch thick
12 medium shrimp, raw, shelled, tails removed
Salt and Coarse Black Pepper to taste
2 tablespoon olive oil
4 tablespoons butter, divided in half
2 cloves minced garlic
1 sprig fresh rosemary
1 teaspoon Italian seasonings
1/4 cup Cabernet Sauvignon, or favorite red cooking wine
1 tablespoon fresh chopped parsley
Instructions
Remove steaks from refrigerator allow to rest 10 minutes. Pat steaks dry with paper towel, season with salt and pepper to taste.
In a large skillet, over medium heat, add olive oil and 2 tablespoons butter.
Carefully add seasoned steaks to skillet laying them away from you. Cook 8 minutes until steaks are golden brown. Turn steaks over and cook another 7 minutes. Add 2 more tablespoons of butter and baste the top of each steak with melted butter and pan juices. Remove steaks from skillet, place on serving platter, and allow to rest 5 minutes. Note: Leave juices in the pan.
Reduce heat to medium low, add shrimp and Sautè 3-4 minutes until shrimp turn pink and are tender. Remove shrimp from the skillet and place on top of resting steaks.
In skillet add minced garlic, sprig of rosemary, Italian seasonings, add 1/4 cup red wine. Gently stir, scrapping the bottom of the pan to scrape the bits off the bottom. Bring mixture to a low boil, stirring constantly. Continue to boil 3-5 minutes until mixture reduces slightly. Remove sprig of rosemary with tongs. Pour red wine sauce over the top of the shrimp and steak.
Sprinkle with chopped fresh parsley and serve.
Nutrition Information:
Yield:
4 servings
Serving Size:
1 steak
Amount Per Serving:
Calories:

840
Total Fat:

59g
Saturated Fat:

24g
Trans Fat:

0g
Unsaturated Fat:

28g
Cholesterol:

277mg
Sodium:

495mg
Carbohydrates:

3g
Fiber:

0g
Sugar:

0g
Protein:

62g