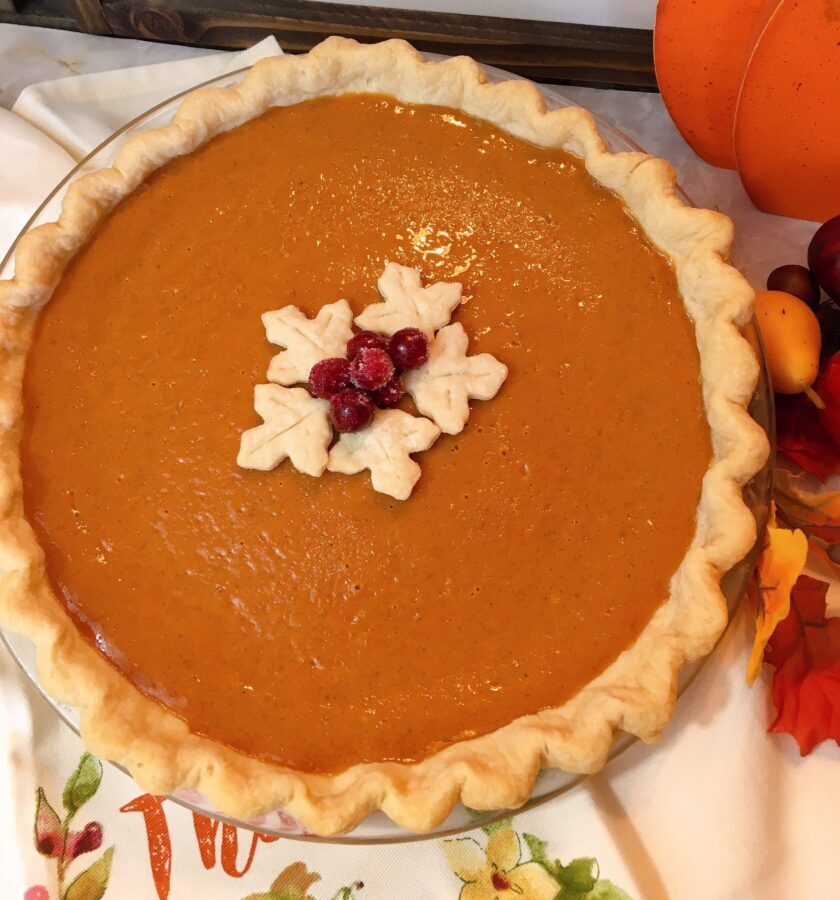 Easy Pumpkin Pie is the BEST Pumpkin Pie recipe I have ever made! It bakes perfectly every time with no cracking on top! The flavor, thanks to a special combination of spices, is dreamy! You'll never need another Pumpkin Pie Recipe again!
*As an Amazon Associate I earn from qualifying purchases. This post may contain affiliate links, which means that I may make a commission from any purchases at no additional cost to you. Thank you for your support!
I've made a lot of pumpkin pies from scratch in my life time! A LOT!
For years I've tried different recipes…they were all good, but they didn't necessarily stand out from the crowd on the Holiday dinner table, if ya know what I mean! (If you're a pumpkin pie lover…you know!)
On my quest for the Perfect Pumpkin Pie, I stumbled upon this recipe from Chef John on AllRecipes.com. It has amazing reviews…but it contained a spice I had never heard of before, and that I knew wouldn't be at my local country "Wally World"! (We're lucky to go beyond salt and pepper folks…Chinese 5- spice powder…excuse me while I pick myself up off the floor from laughter!) So I made a couple of adjustments!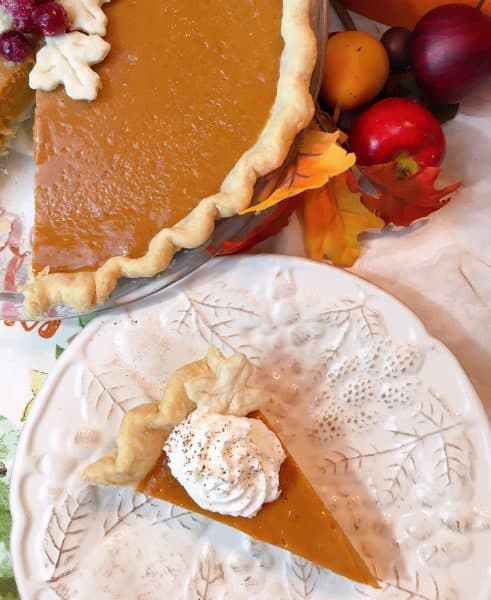 One of my adjustments…after making Fried Apple Cider Donuts, I knew Cardamon was going to be added to this new version as the substitute for the lack of exotic oriental spices in my home town.
I can't explain it, but the flavor of Cardamon adds such a deliciously unique flavor to Fall desserts that it's my "Must Have Spice" this season!
Like any spice, Cardamon is a spice to be used with caution. You can easily over do it and overpower your recipe.
This Pumpkin Pie recipe makes an ultra creamy baked pumpkin filling. It leans towards a true custard thanks to three egg yolks and one large egg. (It's so hard to get those chickens to just lay yolk eggs…whew! lol)
Let's get baking…
How To Make Pumpkin Pie
You'll need a 9 inch single pie crust. You can find my recipe for flaky pie crust HERE or you can purchase a premade pie crust, or let that little chunky dough boy do the work for you!
TIP: If you use my recipe link it is for a double crust, so cut the recipe in half, or better yet, make Two pumpkin pies!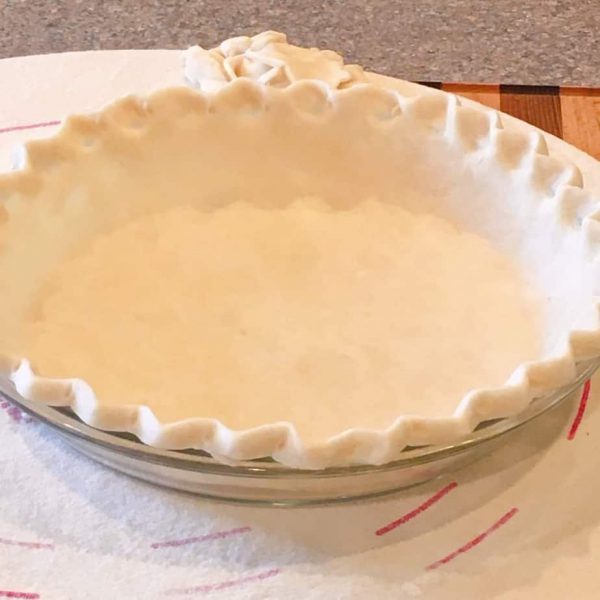 NOTE: Do NOT bake the pie crust before adding the filling! The pie crust will bake with the pumpkin filling.
Preheat Oven to 425°.
In a large bowl add 1 (15 ounce) can pumpkin puree, 3 egg yolks,1 large egg and 1 can (14 ounce) can sweetened condensed milk.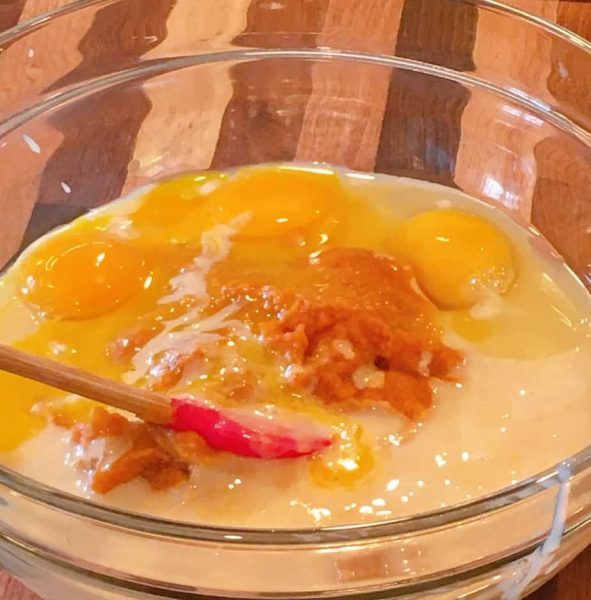 Mix together with a whisk until smooth and creamy.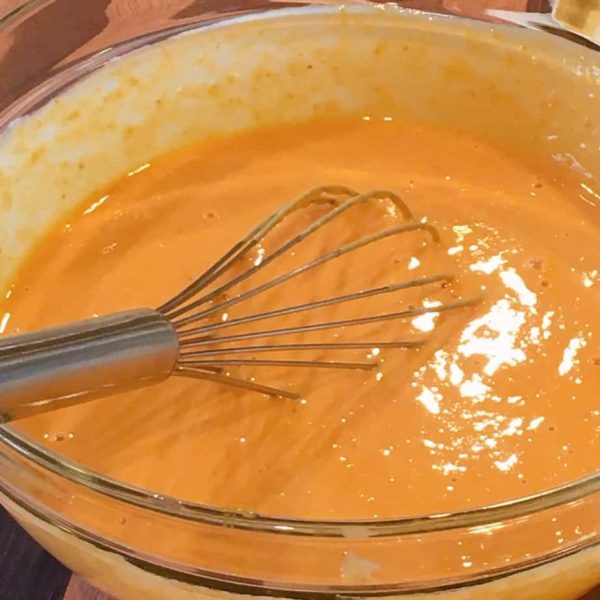 Now to "spice things up"!! One of the BEST things about Pumpkin Pie, besides the pumpkin and that deliciously flaky crust? The warm spices of Fall and how they blend with the pumpkin.
Add 1 teaspoon cinnamon, 1/2 teaspoon ginger, 1/2 teaspoon salt, 1/4 teaspoon nutmeg, and 1/8 teaspoon cardamon.
See that little dot down there in the photo…that's the cardamon! That is ALL the cardamon you need. Now I will say this…the cardamon is optional and you do not have to add it. However, I highly recommend it. It's truly amazing what just a little amount of that warm tantalizing spice does to this pie.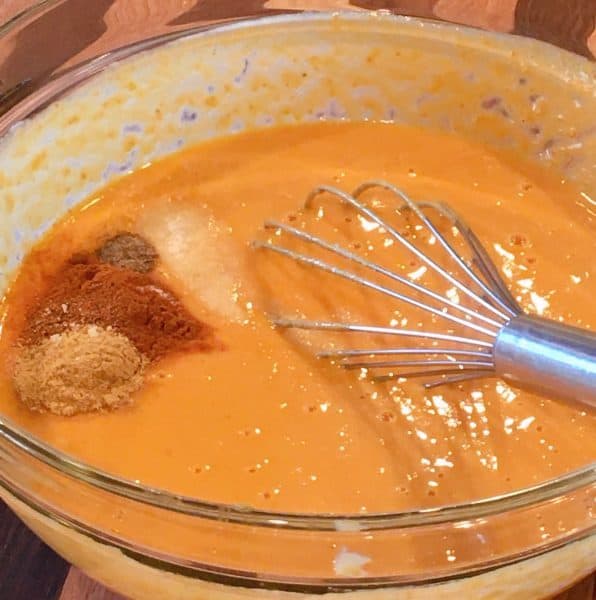 Whisk together until well combined. I love how easily this pie filling comes together!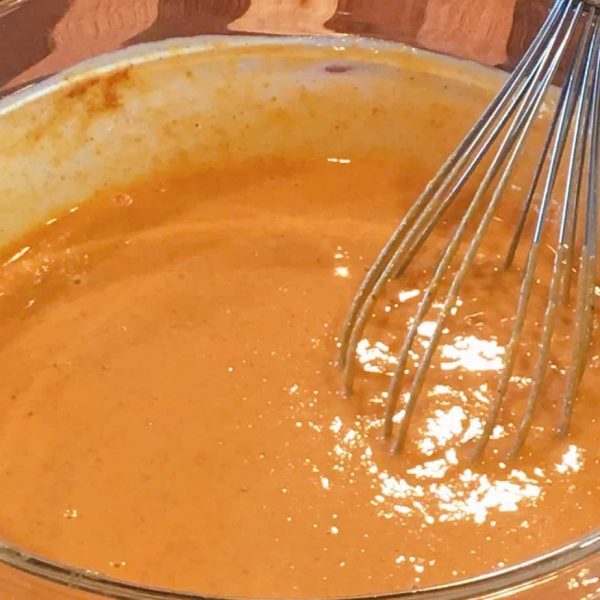 Pour pumpkin pie filling into unbaked 9 inch pie crust. Place pie into preheated oven and bake for 15 minutes at 425°. After 15 minutes lower the temperature to 350° and bake an additional 40-45 minutes or until center is set. *Note that because of various altitudes and ovens additional cooking time may be required.
A lot of pumpkin pie recipes tell you to test if the pie is done by poking the center with a sharp knife. If it comes out clean it's done. I DO NOT DO THAT! The reason? It can cause cracking in the top of your pie. Give the pie a gentle shake…if the center barely jiggles (like your pre- kid body did…blow out the cob webs…it'll come to ya!)…then it's done.
TIP: Place the unbaked pie on a baking sheet before placing in the oven. There's several reasons for this. One it helps bake the pie evenly. Two if the pie were to bubble over, like fruit pies tend to do, it lands on the baking sheet and not the bottom of your oven. Three, it makes removing the pie from the oven after baking much easier.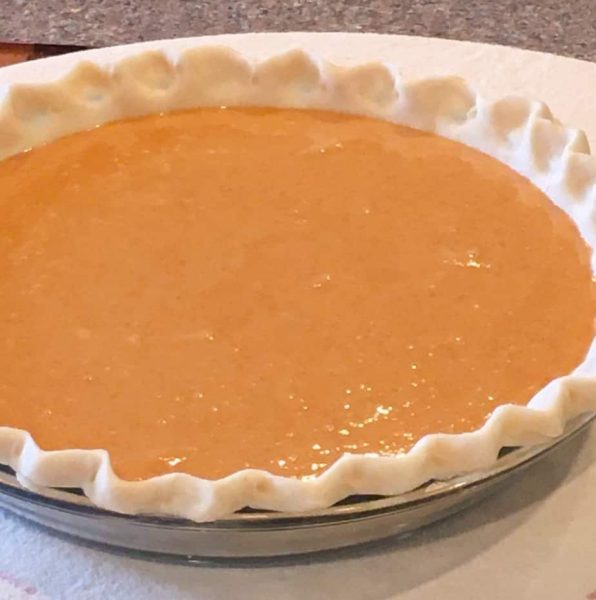 Remove baked pie from oven and allow it to cool completely.
Note: The pumpkin pie filling rises when baking, and will settle as it cools. Generally the pumpkin filling will split during the bake time. However, because this pumpkin pie filling is so creamy, thanks to the addition of the extra egg yolks, it rarely will spilt, if ever.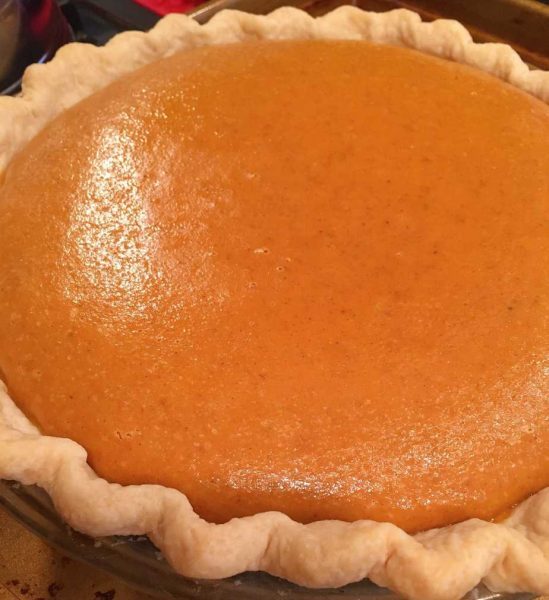 Once the Pie has cooled place in refrigerator until ready to serve.
Right before serving I like to "decorate" it with a few pie crust leaves and frosted cranberries.
To make the pie crust leaves use a small leaf cookie cutter and cut out 5-6 leaves from left over pie crust. Place on the same baking sheet the pie is on and remove after 7 minutes of baking time. Cool on paper plate till needed.
How To Make Frosted Cranberries…
Freeze 1 cup of fresh cranberries. Remove from freezer and toss in white sugar. The sugar will stick to the "Frosted" on the cranberries and stick once the cranberries have thawed out.
Slice and serve with fresh whipped cream and a sprinkle of nutmeg.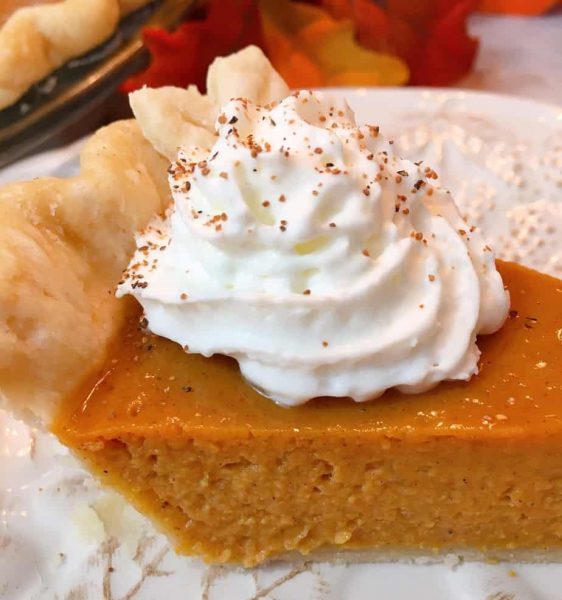 The Holiday's just don't feel like the Holidays without a beautiful Pumpkin Pie gracing the dinning table! It's a tradition in long standing…just ask the Pilgrims next door!
Not everyone is a Pumpkin fan…but if you do have Pumpkin fans at your table this Thanksgiving and Christmas, you'll want this pie!
I'm sharing this delicious recipe over on a couple of my favorite link parties. Weekend Potluck and Meal Plan Monday. Click on the links to join the fun and find hundreds of delicious recipes for your Holidays.
Other Favorite Holiday Pie Recipes
This delicious Pumpkin Pie recipe from scratch is sure to delight all the pumpkin lovers at your Nest! Honestly this is my favorite pumpkin pie recipe EVER! It's the definition of luscious! Enjoy!
Happy Nesting!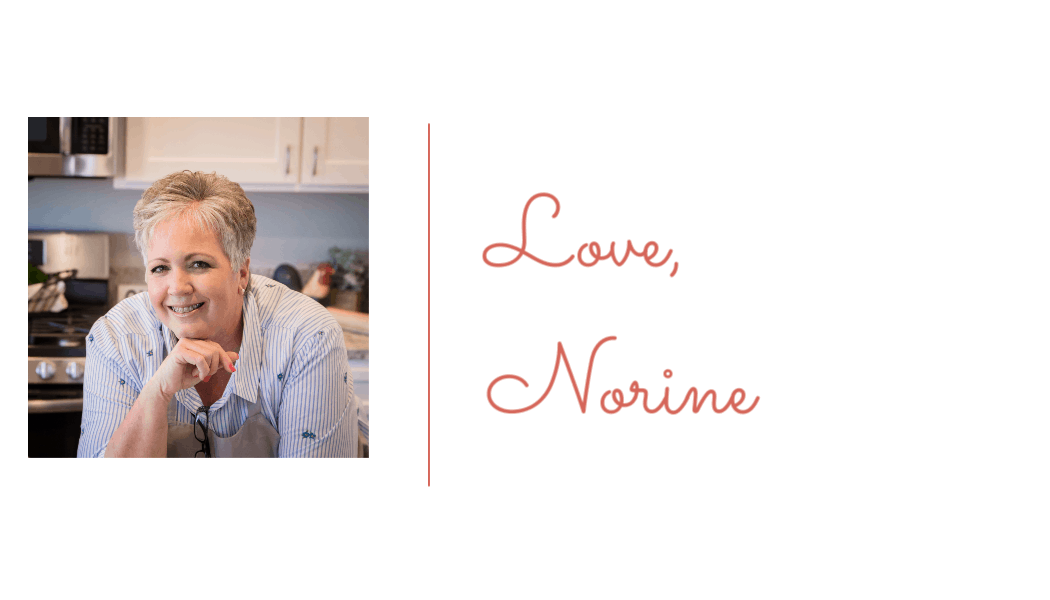 Yield: 8 servings
Easy Pumpkin Pie Recipe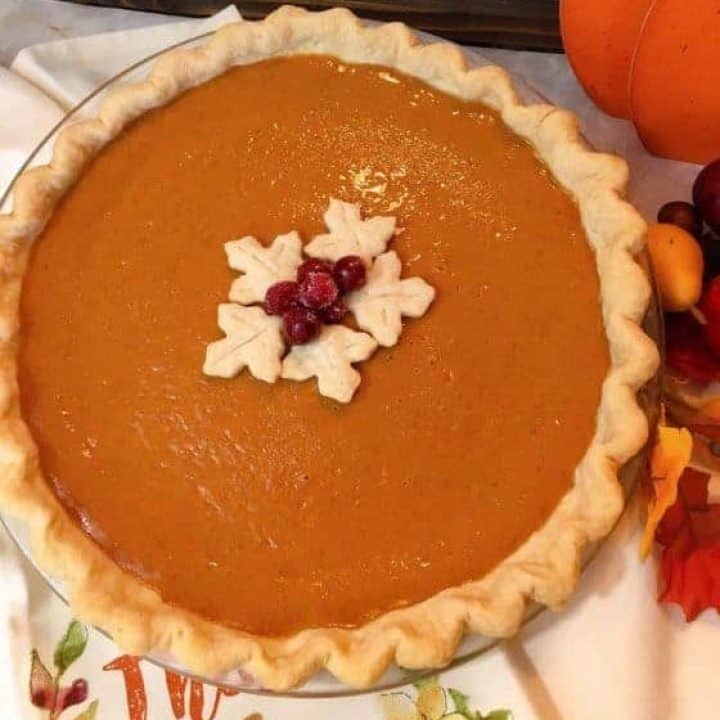 A rich creamy pumpkin pie with hints of delicious Fall spices. Easy to make and less likely to crack on top. It's the perfect Pumpkin Pie!
Additional Time
15 minutes
Total Time
1 hour
15 minutes
Ingredients
1 (15 ounce) can pumpkin puree
3 egg yolks
1 large egg
1 (14 ounce) can sweetened condensed milk
1 teaspoon ground cinnamon
1/2 teaspoon fine salt
1/2 teaspoon ground ginger
1/4 teaspoon nutmeg
1/8 teaspoon ground cardamon (optional)
1 9-inch unbaked pie crust
Whipped Cream and Nutmeg for garnish
Instructions
Preheat over to 425 degree F (220 degrees C)
In a large bowl combine pumpkin puree, egg yolks, and egg, and sweetened condensed milk. Mix with wire whisk until smooth.
Add cinnamon, ginger, salt, nutmeg, and cardamon. Whisk until thoroughly combined.
Fit pie crust in a 9-inch pie plate, and crimp edges.
Pour Pumpkin pie filling into the pie shell and lightly tap on the work surface to release any air bubbles. Place pie on a large baking sheet and into the oven on the center of the rack.
Bake in preheated oven for 15 minutes.
Reduce heat to 350 degrees and bake until just set in the middle 30-40 additional minutes. *Note additional baking time may be required depending on altitude and ovens.
Remove from oven and allow to cool completely before serving. Top with whipped cream and a sprinkle of nutmeg.
Recommended Products
As an Amazon Associate and member of other affiliate programs, I earn from qualifying purchases.
Nutrition Information:
Yield:
8 servings
Serving Size:
1 serving
Amount Per Serving:
Calories:

188
Total Fat:

10g
Saturated Fat:

4g
Trans Fat:

0g
Unsaturated Fat:

5g
Cholesterol:

95mg
Sodium:

269mg
Carbohydrates:

21g
Fiber:

2g
Sugar:

4g
Protein:

3g