Spicy, succulent, and tender Grilled Jerk Chicken is an amazing Caribbean tropical treat. You'll love the subtle heat and flavor of this easy spice and herb filled marinade! It's a magical World Famous BBQ Jerk Chicken Dish that will help you escape the heat of the kitchen this summer!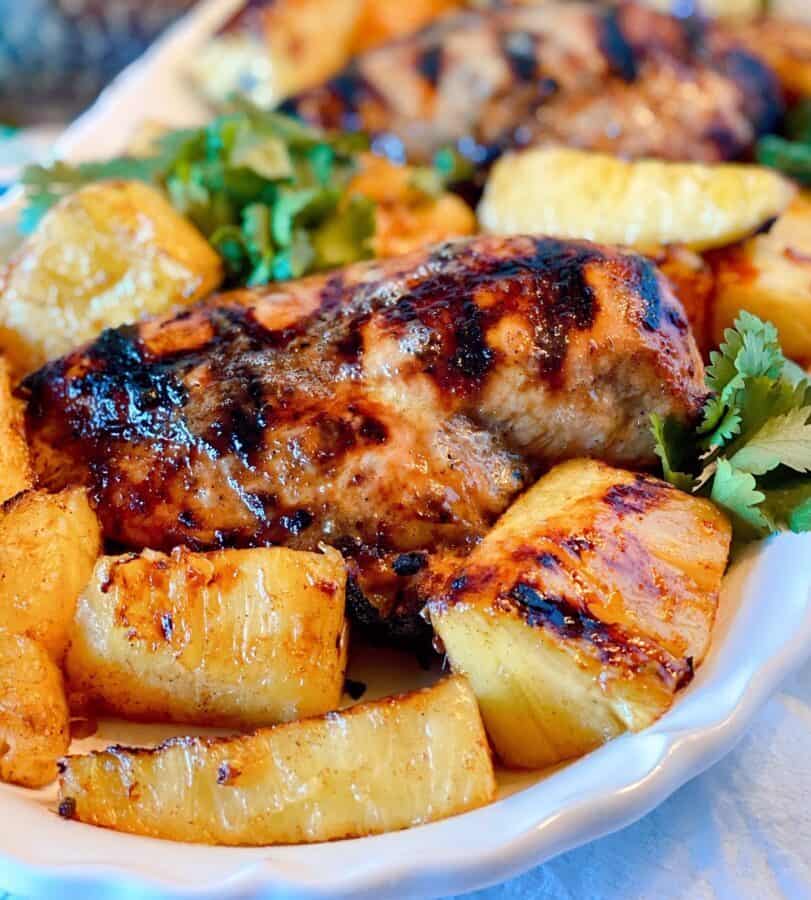 *As an Amazon Associate I earn from qualifying purchases. This post may contain affiliate links, which means that I may make a commission from any purchases at no additional cost to you. Thank you for your support!
In case y'all were wondering…this Country Girl doesn't travel much! (Unless you count "ta town" and back! Then I've traveled about 5 million miles!!! Mom Cab driver taking kids to and from every known activity and event known to mankind!) Aside from the trips to "ta town"…I'm pretty much a "homebody" and I'm okay with that!
The only problem when one doesn't travel, is that you miss out on a lot of really GREAT dishes the world has to offer! Recipes like Jamaican or Caribbean Jerk Chicken! However, the BEAUTY of the world of cooking…is that you can recreate those amazing dishes in your own kitchen and "travel" via food to any where in the world!
The first time I made this dish was for my Dad. He was traveling to Idaho and stopping through town for the night. It was summer and I wanted to make something to grill.
My Dad loved BBQ and he loved unique recipes. So, when I stumbled across a recipe for "Jerk Chicken" it sounded like the perfect dish. I'll be honest, I wasn't too sure about adding nutmeg, clove, and allspice to a chicken dish…but OH. MY! Heavenly is the only word that comes to mind.
This is a deliciously warm and spicy dish, and the chicken turns out tender and juicy Every. Single. Time. This is a "must try" summer grilling recipe! Let's get cooking!
How To Make Jerk Chicken Marinade
To simplify this recipe I place all the marinade ingredients in my Kitchen Aid blender. It's a power house and makes short work of whipping up this marinade. If you don't have a Kitchen Aid blender and you're interested in checking it out, I've place a link in the recipe card below.
TIP: You can also use a food processor, or just mix everything together by hand…it will just involved more chopping and prep work.
In your blender add 6 green onions, stems and ends trimmed. Cut them in half to make it easier on your blender. Add one onion, quartered, and 1 fresh jalapeno, seeded and cut into chunks.
Add 3/4 cup soy sauce, 1/2 cup distilled white vinegar, 1/4 cup vegetable oil, 2 tablespoons brown sugar, 2-3 springs of fresh thyme, 1 teaspoon minced garlic, 1/2 teaspoon ground cloves, 1/2 teaspoon ground nutmeg, 1/2 teaspoon ground allspice.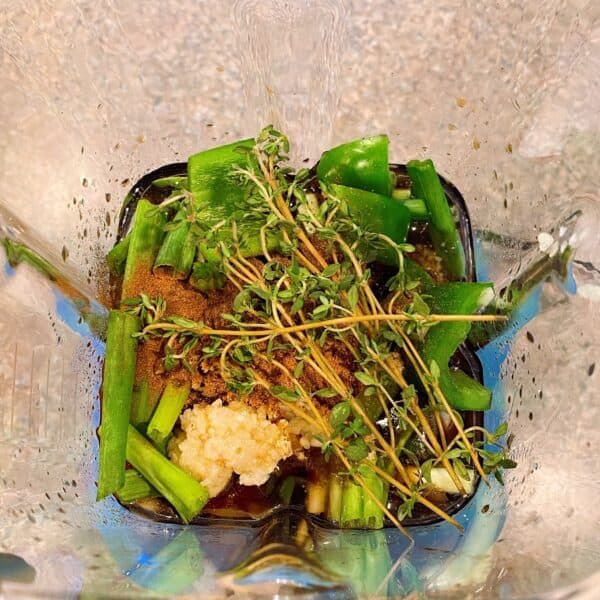 Push that button and blend for about 15-20 seconds! It's not going to look super purtty. We don't care about that! This is similar to the ugly duckling turning into a beautiful swan…or a stunning piece of grilled boneless skinless chicken breast. Same-same! (I'm sure swans all over the world are thrilled I'm comparing them to a lowly chicken breast!)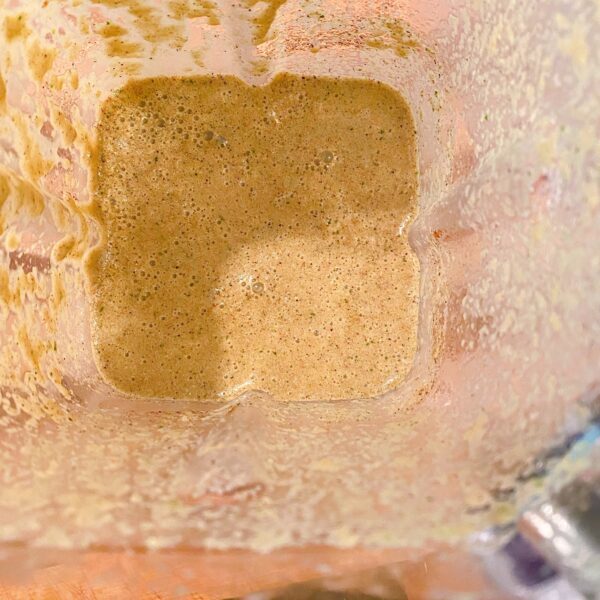 Place a large zip lock bag inside a bowl and fold down the zipper portion of the bag. This helps to keep the bag upright when pouring marinade over chicken. Folding the zipper portion of the bag down, helps keep the seal clean and ready for marinating in your refrigerator.
Carefully pour the blended marinade over 1 1/2 pounds, or 8, boneless skinless chicken breasts. There is plenty of marinade for 8 chicken breasts.
TIP: Because there are only 2 of us at this Nest, I use half the marinade and 4 chicken breasts. I save the remainder of the marinade in a jar and store it in my refrigerator. It will store for 9-10 days. Trust me…you're gonna want more of this chicken!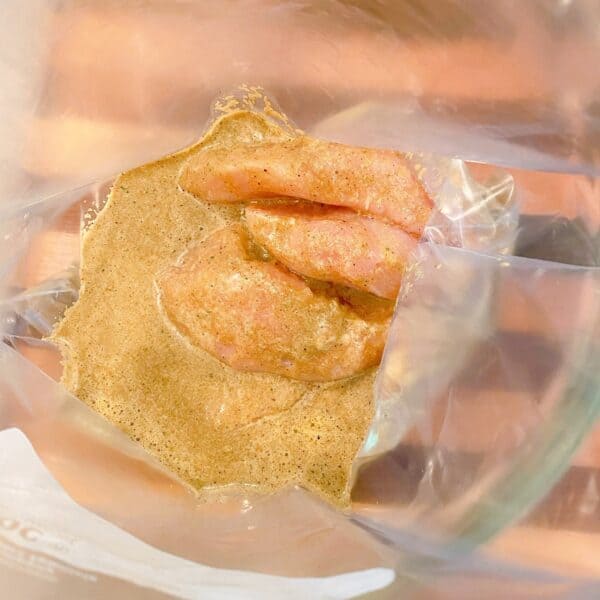 Zip the bag, leave it in the bowl, just to be sure you don't have any spills, and refrigerate 4-6 hours, or overnight. I've left it in my refrigerator up to two days! It's just soaking up all those great flavors!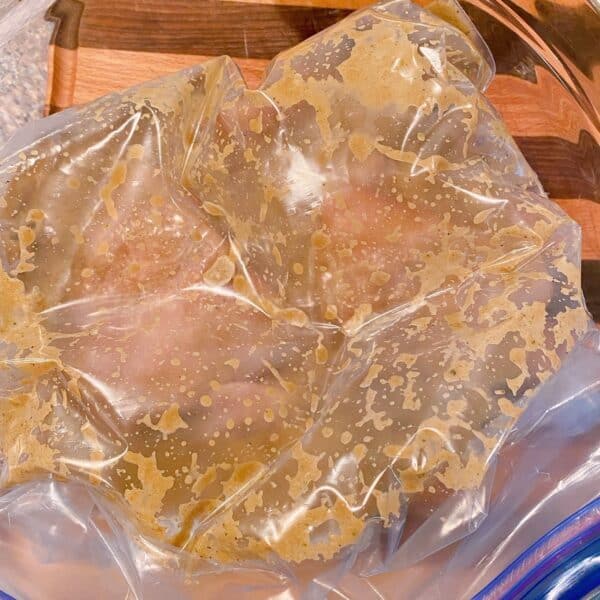 Okay, I'll see ya tomorrow! Just kidding! Wouldn't that be awful if I just posted this and not the rest?!!
It would because I'd probably forget to come back and finish! I'm not even kidding…how sad is that! (I'm at the age I'm looking for my glasses that are on top of my head! All. The. Time! So embarrassing! Just happened today!)
Lightly oil the grate of your grill. Preheat for High Heat. Place chicken "top" of breast side down. Brush bottom with some of the remaining marinade. Reduce heat to medium. Grill 12-15 minutes per side, until juices run clear! Be sure to test the chicken before removing from the grill. A little poke in the thickest part of the breast should tell you if those juices are clear or not.
How To Make Grilled Pineapple
To make the Grilled Pineapple, cut one fresh pineapple into spears, and then large chunks. Place in a large bowl with 2-4 Tablespoons of brown sugar and 1 teaspoon cinnamon. Give it a good toss. Place in a grilling basket sprayed with non-stick cooking spray. Place over the heat and cook until sugar melts. Occasionally stir the pineapple, during the cooking of the chicken, until the edges begin to brown and the sugars caramelize.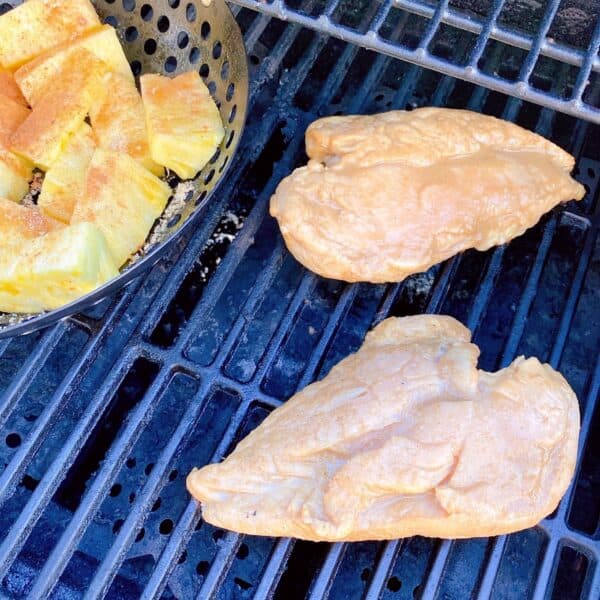 Turn the chicken and the pineapple. You want a beautiful golden sear on both the pineapple and the chicken.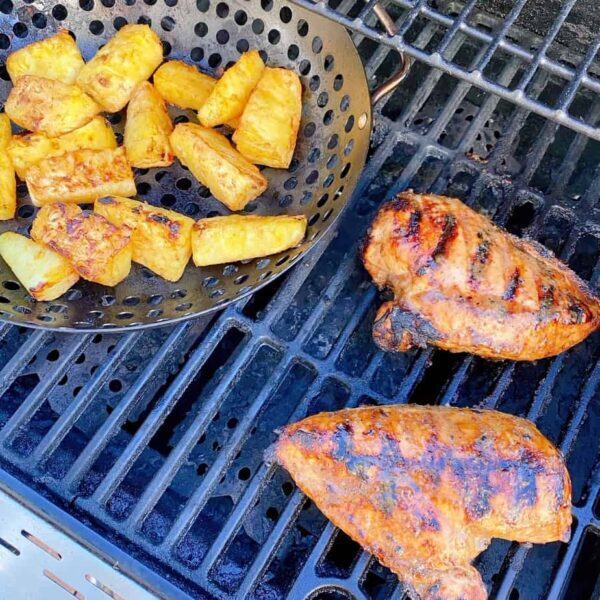 Remove chicken and pineapple, if you're grilling pineapple, from grill. Place the chicken breasts on a serving platter and serve with grilled pineapple. Allow chicken to rest for about 5 minutes before serving.
I like to tuck a little cilantro in and around the chicken and pineapple for an additional "pop" of color! It's such a beautiful dish and perfect for a summer dinner party!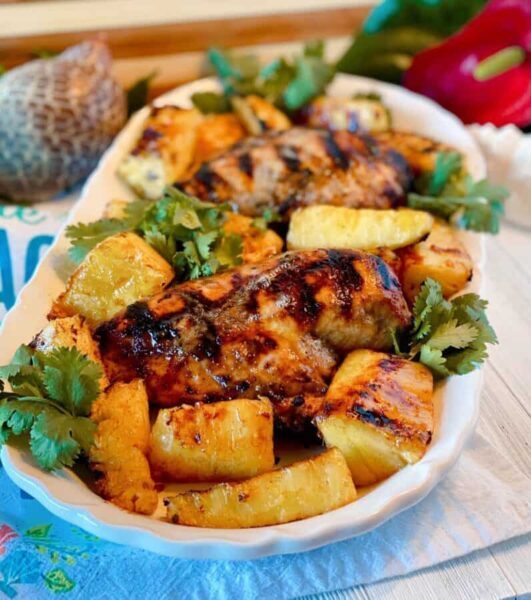 Look at that tender juicy chicken breast! The blend of those deep rich spices and herbs with the smoke from the grill are so scrumptious! I'm not kidding when I say this recipe never disappoints and turns out juicy every time I make it. The addition of the spiced pineapple chunks truly makes this a tropical Caribbean treat!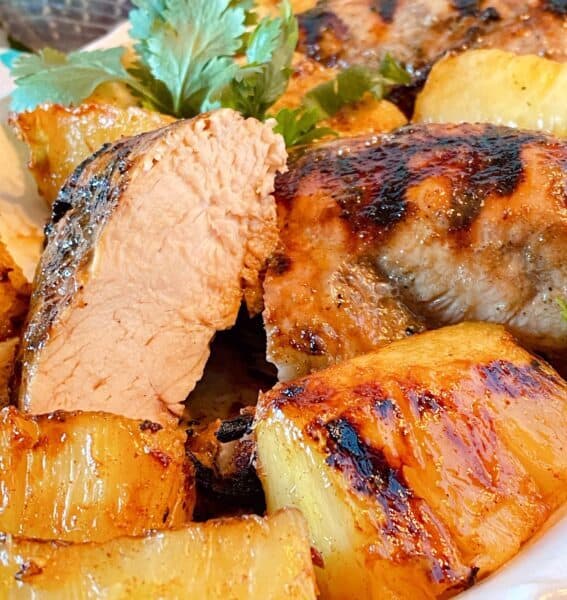 From the first bite…you'll be traveling to Jamaica Man! During the current situation…I'd say that's a WIN!
This is the first time I;ve added the grilled pineapple to this dish…I'm so glad I did. It takes this dish to a whole new level. You don't have to serve it with the grilled spiced pineapple, but I highly recommend it!
Dad loved this dish! I knew he would. Now whenever I make this I think of that visit with Dad. It was one of the last times we saw each other before he left to go on his final trip back "home" to heaven…so it holds some pretty tender memories for me!
A cute little side note…I served this dish with "Rice Pilaf". Several weeks later Dad called to ask me for the recipe for that rice. I said "Seriously Dad?" He said "Yeah! That rice was amazing!" I said "It's Rice-A-Roni"! Leave it to Dad to call me out on the one pre-packaged item on the menu that night! lol We both had a good laugh over that one!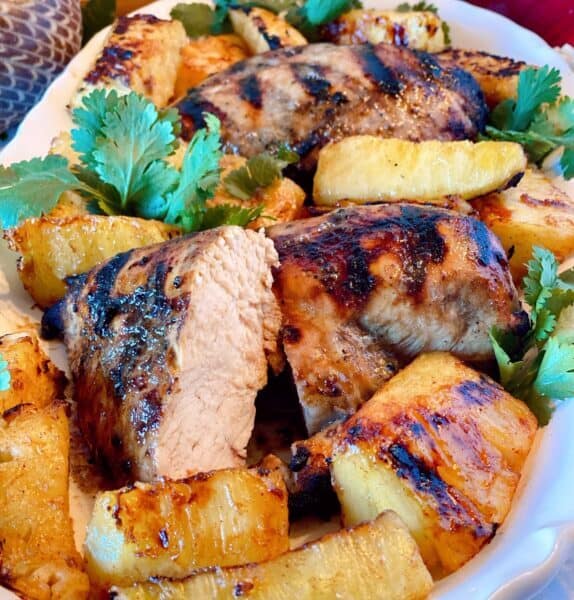 I love to serve this dish with these GREAT Side Dish Recipes
Thanks so much for stopping today and visiting with me here at my Nest! I hope you'll give this family favorite summer grilling recipe a try, maybe make it for your Dad, or the 4th of July this weekend. It truly is the BEST Jerk Chicken!
Happy Nesting!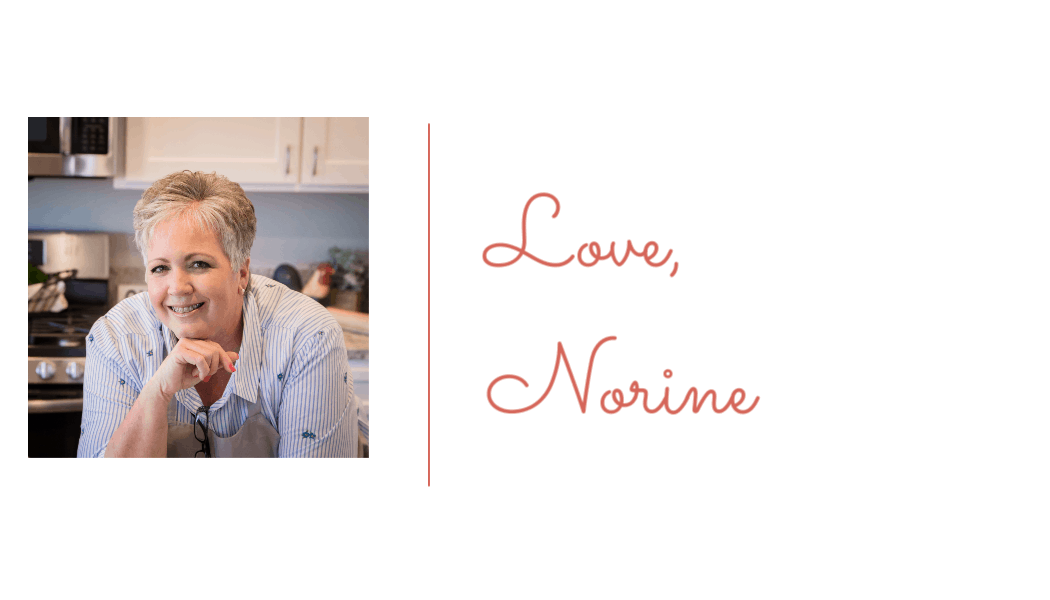 Yield: 8 servings
Grilled Jerk Chicken Recipe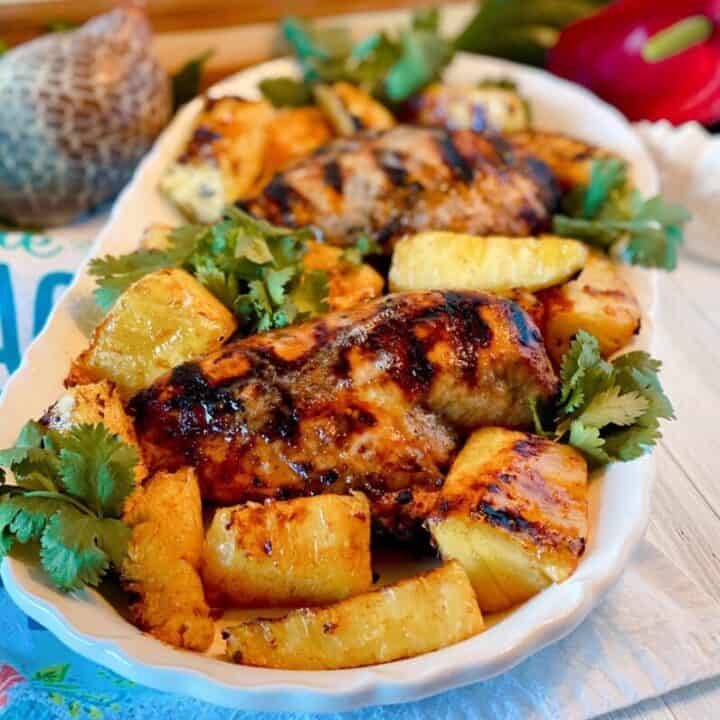 Spicy, succulent, and tender Grilled Jerk Chicken is an amazing Caribbean tropical treat. You'll love the subtle heat and flavor of this easy spice and herb filled marinade! It's a magical World Famous BBQ Jerk Chicken Dish that will help you escape the heat of the kitchen this summer!
Total Time
4 hours
45 minutes
Ingredients
6 green onions, chopped
1 onion, chopped
1 jalapeno pepper, seeded and minced
3/4 cup soy sauce
1/2 cup distilled white vinegar
1/4 cup vegetable oil
2 Tablespoons brown sugar
2-3 sprigs fresh thyme
1/2 teaspoon ground cloves
1/2 teaspoon ground nutmeg
1/2 teaspoon ground allspice
1 teaspoon minced garlic
8 boneless, skinless chicken breasts
Grilled Pineapple
1 large pineapple, cleaned, cut into spears, and chunked
2-4 Tablespoons brown sugar
1 teaspoon cinnamon
Instructions
In a food processor or blender, combine the green onions, onion, jalapeno peppers, soy sauce, vinegar, vegetable oil, brown sugar, thyme, cloves, nutmeg, allspice, and garlic. Blend for about 15-20 seconds until everything is well combined.
Place the chicken in a large zip lock food storage bag in a medium bowl, pour marinade over chicken and refrigerate 4-6 hours, or overnight.
Preheat grill for high heat.
Lightly oil grill grate. Cook chicken on the prepared grill for 12-15 minutes per side until juices run clear. Remove from grill and allow to rest 5 minutes.
For Grilled Pineapple combine pineapple, brown sugar, and cinnamon in a large bowl. Place in a grill basket sprayed with non-stick cooking spray. Turn occasionally while chicken is grilling. Remove from heat and place on serving platter with grilled chicken.
Nutrition Information:
Yield:
8 servings
Serving Size:
1 chicken breast
Amount Per Serving:
Calories:

328
Total Fat:

11g
Saturated Fat:

2g
Trans Fat:

0g
Unsaturated Fat:

9g
Cholesterol:

102mg
Sodium:

1408mg
Carbohydrates:

15g
Fiber:

1g
Sugar:

11g
Protein:

40g