Creating Easy Slow Cooker Candied Yams or Sweet Potatoes is a breeze, and the result is a delectable side dish that everyone will love. It's a great traditional Holiday Season dish!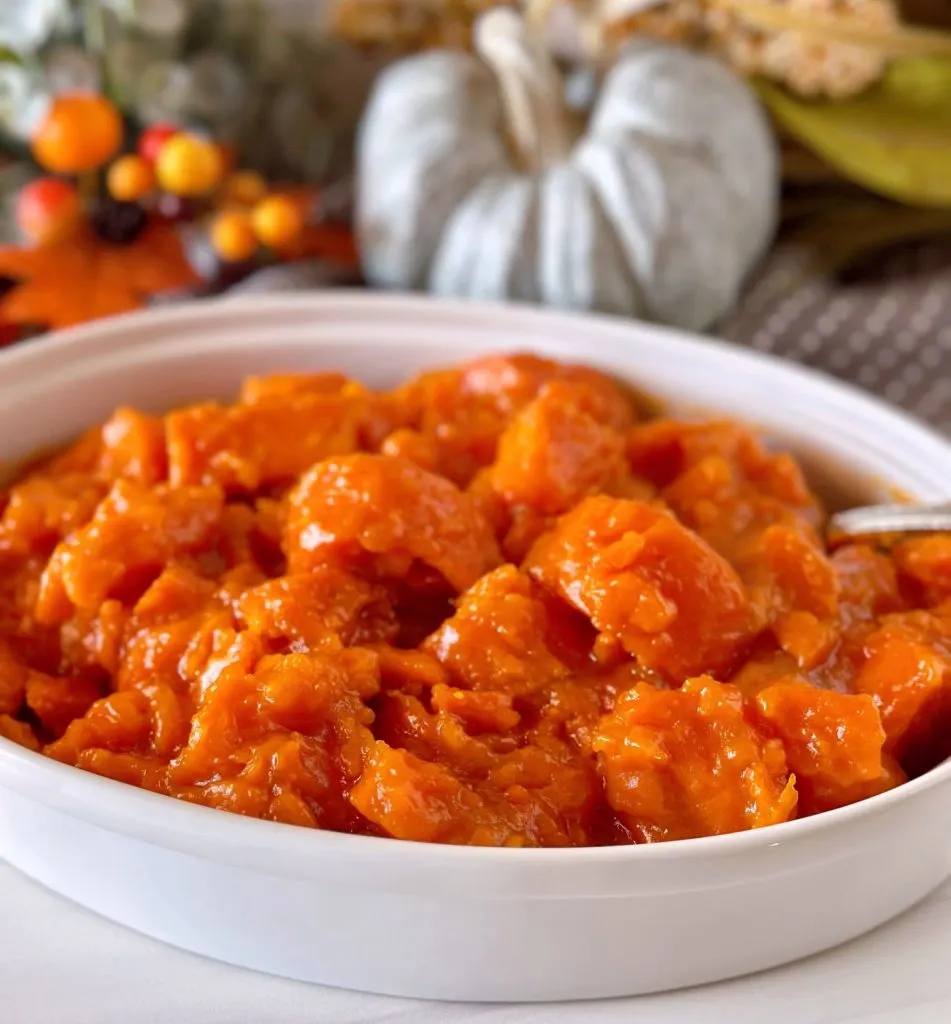 When it comes to classic comfort foods and side dishes for holiday gatherings, candied yams or sweet potatoes are at the top of the list. They are a "must have" on my Holiday Menu!
Years ago, at my first Thanksgiving Family dinner at my husband's family home, my mother-in-law served these amazing tender Candied Yams. They were creamy, sweet, buttery, and delicious! I learned they were my husbands favorite!
Like any good newlywed, I asked my Mother-in-law how she made them, and she shared her recipe with me. As is the case with most good home cooks she said… "You put a little bit of this, and a little bit of that…". So, for years that's how I've made this recipe, from memory with no real recipe written down! Until today! We're changing that.
This is not the traditional Sweet Potato Casserole served at most Thanksgiving tables. This is a yam recipe, or sweet potato recipe, using fresh whole, cubed yams. It's the perfect thanksgiving side dish to go with your Roasted Turkey.
These sweet and savory treats are a delightful addition to any holiday meal. While traditional oven-baked recipes are delicious, there's an even easier way to make this classic dish: using a slow cooker. Which frees up oven space on Thanksgiving Day!
I'm excited to share this simple, easy, family recipe with you all. Let's get to it!
Ingredients:
6-8 large Sweet Potatoes, or yams, peeled and cut into large cubes – you can use the canned stuff…but fresh sweet potatoes/yams are amazing in this dish!
½ cup dark brown sugar, packed – you can use light brown sugar as well.
1½ cups mini marshmallows
3 Tablespoons salted butter, cut into pieces
1 tsp vanilla extract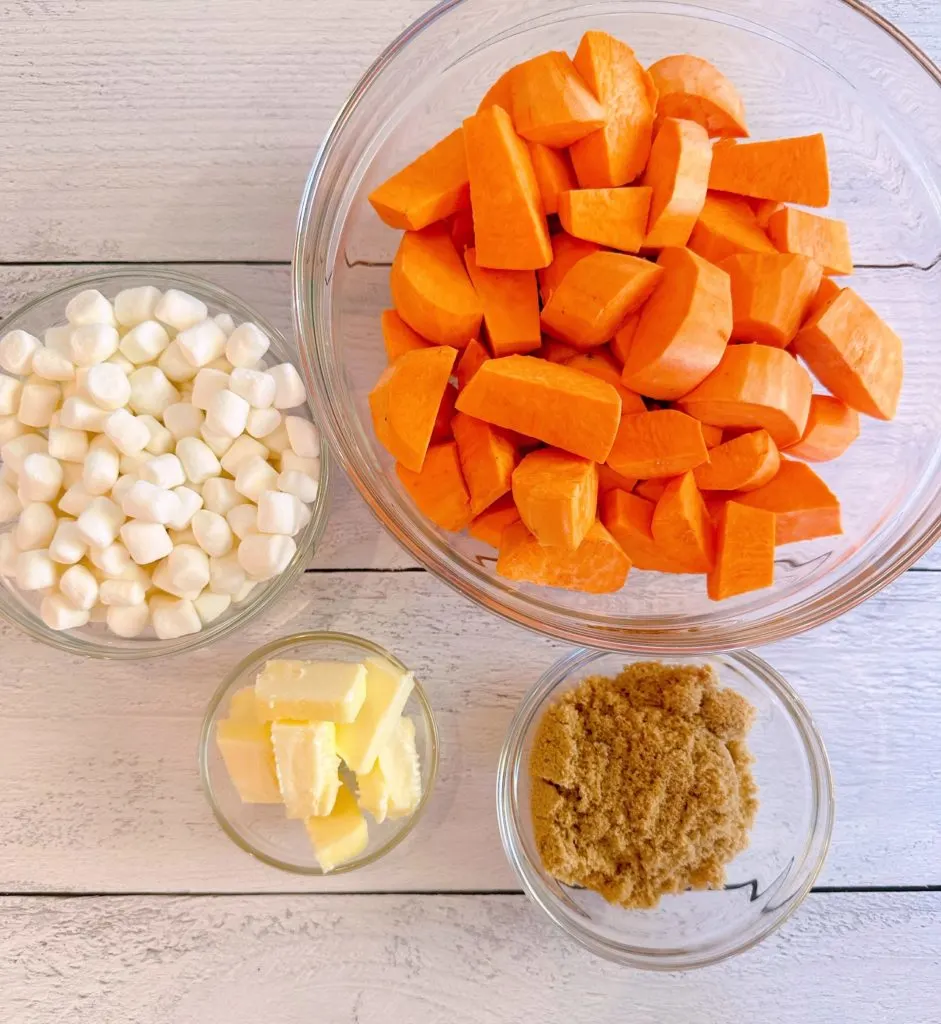 What's the difference between Sweet Potatoes, Yams and "True Yams"?
Okay friends let's talk root vegetables! I often hear people say "Sweet Potatoes and Yams are the same thing!" (My head just blew off my shoulders! I may be a little too passionate about this topic!)
Nope! Nah! No! They are different root vegetables! Granted Sweet Potatoes and Yams are interchangeable in many recipes. However, saying that they are the "same" is like saying a russet potato and a Yukon Gold are the same. They have different textures, and skins. Same for sweet potatoes and Yams.
Sweet Potatoes have a thicker yellow-gray to brownish skin and a yellowish to white, dry mealy flesh. Yams have a copper to purple skin and are very sweet, moist, and have an orange flesh. The simple difference between "sweets" and "yams" is variety. Shape is not an indication of quality. All varieties can be round or torpedo shaped, knobby or sleek. (I'm starting to see similarities between myself and a Yam!)
"True Yams" are not related to any of the sweet potatoes. (They're the black sheep of the root clan! Lol) They are a tropical tuber with a crisp, bland, white to yellow flesh. They are more like a potato and can be found in most Hispanic groceries. They work well in most traditional potato recipes, but would not be good in a recipe like this.
Instructions for making Easy Slow Cooker Candied Yams
Begin by placing a Crockpot liner in the bottom of your slow cooker. This dish creates a brown sugar glaze, and the yams, or sweet potatoes, release a lot of natural sugars, I highly recommend lining your dish to make clean up a bit easier! Unless you love scrubbing dishes on your Holiday!
PRO TIP: Use a metal chip clip to hold the bag in place. I twist the side of the bag and put a clip on it to hold it in place. (See the photo below)
If you don't use a slow cooker liner, be sure to spray the casserole dish with non-stick cooking spray!
Using a vegetable peeler, peel the yams, or sweet potatoes. Cut into large chunks. Place the prepared sweet potatoes in the bottom of your slow cooker.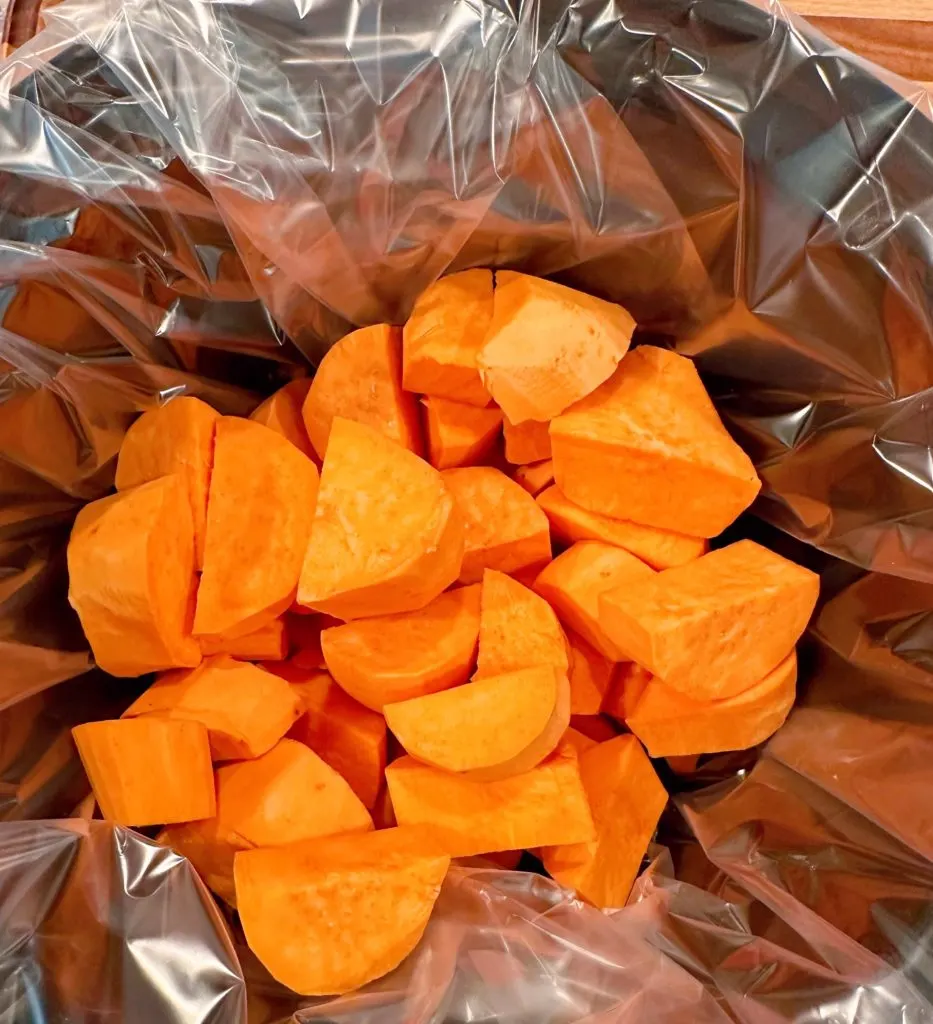 Dot cubed butter on top of the Yams.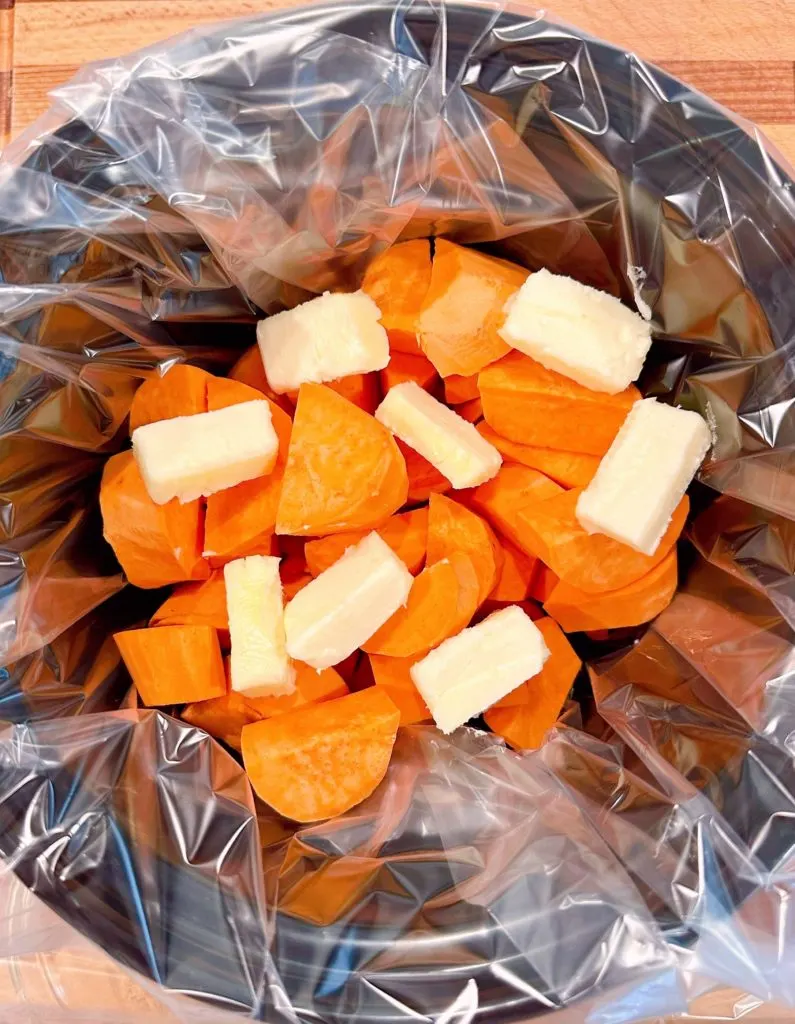 Sprinkle brown sugar over the top of butter and yams. Add vanilla extract.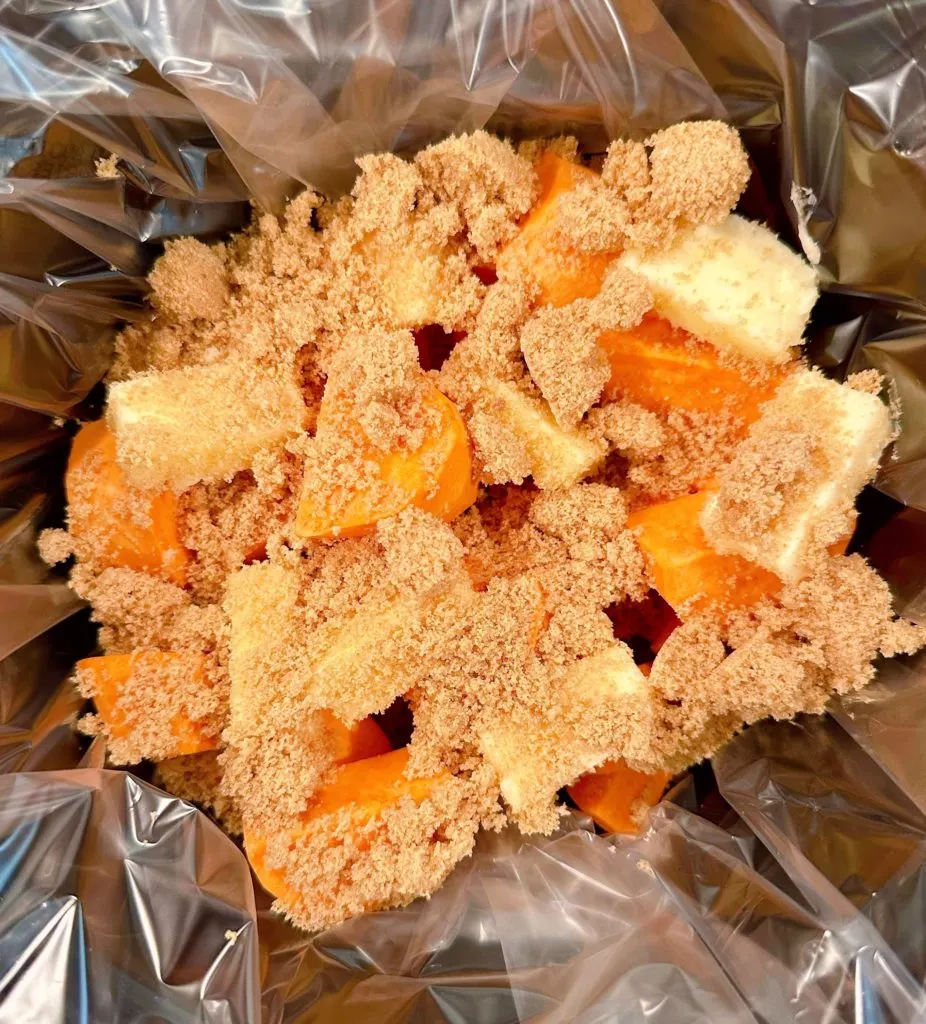 Sprinkle the mini-marshmallows on top of the sweet potatoes. Feel free to sneak one or two! Cooks privilege!
Slow Cooking Sweet Potatoes or Garnet Yams
Place the lid on top of the crock pot and turn the slow cooker to low.
Can you spy my metal clip holding my liner nice and tight?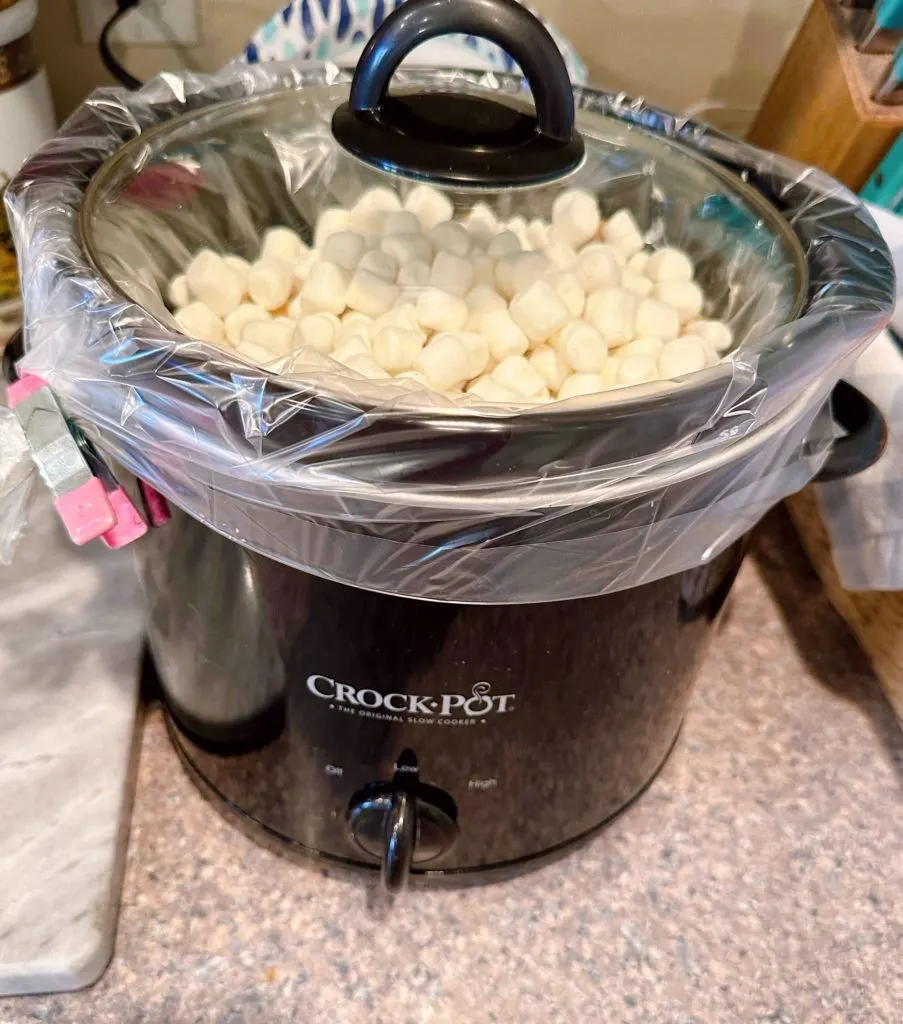 Cook on low 3–4 hours, or until Yams are fork tender and the sugars have caramelized. Carefully turn the sweet potatoes every 30 minutes if possible to evenly coat and cook them.
TIP: Don't be concerned if the glaze is runny in the beginning. The melted butter and gooey marshmallows are gearing up to create the most delicious and beautiful glaze with their friend brown sugar!
Note: Stir carefully as the mixture thickens during baking. The yams will be tender and can easily fall apart, so I try to "fold" them rather than stir too much.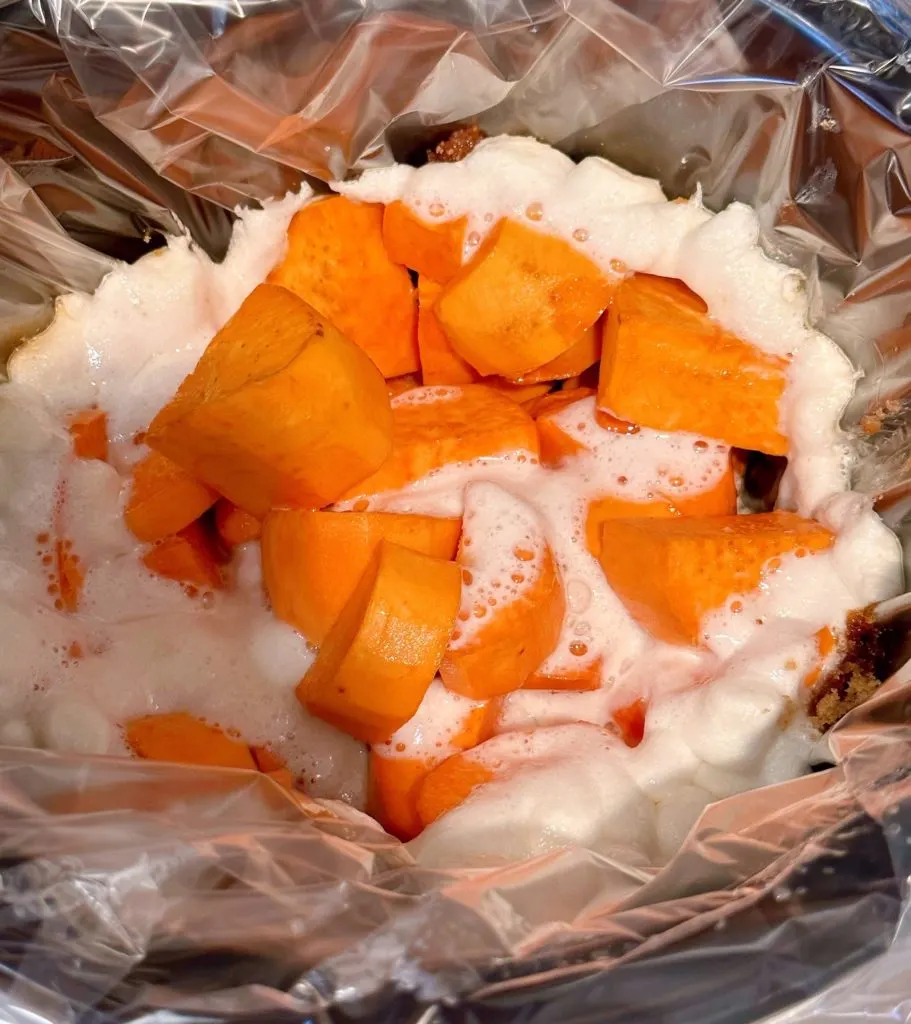 Serving Crockpot Candied Yams
Once the sweet potatoes are tender and the sauce is caramelized to perfection, I transfer them to a serving dish. You can keep them in the slow cooker on the warm setting until ready to serve.
Serve them hot as a side dish for your holiday feast or any special occasion. I know many prefer the Sweet Potato Casserole with Crunchy Pecan Topping, and I like it too, but I L.O.V.E. these candied yams!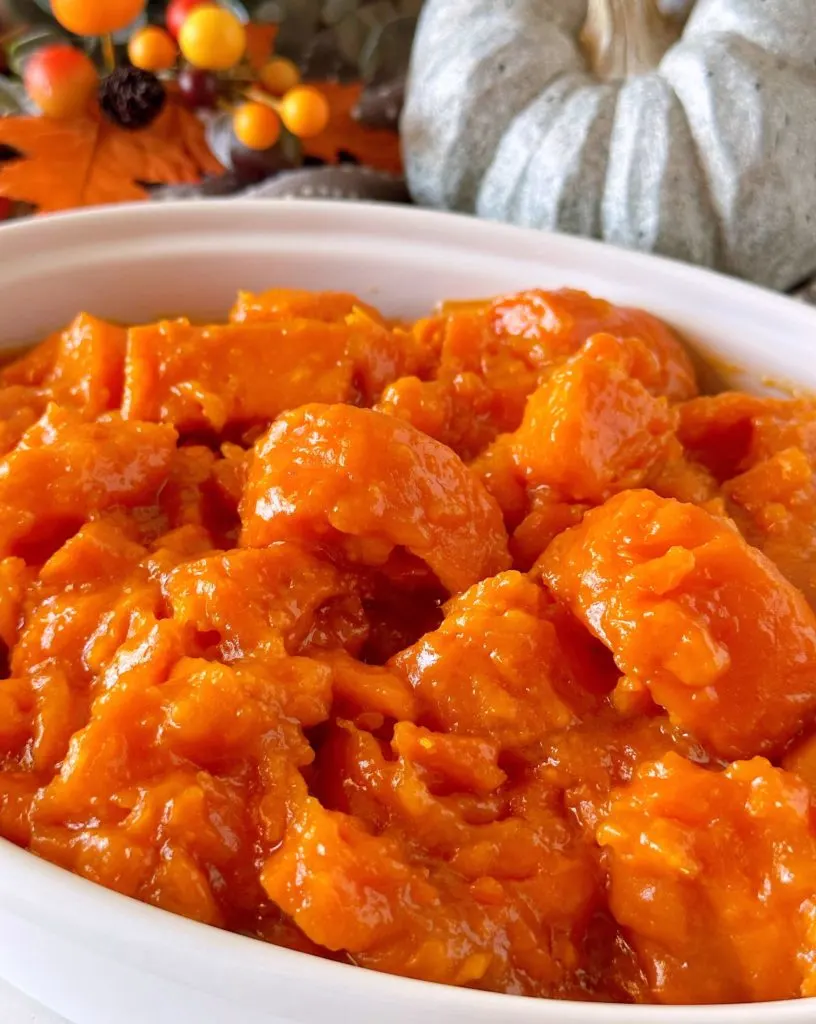 Other helpful tips and FAQ's
About 30 minutes before serving, sprinkle chopped pecans on top of the candied yams or sweet potatoes for an extra layer of texture and flavor.
The slow cooker does most of the work for you, allowing you to focus on other aspects of your meal preparation. This is one of the things I love about this recipe. It frees up oven space, and lets you focus on other dishes.
You can use either Sweet Potatoes or Yams in this recipe. The results will be similar. The most important part is to allow the sauce to caramelize.
Can this recipe be doubled? YES! You may have to increase your cook time from 4 to 6 hours so plan accordingly.
Can this dish be made ahead of time? All the ingredients can be prepped and then tossed into the slow cooker the day of. Just be sure to refrigerate the cut sweets or yams. This dish reheats well in the microwave.
Other Favorite Thanksgiving Dinner Side Dish Recipes
Whether it's Thanksgiving, Christmas, or any other special occasion, this recipe will undoubtedly become a family favorite. I know it's a "must have" at this Nest during the Holidays…and a tradition I'm happy to keep going!
Happy Nesting!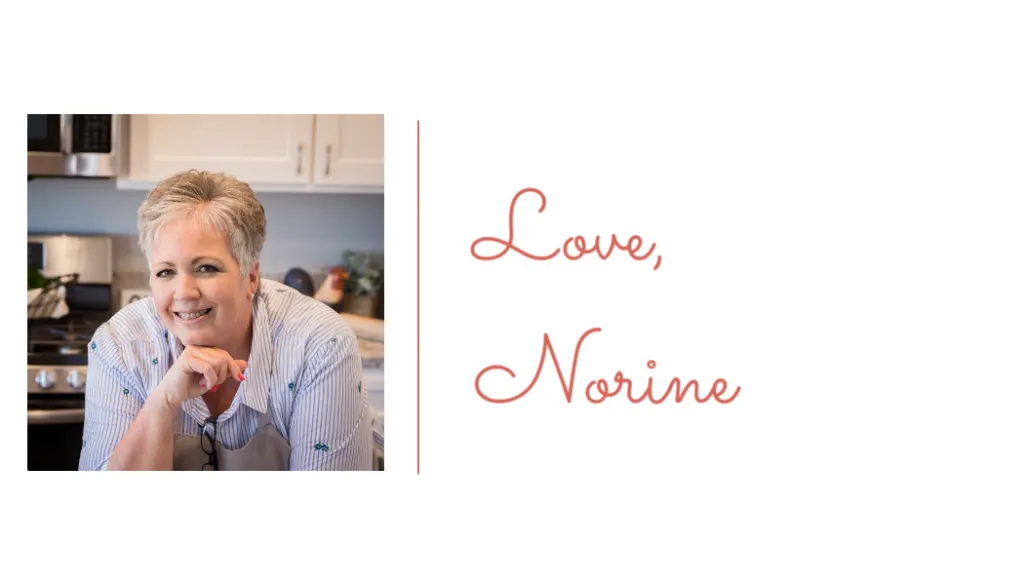 Yield: 8 servings
Easy Slow Cooker Candied Yams or Sweet Potatoes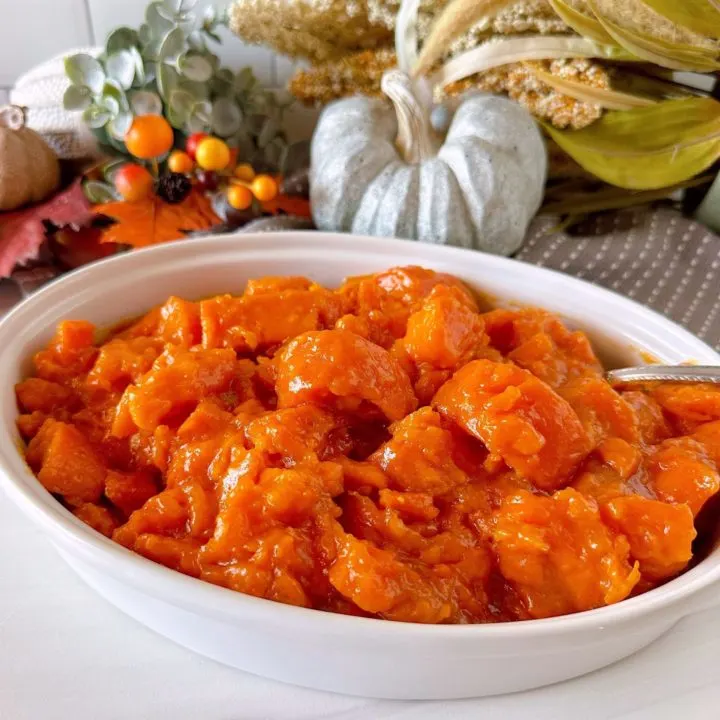 Creating Easy Slow Cooker Candied Yams or Sweet Potatoes is a breeze, and the result is a delectable side dish that everyone will love. It's a great traditional Holiday Season dish!
Total Time
4 hours
5 minutes
Ingredients
6-8 medium size yams, or sweet potatoes, washed, peeled, and cut into large cubes
3 Tablespoons butter
½ cup dark brown sugar
1½ cups mini marshmallows
1 teaspoon vanilla extract
Instructions
Place a slow cooker liner in your Crockpot.
Add prepared yams, or sweet potatoes to the bottom of the slow cooker. Dot with butter. Sprinkle with brown sugar, vanilla extract, and top with mini marshmallows.
Cover the slow cooker and set it to the low heat setting. Allow the candied yams, or sweet potatoes, to cook for 4 - 6 hours, or until they are tender and caramelized to your liking.
If possible, stir the sweet potatoes occasionally to ensure that the sauce coats them evenly and that they cook uniformly.
Transfer to serving dish. Serve warm.
Nutrition Information:
Yield:
8
Serving Size:
1/2 cup
Amount Per Serving:
Calories:

283
Total Fat:

5g
Saturated Fat:

3g
Trans Fat:

0g
Unsaturated Fat:

1g
Cholesterol:

11mg
Sodium:

61mg
Carbohydrates:

59g
Fiber:

6g
Sugar:

18g
Protein:

3g
Photo Credit: Jenelle Lacy Photography
Hi! I'm Norine, the cook, baker, and recipe creator behind Norine's Nest. I love sharing and creating recipes that invite family, friends, and neighbors to gather around the dinner table. Sharing good food and creating memories with those we love brings me happiness. Thanks for stopping by my Nest!