I don't think I'll ever be able to adequately express how divine this Buttermilk Pecan Chicken is! The chicken is moist, tender, and juicy. The coating is crispy, crunchy, packed full of rich delicious nutty flavor!
I recently bought a beautiful Southern Cookbook. Some of the best recipes we have here in the States come from the South. However, as I was reading the cookbook I ran across a recipe for Fried Squirrel!??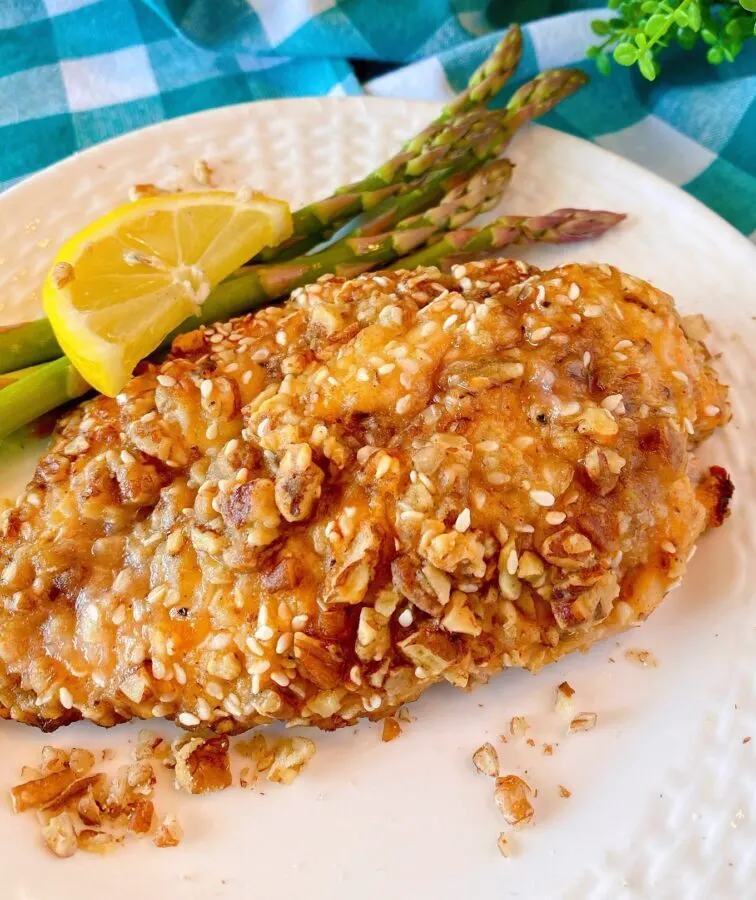 I'll be honest…I sat there for a minute, staring at the title, thinking "Really?" ("What does Alvin have to say about this?")
As I read through the list of ingredients it called for 3 "fresh" squirrels. (As opposed to wilted squirrels? Road Kill Squirrels? Franco the butcher's squirrel? Help me out friends…??)
Okay, so I'm not ever going to board the "Fried Squirrel" Express! However if you're looking for an alternative to that trip…might I suggest this other southern favorite…Buttermilk Pecan Chicken! This is my very, VERY favorite chicken recipe!
How To Make Buttermilk Pecan Chicken
The original recipe calls for 4 whole boneless skinless chicken breast. I like to fillet the chicken breasts and tenderize them just a little bit. (Have you noticed I'm always finding ways to beat something with a mallet…)
I found after years of making this dish that one whole chicken breast is almost too much for a single serving.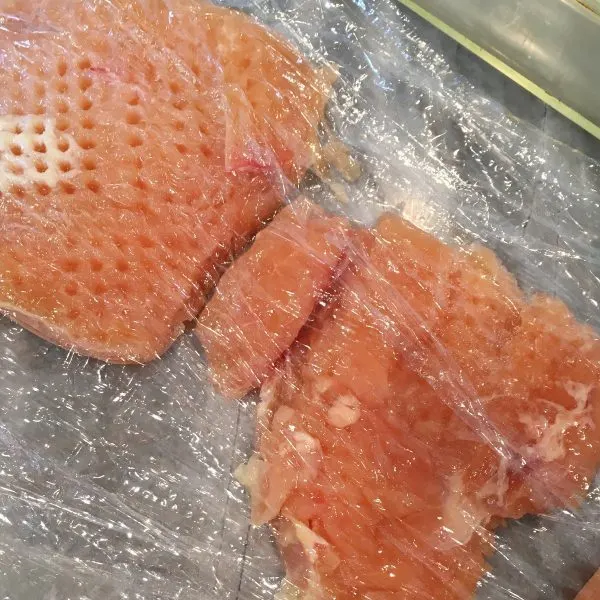 In a pie dish, or shallow dish, mix together all your dry ingredients. Flour, pepper, salt, paprika, pecans, and sesame seeds!
Combine together till well blended. (I love this dish so much my mouth is watering already just looking at this photo! Shesh!)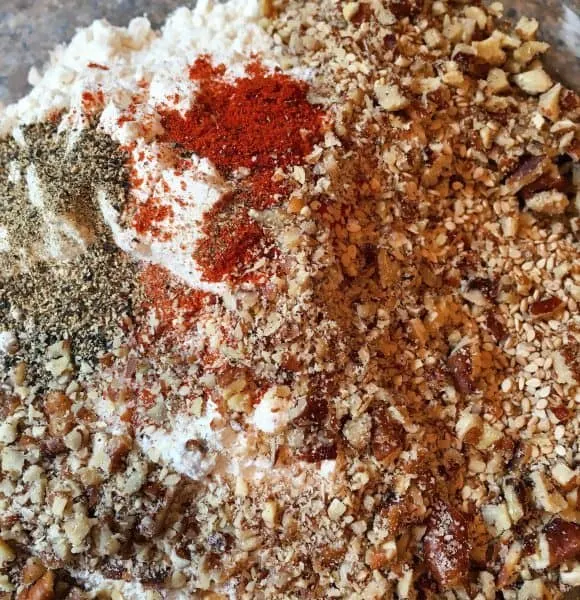 In another shallow dish mix together 1 cup of buttermilk and 1 egg. Beat it all together. The egg is going to cause a "thickening" reaction in the buttermilk. Don't panic…it's supposed to do this.
In a 9 x 13 glass baking dish pour 1/2 cup vegetable oil.
Dip each chicken breast in the buttermilk mixture…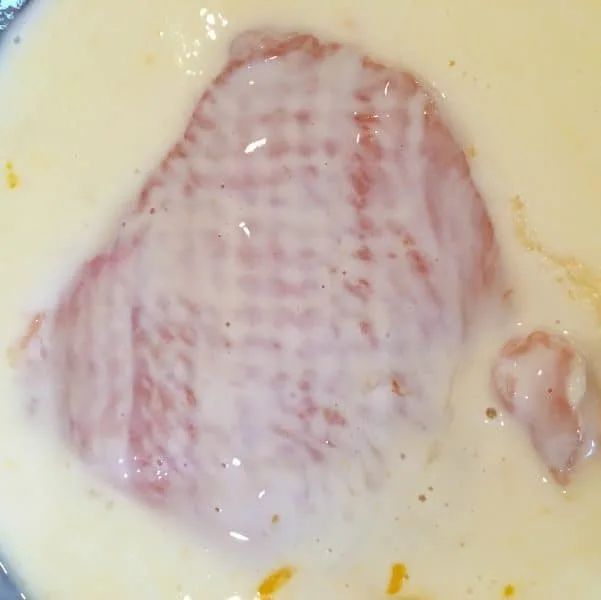 Then dredge the chicken in the flour mixture. I generally lay the breast down in the mixture and spoon the flour mixture over the top and gently pat it down.
Pick the chicken breast up with a fork and lay it in the glass baking pan with the oil; turn to coat both sides evenly.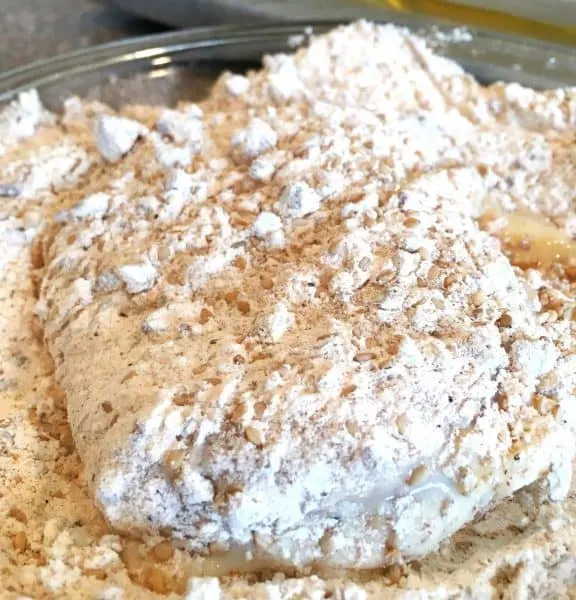 Baking Pecan Chicken
Bake in a 350 ° oven until tender and golden brown. Approximately 35-45 minutes for fillet chicken. 45-60 minutes for whole chicken breasts.
Some dishes you just know are going to be delicious from the smells coming out of your oven. This is one of those dishes! Your whole house is going to smell amazing.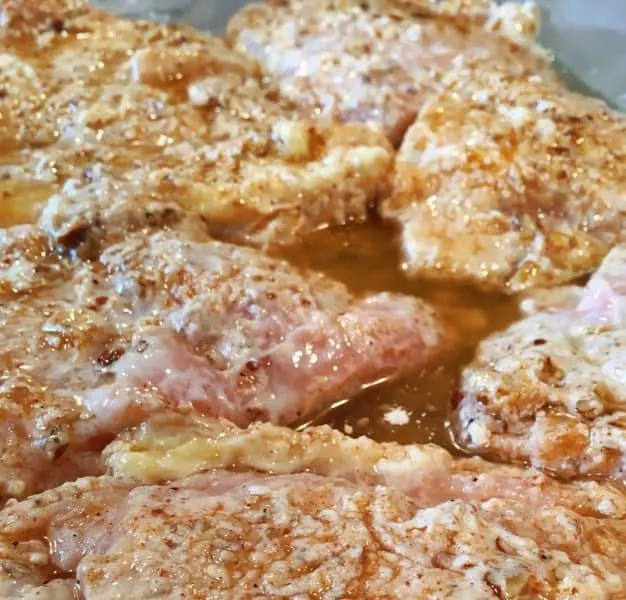 Once done, pull the chicken breasts out of the baking dish. Allow them to sit for about 5 minutes. Then arrange each breast on a serving platter.
Time for a little family secret…everyone of us "sneak scrape" the "bits and pieces" out of the baking dish! It's too good to let even one crumb go to waste.
Sometimes it's someone walking by to the dinner table…sometimes it's after dinner, when we are all out in the kitchen doing dishes…and we think no one is watching! The point is…we are pathetic at "bit" stealing!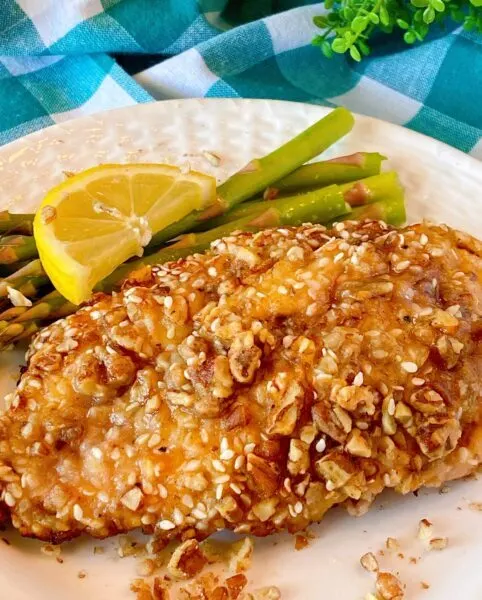 It's such an easy dish to make. Don't you just love an elegant dish that doesn't require a million steps and a ton of time?
I made this for our family Valentines dinner, but I normally make it for Family Sunday dinners. It's just one of those "special" meals. (Kind of like "squirrel"! lol Couldn't resist that one sorry…)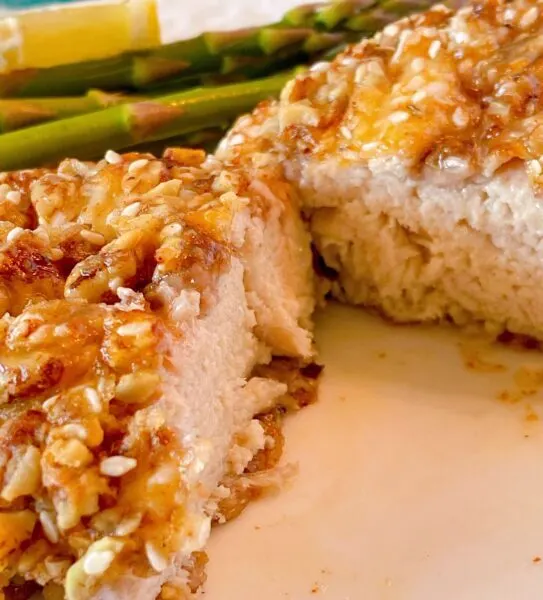 I recommend serving this with rice pilaf, roasted asparagus and a simple Cesar salad. Such a great meal. Like I mentioned earlier…one of my very favorites!
It's a great spring time meal. Serve my Strawberry Shortcake or Strawberry Rhubarb pie for dessert! Be the Hero I know you are to the chicks at your nest!
Additional Fantastic Main Dish Recipes
I really hope you'll give this one a try. It SO wonderfully yummy!
Remember to subscribe to Norine's Nest Newsletter (say that three times really fast!) for FREE and receive the most recent recipe notifications delivered into your inbox!
Have a Great Day! From our Nest to Yours!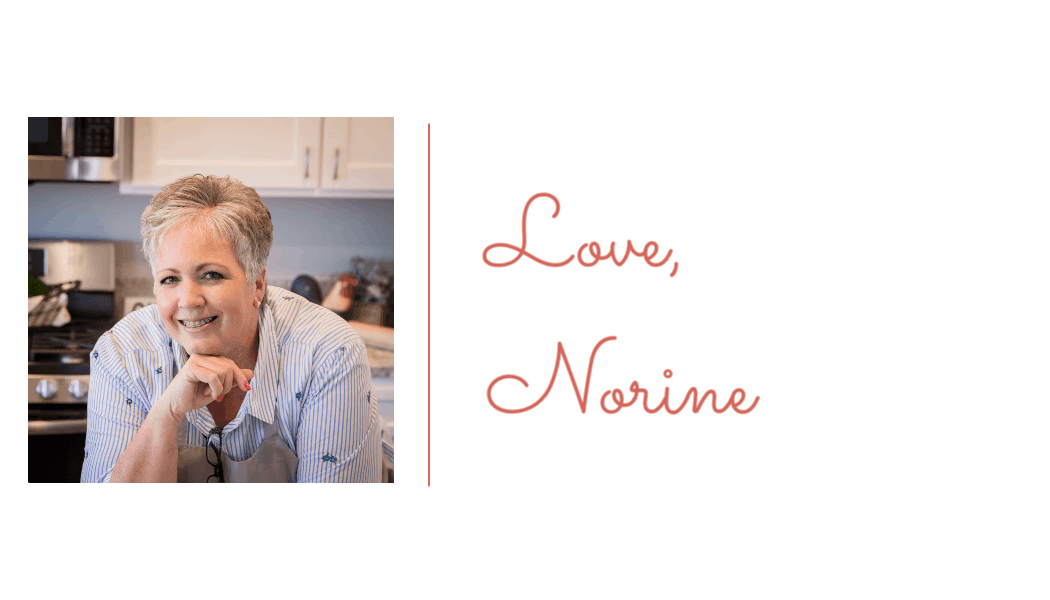 Yield: 8 servings
Buttermilk Pecan Chicken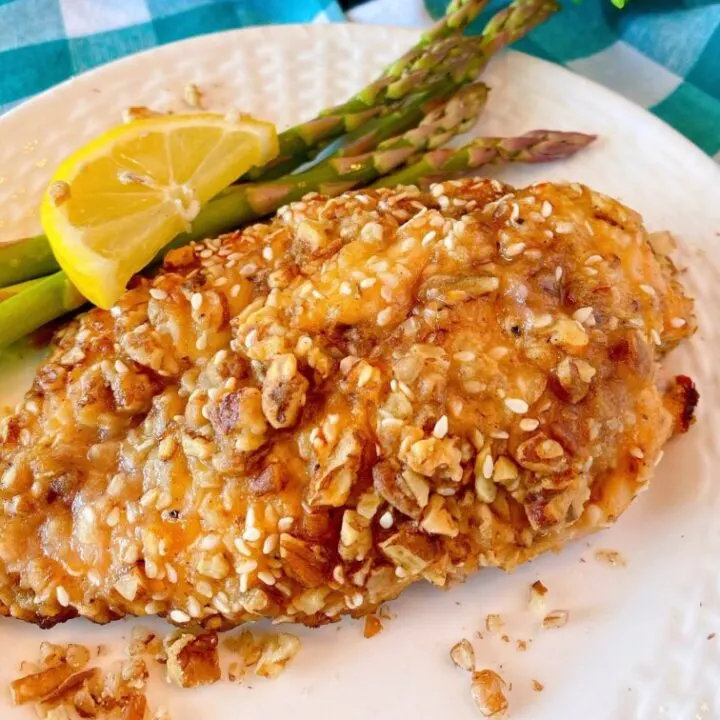 Tender juicy chicken breast are dipped in a rich buttermilk mixture and then dredge through an amazing flour, pecan, and sesame seed mixture. Oven fried to a tender golden brown. An elegant easy recipe.
Ingredients
1 Cup Buttermilk
1 egg, slightly beaten
1 Cup Flour
1/2 Cup chopped pecans
1/4 cup sesame seeds
1 tsp. salt
1 tsp. paprika
1/2 tsp pepper
4 boneless, skinless chicken breast
1/2 cup vegetable oil
Instructions
Mix buttermilk with eggs. Stir together flour, paprika, pecans, sesame seeds, salt & pepper.
Fillet Chicken breast length wise and mildly tenderize or leave breast whole. Personal choice.
Dip chicken in milk mixture, then in flour mixture.
Place oil in a large shallow 9 x 13 baking pan or dish.
Put chicken in oil and turn over to coat both sides evenly.
Bake at 350 degrees until tender and golden brown.
Approx. 35-45 minutes for fillet breast. 45-60 for whole chicken breasts.
Recommended Products
As an Amazon Associate and member of other affiliate programs, I earn from qualifying purchases.
Nutrition Information:
Yield:
8 servings
Serving Size:
1 chicken breast fillet
Amount Per Serving:
Calories:

368
Total Fat:

24g
Saturated Fat:

3g
Trans Fat:

0g
Unsaturated Fat:

20g
Cholesterol:

75mg
Sodium:

403mg
Carbohydrates:

16g
Fiber:

2g
Sugar:

2g
Protein:

23g