Asphalt Pie is a frozen mint ice cream treat with crushed Oreo cookies, caramel sauce, ribbons of fudge, and mint ice cream. If you're a fan of Winger's restaurant than you've probably heard of their amazing Asphalt Pie! This Home version is amazing and so easy to make!
Frozen desserts are perfect for the upcoming scorching summer months. Not only are they refreshing …they are a great "no bake" dessert that everyone will love.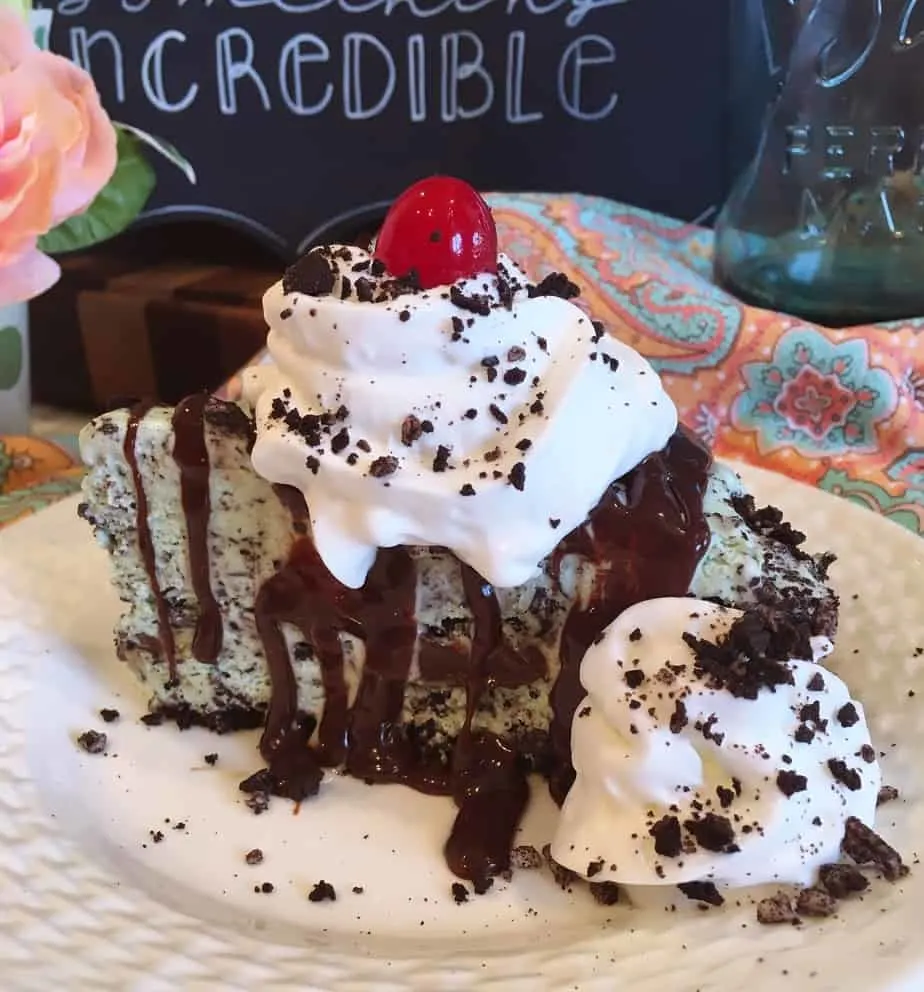 Asphalt Pie is different from Mud Pie. Asphalt Pie is made with mint chip ice cream… Mud Pie is made with coffee flavored ice cream. Both are delicious and easy to make.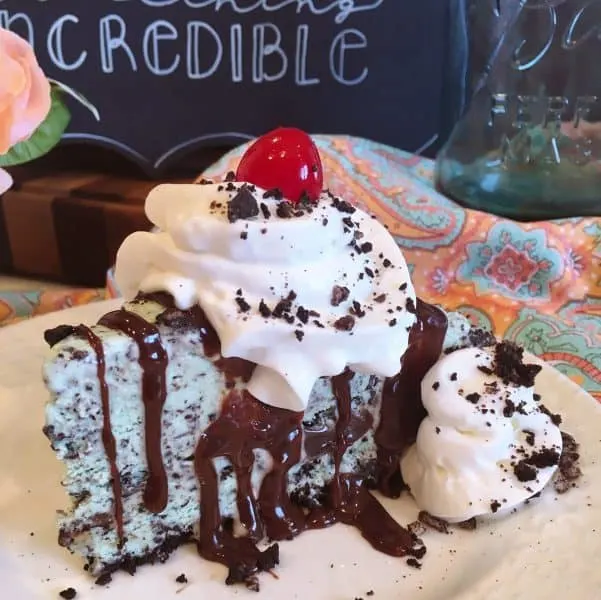 I went with Asphalt Pie because we had just gone out to Winger's for dinner and had a slice of their mile high Asphalt Pie! It was wickedly delicious! I wanted to recreate it! Why not? (Life Goals…recreating my favorite desserts! One dessert at a time!)
Let's make this wonderful easy no-bake dessert…some call it Asphalt Pie, some Grasshopper Ice Cream Dessert. Me? I call it yummy!
How To Make An Oreo Pie Crust
You can buy a pre-made Oreo pie crust and call it good…or you can make your own Oreo cookie crust. It's so easy to do. Either will work beautifully for this dessert.
For the homemade Oreo crust, place 25 Oreo cookies in a food processor. Process until cookies are a fine crumb.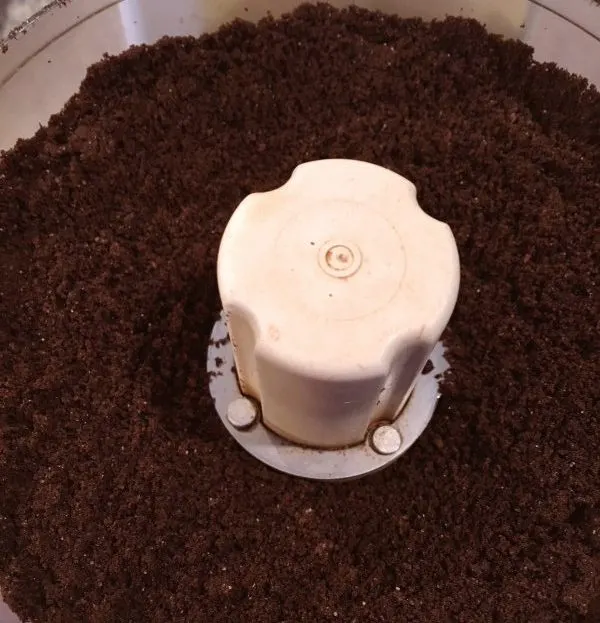 Place crumbs in a medium bowl with 5 tablespoons melted butter. Mix until well combined.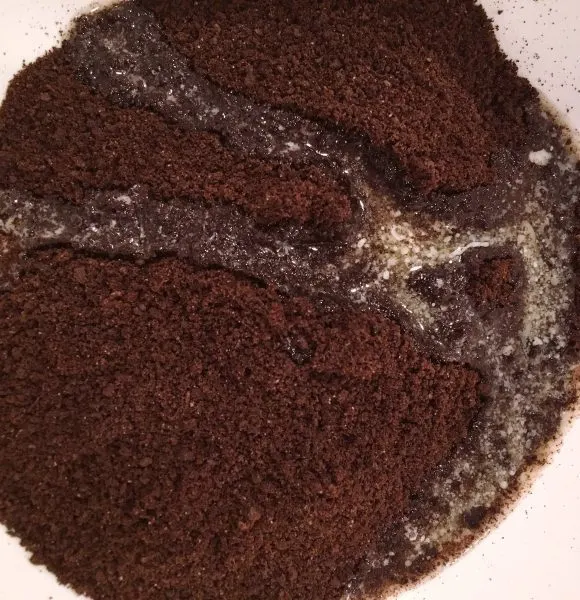 Place Crumbs in the bottom of a 9 inch pie crust. Press crumbs towards the edge of the pie plate.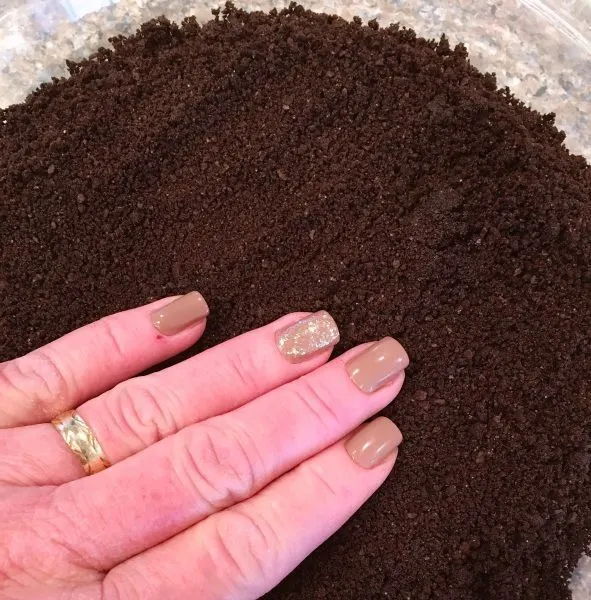 TIP: To get a nice even crust place a metal pie tin inside the pie plate with the cookie crumbs and press down.
Firmly press metal pie tin that is on top of your crumb mixture. Remove tin and wipe edges of pie plate clean of an excess crumbs. This will create a nice even crust edge.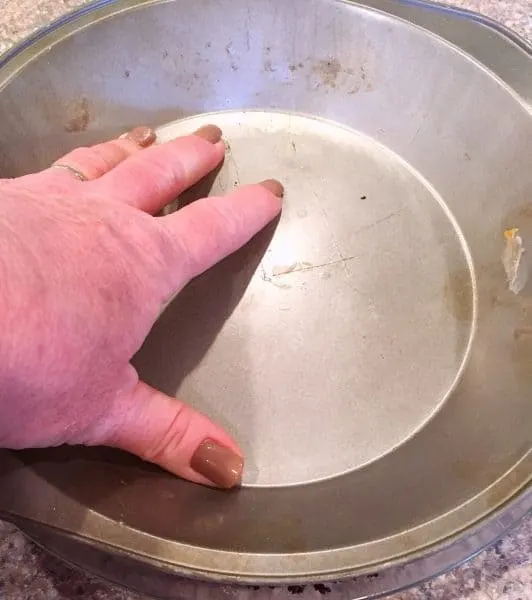 Place pie crust in freezer and allow to set for 30 minutes.
How To Assemble Asphalt Pie
While the pie crust is firming up in the freezer, set 1 half-gallon mint chocolate chip ice cream out to soften.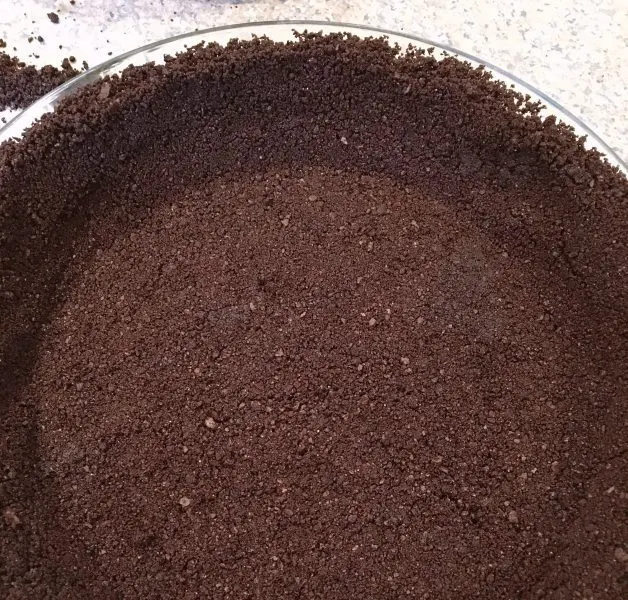 As the ice cream begins to soften, stir to create a soft serve ice cream. This makes it easier to spread the ice cream. I would caution that you not allow it to fully melt! Just enough to achieve a soft serve consistency.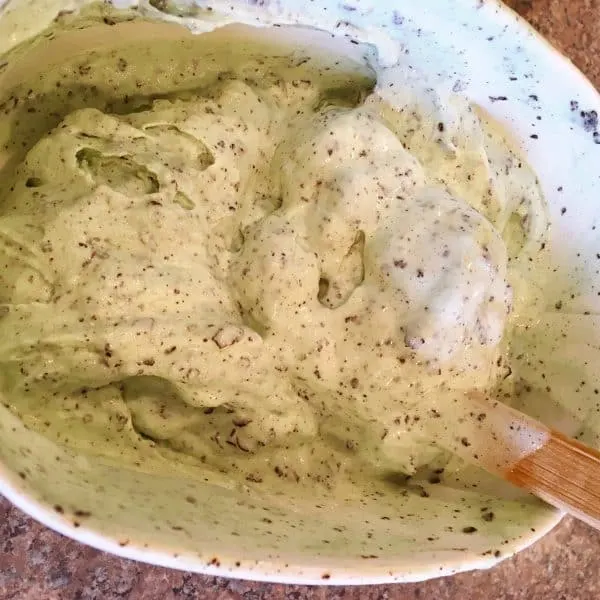 Remove pie crust from freezer. Divide softened ice cream in half. Place half the soft ice cream in the bottom of the prepared pie shell. Spread with a rubber spatula to even out ice cream.
Place pie back in the freezer, on a level surface, for 30 minutes to allow ice cream to firm up.
Remove pie from freezer and remaining ice cream. (Unless you want to climb in there with it…which some days sounds wonderful!)
For the layer of fudge filling for the center of the ice cream pie…drizzle 1/2 cup of hot fudge topping over the top of the bottom layer of your Asphalt Pie. It doesn't have to be pretty…just drop it by the spoonful over the top.
Confessions…I heated my hot fudge sauce up to make it easier to spread…but it melts the ice cream pretty quickly so you have to work FAST! Lightning fast! (Faster than this old broad can move!) You may want to just drop the fudge by the spoonful and forego heating the sauce.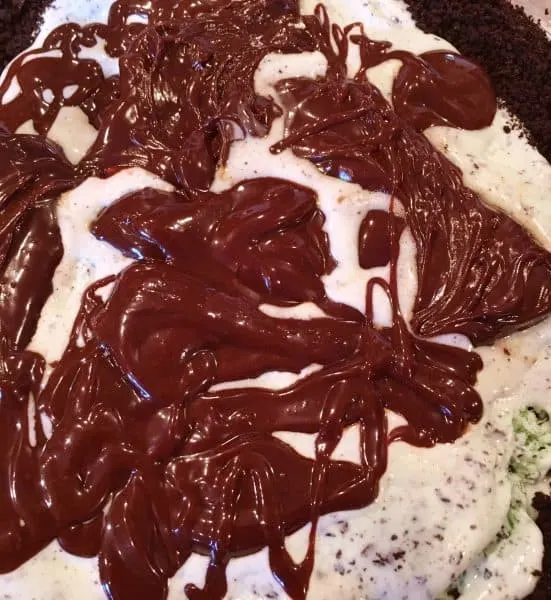 Crush a handful of the remaining Oreo cookies (if you haven't eaten them all! I know you!! I've got your number…it's the same as mine. lol) and sprinkle them all over the top of fudge.
If you don't want more Oreo cookies…you could replace them with chopped Andes Mints, Grasshopper cookies from Keebler, chopped nuts, etc. There are endless possibilities. Fresh raspberries would be a tasty alternative!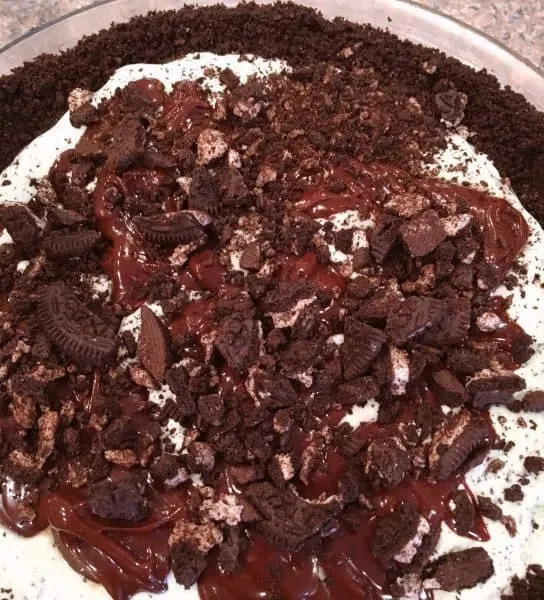 Place the mint ice cream pie back in the freezer for another 30 minutes. It needs to be firm for the last layer. Place the container of ice cream back in the freezer for 15 minutes to keep it from becoming minty milk!
After 30 minutes, remove pie from freezer and top with remaining mint ice cream. This is such a fun dessert to make!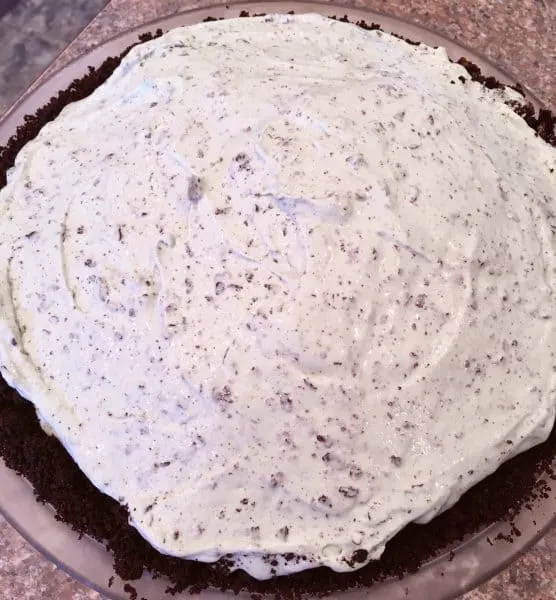 Sprinkle top with remaining crushed Oreo's! Return pie back in the freezer. Freeze for several hours until firmly set!
Cover with plastic wrap until ready to serve. This will help prevent the pie from getting what I call "fuzzy freezer scum". (This is not an actual term…unless you live at this nest…then it's a REAL thing!) Freezer air and ice cream are not a good combo! So be sure to cover that pie until its time to serve it to your guests.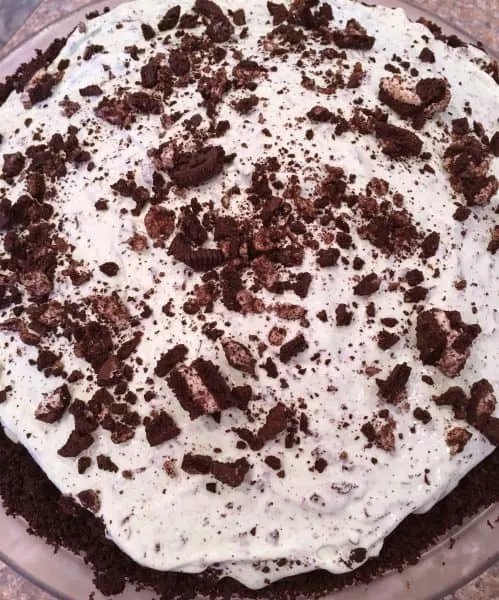 When ready to serve, remove pie from freezer, allow to sit for 20 minutes. Slice the Asphalt pie with a sharp knife, just as you would any other pie that's frozen solid! lol
TIP: Run knife under hot water before slicing pie. It will make cutting the frozen pie easier.
Remove slice and place on serving plate. Drizzle with warm hot fudge, caramel sauce, whip cream, and a cherry on top! There's always a cherry on top! It's so cheerful!
Warning: This pie is slippery…it will want to slide right off that plate! So be ready to grab or serve at the table!
I sprinkled a few more crumbs on the whipped cream topping…just to doll it up a bit! We skipped the caramel sauce because truthfully…we were hangry and I forgot! We wanted to get down to the business of eating!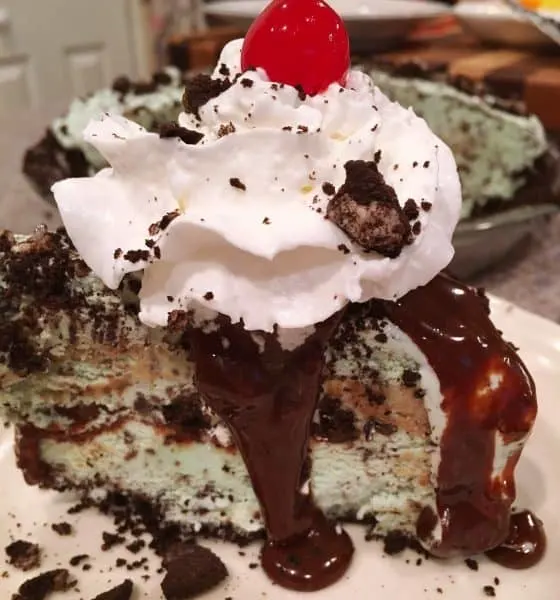 I love the luscious layers the fudge and cookie center create! It's the perfect "Sunday" dessert. Like a "sundae" Pie on Sunday! (I had to go there…it was just too easy!)
This is a dessert your "little" helpers could lend a hand in making! It's also a fantastic dessert for a young beginning chef who wants to try their hand in making a dessert the whole family will love. Best part…there's no fear of them burning the house down!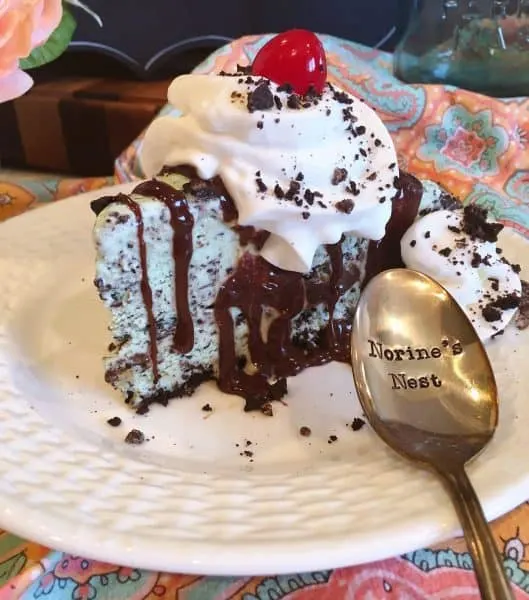 This is a great dessert for a summer BBQ! It's great for family Sunday dinner! Who doesn't like ice cream?!!
Not a fan of mint chip…change it up for your favorite flavor. Get creative in that kitchen! Impress your guests and yourself! You can even change out the original Oreo's for Golden Oreo's!
If you want to take a trip down the road to "Sweetsville"…remember to follow the Asphalt…Pie that is! It's a mile high taste delight!
If you enjoyed this recipe you may also enjoy these Frozen Treat Recipes
Thanks so much for stopping by!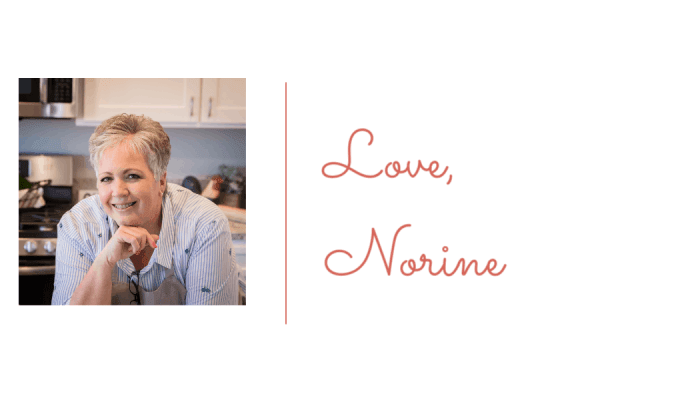 Yield: 10 slices
Mint Fudge Asphalt Pie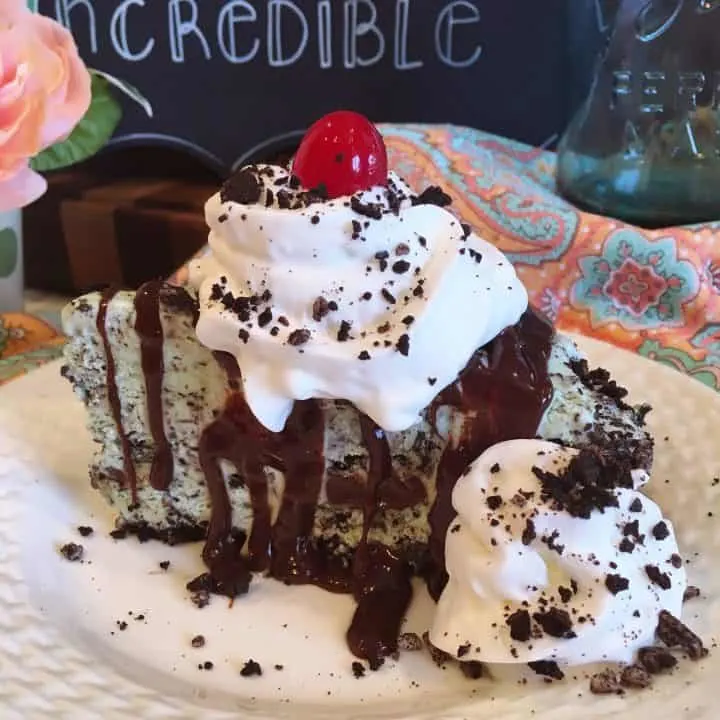 Asphalt Pie is a frozen mint ice cream treat with crushed Oreo cookies, caramel sauce, hot fudge, and mint ice cream. If you love Wingers, you'll love this copy cat of their famous Asphalt Pie. An easy "no-bake" dessert.
Total Time
3 hours
30 minutes
Ingredients
25 Oreo cookies, finely crushed
5 Tablespoons butter, melted
10 Oreo cookies, coarsely crushed
1/2 gallon mint chocolate chip ice cream
1 cup hot fudge
1 cup caramel sauce
Whipped cream
Cherries
Instructions
In a medium bowl combine finely crushed Oreo's and melted butter. Mix until well combined. Press crumbs firmly down in bottom and up the sides of a 9 inch pie crust. Wipe around the edge of pie plate. Place crust in freezer for 30 minutes.
Remove Ice cream from freezer and allow to set out while crust is in freezer firming up. Stir ice cream to achieve creamy soft serve consistency.
Remove crust from freezer. Spoon half the ice cream in bottom of pie crust. Smooth out with spatula. Return pie to freezer for additional 30 minutes. Place other half of ice cream in freezer while waiting for pie to firm.
Remove pie and remaining ice cream from freezer. Drizzle center with 1/2 cup of hot fudge sauce. Sprinkle with half the coarsely crushed Oreo's. Top with remaining softened ice cream, mound center and spread to edges of pie crust.
Sprinkle top with remaining coarsely chopped Oreo's. Return to freezer and freeze for 2-3 hours until firmly set. Remove from freezer 20 minutes before serving. Slice and top with hot fudge, caramel sauce, whipped cream, and a cherry. To store cover with plastic wrap to keep fresh and safe from freezer burn.
Recommended Products
As an Amazon Associate and member of other affiliate programs, I earn from qualifying purchases.
Nutrition Information:
Yield:
10 slices
Serving Size:
1 slice
Amount Per Serving:
Calories:

658
Total Fat:

30g
Saturated Fat:

15g
Trans Fat:

0g
Unsaturated Fat:

12g
Cholesterol:

62mg
Sodium:

511mg
Carbohydrates:

95g
Fiber:

2g
Sugar:

71g
Protein:

7g