Cherry Chocolate Chip No-Churn Ice Cream is rich, creamy and delicious! Bonus Points? It's SO EASY to make and you don't need an ice cream maker to make it! All you need is 2 cups of whipping cream, 1 small can of sweetened condensed milk, flavor extract, and the mix-ins you want!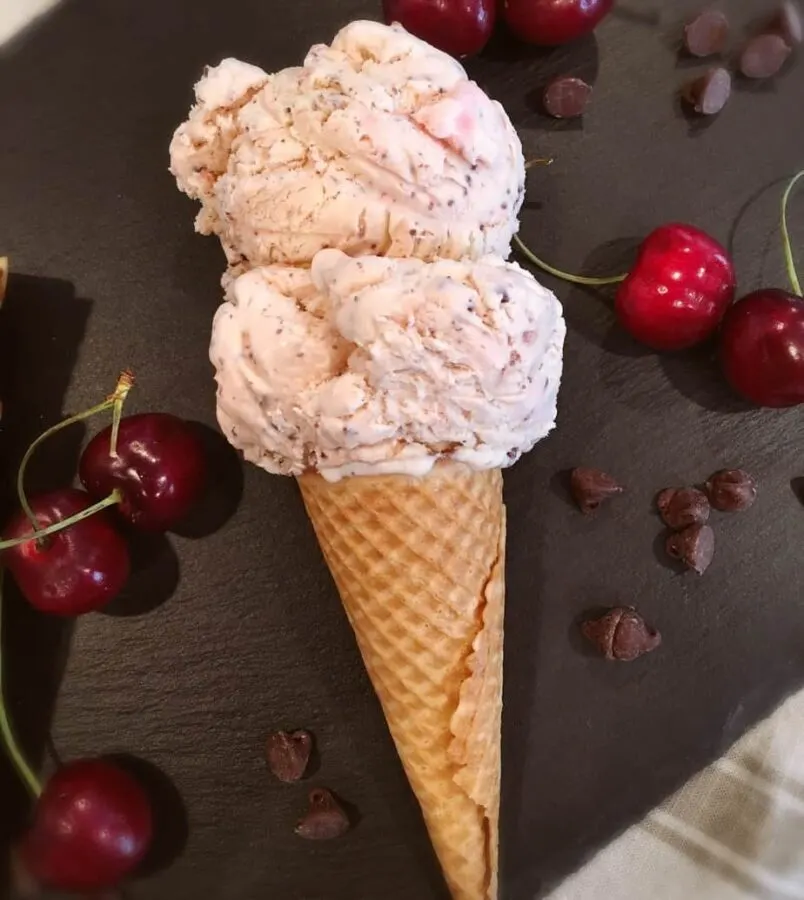 For me it was fresh cherries and semi-sweet chocolate chips! Summer just got a lot more scrumptious my friends!
For months I've been drooling over all the recipes for "No-Churn" Ice Cream. However, I thought "No-churn ice cream" just sounds too good to be true! Everyone knows you have to spend hours taking turns churning it, adding ice, and salt. Those were the good 'ol days! (Yes! I just dated myself horribly! lol)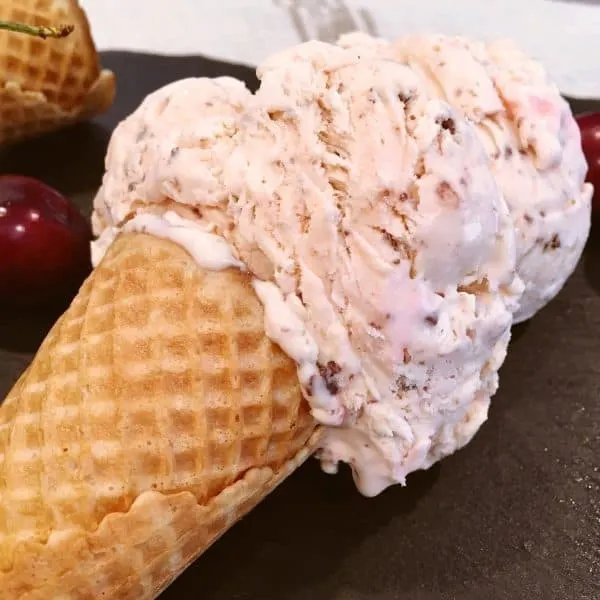 True Confessions? I'm a bit of an ice cream addict (that's like saying I have a "few grey hairs"…it may be an understatement!) …Okay fine…
"Hi! I'm Norine and I'm an Ice Cream Addict! It's been 9 hours since my last scoop! (It was Coffee Almond Fudge and it was heavenly! I feel NO guilt! Not even a tiny sliver of guilt!)
Because I'm a life long member of I.C.L.A. (Ice Cream Lovers Anonymous) this "No-Churn Ice Cream" was going to have to really impress me!
I'm happy to report…it more than impressed me! I'm so excited about this yummy tasty recipe my friends!
How To Make Cherry Chocolate Chip No-Churn Ice Cream
Rinse a hefty handful of fresh bing cherries. Chop enough cherries that your fingers turn maroon color. Just kidding…kind of, it's worth the sacrifice. You'll need 1 cup of fresh chopped cherries. (Please remove the pits! I find it helps with the creamy texture we're aiming for!)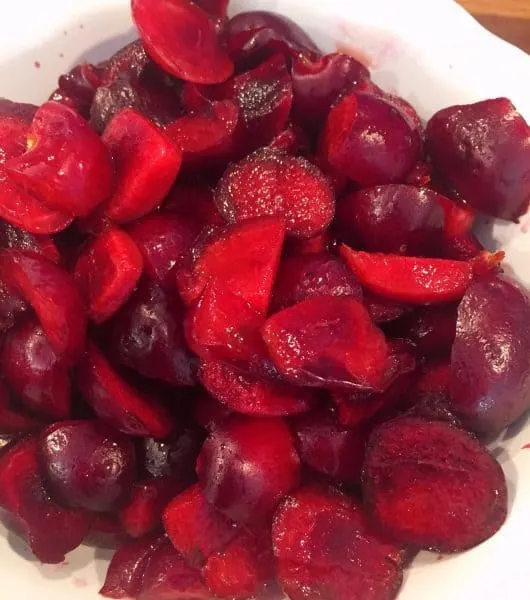 TIP: My husband is a huge fan of "chocolate flakes" in his ice cream more than big chunks of chocolate. So I chopped my chocolate chips in a mini food processor. You can chop them by hand if you prefer! It can be a little tricky, but it is possible.
In your food processor add 1/2 cup of semi-sweet chocolate chips. Process for 10-15 seconds until chips are finely chopped.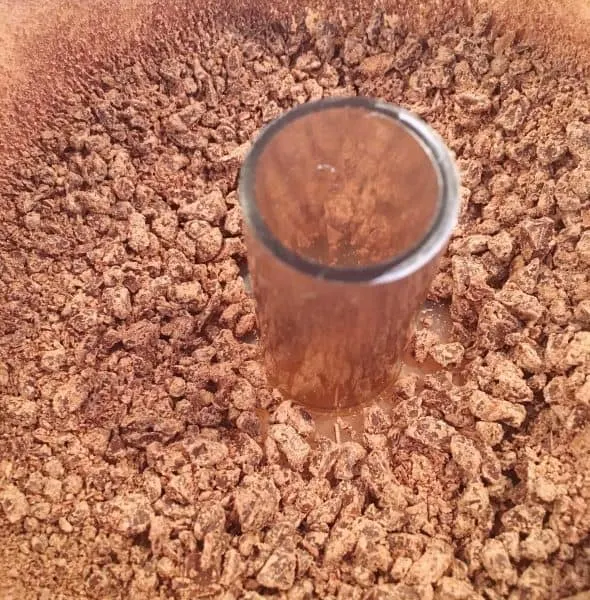 In the bowl of your stand mixer add 2 cups of cold heavy whipping cream.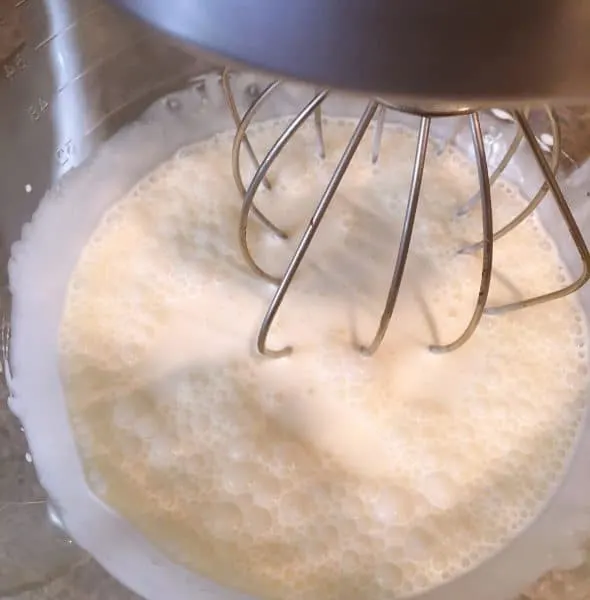 Using the wire whisk beat just short of stiff peaks forming! About 2 minutes.
This step can be a little tricky, so just watch the mixer and when you have a nice thick whipped cream that holds a pattern, but doesn't have super stiff peaks you know you are good to go!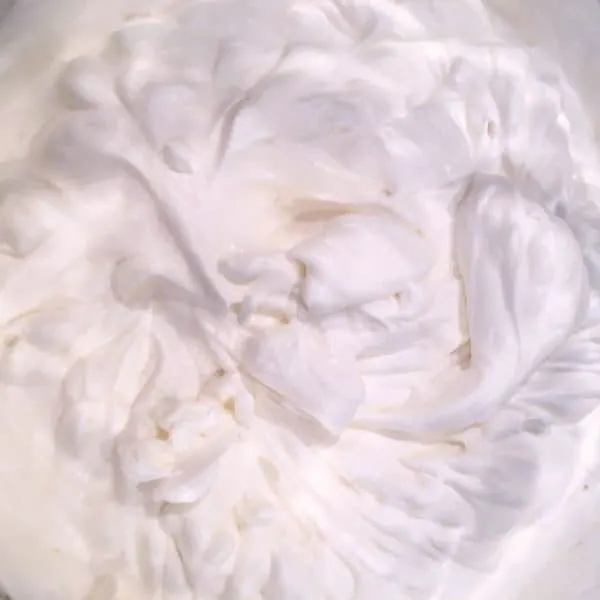 FOLD in 1 can of sweetened condensed milk. It should be a creamy color and not a caramel color. I know mine looks caramel in the photo. (Let's pretend I'm the world's best photo editor! Instead of an old blind lady who was editing photo's that day!)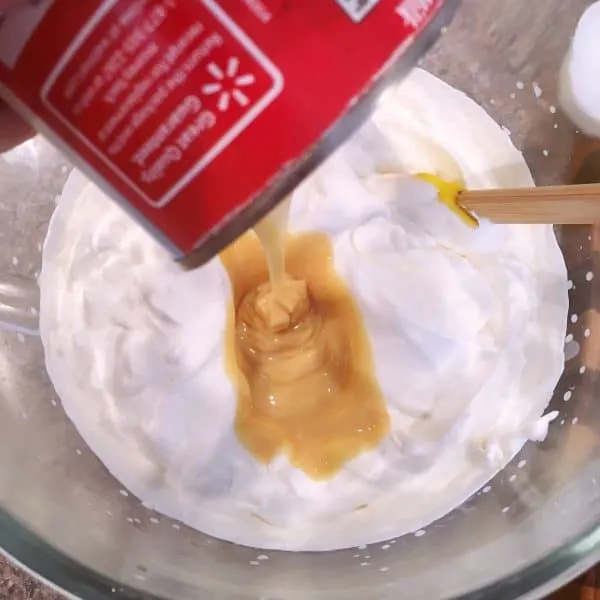 Fold until well mixed.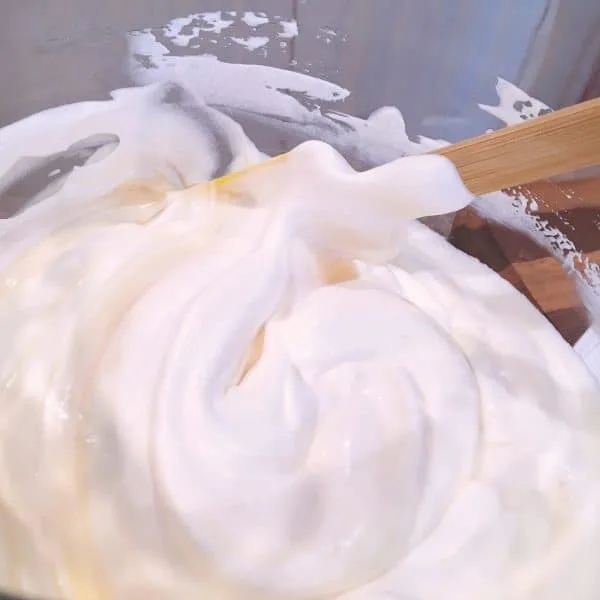 Add 4 Tablespoons of Maraschino Cherry Juice, 3/4 cup of chopped cherries, chocolate chips, and 2 tsp of vanilla and a pinch of salt. Fold until well blended.
TIP: If you are not a fan of cherries or chocolate chips, we can get you help! No, seriously…this is where you can add in your own mix-ins!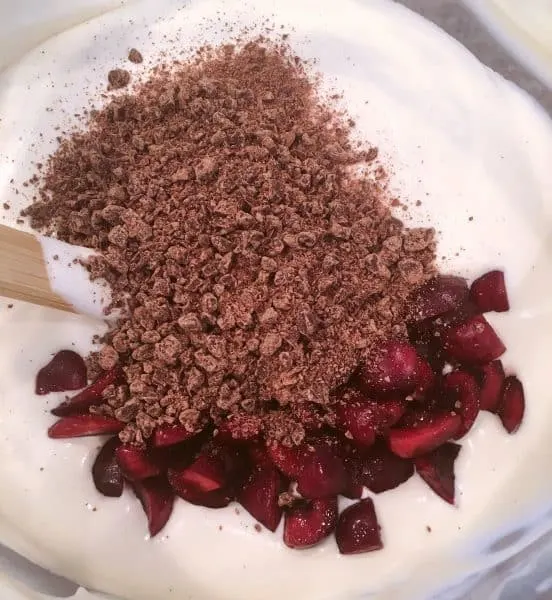 Pour into a parchment lined chilled bread pan OR a special Ice Cream container like the one pictured below.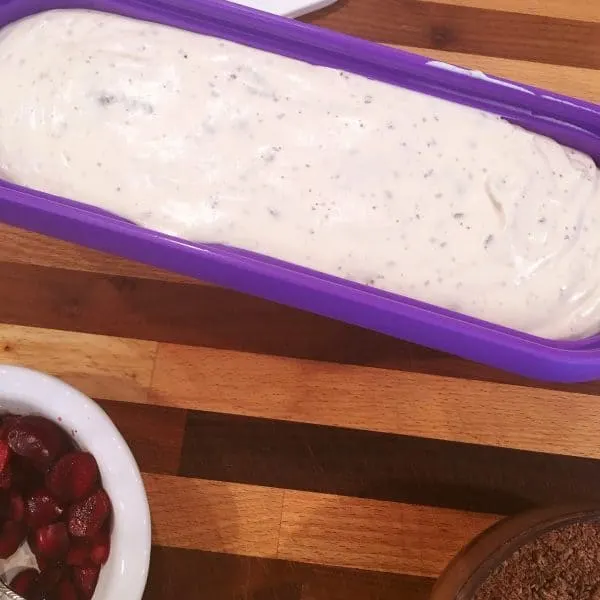 Chill for 2 hours until the consistency of soft serve ice cream. Add in remaining cherries with a spoon.
Why? Because we cherries on top too. It just looks pretty and makes for more evenly dispersed mix-ins per scoop.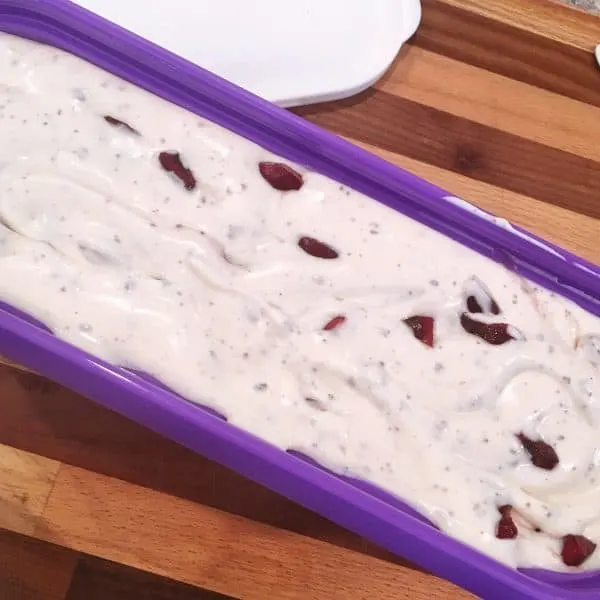 Cover with lid or Saran wrap and place in freezer for another 3 hours or overnight. Scoop and serve on top of your favorite ice cream cones or in bowls.
The subtle cherry flavor with the chunks of cherries and the yummy chocolate chips is the perfect flavor combination. Move over Ben & Jerry's there's a new kid in town!
The mix-in possibilities are endless! You could fold in just about anything…a chopped up piece of peach pie! Mint Chocolate Chip. Raspberry Cheesecake! Oh My!
I think this No-Churn Ice Cream Recipe may have created a monster!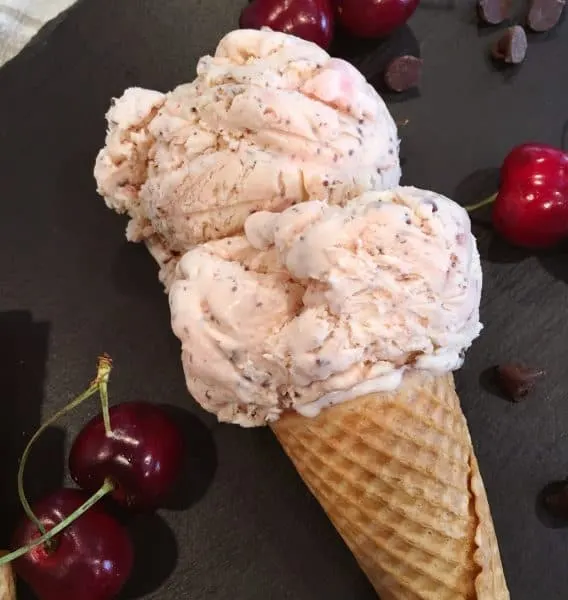 Now if I'm being a 100% honest…this is not an inexpensive alternative to store-bought Ice Cream. In fact it is probably more costly.
However, you know exactly what is going into your ice cream and it's really fun make.
What could be better than a couple of heaping scoops of your own homemade ice cream? I can't think of much! Especially in this summer heat!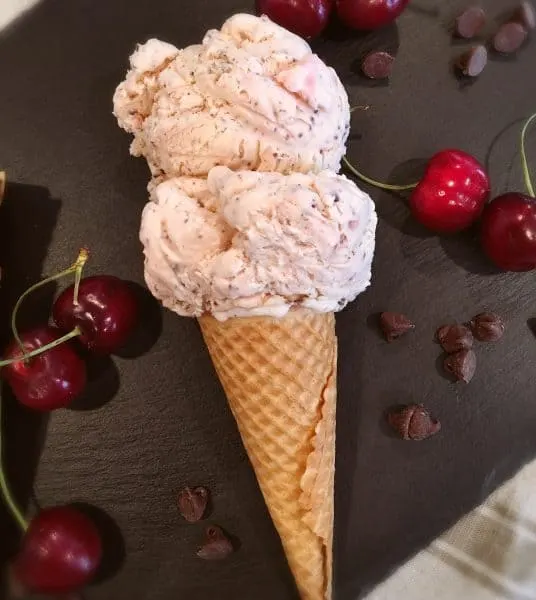 Enjoy my friends! I really hope you'll give this rich homemade No-Churn Cherry Chocolate Chip Ice Cream recipe a try.
Other Delicious Ice Cream Recipes
Thanks for stopping by my Nest! Remember you can always follow me on Facebook, Pinterest, and Instagram.
Have a Great Day! Stay Cool!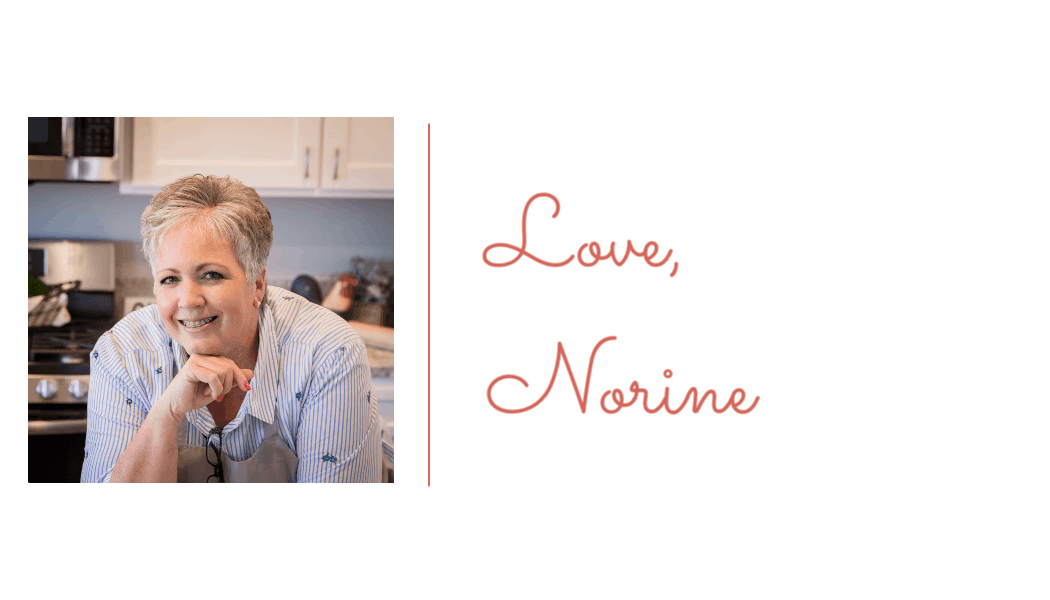 Yield: 12 servings
Cherry Chocolate Chip No-Churn Ice Cream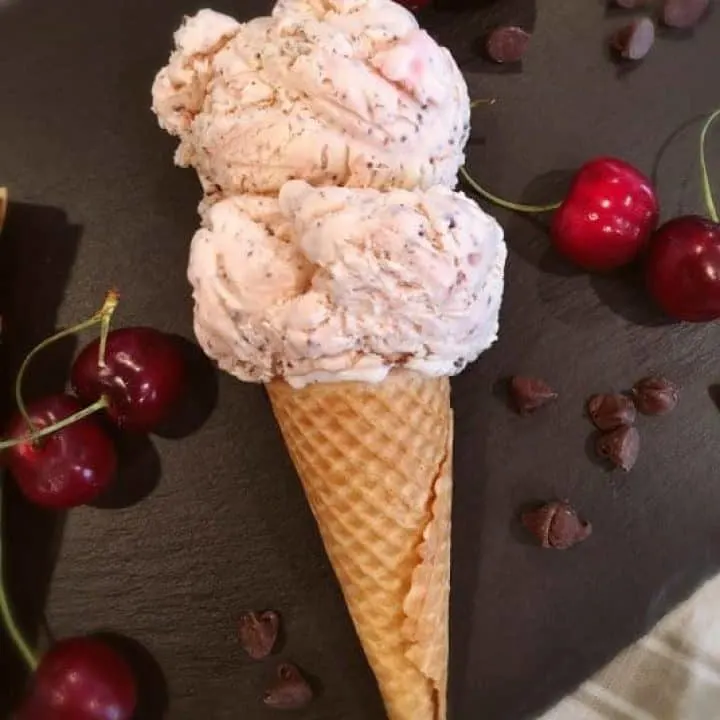 No special equipment is needed to make this super rich and creamy No-Churn Cherry Chocolate Chip Ice Cream. Not a fan of cherry? Add your own mix-ins and create your own custom flavor!
Total Time
5 hours
15 minutes
Ingredients
2 cups heavy whipping cream, cold
1 - 14 oz. can sweetened condensed milk
2 tsp. vanilla
pinch of salt
1 cup chopped fresh cherries
1/2 cup chopped semi-sweet chocolate chips or mini chocolate chips
4 Tablespoons of Maraschino Cherry Juice
Instructions
In the mixing bowl of your mixer add 2 cups cold heavy whipping cream. Whip the cream on medium-high speed with the "Whisk" attachment, about 2 minutes, just until semi-firm speaks form.
Fold in the sweetened condensed milk, pinch of salt, and vanilla until well blended. Gently fold in 3/4 a cup of the cherries and the chopped chocolate chips.
Pour into a chilled 9-by-5-by-3-inch metal loaf pan lined with parchment paper, or a SUMO Ice Cream Container, and freeze, covered, until thick and creamy, like soft-serve, about 2 hours. Swirl in remaining cherries or other any desired mix-ins with a spoon.
Continue to freeze, covered, until solid and scoopable, about 3 hours more.
Notes
*Time includes freezing time.
Recommended Products
As an Amazon Associate and member of other affiliate programs, I earn from qualifying purchases.
Nutrition Information:
Yield:
12 servings
Serving Size:
2/3 cup
Amount Per Serving:
Calories:

408
Total Fat:

25g
Saturated Fat:

15g
Trans Fat:

0g
Unsaturated Fat:

8g
Cholesterol:

60mg
Sodium:

93mg
Carbohydrates:

45g
Fiber:

2g
Sugar:

43g
Protein:

6g