Instant Pot Creamy Butternut Pumpkin Soup is made with fresh butternut squash, fresh pumpkin, a chicken broth base, seasoned with thyme and sage, with cream… for a warm, quick and easy, delicious Fall Soup!
It's cold today my friends! Fall has arrived.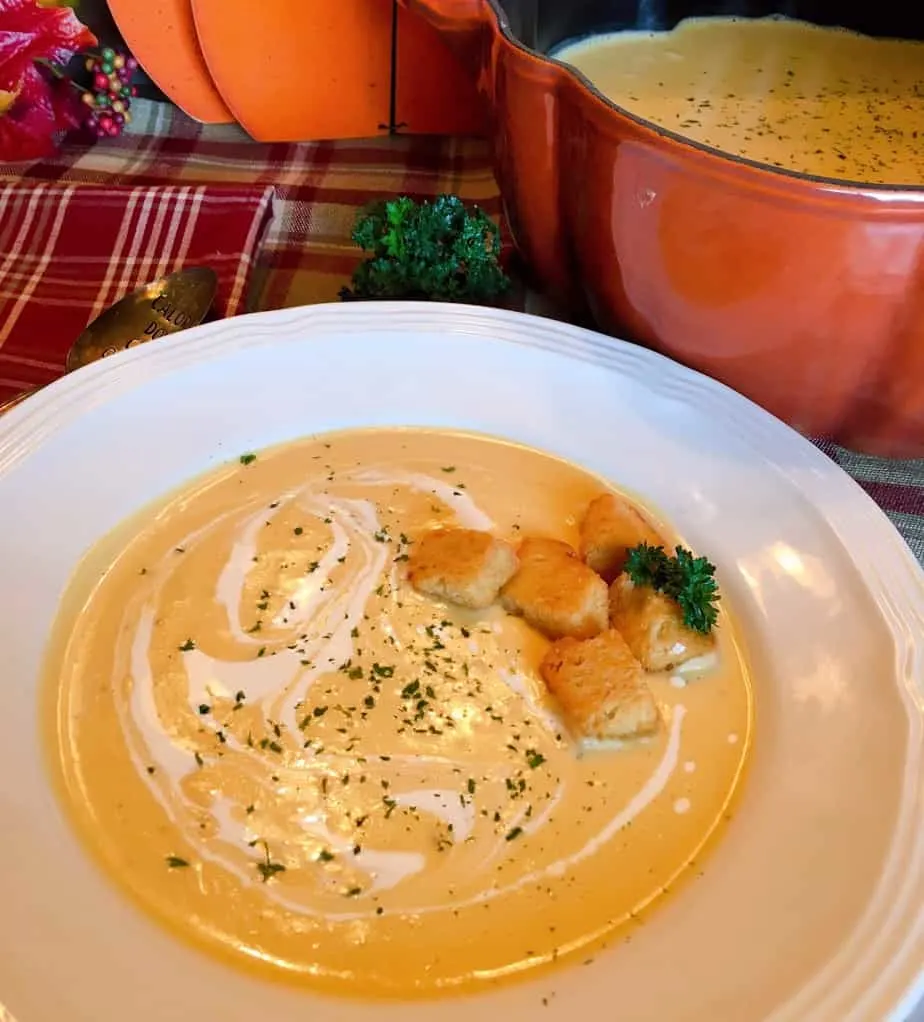 The leaves are falling, the wind is chilly, the mums are blooming, there's a spring in my step (I love Fall!), and the pumpkins are bright orange, ready to live out the measure of their creation…be it Jack-o-lanterns or this scrumptious new Instant Pot Butternut PUMPKIN Soup!
Every Fall for years, I've made a wonderful Butternut Soup from a recipe I found on AllRecipes.com. This year I decided I wanted to try making a version in my Instant Pot adding fresh baking pumpkin.
I'll be honest…I wasn't a hundred percent sure it would turn out. I'd never made a squash soup in my Instant pot! I was hopeful that it would make the process of making this soup easier. It sure did!
Just one more reason to love my Instant Pot! (I'm 100% in love with that pot now! Oh sure, I still duck and cover when the pressure first begins to build…but I'm getting braver!)
This Butternut Pumpkin Soup pairs beautifully with Italian Grilled Cheese Sandwiches or my B.L.T. Salad with Fresh Basil Dressing. If you just want the soup to be the star of your meal, you may want to add a side of Soft Homemade French Bread!
You're going to love how easy this soup is to make…so let's get cooking!
How To Make Instant Pot Creamy Butternut and Pumpkin Soup
The first key is the prep work! Prepping for this soup before you even begin cooking will speed things along! I highly recommend chopping the onion and cleaning out up the winter squashes before beginning.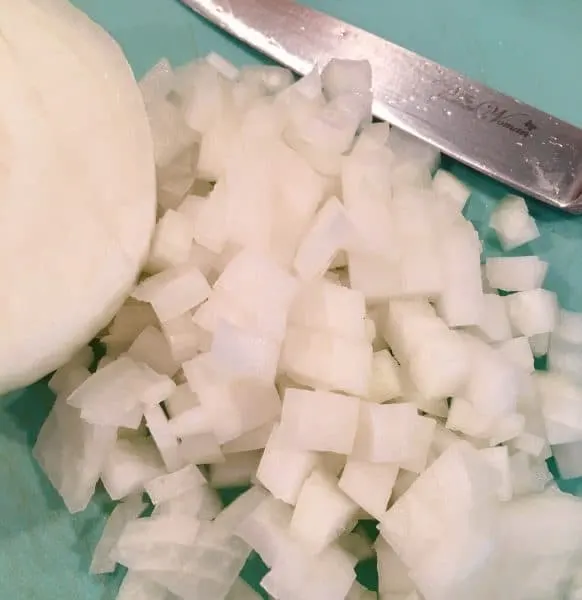 Tips for preparing Pumpkin and Butternut:
The hardest part of this recipe is the squash!
I started with the butternut and prepped it like I usually do. It wasn't until I was half way through the process that I realized I could have saved myself SO much time if I had just done what I did with the pumpkin! Ugh! (At my age we're just glad the brain works half the time!)
Butternut squash, as is the case with all "winter" squashes is a "hard" squash! Which makes peeling it and prepping it difficult.
So don't be a "Norine"…make it easy on yourself and follow the tips below.
Slice each squash in half and clean out the seeds. DO NOT PEEL THE SQUASH!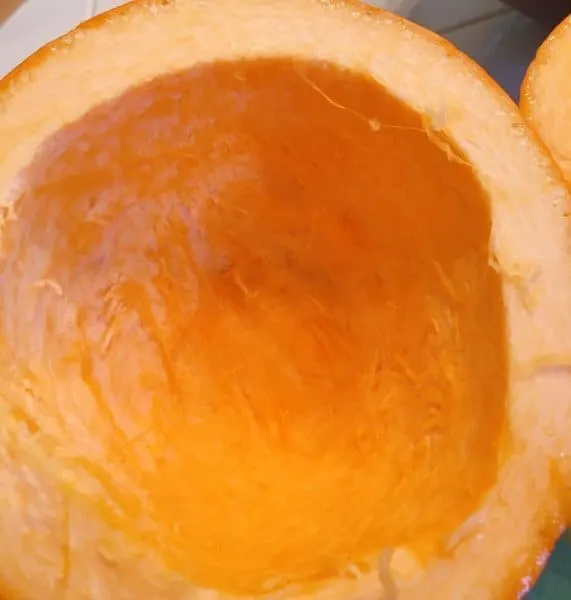 Set the squash aside and don't let the photos of my cubed up squash throw you off! That's what we are calling "Norine's stupid cooking prep!" (You get only the VERY best cooking tips here at my Nest! Another proud Julia moment in the kitchen!)
Honestly trying to peel and cube up uncooked butternut squash is the equivalent of sawing through cement! Goodness me y'all need the strength of Hercules! If I had just thought of the pumpkin tip first! Ugh! Save yourself time and energy and just cut it in half and scoop out the seeds and "guts".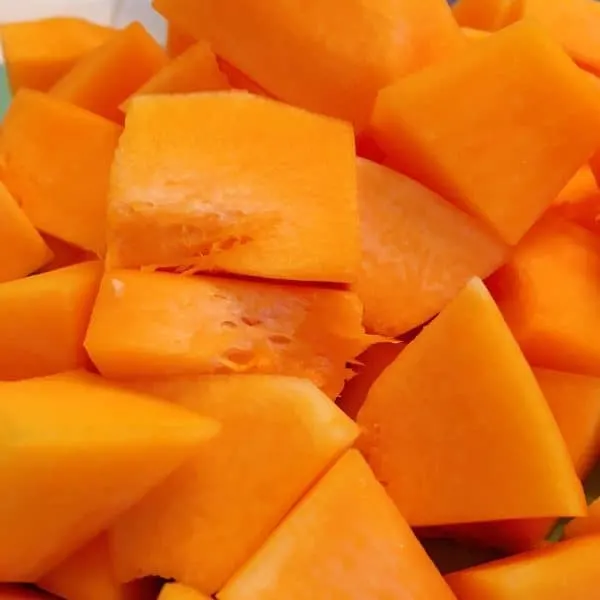 Set your Instant Pot to Saute and melt 4 Tablespoons of butter.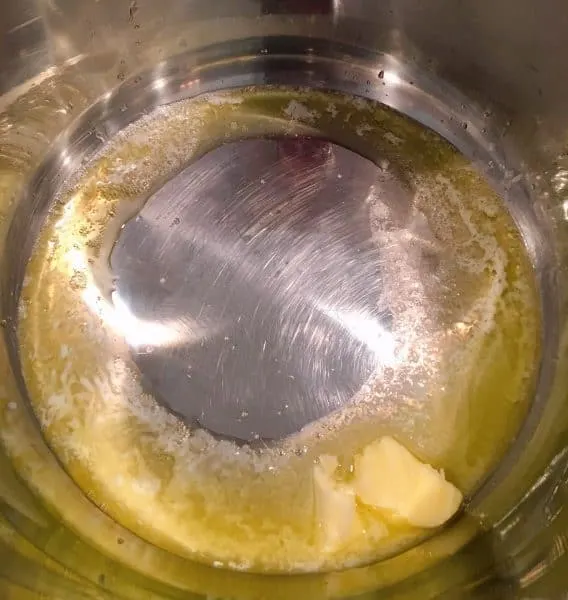 Add 1/2 cup chopped onion. Saute in butter until onions are translucent and tender.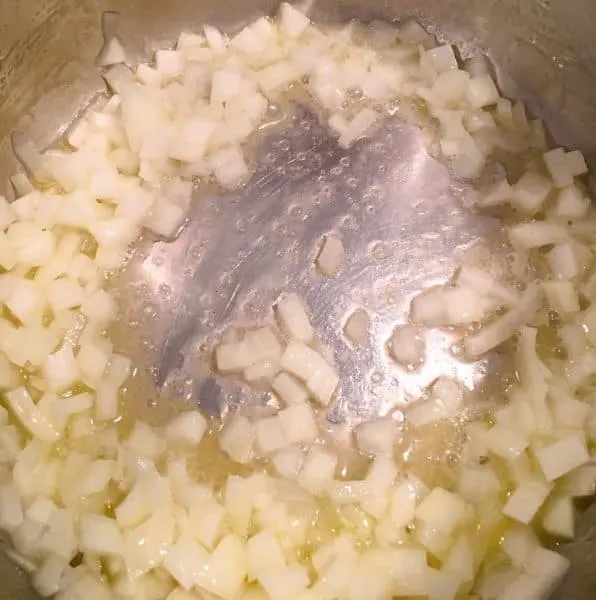 Add 4 cups of chicken broth or stock, and deglaze the bottom of Instant pot by stirring the ingredients around till any of the "bits" stuck to the bottom of the pan are removed.
This is the flavor base of your soup! You could use water, but the chicken stock adds a depth of flavor to this creamy delicious soup.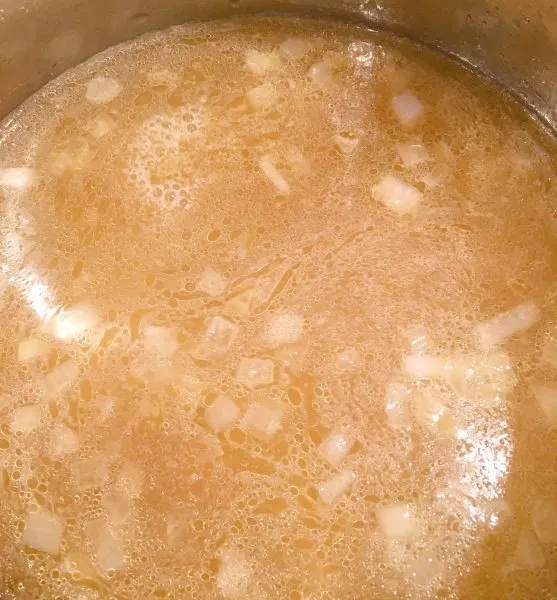 Next add 2 small cubes of chicken bullion, or one large Knorr chicken soft bullion cube.
Warning: Do not add more bullion than that to this soup or it will be too salty and no one wants soup that is too salty!
Add butternut squash, this was my "stupid Norine" version where I cut up and peeled the squash while all the moisture was sucked out of my hands! Why does winter squash do that? Yuck! Well, it was worth the sacrifice…but I had to wash my hands 5 times to get my hands back to normal.
Add 1/2 teaspoon ground black pepper, 1/2 teaspoon marjoram (optional), 1/4 teaspoon ground thyme, 1/4 teaspoon ground sage, 1/8 teaspoon ground cayenne pepper (optional), 1 heaping teaspoon minced garlic, and salt to taste, about 1/2 teaspoon.
TIP: I recommend waiting to add the salt until AFTER the soup is made. The bullion really can add just the right amount of salt to this soup.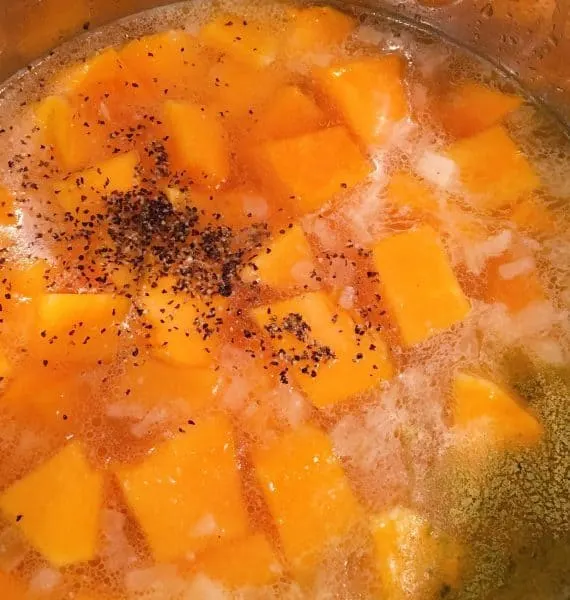 Next add the pumpkin! This is what I call "Smart Norine" squash cooking! Just plop the cleaned out baking pumpkin into the pot, stem and all! I do recommend removing the sticker on the bottom…we haven't hit that level of "Hillbilly" at this Nest yet! (Although it could be just around the corner! lol)
TIP: Please note that I used a small 2-3 pound baking pumpkin, not a carving pumpkin!
Do the same with your butternut squash. If the butternut is too long, cut it in half. After it is pressured cooked you'll just remove the squash from your Instant Pot and clean out the cooked squash. SO. MUCH.EASIER. than peeling and cutting up that brick of winter yum!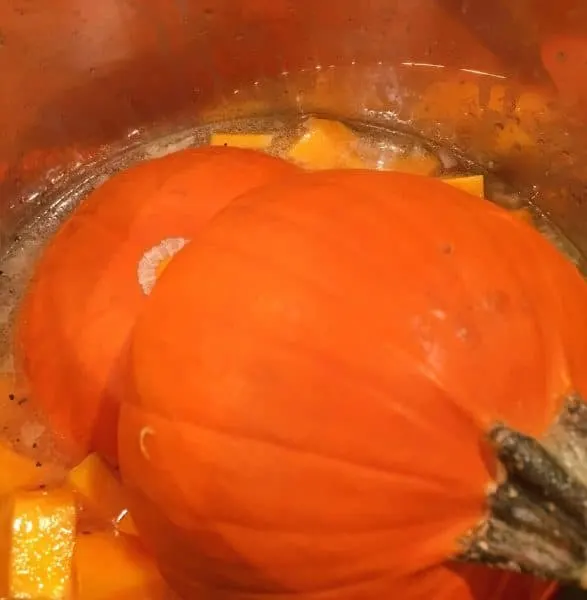 Place the lid on your instant pot, lock into position, make sure the valve is set to close for pressure cooking. Select Soup/Broth. It will automatically select 30 minutes cook time at normal temperature. That is the perfect setting for this recipe!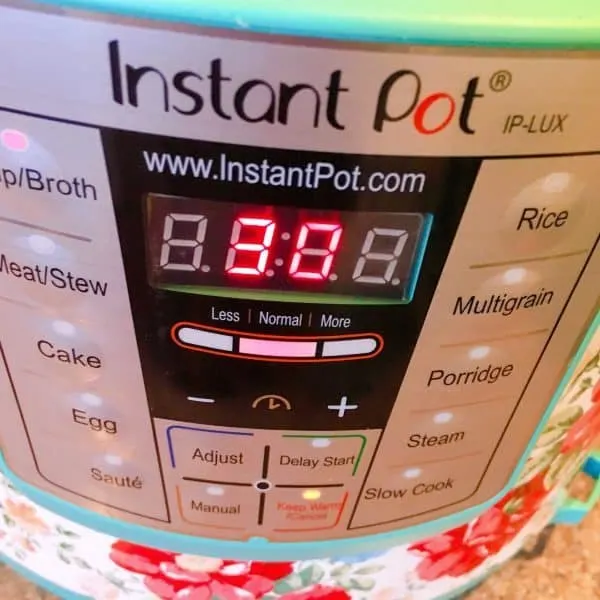 Allow to natural release for 30 minutes, then quick release. Please make sure to stand back so you do not get burned from steam and juices releasing from the valve!
Remove lid once all the steam is released and the valve has gone down.
TIP: NEVER FORCE THE LID of your Instant pot open! It will automatically release once the chamber has decompressed the built up pressure.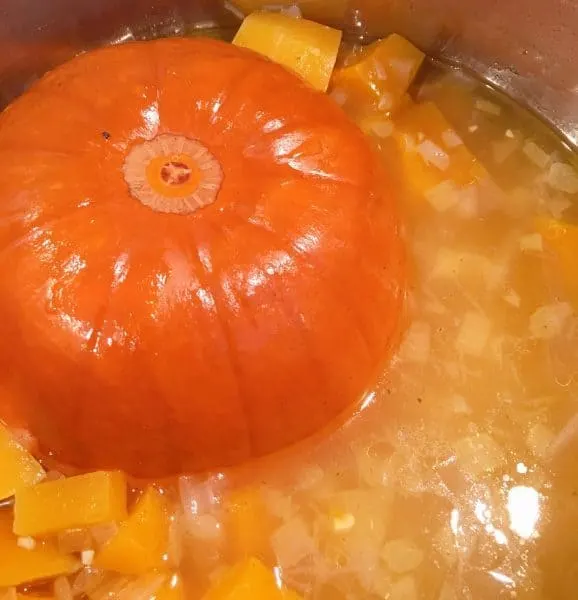 The pumpkin and butternut are cooked perfectly! I was doing the happy dance when I removed the lid from the Instant Pot and saw how perfectly the soup ingredients had cooked in 30 minutes!
Using tongs and a large spoon, carefully, so as not to burn yourself, remove the cooked squash. Place on a cutting board.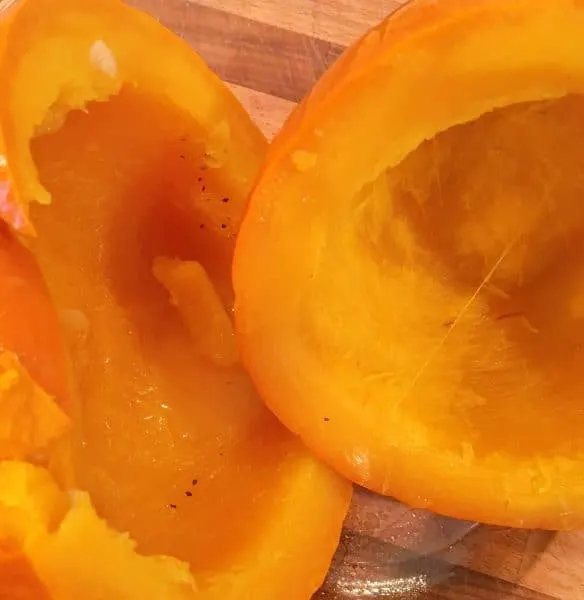 Using a large spoon carefully spoon out the cooked contents of the pumpkin and butternut squash from the skin.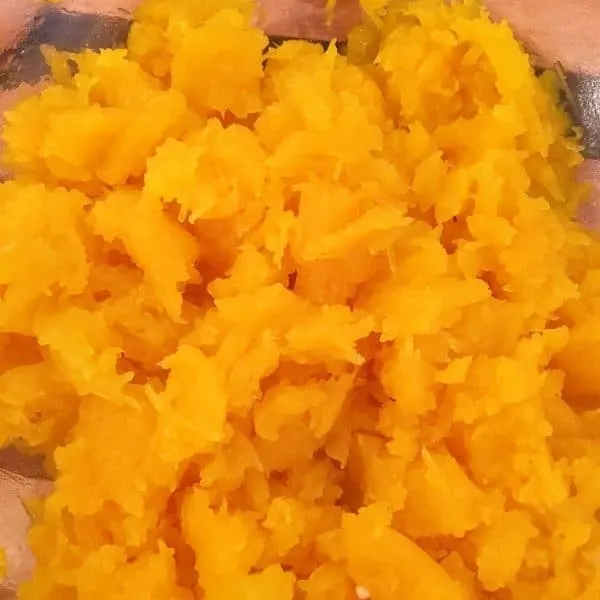 Add cooked squash back into the soup stock in the Instant Pot.
This is where I busted out my Immersion blender and had some fun! Now I do want to warn you…if you use an Immersion blender in your Instant pot you need to be careful!
One the soup is VERY hot and it can splatter if you do not keep the blender down in the soup.
Second…that powerful magnet that rests under the pot of your Instant pot is gonna suck that blender to the bottom like a leech on the back of a country boy swimming in the local watering hole!
It took me a good 5 minutes to figure out why that dang metal blender was stuck to the bottom of my pot like Thor's hammer to his hand! It was like wrestling a greased pig in a rain storm! Goodness me I was glad the camera wasn't rolling!!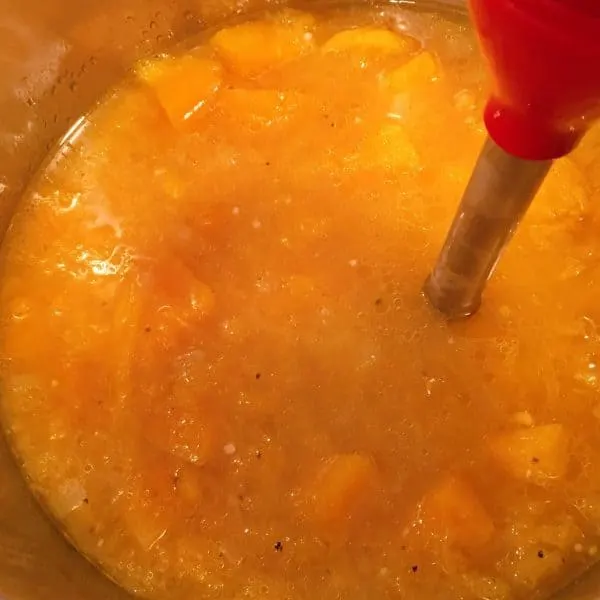 Blend until all the squash, onions, and garlic are smooth and incorporated into the soup. Add 1 package of softened cream cheese and 1 cup of heavy whipping cream and start the wrestling match all over again!
TIP: If you don't have an immersion blender you can use a hand mixer on low speed.
Blend the soup again until the cream cheese and heavy cream are well incorporated, and smooth.
Serve immediately. Top with toasted croutons, a swirl of heavy cream and a sprinkle of dried or fresh parsley, or a spring of fresh thyme.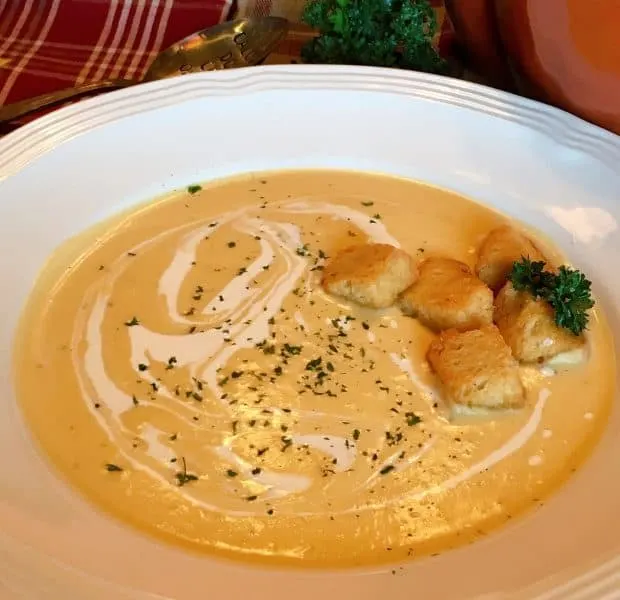 TIP: If you don't have an Instant pot, this soup can be made in a slow cooker or in a large pot on the stove top. You'll just need to adjust your cook times and follow the remaining directions.
This is the perfect Fall Soup. Not all butternut squash and pumpkin soups call for cream cheese which in my humble opinion is why this particular recipe is SO good! It adds so much rich creamy flavor to this soup.
I love that this soup isn't seasoned with cinnamon or nutmeg, but leans towards the heavenly spices we associate with Thanksgiving and Fall.
It makes it the perfect dinner soup or a great beginning to your Holiday Meals!
Do you love my big cast iron Pumpkin pot? It was a birthday gift from a friend and makes the perfect serving dish for this hearty creamy Fall Squash Soup!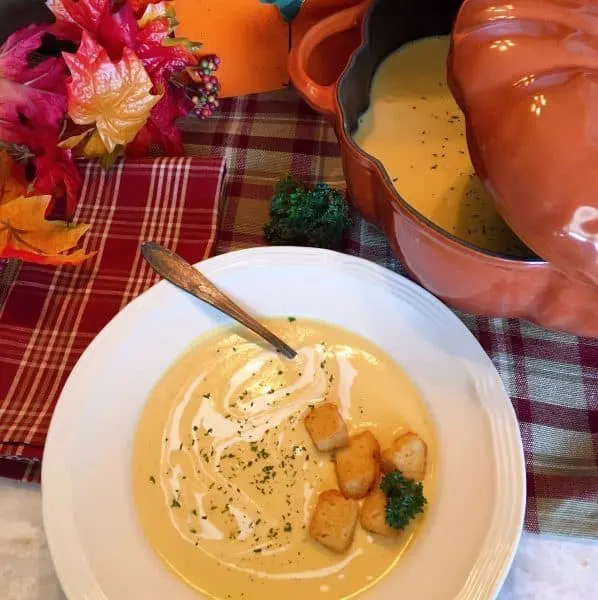 I hope you enjoyed this recipe! It's the perfect heart warming soup on a cold Fall day!
If you liked this recipe you may also enjoy these other Favorite Soup Recipes
As always, thanks so much for stopping by and visiting my Nest Today!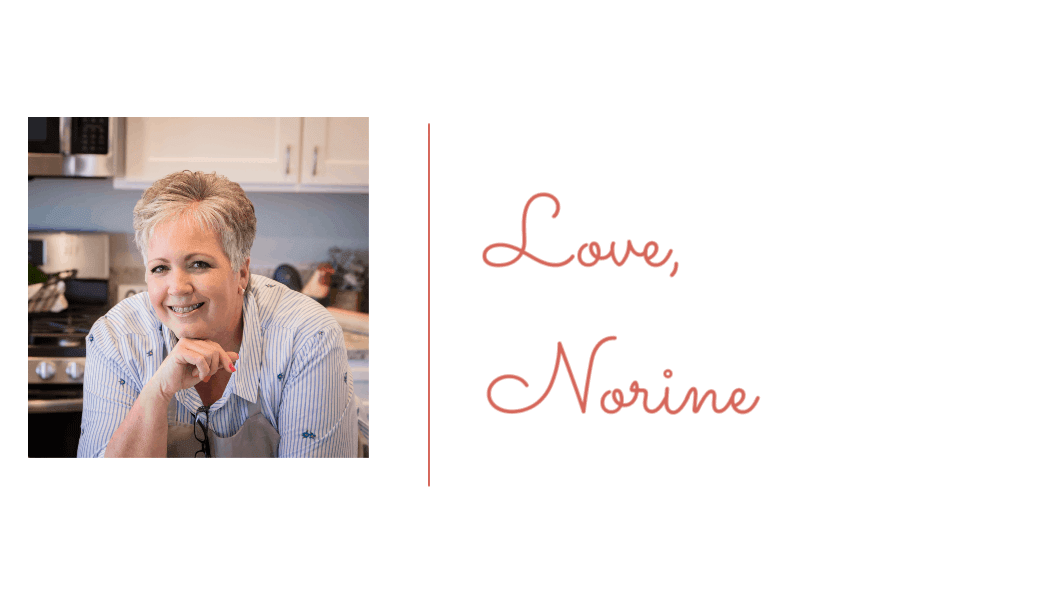 Yield: 10 servings
Instant Pot Creamy Butternut and Pumpkin Soup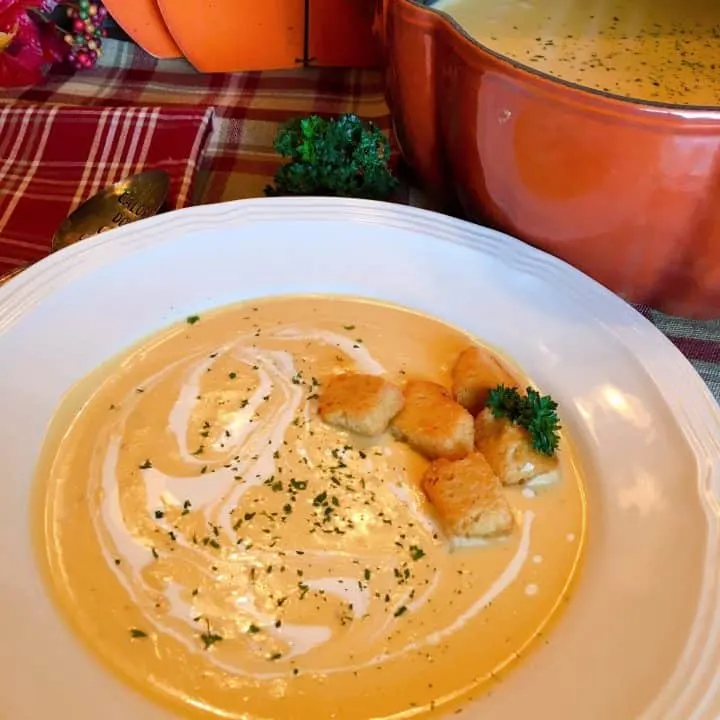 Delicious Easy creamy fresh butternut and pumpkin soup with warm Fall spices comes together quickly in this Instant Pot version of Winter Squash Soup.
Additional Time
30 minutes
Total Time
1 hour
10 minutes
Ingredients
1 Medium Butternut Squash, cut in half and seeded
1 2-3 pound Baking Pumpkin, cut in half and seeded
1/2 cup chopped white onion
4 Tablespoons butter
4 cups chicken broth or stock
2 cubes chicken bullion
1/2 teaspoon dried marjoram (optional)
1/8 teaspoon ground cayenne (optional)
1/2 teaspoon ground black pepper
1 teaspoon minced garlic
1/4 teaspoon ground thyme
1/4 teaspoon ground sage
1 8 ounce package softened cream cheese
1 cup heavy whipping cream and additional cream for garnish
Salt to taste
Toasted croutons and parsely for garnish
Instructions
Set your Instant pot to Saute. Melt butter. Saute onions until tender and translucent. Add chicken broth, bullion, garlic and seasonings. Stir to deglaze the bottom of the pan.
Place squash and pumpkin flesh side down in broth.
Place lid on Instant Pot, set vent to seal, press soup/broth option. Instant Pot should be set on normal temp for 30 minutes.
Allow Instant pot to natural release for 30 minutes after cooking. Then carefully quick release to make sure any additional steam has been released and valve is in the down position. Make sure to stand back when releasing so as not to burn yourself.
Carefully remove cooked butternut and pumpkin. Using a large spoon remove cooked squash from skin. Place cooked squash back in the Instant Pot with the stock. Discard the skin.
Using an Immersion blender, or hand mixer, blend the squash until smooth. Add softened cream cheese and heavy whipping cream. Continue to blend until all ingredients are incorporated being extremely careful as the soup is hot.
Serve with crouton, a swirl of fresh cream, and a sprinkle of parsley.
Notes
This soup can be made in a slow cooker or a large pot on the stove. The cook times will need to be adjusted.
Recommended Products
As an Amazon Associate and member of other affiliate programs, I earn from qualifying purchases.
Nutrition Information:
Yield:
10 servings
Serving Size:
1
Amount Per Serving:
Calories:

311
Total Fat:

25g
Saturated Fat:

15g
Trans Fat:

1g
Unsaturated Fat:

8g
Cholesterol:

84mg
Sodium:

607mg
Carbohydrates:

14g
Fiber:

2g
Sugar:

6g
Protein:

9g