A simple easy way to take boxed brownies to a scrumptious new level by adding a few pantry ingredients! This is sure to become a new favorite bar dessert recipe!
Confessions of a mediocre baker…I say mediocre because I feel like you have to go to pastry school in France to be considered a truly GREAT baker! (This could be my pathetic attempt to get a free trip to France…just sayin'!)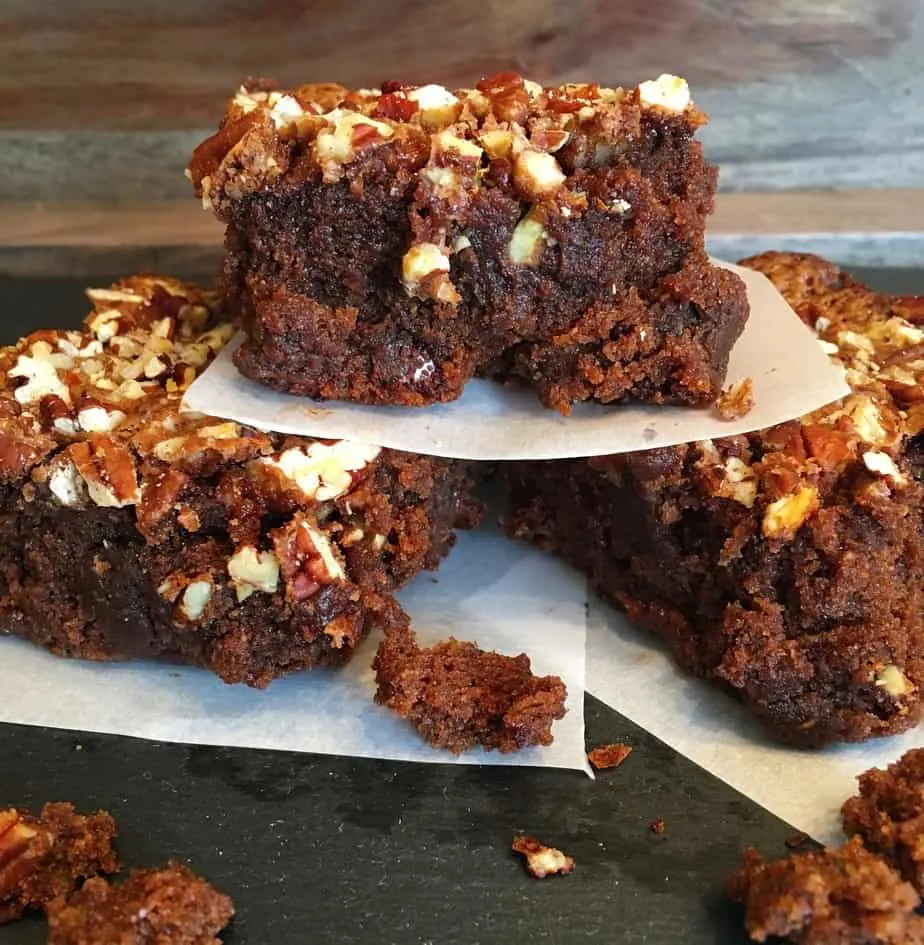 I've always been a bit of a "boxed" mix snob! Especially when it came to brownies! I was seriously convinced that there wasn't a boxed brownie mix, with a million miles, that could surpass my "scratch" brownie mix. Yep! Snob is the appropriate word!
Then IT happened! It was a Sunday afternoon, we just got home from church, and I needed a dessert QUICK! I threw open the pantry and all I had was a Betty Crocker Original Brownie Mix! A gift someone had given me at Christmas. (Remember… I was a boxed brownie snob…no way I purchased it!)
I actually stood there, holding it in my hand, looking at it with loathing! Surely there had to be another option? Nope…it was this, or left over Christmas Candy Canes.
I swallowed hard and went to work…because if we were going to have brownies from a box…by golly they were going to be "French Pastry Chef" quality boxed brownies!
The results? My cupboard is now stocked with boxed brownie mix…need I say more?
I'm almost embarrassed to share this recipe…if it wasn't for the fact that they are so stinkin' amazing I probably wouldn't… but the world NEEDS this knowledge! (You're welcome world!)
How To Make Kicked Up Ultimate Boxed Brownies
You will need one Betty Crocker Brownie mix. You can do either Dark Chocolate or Milk Chocolate. Works just as well with either one.
If your goal is a chocolate coma to obliterate your reality… I say go Dark! The richer, the better. Follow the directions on the box for making "Cake" like brownies. Which is code for "Add another egg".
Tip: Be sure if you are at a higher altitude to make the appropriate changes.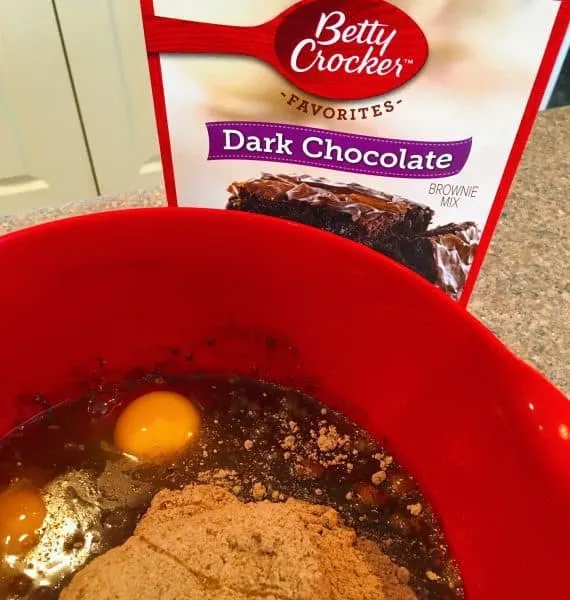 Once the batter is mixed per the boxes instructions… Add… One handful of Kraft caramel bites and One handful of dark semi-sweet chocolates.
I know… you exact measurement O.C.D. folks just moaned! So, let me help ya out…about 1/3 cup full of each! However, this is not an exact science friends.
I seriously just reached into my jars…(Yes… I have jars of chocolate chips and caramel bites. Doesn't everyone? Lol)…and added a handful of each.
Mix that together until just combined.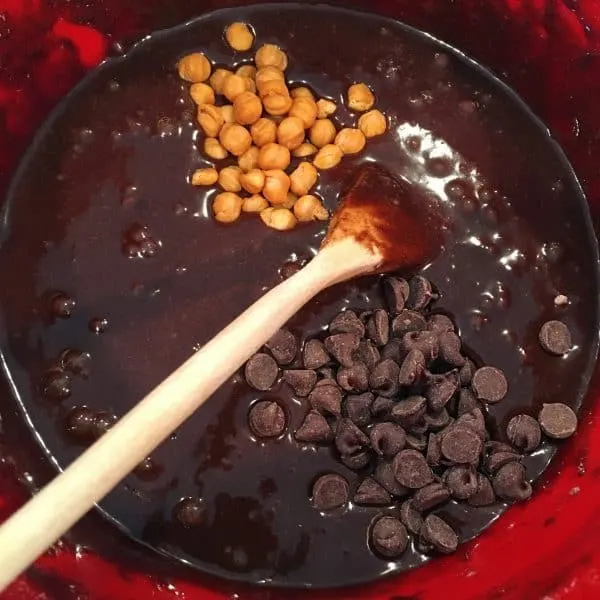 Pour into a sprayed 8 x 8 inch pan.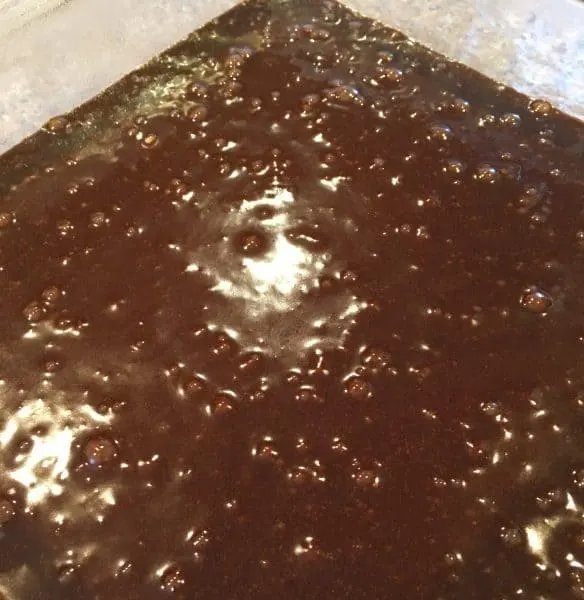 Sprinkle 1/2 cup to 3/4 a cup (depends on how nutty you are) of chopped pecans to the top of your brownies.
Pop those into the oven at 325 °F and bake for 30 minutes or until the center is done. (Mine take about 40 minutes, but I have a funky oven!)
Tip: Since you can't really test these brownies with the "clean knife" rule…because they are loaded with ooey-gooey caramel and melted chocolate chips…make sure that the center rises, and it does not jiggle when you move the dish around.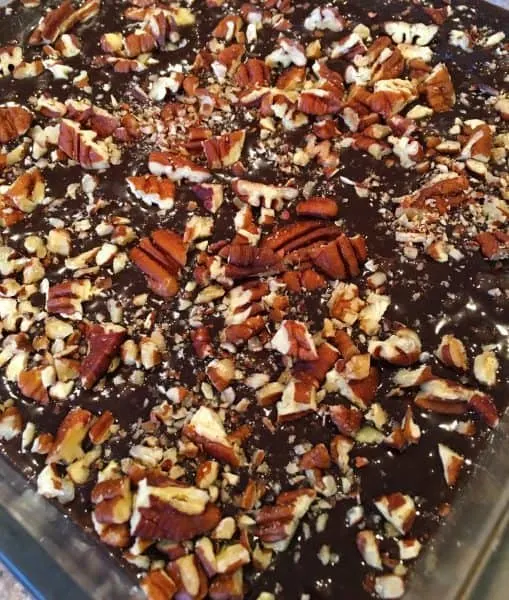 Remove from oven and allow to cool for approximately .0003 seconds before you are overcome by a total chocolate attack and have to dig in! (That's a joke folks!)
Seriously…ALLOW them to cool for about 10 minutes! That caramel is pretty gosh darn hot!
Aren't those beautiful brownies…from a BOX?!!!! The edge has a slight crisp to it and the top has a slight crackle. The pecans are perfectly toasted!
Let's take a look at the insides…because the true test of a great brownie is what's happening inside!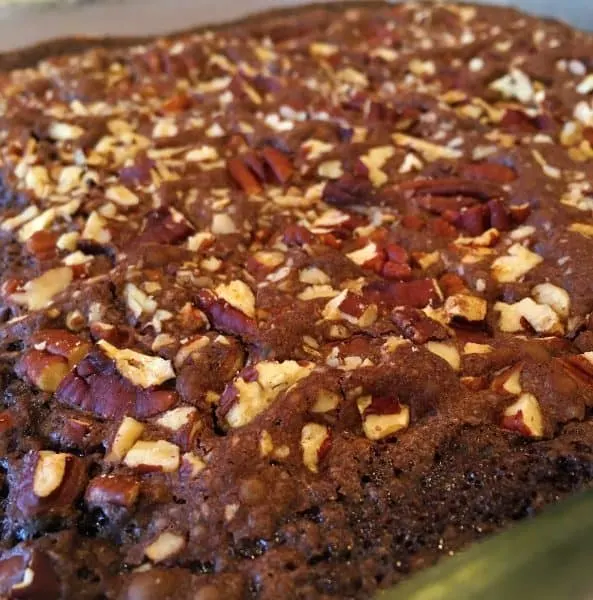 Does this brownie have just the right amount of moist crumb? You better believe it does! If I'm sharing a recipe that calls for a box…trust me when I say…they are perfect in every single aspect possible.
They are moist but not wet! They are packed with the most unbelievable chocolate flavor with a hint of melted caramel! They melt in your mouth!
Let's pause for a moment while you take in that PERFECT "flake" on top of those brownies!!! Who wants one? I think we all do. Good News…you can have them ready in a matter of minutes!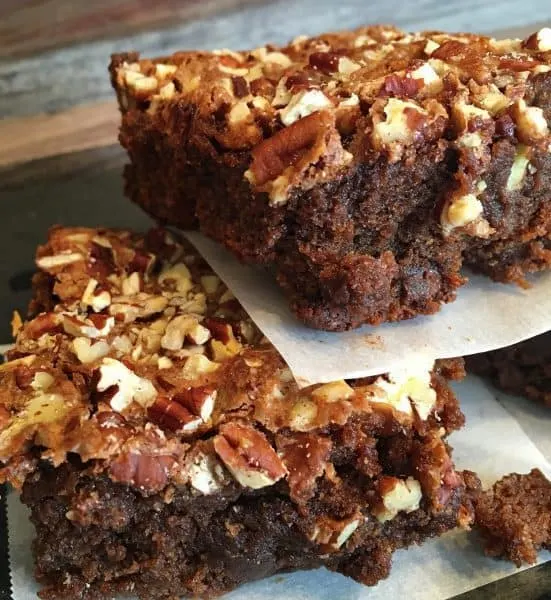 Well, there ya have it! How I became a Boxed Brownie convert! At least once a week Mars asks me to make a batch of these brownies!
He isn't even a real "sweet eater" so you know they have to be AMAZING! You can kick them up even more by adding a scoop of vanilla ice cream and a drizzle of chocolate syrup!
When I open my little café and boutique on beautiful Main Street…(I have mini Pioneer Woman dreams)…I'm serving these brownies! They are THAT delicious!
Here are some of my other Favorite Easy Bar Cookie Recipes
Sometimes we all need to be reminded, including yours truly, that the simplest of things can be the very BEST! Enjoy!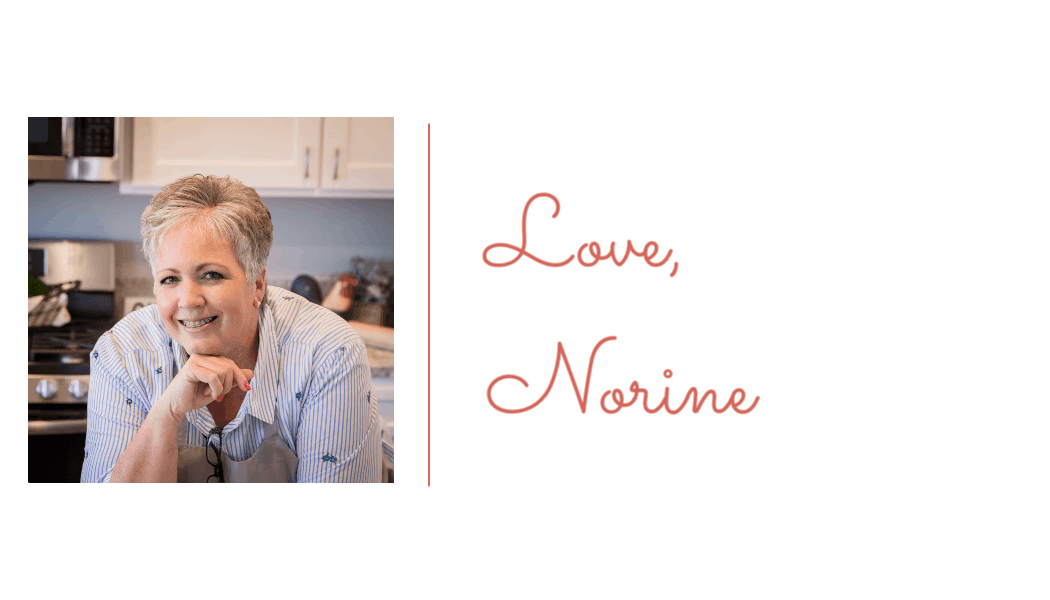 Yield: 9 servings
Kicked Up Ultimate Boxed Brownies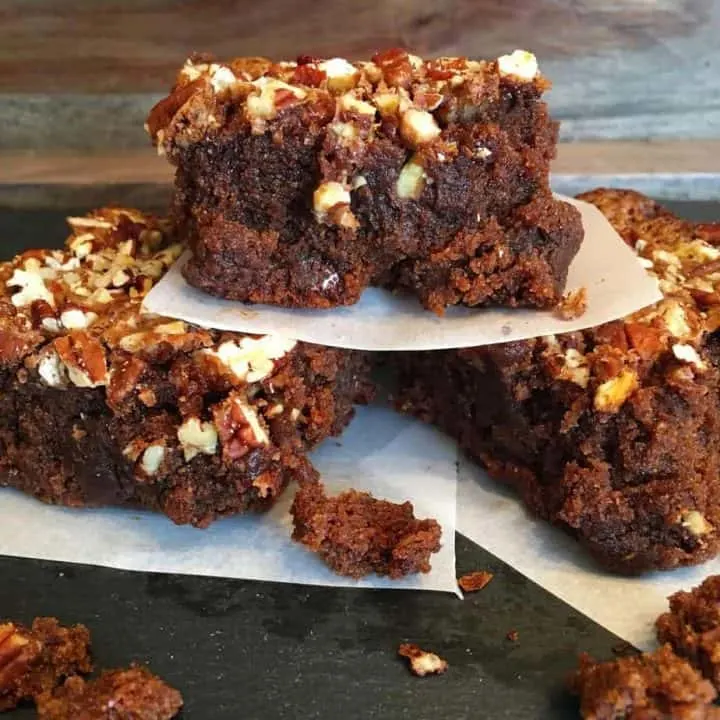 Boxed Brownie Mix gets Kicked Up with this simple and amazing recipe. Seriously the BEST brownie's EVER!
Ingredients
1 Betty Crocker Milk Chocolate or Dark Chocolate Brownie Mix
3 Tablespoons water
1/2 cup Vegetable oil
3 eggs
1/3 cup Kraft caramel bites
1/3 cup semi-sweet chocolate chips
1/2 - 3/4 cup chopped pecans
Instructions
Heat oven to 325°F for glass 8 x 8 pan. Grease bottom of pan.
Stir brownie mix, water, oil, and egg in medium bowl until well blended.
Add in 1/3 cup of caramel bites and 1/3 cup of semi-sweet chocolate chips
Spread in pan.
Sprinkle top of brownie mix with pecans.
Bake for 35-45 minutes or until center rises and brownies are set.
Remove from oven and allow to cool slightly before cutting.
Recommended Products
As an Amazon Associate and member of other affiliate programs, I earn from qualifying purchases.
Nutrition Information:
Yield:
9 servings
Serving Size:
1 brownie
Amount Per Serving:
Calories:

271
Total Fat:

22g
Saturated Fat:

4g
Trans Fat:

0g
Unsaturated Fat:

17g
Cholesterol:

67mg
Sodium:

89mg
Carbohydrates:

17g
Fiber:

1g
Sugar:

13g
Protein:

4g