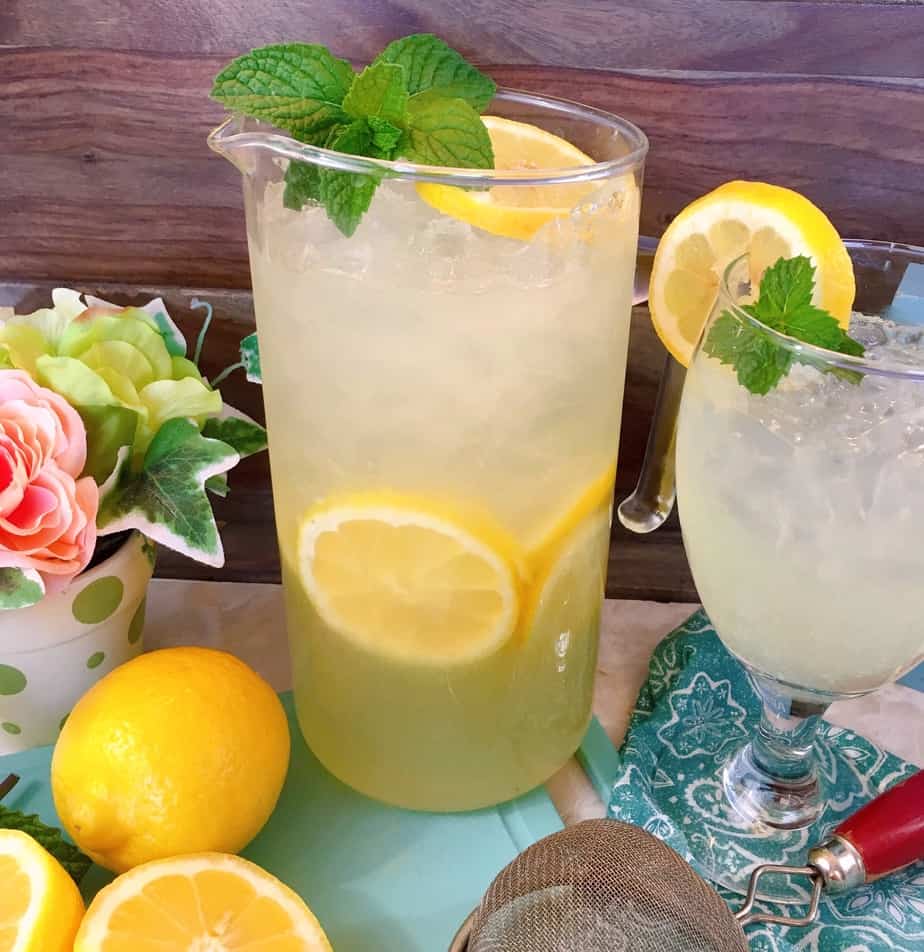 *As an Amazon Associate I earn from qualifying purchases. This post may contain affiliate links, which means that I may make a commission from any purchases at no additional cost to you. Thank you for your support!
Easy Fresh Homemade Lemonade made from freshly squeezed lemons, water, and sugar…just like Grandma made!
When I think of summers from past generations, I think of fire hydrants spraying the kids down, hand churned ice cream, hot dogs over open campfires, fireflies, and bicycle rides to the drug store for a five cent candy. (Yes! I am older than dirt!)
I can also see friends, sitting out on the front porch with a big tall pitcher of ice cold lemonade, slices of bright yellow lemons floating around, dancing with the ice.
Is there another drink that says "summer" more than Fresh Homemade Lemonade? I honestly can't think of one! It's refreshing and cool. A little tart, a little sweet…full of fresh lemon flavor! It's sunshine in a pitcher! Add a sprig of fresh mint and it's the perfect summer beverage, one that the whole family can enjoy! It's pretty too!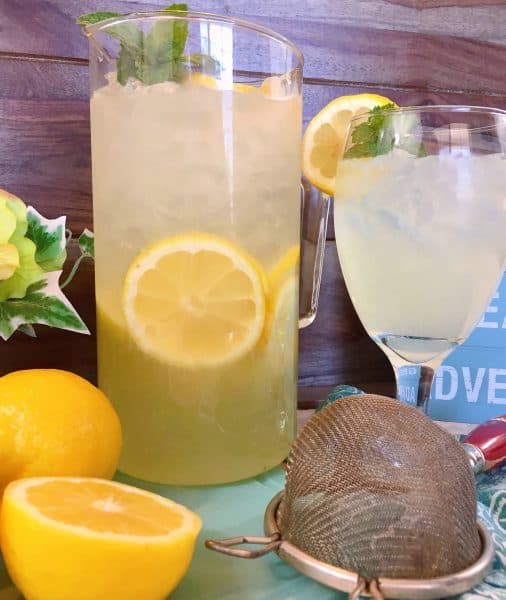 How To Make The Perfect Homemade Lemonade
I've learned over the years the best way to make the perfect pitcher of lemonade is to make sure the sugar is completely dissolved! There's nothing worse than a grainy glass of lemonade! UGH!!! (Yuck! Nothing like a glass of sand to kill a good thing!)
The secret solution? Boil the sugar and water together. It will guarantee the sugar is completely dissolved. It creates the perfect sweetened syrup to mix with your freshly squeezed lemon juice. It's the best way to make homemade lemonade. It takes a little longer… you do have to wait for the syrup to cool…but it's worth the wait!
In a medium sauce pan add ¾ cups sugar and 2 cups of water. Bring to a low boil, stirring occasionally. Continue to boil until sugar is completely dissolved. Remove from heat and allow to cool completely.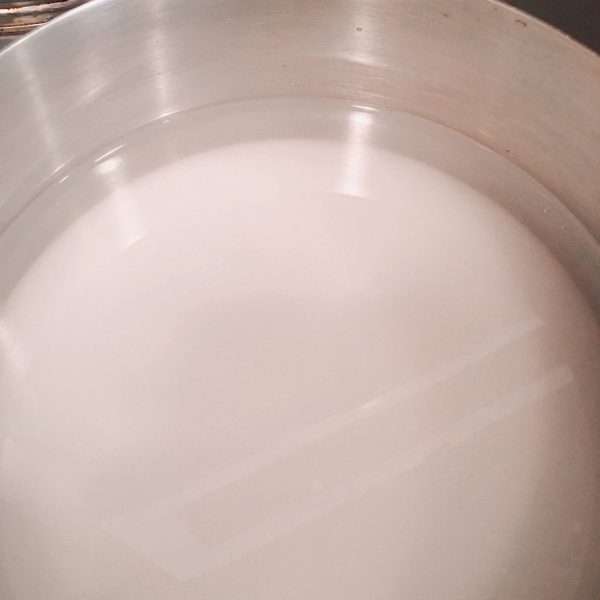 Cut approximately 8-10 lemons in half, you may need more or less. Squeeze the lemons making sure to remove all seeds. You'll need 1 cup of fresh lemon juice. I used my Zulay Kitchen Lemon Press! It's absolutely amazing! You can find the link to the product in my recipe card below!
TIP: Roll your lemons back and forth on the counter pressing down with the palm of your hand. This will allow you to get the most juice from your lemons!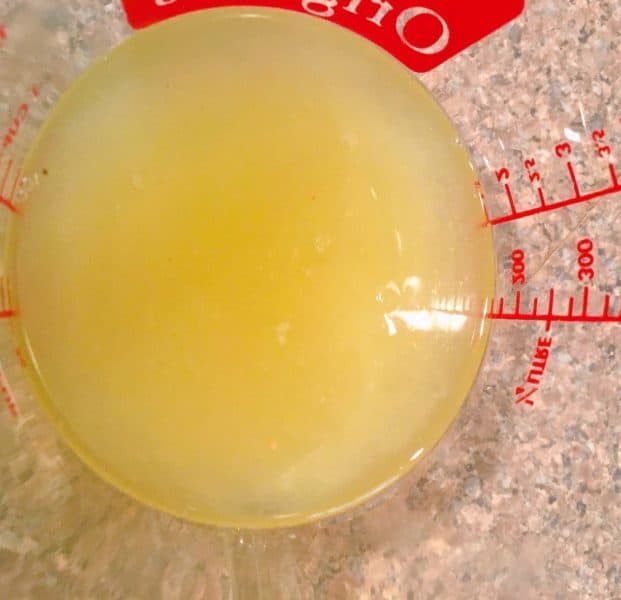 Combine lemon juice and the syrup together. Add another two cups of water to the mix. Stir until well combined. Chill until ice cold and ready to serve. (As hot as it is…ya may want to "chill" in there with it! No judgments from me!)
When ready to serve, slice a lemon into thin slices. Place lemon slices in the bottom of a serving pitcher. Add 2-3 cups ice. I love to serve it with crushed ice! (I love to place my face in the ice maker this time of year!!! Honestly me and heat are not besties!)
Pour freshly stirred lemonade over ice and lemon slices. Add a sprig of mint and a slice of lemon to the serving pitcher. The mint adds a little kick of color and a refreshing flavor to the lemonade!
The extra garnishes are festive and cheery when serving this delicious classic treat to guests! You deserve a little sprig of mint too! So often we do the extra "special" touches for our guest and skip over ourselves. Don't do that! You deserve the mint and extra slice of lemon too! Do nice things for yourself! (Locking yourself in the bathroom is doing something nice for yourself too! Just sayin'…)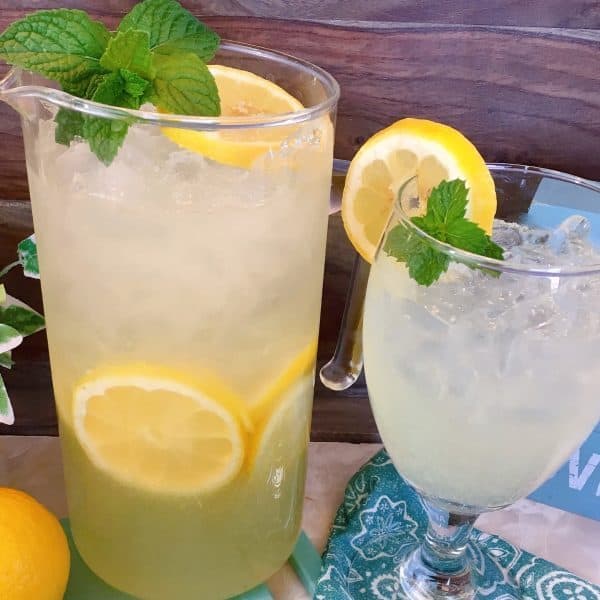 Such a simple classic recipe. Just like Great Grandma used to make. I can't help but think of generations of ancestors that have enjoyed this refreshing drink.
Great Grandfathers who worked the land as farmers. Grandmothers in their hot summer kitchens, aprons on, wisps of hair escaping their buns, a glistening brow, the back screen door slamming shut as her "littles" ran in and out, squeezing fresh lemons for a pitcher of lemonade. The kitchen…the heart of home. Grandpa coming back from a long hot summers day work, in his dusty overall's and straw hat, sitting on the porch having a long replenishing sip of Grandmas homemade lemonade.
It was the simple pleasures of life. To me, homemade lemonade equals love! The time and effort to squeeze lemons, mix just the right amount of sugar so it's not too sweet, not too tart. All to ease the burdens of a long hot summer day. It's simply… L.O.V.E!
I hope you enjoy this Fresh Homemade Lemonade and take a moment to sit on the porch, or the back patio, and just enjoy a few quiet peaceful moments!
Other Refreshing Drink Recipes
Happy Nesting!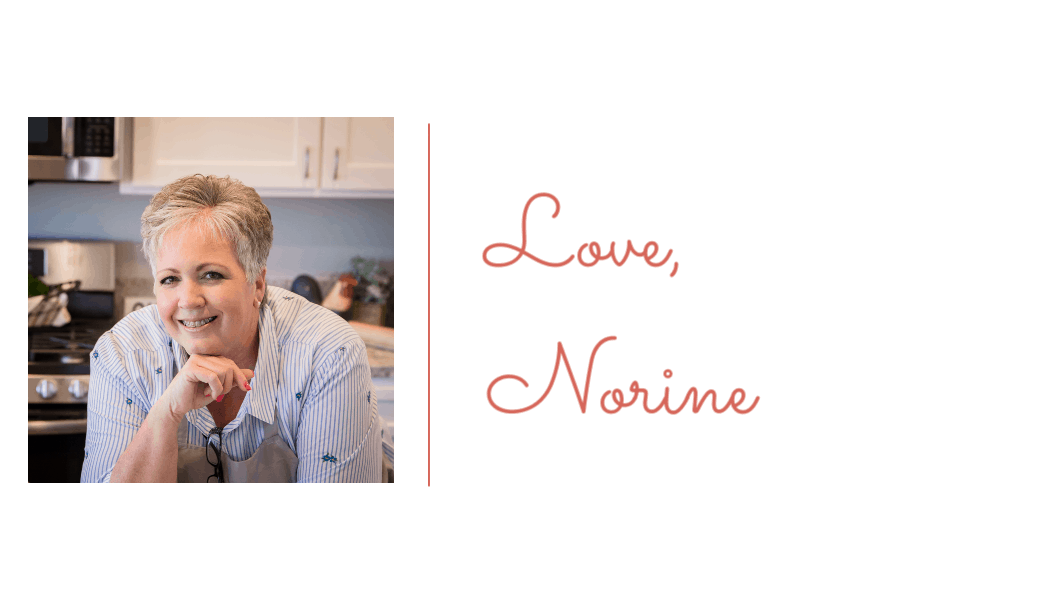 Yield: 5 servings
Fresh Homemade Lemonade Recipe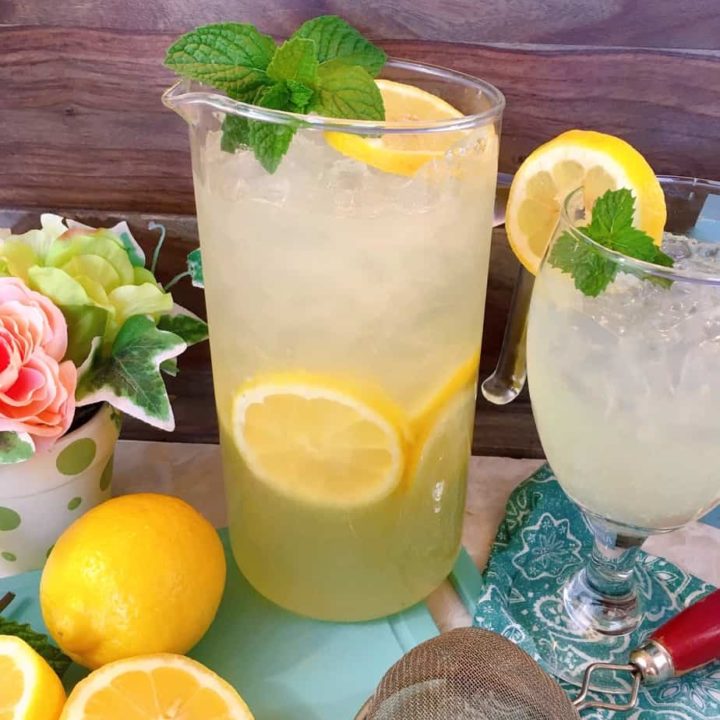 Fresh Squeezed Homemade Lemonade not too sweet, and not too tart! It's a refreshing summer time drink.
Total Time
2 hours
20 minutes
Ingredients
1 cup fresh squeezed lemon juice
¾ Cup sugar
4 Cups water
Mint and Lemon Slices for garnish
Instructions
1. Squeeze 8 -10 fresh lemons to create 1 cup fresh lemon juice.
2. In a medium sauce pan bring 2 cups water and ¾ cup sugar to a boil, stirring occasionally, until sugar is completely dissolved. Add 2 more cups of water and allow mixture to cool to room temperature.
3. In a pitcher add 1 cup fresh lemon juice and cooled syrup. Mix until well combined. Chill in refrigerator until ready to serve.
4. Garnish with lemon slices and fresh mint.
Recommended Products
As an Amazon Associate and member of other affiliate programs, I earn from qualifying purchases.
Nutrition Information:
Yield:
5 servings
Serving Size:
1 cup
Amount Per Serving:
Calories:

133
Total Fat:

0g
Saturated Fat:

0g
Trans Fat:

0g
Unsaturated Fat:

0g
Cholesterol:

0mg
Sodium:

9mg
Carbohydrates:

35g
Fiber:

1g
Sugar:

32g
Protein:

0g