A Chipotle Mexican Grill Copy Cat Easy Slow Cooker Beef Barbacoa that create an amazingly delicious burrito!
I have NEVER…hold on to your seats…eaten at a Chipotle Mexican Grill. I know! How can I claim to be a true lover of Mexican food if I've never even stepped foot inside of one? I don't have any idea…I just can!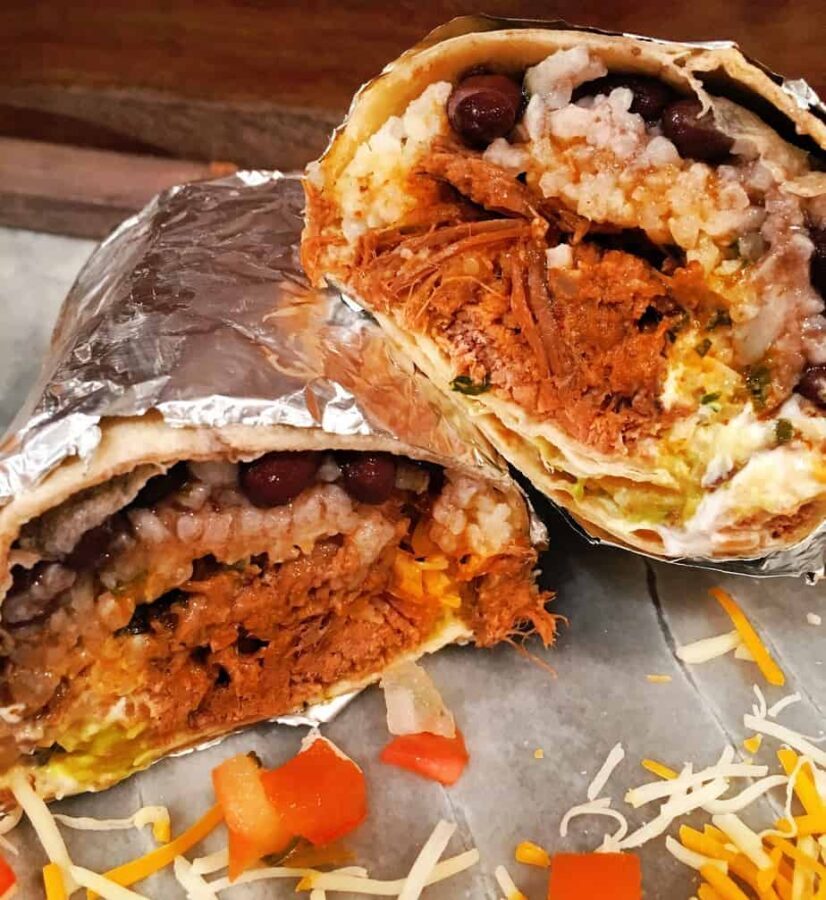 Any Who…I kept seeing recipes all over Facebook and Pinterest for Beef Barbacoa. It sounded delicious! I wanted to give it a whirl and see how I liked it. I mean if you can stuff it inside a tortilla, and it has beef…it's gotta be good! I can't give credit to one specific recipe because I took "liberties" by snagging elements… from this recipe and that recipe…that I thought would work well together to create the perfect EASY Beef Barbacoa.
One bite and my kids proclaimed "It's JUST like Chipotle's". My daughter has been begging me to make it again ever since. So, I'll take that as a compliment. (Hey, we take what we can get! Right Mom's?!!!) It was also the thing I needed to push me into posting this recipe regardless of the photo quality.
How To Make Easy Beef Barbacoa
This recipe is simple! Dump all the sauce ingredients into your blender…blend it.
Beef Barbacoa Sauce
That said…in your blender place 3-4 Chipotle Chili's in adobo, 1 1/4 cup beef broth, 4 tsp minced garlic, 1 1/2 Tbs. Cumin, 1 Tbs. dried oregano, 3/4 tsp salt, 1/2 tsp ground black pepper, 1/4 cup fresh lime juice. If you want a little heat you can add a few drops of your favorite hot sauce. I didn't…but you can.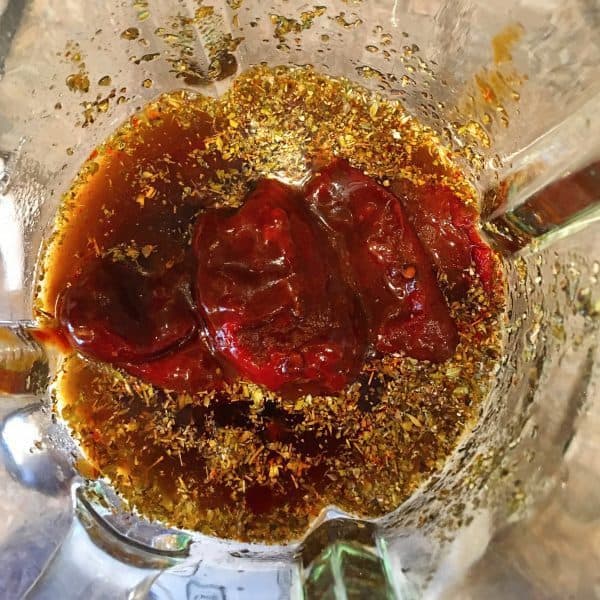 Blend, blend, blend on medium high for about 1 minute. It's okay if the peppers are in bits. You want some of that "Chipotle" flavor in every bite.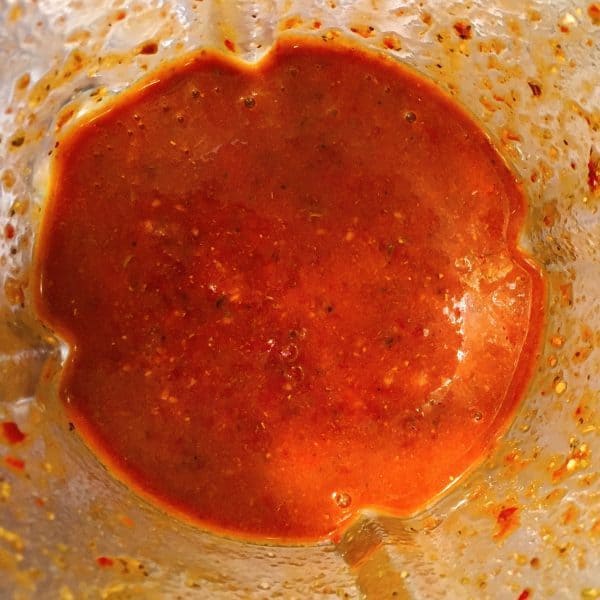 Pour the sauce over your meat in the slow cooker. You'll notice my pepper bits! YUM! Cover and cook on low for 8 hours.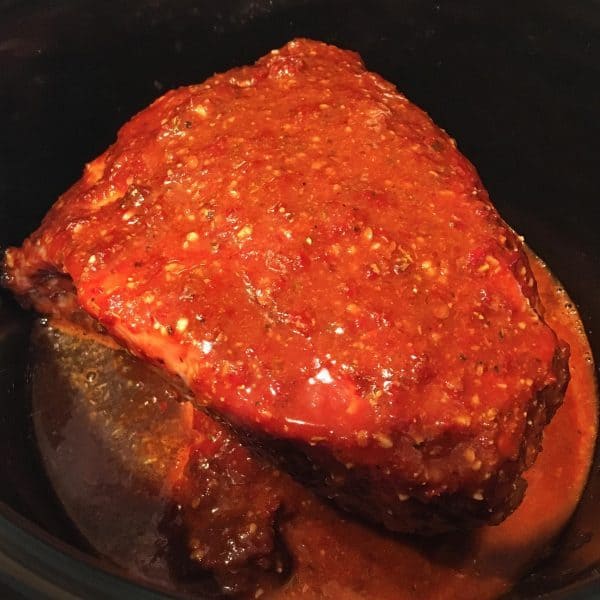 After 8 hours your house will smell divine and you'll be looking around for the Mariachi band and reaching for your Sombrero!
It doesn't look like much…but this beef is LOADED with flavor! Remove the roast from the slow cooker, and using two forks, remove all the remaining fat and shred the beef into large chunks.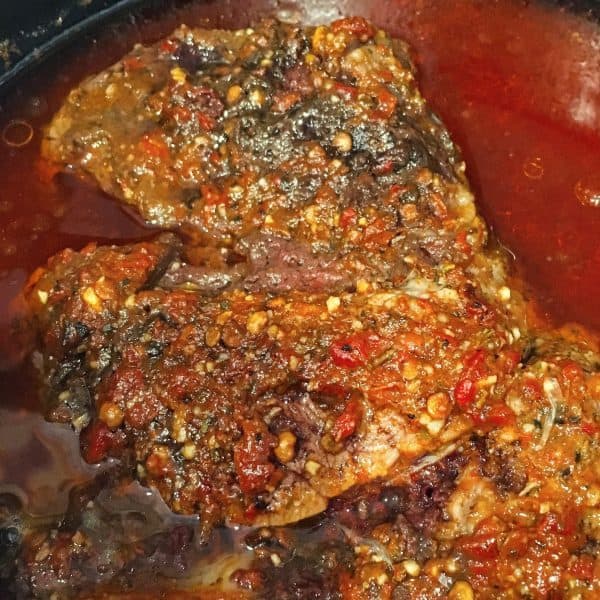 Finishing Beef Barbacoa
Cover a large baking sheet with foil and set the oven to broil! Yes…broil. For some of you, that will be that little drawer under your oven.
You know… the you have NEVER pulled out…OR…if you have it's just to hide your dirty sheet pans cause your Mother-in-law just showed up on your door step! (lol)
Place the shredded beef on the foil lined baking sheet. Drizzle a couple of large scoops of the remaining sauce over the top of the beef. Place the beef in your broiler for about 3-4 minutes. Watch it carefully…you don't want burnt meat…just adding a little "crispy brown" to the tips of the beef and sealing in the juices and flavor.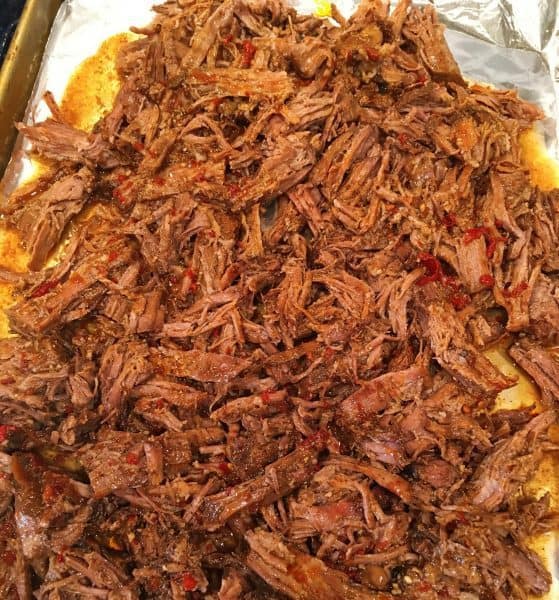 Once the meat has a nice golden crisp, remove from the oven, and sprinkle with chopped cilantro! We love cilantro at this nest! So… I added LOTS of the chopped green stuff. If you are not a fan…skip it.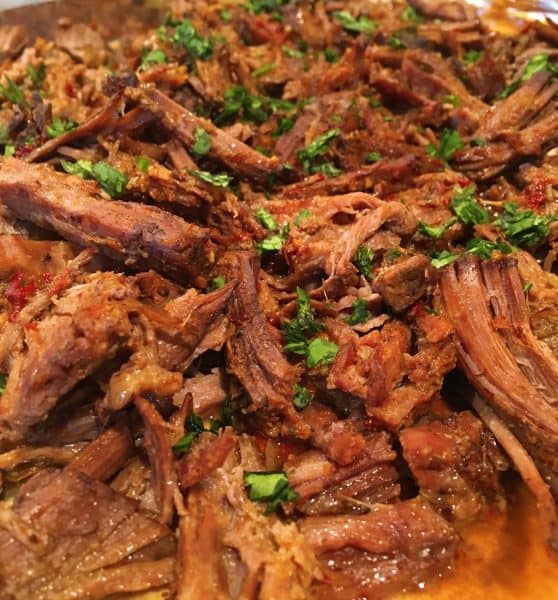 How to Make a Beef Barbacoa Burrito
Now comes the fun part! Taking that luscious Beef Barbacoa and turning it into a wonderful burrito!
Every recipe suggested making Lime Cilantro Rice to serve with this beef. I gotta tell ya…I don't know if I just found a dud recipe, or I don't like homemade cilantro lime rice, but it was not my favorite. When I make this again…I'm going with my traditional Mexican Rice. I think the flavors will be amazing with this meat. That's just my personal choice. You can decide for yourself.
For our burritos' I used the Lime Cilantro Rice, Black beans, cheese, Guacamole, diced tomatoes, and sour cream. You can use whatever toppings you like on yours. That's the beauty of a recipe like this.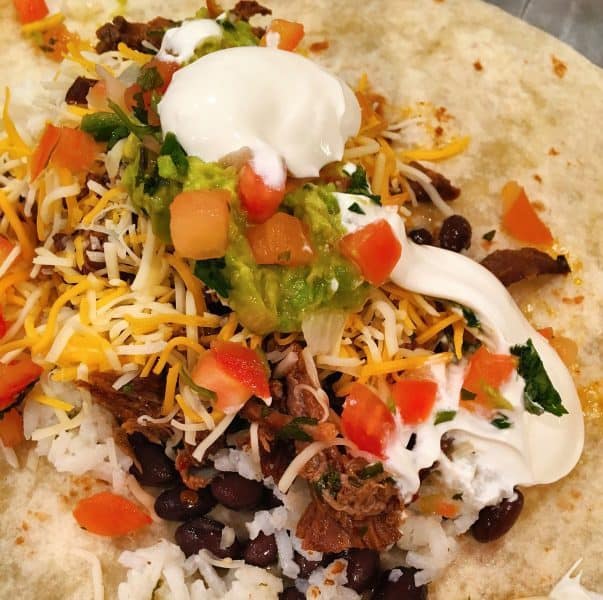 Tuck the ends of your toasted tortilla in, and roll from one end to the other. Wrap in foil and cut in half. The foil helps to hold this massive burrito together…plus if you're taking this "to go"…it will help it stay warm.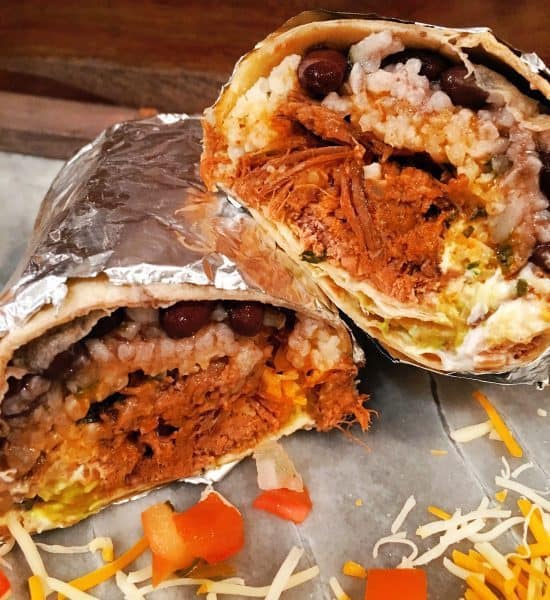 Time to dig in! The best part of this meal is the diggin' and piggin'! I didn't serve anything else with these huge burritos'. I decided to let the "meal" speak for its self. They are LOADED with lots of juicy Beef Barbacoa, then topped with everything a girl or guy could want on their burrito!
You can set all the toppings out on your bar, or table, and let everyone make their own. Which is exactly what I did! That way everyone got what they wanted. It would be a fun dish to serve at a Cinco Del Mayo party!
This is the perfect grab and go meal which is wonderful for Mom's with teenagers who are always running in one door and out the other. It's loaded with so many wonderful ingredients.
Slow Cooker Recipe Favorites
Thanks for stopping by my nest and be sure to check my Facebook page today for the "Giveaways" that are coming to celebrate my 1 year blogiversary!!! Thank you ALL for all your friendship and support. It means the world to me that you invite me into your lives.
Have a fantastic day! See ya soon…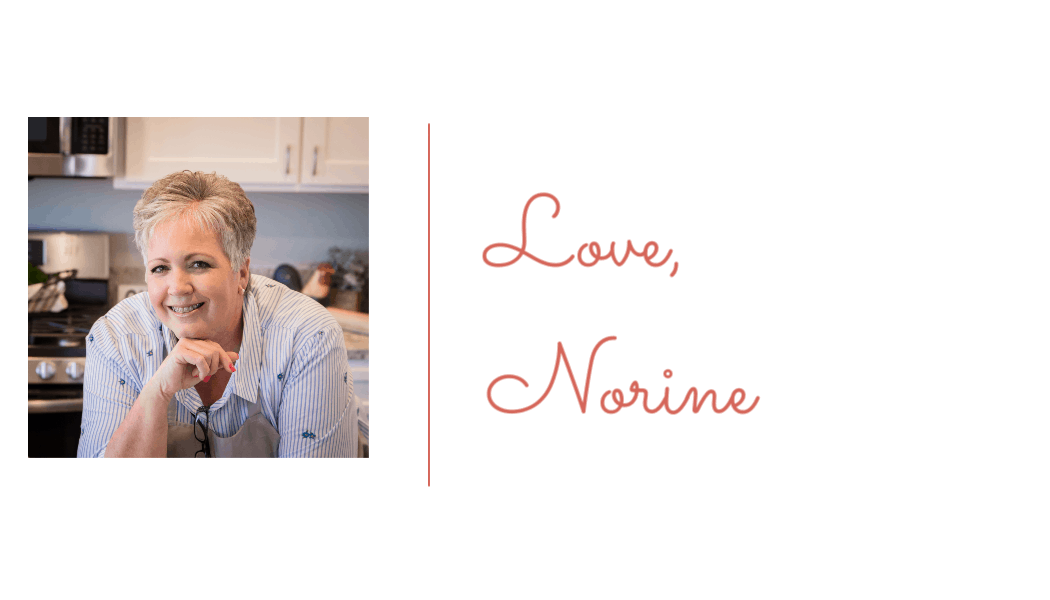 Yield: 8 servings
Easy Slow Cooker Beef Barbacoa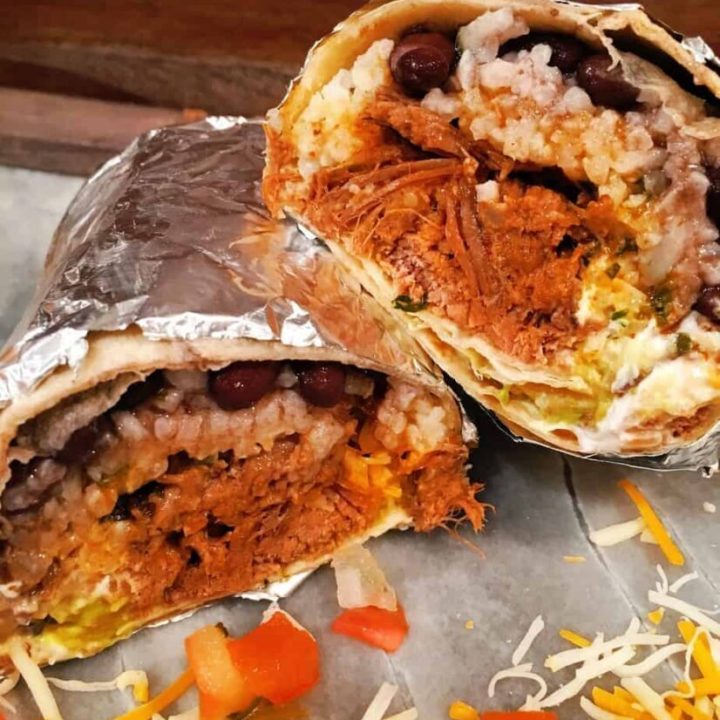 A Chipotle Mexican Grill Copy Cat Beef Barbacoa that create an amazingly delicious burrito!
Total Time
8 hours
5 minutes
Ingredients
4 lbs. beef brisket (or beef chuck)
3-4 Chipotle Chili's in adobo
1 1/4 cups beef broth
4 tsp. minced garlic
1 1/2 Tbs. cumin
1 Tbs. dried oregano
3/4 tsp. salt, then more to taste
1/2 tsp. ground black pepper
1/4 tsp. cup fresh lime juice
hot sauce if desired
Cilantro to garnish
Instructions
In your blender place the 3-4 Chipotle Chili, 1 1/4 cups beef broth, 4 tsp. minced garlic, 1 1/2 Tbs. cumin, 1 Tbs. dried oregano, 3/4 tsp salt, 1/2 tsp. ground black pepper, 1/4 cup fresh lime juice. On medium speed blend all the ingredients together until semi-smooth.
Place beef in your slow cooker. Pour sauce over the top of the beef. Cover meat and cook on low for 8 hours.
Remove from slow cooker and shred with a fork, removing any extra fat.
Cover a baking sheet with foil and place shredded beef on top of foil. Drizzle with two large scoops of remaining sauce. Place in broiler for 3-4 minutes until beef is crispy and the tips are golden brown.
Sprinkle with cilantro and serve with flour tortillas, grated cheese, rice, beans, and any other topping you would like in your burrito.
Recommended Products
As an Amazon Associate and member of other affiliate programs, I earn from qualifying purchases.
Nutrition Information:
Yield:
8
Serving Size:
1 burrito
Amount Per Serving:
Calories:

981
Total Fat:

61g
Saturated Fat:

23g
Trans Fat:

0g
Unsaturated Fat:

28g
Cholesterol:

300mg
Sodium:

1478mg
Carbohydrates:

16g
Fiber:

2g
Sugar:

3g
Protein:

87g
Norine's Nest in no way provides any warranty, express or implied, towards the content of recipes in this website. It is the reader's responsibility to determine the value and quality of any recipe or instructions provided for food preparation and to determine the nutritional value, if any, and safety of the preparation instructions.