Easter Rice Krispie Treats are like traditional Rice Krispie Treats…with pastel mini-marshmallows, white chocolate drizzle, and spring sprinkles!
A little Wednesday "Norine" Trivia! (I know you're excited!) I've spent most of my time in our church working with the young children….ages 18 months to 11 years old. I absolutely L.O.V.E. it! I can't stress that enough. There is one day however, that I dread! Any guesses?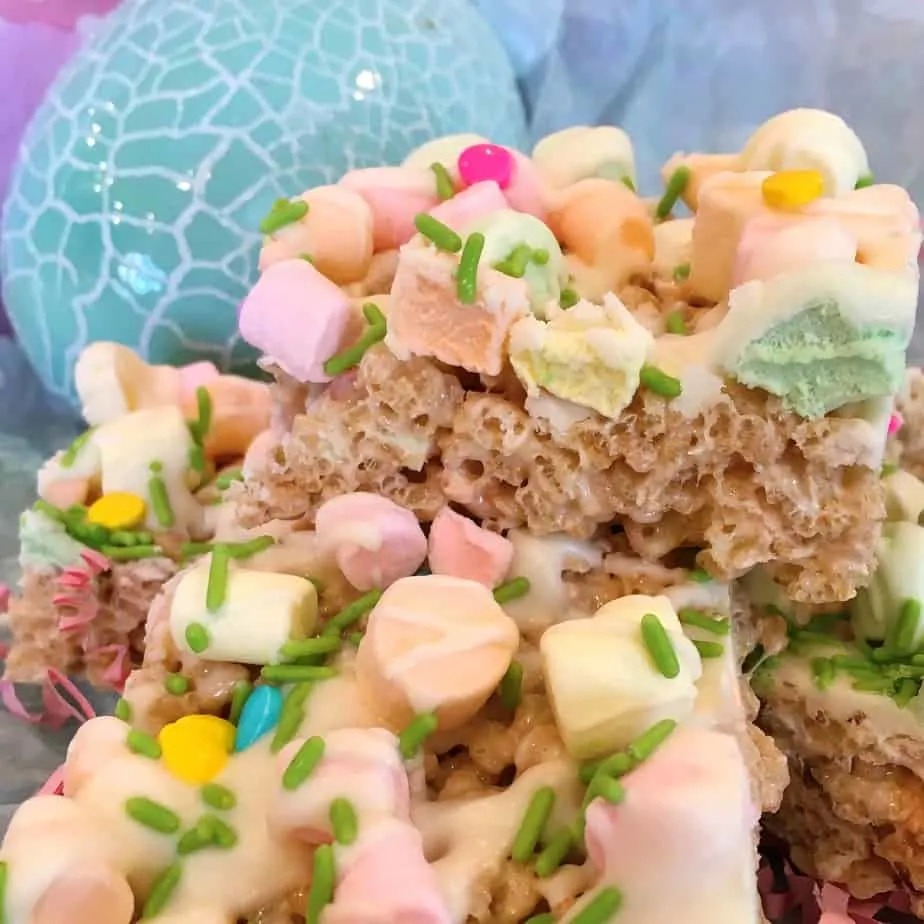 Yep, its Easter Sunday! Now don't get me wrong…I love Easter and EVERYTHING it represents. I am specifically talking about working with 90 children who have just eaten half the candy aisle from Wal-Mart and are now on a Sugar High the likes of which would put any drug addict to shame!
On Easter Sunday… precious little boys pastel neck ties are now the "pirate swag" of Johnny Depp, and their belts the whips of Indiana Jones! Those pretty pastel fluffy dresses are every little girls dream ballerina twirling outfit!
Without warning, at any given moment, a promising Prima Ballerina will stand and pirouette, starting an impromptu competition from the other aspiring prima ballerina's. It's truly precious! Needless to say there's a LOT of praying that happens on Easter Sunday!
You'd think with all that mayhem I would take a stance and not be a contributor…what can I say? I love Pirates, Explorers, and Ballerina's!
This year I wanted something really fun and festive for Easter Treats! It also had to be SUPER YUMMY! I love chewy gooey Rice Krispie Treats.
The homemade kind! Plus they are "no bake" and "low mess"! So, I came up with this really easy cute Easter Treat. Your kiddo's could even help you make these. (If they do…just remember…Sanity is HIGHLY over-rated!)
Easter Rice Krispie Treats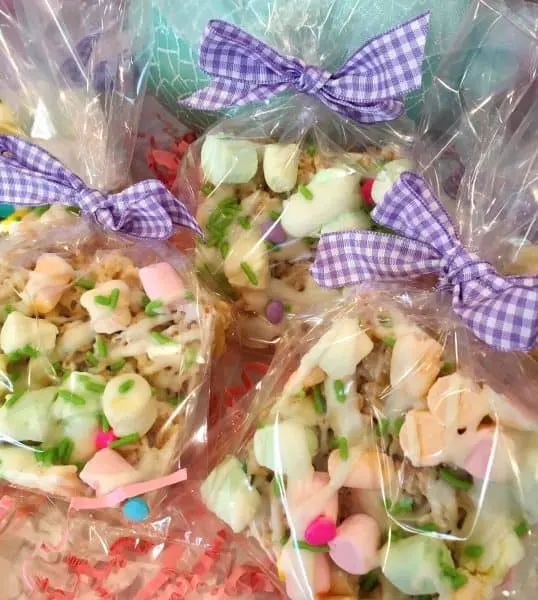 How To Make Perfect Rice Krispie Treats
If you follow this recipe exactly, you will end up with the PERFECT gooey Rice Krispie Treat! So let's get started…
In a large pan melt 4 Tablespoons of butter. (Yes! I know I need a new pan! This is our old "popcorn pan" because I believe popcorn should be made over a flame and not nuked!)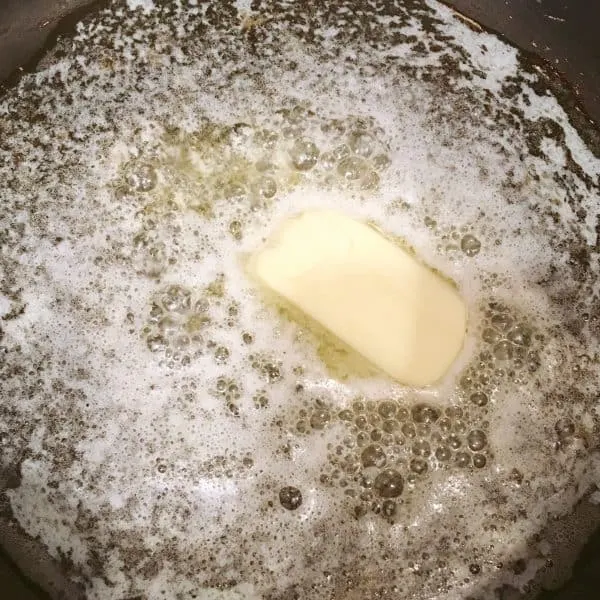 Add in 6 cups of regular mini marshmallows. (Be sure to drop a few on the counter top so you can taste test their freshness! Quality Control is very important! lol) Stir over medium heat.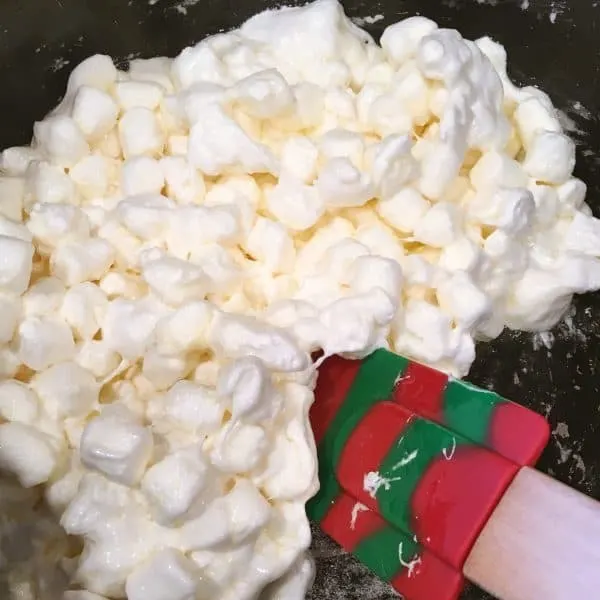 Continue stirring until smooth and melty! (That's a word right? Melty?) Add in 1 Tablespoon of Milk and 1 teaspoon of vanilla. This will add extra flavor and make the marshmallow mixture even creamier! Score!!!
Mix until well blended and super-duper creamy.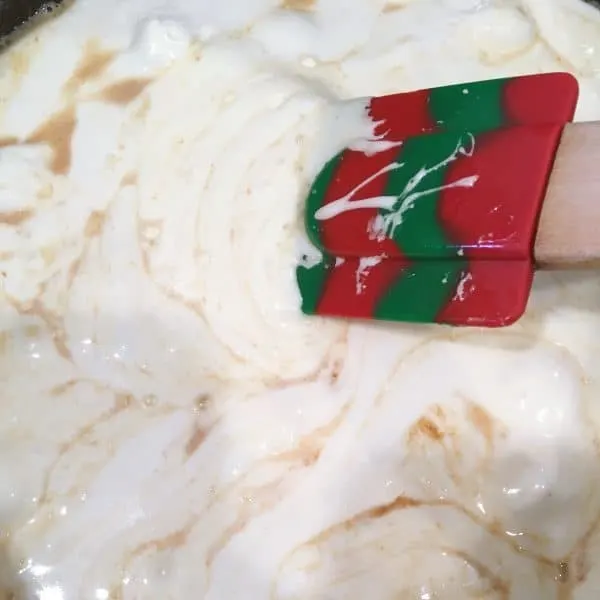 Remove the pan from the heat and allow to cool for 1 minute. Add in 2 cups of pastel mini marshmallows and stir until they're just beginning to melt, but are not completely melted. This is going to give you little pockets of happiness!!! Okay, okay, okay…it's going to give you little pockets of gooey creamy marshmallow! This is extremely important! Why you may ask? When you bend your Rice Krispie Treat in half, it must have the stringy marshmallow bridge of delight! If you don't believe me ask Mr. Wonka! That's all I'm going to say about that!
Pour the marshmallow mixture over your 6 cups of Rice Krispie Cereal and mix until well blended.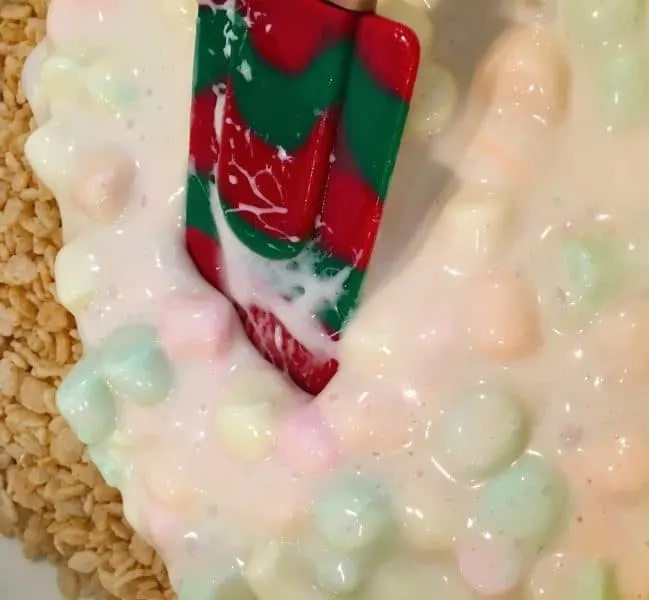 Pour into a greased 9 x 13 pan and spread evenly. Can you see the little bits of unmelted marshmallow? I love the hint of pastel spring colors this adds. (I love making food that makes me feel like I'm getting my crafty on!)
Tip: I spray my hands with cooking spray… (Sometimes I even spray my face so it's glistening and it's looks like I've been working hard all day!) Oops…back to the recipe… and gently push the mixture around until even. Do NOT pack it down too tightly! This isn't your junior high school bra! lol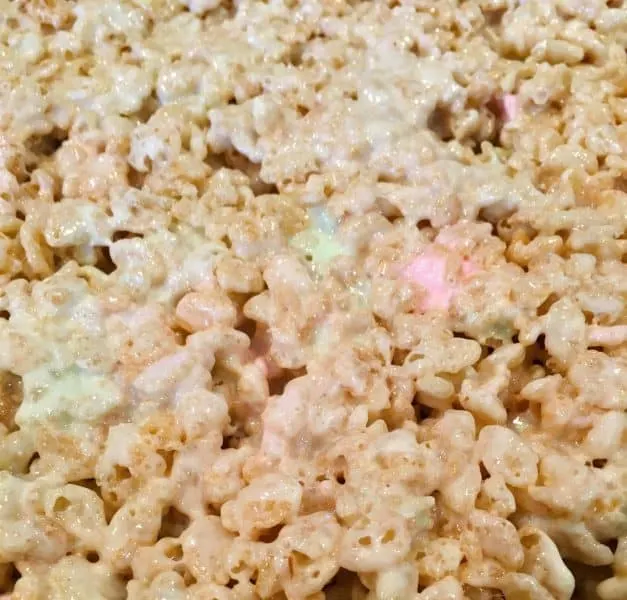 Set your Rice Krispie Treats aside for now.
In a small, microwave safe dish, add 1 cup of white chocolate chips and 1/2 Tablespoon of Vegetable oil. Place in microwave at 50% power for 3 minutes. Cooking times may vary depending on your Microwave. That's kind of like "Objects may appear larger in the mirror than they really are!" I swear EVERY mirror in my house has that problem!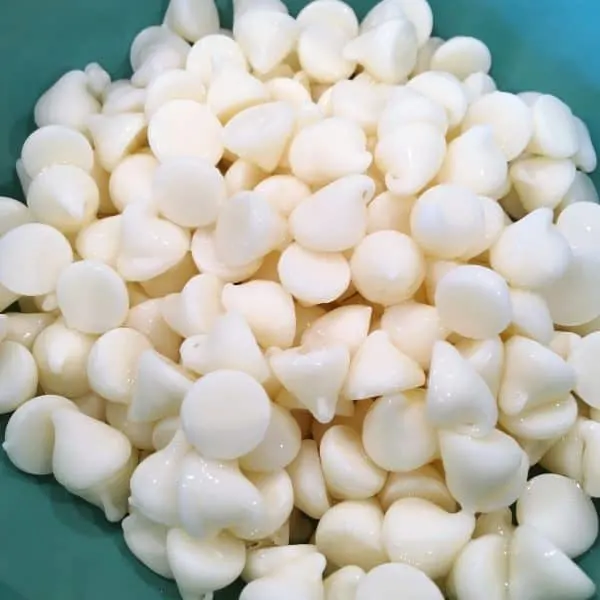 Remove from the Microwave and stir until smooth and melted.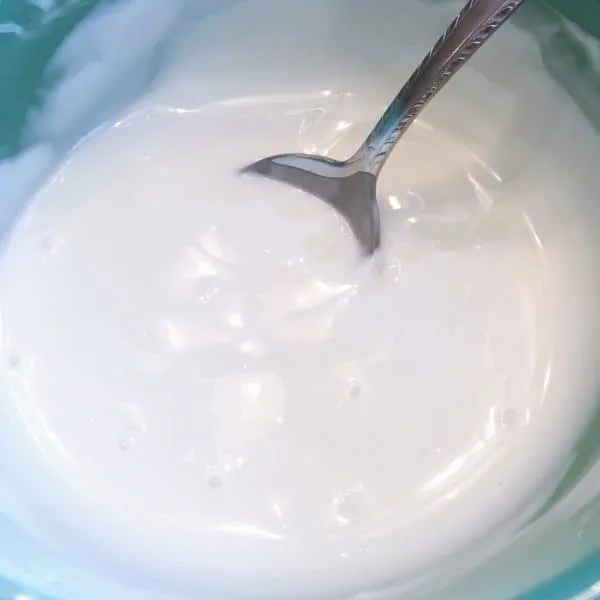 Drizzle half the melted white chocolate over the top of the Rice Krispie Treats using a spoon. This going to help the marshmallows adhere to the top of the Rice Krispie Treats.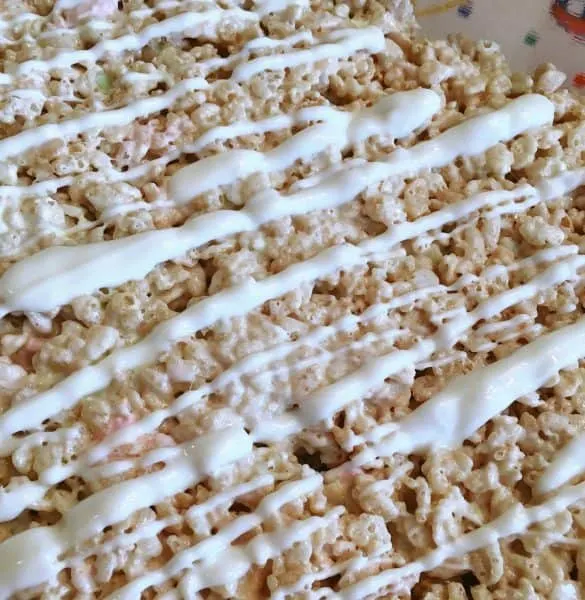 Sprinkle 1 1/2 cups of mini pastel marshmallows over the top of the drizzled chocolate. Gently press them down.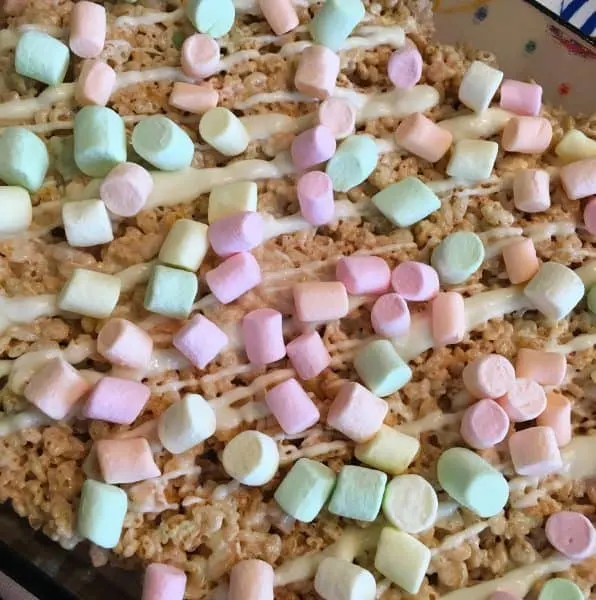 Drizzle the remaining melted white chocolate over the top of the marshmallows to help secure them in place. Sprinkle with Wilton Easter Sprinkles. I used the green grass with colored eggs. You can use any sprinkles you want.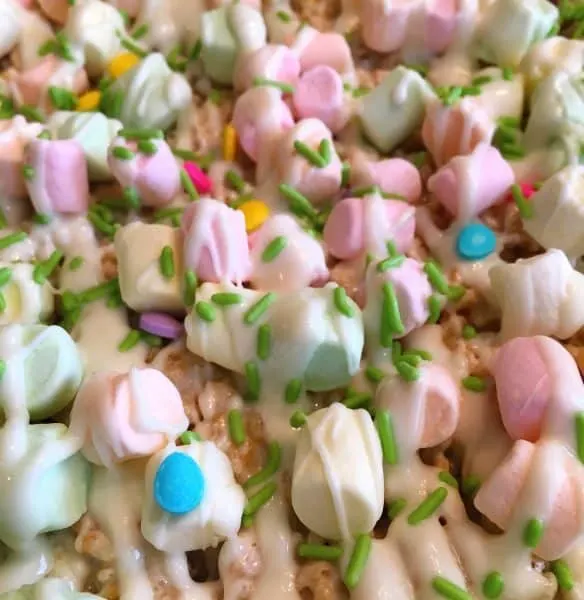 Allow the Rice Krispie Treats to "set up" for about an hour. You can place the pan in the refrigerator to help set the melted chocolate faster. I just let mine set out on the counter for an hour. Cut into squares.
Since these are "special treats" I placed mine in individual Cello bags tied with darling pastel lavender ribbon I found at Wal-Mart for .99 a spool!
These treats turned out exactly how I envisioned them when I dreamed up this recipe. The best part…I was worried they'd be "too sweet"…Nope! They're perfectly perfect!
Easter Rice Krispie Treats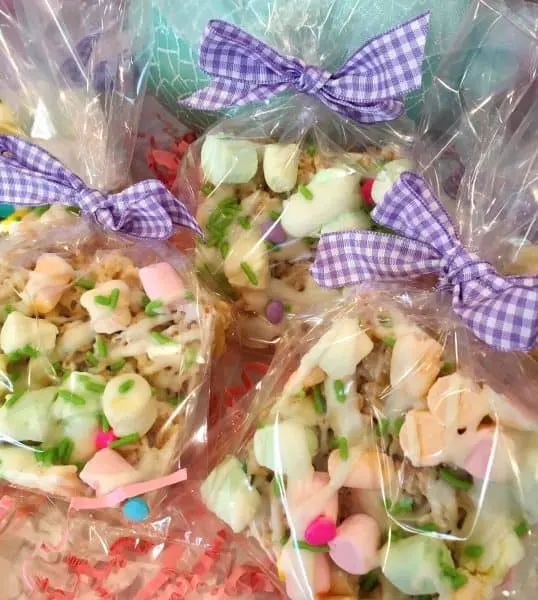 I know I said I came up with these for the "kids"… but I say you're only as old as you think you are! I know I'd love a basket filled with these colorful fun and delicious confections!
Easter Treat Recipes everyone will love
Thanks for stopping by my Nest! It's always fun to visit and I hope you like these fun Easter Rice Krispie Treats as much as I do! I'd love to have you join me on Pinterest, Facebook, Instagram, and Twitter too! Until next time…have a Fantastic Day!
Hugs from My Nest to Yours…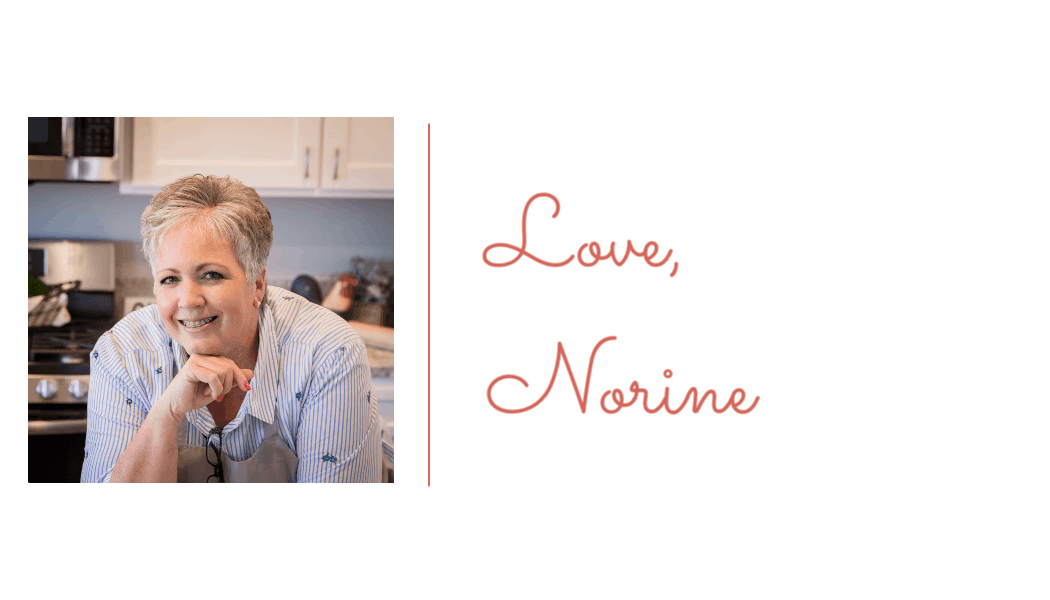 Yield: 12 servings
Easter Rice Krispie Treats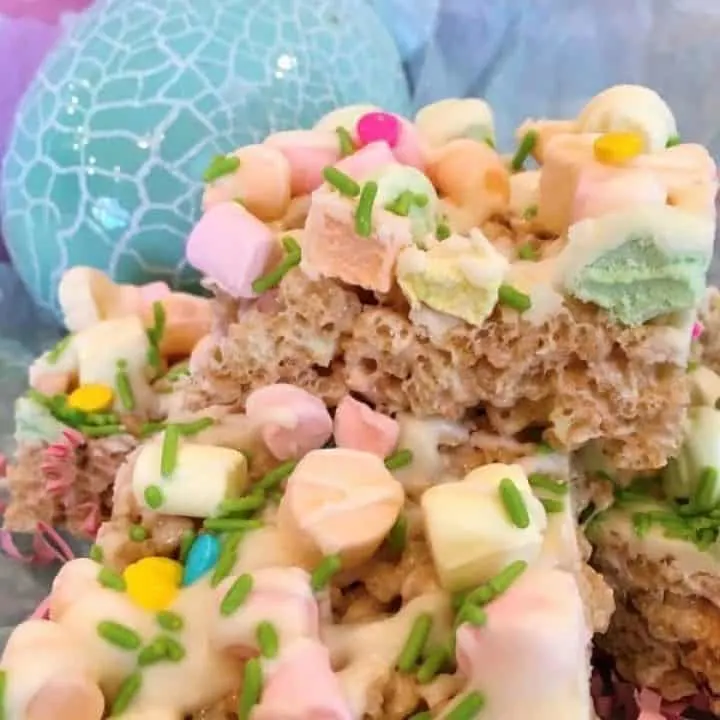 A fun colorful No-bake Easter Rice Krispie Treat that is ooey-gooey, rich, and chewy with white chocolate drizzle, pastel fruit marshmallows, and spring sprinkles.
Ingredients
4 Tablespoons of butter
6 cups of mini marshmallows
2 cups of pastel mini marshmallows, plus another 1 1/2 cups for topping
1 Tablespoon of milk
1 teaspoon of vanilla
6 cups of Rice Krispie Cereal
1 cup white chocolate chips
1/2 Tablespoon vegetable oil
Sprinkles for Fun
Instructions
In a large pan melt 4 Tablespoons of butter over medium-low heat. Add 6 Cups mini marshmallows. Stir constantly until melted and creamy.
Add in 1 Tablespoon Milk and 1 teaspoon vanilla into the melted marshmallow mixture. Stir until well blended.
Remove from the heat and allow to cool for 1 minute.
Add in 2 cups of pastel mini-marshmallows. Stir until partially melted but not completely melted. This will create the chewy marshmallow pockets!
Add 6 cups of Rice Krispie Cereal. Stir until cereal is coated.
Pour into a greased 9 x 13 pan and spread evenly. Do not press down too firmly. Just enough to even out. Be sure to grease hands or spatula when pressing down so krispie treats don't stick to your hands.
Set pan of Rice Krispie Treats aside.
In a small micro wave safe bowl place 1 cup of white chocolate chips. Add 1/2 Tablespoon of Vegetable Oil. Place bowl in Microwave at 50% and cook for 3 minutes. Remove from microwave and stir until melted.
Drizzle half of melted white chocolate mixture over top of the Rice Krispie's.
Top with the other 1 1/2 cups of pastel mini marshmallows. Gently press down into melted chocolate.
Drizzle remaining melted white chocolate on top of the marshmallows.
Sprinkle with Easter Sprinkles of your choice.
Allow to set up for at least 1 hour until chocolate is set. *You can place the pan into the refrigerator for 5 minutes until set.
Cut into squares and serve.
Store in air tight container.
Recommended Products
As an Amazon Associate and member of other affiliate programs, I earn from qualifying purchases.
Nutrition Information:
Yield:
12
Serving Size:
1 square
Amount Per Serving:
Calories:

297
Total Fat:

12g
Saturated Fat:

6g
Trans Fat:

0g
Unsaturated Fat:

5g
Cholesterol:

17mg
Sodium:

194mg
Carbohydrates:

46g
Fiber:

1g
Sugar:

26g
Protein:

4g
Norine's Nest in no way provides any warranty, express or implied, towards the content of recipes in this website. It is the reader's responsibility to determine the value and quality of any recipe or instructions provided for food preparation and to determine the nutritional value, if any, and safety of the preparation instructions.