Big Fluffy Lion House Dinner Rolls are made in the bread machine and a family favorite at this Nest! The very BEST dinner roll recipe you'll ever make!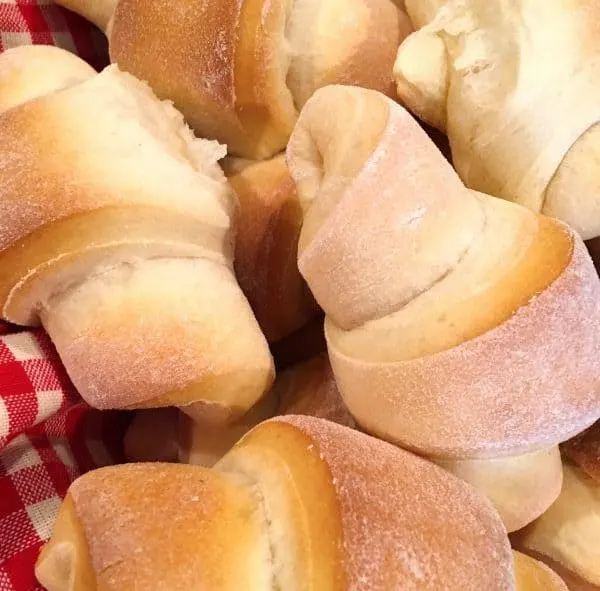 Attention All Bread Lovers! Allow me to introduce you to the "Holy Grail" of dinner rolls! Lion House Dinner Rolls! This is no ordinary little dinner roll! These gems are the primary reason why the world needs butter and raspberry jam! (Skip the main course! Just pass the basket of dinner rolls!)
My family ADORES these rolls! No joke! I think they may love these rolls more than me? However, since I'm the baker of the rolls, I'm allowed to stick around! Whew! (Never underestimate your worth! lol)
If you've ever been to Salt Lake, and had lunch at the Lion House, you'll understand why these rolls are so coveted! They are HUGE, Fluffy, and smell like Heaven! (I love the smell of baking bread! Mmmm!) The texture and flavor are pure perfection! Wanna know the BEST part of this recipe…besides how amazing they are….you make the dough in your bread machine! (SCORE!!! Team Mom!)
TIP: They can be made without the bread machine, so don't sweat it!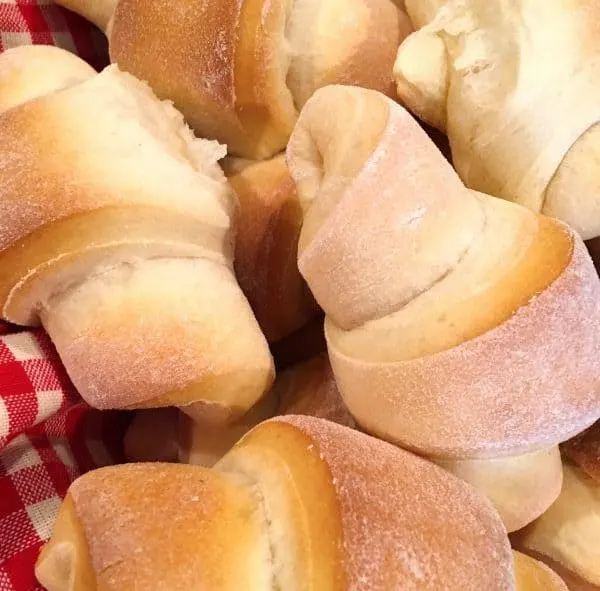 So, first things first…go dig out that bread machine hiding in the back of the small appliance cupboard! You know, the one you just had to have 15 Christmases ago! You're finally gonna use it!
If you don't have one you can still make these rolls. You will need to mix them in your mixer, cover, let rise for one hour in a warm place, punch down, let rise again for 20 minutes or… if I may? I suggest checking your local thrift store for one. They run around $5.00 and worth every penny!
How To Make Lion House Dinner Rolls
Let's get busy and make you a "Master Roll Maker"! (Remember, it will help solidify your position in the family!)
First step…is placing all the ingredients into the bread pan inside the bread machine! Here's my nice shadowy picture of said step! (National Geographic wants to hire me for my photo skills! Insert eye roll!)
Water, flour, powder milk, butter, one beaten egg, sugar, salt, and yeast. So pretty! Okay, not really but…it will be! Make sure you select "dough" for the cook time! It should be about an hour and 20 minutes to an hour and a half.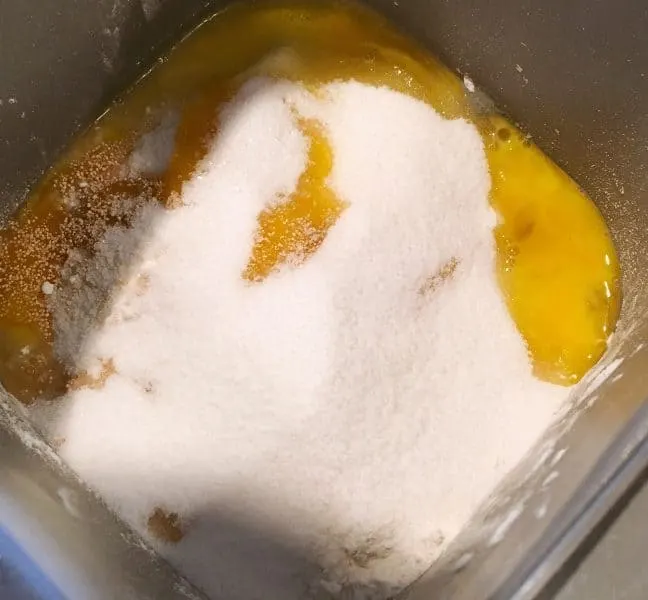 Once your bread machine has completed the dough cycle and the timer goes off, your dough should look like this. (This is after it's second rise! If it hasn't risen again, leave it for 20 minutes. It will.)
Look how light and fluffy that dough is! When you have a GREAT bread dough, and this is a GREAT bread dough, you know it by the feel and texture! This dough is so squishy and soft!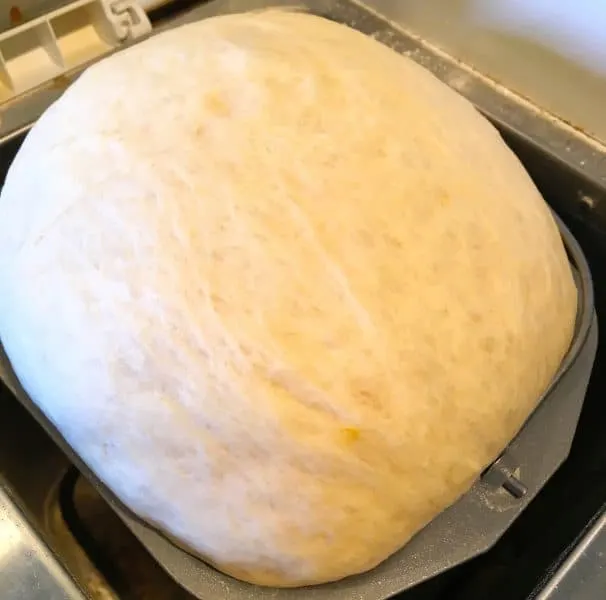 Once your dough is completed, remove it from the pan and place it on a well floured surface. Don't worry… it will go down a little when you take it out of the bread pan or bowl. It's supposed to. Never fear…it will rise again!
I use my "dough disc". Let me just say this, about that! If I have one kitchen tool that is my VERY favorite tool…not appliance(that title belongs to my KitchenAid mixer)…but tool, it's my dough disc!
I purchased mine 23 years ago, off QVC, and it is by far, the very best investment I have ever made! I roll out my pie crusts, sugar cookies, pizza dough, rolls, you name it…the dough disc is my "go to" tool for rolling things out. Nothing ever sticks to the cloth, and when I'm done I just throw the cloth in the wash. It's amazing! I'm including a link to my current dough disc in the recipe card.
How To Roll out and Form Dinner Rolls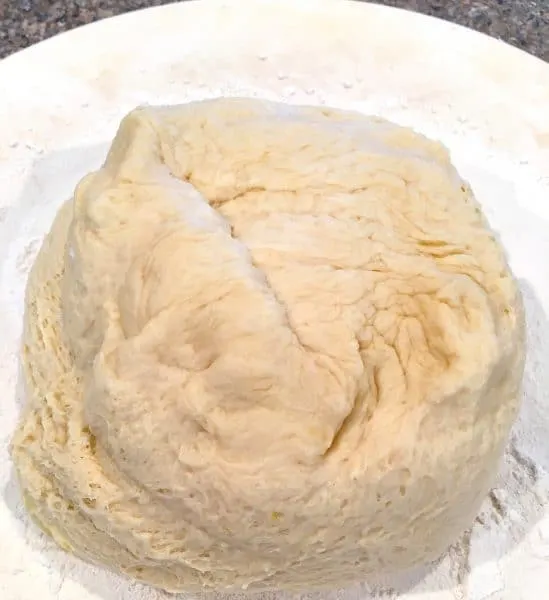 Make sure you have flour on both sides of your dough, so pick it up, and turn it over, and dust your rolling pin too.
Begin to roll the dough out into one large circle. Like a pizza. I go right to the edges of my dough disc. Once it is all rolled out I use my pizza cutter to cut it… just like pizza slices or pie slices! Easy-P easy! This will give you "crescent" shaped dinner rolls.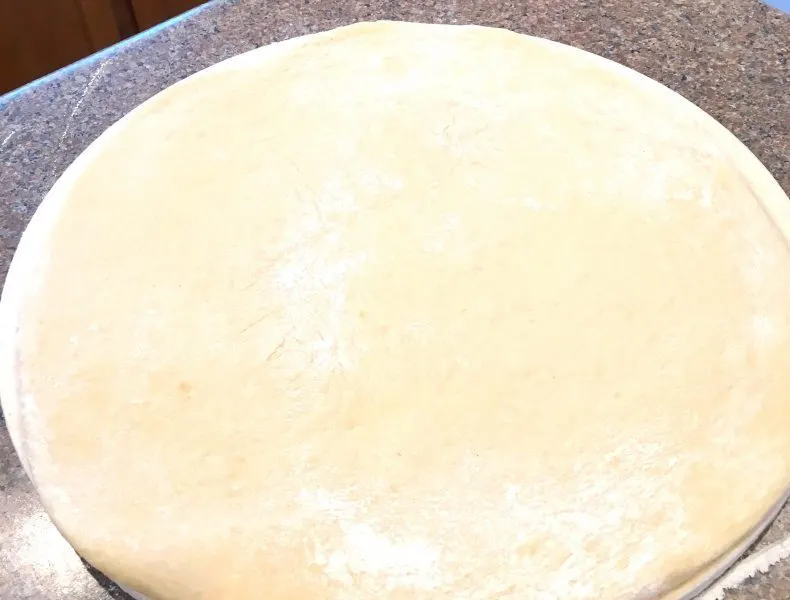 Starting from the large end, roll down to the point. Place them "point" side down, onto a lined baking sheet. You can use either silicone mats or parchment paper.
This recipe will make 12 rolls.
TIP: Make sure those points are down so that they stayed rolled while baking. I let my rolls "rest" at this point for about 10-20 minutes. This will allow them to rise a bit and make them extra fluffy and large.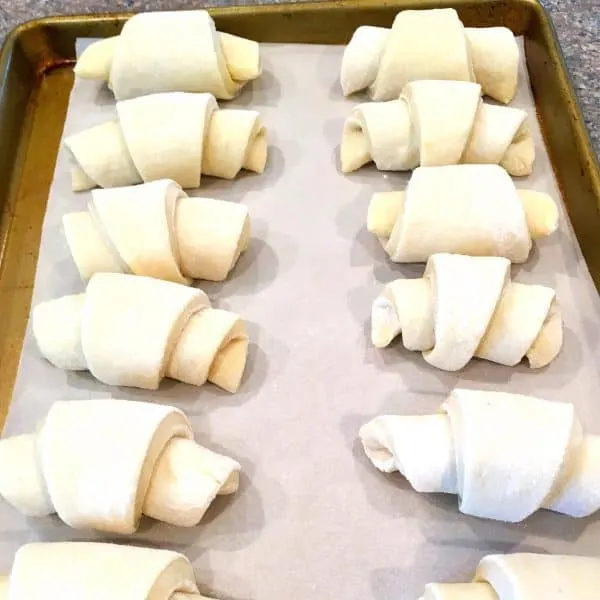 Baking Dinner Rolls
It's time! Into the oven they go! Check them after 15 minutes to be sure they are not over baking.
Every oven is different and it's always a good idea to keep an eye on your rolls when baking. They should be fluffy and golden brown.
See the difference in the two pictures? The before and after? In the before you have about a 1/2 inch in-between the rolls. After baking they are touching. This is PERFECT! I had help with these..the "flying nun" one… lol…is a good reminder… points down! Maybe you're from the buckeye state and you want them to look like that! I say "go with it!"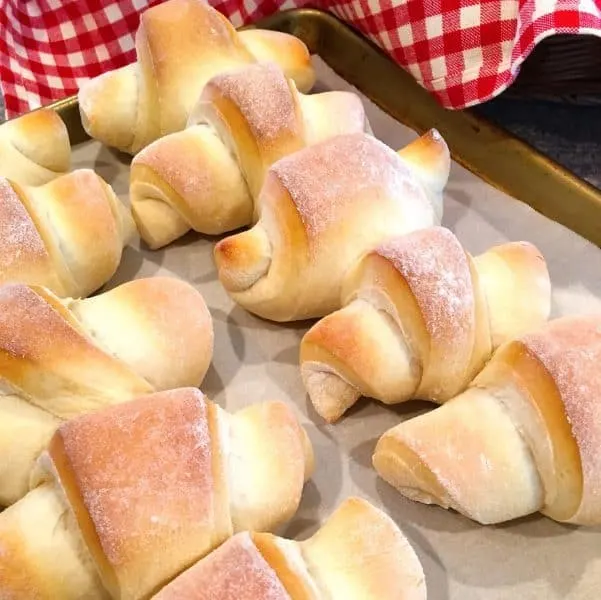 Could a dinner roll be any easier or more appetizing? I don't know how!
These are so lusciously perfect! No one can ever eat just one at our dinner table! We might be full, but by gosh, we are going to find a way to stuff one more down!
We love to smother them in butter and jam, or just bust right into them, pulling them apart, and folding them into our mouth, sinking our teeth into their fluffiness! They make a fab cinnamon roll too!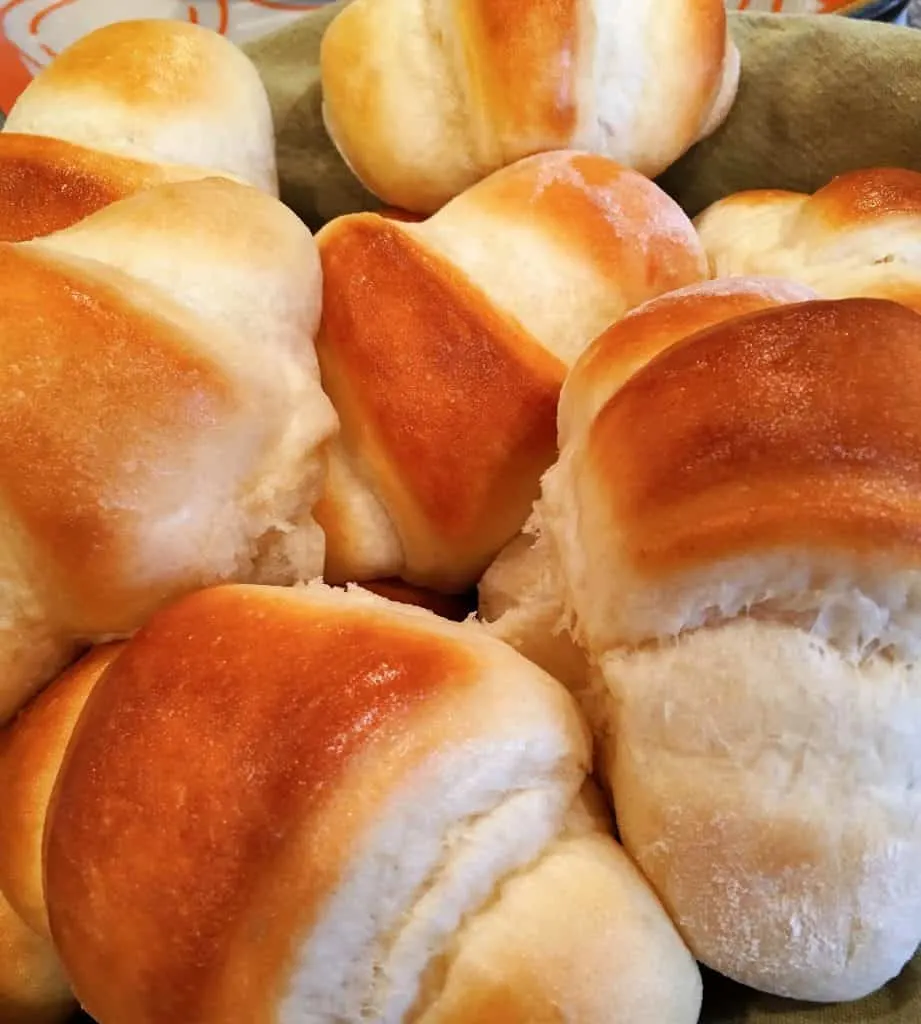 Favorite Bread Recipes
Now you are ready to impress the world with your warm, fluffy, homemade rolls! You're position in the household is now solid! You'll be the hit at this years family Thanksgiving dinner! Which…is right around the corner…believe it or not!
Thanks for popping by! I've got the printable recipe below! I hope you make a batch of these wonderful rolls for your next family gathering! I know they'll be a huge hit and a family favorite!
Happy Nesting!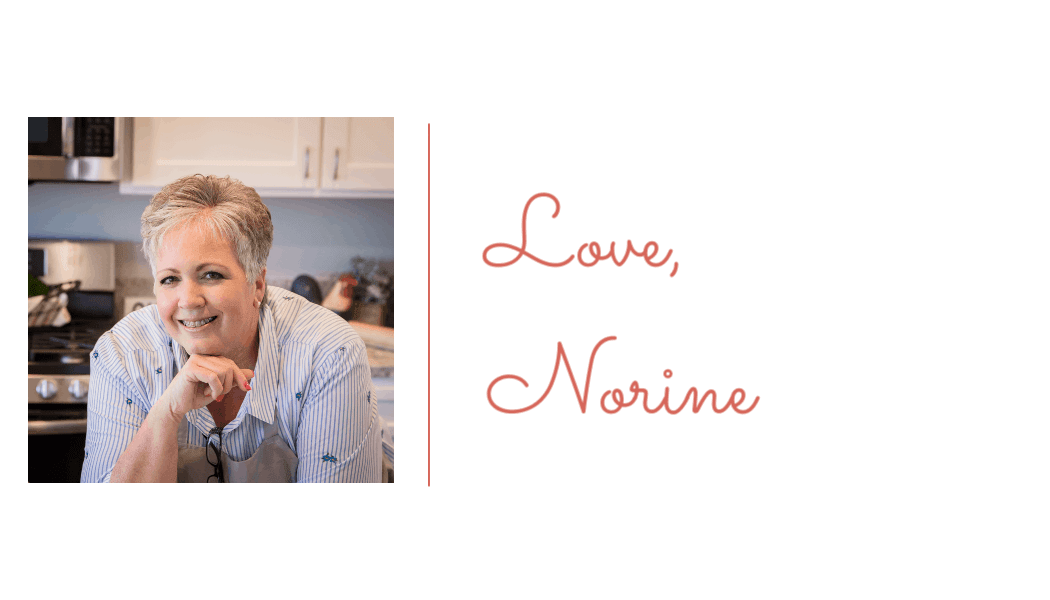 Yield: 12 rolls
Lion House Dinner Rolls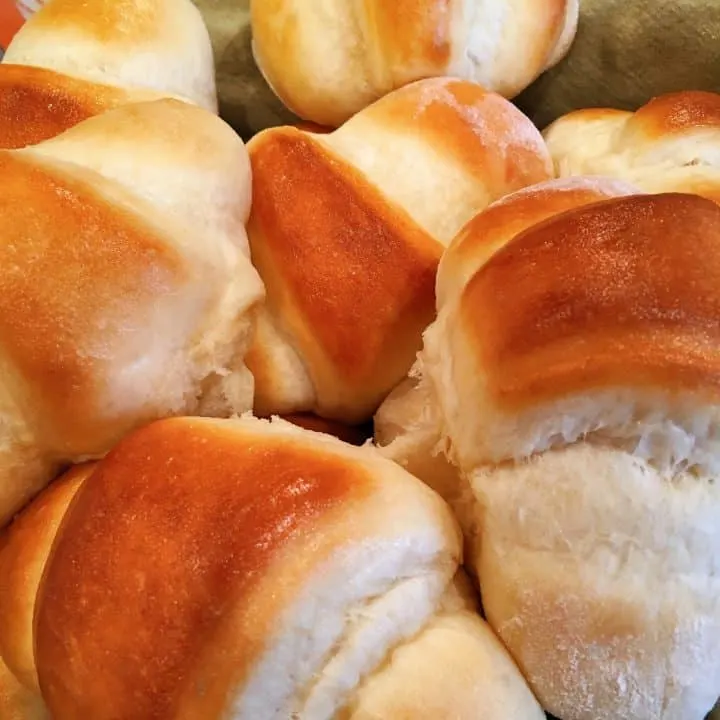 Traditional Dinner Rolls made in your bread machine. Light, fluffy and huge these dinner rolls are sure to become a family favorite!
Prep Time
1 hour
40 minutes
Total Time
1 hour
55 minutes
Ingredients
1 Cup warm water
2 1/2 Tbsp. butter
1/3 cup instant dry milk
3 1/4 cup all-purpose flour
1 Tbsp. yeast
1 tsp. salt
1 egg, beaten
1/4 cup sugar
Instructions
Layer ingredients in order listed.
Mix on bread dough cycle (1 1/2 hours) (Mine is 1 hour 20 minutes)
After finished, roll out in a circle.
Cut like pie pieces, or pizza slices, and roll up like crescents from big end to point.
Place on baking sheet lined with parchment paper or silicone baking mat.
Let rise 10-20 minutes.
Bake at 350 degrees for 15-18 minutes.
Serve immediately.
Recommended Products
As an Amazon Associate and member of other affiliate programs, I earn from qualifying purchases.
Nutrition Information:
Yield:
12
Serving Size:
1 roll
Amount Per Serving:
Calories:

177
Total Fat:

3g
Saturated Fat:

2g
Trans Fat:

0g
Unsaturated Fat:

1g
Cholesterol:

22mg
Sodium:

231mg
Carbohydrates:

31g
Fiber:

1g
Sugar:

5g
Protein:

5g