A breaded fried chicken breast in a delicious Buffalo sauce topped with blue cheese, lettuce, and tomato in a delicious bun…it's the Buffalo Bleu Cheese Chicken Sandwich!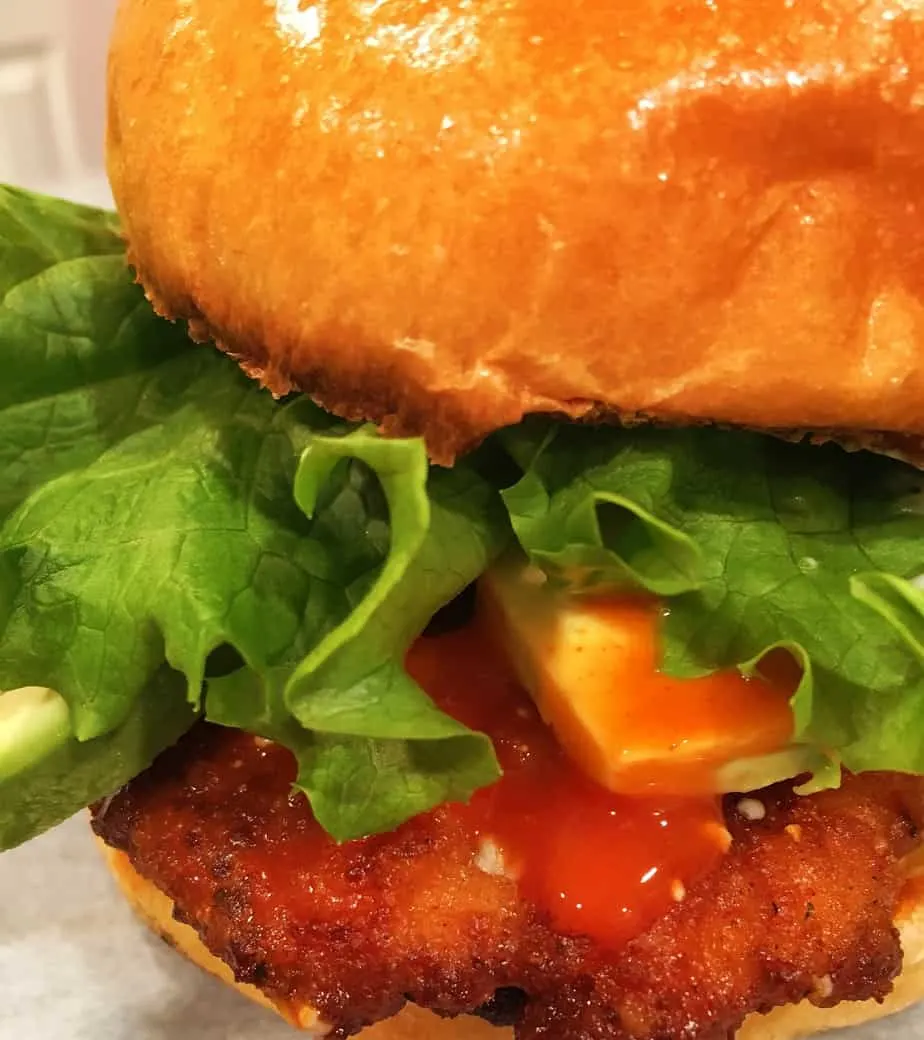 Several years ago Carl's Jr. came out with a buffalo chicken sandwich. It was SO good! It was a limited time special, so it came and went, and… I was sad!
5 years later, and still in mourning… (My love of food runs deep my peeps!)… I decided to try my hand at my version of this tasty treat. Thankfully first time around was a smashing success!
I know because my "in-home" taste tester, aka "The Hubs", went on and on about how good it was, and then proceeded to eat a second one! (One can never be too sure, so it's good to double check! lol)
This really is a delightfully tasty hot sandwich!
TIP: You can fry up your own chicken breast, like I did, or you can buy the already breaded frozen patties in your market, which will save you some time.
How to make Buffalo Bleu Cheese Chicken Sandwiches
I'm going to share how to make the entire sandwich from scratch because that's what we do here at Norine's Nest…when I'm not lazy or too tired. So…about every other recipe. lol (Naw…I'm just teasing!)
Two chicken breast will make four sandwiches. You will need to cut your chicken breast in half lengthwise. In other words fillet it.
Place each piece between plastic wrap and do my favorite "meat tenderizing therapy". I love when I have a good excuse to whack away at something and not look like a homicidal loon on Criminal Minds! (Hey, we've all had those days!)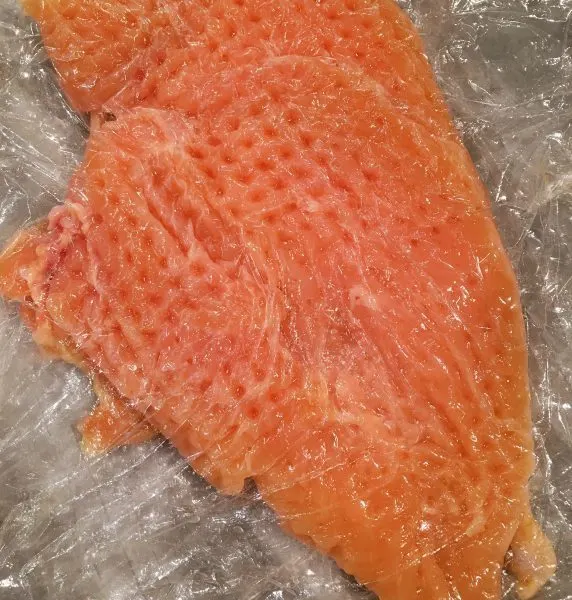 Once the chicken breast have all been "tenderized" (wink-wink) Dip them in the egg wash, and then in the lightly seasoned bread crumbs. Be sure they are evenly coated.
In a large skillet ,with olive oil, you will fry one side till golden brown, about 10-15 minutes, and then the other side.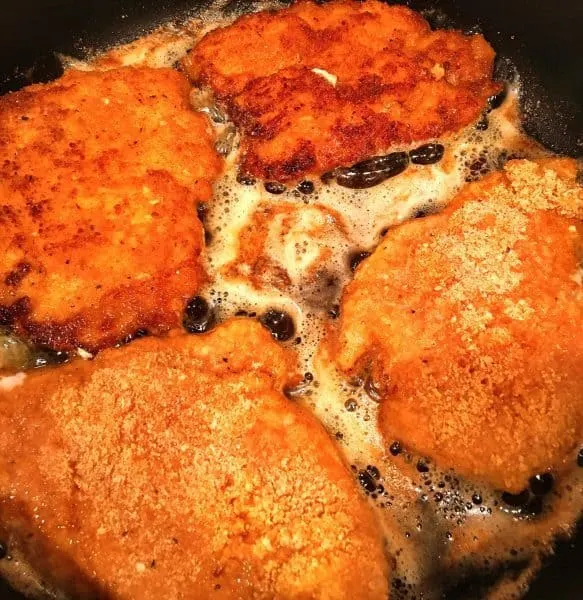 Once they are beautifully crispy and golden brown, you will drizzle Franks Medium Buffalo sauce over the top of each breast. Then flip them over, back and forth 2-3 times to make sure they are completely coated in the buffalo sauce. Remove from heat and place on your toasted bun.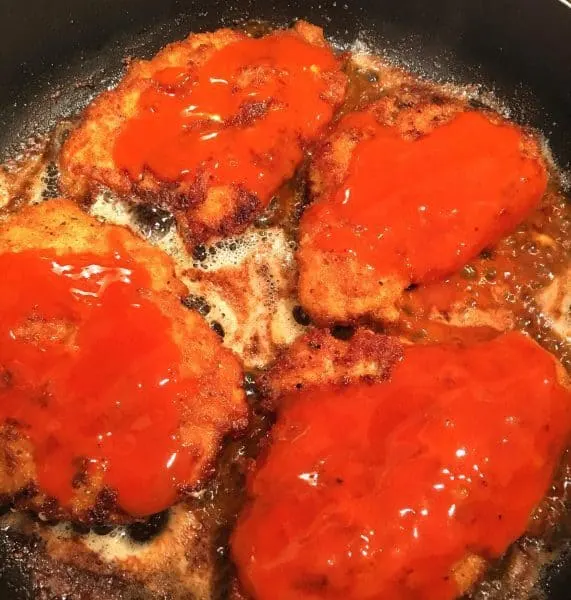 Be sure to use a really good quality bun for this sandwich. It makes a difference! I found these beauties at Wal-Mart in their bakery section (I know…I was a little shocked too!), and they were Market Street buns, over by their specialty breads. Seriously one of the best bakery items I have ever found at Wal-Mart.
Toasting buns indoors is really easy. If you've never done it before let me give you a few tips. Don't use the toaster. You just want to toast the inside of the bun. To do that use your broiler. (It's that place you hide the dirty dishes in, under the oven, when company drops in!)
Set the temp for broil and then place them on the broiler tray (after you've removed said forgotten dirty dishes) under the broiler for about 2-3 minutes. Watch them carefully so they don't burn. Remove from broiler and spread with Ranch Dressing.
I interrupt our regularly scheduled program for this small disclaimer: No I don't actually hide dirty dishes there! (Hey! My mother actually reads this blog!) I'm a clean freak! However, I have friends that do and I totally get it!
We've all been there! That day when the house wasn't in "top" condition, the kids have sucked the life source out of us, and someone drops in! Anything that isn't packed to the brim is up for grabs! This is a judgment free zone folks!
Back to our regular programming…Place Buffalo coated chicken patty on one half and top with crumbled bleu cheese.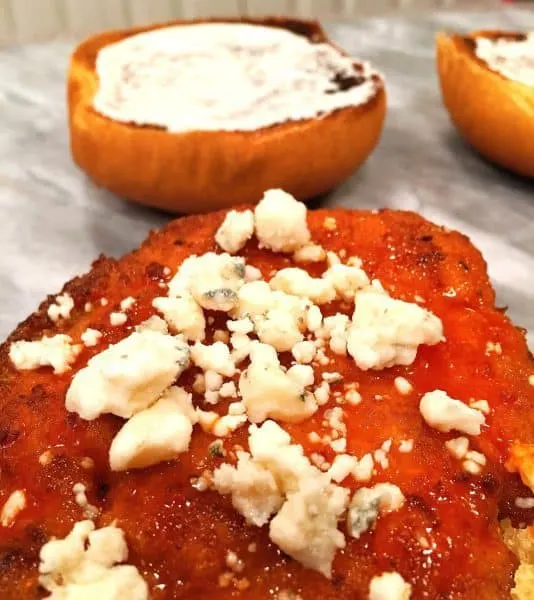 Add sliced tomato and sliced avocado. You could also add red onion, but I didn't have any, and my better half isn't a huge fan of fresh sliced onions. If you're a red onion fan I would definitely add them.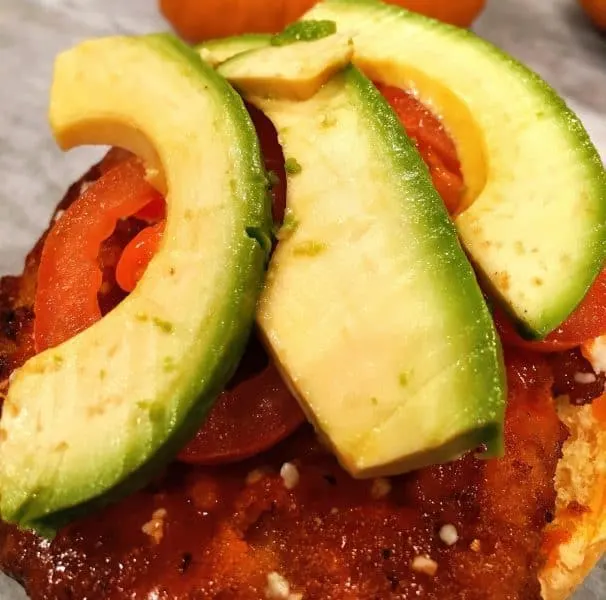 Top with more Franks buffalo sauce, if you like it hot, lettuce, and the other half of the bun!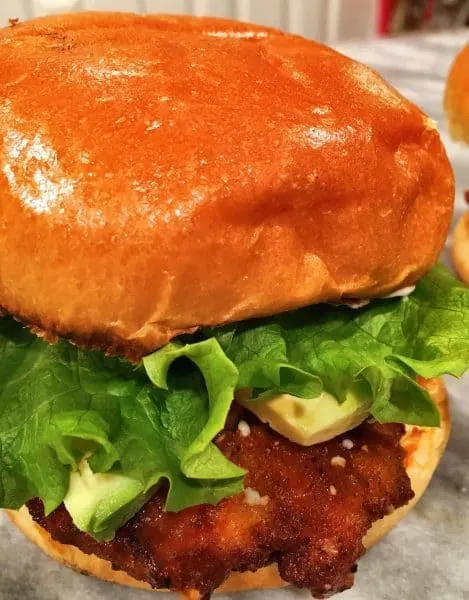 There you have it! The Buffalo Bleu Cheese Chicken Sandwich. The chicken is tender, juicy, and flavorful. The toppings are fresh and delicious. The bun is toasted to perfection! Look! It's just sitting there waiting to take you to your happy place!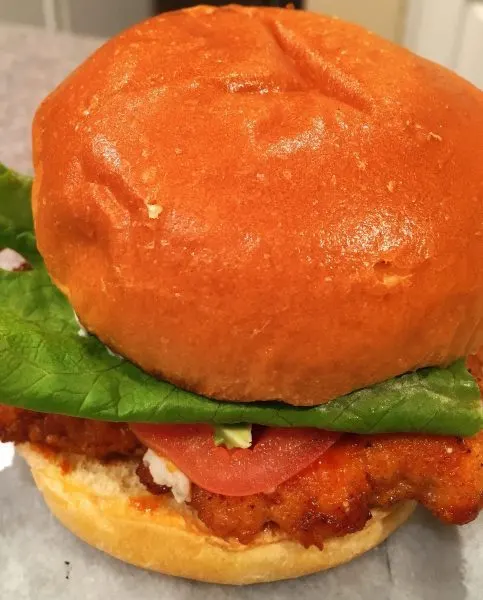 A few tips. You don't have to add the extra buffalo sauce, but if ya want to have sauce running down our face… in true "great sandwich" fashion… you need to kick it up a notch, and add a little extra. Like I did!
Also, if you like it REALLY hot… remember Franks has a "hot" buffalo, or a "medium" buffalo sauce. Go for the the heat of your choice. This is your sandwich so make it the way you like it.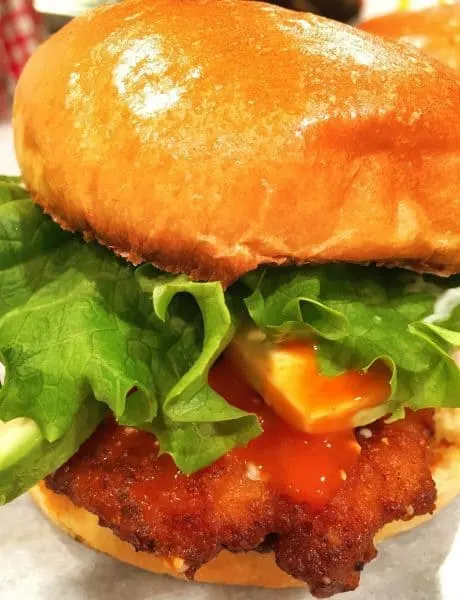 This is the PERFECT "Football" playoff meal! Toss in a side of fries or onion rings and you're there! When I tell you Mars L.O.V.E.D. this sandwich I'm not joking. He loved this sandwich!!! It's packed with flavor. It's over the top good. As good as any buffalo sandwich you'd find in any sports bar!
Other Favorite Sandwich Recipes
Have a Fantastic Weekend! I'll see ya soon!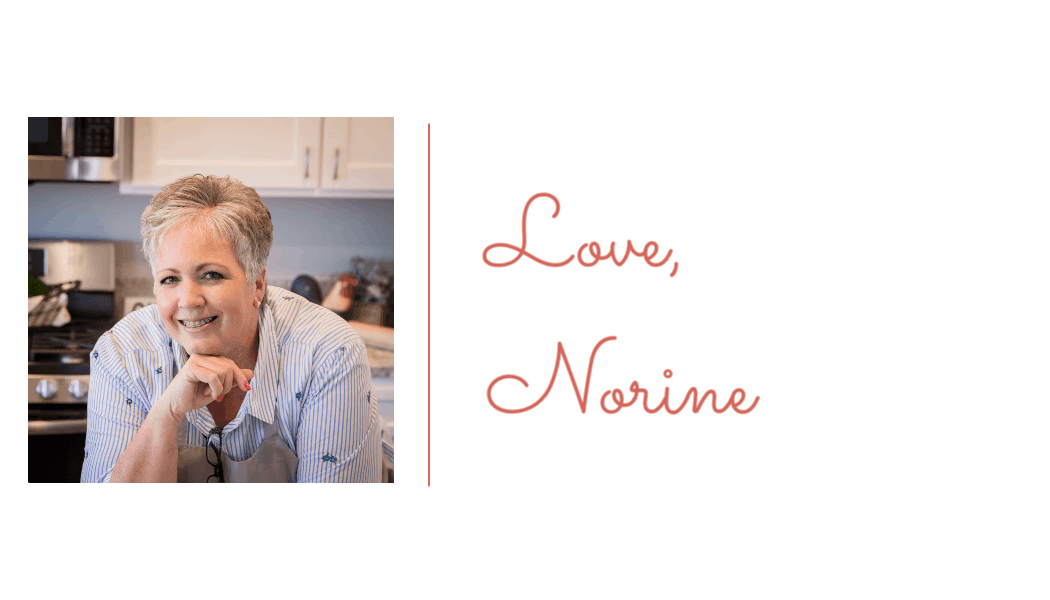 Yield: 4 servings
Buffalo Bleu Cheese Chicken Sandwich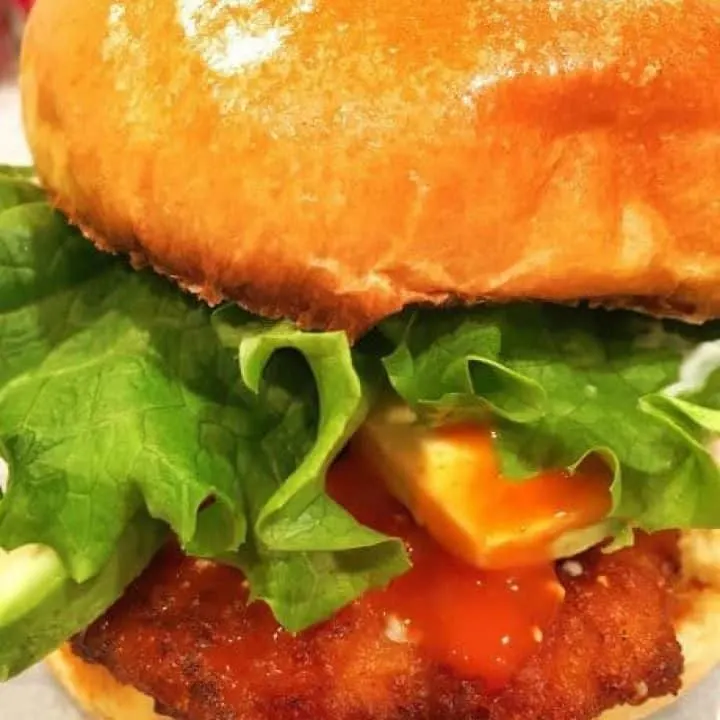 A juicy, tender, flavorful buffalo chicken sandwich with avocado, tomato, and lettuce on a lightly toasted bun. It's the perfect game day food!
Ingredients
2 boneless skinless chicken breasts, cut in half lengthwise
2 eggs, beaten
1 cup bread crumbs
1 tsp dry Italian dressing
Black pepper to taste
1/4 tsp paprika
2 Tablespoons of Olive Oil, for frying
1/2 cup Franks Medium Buffalo Wing Sauce
1/2 cup crumbled bleu cheese
1 roma tomato sliced
3-4 leaves of lettuce, washed and dried
1/2 avocado thinly sliced
4 quality buns, toasted
Ranch Dressing
Instructions
Cut chicken breast length wise. Place each piece between plastic wrap and tenderize with meat tenderizer.
In a shallow bowl beat two eggs.
In another shallow bowl mix together bread crumbs, Italian seasoning, black pepper, and paprika. Mix seasonings and bread crumbs together well.
Preheat large skillet with 2 Tablespoons of Olive Oil.
Dip chicken breast in egg wash and then in bread crumbs.
Place breaded chicken breast into large pre-heated skillet and fry on both sides till golden brown. About 10 minutes per side.
While still in skillet, top each chicken breast with buffalo sauce. Turn chicken breast over two-three times in skillet to make sure they are evenly coated with buffalo sauce.
In your broiler, toast buns 2-3 minutes till golden brown.
Top one half of bun with Ranch Dressing.
Place Chicken patty on bottom half of bun.
Sprinkle chicken breast with bleu cheese. Add sliced tomato, avocado, and lettuce. Add more Franks sauce if desired. Place top of bun on top of sandwich.
Recommended Products
As an Amazon Associate and member of other affiliate programs, I earn from qualifying purchases.
Nutrition Information:
Yield:
4 servings
Serving Size:
One sandwich
Amount Per Serving:
Calories:

658
Total Fat:

35g
Saturated Fat:

11g
Trans Fat:

0g
Unsaturated Fat:

21g
Cholesterol:

175mg
Sodium:

1045mg
Carbohydrates:

47g
Fiber:

4g
Sugar:

7g
Protein:

38g