Simple Delicious Chicken Salad loaded with chunks of tender chicken, sliced celery, and loads of chopped walnuts with a creamy mayo dressing. It's simple and delicious…and great for an easy summer dinner!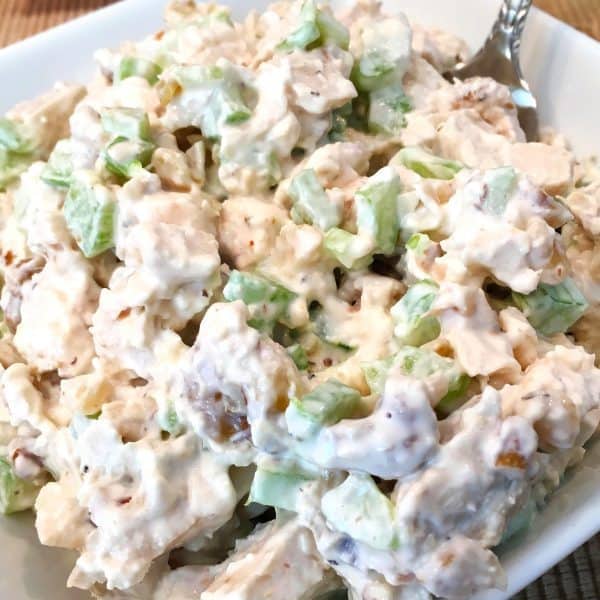 I don't know about you but, for us, weekends are busy! Super Busy! Especially during the summer months. We have over a half acre lot, and we love it, but we spend a LOT of quality time with our friends "Honda" and "Craftsman"…they lead, we push!
So, the last thing I want to worry about is, "What to fix for dinner or lunch?". That's why I love this Quick and Simple Chicken Salad! It's easy, not frilly! (I just don't do "frilly" chicken salad! I want my grapes and pineapple on the side not swimming next to my chicken!) This is a "manly" chicken salad! Perfect for my "Mars!"
I get many requests for this Easy Chicken Salad, and it kind of makes me giggle! There really isn't much to it. Which I guess just goes to prove the point "less is more"!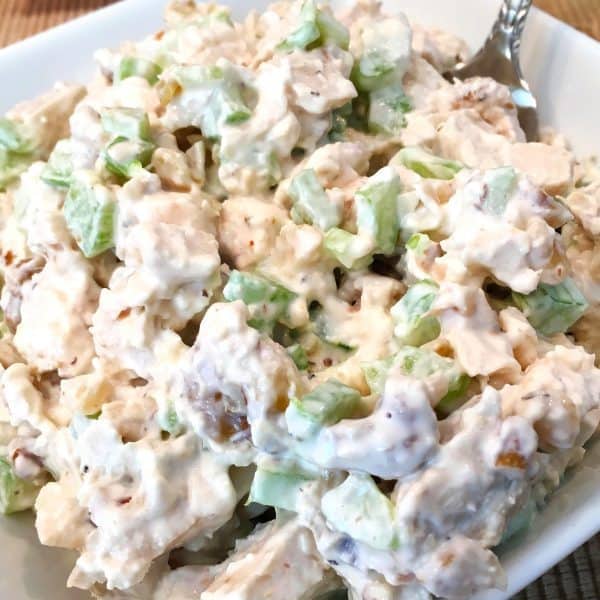 How To Make Easy Chicken Salad
There are five ingredients to this amazing chicken salad. The star of the show…Chicken, followed by his friends chopped celery and walnuts.
The middle man "Mayo" brings them all together (Best Foods please…we've had this discussion regarding my feelings on the Evils of Miracle Whip!) and… salt and pepper spice it up a bit. That is it!!!
Amazingly easy and yet, seriously, one of the BEST Chicken Salads you will ever have! Every time I make this and serve it people RAVE!
The trick to really good chicken salad is to use cooked boneless, skinless, chicken breast that have been diced not shredded! This is chicken salad NOT tuna salad! Maybe that is why this is a "manly" (say it with a deep voice!) chicken salad.
When you bite into it you are going to get solid white meat chicken. The walnuts add a "woody" flavor and the celery gives it the perfect crunch. It's a really nice blend of ingredients and flavors. No girly frilly chicken salad here!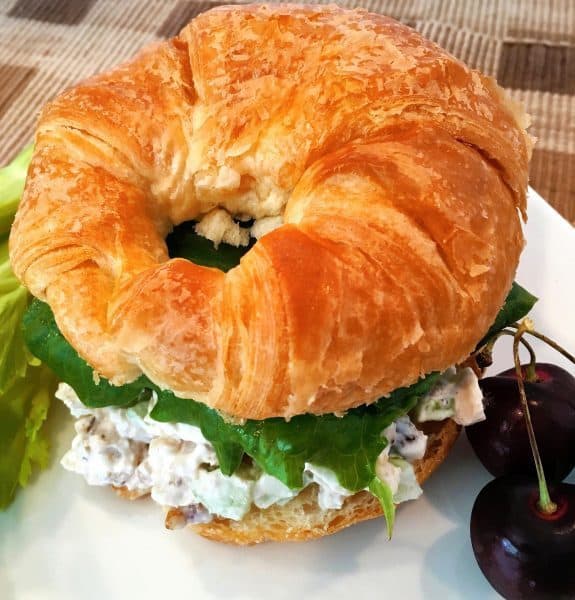 I love to serve my chicken salad on store bought flaky croissant rolls (okay maybe now we are getting a little "girly"…lol) but, you could just serve it on a bed lettuce.
Either way it's a quick, filling, and refreshing lunch or dinner. I make mine up a day or two ahead of time so that it's ready to go when we get hangry! (We are WAY beyond hungry when we finally stop for lunch!)
Hope you enjoy this recipe! The printable is below. Remember you can also follow me on Facebook on my page Norine's Nest or Instagram at… interestingly enough…. Norine's Nest!
Have a Great Weekend and a little chicken salad! Make life easy for yourself! Enjoy!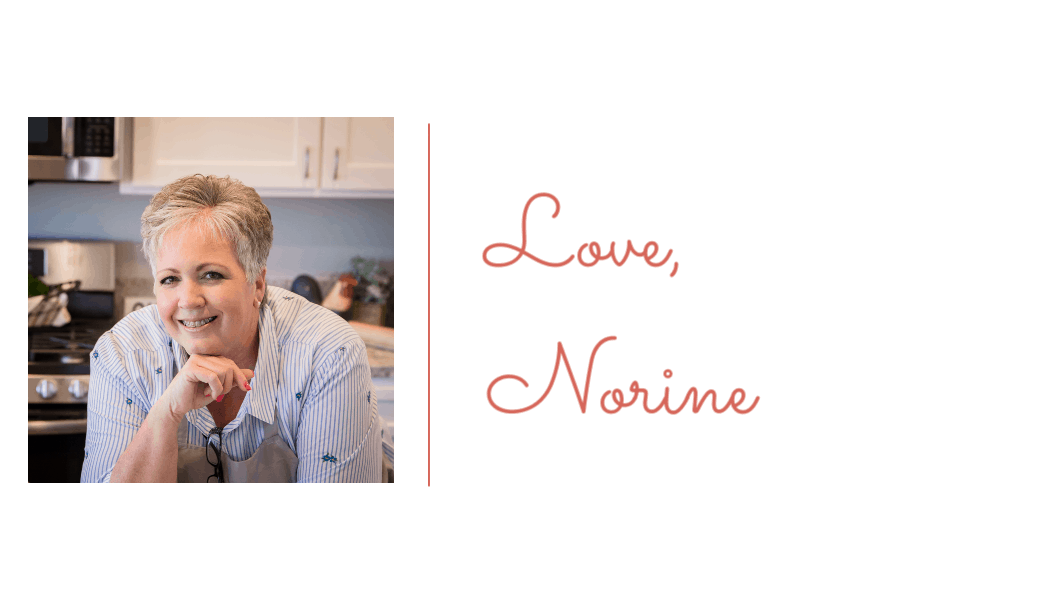 Yield: 6 servings
Simple Delicious Chicken Salad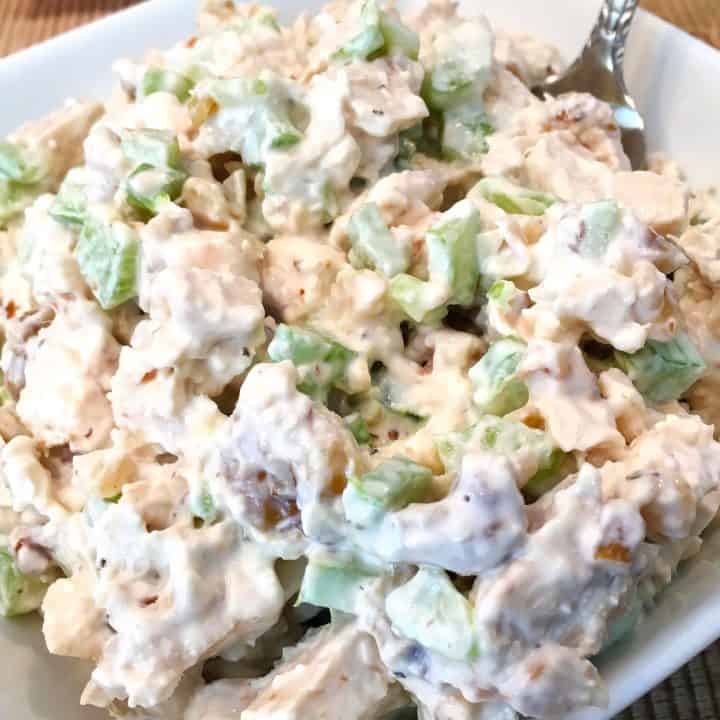 An easy 5 ingredient Chicken Salad that is robust and filling. Perfect on a hot summer day or for an simple quick meal!
Ingredients
3 boneless, skinless chicken breasts
1/2 cup chopped walnuts
1/2 cup chopped celery
1 cup Best Food Mayonnaise
Salt and Pepper to tastes
Instructions
Place 3 chicken breast in a pot with water. Enough water to cover the chicken breast. Bring to a boil and cook for 30 minutes or until juices run clear and meat is completely cooked.
Rinse and cool chicken.
Dice chicken into bite size pieces.
In a medium size bowl add diced chicken, diced walnuts, diced celery and one cup of mayonnaise. Mix until well blended. Add in Salt and Pepper to taste.
Chill till ready to serve.
Serve on Flaky Croissant or bead of lettuce.
Notes
You can add more Mayonnaise if you like it creamier.
Nutrition Information:
Yield:
6
Serving Size:
1 cup
Amount Per Serving:
Calories:

416
Total Fat:

36g
Saturated Fat:

6g
Trans Fat:

0g
Unsaturated Fat:

29g
Cholesterol:

66mg
Sodium:

338mg
Carbohydrates:

2g
Fiber:

1g
Sugar:

1g
Protein:

21g