Updated: April 25, 2023
Simple Delicious Chicken Salad loaded with chunks of tender chicken, sliced celery, and loads of chopped walnuts with a creamy mayo dressing. It's simple and delicious…and great for an easy summer dinner!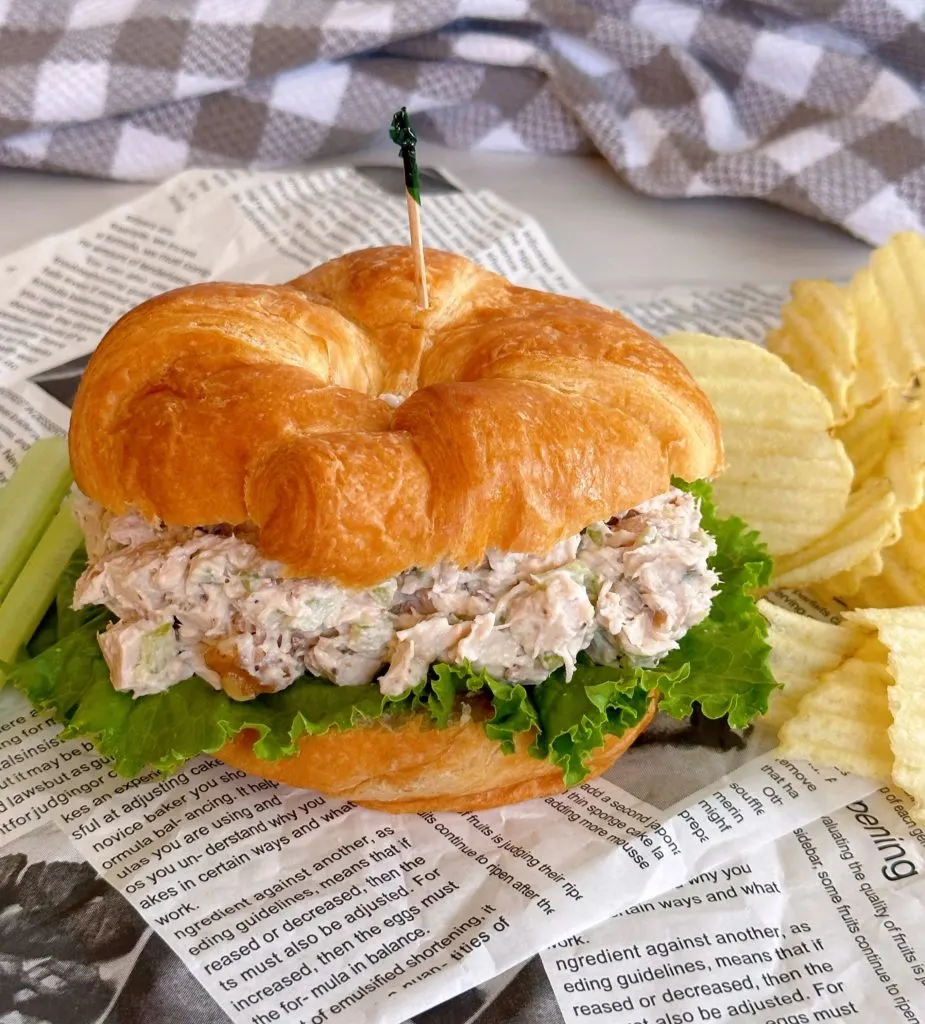 I don't know about you but, for us, weekends are busy! Super Busy! Especially during the summer months.
We have over a half acre lot, and we love it, but we spend a LOT of quality time with our friends "Honda" and "Craftsman"…they lead, we push!
So, the last thing I want to worry about is, "What to fix for dinner or lunch?".
That's why I love this Quick and Simple Chicken Walnut Salad! It's easy, not frilly! (I just don't do "frilly" chicken salad! I want my grapes and pineapple on the side not swimming next to my chicken!) This is a chicken salad menfolk love!
I get so many requests for this Chicken Salad Recipe, and it makes me giggle! Why?
Because it's so easy to make. There really isn't much to it. A few simple ingredients and you have an amazing Chicken Salad Sandwich! Which I guess just goes to prove the point "less is more"!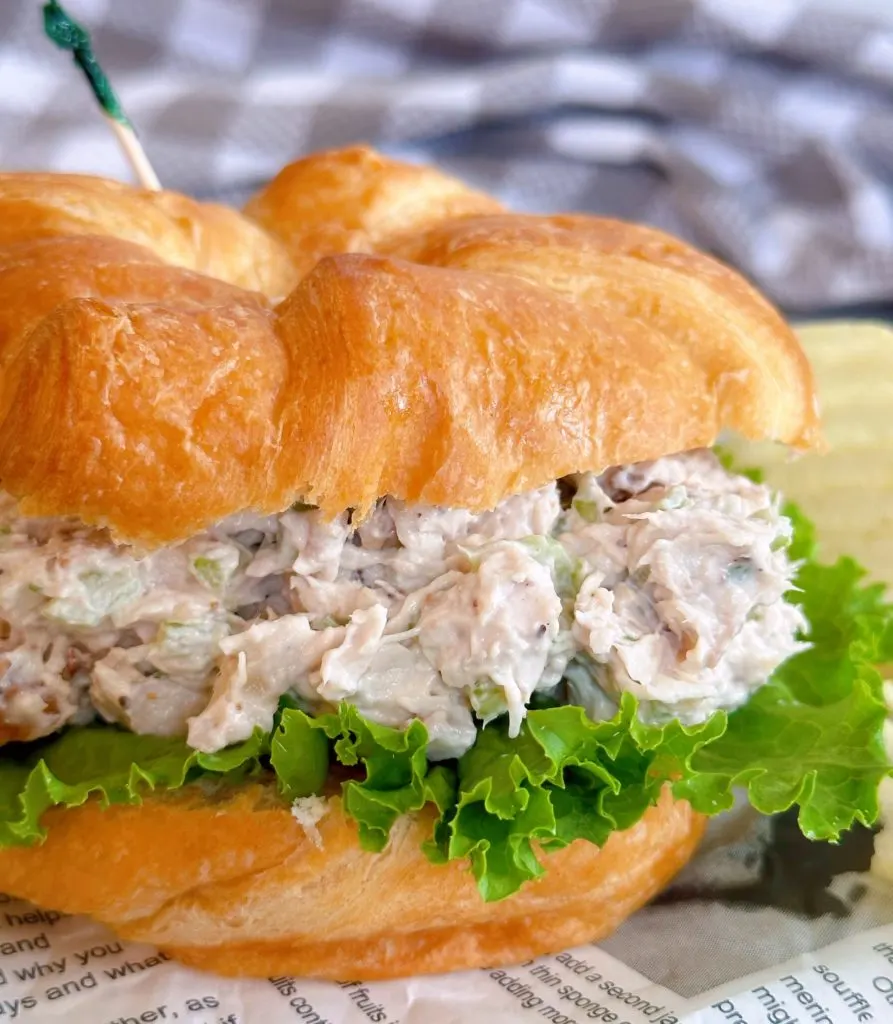 List of Ingredients
3 – 4 cups diced chicken, cooked boneless skinless breast, or rotisserie. – I love the additional flavor from the rotisserie chicken. Either works fine in this recipe.
½ cup diced celery
½ cup diced walnuts – Note you can substitute the walnuts for pecans, cashews or almonds. I just happen to love the "woodsy" flavor of walnuts in this salad.
1½ cups Mayonnaise
½ teaspoon salt, ¼ teaspoon black pepper, ¼ teaspoon garlic powder, and ¼ teaspoon onion powder.
How To Make Easy Chicken Salad
There are 8 ingredients to this amazing chicken salad. The star of the show… Chicken, followed by his friends chopped celery and walnuts. (I did say a few simple ingredients!)
The middle man "Mayo" brings them all together (Best Foods please…we've had this discussion regarding my feelings on the Evils of Miracle Whip!) And… salt, pepper, garlic and onion powder spice it up a bit. That is it!!!
Easy Steps to creating the BEST Chicken Salad
The trick to excellent chicken salad is to use cooked boneless, skinless, chicken breast that have been diced not shredded! You can also use Store bought Rotisserie chicken, diced.
When you bite into it, you are going to get tender juicy chicken. The walnuts add a "woody" flavor and the celery gives it the perfect crunch. It's a really nice blend of ingredients and flavors. No girly frilly chicken salad here!
In a large bowl combine chicken, diced celery, walnuts, salt, pepper, onion powder, and garlic powder. Add Mayonnaise. Mix to combine. Store in an airtight container in the refrigerator for 3–4 days.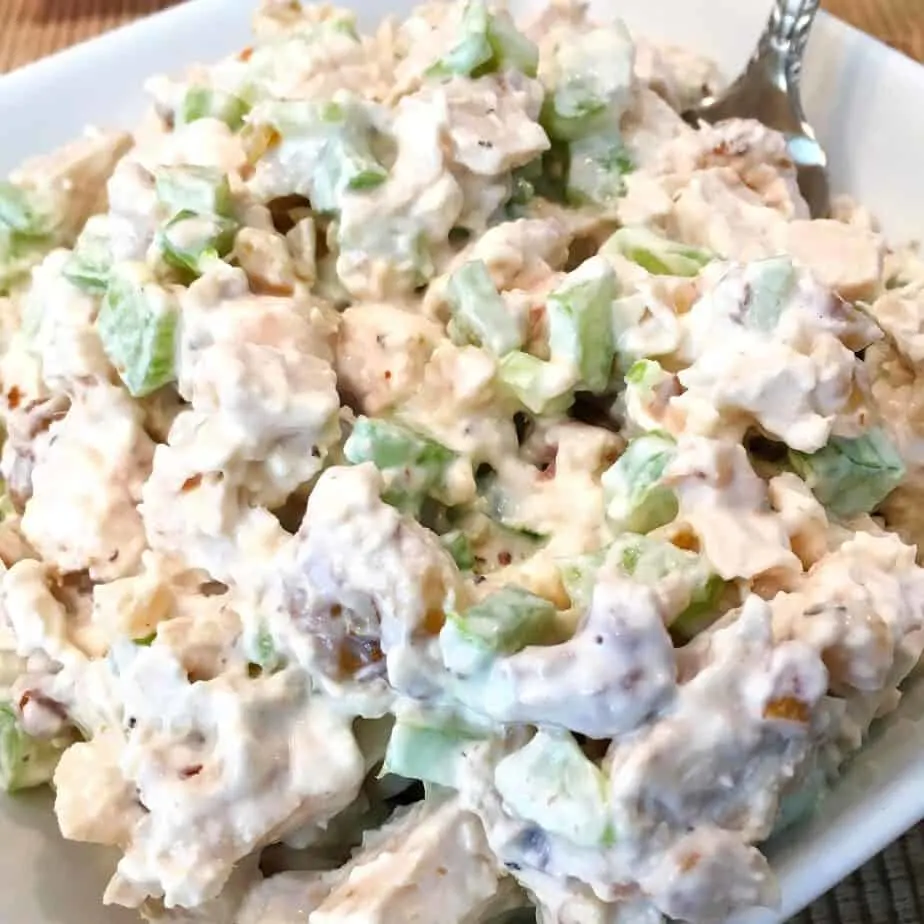 How to Serve Creamy Chicken Salad
I love to serve my chicken salad on store bought flaky croissant rolls (okay maybe now we are getting a little "girly"…lol).
Place a layer of Green leaf lettuce on the bottom portion of the Croissant roll and top with a heaping spoonful of nutty chicken salad.
Another option, if you're watching your "carbs" is to serve the Chicken Salad on a bed of fresh green lettuce or in half an avocado with the pit removed…unless you like eating pits? No! Remove the pits!
Nothing better than an avocado stuffed with delicious chicken salad!
However, you choose to serve this favorite Chicken Salad it's always a quick, filling, and refreshing lunch or dinner.
I make mine up a day or two ahead of time so that it's ready to go when we get hangry! (We are WAY beyond hungry when we finally stop for lunch!)
Questions and Answers about Chicken Salad!
What is Chicken Salad made of? There are so many versions of Chicken Salad, but the main ingredients are chicken, celery, onion, mayonnaise and nuts.
What are the best spices to add to Chicken Salad? This is really about personal preference. You can add basil, parsley, cilantro, thyme, dill, and chives!
What type of bread is best to use on Chicken Salad Sandwiches? There are so many great choices to serve chicken salad on. Obviously I'm a fan of the Croissant. However, you can also serve them on Ciabatta Rolls, French rolls, Whole wheat breads or whole grain breads.
How do I keep my chicken salad sandwiches from getting soggy? Place something between the bread and the chicken salad. I like to use lettuce!
What other ingredients can I add to Chicken Salad to "kick" it up a bit? There are so many additions that can be added to Chicken Salad. Dried cranberries, blueberries, grapes, mandarin oranges, pineapple, and more. I would caution how many "wet" or "juicy" ingredients you add to your chicken salad. It can make it watery!
Other Favorite Sandwich Recipes
Hope you enjoy this recipe! The printable is below.
Have a Great Weekend and a little chicken salad! Make life easy for yourself! Enjoy!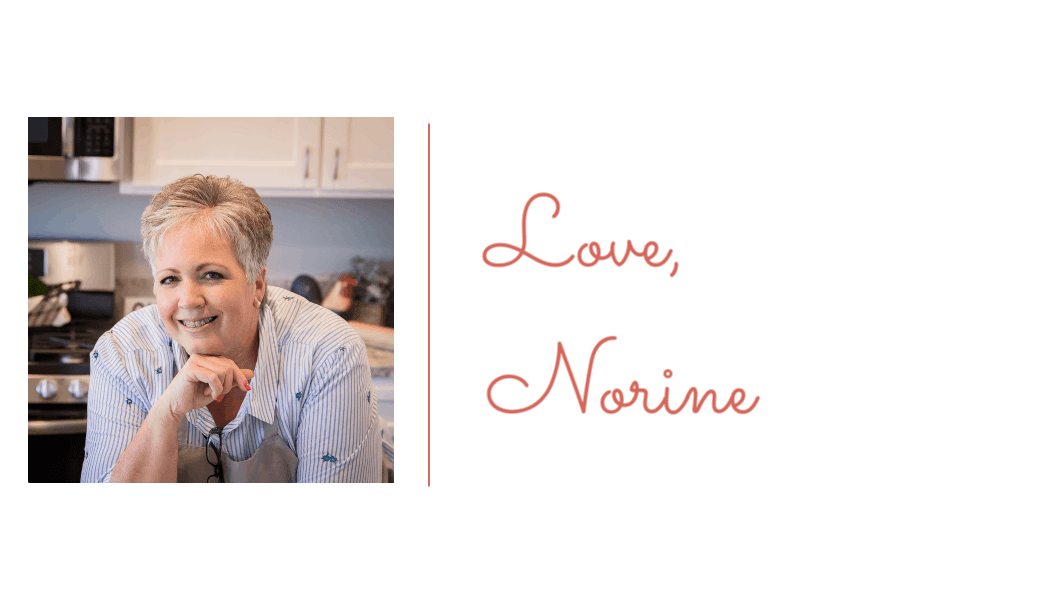 Yield: 6 servings
Simple Delicious Chicken Salad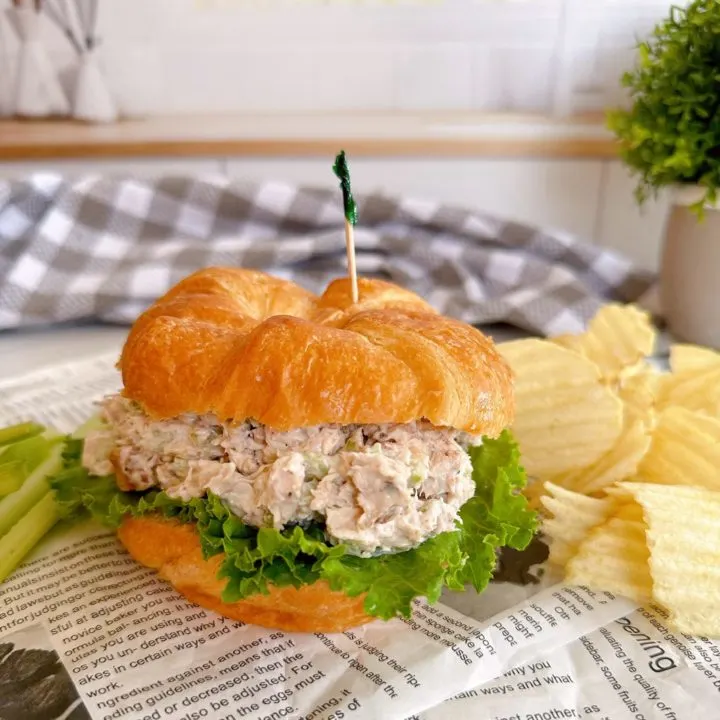 An easy Chicken Salad that is robust and filling. Perfect on a hot summer day for a quick dinner or lunch!
Ingredients
3 - 4 cups boneless, skinless chicken breast diced, or rotisserie chicken diced
½ cup chopped walnuts
½ cup chopped celery
1½ cup Best Food Mayonnaise
½ teaspoon Salt
¼ teaspoon Pepper
¼ teaspoon garlic powder
¼ teaspoon onion powder
Instructions
In a large bowl combine diced chicken, celery, and walnuts. Add salt, pepper, onion powder, and garlic powder.
Add mayonnaise. Mix until well combined. Cover and chill 1 hour or overnight.
Store in airtight container up to 3–4 days. Serve on bread of choice or a bed of lettuce.
Notes
You can add more Mayonnaise if you like it creamier.
Nutrition Information:
Yield:
6
Serving Size:
1 cup
Amount Per Serving:
Calories:

935
Total Fat:

59g
Saturated Fat:

10g
Trans Fat:

0g
Unsaturated Fat:

46g
Cholesterol:

278mg
Sodium:

800mg
Carbohydrates:

2g
Fiber:

1g
Sugar:

1g
Protein:

93g