Light and Fluffy Sausage Veggie Omelet filled with flavorful sausage, sautéed onions, sweet peppers, mushrooms, cheese, and zucchini squash! Perfect for Breakfast or Dinner!
My husband is the least picky eater I know…EGG-CEPT…when it comes to eggs! The hubs doesn't like…and I quote… "lace panties" on his eggs, or any hint of brown on his eggs. He likes them perfect! I'll admit…it took a little practice to master cooking "perfect" eggs…but I did! Now we're "lace panty" free! (In more ways than one folks! Lol)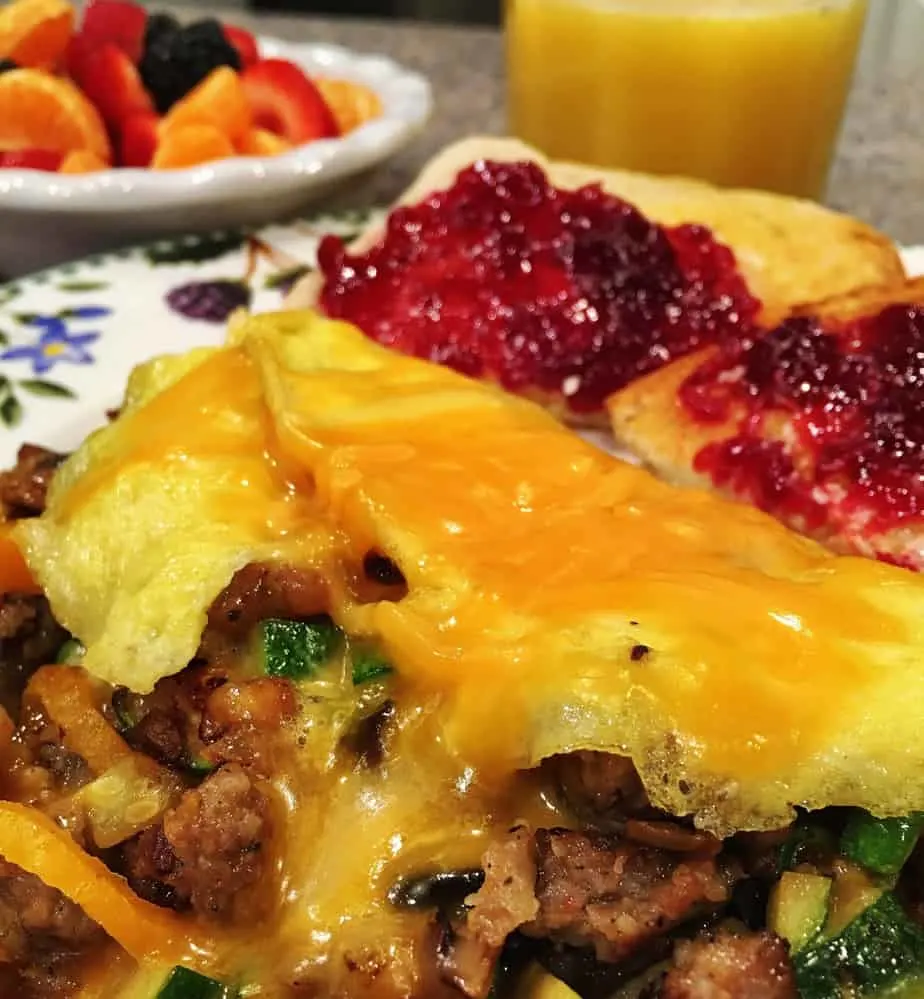 I'm sharing my recipe for Sausage Veggie Omelets…BUT I'm also sharing my tips on how to make the perfect omelet…one that is as tender on the outside as it is on the inside. No crispy brown on my Omelets…cause that moves us from "lace panties" to full "girdle" territory. Lawd we don't need that! (Like crispy "spanks"…and we can't have that!)
How To Make Sausage Veggie Omelet
First tip to a successful omelet…cook your fillings first! This omelet is chocked full of natural sausage, onions, fresh mushrooms, sweet peppers, and zucchini!
Omelet Filling
Cook your sausage until brown and crumbly, drain on a paper towel.
TIP: Try the Jimmy Deans All Natural Regular Sausage. It's super low in fat and packed full of flavor. It's our favorite sausage at this house, and you can buy it in the "chubs" or at Costco.
Dice all your veggies and sauté them in a pan with 1 Tablespoon of butter till tender crisp. Add in the sausage and finish cooking the veggies till tender and onions are translucent. Place the ingredients on a plate and set aside until eggs are cooked.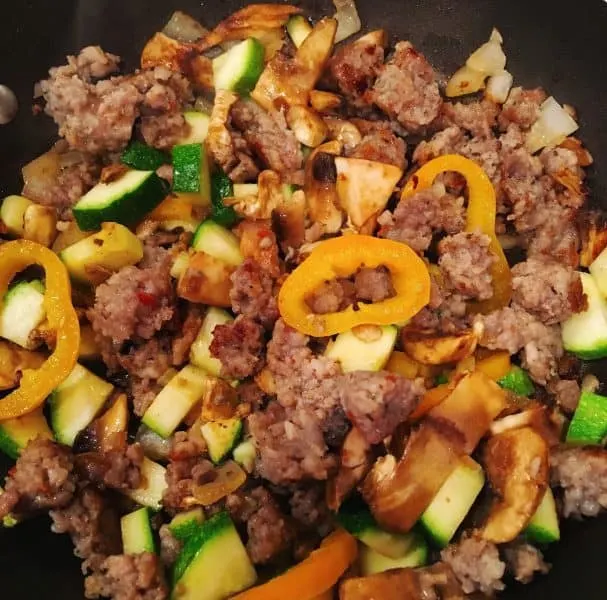 Cooking Eggs for the Omelet
Crack 6 eggs into a medium bowl. 6 eggs will make two 3 egg omelets. If you want a two egg omelet use 4 eggs. The egg layer will be thin, but it is still very do-able. You can even do two whole eggs and 4 egg whites. Make it fit your dietary needs.
Add salt and pepper to taste. Using a wire whisk beat until fluffy. Add in 1 Tablespoon of cold water and whip again. Water will make the eggs lighter and fluffier. If you want the eggs creamier…add milk instead.
In an 8 inch non-stick skillet melt 1/2 Tablespoon of butter over medium LOW heat. Pour half the egg mixture into your pre-heated skillet. Wait until you notice the edges begin to "set".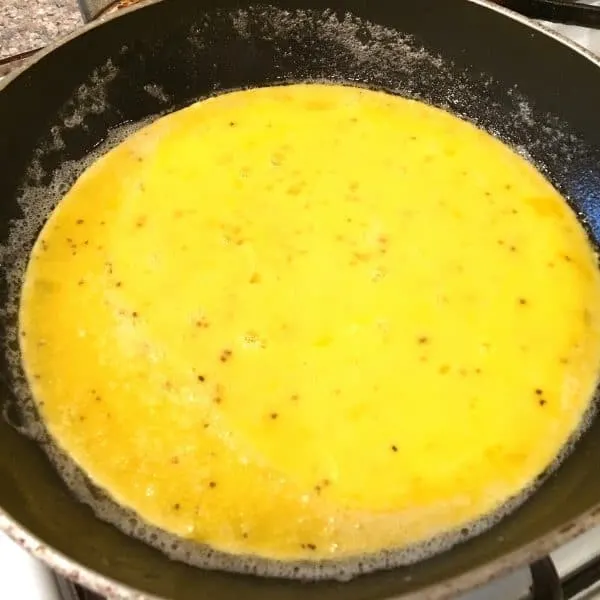 TIP: Watch your heat temp. You don't want the eggs to cook to fast. Low heat is key.
Using a spatula…(like my Chris Kringle one…it's my favorite guys!) gently slide it under the edge of the omelet and lift while tilting the pan, so the uncooked egg can slide underneath. (The omelet should start looking like my wrinkly face!) Continue doing this all around the omelet.
This allows the uncooked egg to cook, and keeps the outside of the omelet from "browning". If you don't do the lift and tilt method…and you just let the egg set in the pan and cook…you get brown "Spank" eggs!!! (Insert stink face!)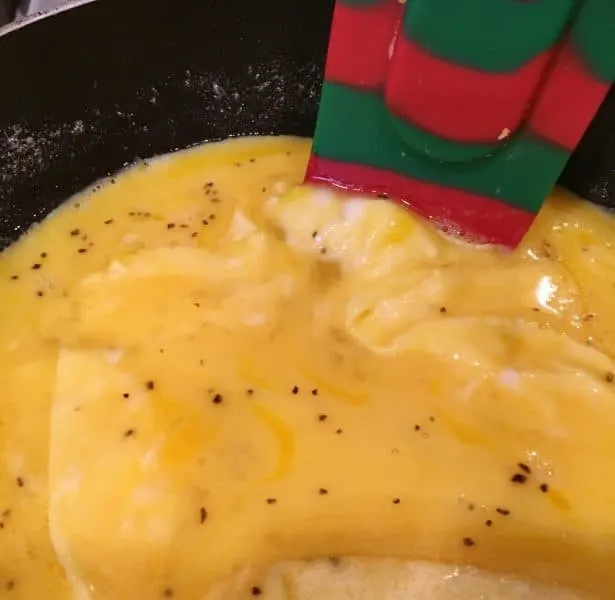 Once the eggs are almost set, turn OFF the heat and add your cheese. You can add any type of grated cheese you like. Jack, Pepper Jack, Cheddar, or Swiss. I like a combo of cheddar and jack.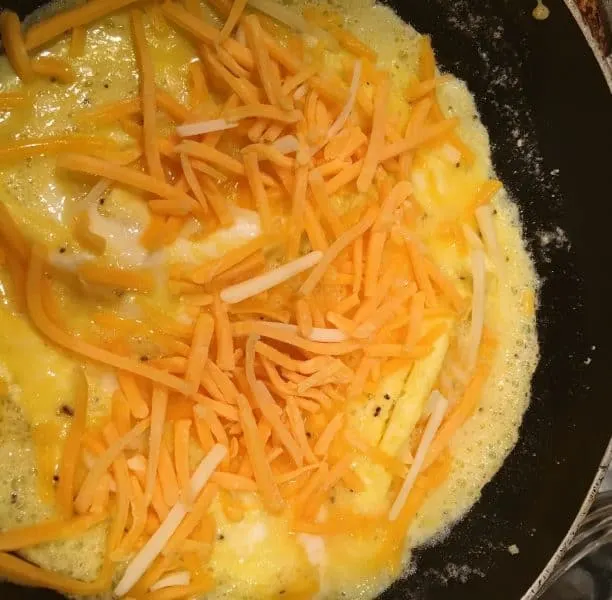 Add your sausage and veggie filling on one half of the omelet. This makes it easier to fold the omelet in half.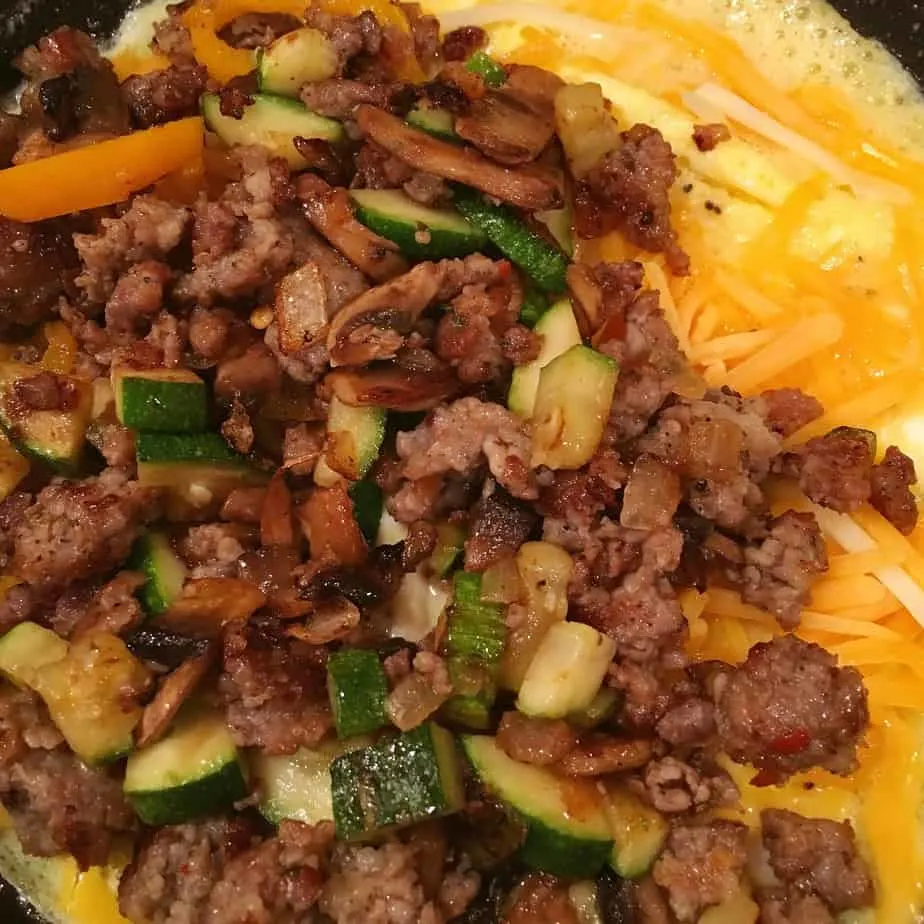 Slide your spatula under the half of the omelet without the filling and gently fold it over the toppings.
Look at that light and fluffy egg! No brown crispies! Just beautiful tender fluffy eggs filled with amazing flavorful ingredients.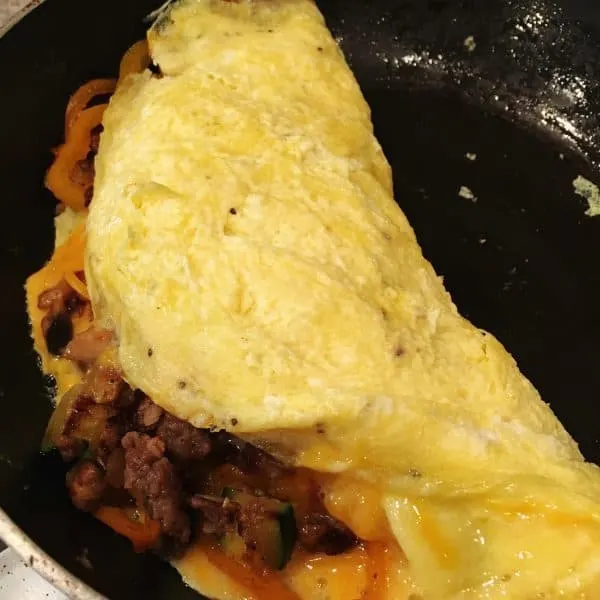 I like to sprinkle the top with a little extra cheese…sometimes I add avocado slices.
TIP: If the egg is still a little "under cooked" for your taste…although remember eggs continue to cook after you've turned off the heat…you can place the omelet in the microwave for 20 seconds! It will puff even higher and will melt the cheese on top. This is my newest little trick and it works beautifully!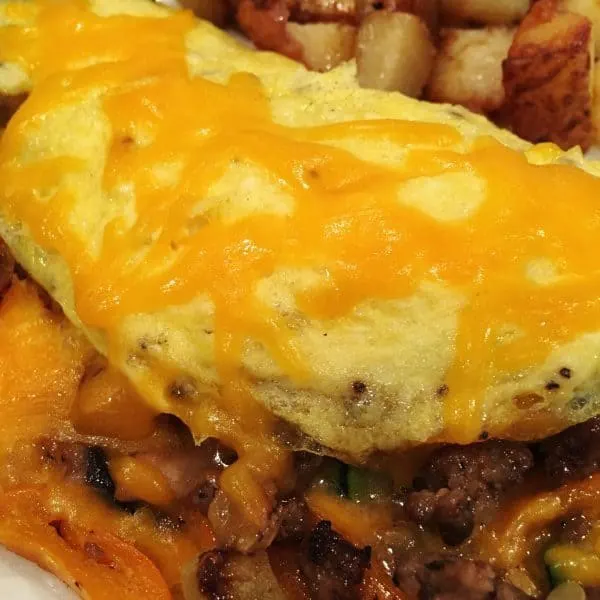 I'm seriously craving this Omelet right now! What I love about Omelet's…especially one like this…is that it can be for breakfast OR for dinner!
What to serve with omelets
I love to serve this for Saturday Brunch with a side of skillet potatoes, toast and jam, and a fresh bowl of fruit! Like I said though…it's a GREAT dinner for two! Wanna join me? 😉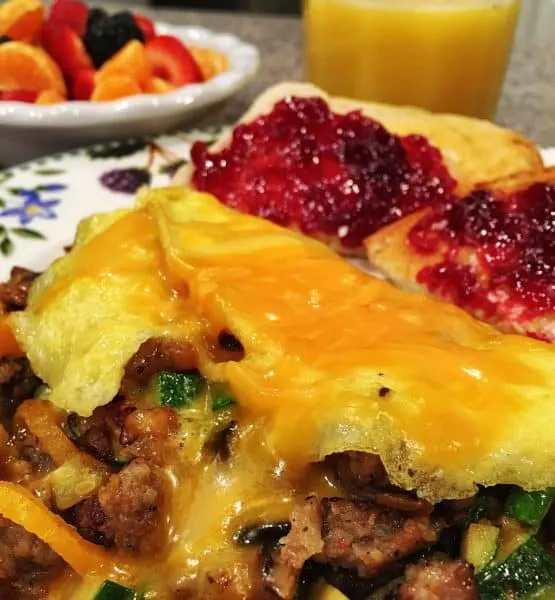 This omelet is a perfect flavor combination… between the fillings and the eggs. Every bite is a "WOW" moment! It's truly a treat and one you can make at home with very little effort and time. Try my tips and you'll have an amazing delicious omelet.
Don't like my choice of fillings…chose your own. There are endless possibilities. This is one of those recipes that you can test your cooking skills out on. It's a lot of fun to be creative in the kitchen.
Great Breakfast Recipe Ideas
Thanks for joining me today! Be sure to follow me on my FB page so that you can join in on the fun!
Hope to see ya there!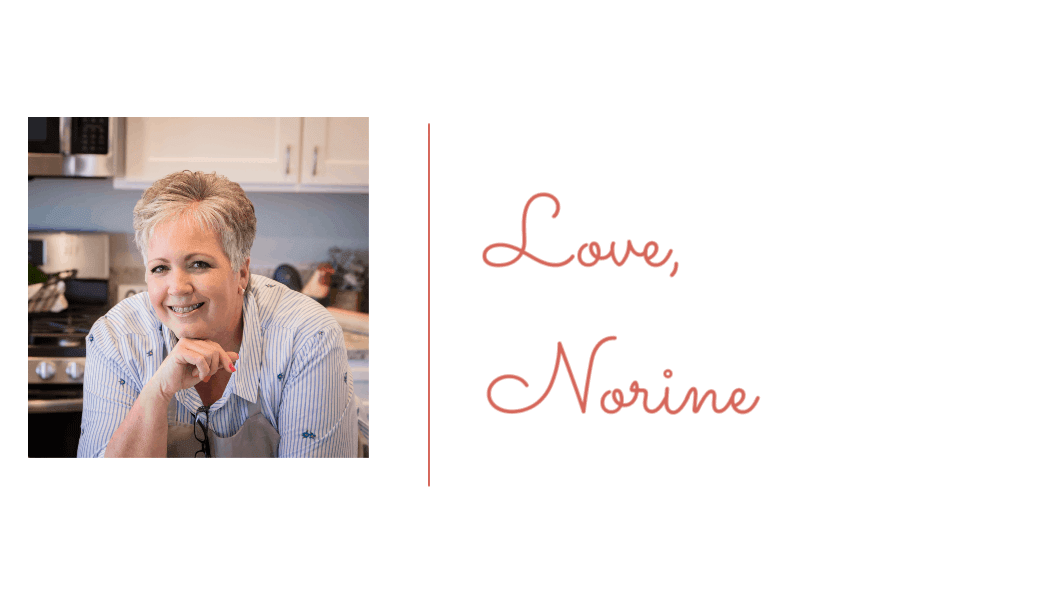 Yield: 2 omelets
Sausage Veggie Omelette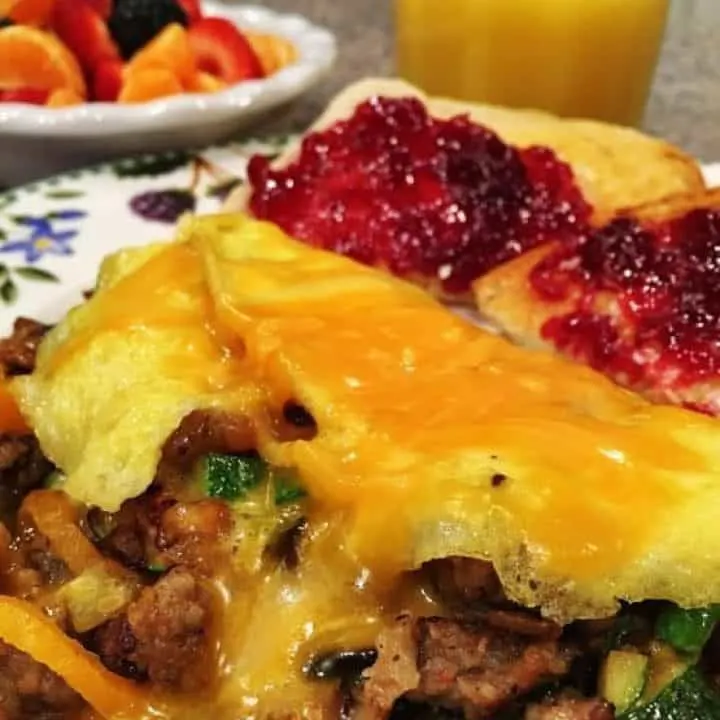 Light and Fluffy Omelet filled with flavorful sausage, sauteed onions, sweet peppers, mushrooms, cheese, and zucchini squash! Perfect for Breakfast or Dinner!
Ingredients
6 eggs
1 small zucchini, diced
1/2 cup fresh sliced mushrooms
1/4 cup diced onion
3-4 small sweet italian peppers, sliced into rings
1 cup cooked breakfast sausage crumbles
1 cup grated cheese
salt and pepper to taste
1 Tablespoon cold water
2 Tablespoons butter
Instructions
In a medium sauce pan melt 1 Tablespoon butter. Saute chopped onion, mushrooms,and pepper rings until tender crisp. Add in cooked sausage. Continue cooking until veggies are tender and onions are translucent. Set aside until egg is cooked.
Crack 6 eggs and add to medium bowl. Salt and Pepper to taste. Add 1 Tablespoon of water. Whisk until light and fluffy.
In a 8 inch non-stick skillet melt 1/2 Tablespoon of butter over medium LOW heat. Pour half the egg mixture into the pre-heated skillet. When outer edge of egg is lightly set, gently slide rubber spatula under the edge of the egg omelet and lift while tilting the pan so that the uncooked egg can run underneath the egg. Continue to do this all the way around the edge of the omelet until the egg is set. It make take several times around the omelet. Turn off the heat. Egg will continue to cook.
On one half of the omelet add 1/4 cup of grated cheese. Add 1/2 the filling ingredients to the same side of the omelet. Using your spatula,slide it under the half without the fillings and fold over the top of the ingredients.
Sprinkle with more cheese for garnish. Allow to set, covered, until cheese is melted. Slide onto plate and serve immediately. Make second omelet same as first.
Recommended Products
As an Amazon Associate and member of other affiliate programs, I earn from qualifying purchases.
Nutrition Information:
Yield:
2 servings
Serving Size:
1
Amount Per Serving:
Calories:

967
Total Fat:

76g
Saturated Fat:

33g
Trans Fat:

1g
Unsaturated Fat:

37g
Cholesterol:

742mg
Sodium:

1750mg
Carbohydrates:

16g
Fiber:

3g
Sugar:

8g
Protein:

56g